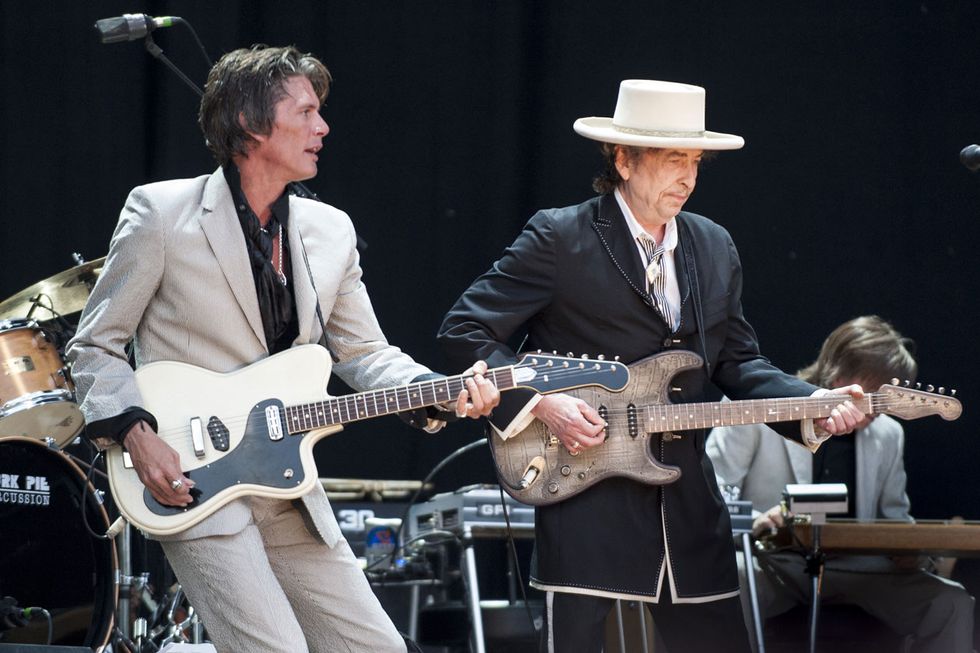 Onstage with Bob Dylan circa 2010, Charlie Sexton plays a '60s Italian Eko with a custom exact duplicate neck made by Ed Reynolds of Austin, Texas. Meanwhile, Dylan wrangles a Trussart Steel-O-Matic. Photo by Jordi Vidal
Besides working with Dylan, what were some of the memorable sessions you've been a part of?
Oddly enough, I learned a lot about guitar from Edie Brickell while producing a record for her. She started taking guitar lessons years ago. She never played that much guitar, but it's in her nature to do it herself and learn. For the first record we did together, genre-wise it was somewhat vast, and I got to see what she learned over years studying with someone. She was fingerpicking a style of acoustic; then she had a batch of songs where she was learning jazz chords. I would go through 40 songs of hers where she was doing things I hadn't really done yet. She's brilliant at coming up with guitar riffs. She's unbelievable. I did two records with her [2003's Volcano and 2011's Edie Brickell.
When you're in the studio with Dylan, when it comes to guitar parts, do you share ideas?
It all comes from him. Unless you're really a musician and keep your eye on the ball, people don't really understand that. As great of a lyricist and songwriter as he is, his melodic sense and everything about the musical aspect of it is just stunning. I've never, ever worked with anyone who has such constant ideas and fearlessness. He'll take on something and flip it on its ear, its head, whatever and just completely reimagine it. As great as the lyrics are, the other side of it is as stunning. I've learned a lot over the last few years once we started making the standards records—which were five records, about 50 songs with almost 50 chords per song. All those records were done almost completely live. You kinda gotta know it all. Everything comes through that door whether it's orchestral or country or blues or gospel or bluegrass or rock 'n' roll.
If you're at home working on music and writing, is the guitar what you would use as your tool?
Yes and no. Usually it's the piano. The way it's laid out and the fumbling about it is where you come up with voicings and substitutions. It's laid out better than a guitar. If I had the luxury of actually knowing what I was doing, it's all theory. I tend to stumble upon it.
Is there an instrument that you don't play?
Sure! All of 'em [laughs].
I've read that you've been working on a three-part project over the years. Have you been working on your own music?
Yes and no. Basically, the three-part thing comes from…. It's a funny thing—who I am depends on who you ask. Years ago, there were two projects I was going to be involved in. On one project they said, "Oh he's not right—he's too country," or something. And then on the other project, they said, "No, he's too pop." Or bluesy. It was like depending on what they were aware of … that's where that whole concept came from. And also it was a bit of a creative trick not to paint myself into a corner, which unfortunately, I spent more than half of my life painted in that corner being on major labels.
You played a Collings SoCo for a good part of Dylan's last tour. Are you still playing that guitar?
Oh yeah. It's been in the lineup since I started playing with him, really. Particularly on the last five records. It'll play in tune. I became aware of Collings and met Bill [Collings], who brought me into the fold when he was trying to get electrics out there, which was a relatively new inclusion to the line, since he made acoustics for so many years. With so many chord counts, I was having problems with playing in tune. The second I switched over to that guitar, it took that problem away. Bill only made great instruments.
What is the current electric guitar that you play the most?
There have been some changes, since on this tour we have to do standards. On the previous tour it was 90 percent the Collings. The basic lineup of what's in the rack is what's been there, except for two new things that showed up. I have a lipstick Stratocaster, built by my friends at Austin Vintage. It has Chandler lipstick pickups, and is a copy of my main Arc Angels guitar. Then I have a Glaser B-Bender Tele, a Trussart Tele, a Burst Brothers '58 reissue Les Paul that's 10 years old, and a '55 Les Paul Black Beauty.
"I rarely ever played with Stevie, because he'd see me walk in and he'd hand me his guitar and take a break."
I have two new things that showed up last year: a gold Shyboy Tele, based on the original Tele Snakehead design with no pickguard and a different volume. And the Ron Wood L-5 model. They only made 20 of this certain one back then, and Keith Richards bought two and kept one and gave one to Woody.
We were just in Tokyo and we went to this place we always go that has tons of Gibsons. I'm like the tester. Everyone says, "play this one." They had the Woody guitar, and I saw it and remembered that Gibson released it. I plugged it in at the very end after I played umpteenth guitars for everyone. So I've been playing it a lot over the last two tours. It's odd looking and it's not a very common guitar. But it's really great. My tech makes fun of me: "It's kinda like that banjo guitar that Bela Fleck has." Which led to him immediately photoshopping my face and superimposing it to Bela Fleck's body [laughs].
What are some of your favorite guitars that you play at home?
There's a crazy, cool guitar we actually got at the same shop in Japan. A signature model Les Paul Jr. goldtop that has a pickguard that looks like the one on Scotty Moore's guitar. It looks like a Billy Gibbons guitar. Then there's one of my Trussarts in a Jazzmaster style that we added a third pickup to and just converted it to a baritone, and it's amazing. I'm babysitting a '53 goldtop Les Paul that's amazing. I used it all over Ryan Bingham's record. We needed a slicey-sounding overdub guitar and it became the one.
Do you still play your Sex Drive pedal a lot?
Oh yeah, it's always there. That's the first thing that gets hit on the board. Then I'm using those Magnatone Varsitys, which I think I'm one of the few people that actually use. But it's amazing.
When Ted [Kornblum] first introduced the line again, he brought everything down to a gig and the Varsity Cathedral was my favorite-sounding amp in the line. It looks like an old radio. People ask, "What is that behind you, a record player or something?" No, they're amps! [Laughs.]
If music had an odor, what would yours smell like?
Oh my god. A lingering scent in the kitchen. Maybe it's not very appetizing, but it's maybe that strange buffet of New York where they have everything, but I'm hoping it's better than that, unless prone to food poisoning [laughs].
What's one of your favorite Dylan songs to play on the tour right now?
There's this side of him where he does these sort of balladeer, crooner, creepy songs. The irony of him, with all of the discussion and debates about his singing, is he's an amazing balladeer. Those songs are so fetching because he's a wonderful singer and the phrasing…. I enjoy those a lot. Rock is a trap. It's a big trap, where most people that think they're really rocking—they aren't. It's like, "no stop it." I think a lot of it has to do with the fact that roll has been excluded from the equation.
That works both ways, because if you just have the roll…
Yeah. That's the way I look at making records. There's not just one frequency. Your cat may scratch you and bite you, but it'll also sit in your lap and let you pet it.
Charlie Sexton performs with Ron Wood of the Rolling Stones in 1987. Charlie's brother, Will Sexton, played bass during the sold-out show, which was at the Hard Rock Café in Dallas, Texas. Check out their rendition of "Honkey Tonk Women" starting at 3:40.
---
Check out some of Charlie Sexton's original music from a solo concert he played in 2017 at the Kessler Theater in Dallas, Texas. Don't miss the 70-second guitar solo starting at 5:28.
---