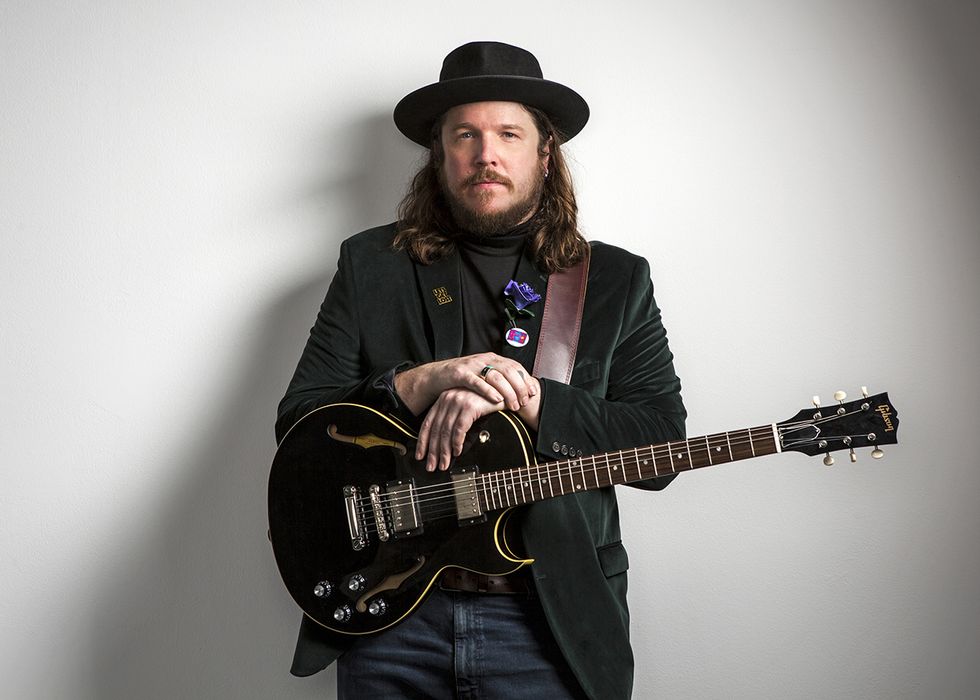 Photo by Rett Peek
Smells Like Raspberries
When Charlie Sexton and Ben Dickey starred in Blaze, the two guitarists formed a bond they carried into the studio. Sexton produced Dickey's new album, A Glimmer on the Outskirts. An astute songwriter and guitarist in his own right, Dickey told PG his intention was to make an album that "provides a notion of hope and wonder." Here, Dickey discusses the project through the lens of guitar
What's your and Charlie's relationship like?
When Ethan and I first talked about who was going to be Townes Van Zandt, I was like, "Charlie, without a doubt." He'll take care of all these people in the story and, lo and behold, what I didn't really know is that he took care of me.
Laughs
We became fast friends. I've always admired his musicianship, but he's a wonderful person. We didn't talk about making an album until much, much later after the movie was totally finished. I was over the moon! When I sent the demos, I was nervous. When he wrote me back that he liked them, I was excited.
We never rehearsed with the band. Charlie totally produced those moments. My heart swelled. It was incredible watching him work. He's an incredible guitar player, but he's a musician top to bottom. I learned so much from him just watching and listening. Every time I'm around him I tap him to tell me why XYZ and he helps. He's also someone who's still learning and he doesn't hide that.
How did you approach guitar on the album? Were the parts written beforehand?
My demos had all the parts written, but I wasn't married to any of them. Most of Charlie's leads are not note for note my stuff. He's paying ode to the demo but he's doing his Charlie Sexton magic so he's doing his own thing. There are specific runs I needed coming in and out, but otherwise I told the band to just play in the spirit of it. There was never a moment where I was like "don't do that," because everyone was so good.
How much was Charlie playing leads?
He plays 80 to 85 percent of the guitar on the record. He will tell people, "If you go listen to the demos, that's pretty much what Ben's doing." There's a mild map for what I was intending to do, but Charlie went off on his own thing.
What's your favorite guitar?
My grandfather passed away when I was 10, but he gave me my first guitar. He gave me this black 1935 Gibson L-30 with white trim. He would let me play it under supervision, but he got terminal cancer. He very ceremoniously took me in the den one day. He was a very eloquent man. His words were: "I'm not going to be here much longer and I know you know that and it's hard to talk about, but I want to give this guitar to you. This is yours now and you need to take care of it." To me, that felt, in my young brain and to this day, like a very Excalibur-ish moment. This guitar is magic, my grandad is magic, this thing will take me places. It was a little bit of a life raft, too. My folks got divorced, and we had some rough times and I clung to the guitar pretty tight.
I still use that color motif. Now I have a 1988 Gibson Chet Atkins Country Gentleman that's black with white trim, and Gibson sent me these new ES-235s in black with white trim. It all goes back to my grandad.
Were there any guitars that Charlie had that you used in the sessions for the album?
He has a black with white trim Trini Lopez that was used on most of the leads.
I heard that you started putting acrylic on your nails for playing. Do you still do that?
I do. I picked that up from Charlie. They're pretty strange, but they don't break, man.
Every time I play guitar with him, I learn something. There's little truths about guitars that guitar players know, like where your hand is on an acoustic guitar will make different sounds close to the bridge. I know those to degrees but, watching him play and what he applies…. I used one pick my whole life. He uses all sorts of picks applied to the song and I've never thought about it that way. The Country Gentleman is the first guitar I've played that has a master volume, and I had an epiphany with that.
Being with Charlie, there are so many more routes to take and branches to understand and ways to get things out of different instruments. The track "Sing That One to Me" has a unison acoustic thing, and I was listening to him accent different strumming patterns. I realized the effect of what he was doing made it swing. His ears are hearing 20 different options at once, and he knows how to draw the ones that turn things on their head or provide a different rhythm.
Compared to working on the movie, how was the studio dynamic different or the same?
It was different, because you'd be hard pressed to find me when I was making the movie. I was somewhere else. Blaze and Townes were there.
A Glimmer on the Outskirts
If your music had an odor, what would yours smell like?
Haha! That's a great question. I'm gonna say mine would probably be the smell of the [cannabis] flower mixed with raspberries and lilies. I say raspberries because I read that the entire universe smells like raspberries. It's based in science that when supernovas happen, the remnant gases that burn off lead to a very sweet smell. That's exciting, right?
. I've known who Charlie was since I was a kid. I read about him in a guitar magazine. I remember reading, "This young man was playing with Stevie Ray Vaughan when he was 12 or 13, and he played with Jerry Lee Lewis." At the time he'd just finished playing with Bowie and I remember thinking to myself, "Shit, that dude is way ahead of me!" [.] Because I wanted to be a young guitar slinger, too. I wanted to be out in the world writing songs. When he joined Dylan's band, I remember thinking, "Fuck, Bob Dylan gets everybody." I was very, very keen on who Charlie was and I followed his career. I guess I became keen of other parts of what it means to be in an ensemble. You have a voice. Most of what I'm doing on is playing these two Gibson ES-235s that I love that I got in 2017. That's what my voice was on this album. I was really using what I learned from the movie set. These two guitars are my voice, then everybody else has a different voice. They're so similar, the processes, they really are.