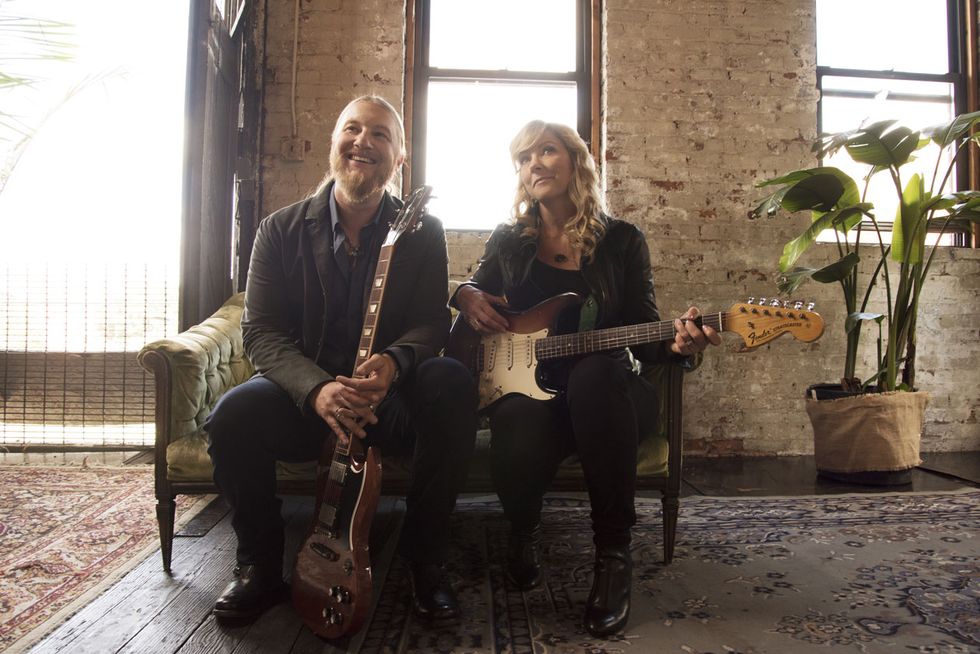 Musically, Susan Tedeschi and Derek Trucks are a harmonious couple. But when it comes to studio amps, there is one bone of contention. "I have a 1964 Deluxe Reverb that is my baby," says Tedeschi. "Whenever we're recording, Derek likes to use it, too, and I say, 'We have 100 amps, why do you want my one amp?' Derek explains, "We have a few Deluxes in the studio, but hers is the one, so when I can sneak it away from her, that's what I use." Photo by Shervin Lainez
The Tedeschi Trucks Band is a 12-piece ensemble fronted by the husband and wife team of Susan Tedeschi and Derek Trucks. The band's members are A-list, first-call players, and many of them could easily front bands of their own—yet they don't, they're loyal to TTB. Many have been in the band since its founding in 2010, and a few are holdovers from Tedeschi and Trucks' solo projects of the previous decade. That's not the norm, but this team is in for the long haul. The reason for that could be because the band gigs a lot. The nightly workouts are challenging and the band boasts a massive repertoire, a revolving and ever-changing setlist, and ample opportunity to solo and stretch out.
"Whenever we play, we don't do the same set," Tedeschi says. "If we're playing in one spot for four nights, then you're getting four different shows."
"We've been doing a lot of residencies for multiple nights in a given city and we try not—at least for the first two or three nights—to repeat many songs," Trucks adds. "When we did the Beacon Theater this last run, I think we played more than 100 different songs through the course of the run."
This ethos makes for a fertile creative environment. "I think the amount of material that the band learns and plays together is part of what makes this thing continue to grow and stay healthy," Trucks says. "Sometimes you work up a cover tune and a certain chord change or element of that tune will unlock a door. You're like, 'Oh shit, I've heard that but I didn't know what it was.' And that's something you end up using."
But there's a bigger reason the members of TTB are so loyal, and that—at least it seems to me—is because Tedeschi and Trucks are so freaking nice.
"Come down man, come in the studio sometime," Trucks said after about an hour-and-a-half talking shop. "We're in Jacksonville, down in the swamp here."
Both Tedeschi and Trucks had established careers, impressive resumés, and multiple Grammys between them—and had already been married for over a decade—before finally making their collaboration the family business. TTB combines their myriad talents and influences, and places them on top of a twin-drum rhythm section, horns, keys, and three backing vocalists. They draw from multiple styles including funk, blues, gospel, and soul, and owe an obvious debt to Joe Cocker's 1970 release, Mad Dogs & Englishmen, which they paid tribute to in 2015.
"We played with Leon Russell, Chuck Blackwell, and all the living members," Tedeschi says about that experience. "Chris Stainton, Rita Coolidge, Claudia Lennear, the Moore Brothers, and a bunch of the backup singers that were on the original tour. It was really special and I am so glad we did it when we did it, because Leon is not here now. We had that small window and it was a miracle. It was really a blessing for us all to get to work with him."
"I think as a musician, especially if you're improvising, it's important to listen to things that count." —Derek Trucks
"Blessings" like that are part of the inspiration for their latest album, Signs. The lyrics of many of its core songs—"Signs, High Times" and Walk Through This Life" among them—deal with the joy and impermanence of life, inspired by the lives and recent deaths of Russell, Trucks' uncle and Allman Brothers drummer Butch Trucks, Greg Allman, and Col. Bruce Hampton (Ret.). But the losses they reflect are balanced by hope and the always-positive glow of TTB's music.
That warmth and attitude—not to mention impeccable chops and an insane work ethic—make the Tedeschi Trucks Band a formidable outfit. We spoke with them about their guitars, tone, unorthodox techniques, and the making of Signs. As should be evident, we could have talked all day.
Derek, first obvious question: How do you get such a massive sound without using a pick?
Derek Trucks: I don't know, maybe it's fat fingers [laughs]. For slide, I've always preferred the sound without a pick, and that carried over to everything else. You have to adjust the guitar and amp accordingly when you're not using a pick, because there is definitely a bite that you don't get the same way.
Do you have big calluses on your right-hand fingers?
Trucks: Yeah, they come and go. Even in the middle of a tour I get those blisters under a callus. There'll be a few painful nights of tour where they give way, but if you play enough, you charge through it. Something happens onstage where if something is hurting it doesn't when you're playing for a few hours. You forget it. You just charge through.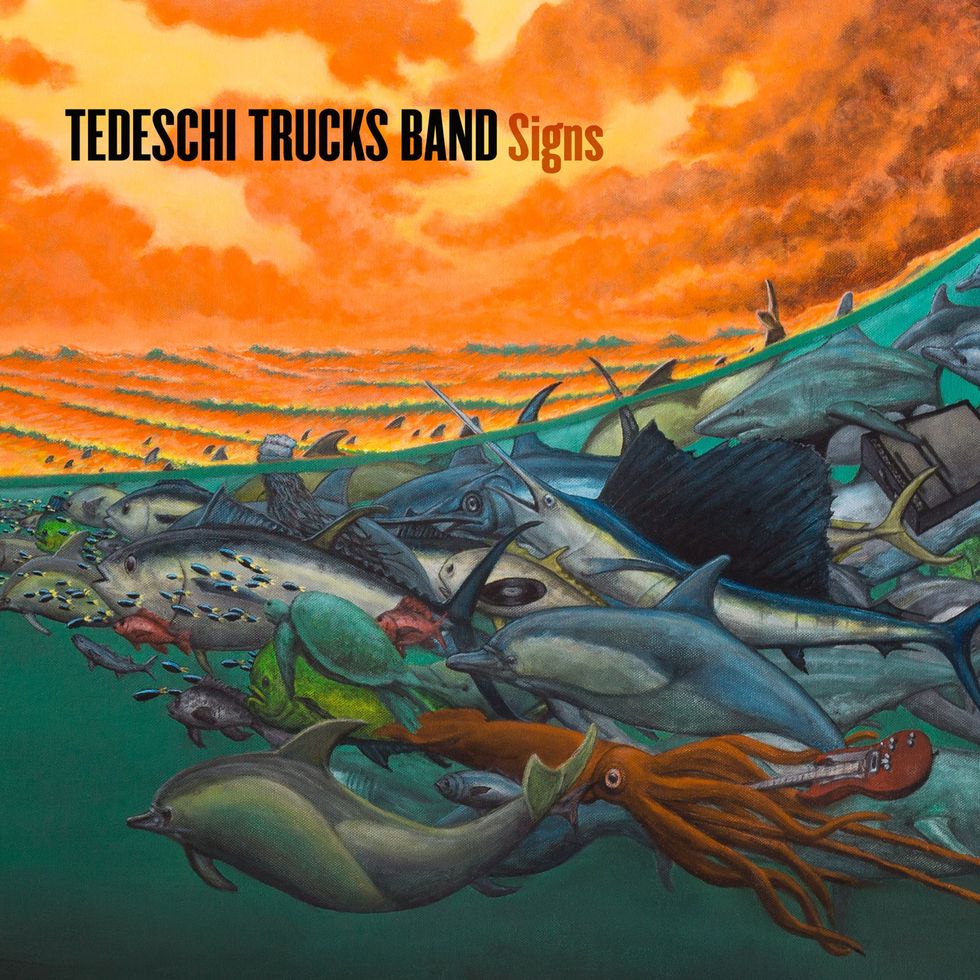 Tidbit: TTB recorded the 11-track Signs at Tedeschi and Trucks' home studio in Jacksonville, Florida. Trucks coproduced the album and both Doyle Bramhall II and Warren Haynes make guest appearances on guitar.
Do you have techniques, like alternating fingers or using certain fingers to play faster runs?
Trucks: You know, most of the time it's instinctual. But there are times when there's a certain sound or element you're trying to get and you concentrate on that—alternating fingers and thinking almost like banjo-style stuff—but usually it's just a means to an end. You hear something in your head and figure out how to get there.
I didn't really have many lessons along the way, as far as the right hand. The first few players I noticed not using a pick pointed out that the sound I was trying for probably came from that, and it opened a lot of doors. When I sat down and learned from people, it was more theoretical or writing out the guitar neck in a different tuning and figuring out where everything sits. Finding your own little map, but never really any right-hand things.
Susan, you use a flatpick, but also play fingerstyle a lot.
Susan Tedeschi: I like to have the dynamics to be able to do whatever's called for. I play with a pick, but when I don't want it to be so harsh and bright, I'll use my fingers. I really care about the tone and I want it to be pleasing and pretty. I'll use my fingers to either be gentle or pluck really hard—like for an Albert King or a B.B. King riff—to get that attack and make it squeak a certain way.It's pretty intuitive. It has to do with what's going on at the moment. Sometimes I'll think, "This is not working! The pick is not doing crap for me." So I throw it and get mad and use my fingers [laughs].
What tunings do you play in?
Trucks: Almost always in open E [E–B–E–G#–B–E]. Occasionally open G [D–G–D–G–B–D] or DADGAD, or different things for specific tunes, but 98 percent of the time it's open E.
Tedeschi: I play in standard tuning most of the time, but I also play in open D [D–A–D–F#–A–D], open G, open C [C–G–C–G–C–E], open A [E–A–E–A–C#–E]—it depends on the song and what we're trying to do. On some of the blues stuff, it's just easier to play in an open tuning. Like if we're playing "Any Day," I play in open A. It just works out better because it sounds different from what Derek's doing, which adds a lot of texture.
Do you get confused switching tunings?
Trucks: The only time I get confused is if I try to play in standard tuning [laughs].
Seriously?
Trucks: I haven't done it in so long I feel like a rank amateur in standard. When we're going over things, sometimes I'll pick up Susan's guitar to show her parts or just learn things in her tuning. It's fun, but I don't remember the last time I played a standard-tuned guitar onstage. It's been a long, long time.
---
---