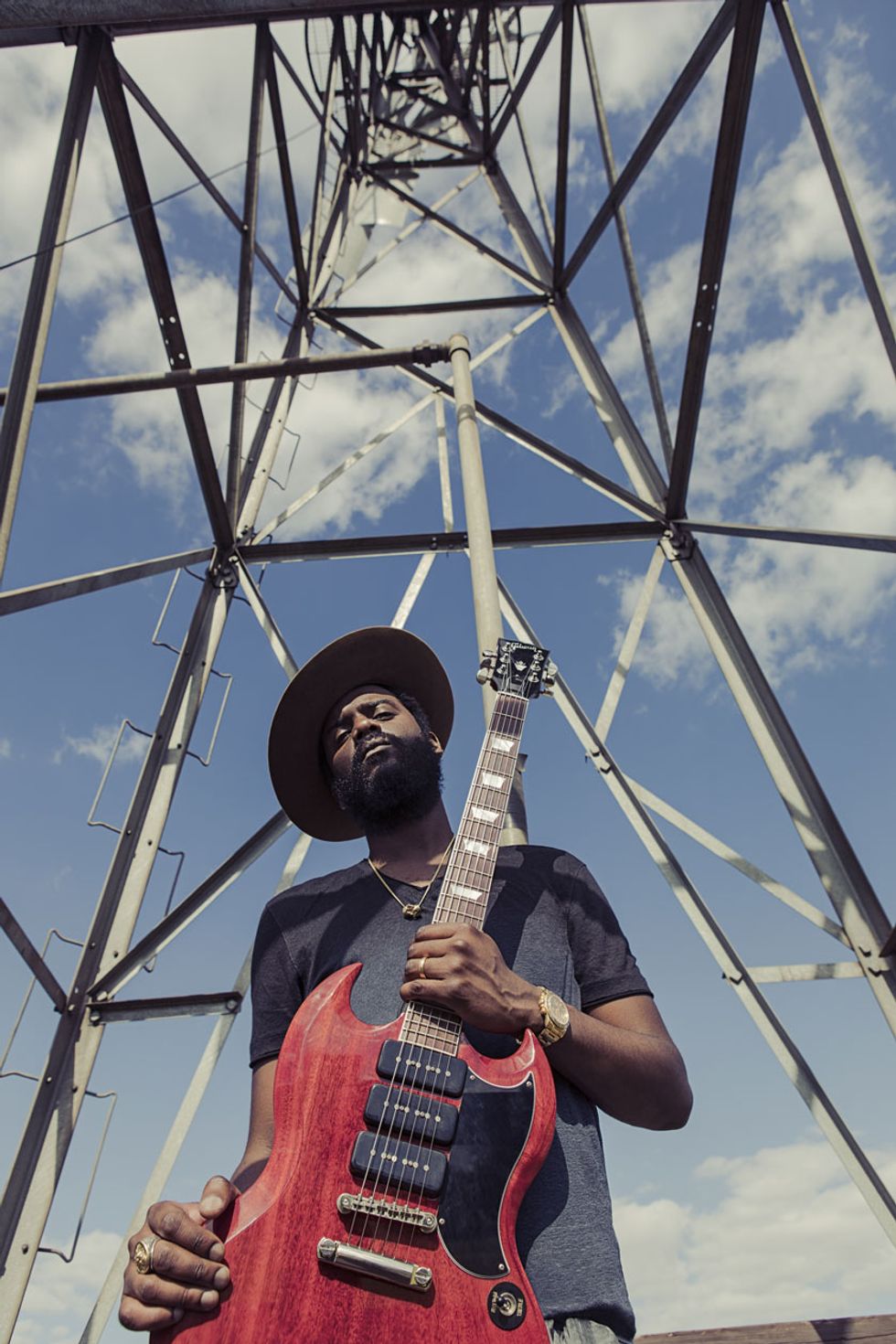 This three-pickup Gibson SG is among the guitars Gary Clark Jr. played on This Land. Others include his familiar Epiphone Casinos, a 1968 Gibson ES-330, a Gibson Flying V, and an Ibanez Blazer he got as a kid. Photo by Frank Maddocks
It's been almost a decade since Gary Clark Jr.'s breakout performance at the 2010 Crossroads Guitar Festival. Technical issues marred his set—not that you could tell. If anything, those problems conspired to make his showcase even more epic. His playing lit the blues world aflame and gave hope to crusty old-timers yearning for a return to their music's glory days. Rolling Stone called him, "the chosen one." President Obama dubbed him, "the future of music." The hype was outrageous.
For guitar nerds, the real interest was Clark's embrace of the Epiphone Casino. Flip through your back issues of Premier Guitar. That guitar was all anyone wanted to talk about. A lot of critics also made lazy comparisons to Jimi Hendrix—except Clark sounds nothing like Hendrix, and that's despite his killer cover of "Third Stone from the Sun" on his 2013 debut album, Blak and Blu.
But a lot has changed since then—in both his choice of guitars and in his voice as a songwriter. In 2014, Pat Smear (Foo Fighters, the Germs, and touring guitarist with Nirvana) gifted Clark a 1961 Gibson Les Paul SG Standard reissue, and that opened the floodgates. Clark isn't a collector per se, but since then he's been amassing a significant cache of guitars, which even includes a resurrected old friend.
"I've got an Ibanez Blazer with me that I got back from my folks," he says. "I just had to dust it off a little bit. It was actually the guitar I spent the most time with. I adjusted it myself and did everything. So when I picked it up, I was like, 'Oh yeah, this is my guitar.'"
Clark's latest release, This Land, which came out in February, also displays differences in his songwriting approach. While his albums have never been revivalist throwbacks, This Land is purposefully forward-looking. The tones are modern and edgy. The arrangements are tight and not necessarily springboards for live, extended jams. Cultural issues inspired some songs, and the first two tracks, the title cut and "What About Us," tap into current concerns about race, generational change, and class. This Land also flirts with multiple genres, including reggae, dub, soul, '70s-era funk, hip-hop, and even hardcore, drawing on their sounds and elements of their classic arrangements for inspiration, yet still sounding fresh and original.
"I just get a rhythm going and then hang on for dear life."
"I'm listening to everything," he says. "A recent list includes Anderson .Paak, Valerie June, Jon Batiste, classic Stevie Ray Vaughan is up here, Sammy Davis Jr.—a lot of non-guitar players—just to get a sense of musical lead-playing approaches … like a piano or something, the way Jon Batiste plays. I'm trying to get more into that world."
That openness and stylistic wanderlust, not to mention Clark's consistent songwriting and killer live show, explains his staying power. He's not staid or complacent. He's also aware that his momentum could have easily fizzled after that lucky break in 2010. "I got more than I ever asked for," he says. "I'm fortunate. I'll say that."
We spoke with Clark a few days after his debut on Saturday Night Live. We discussed his growing—and what he considers somewhat embarrassing—guitar arsenal, some of his playing techniques, his understanding of rhythm and different feels, and how he approached the making of This Land.
You just played Saturday Night Live. How does that work?
You show up, do a day of rehearsal, camera blocking, get your stuff together, and come back and do it Saturday night.
Did you use the same gear you use on tour?
Yeah. Sometimes I use backline for television, but for SNL or something live, I just want to use my gear. If anything happens, I can only blame myself [laughs].
Do you find the TV format restricting? You get a four- or five-minute block, and that's it.
No more than four minutes. You might get 4:05. But it's pretty quick, so we have to do some adjustments for television. You know, you can't say certain things, so, you gotta play nice.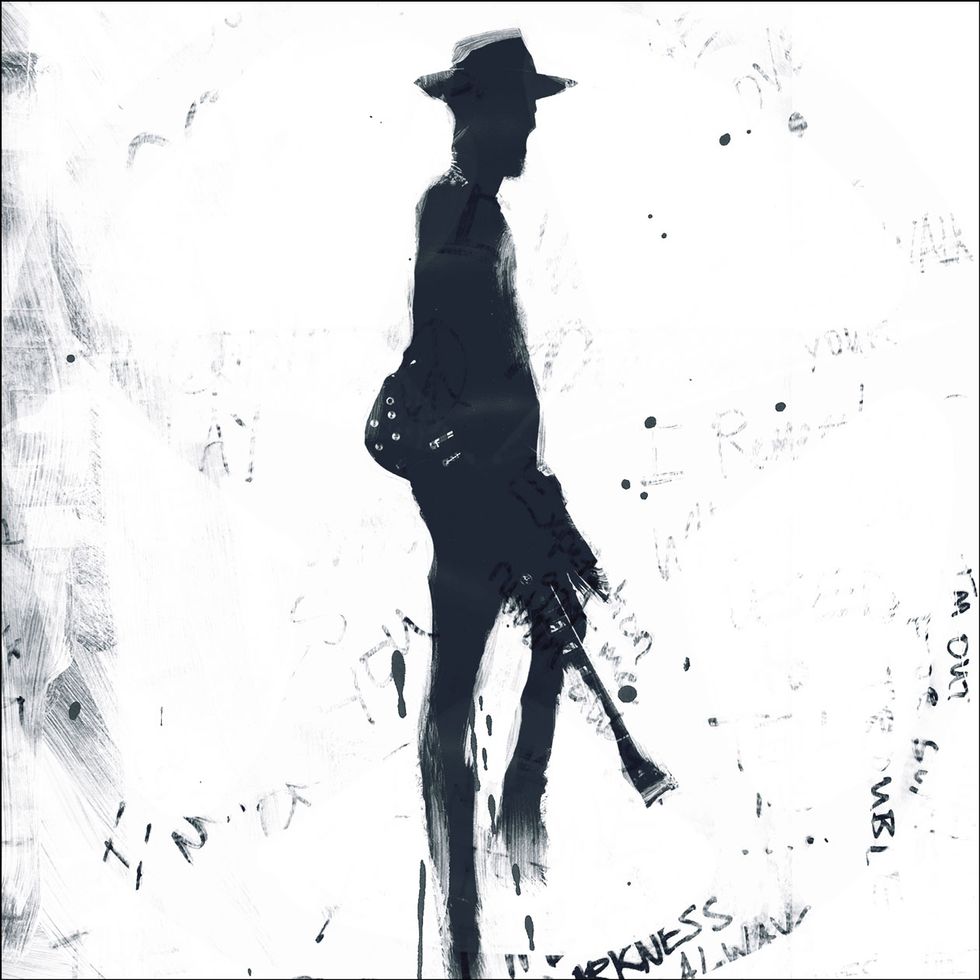 TIBIT: Clark says he's playing the songs from his new album by the book in concert. "I spent so much time in the studio, trying to figure out how I want it to sound. I'm not ready for people to interpret it their own way yet," he explains.
You have to watch your language.
Yeah, all that stuff. You gotta behave yourself.
On the clip I saw, you were playing a Flying V, but when you first hit a few years ago, every interview was about your Epiphone Casino. Now it's like you have a different guitar—like that V, or an Ibanez—in every picture. Do you just like a lot of guitars?
[Sighs.] You know, I didn't think that I would. I was kind of set in my ways until Pat Smear gave me a '61 SG reissue, and for better or for worse that opened up my mind to different things. Of course, the Casino is always going to be there. As far as my Ibanez goes, that was my second guitar I ever got. In 1997 I had that one. I was over at my parents' house, and they had it in a closet. I was like, "What is this doing over here?" And I grabbed it back. But I've also been fortunate … people giving me gifts. I am loving exploring and playing all of them. But the Casino will always have the number one spot.
Do you switch them up for different songs?
Yeah, I do, and I gotta say, doing studio stuff really made me switch up my style. Certain things weren't working or weren't getting the tones that I needed. They were too dark or they were too bright. Hanging out with guys in the studio and they've got a bunch of gear … like [producer] Mike Elizondo. I gravitate toward certain things, but when you're forced to get out of your comfort zone, maybe you might find a new gem. I'm just trying to be open and not be like an old crotchety dude that's stuck in my ways.
Do you take those lessons with you on the road or is that limited to the studio?
It's starting to get out of hand.
How so?
Just more gear … and more of it's mine, I'm embarrassed to say.
---
---