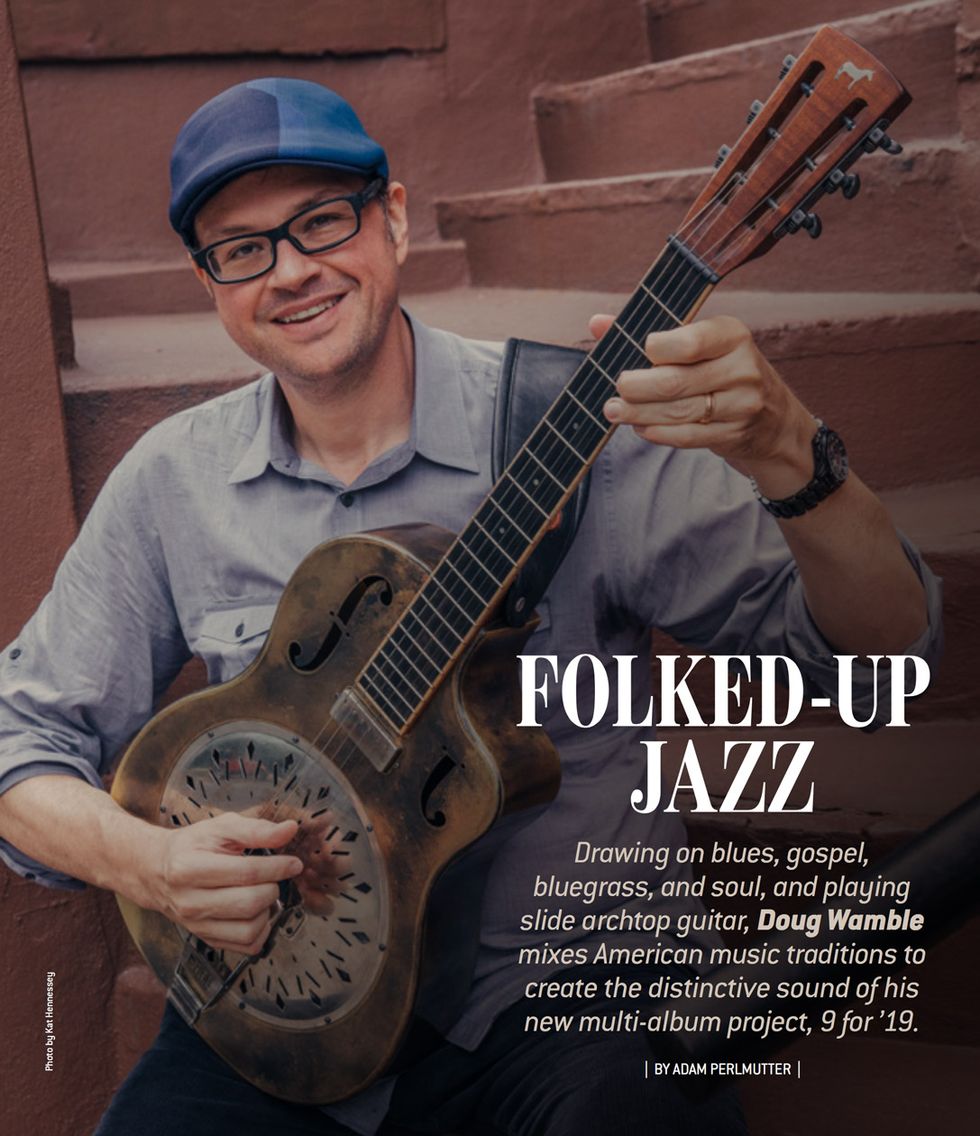 Doug Wamble poses with his Mule Resophonic tricone cutaway, a high-end custom-built slide machine that perfectly fits his mission of exploring folk-based musical forms, including blues. Mules are built in Michigan by luthier Matt Eich.
Photo by Kat Hennessey
Not long ago, guitarist, vocalist, and composer Doug Wamble was cleaning out the contents of an old hard drive when he rediscovered a trove of music he'd recorded beginning in the late 1990s. The bulk of these sessions, in a range of different settings, was unreleased. Wamble says, "Overall, I thought, hey—there's some good stuff on here!"
It had been a few years since Wamble had released an album—2015's The Traveler: Live in New York City—so he set about on the ambitious undertaking of organizing the music into a series of nine albums. Then, last April, he rolled out his 9 for '19 project, a new album each month for the last three quarters of 2019, available through Bandcamp.
Wamble, a native of Memphis who has been a fixture in New York City for two decades, is considered to be a jazz guitarist, but, as 9 for '19 clearly shows,that label is way too restrictive. While Wamble does, indeed, have an expert command of bebop and modern improvisational styles, he draws freely and deeply from American roots music of all eras, as well as current pop, and he's also an accomplished singer-songwriter.
In terms of concept and vocabulary, as well as tone production and articulation, Wamble is less informed by obvious 6-string benchmarks than by great jazz musicians like Louis Armstrong and Thelonious Monk. Wamble is equally comfortable with both standard fretting and bottleneck styles, as is evident in his work supporting Wynton and Branford Marsalis, Cassandra Wilson, and other notables, and in his output as a bandleader and singer-songwriter. Wamble's warm and rootsy concept extends to his scores for a series of Ken Burns documentaries: Prohibition, The Vietnam War, and The Central Park Five.
PG reached Wamble at his home in the Harlem neighborhood of New York. As he restrung an old Kay archtop, he described how, after starting guitar at a relatively late age, he got his style together. He also shared his thoughts on the state of jazz education from his vantage point as a Juilliard professor—and why you should check out music you dislike.
"I think a lot about timbre—on which part of the string I'm going to hit a note to get a particular color."
You're from the South. What were the beginnings of your musical path there?
I grew up in Memphis, which played a huge part in what I would become as a musician. My mother was a pianist in our Baptist church and my maternal grandfather played guitar at home. I grew up being surrounded by his love of old gospel and country songs, and there was always music around in Memphis—the great era of Stax and Hi Records, as well as Elvis, obviously.
My musical life started in the school band. I was a clarinet player and that wound up leading me to the guitar. When I was about 18, right before I started college, I was fascinated by some clips of Benny Goodman's band that I saw on the cable channel AMC, so I went to the library and got a Goodman record featuring Charlie Christian, and that totally set me on fire. It sounded like all the blues guitar music that I loved, but with some extra sophistication. Around that same time, my mom took me to see Harry Connick's band, and Russell Malone was playing guitar. It was the first time I'd really ever heard a great jazz guitar player live and in person. I was like, "Okay, I've got to do that."
What happened next?
I enrolled at school in Memphis as a recording technology major, as something about that sounded legitimate to me. At the same time, I just started listening to records and transcribing guitar solos. I dove into it and progressed fairly rapidly. I only knew, like, three cowboy chords before college. They didn't have a full-time guitar teacher in Memphis, so I studied a little bit with a great guitarist who just recently passed, Calvin Newborn, who was [jazz pianist] Phineas Newborn's brother. To get more into guitar, I transferred to the University of North Florida, where I studied with Jack Petersen, who was an incredible jazz guitarist and educator. He was the first guitar teacher at Berklee back in the '60s, and he taught players like John Abercrombie and Mick Goodrick. It was during those years when I was down in Florida that my musical life began to solidify.
Describe how it came together for you.
Well, I've always been guided by a love of American roots music. And whether it was Delta blues or bluegrass or old-time gospel, I always heard those elements in the jazz music I really loved. Whether it was Louis Armstrong or Ornette Coleman or John Coltrane or Thelonious Monk, I heard that really strong folk aspect. To me, no matter how advanced or abstract the music got, the stuff that I connected to the most was the music that showed its American roots. But still, I tell my students all the time they need to check out music that they don't necessarily love.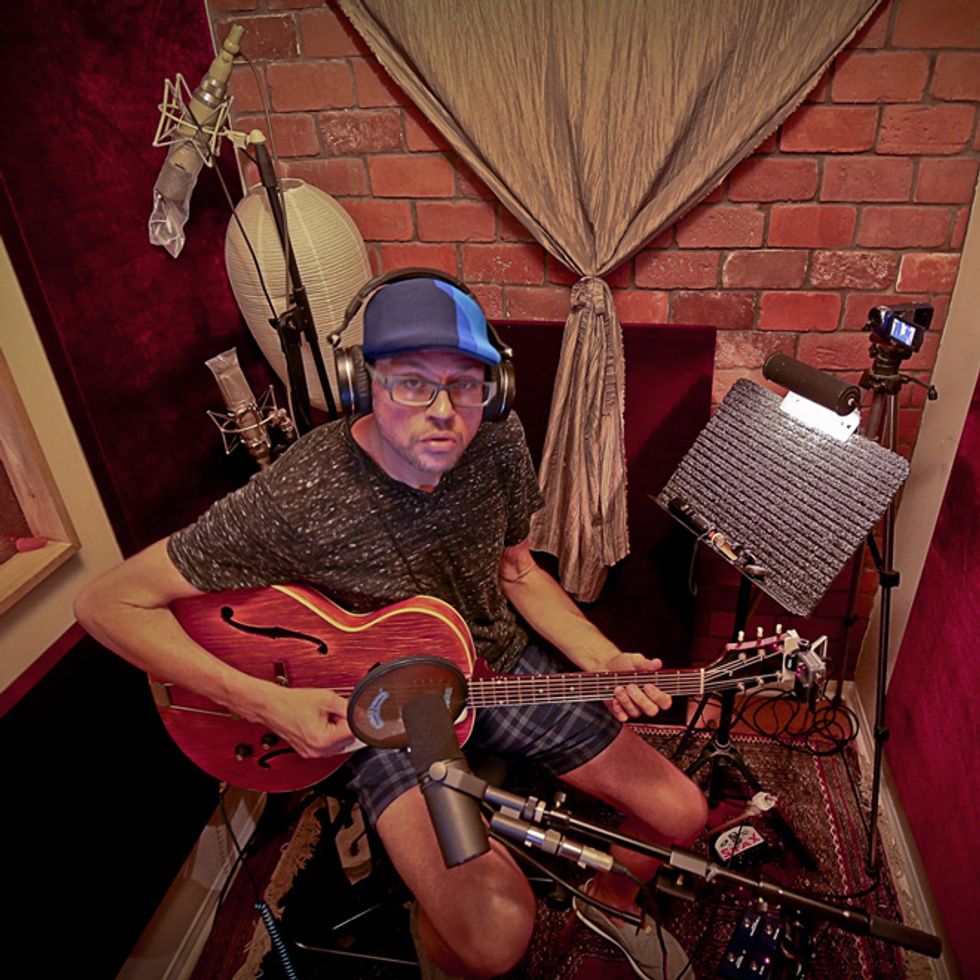 There's more than one way to mike a guitar in Wamble's playbook. Here, he records with one of his archtops. He plays several models, from classic Kays and Gretsches to custom modern instruments.
Why is that?
I don't really love Miles Davis' music of the 1960s with Herbie [Hancock] and Wayne [Shorter]. It does not resonate with me, and I don't enjoy listening to it. But that doesn't mean that I don't need to know it. It's still very, very important. What that group did was crucial. I know aspiring jazz musicians who don't like [Thelonious] Monk, but he's still someone they need to check out. You have to be able to get what you need to learn from music you don't like. And I've always been very cognizant of that. But definitely, as far as what resonates with me, it's always the music that is connected to folk tradition.
Does that come from your upbringing, from where you grew up?
I really don't know. There's certainly a lot of people from my generation who don't like any of that [American roots] music. I think it was just a matter of finding something that made a lot of sense to me once I'd heard it. And I kind of followed that path. I think that if you get on a path you try to find the people who are speaking your language. And certainly meeting people like Wynton—that was a big thing for me, to meet someone whose work definitely had a folk tradition. Even before I met him, his music guided me to embrace the more traditional side of things.
There's a lot of music that insists on being called modern, which basically gives the performers license to absolve themselves of all responsibility to any tradition whatsoever and just do whatever they want, like a bunch of 19-year-olds playing math problems on the bandstand. I'm not a fan of that approach: abandoning all of our culture, and all of our norms, and saying that we have to just be new and disconnected from everything. Whether it be music or a tradition of people maintaining some modicum of presidential behavior, you see what happens when you say, "Let's throw all that out the window."
How did you begin working with Wynton Marsalis?
When I arrived in New York in 1997, Wynton immediately got me some arranging work, recommended me for a ton of gigs, and put me on a record of his [Big Train]. It was definitely a dream come true. And then, a couple years ago, he brought me onto the faculty of Juilliard. So, for 25 years he's been giving me opportunities and believing in my abilities. In fact, I'm playing with him next week. We've been working on all these arrangements for this concert we're doing to celebrate a new Ken Burns movie called Country Music. It's going to be the Lincoln Center band with Emmylou Harris and Marty Stuart, and some other country musicians.
---
---