The Beatles never shied away from using a clever songwriting maneuver and our progression in this lesson is no exception—just check out Ex. 5. In 1963, they covered the song "A Taste of Honey" on their debut, Please Please Me. Composed in 1960 by Bobby Scott and Ric Marlow for the Broadway play of the same name, the song features a chromatically descending minor progression in the beginning of the verse.
This progression must have made its mark on the budding songwriters, because Paul McCartney and John Lennon wrote "Michelle" for 1965's Rubber Soul and used a two-measure descending minor progression as the intro, followed by a measure of IVm and V.
A few years later, George Harrison used the progression in "Something" from 1969's Abbey Road. This progression occurs in the verse when Harrison sings, "I don't want to leave her now," before coming back to the song's signature turnaround lick. An interesting thing about "Something" is that the verse opens with the same type of harmonic move on a C major chord. So, the first chords are C–Cmaj7–C7.
"A Taste of Honey"
"Michelle"
"Something"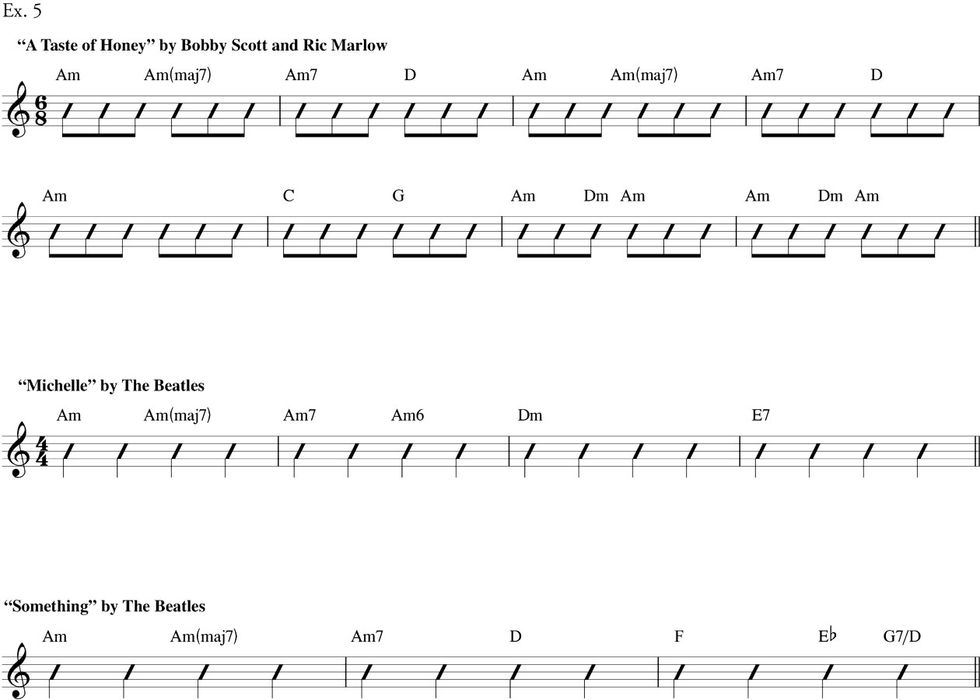 Ex. 6 shows the first phrase of the song "Chim Chim Cher-ee," written for the 1964 Disney film, Mary Poppins, by brothers Robert B. Sherman and Richard M. Sherman. Heavily covered by jazz artists in the mid '60s, this song was most certainly floating around in the popular consciousness. The first two measures are followed by a resolution (IVm–Im) and a turnaround (II7–V7).
Also from that same year was "War of the Satellites," written for the Ventures' In Space record by Danny Hamilton. In this surf rock classic, the descending minor progression is used in A minor, modulates down a whole-step and repeats in G minor, then modulates again to F minor, where it stays momentarily then jumps around chromatically, ascending and descending, before repeating.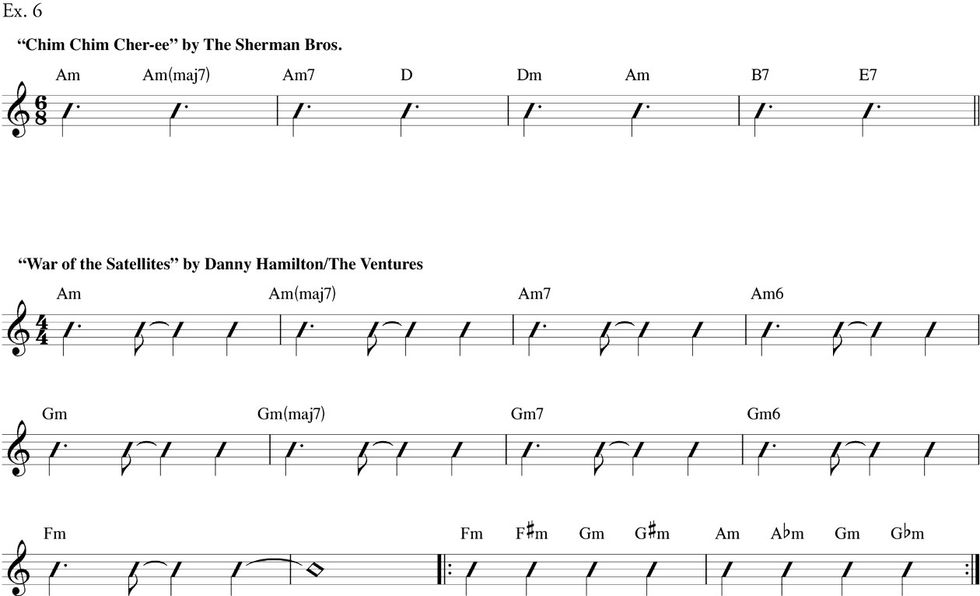 "Chim Chim Cher-ee"
"War of the Satellites"
Through these examples, we've looked at quite a wide variety of styles, from baroque music to Tin Pan Alley, jazz to surf, show tunes to classic rock. What's fascinating about all of these examples is the way the songwriters were able to take this common piece of harmonic information, put a unique spin on it, and go in different musical directions.