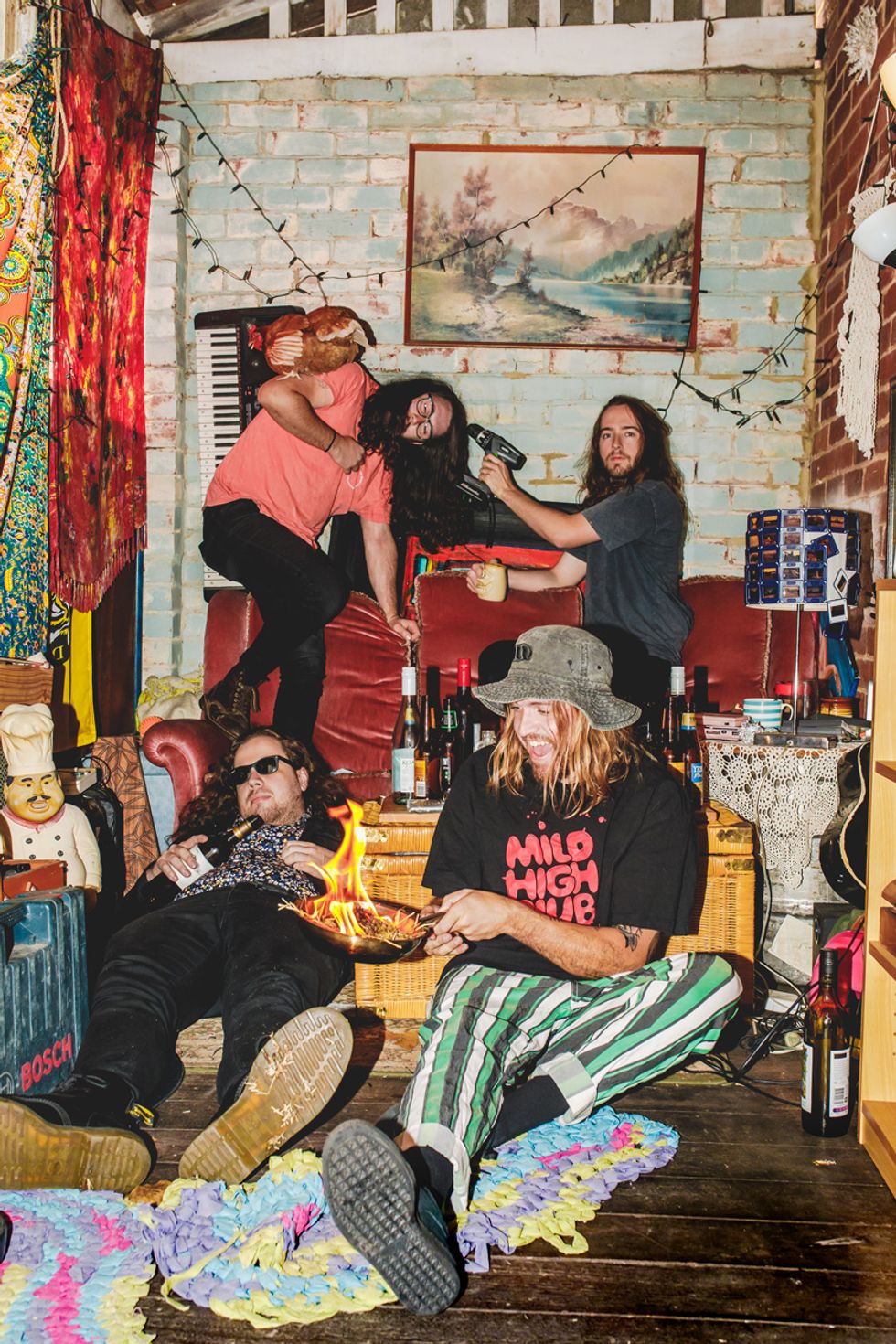 Photo by Josh Ludlow
Since the advent of language, all things have needed to be called something—especially rock bands. For the latest crew to break out of the psych-rock hotbed of Perth, Australia, a truly absurd moniker was chosen: Psychedelic Porn Crumpets. What does it mean? We have no idea and neither do the fellas in the band. However, like their music, it's undeniably memorable. Hailing from the same pub and club scene that spawned psych-pop superstars Tame Impala and cult favorites Pond, the Crumpets' brand of psychedelic rock is decidedly more over-the-top than the fare their compatriots put out. The Crumpets make brash, exuberant music that takes the intrigue and textures of classic psych and injects it with an unhinged, restless energy that feels like peaking on LSD while riding a rollercoaster.
At the core of the Crumpets' sonic universe is an unabashed love of cartoonishly large and colorful guitars. With their third LP, And Now for the Whatchamacallit, Psychedelic Porn Crumpets have created a loose concept album which applies the aesthetic of a 1930s carnival to the turbulent circus that is touring life for a young band. Tracked chiefly in frontman/principal songwriter/guitarist Jack McEwan's bedroom studio (with some overdubs done at Perth's Tone City Studios), And Now for the Whatchamacallit is indeed a guitar carnival that revels in dazzling multi-layered harmonies, chunky, fuzz-laden riffing, and delicate ambient passages that've been tweaked, warped, or pitch-shifted in interesting ways. Finished with a dash of '70s glam pomp and a hearty dose of indie-pop melody, the albumticks a lot of hallowed guitar-rock boxes while forging unique territory.
Beyond being a compelling listen, the Crumpets' latest release is a fine example of how good a guitar-focused album can be without access to expensive gear, or much reliance on tube amps or even high-end modeling rigs. The Crumpets' musical identity is a byproduct of Perth's isolation, where bands are decidedly less overwhelmed by an influx of outside art and additionally forced to use whatever tools they have at their disposal in a place where American-made and/or vintage gear is difficult to come by.
A big fan of the "work with what you've got" philosophy,McEwan tracked almost all of his guitar parts in Ableton through DI and employed clever production techniques (like eschewing amp sims altogether for an extremely hot compressor) to get his guitar sounds, which are rarely sterile, despite often sounding like anything but a guitar. While McEwan's guitars live almost exclusively in the digital realm, lead guitarist Luke Parish is a fan of vintage gear and has hunted down and imported some gems, including a '60s Sears Silvertone amp and a '68 Fender Deluxe Reverb, which he used to add organic warmth to McEwan's digital guitar pastiche. The pair complement each other exceptionally well as guitarists despite having vastly different backgrounds as musicians: McEwan is a converted bass player and Parish came up playing in jazz bands and then followed the typical blues-rock heroes of yesteryear.
We spoke by phone with McEwan and Parish as they rode in the back of a tour van, traversing a Welsh highway. The duo discussed the band's writing process, unique home-recording techniques, the travails of sourcing decent gear in an isolated locale, and what makes Australia such a fertile place for rock 'n' roll.
"There is nothing really here. When we go to England or America and we go to music shops, sometimes it's just to have a look at what these things really are! It's like, 'Oh my God! You can actually buy this?!'" —Jack McEwan
The album has a lot of really complex guitar parts. Could you walk us through your typical writing process and how you go about mapping out those parts?
Jack McEwan: A lot of the time they start with a basic guitar part or actually with a bass part, like a pure, basic riff for us to work out from. Then we add guitars on top of that, progress with the layering and add the harmony bits. We really try to get as quirky as possible, almost like how hair metal bands in the '80s would solo for the sake of it and have harmonized guitar solos going everywhere, which can be sort of horrible listening nowadays, but it adds a quirkiness we really like for our music. It just gives it a bit more of a bang!
Luke, what's the writing process like on your end?
Luke Parish: It's sort of the dinner that's already made and we add a bit of flavor to things. Jack tends to the majority of the writing and we work more on tones and colors, and also we work it all into something that works in the live environment. A lot of the recordings we do in isolation of each other and once it's brought to the table, we all have input and have our different angles and attacks to change things up. Jack tends to write really intricate parts and it comes down to sifting through all of those bits and figuring out which ones stand out and where we can add room to breathe between the guitars or make the drums sound more organic and flow. I see myself more as a producer of the record than a writer and take on the role of bringing out the best in the songwriting that's been done. We occasionally bring our own stuff to the table.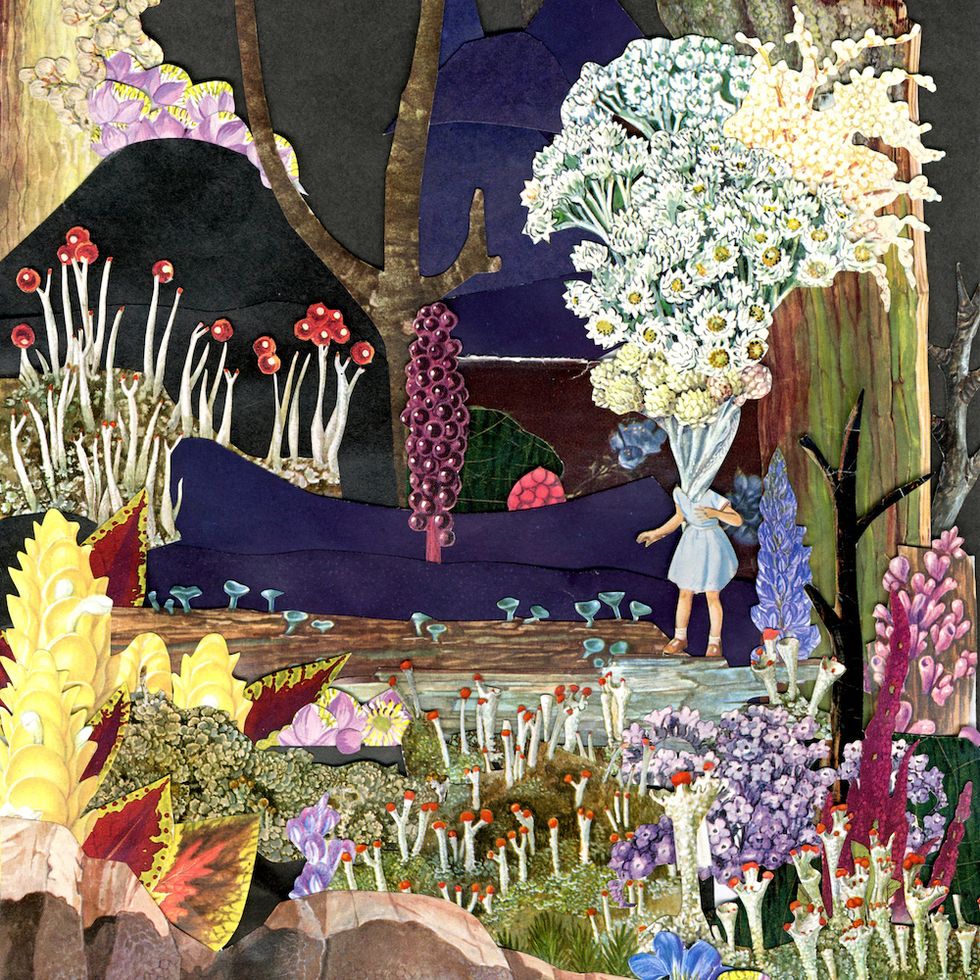 Tidbit: On the Psychedelic Porn Crumpets' third LP, And Now for the Whatchamacallit, principle songwriter Jack McEwan tracked most of the guitar parts in Ableton through DI, while lead guitarist Luke Parish added flavor with 1960s gear, including a Fender Mustang and Silvertone 1484 Twin Twelve.
There are tons of harmonized guitar leads on the album, but they rarely distract from the song itself. "Social Candy" is a great example. What's the trick to that?
McEwan: If you place them right, they give the song a bit of a kick and you really have to make sure they're adding to the root idea. You can triple track something with harmonies and as long as it's tracing the main idea, it seems to work for us.
Parish: The guitar-monies have become a very strong flavor in our music and that has a lot to do with how good Jack is at just sorting them out slowly. It comes back to us being fans of the Allman Brothers. There are some harmonies that clash in a way that makes you slightly uncomfortable, but it's because you have to have sour to better recognize the sweet. We like surrounding ugly parts with nicer-sounding melodies and it doesn't freak you out too much.
Do the vocal melodies come before or after the guitar melodies? For example, I really like the way the vocal intertwines and traces with the guitar on "Keen for Kick Ons?"
McEwan: We record everything pretty much at home, so all the music comes first. Very rarely is there a lyrical idea going in. I'll sometimes have a vocal melody that I'll hum and that's definitely in mind when we're recording, and I'll leave specific gaps in the song to place vocals. I'm of two minds where I feel like we could be an instrumental band, and I think it'd be cool—but you'd shrink your fanbase because some people love instrumentals and some people really hate 'em. I'm personally right in the middle, which is why a lot of our songs have these kind of random verses that just appear out of nowhere instead of a traditional structure. On this record, we tried to work on song structures and keeping things shorter to make something that's really interesting in 3 minutes, rather than some long escapade that stretches on.
You're both very athletic players. Does one of you bring in more of the guitar flare than the other?
McEwan: We write it into our own respective songs, so it's sort of baked-in to our own songs. We jammed a lot as a band when we first started and our early stuff was very much constructed as a band, but because we record at home now, we tend to get carried away writing songs and sometimes finish them as individuals. When we're recording, we don't really have the band in mind, exactly. It's more about what's best for the song and what sounds good; never about whether or not we can play it live.
---
---