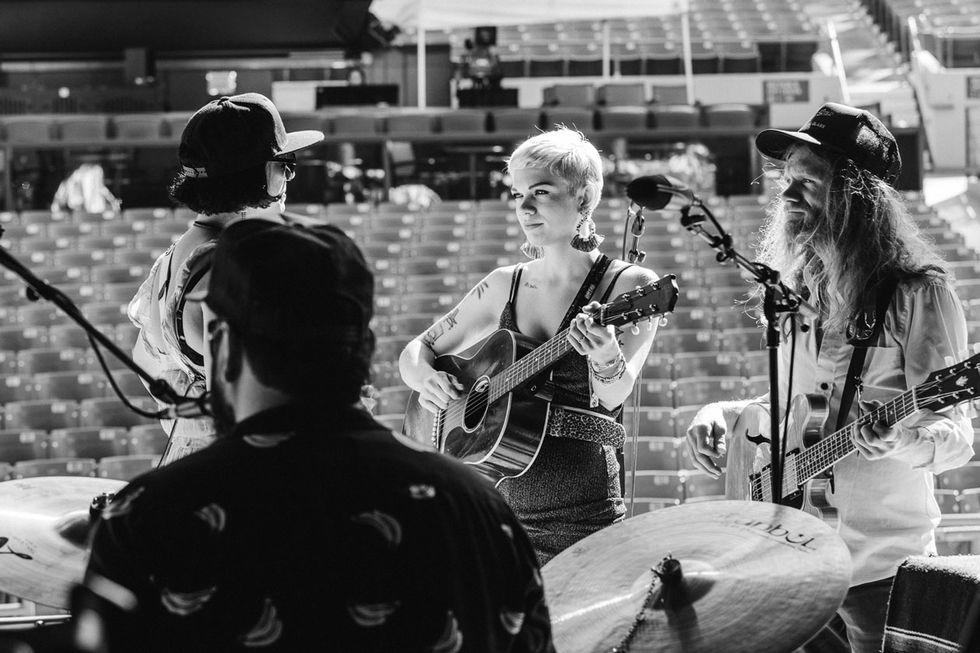 In a pre-show huddle at Los Angeles' Greek Theatre in July 2019, opening for the Raconteurs, that's Lillie Mae's sister Scarlett, at Lillie Mae's right, and her brother, Frank, at left. Both play a key role on the new Other Girls and were part of Jypsi. On drums is Misa Arriaga. Photo by Chris Phelps
What's it like to make music with your family?
Lillie Mae: I'm just blessed to play with my brother. He's done all my solo stuff and all but three or four shows in as many years or something. He is one of the best guitar players alive. He could seriously have any gig in the world. I mean, he is un-fucking believable. He's a musical genius and has put freaking 50,000 times more work into his instrument than I have.
Frank does a lot of session work—mostly modern country music—but he doesn't really advertise it. People would never know it, because he's such a nice and humble person, and he just leisurely does his thing. But he's on loads and loads of material that's being played on the radio and stuff like that, and I know that he won't always be available for my work, being as he's so busy, so I never take playing with him for granted.
Frank: First of all, I love playing with all of my siblings. They're all extremely talented, and we have something special going on. Just the fact that we've played together and sang together for so long, being family and all, we definitely share a kind of natural musicality. And I think I'm the biggest Lillie Mae fan. She's always one of the best musicians on acoustic guitar or on fiddle, piano—whatever she's doing. When we play together, whether on instruments or vocal harmonies, a lot of times I can anticipate where she's going, and we just meld. I'm happy we still get to make music together after all these years.
Lillie Mae, do you think of yourself as a fiddler first, or a guitarist?
Lillie Mae: I currently play more guitar than fiddle—I play acoustic on all my solo music—but I feel like, overall, fiddle's definitely my main instrument and it always has been. I'm actually a better fiddle player than guitarist. But the truth is, I never want to get off the guitar [laughs]. I always loved guitar and actually played it before I played the fiddle.
What speaks to you more about the guitar then the fiddle?
Lillie Mae: Man, I don't know. I sing and stuff, so maybe it's just that you can't really accompany yourself that well with the fiddle. If I sing a song, I'm just going to play guitar. I'll never forget starting to learn the guitar when I was 4, picking up "All I Have to Do Is Dream" by the Everly Brothers and "Sloop John B" by the Beach Boys. I remember sitting on a picnic table and just trying to figure out the guitar—which I still haven't quite done!
"Just the fact that we've played together and sang together for so long, being family and all, we definitely share a kind of natural musicality." —Frank Rische
Frank, though you're of course a great acoustic picker—as is obvious from YouTube videos—you play mostly electric on the album. Which instrument feels more like home to you?
Frank: I guess I feel pretty natural playing electric, even though I really haven't played it professionally for all that many years, and just on a few random recordings. It's definitely a different instrument, with a different feel and learning curve. But if I had to pick one for eternity, I would probably play acoustic, since it's what I'm most accustomed to.
Though there's so much great guitar on the record, every note seems to be of service to the song. Talk about your writing process.
Lillie Mae: Songwriting for me is always the same drill. I just write when it comes to me, when it comes through me. So I wasn't writing for anything specific. In this case, I had been writing for a while, about the things I've known, and just had a bunch of material ready to go. On the other hand, I'm always happy when someone asks me to write for something specific. It's great to have something to write about and give it a whirl.
How often does it happen that somebody asks you to write something specific?
Lillie Mae: Well, almost never. But one time my mom asked me to write something for a woman that she used to take care of. And I wrote some gospel thing, but I never played it for her. She's still around, though, and I really ought to do that [laughs].
When there was a Luck Reunion session that Third Man Records released, I did a collaboration with Langhorne Slim, and we had to write two songs. I had never met him, but I came to him with one idea and then the second song was his idea. It was wonderful and super fun to collaborate and flesh everything out together.
And when I first started dating my boyfriend, he was, like, "Hey, write me a song." He was just joking, but we actually did write something for each other. His song was awesome and mine, not so much. But it was just so much fun, and it was a cool reminder of how I can hash out a new song without having to wait till it comes.

Guitars
Gibson LG with L.R. Baggs Anthem electronics
Harmony acoustic
Strings and Picks
Assorted D'Addario strings and picks
---

Guitars
Bourgeois Vintage D
Gibson ES-335
Gretsch Double Anniversary
Amps
1960s Gretsch 6163 Executive
1960s Fender Princeton
Effects
MXR Germanium Fuzz Face
MXR Phase 90
Strings and Picks
Assorted D'Addario strings and BlueChip picks
What was the recording process like for Other Girls, which has a cool, live vibe?
Lillie Mae: Thank you very much. It's with my longtime cast and crew, plus a different drummer [Chris Powell] and, this time, producer Dave Cobb, which was amazing. So that was different for me to have branched out a little bit. We tracked everything live, so everyone was just kind of sitting in a circle. It was a really cool recording experience. We worked pretty quickly, and it was really great to get in there and record again with a bunch of new tunes. A lot of my songs have natural arrangements, and these came together as we were working in the studio.
Did you give the other players specific ideas of what you wanted them to play?
Lillie Mae: I had a very different vision of how it was going to turn out. We're all pickers, and we tend to solo on everything [laughs]. So for me to make an album where there's no solos was kind of different, but it just happened naturally, you know? I mean, the people on the album, like the other guitar player, Greg Smith, are unreal musicians. I thought he would go crazy on the B-Bender Telecaster or something, but that just didn't happen.
But to answer your question, it wasn't like, you play this; you play that. Things like the mandolin parts that my sister [Scarlet] played just seemed to have been built in when the songs were written.
Why do you think it is that the songs on this particular album didn't call for soloing?
Lillie Mae: Man, I don't know. In my mind it seemed like certain songs would call for something like a steel-guitar solo. But in the studio, things seemed different. The songs are just kinda personal, and I guess in the end it was more important for them to be supported by interesting parts in the background than full-on solos. It wasn't what I anticipated, but it worked. It is what it is.
Frank, how did you arrive at your guitar parts on the album?
Frank: Lillie obviously wrote the songs and just let them take the shape that they wanted to. Most of the stuff we just worked out in the studio, creating little variations on the melody together until everything jelled. But generally, it was more like a feel thing than something really planned in advance.
Would you say that the kind of unexpected outro to "A Golden Year," where the instruments join together and speed up, is one of those details that emerged in the studio?
Frank: Yeah, we just had the instruments doing this repetitive line, which speeds up and kind of gets crazy. It was so much fun to play.
It sounds like there's lots of improvisation in the details on "A Golden Year" and the other songs.
Frank: I improv all the time, but I'm not going to go crazy away from the melody. I just try to play something that suits the song, while getting just a bit away from the original lines. If you play anything for a while, I think that will just kind of happen naturally.
On a different note, how have you both found your own voices within the country tradition?
Frank: I've spent a lot of time practicing to records of different people. Tony Rice was a huge thing for me growing up and still is. For a long period of time, I played to a lot of Alison Krauss & Union Station records and tried to understand what they were doing. I've always listened to a lot of different styles of music beyond classic country as well. I'm always trying to broaden my horizons musically and stylistically. But I've never felt like I wanted to play exactly like somebody … definitely always wanted to have something unique and just play something tasteful that means something for the song. I think it's cool when people learn the exact licks or notes of something amazing, but I think it's also pretty important to put your own spin on things.
Lillie Mae: Shit, I don't know. I feel like it's hard when it's yourself—you don't really notice. I don't feel like I found my voice. I feel like I've always had this. I've always been the same.
Lillie Mae, with Frank Rische at her left, plays a short set including "Didn't I" and "You've Got Other Girls for That," both from the new Other Girls album, for the Ringer website's live music pages. Lillie Mae sticks to her comfortable Gibson LG and a fiddle, while Frank plays a Fender Jaguar and his ES-335.
---