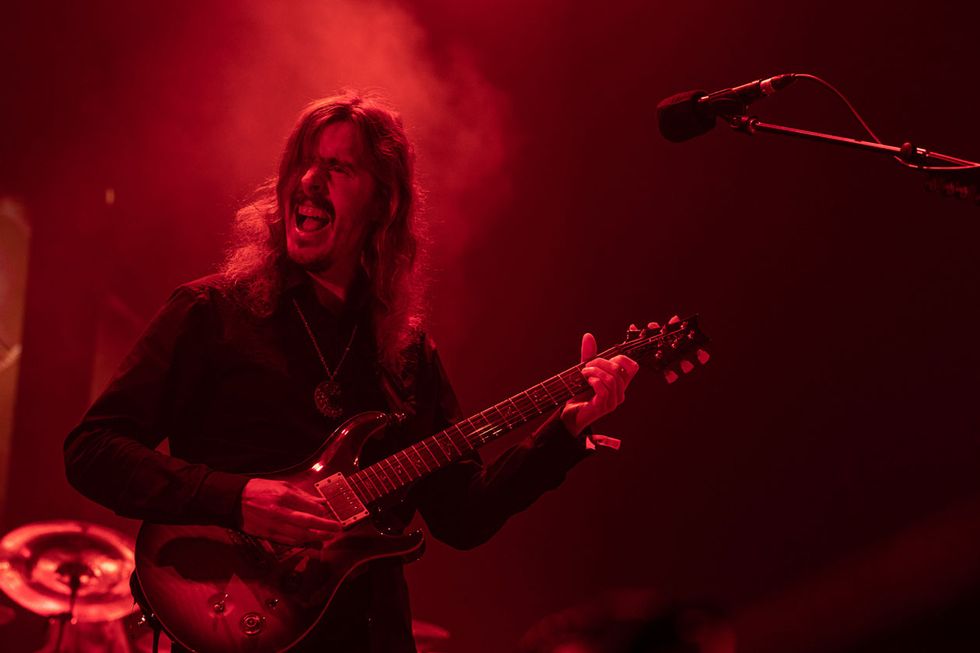 Frontman Mikael Åkerfeldt wields one of the PRS models he plays in concert. He also has a signature PRS, with an extra-thick, single-cut mahogany body, a maple top with a flame-maple veneer, HFS and Vintage bass humbuckers, and, of course, Opeth's logo on the body. Photo by Tim Bugbee/Tinnitus Photography
You said you were into recording guitars with effects. Those effects really stand out in places like the psychedelic delay manipulation on "Heart in Hand" and the fuzz on "All Things Will Pass." Were there any pedals that became the go-tos?
The studio had shitloads of pedals, and we also have shitloads of pedals. I can't remember what they're called, though. Generally, we added a little boost from a fuzz pedal on the guitar. And we used a distortion pedal on the bass that alternated between two settings. It added more of a midrange to the bass guitar, which I always liked. Then the spring reverb … like I said, that was an old fucking metal box that he had in the studio. The echo was probably like a Carbon Copy, or something.
Are any of those pedals going to make it into your live rig?
Yes. We both [Åkerfeldt and Åkesson] switched to Synergy amps. I was really happily surprised with them. I didn't figure it was going to work out for us. But it really, really did. I'm going to add a phaser [an Electro-Harmonix Small Stone] to that rig. The spring reverb, when we play live, I take it from the Axe-Fx.Fredrik has a shitload of stompboxes onstage. He constantly changes them. He's got, I don't know, fucking 15 or 20 pedals on the board.
What Synergy preamp modules do you use?
Soldano, for the heavy tone. That sounds like a high-end fucking L.A. cock-rock brand to me [laughs]. I never tried a Soldano amp in my life, but it sounded really nice, and there's a Friedman for what I call "old man's rock." It's like when you roll back on the distortion and get that softer, just slightly distorted sound. It's for softer leads.
Tell me about the dynamic between you and Fredrik Åkesson. Who plays what, and how do your styles complement each other?
Fredrik is a lead guitar player. He's basically a shredder. That's what he is. That's his forté. And I'm not. I'm the slow hand of hard rock. I like to play slow melodies. Fredrik loves when I tell him, "Okay, I need a fast run here. Can you do it?" But he also has this side that I'm trying to bring forth. It's his emotional playing.
"Even if I'm a guitar player, I don't favorize the guitar more than any of the other instruments."
On a song like "Lovelorn Crime," that solo, to me … that's his masterpiece. It's the best solo he's ever done, as far as I'm concerned. It's insane how good he is. He is one of the best guitar players in metal music.Together we make a very good team, because I'm a fairly good acoustic player and I'm a pretty good rhythm player. I also have taste. With that combination and the tools I have with Fredrik, we cover a lot of ground.
Does Fredrik also play rhythms on the album?
We play one [stereo] channel each. But when it comes to acoustic, I play pretty much all of them. Then Fredrik does pretty much all of the solos. I think I do one or two. I do one in the song "Next of Kin." And I do the scat solo in "The Garroter," the jazzy song.
I think your playing has an incredible vocal quality that probably has a lot to do with the fact that you're a singer. Were there any ways you were able to stretch out and grow as a guitarist on this album?
That would be my acoustic playing, I think. There's one part that I'm proud of, and that's in "Next of Kin." There's an acoustic interlude which I'm really happy with. It sounds a bit folky. I'm also quite happy with my lute part on "The Garroter." It's a little bit of a faster thing, which sounds maybe ridiculous to some people. But I think I pulled it off okay.
The guitar is such a vital ingredient in the Opeth sound. How do you see its role in the band?
It's the same as all the other instruments. Even if I'm a guitar player, I don't favorize the guitar more than any of the other instruments. Fredrik would love for me to favorize it a bit more, I'm sure. But I don't think in terms of us as a guitar band. We're a band of a bunch of different instruments, and all of them have equal importance to me.
That said, you're very open about your guitar heroes—especially Ritchie Blackmore. But who inspires your playing today?
It's the same guys from back in the day. There's some newer players that I think are really good, but many sound the same to me. It goes with metal music in general. I think it's very samey. Some of those players are fucking great. I just can't hear that it's them. It's not like Gilmour. You instantly hear it's him. Ritchie Blackmore, you hear it's him. Jimmy Page, Michael Schenker, Uli Roth … you hear it's them.

Guitars
PRS Mark Tremonti Signature
PRS Mikael Åkerfeldt SE Signature
Fender Stratocasters
Gibson Les Paul Junior
Gibson SG Special
Gibson Flying V
Fender Jaguar
Martin 000-28
Amps
Synergy SYN50
Synergy Soldano SLO preamp module
Synergy Friedman preamp module
Olsson head
Synergy 4x12 with Celestion Vintage 30s and Greenbacks
Effects
Fractal Axe-Fx II
Electro-Harmonix Small Stone
MXR Carbon Copy
Xotic EP Booster
Custom rackmount spring reverb
Strings and Picks
Thomastik-Infeld Power-Brights (.010–.045)
Dunlop nylon, 1 mm
Even if I love his guitar playing … like Joe Bonamassa. I'm not sure how he sounds. I think he's a product of his influences. So I wouldn't be able to pick him out of a hundred players. He's just fucking skilled and has a great tone, great emotion, and all that stuff. He's also got his influences on his sleeve. He can emulate his idols to the point where he plays their stuff much better than they can. But what does Joe Bonamassa sound like? I wouldn't know.
Then the acoustic players that I really like…. I discovered Tommy Emmanuel maybe 10 years ago. He's fucking fantastic. When you hear him play, it's like, "Wow, I wish I could play like that." I also love Bert Jansch and Nick Drake. Joni Mitchell is very underrated. Then there's rhythm players, like James Hetfield, Malcolm Young, Dave Mustaine, and those guys.
And I still love Yngwie! He's got his sound and you can hear it right away. Unfortunately, you're going to hear he wrote the song, too. If he's reading this, I'm sorry. I love him. I have the utmost respect for him, but he could up his game a lot.
Heritage marked one of Opeth's biggest changes, as you turned away from a heavier, more extreme sound. But there's still plenty of metal throughout every album. Do you think that, because people have reacted to the lack of the extreme influence, many have missed the metal elements that are still present?
Yes. I think I have a different view on what metal is. We've been part of tours where we're playing with 15 fucking bands that sound the same. They're aggressive and they all have neck tattoos. I couldn't take it anymore. And we're lumped in with that shit. I just didn't want to be there anymore. I couldn't see the comparison between us and our peers in that scene.
To a lot of people, metal has to be screaming vocals, double bass drums that are triggered and really high in the mix, and a Mesa/Boogie's super-distorted sound. But that's not wild enough for me. For me, metal is supposed to be a bit wild.
In a recent interview with Premier Guitar, Devin Townsend discussed how he embraces his metal side as a color to add to his symphonic and acoustic shades. And I noticed some death growls in the background of your songs, like "Next of Kin." Do you think similarly about your metal influences?
I do whatever the song needs. If it had needed proper death metal, it would be on there. That's as far as I go. I don't do anything to hint to the fans, like, "Hey, I can still do it," or "I still love it." When we play those older songs live, we fucking enjoy playing those songs. It's fun. Maybe, it's more fun now than ever. But on record, I don't really see the need for those type of vocals. I try to develop my real voice, trying to use that as aggressively as I can. I think, more on this record than on the previous ones, I'm pushing my vocal thing out of my comfort zone.
I'm not hating on death metal, and especially not hating on the death metal that we did before. But for us to return to that vocal style, I think it's more likely that we do a proper death-metal record in the style of Death, Morbid Angel, or Autopsy. I never really liked the progressive death metal, apart from the stuff that we did. My death metal is the pure, simplistic, stupid fucking death metal. That's the stuff I like. [Chuckles.]
I've done that with [Swedish death-metal supergroup] Bloodbath. That was, basically, the type of death metal that I like, pure death metal. If I would do that with Opeth, we would be competing with my old band. I'm not sure if that's going to happen. But if we would do a thing like that, it would probably be more in the vein of pure death metal.
Opeth performs "Sorceress," from 2018's Garden of the Titans: Live at Red Rocks Amphitheatre, displaying their marriage of metal and muscular, melodic songwriting with a prog edge. Check out the gorgeous guitar-and-keyboards unison section at 5:11.
---