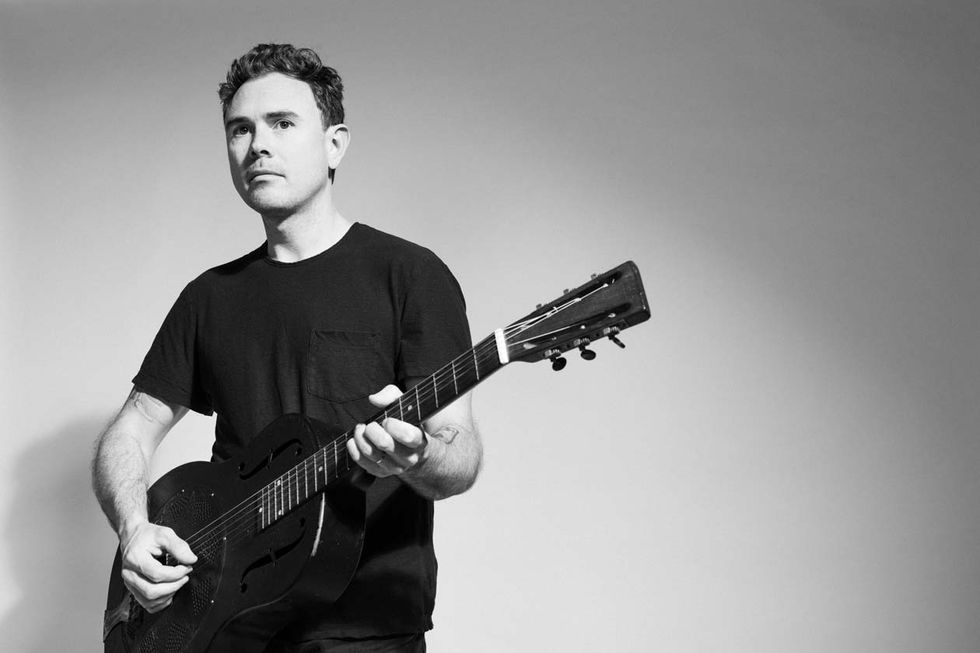 Shown here with his 1923 National Duolian, Hughes is a deft fingerpicker. On West, he reveals his skills in "The Dreamer," which gives off modern-day Nick Drake vibes. Photo by Libby Danforth
"I realized, holy shit. I've never done this before." Jedd Hughes is still buzzed about not only rocking a packed house at Nashville's 3rd and Lindsley but doing so with … a string quintet. The added textures augmented Hughes' working band with lush soundscapes that gave the tunes a bit of a movie soundtrack vibe. "It worked beautifully," says Hughes. "Everybody just tamed their velocity a bit and I had to be really conscious of sticking to the arrangements."
Those arrangements on his new album West don't directly deal with the long journey Hughes took from the Australian countryside to Nashville, but you can hear the work he put into it. "Thinking About You" is a jaunty pop-rock tune buoyed by a bouncy string arrangement that meshes with drummer Matt Chamberlain's propulsive beat. Out of nowhere, Hughes appears with an introspective fuzzed-out solo that brings to mind a subdued Billy Gibbons lead.
Each of the tracks on West not only tell a story but have a story behind them. A late-night acid trip in Vegas gave inspiration to the instrumental title track, while the magic of an afternoon collaboration with singer/songwriter Sarah Buxton on "God Washed Up" was so special, Hughes decided to keep the "work tape" recorded shortly after the song was finished. (Listen closely and you might even hear Buxton's newborn in the background.)
Even Hughes is amazed this music made it out into the world. It had been 15 years since his last solo album, 2004's Transcontinental, and although he saw minor success, Hughes nearly became another music industry statistic. He was passed around a few times as various labels merged with each other leaving him quite disillusioned with the whole idea of being an artist. Hell, there's an entire album with Tom Petty drummer Steve Ferrone that has yet to see the light of day.
Watch the video for "Animal Eyes," from Jedd Hughes' new album, West.
But the material on West comes from a different place. Collaborations with Parker Millsap and mentors Guy Clark and Rodney Crowell gave Hughes the time to allow the music to come to him. "Getting to this point kept me up at night," he says, "just trying to figure out how to write and record music that felt like me." We caught up with Hughes while on tour with Vince Gill to discuss his love of bluegrass music, tweed amps, and why you should never give up on yourself.
When you moved from Australia to rural Texas for college, how different was the culture for you? I'm from a tiny town outside of Adelaide, called Quorn, which is just a little farming town of 800 people. Funnily enough, flying into Lubbock and looking out the window I was thinking, "This is not that dissimilar from the desert in South Australia." I'll never forget that. I told Guy Clark this story—we actually wrote a song about it—where I landed in Lubbock and saw a guy with a machine gun strapped to his chest at the airport, a security guy. I was like, whoa, we don't see that at home.
What were the big lessons you took away from your college experience?
It was the first time I really got to play bluegrass music in an ensemble. I had some friends that played bluegrass in Australia, but it's not a very popular thing down there. When I went to college, I was really looking forward to meeting other people my age that were as passionate about playing bluegrass, country, and whatever else, as I was. All I did for a year and a half was just play music. They had some great audio engineering programs and I had a real curiosity about recording. So, I threw myself into those classes and the ensemble classes. Alan Munde, who I knew was a great banjo player, taught me a lot. He had a really great background in jazz guitar and introduced me to a lot of players I hadn't heard of, like Jimmy Raney, Lenny Breau, and Ted Greene. He showed me what was going on inside of those chords. It was like, "Oh my god, there's a whole other planet in there."
"I wanted to write my own songs, play my own guitar solos, and get out there and sing them with a kick-ass band."
In Australia, who were some of the early country guitarists you listened to?
I listened to Albert Lee a lot. Then there was Danny Gatton, Vince [Gill], and Clarence White. It was a bit harder to get the Clarence White stuff, but I found bits and pieces. If it sounded like a Telecaster and country guitar, I would geek out.
As you were discovering all this new music, was there a point where everything just clicked?
Yeah, the first time I got that thrill was playing the intro and solo for "Folsom Prison Blues." I was probably like eight years old and my dad and I sat down and figured it out. He helped me stop the tape, hum the notes, and try to find them on the fretboard. He really taught me how to listen like that. After that I thought, "Holy shit. This is fun."
You left college early. What prompted that?
In college I met Terry McBride, who came down from Nashville. He was a friend of one of the other teachers at the school, Steve Williams, and Steve, unbeknownst to me, called Terry and told him about me. Terry was getting into producing and he came down to the college to give a workshop. We hit it off and became mates and stayed in touch. He asked what I was going to do after college, and I said my plan was to either go to Austin or Nashville. I didn't know anyone in Austin, and Terry was the only person I knew in Nashville. Terry offered to write songs with me and introduce me to other writers. I was hoping to get a gig to pay some bills, so I thought that might be as good of a start as any.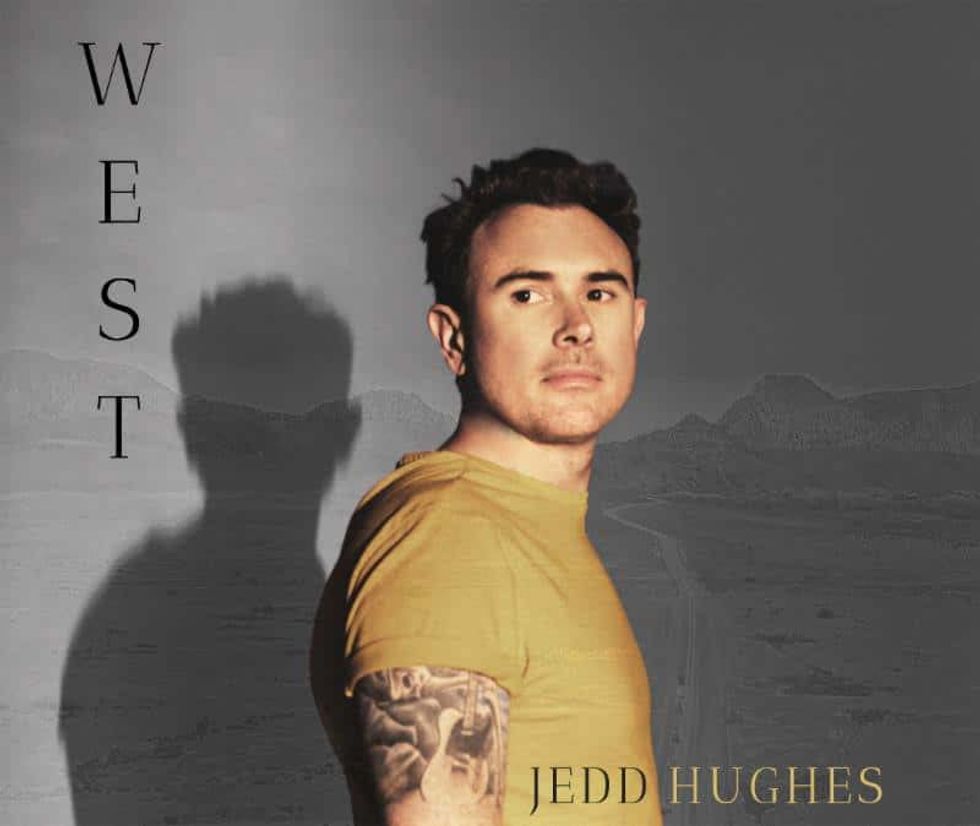 TIDBIT: Famed studio drummer Matt Chamberlain contributed to several tracks on West. "Both 'Animal Eyes' and 'The Dreamer' were tracked live with just me and Matt," says Hughes.
At that point did you think you were going to make a living more as a songwriter than a guitarist?
I got signed to MCA when I moved to Nashville, and my goal when I came here from Australia was to be an artist like Eric Clapton, or Mark Knopfler, or Vince Gill. I wanted to write my own songs, play my own guitar solos, and get out there and sing them with a kick-ass band. I got a record deal. I mean, everything was just falling into place, man. It was amazing. Even down to the fact that all my favorite artists were on MCA.
Then it just came crashing down. I lost my record deal, my label merged with another label, and suddenly I was like, "Oh yeah. Reality." I had to survive by leaning on my skill set, which was being able to play guitar and write songs. Rodney Crowell took me under his wing. We kept writing songs and playing shows, and I got another record deal—this time with Capitol. I was really excited about that because I had some good friends working there. I made a record and Steve Ferrone flew in the play drums on it. It was his first session in Nashville, and he was playing on my record. But it never even came out. It got caught up in a bunch of political bullshit and I was just totally disheartened. For all I know, it could have been in that big fire in L.A.
After that fell through, did you take time to get your head straight before diving into another record?
A good 10 years to be honest. I was pretty disillusioned and disenchanted with trying to get my own music out. I just didn't know how to do it. I didn't know how to do it independently, and I was just tired. I was burnt out. I was giving everything to this process and feeling like I was getting nowhere. So, I decided to go play guitar for people and I threw myself into the session world. I was getting called more and more to work on sessions. I just thought at least most of these records are going to come out. At least I'll get to hear my guitar solo every now and then.
---
---