Dave's Guitar Shop in La Crosse, Wisconsin is a guitar haven in itself; racks upon racks of guitars and amps sit waiting for you to plug in and tune out. But when word came down that we had the opportunity to spend a few days amidst Dave Rogers' personal collection, taking up the sprawling second floor of his shop, we went into a temporary gear coma.

After coming to, and embarking on a long drive north, we spent two days surrounded by classic pieces of guitar history. Fenders of all shapes and sizes; a row of custom colored Jaguars, with some maple boards thrown in for good measure; mid-'60s Esquire Customs, an Antigua Tele, a handful of Blackguards, all out in the open for the store's guests to enjoy; two-tone, tweed and brown tolex Fender amps arranged neatly; rare Gibsons, Rickenbackers, Epiphones, Martins and Gretsches covered every wall.

And nothing is behind glass. No one is hovering over you. There are no signs warning you not to touch. You are left to enjoy the beauty of the instruments on your own.

It was the definition of gear nirvana.
---
» Online Photo Gallery
Click Here to see a photo gallery with pictures from Dave Rogers' collection we couldn't fit into the article

» Podcast Interview
Click Here to listen an exclusive podcast interview with Dave Rogers.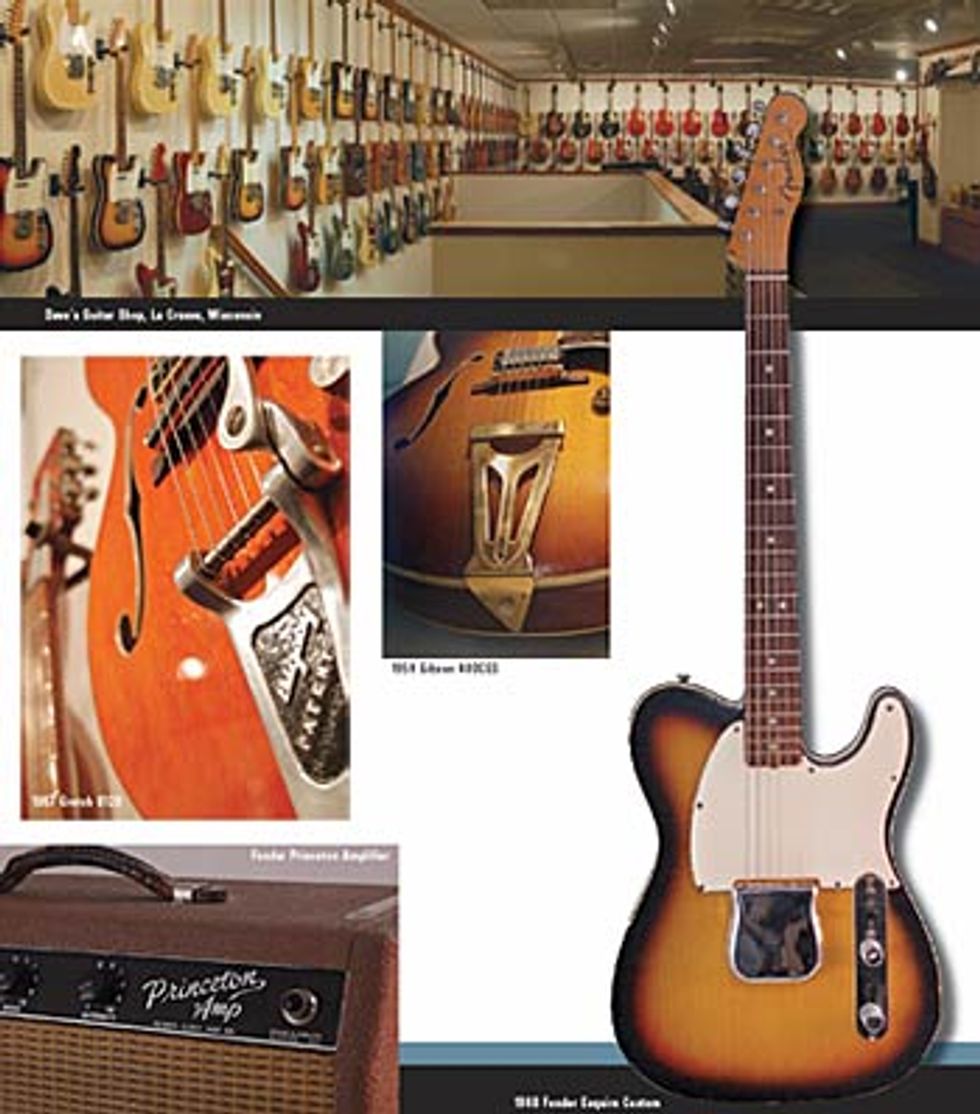 All of our favorite stores have had good people, who, in addition to being knowledgeable, make you feel comfortable and welcome. Being respectful of your customers seems like a no-brainer, but how many stores have you been in with "Do Not Touch!" or "Please Ask for Assistance" signs on all of the guitars?
It is akin to walking into someone's living room with plastic covering all of the furniture, making it perfectly obvious that no one actually uses the room for anything close to living. Oddly, the stores with the admonishing signs are generally the places that are plagued with the most inadvertent dings and scratches. Asking to take a guitar down in a cool shop is more often than not met with the same response one would get after asking a good friend if it would be okay to grab another beer.
Making your way around, after the initial rush of seeing all of the amazing guitars in the main showroom, your eyes eventually wander over to the staircase, situated by a mess of Fender Custom Shop Teles. There is a velvet rope with both ends hanging on a hook at the base of the stairs, but it is rarely strung across. Taking the staircase leads to a small landing which spins you around 180 degrees, displaying a few framed photos of famous guitarists with famous guitars. As you complete the turn, Dave's collection hits you square in the face.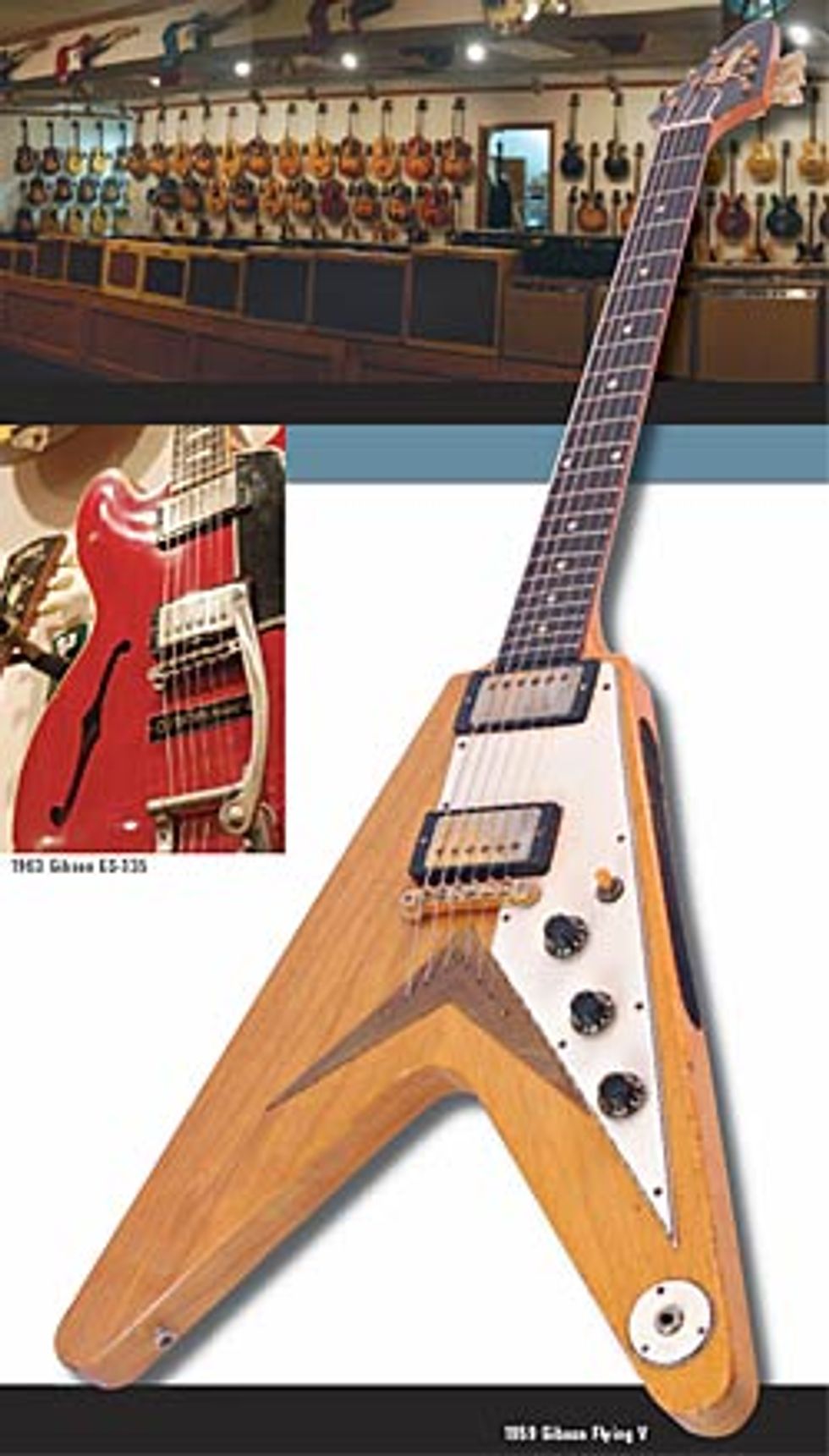 They're all there, lined up on the wall, treated like true art. Soft lighting from above beams down at the various mahogany and maple tops. We walked slowly past the rows, chattering excitedly amongst ourselves, wiping up drool when appropriate. It's amazing that something many of us grew up with in our hands, learning and playing, has attained this sort of reverence. Dave's collection celebrates a day where craftsmanship was paramount.
Over 500 photos and a lot of scribbled notes later, we headed back south. We flipped through them on our digital camera, discussing our favorites and debating the best. The Fiesta Red Strat. The Reverse Firebird. The '59 Flying V. Being hungover, we kept the loud voices to a minimum.
Until next time, La Crosse.