Welcome back to another day in our refinishing department as we continue restoring a 1960 Fender Telecaster to its original blonde finish. Last month we applied the vinyl sealer, an oil-based natural grain filler and a light, transparent white base coat. The body was then topped with a tinted nitocellulose vintage clear. The restored finish was matched to the original finish that was still intact in the body cavities. The original finish was a lighter white blonde – what Fender began spraying in the mid-fifties – rather than butterscotch.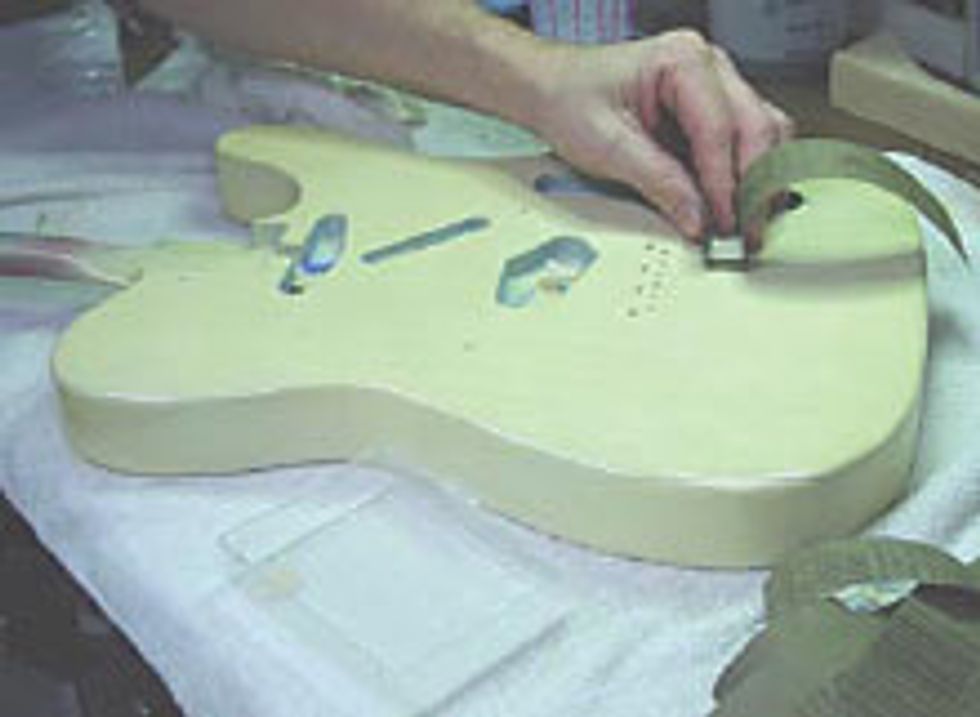 Clear Coats
I sprayed six additional coats of clear nitro to be sanded and buffed, as the original finish was not very thick, making it an important detail in the end result. In between coats I supercharged the curing time by setting the drying room temperature between 85 and 90 degrees. This type of restoration usually takes four to six weeks, but to have this body ready in the requested (short) ten day period, I needed to use minimal amounts of lacquer thinner and boost the curing room temperature.
Sand and Buff
The finish was wet sanded up to 1500 grit with an assortment of sanding blocks. Before the protective tape was removed from the body cavities the overspray was cut and scraped at the tape line. For this I used my trusty razor blade, ground down to a 52 degree angle on one side. This helps when maneuvering in the cavity routes and with removing the excess finish in the neck pocket when fitting the neck.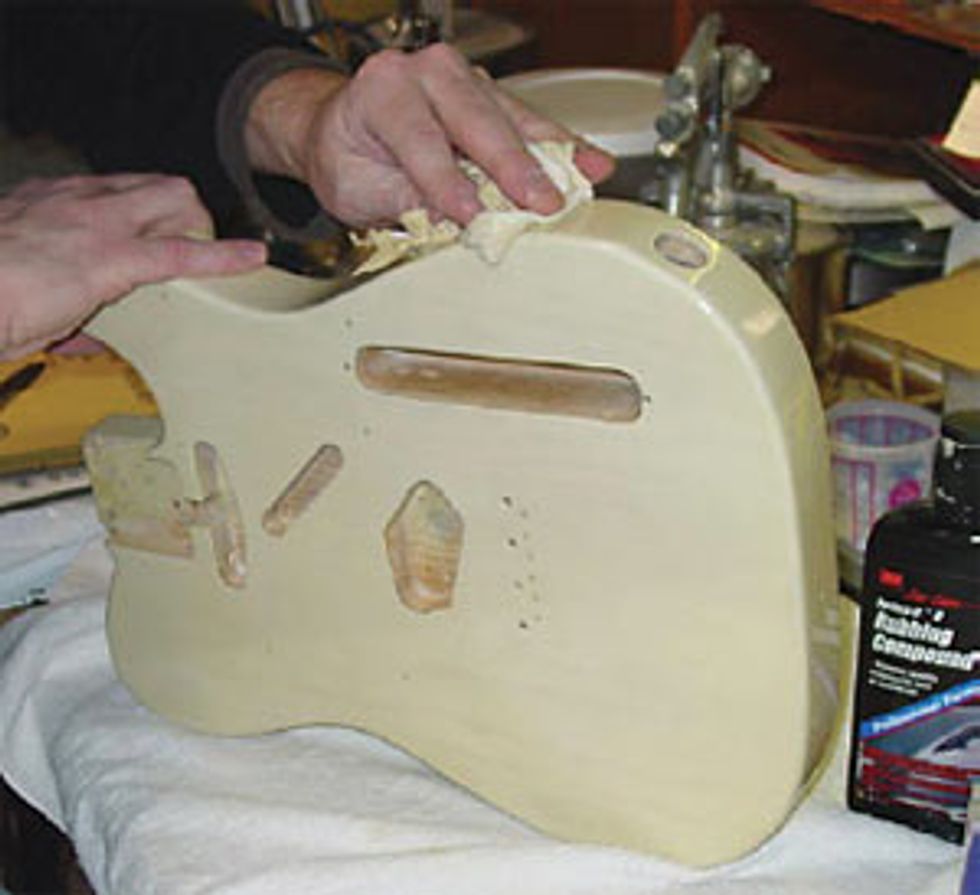 It was requested that the freshly sprayed finish have an original, textured look to it, but it was not to be relic'ed – the artist was going to create all of this naturally through the use of the instrument. I hand buffed the finish using trace cloth and 3M Perfect-It Rubbing Compound. Avoiding the use of machines provided us with a bit of a comfort zone by avoiding the heat factor from fast-turning buffing wheels and the possible melting or burning of this freshly sprayed finish.
The end result gave us the desired look without the intense glare of a bright and glistening sheen. The guitar was carefully assembled throughout the night and sent off to the airport come morning.
Because of client confidentiality I am not able to say whose guitar this is, but I can say that refinishing this guitar in a very short amount of time has been an exciting adventure and an intense workout. I'm looking forward to seeing it played in concert on TV.
As an added note, Brown's Guitar Factory will be at the NAMM show in Anaheim, January 17-20, at
BOOTH # 3095 in Hall D
. Please come over to say hello and take a look at our new products and the unveiling of our new guitars. This would also be a great time to answer any of your repair or building questions. It would be my pleasure to meet all of you Restoring An Original enthusiasts.
---
John Brown
John Brown, of Brown''s Guitar Factory, is the inventor of the Fretted/Less bass. He owns and operates a full guitar manufacturing and repair/restoration facility, which is staffed by a team of talented luthiers. He is also the designer of guitar making/repair tools and accessories that are used today by instrument builders throughout the world.
www.brownsguitarfactory.com
info@brownsguitarfactory.com