Bob Wootton: Keeping the Johnny Cash Flame Alive
The Johnny Cash guitarist talks about his playing style, tools of the trade, and keeping the Cash flame alive

Some people may call it destiny. Others may say there were divine forces at work. This writer calls it spiritually astounding in the most positive sense of the word. Whatever it was, guitarist Bob Wootton inherently knew at an early age that his life's calling was to play music with Johnny Cash. The amazing thing is he achieved that goal, serving for nearly thirty years as Cash's lead guitarist, replacing the late Luther Perkins, who had been killed in a tragic house fire. Bob even worked as Cash's screen double in movies and television shows, and eventually became Cash's brother-in-law by marrying June Carter's sister, Anita. The two men shared an extremely strong bond for decades that continues to this day, six years after Cash's death.

After Cash retired in 1997, Wootton left the music business and drove a tour bus for several years, and participated in a Cash tribute show where he sang many of Cash's songs. Along the way, Bob was elected to the Rockabilly Hall of Fame, and was also recognized as one of the Top 1000 guitarists of all time. There's a movement going on right now to get him elected to the Musician's Hall of Fame.


In 2006, after the aforementioned tribute show fired Wootton's desire to keep Cash's sound alive, he reorganized the Tennessee Three with original drummer W.S. "Fluke" Holland (who left in 2007), and assumed the role of Cash himself, playing and singing the songs in the style of the Man in Black, much to the delight of Cash fans worldwide. Today, he plays about seventy shows a year with a crack band that includes his wife, Vicky, on acoustic guitar and vocals, along with daughters Montana and Scarlett, who sing and play guitar. The apples clearly don't fall far from the tree, as they say.
Let's start at the beginning: how and when did you discover the guitar?
I guess I was about eleven when I started playing. My dad played guitar; he was one of seven children in his family. He taught me my first chords, and we played together a lot. He'd call out chord changes to me, and I'd try and make them. His family all played music in the mountains of Arkansas. I grew up with hillbilly music, playing on the back porch. One day, I was out there, and my mother called me into the house. She said, "There's someone on the radio that sounds like you." It was the first time I'd heard Johnny Cash, and I instantly loved his sound. My voice was lower than most boys my age, so I guess I did sound like him even back then.
I said to my mother, "Who is that?" She said, "Johnny Cash & the Tennessee Three." From then on, every penny I had I spent on Johnny Cash records: 78s, 45s and albums, and I still have them all, including promo copies and other rare things. The first record I ever owned was one by Johnny Cash. I just knew I was going to play with him one day, and I loved Luther's guitar playing, so I listened to the records over and over, and copied that boom-chicka- boom sound just like Luther.
Cash and Wootton, early 1980s.
Would you also tell us about your "audition" with Johnny?
I went to Fayetteville, Arkansas on September 17, 1968 to see Johnny, and most of his band had been stranded at the airport. Now, it was show time and no band. The only ones there were June Carter and Fluke Holland. This girl I was with went up to June and said, "This guy can play guitar Luther-style." So, June took me over to John who was onstage already, and we talked for a minute, I borrowed Carl Perkins's guitar, and went onstage with Johnny. Luckily, I knew every song Johnny called out. I was nervous, but it worked out well. After we were done, Johnny said he might be calling me at some point to do some playing together. He called me a few days later and asked me if I was ready to join his band. I was, and I feel it was predestined by God. I was at the right place at the right time. Johnny always said that God sent me to him, that he was afraid he would never be able to reproduce that sound without Luther.
I always played simple. I took what Luther did and added my own twist to it. Johnny always said I sounded like a combination of Luther and Duane Eddy.
You spent thirty years working with Johnny. What were some of the high points?

It was just wonderful. You see, I always wanted to be a singer and guitar player, and Johnny would call me up to do a leadvocal once in a while, which I liked. Johnny's TV show was really something; being on TV every week was great. That was a dream to me. We did a lot of shows with other stars, like George Jones and Waylon & Willie. I was like a kid in a candy shop, getting to meet a lot of these people. One of my dearest friends was Tammy Wynette. It really hurt me when she passed away.
Let's talk about your equipment. What was your first guitar?
It was an archtop Regal, and I bought a Fender amp to go with it. I still have it. It's my prized possession.
Cash, Carl Perkins and Wootton play a Jerry Lewis telethon in the early 1970s.

Onstage you play Telecasters, like so many country guitarists. Have you always played Telecasters?
No, I didn't. Fender gave me a blue Jazzmaster in 1968, and that's the guitar I used on the At San Quentin album. I haven't played it since 1971 or so. Then, they gave me a '71 Tele. It was white when I got it, but it's yellowed since then. Then I went to Kramer in the '80s and they made a custom guitar for me that looked and felt like a Tele, and I played that for the longest time. I gave it to my older daughter Scarlett, and Montana, my younger daughter, has the Jazzmaster now. It's been forty years since we did that San Quentin album, and we were going to do a return concert there to celebrate, but it never happened. Too many details and red tape, I guess.
Will you tell us about the Telecaster you're using onstage now?
It's a black reissue of a vintage '57 or '58 Tele. For what I do, the Tele is perfect for me. I'm a rock player, but I play a Telecaster too, a new one. You can't kill them. I could throw mine out the window and it would stay in one piece and still play in tune.
I'm sure it would. I don't bend a lot of strings, so mine stays in tune all night. Some of these rock guys bend their strings so much, they yank them out of tune right away, so they have to change guitars after every song.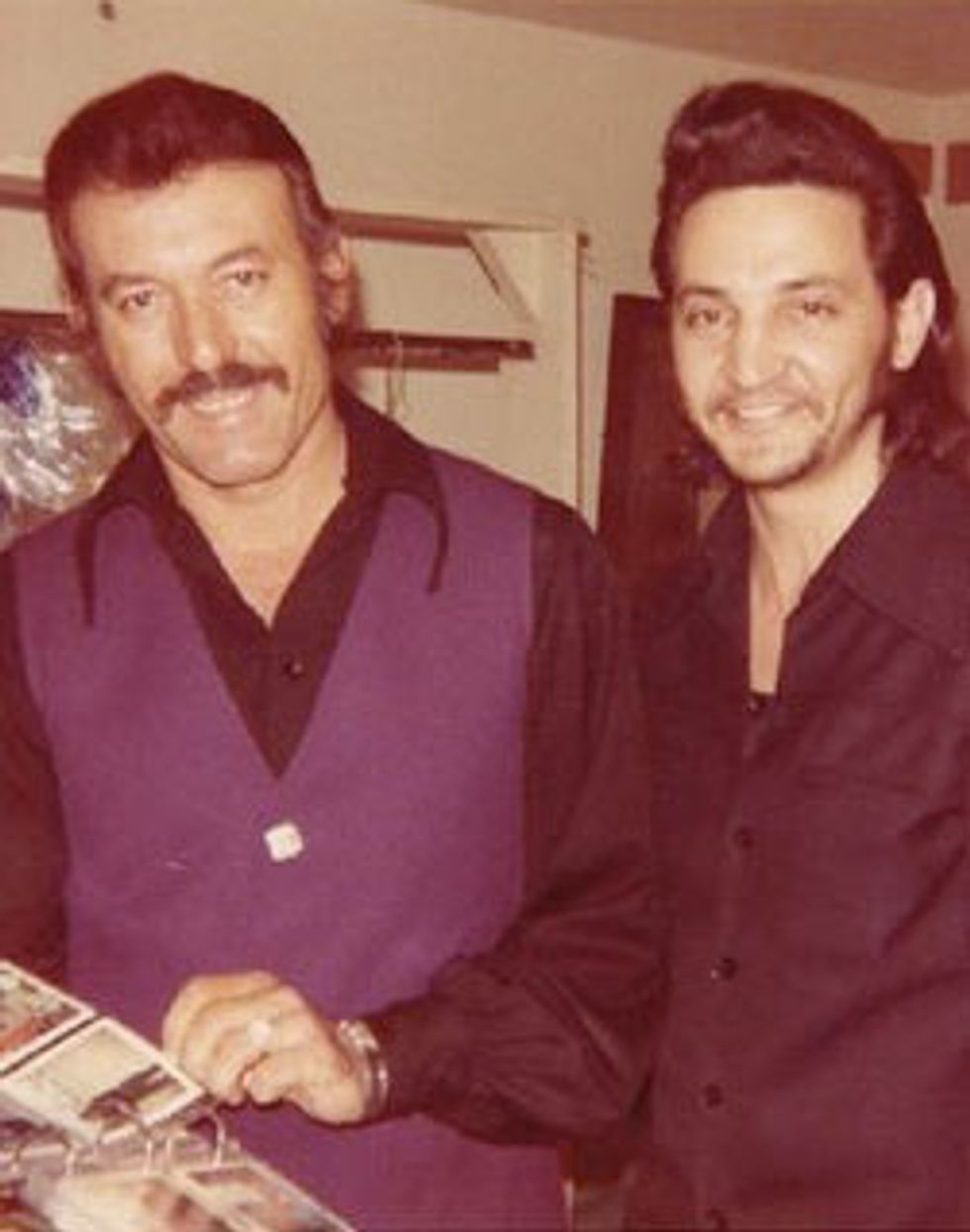 Carl Perkins & Wootton, early 1970s.
What type of amplifier did you use in your days with Johnny?
A Fender Twin Reverb. I have always played Twins and still do. The one I have now is a reissue of the vintage models, but I still have about five of the old ones. Over the years, I've given some amps away. I gave my dad and my brothers guitars. I had plenty of them. You have to remember, we're not a loud band, so the Twin is perfect, even though it can get very loud. People want to hear the words and the stories behind the songs, so we don't kill them with volume.
Are you using any effects pedals either onstage or in the studio? If so, what are they?
Not now, but in the last few years with Johnny, I used distortion and echo on "Ghost Riders In the Sky." I don't use any now, because I don't think they work for the music. I have enough trouble messing with the guitar and amp. I see these guys with their big pedalboards, and they're messing around with batteries and wires.
In carrying on the tradition of Johnny Cash, you're preserving the music of perhaps the greatest county artist who ever lived. Outside of the commercial aspects of making a living playing Cash's music, do you feel an obligation to do this?
Yes. We're trying to keep the sound alive. You never hear Marty Robbins' music anymore and that's a shame. He was one of my favorites. I enjoy playing Johnny's music so much. We did about 70 dates last year, and will do about the same this year. Our biggest market is Canada. We do Ireland, Wales, England, and we just got back from Italy. We don't do a lot of gigs in the States.
John had trouble getting booked down south. He could go to New York and the place would be packed like sardines, but we'd go to Atlanta, and the halls wouldn't even be filled. And forget Nashville; John couldn't get arrested there. They never knew what to make of him, as famous as he was. He never fit that mold of Nashville Country. We used to play Vegas about four weeks a year, but Johnny didn't like playing there, because the people were too busy eating dinner and weren't paying attention. Also, the climate was bad for his voice. It dried his throat out. John had a small humidifier on his mic stand when we played Vegas.
Bob and the Tennessee Three, 1969. L-R: WS Holland, Wootton, Marshall Grant.
What did you think of the movie, Walk the Line?
I thought it was okay, but I wish they would've concentrated more on the music than the story of Johnny and June getting together and Johnny getting off dope. I would've loved to have been included, but the movie ended in March 1968, and I didn't join until September. Johnny actually proposed to June onstage just like in the movie. They were in London, and people were yelling to June, "Say yes! Say yes!" That was accurate. June was a wonderful woman. She was my buddy, and the one who got my daughter Scarlett into singing. June called her onstage to sing with the Carter Family in Branson, Missouri, and gave her the singing bug.
There might be a sequel now to Walk the Line, I'm told, and my character will be in it this time.
What's your take on contemporary country music?
A lot of people like it, but it doesn't sound like country music to me.
Do the European audiences appreciate you more than Americans?

Yes, European audiences appreciate our music more. Like I said, the Canadians especially give us a great reception. We've played the Whistler Garibaldi Ski Resort in British Columbia about six or seven times, and it's always great. I could tell you stories about the kindness we've seen from Canadians. When we go to Europe, we get treated like royalty. Americans don't appreciate their own styles of music like they should.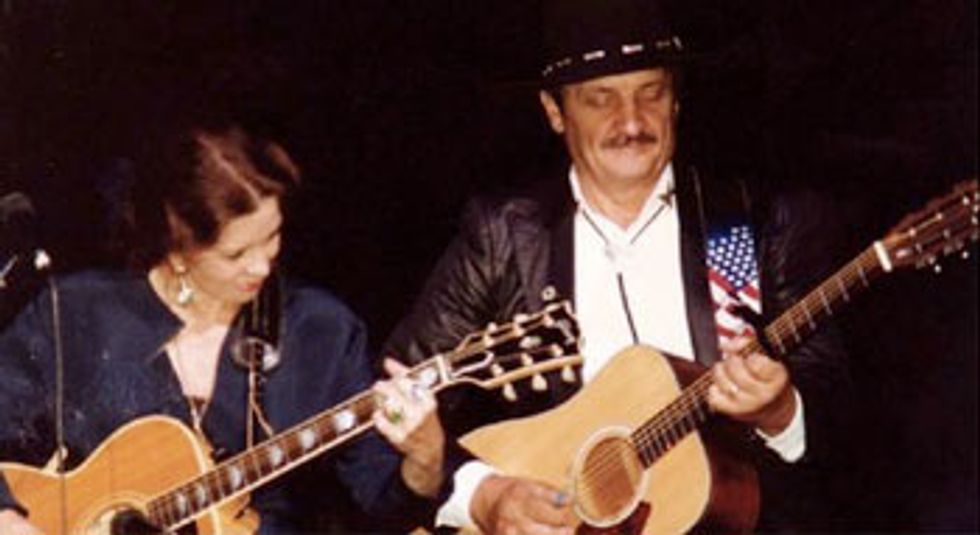 June Carter with Wootton.
What kind of reaction do you get from the hardcore Cash fans?

If they've never seen us, they don't know what to think. Once they see us and hear what we're doing, they love it. They'll come up to me and say, "You sound like him, you look like him." There's a whole story that goes along with our show; we tell people why we're keeping Johnny's music alive.
Have you considered doing an instructional guitar video showing us how to play the Luther/Bob style of guitar?
It was mentioned to me in the '80s. I thought about it, but never did anything about it. It's just something I've been doing my whole life. I wanted my daughters to take over my style, and Montana can do the solo on "Cry Cry Cry," but then she might not do it the next day. I thought nobody would be interested in seeing a video of me.
You should do a video, Bob. How else would guitarists learn that style if you don't pass it on?

BOB'S GEARBOX



Guitars:
Fender American vintage reissue Telecaster Custom-made Kramer Telecaster-style guitar

Amps:
Fender Twin Reverb reissue

Strings:
Fender heavy gauge with a wound G

Picks:
Custom-made, with Bob's name imprinted in the style of the Fender Thin model
You know, I'm going to go talk to my people tomorrow about doing just that.
It's amazing that you were destined to play with Johnny. There had to have been some divine power at work. Have you ever asked yourself why your life unfolded the way it did?
It was just meant for me to do what I did. I have thought about it often. God chose me to do what I did, and I knew it from the first time I heard Johnny's music on the radio. I feel very blessed to have had this great career and to be able to do thisnow with my family. It's just amazing to me every day. God is right in the middle of it. I always close the show with gospel songs, like "Will the Circle Be Unbroken," and people are appreciative that we say that God is in what we do.
What was it that made Johnny Cash so appealing to his fans?

What made Johnny Cash? He was different and unique. Be different. Give people something different. Other people try to sound and look like Johnny and imitate him, dropping their voice real low, but I was the one who played with Johnny for thirty years, and I'm the one who has kept that sound alive, and we will continue to do just that.