Chet Atkins Exhibit: Country Gentleman
The life, achievements, and guitars of Chet Atkins are back in the spotlight at the Country Music Hall of Fame.
Refinement. It's a word we've come to associate (sometimes incorrectly) with luxury brands and upscale dining. Musically, maybe the term conjures up a string quartet. It's not what you see emblazoned on welcome signs to little Appalachian Mountain towns like Luttrell, Tennessee.
But to properly consider the career of Chester Burton Atkins, native son of said mountain town, the true meaning of refinement ("to make improvement by introducing subtleties or distinctions," says Webster) could prove more than a little useful. Chet's not the only small-town kid to become a major-league musician, cultural force, and executive, though few have achieved so much with such humility. But on the guitar, where nails meet strings, Chet stands pretty much alone. He didn't just create new techniques, à la Earl Scruggs and the banjo. He brought refinement from a most improbable place to a most improbable genre. His genius was in taming the wild hillbilly guitar and taking it to places it had never been, including pop radio, major symphony halls, and even the White House.
Where there had been 6-string chunk and jangle, he brought intricacy and grace. Mother Maybelle Carter, whom Chet revered, had already enlivened the country strum with melody notes that seemed to float above a steady harmony part. Chet developed that idea with his fingers, because melody was his beacon and the secret of his popular success. Chet, also via radio, copped from Merle Travis and taught himself to weave bass lines and melodies together in lacy patterns, backed by a fingerpicking bounce. And although the great Andrés Segovia imperiously snubbed Chet when they met, Chet fused Segovian technique and sophistication with Travis' walking bass lines and Maybelle's mountainside soul. This remarkable approach was mature by 1950, and Atkins spent the next 50 years refining it even further.
The accolades have been many, and Chet was well rewarded on Earth as he is, one trusts, in the beyond. But it is unfortunate that among the general public nowadays, Chet is not as well known as he might be in the pantheon of great American musicians. He's at a seeming disadvantage to fellow instrumental pioneers who also did a lot of singing, such as Louis Armstrong, B.B. King, or Bill Monroe. Popular music has methodically purged instrumental music— Chet's purview—from radio, television, and Top 40, so parts of whole generations have grown up never having heard a solo guitar tune. Guitar playing in pop music has all but vanished in the mix, and country guitar has become largely indistinguishable from rock guitar of the 1980s. Chet's approach—arguably the apex of guitar artistry in country—lives on in careers like Tommy Emmanuel or the much younger Ben Hall. And there's a marvelous annual gathering of the Chet Atkins Appreciation Society every year in Nashville. But America, and American music, could use a lot more Chet Atkins and his musical values.
A special, yearlong exhibit at the Country Music Hall of Fame and Museum in Nashville will help rectify this situation. It fills only one room, but with video, documents, and a painstaking reconstruction of Chet's workbench, Chet Atkins: Certified Guitar Player offers a concentrated dose of all that Chet accomplished as an artist, executive, producer, and human being. There are cases full of guitars, Grammy Awards, photos and correspondence, but the workbench—exactly as Chet left it upon his death in 2001—is a highlight. It feels a bit like stepping into the cover of Chet Atkins' Workshop LP from 1961. It's full of vacuum tubes, pickups, homemade effects boxes, snapshots, and a soldering iron. It looks like the inveterate tinkerer just stepped out of the room. It's a microlevel look at an outsized legacy.
The exhibit tells Chet's story in a variety of ways, but most absorbing for lovers of the instrument will be the guitars themselves. Since Chet's death, the Hall of Fame has been the official caretaker of Chet's instruments, and seven or eight, including the D'Angelico Excel described below, have been on permanent display for years. But another baker's dozen were pulled out of storage for this exhibit. From the primitive Sears Silvertone to the sublime classical electrics, one can trace a story of passion and professionalism in these instruments. He didn't collect for collection's sake; he regarded the instruments as tools of a trade. He is said to have had one guitar or another in his hands nearly every waking hour of his life.
Chet's biography is not of special interest for its personal dramas or his profound complexities and paradoxes, as is the case with so many musical masters. That just wasn't him. Chet was as well-liked and well-adjusted a man as there has been on Music Row, and he was married to the same woman, the beloved Leona, from the 1940s until death did them part. His story is written almost entirely in music and with the guitars he played.
Sears Roebuck Silvertone
Miraculously, Chet's first guitar survives. His stepfather brought it home, where it was first used by older brother Lowell (the initials carved in the top are his doing—a girlfriend, apparently). A motivated Chet traded a year's worth of early morning milking duty for the box, whose neck had been broken and crudely repaired with a screw. The action was stratospherically high and difficult.
Walter Carter, sales manager at Nashville's Gruhn Guitars, who wrote the chapter on Chet's instruments for the exhibit catalog, says he learned a lot about Chet through the Silvertone: "Most people who start on a cheap guitar, as soon as they show some talent, do anything to get something better. And the fact that Chet played this piece of junk for five or six years or more, it's mind-boggling. He clearly wanted to be a great guitar player, and a bad instrument was not going to stop him."
In 1936, Chet's mother sent 12-yearold Chet to live in Georgia with his father, chiefly to see if the climate would be better for his troublesome asthma. It was, but Chet lost his musical family and friends. Lonesome, he picked this guitar for thousands of hours in every spare minute, favoring his high school bathroom for its resonance, the one thing that made this Silvertone sound acceptable.
Gibson L-10
While he was from rural East Tennessee, Chet did enjoy one rather remarkable and fortuitous connection in the music business. His older half-brother Jim played guitar and wound up in the Les Paul Trio on the famous Fred Waring radio show out of New York. Jim acquired this Gibson L-10 from Les Paul, who'd custom ordered the extended fretboard. "When (Jim) saw how much I liked it, he surprised me by giving it to me," wrote Chet in his memoir, Me and My Guitars. "Riding back to Knoxville on the train, I was so happy I didn't know what to do. Every little while I would open the case just to look at that guitar. I loved the way it looked and the way it smelled."
As he would with nearly every guitar he'd own, Chet modified this instrument, installing a Vibrola tailpiece and a floating DeArmond pickup. The former gave him the tremulous vibrato effect that earned him the "talking guitar" tagline, and the latter gave him the volume and nuanced control he'd been looking for. Chet's first serious radio work and his earliest recordings were made on the L-10.
Sadly, the promising career of this young guitar was cut short when Chet, standing on a chair to reach a radio microphone that nobody could be bothered to lower, slipped and fell. He did a chest-plant on the guitar, severely damaging the body. It was repaired but never the same, Chet said. He moved on to a Gibson L-7 with P-90 pickups, which he installed himself. It was the most invasive surgery he'd done yet on a fine instrument, and a learning experience that set him up for his most audacious act of guitar modification.
D'Angelico Excel
If a lesser player had tricked out a guitar this elegant and exotic this way, folks would have chided him for having more money than sense. Even Chet acknowledged that his friends must have thought he was crazy for so radically modifying one of the world's finest instruments. Though truth be told, Chet ordered his dream guitar with electrification in mind. The D'Angelico log books reflect it with their first-ever order for an "ele." guitar. Chet had begun to make decent money, and he custom ordered this Excel with a Bigsby bridge pickup and sound posts for a more rigid top. John D'Angelico was disturbed by the idea, but he accommodated his young client, and it was delivered in August of 1950.
Chet took it even further on his own. Seeking even more tonal control, he put this guitar under the knife in his backyard. When he was done, the Excel sported a P-90 at the bridge and a Bigsby at the neck, with a 3-way switch mounted in the lower f-hole. It "would have been considered a savage assault on the integrity of the guitar top," says Walter Carter. "But it just goes to show you that by that time he'd realized that the sound of an electric guitar is largely in the pickup and not in the top or the acoustic qualities of the guitar."
This instrument accompanied him on his career-making journey with the Carter Sisters, the reconfiguration of the seminal Carter Family, which featured Mother Maybelle and her three daughters. With them, Chet moved to Nashville and became a fixture on the Grand Ole Opry and in the young studio system of Music City. The story is only slightly marred by another accident. June Carter bumped the D'Angelico as it rested and the neck separated in the fall. It took years for it to be restored to its current condition, but the loss paved the way for a new chapter in Chet's guitar career.
Gretsch Streamliner 6120 Prototype
A guitarist and product rep for Gretsch named Jimmie Webster sought out the fast-rising Chet Atkins in Nashville and began trying to talk him into accepting an endorsement deal. Chet wasn't a big fan of Gretsch guitars, but over a series of conversations, Gretsch accommodated Chet's ideas and delivered a guitar he couldn't say no to. Chet was surprised by the over-the-top Western design touches, including cacti on the fretboard and cowboys on the tailpiece. But he was so dazzled to have an endorsement deal (like his hero Les Paul) that he kept those feelings to himself.
This prototype had a carved top and back, in the traditional style. Fred W. Gretsch, current president of the company and great grandson of its founder, says the model quickly took an interesting turn toward a more rigid top and back to offer a more stable mounting for the pickups. "Plywood tops and backs with electric guitars made a lot more sense," Gretsch says. "And we were doing plywood drums and had been doing them since the late '20s and we had done a lot of refinements in the early '50s. So we tried out some plywood tops and backs with Chet and he dug the tone. So we migrated to plywood on this model."
Introducing the model just as Chet first hit as a recording artist with "Mr. Sandman," Gretsch couldn't have timed it better. This guitar inaugurated a 25-year relationship between artist and company.
Gretsch 1959 Country Gentleman
All aesthetic extravagances on the 6120 were eliminated on the Country Gentleman, which came along in 1959. Chet's personal edition is surely one of the most beautiful electric guitars ever built, even if the f-holes are decals. Fred Gretsch says the company made versions for Chet with an open body and a closed body, and he preferred the latter, continuing his longterm evolution to more solid, sealed-up instruments, as improving pickups made up for the loss of acoustic tone. Chet flooded this guitar with ideas: the much-improved Filter'Tron pickup designed by Ray Butts, the zero fret for improved intonation, and the straight bar bridge. Many feel that Chet's solo recordings in the 1960s were the pinnacles of his artistry, and this is the guitar heard on most of those dazzling records.
Gibson Studio Classic
Chet played a classical guitar for the first time in the early 1950s, and he liked it. "It seemed a whole lot warmer and more expressive to me" than the steel-string electrics and acoustics, he wrote. In the '60s, Chet began working nylon-stringed instruments into his recordings and shows, and he was delighted to discover they solved long-standing struggles with splitting, shredding fingernails.
In the '70s, he would split his shows into an acoustic set and an electric set, and his historic, vibrant recordings with his good friend Jerry Reed were all played on classical-style guitars. He loved the feel, but not the loss of volume, and his efforts to solve that problem marked the end of his Gretsch years and ushered in an endorsement and working relationship with Gibson. The company developed the Chet Atkins CE (Classical Electric) in 1982 and followed with a steel-string version in 1987 that became a hit with rock 'n' roll players looking for arena-sized sound from a classical-sounding instrument.
California luthier Kirk Sand approached Chet with further improvements in body chambers and pickup design. Chet connected him with Gibson and the result was perhaps the most elegant of the series, this Studio Classic, with a mahogany fleur-de-lis and vintage-style Gibson slotted peghead.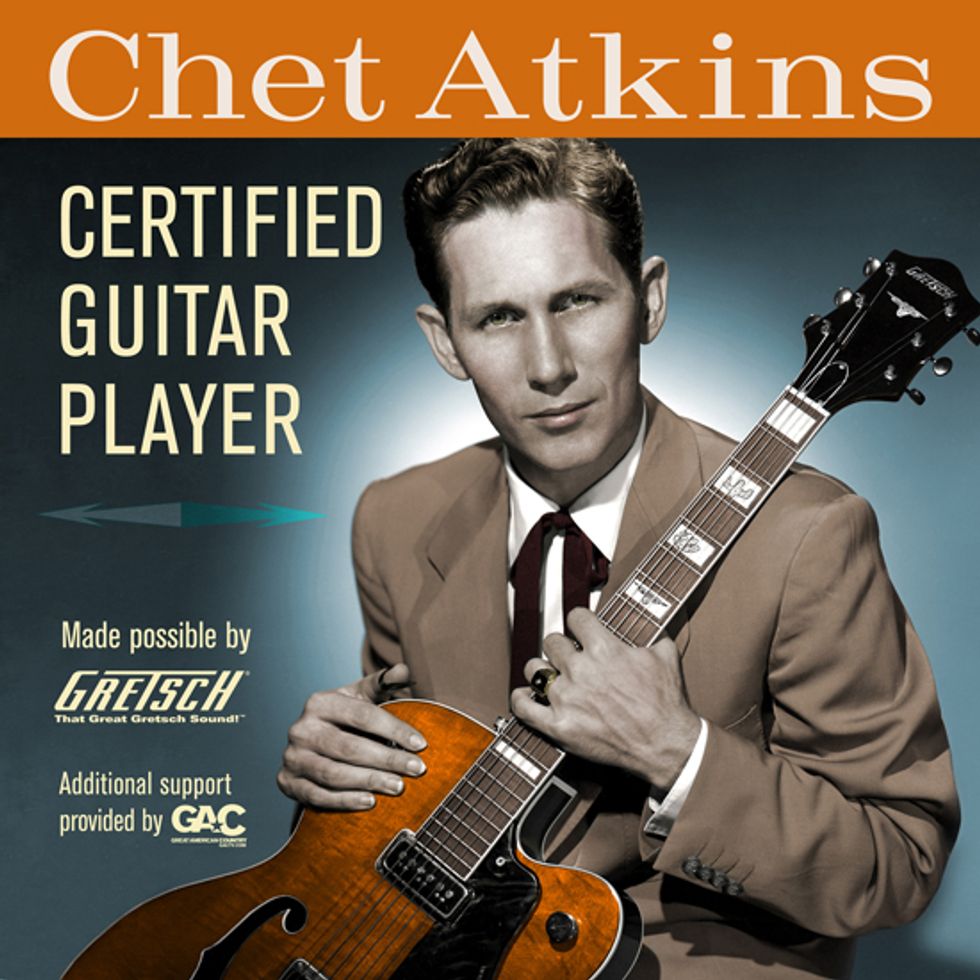 Chet Atkins: Certified Guitar Player is situated within the Country Music Hall of Fame and Museum such that you see it before embarking on the century-plus journey through country music, from pre-electricity folk music to the modern era today. And then you'll find that Chet's story is emblematic of the larger story of country music. His life in music began in the hills without artifice or amplification. He found a large audience on the radio circuit and early television. He was out front on multitrack recording and progressive, hybridized country music. He helped make markets where there had been none for the music he loved. And then he became a true elder statesman, taking country to the Boston Pops on public TV and elsewhere.
If you love the guitar with even a fraction of the ardor Chet had for the instrument, this unprecedented collection will be as perfect a preface to country music's larger narrative as you could ask. The exhibit runs until at least June 2012.