New bracing and pickups make this mid-priced take on a Gretsch classic a lively and engaging inspiration machine.
Smooth playability on par with much more expensive instruments. Airy, open pickup sounds with lots of clean-to-mean latitude.
Blue finish is pretty but thick in spots. Vintage sticklers might miss some old-school Filter'Tron bite.
4.5
4
5
4
Though big hollowbodies like the Gretsch G6120 are beautiful and an essential ingredient in countless classic records, they can be a tricky playing experience for the uninitiated. Navigable fretboard space is limited by solidbody standards. Big bodies can feel bulky. They're sometimes feedback prone in high-volume situations, too. Consequently, I've watched many solidbody-oriented chums who rarely play hollowbodies handle a big Gretsch with the baffled look of a spacefarer deciphering an alien tongue.
This latest affordable, mid-line evolution of Gretsch's classic 6120, the re-designed Electromatic G5420T, smooths navigation of those intrinsic challenges. A new approach to trestle block bracing and FT-5E Filter'Tron pickups give the guitar a zingy, lively, and surprisingly feedback-resistant resonance. And the ultra-smooth playability makes it relatable for the average solidbody player. Together, the improvements make the G5420 a welcoming and intuitive-feeling vehicle for the less-orthodox modes of guitar expression that big Gretsch's enable.
New Shoes in Blue
Trestle bracing, as a name and design concept, graced Gretschs beginning in the '50s. That system utilized a bridge-like pair of laterally oriented braces. Trestle block bracing is different. It situates a slim, light center bock that is shaped like a bridge arch at a 90-degree angle between two straight, lateral braces. In one sense, the construction is akin to a center-block semihollow body. But the Gretsch trestle block has much less mass and a smaller footprint than the center block in, say, a Gibson 335, making the design a great compromise between rigidity, stability, and resonance. The effects, at least to my ears, are audible. And one thing every staffer that touched this guitar agreed upon was that this was the liveliest affordable Gretsch that any of us remembered playing.
The G5420T also feels like a dream underneath the fingers. The 12" radius makes string bends extra easy. Hammer-ons, pull-offs, and, yes, fleet-fingered Chet Atkins picking feel effortless. And in general the playability is so nice you often forget that notes much past the 17th or 18th fret are a pretty uncomfortable reach. The control layout is a familiar take on Gretsch convention. The master volume control on the treble-side horn is always a blast to use for volume swells. And while the bridge volume is situated pretty far aft on the body, it's easy enough to reach for fine tuning adjustments and corrections to the neck/bridge blend. The Bigsby, meanwhile, is both fluid, smooth, and, in relative terms, pretty tuning-stable if you're not too aggressive.
You don't achieve playability and intonation like that on our review model without sweating the details, and the 5420's neck, nut, fretboard, and frets all feel very much of a piece.
Construction quality is typically very good in Gretsch's more affordable Streamliner and Electromatic series, and the G5420T does its part to hold up the family reputation. You don't achieve playability and intonation like that on our review model without sweating the details, and the 5420's neck, nut, fretboard, and frets all feel very much of a piece. Little details like the binding around the f-holes are also flawlessly executed. One of the only overt signs of the G5420T's mid-priced status is the polyester-azure-blue finish, which, while dazzling, looks a bit ripply and thick in spots. Even so, in sunlight, it reveals traces of pearlescent turquoise and lake placid blue, depending on the angle from which you view it.
Balance and Brawn
As Gretsch tells it, the new Filter'Trons are designed for stronger bass output and more articulate high end. I don't know if I would call the low-end exceptionally robust. But 6th-string notes exhibit a concise, classy punchiness that resonates with just-right complexity and gracefully adds balance and ballast to chords. Some players expect low notes on a Gretsch hollowbody to explode with the heft of a grand piano. But the chiming low notes of a Fender Rhodes electric piano are a more apt analogy for the 5420's present, overtone-rich-but-understated bottom-string output. This same knack for balance translates to awesome, articulate overdrive and fuzz tones (though, needless to say, it is important to mind the feedback when messing with the latter).
High-end output, meanwhile, is beautiful. First- and 2nd-string notes ring presently and in graceful balance with the rest of the strings, lending a kinetic but not-too-hot edge to leads and chords. And anyone with an affinity for vintage rockabilly or late-'60s West Coast psychedelia will love the way these high notes hop, quaver, and sing with a waggle of the Bigsby. For this author, anyway, it's a visceral, addictive thrill—particularly with a big Fender amp and a heap of spring reverb and slapback echo.
The Verdict
Any player well versed and at ease with the idiosyncrasies of a Gretsch hollowbody will love the way the 5420 sounds and feels. And on the latter count, certainly, the 5420T is the equal of many much more pricey guitars. It's very easy to imagine an upmarket or vintage Gretsch owner who sweats gigging with an expensive axe taking this guitar out instead and feeling right at home. The pickups are very well balanced, present, and detailed. And the Bigsby is smooth and invites all manner of twitchy or surfy vibrato moves. Most important is how these factors conspire to offer an uncommon playing experience with an upmarket feel. "Riff machine" may be a term that you could apply to many guitars, but the combination of the 5420T's playabililty and open, detailed, and balanced pickups add up to a deep well of habit-smashing inspiration—all at a very nice price, to boot.
Gretsch G5420T Electromatic Hollowbody Demo | First Look
Solo Sessions: Chet Atkins; Canyon of Dreams: The Magic and the Music of Laurel Canyon; Travelin' Man: On the Road and Behind the Scenes With Bob Seger; Red Hot Chili Peppers: Me and My Friends; B.B. King: Live at Montreux 1993 Blu-ray; The Moody Blues: Live at the Isle of Wight Festival 1970
Books

Solo Sessions: Chet Atkins

Three things you need to know: Chet Atkins, solo guitar, and clean, readable transcriptions.
This book contains a simple, easy-to-digest collection of some of Chet's most popular solo guitar tunes, transcribed by John McClellan and Deyan Bratic, and interspersed with some charming drawings of Chet by BriAnn Wassman. The introduction is blessedly short and to the point; less chat, more Chet. Disc information is included for most of the songs, which means you can head to the Chet section of your CD collection to listen to the songs before leaping in and attempting to play them. The CD included also contains one piece of music, the "Courante" from Bach's French Suite No. 1 in C minor. Chet never released the recording, which makes this a world premiere. The playing is lovely, and the idea of Bach being played by Chet on electric guitar makes me chuckle.
Most of the tunes are traditional, either old folk tunes or classical pieces, with a couple of old standards thrown in for fun. What other player in history could get away with "Arkansas Traveler" and "Maleguenas" in the same collection? There are a couple of Joplin pieces (Scott, not Janis), and even a little Dvorák. You have to respect somebody that can take that much musical territory and put his own stamp on it. This book is a must for Chetophiles. Its a splendid way to show just what the original "Certified Guitar Player" was capable of with two hands and a gittar. —GDP
List $25
chetatkinssolosessions.com
Canyon of Dreams: The Magic and the Music of Laurel Canyon
This is a huge, heavy book that's loaded with photos relating to the musical history of a California nexuspoint where music thrived and the party didn't end for the better part of three decades. Laurel Canyon native Harvey Kubernik tells the story lovingly through his memories and interviews with still-living denizens of the Canyon's glory days. Unabashed about the whole sex, drugs and rock and roll theme, it manages to avoid becoming tawdry while acknowledging it as a fact of life.
It is an engaging and comprehensive tome, yet at times the stories cut off rather abruptly and you're left shifting gears before you're ready. The writing style is also a little rough, and at times the author uses devices that don't quite work. He usually gets the point across, but sometimes you have to read things over a couple times to get it. But being treated to such an intimate look at the workings of the patch of real estate that brought us the likes of Jackie Deshannon, Frank Zappa, The Monkees, Buffalo Springfield, CSN&Y, Joni Mitchell, Carole King, the LA Wrecking Crew, Jackson Browne, Sonny and Cher, Glen Campbell and the Doors (to name a tiny fraction), is a pleasure you don't have to feel guilty about. —GDP
List $30
sterlingpublishing.com
Travelin' Man: On the Road and Behind the Scenes With Bob Seger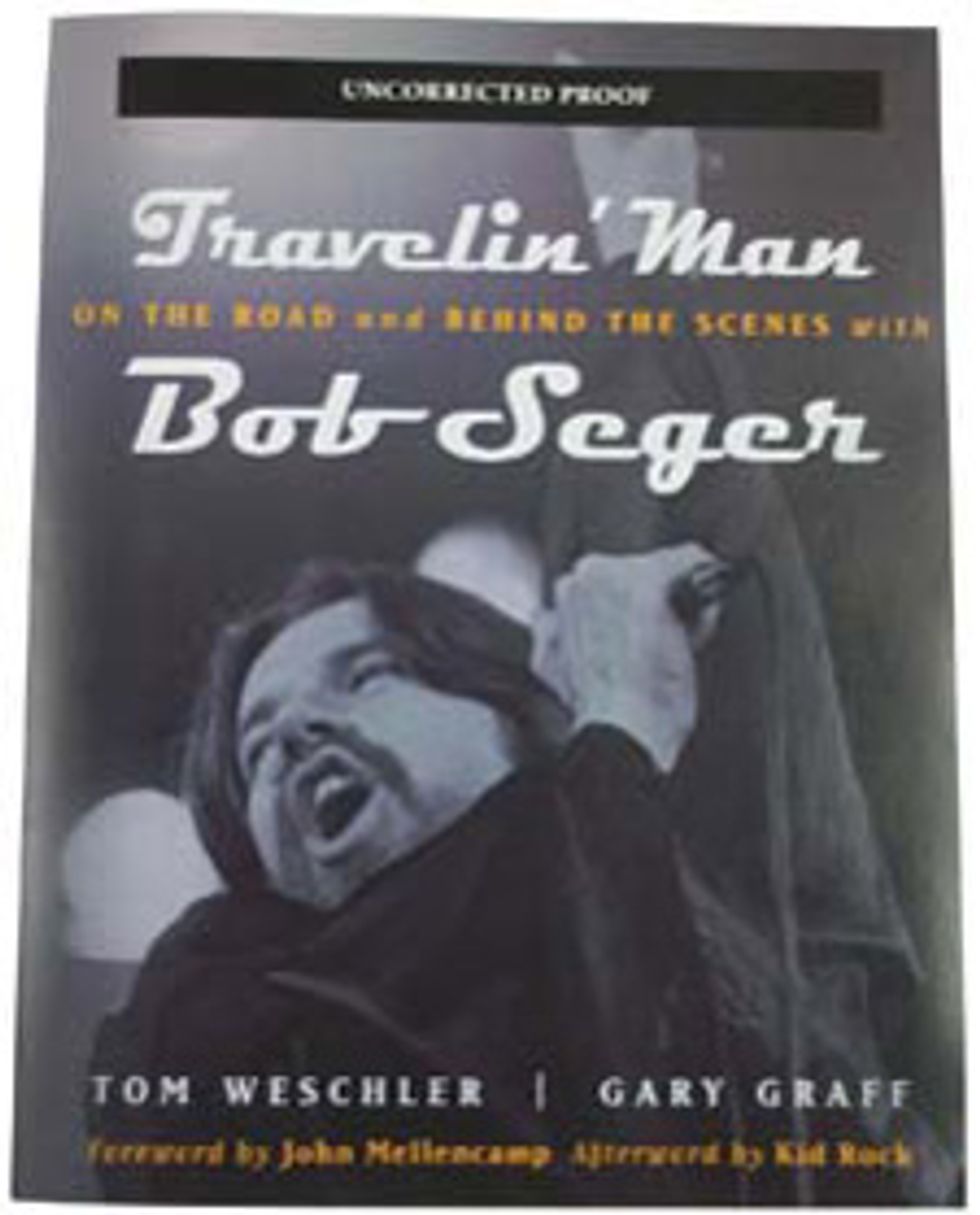 Bob Seger was all over the radio when I was growing up; he's the biggest rock star that was never in your face—but he was always in your ears.
Travelin' Man: On the Road and Behind the Scenes with Bob Seger
is a photo-rich tribute by photographer Tom Weschler and music journalist Gary Graff, who traveled and worked closely with Seger during the late '60s and through the '70s. It chronicles Seger's career from the very earliest babyfaced incarnation—The Bob Seger System— through what ultimately evolved into The Silver Bullet Band, including his brief time as a solo singer-songwriter, which Seger describes as, "like Simon and Garfunkel without Garfunkel." The story is told with many photos and few words; there are short little memories of moments and events, but not lengthy stories or gig-by-gig reflections. The captions are a bit sparse, and sometimes it's not too clear who the people in the photos are, but then you remind yourself that this is about Bob Seger in the '70s, and it all makes perfect sense. The booze, drugs and women stories are kept to a minimum, seemingly because that's the sort of stuff that "goes without saying," and as a result of that, Weschler and Graff end up telling a far more compelling story by allowing the reader to craft up their own descriptive captions.
The forward and afterward are written by John Mellencamp and Kid Rock respectively, and there's a very complete discography at the end. —GDP
List $27.95
wsupress.wayne.edu
Red Hot Chili Peppers: Me and My Friends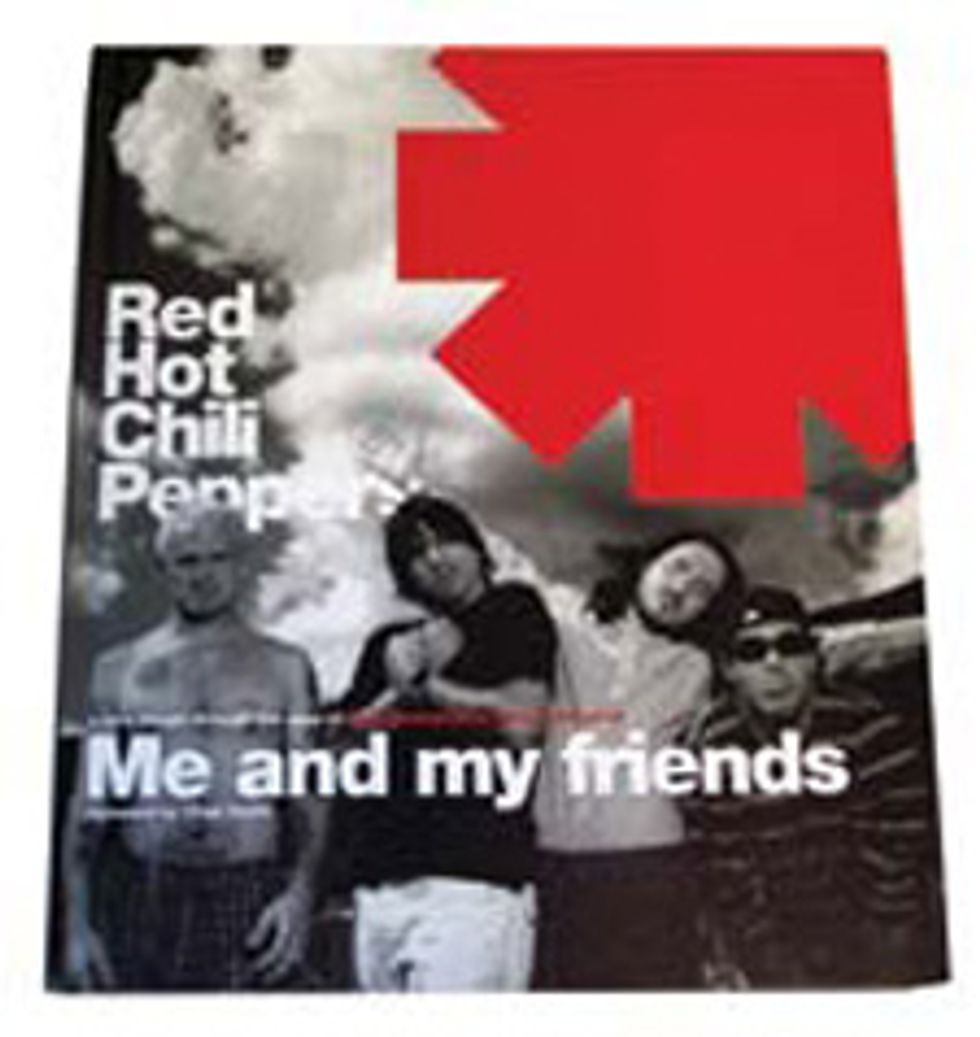 Every family has one. You know, that inconspicuous lens-snapper who never stops taking pictures even during the most obvious of inappropriate times. But with all these ill-timed and obnoxiously private photos, you're able to capture real people and real emotions. And that's just what rock photographer Tony Woolliscroft does in
Red Hot Chili Peppers: Me and My Friends
.
Woolliscroft has been documenting the band through his still lens all over the world for nearly 20 years, capturing them at their most vulnerable times. For instance, when the Peppers reunited with long-time guitarist John Frusciante in 1998, he shot the band in a pre-show huddle that was later used on the Californication sleeve. And of course, we can't forget the band's legendary get-ups, or lack thereof, which includes the tube sock incident at the Nassau Coliseum, flaming hats at Lollapalooza '92 and the light bulb outfits at muddy Woodstock '94.
The book is chronologically laid out with sections dedicated to the Peppers' albums— Mother's Milk through Stadium Arcadium— and the resulting tours. Mixed in between the collection of photos, Woolliscroft adds some personally intimate anecdotes that add another layer to the visually-driven book. Some of the stories weaved between photos include having to crash on the Peppers hotel floor, By the Way recording sessions with Rick Rubin and the record-breaking three consecutive sold-out shows at London's Hyde Park.
With over 300 photos on 225 pages, Me and My Friends provides a confidential look at a group of exuberant characters. With his nearobtrusive clearance inside the Peppers' lives, Woolliscroft tears down the rock star fantasy and exposes four friends who've been on a musical journey for over 20 years. —CK
List $24.95
abramsbooks.com
Videos
B.B. King: Live at Montreux 1993 Blu-ray

Anybody that's seen B.B. King in concert knows the man can play the blues. After all, the "King of the Blues" was practically born with a Gibson ES-345 in his hands. Add the fact that he's been performing live for the better part of the last 60 years and you get the makings of a timeless performer that knows how to work his way around a stage.
Unfortunately, working his way around a stage has become somewhat of a problem for the 84-year-old legend, as he now takes a seat for most of his performances. He still, however, maintains a rigorous touring schedule that rivals many of today's much younger musicians. And of course, he continues to deliver the same awe-inspiring blues guitar playing that made Englishmen the likes of Page, Clapton, Beck and Richards first pick up a guitar.
All of this makes us appreciate B.B. King Live at Montreux 1993 that much more. No one knows for sure how many times King has played the renowned Swiss festival, but suffice to say the number is more than 20. Fortunately, B.B. King Live at Montreux 1993 captures one of the best ever. His band revs it up like an old-time blues revue, warming up the crowd with three standards before the King—dazzling in his beautiful blue and pink paisley tuxedo jacket—takes the stage to a thunderous reception. His band is as tight as it gets, but the show is all King and his flawless, amazing guitar playing. From the stirring "Let The Good Times Roll" to the classic "Caledonia" to the incomparable "The Thrill is Gone," King delivers a vibrant and eclectic mix of classic blues that only he can deliver.
So grab yourself a cold one, pop this into your Blu-ray player and watch the King do his thing. For this is certainly the teacher's finest hour. —GH
List $24.98
eaglerockent.com
The Moody Blues: Live at the Isle of Wight Festival 1970
Whether you're a fan of the rock fusion symphonic group that so proudly incorporated the flute or not, you have to acknowledge the role they played influencing musical styles by meshing rock and classical music in a way that has sold over 50 million albums worldwide. And in 1970, The Moody Blues were in the midst of a creative and commercial high point riding on the success of A Question of Balance.
This DVD features the renowned 1970 Moody Blues performance in front of more than a half million people at the Isle of Wight Festival, which was previously only available on CD. However, unlike the CD, the DVD only features 10 tracks from the set because some of the video footage has been lost. That said, the existing tracks include "Ride My See Saw," "Tuesday Afternoon" and the epic "Nights in White Satin." While the audio and video are raw—guitarist Justin Heyward admits this—they provide a true nostalgic representation of the historic festival, and the Moody's wide spectrum of tones can still be fully appreciated. Also, the band does delineate from some of the traditional recordings and song structures for improvisation, but they still crank out their hits note for note. It's a pleasant mix for avid and new fans alike.
After the concert, the DVD includes 20 minutes of contemporary interviews from four band members—excluding flautist/vocalist Ray Thomas—who fondly reflect on their Isle of Wight performance. The best part is when pianist and technical contributor Michael Pinder describes and walks through the mellotron featured all over Moody records and performances. All and all, this is a great offering that accurately captures an early incarnation of the Moodies at a pinnacle. —CK
List $14.98
eaglerockent.com
Pickin' Like Chet, From the Basement, King's X, The Black Keys, Solo Jazz Guitar books and videos reviewed
Videos

Pickin' Like Chet: Chet Atkins' Vintage Classics Volume One & Two Taught by Pat Kirtley Stephan Grossman's Guitar Workshop

Pat Kirtley has impressive fingerstyle guitar creds having done a stack of CDs and instructional videos, to say nothing of his being 1995 US National Fingerstyle Champion, and National Thumbpicking Champion in 1994. He is obviously a big Chet Atkins fan and in these DVD sets Kirtley has delivered up a huge serving of great Chet tunes. Volume One is 173 minutes of Chetty goodness featuring "Hidden Charm," "Mystery Train," "You'd Be So Nice To Come Home To," "St Louis Blues," "Oh By Jingo," and "Chinatown, My Chinatown." Volume Two clocks in at 122 minutes and contains "Rose Ann," "Down Home," "Somebody's Knockin'," "Trambone," "Drive In," and "Alice Blue Gown." These are classic Chet tunes and several of them are must haves for Chet-o-philes. Kirtley takes his time and explains each tune in detail with a full speed performance and then each tune is shown slowly bit by bit. The set comes with a book of transcriptions as well as PDF files on the discs. Kirtley also covers information about effects like reverb and delay as they apply to the songs.
Now if you are like me in that you love this sort of DVD lesson, then you probably have a stack of DVDs—some of which make you think why the heck did I buy that junk? and others that you go to over and over again. This is one of the latter. Frankly, lessons aside, I just enjoyed hearing Kirtley play these tunes; he plays them beautifully and gets a pretty authentic Chet tone with his Taylor T5. Just in case all this good stuff isn't enough for you Volume One also includes some classic Chet videos, three from The Purina Show in 1955; The Poor People of Paris, Side by Side, and Makin' Believe, and from 1958's Ozark Jubilee; Villa and Say Si Si. It's always a joy to hear Chet in his prime and it's worth it just to see the outfits these folks wore.
So hey Chet fans, rejoice and check this out, you may learn something. Be sure to visit Pat Kirtley on My Space at myspace.com/patkirtley; he has posted some nice clips including one of "Mystery Train" from this set. –PS
List: $39.95 per volume
guitarvideos.com
From the Basement DVD
Ever wonder what it'd be like to have a collection of TV show performances on DVD from some of contemporary indie's biggest names without the grotesquely gushing TV hosts? From the Basement does just that and does it well. The series of artist performances was originally recorded and aired from a UK basement studio, and was later picked up and distributed in the US on the Rave channel and also on IFC. There are performances from Radiohead, including two In Rainbows tracks with just Thom Yorke on piano; the disc also includes PJ Harvey, The White Stripes, Sonic Youth, Beck and Albert Hammond Jr. of The Strokes fame.
The recording producer of these sessions, Nigel Godrich, wanted these performances to be seen as the truest representation of the state of their artists work, captured in a way that lets their talents speak without the interference of presenters, logos or audiences. He does this simply by making the music the focus with few if any distractions.
With each artist performing either one or two songs, the DVD has a seamless flow from track to track, artist to artist. In addition to its stripped down demeanor, it provides gearheads with a healthy dose of rare and peculiar guitars and amps. Whether you're a fan of Jack White's Sears Silvertone 1485 amp paired with a 1965 JB Hutto Montgomery Airline guitar; Sonic Youth's pairing of a vintage Fender Jazzmaster and Jaguar; or PJ Harvey's unidentified 12-string acoustic used on "The Piano", this underground series covers many gear-loving bases.
The only negative was the fact that there was no on-screen identification for songs or artists. However, the overall setup and production is uniquely cozy as the DVD provides a platform for the artists to play seemingly directly to the viewer… in their own basement. –CK
List: $14.98
eaglerockent.com
King's X: Gretchen Goes to London Live DVD
The year 1990 was a turbulent one for rock music. The Seattle Sound was gaining notoriety, and among those bands slowly garnering more attention was King's X.
Originally rising from the ashes of Sneak Preview, the band regrouped and christenedthemselves King's X, and gained many fans, one of which was Pearl Jam's Jeff Ament, who has credited King's X with inventing grunge. Regardless of whether you agree or disagree, the impact that the group has had is known by few outside of the music world.
The live release Gretchen Goes to London, now available on DVD through Molken Music, is a perfect way to introduce the band exhibiting their signature raw sound. The footage was taped at The Astoria in May of 1990, right at the moment when the group started to gain some commercial success. Little did they know that only a year later they would be opening for AC/DC. Gretchen Goes to London captures the essence of the legendary group quite well, even if the sound mix could use a little adjustment here and there. Video-wise, it's a treat to watch the band rip through their set, especially staples such as "Over My Head" and "Summerland" (that's the solo that cements Ty Tabor as one of the most underrated guitarists ever).
If you're not familiar with King's X, you should be, and Gretchen Goes to London is an excellent place to start. –JW
List: $18.98
molkenmusic.com

The Black Keys: Live At The Crystal Ballroom
2008 found the now well-established Black Keys in Portland, Oregon, for an energetic stand at the Crystal Ballroom.
Couldn't be there? This DVD comes about as close as possible, without all the friendly audience elbows. Live performance video has come a long way with the prodding of people like producer and director Lance Bangs (REM's Road Movie). Sound and image quality are of course top notch, but the camera work is what really brings this raucous show in to your living room. For a relatively cozy venue, the sweeping shots and close up stage film keep you on stage with the band, with choice glimpses of Dan Auerbach's plethora of old, crusty gear including an oversized Silvertone 1454 with a Bigsby, a vintage Marshall Super Lead and even a song on a Rhodes Electric Piano. Onstage banter between the crowd and the band is nonexistent as the Keys concentrate on a strong performance of an equally strong set of songs. The sound quality of this live recording further showcases the Black Keys now familiar combination of fuzz, rhythm, and memorable lyrics.
While this is only the second live DVD released by the band, fans can pick from a number of critically acclaimed EPs and albums.
The disk includes 17 live songs from the Black Keys' successful discography as well as behind-the-scenes segments on the making of the Black Keys' fifth album Attack & Release and the making of their notable "Your Touch" video. The original music videos for "Your Touch," "Just Got to Be" and "Strange Times" are also included. –BO
List: $12.99
nonesuch.com
Books

Solo Jazz Guitar: Through Chord- Melody & Beyond
This topic has been covered by many books, but few as comprehensive as this one, written by the venerable Howard Morgen. At almost 200 pages this is a pretty thick book, just as solo guitar is a deep topic. I think of books like this as a tool box from which you can take the tools you want as you need them. The best feature of this book is that rather than useless songs based on standard changes that you won't ever play, Morgen gives you 11 real standards including classics like "'Round Midnight," "Li'l Darlin'," and "My Funny Valentine." That means once you work your butt off learning this stuff, you can actually go out on a gig and play them—that's a biggie.
Each song is dissected then reassembled, and some of the tunes have several versions to illustrate different aspects of the illustrated techniques. This is great as you get to see how an arrangement is constructed, so you can move on to creating your own arrangements using the tools in the book. The book has 14 chapters which go into fair depth on topics like inner moving voices, two note comping, key selection, walking bass lines, and chord substitution. Morgen at least touches on all you need to know to start getting your solo style happening. Further he has a large list of other books he recommends to get into particular aspects of this style. A CD of the examples is included. Howard has been a guitar teacher and writer for a long time and his experience really shines in this work. Highly recommended! –PS
List: $34.95
alfred.com