Dweezil Zappa: A Son of (a Mother of) Invention
Talking with Dweezil Zappa about go-to gear, honoring his father''s legacy and his "What the Hell Was I Thinking" project

You could say Dweezil Zappa is some kind of Kung Fu guitarist. Like an apprentice in a martial arts movie, he was already capable of kicking serious ass but then he decided to dedicate a few years studying in the ways of the master. You know how that movie goes—the devout student reaches some kind of mental and dexterous Zen and then soars out of the temple with fists of fury that allow him to kick even more ass, all while honoring the name of his father.



You already know that Frank Zappa was an otherworldly musician, a genius who, among his many other accomplishments, made us rethink what we could do with a guitar. Oh, and he also had one helluva sense of humor. In an effort to expand his father's fan base and give it something new to chew on, Dweezil decided to go after his father's music.



This celebration of 60 albums of extremely challenging music, ranging from jazz to rock to classical, would be no small feat. It required two years of study and a retooling of his own approach to guitar (which was heavily influenced by virtuoso shredders like Eddie Van Halen and Steve Vai). Eventually, Dweezil emerged as a new musician. He had a better understanding of the nuances of Frank's music, and set about to find a band that could help him share this music with the world.
That first "Zappa Plays Zappa" tour in 2006 was met with critical acclaim, and Dweezil has steadily continued the trek ever since. As if that weren't enough, his band's version of "Peaches En Regalia" won a Grammy for best Rock Instrumental, beating out songs by David Gilmour, Metallica, Nine Inch Nails and Rush. Frank had recorded that song on an album dedicated to Dweezil when he was born, so it was fitting that Dweezil dedicated the award back to his father.
Like Frank, Dweezil loves a challenge—for his audience and for himself. He loves to explore new sounds and he loves gear. He isn't stuck to particular brands or kinds of technology and he doesn't mind doing whatever it takes to get the tone. Dweezil has a monster analog rig that helps him play his father's music—easily the most elaborate rig any staffer from this magazine has ever seen—but he also has a smaller, digitally-driven version that is easier to tote overseas and, as he puts it, is capable of even more tones. We caught up with Dweezil to ask him about his latest projects, the players who are blowing his mind and, of course, his gear.
You're known for playing a lot of different guitars—Strats, SGs, Les Pauls, Hagstroms… we even got to watch you pick wood for a new PRS recently. Talk about your decision to not be a one-brand guy. I've always been a player who takes cues from the different instruments that I play. I like the fact that different guitars have different personalities. The character of each guitar inspires me to play differently and keep things interesting. That is why I've never had a specific endorsement with one brand of guitar. I've been fortunate to develop some good relationships with companies like Gibson and Fender. They've made it possible for me to play guitars I couldn't afford otherwise, and they've also understood that the different guitars they make are part of the collective musical and tonal palette that we as guitar players all use. There has never been any pressure to do anything exclusive. It would feel a little limiting for me if I could only use one style or brand of guitar. I was talking to a friend of mine about it recently and we were in agreement that it was like saying to a painter, "You can only use green and red. No blue for you!"
You've been using SGs for a while now. Like father like son…
I always associate my dad's music and his playing with the SG. I had never really played one much until I started doing the Zappa plays Zappa thing. And to be honest, getting used to it in the beginning was a bit of a challenge because I had been more of a Strat-type of player. But once I got used to it, it became the easiest guitar in the world for me to play. I've played everything from an [Ibanez] Iceman, to customized Strats and guitars flipped upside down—all kinds of different things. It's nice to be able to have a handful of guitars that really have a personality and a specific kind of sound and tone that stand out. I do have a lot of guitars, but I only have a handful of guitars that have a very standout kind of sound. Those are the ones that are most often in play now.
What's on that list?
Most of my go-to guitars are Gibsons. I have a few SGs. I have a Les Paul, but I haven't really been playing that on the road. I have a [ES] 336, which is a small version of a 335. That has a really good sound. They all have a classic sound. They sound good acoustically, not even plugged in. They have a natural resonance, and most of the time when I do my practicing I play electric guitars unplugged; because the harder it is to hear every note while you're practicing, the better it is to play while you're amplified. I have some Strats that I really like. I've been playing
Eric Johnson
model Strats on the road. I think they're the most well-balanced, nice-sounding Strats.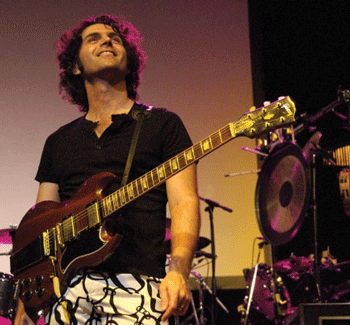 Photo by Michael Mesker.
I saw you perform with your digital rig recently— two Fractal Axe Effects Ultras, a few pedals, no amps. That's interesting.

That rig has about 14 connections and I go direct to the PA. All the programming is usually done in the studio through full-range speakers, and for me the Fractal units translate better, for any kind of recording or live performance stuff. That's what those things are designed to do best anyway, so I didn't want to introduce any limitations for the device. I wanted to use it in the way it was designed to be used.
I can recreate virtually all the sounds within the analog rig with the digital rig, but I can't create some of the digital rig sounds with the analog rig. The Fractal can go so deep on certain kinds of effects, and the way you can control stuff with expression pedals, that makes it a difficult thing to pull off in the analog rig. That big analog rig has over 240 connections just to set it up, so there's a lot that can go wrong when you're on the road. Some of those hassles can bring a show down.
So you're totally comfortable rolling with analog or digital?
I have a love for all kinds of amplifiers and effects, but when you pragmatically look at touring and trying to keep costs down while still trying to get the sounds you need, the Fractal became a good option for me. Now when I record in the studio, I'm probably going to try out everything I can try out—the Fractal, amps and all kinds of other stuff. But still you need to find the one thing that is going to be the most reliable and cost effective. I've done the big, huge rig, and I love the big, huge rig. It sounds great with all the gear in it. It's got some history. But if it's going to cost me $25,000 to ship it every time I go to Europe or Japan, that's tough, especially in this economic climate. But the Fractal, that's certainly one of the more important and unique inventions in the guitar world these days.
The Fractal guys told me that they look forward to your input.
That's what's cool about this thing. It's a living, breathing entity. The way that I use it is different from the way a lot of other people use it, but everybody's input is valid. There are tons of things that other people have tried that I didn't even know the thing could do. It's amazing that Cliff [Chase]—the guy who made it and designed it—can do what he can do. I've asked him for some specific improvements on some things and he's been able to provide those fairly quickly. Now, some of them are more challenging and are taking more time, but it's good to be able to have your requests for certain things listened to and then implemented.
What's the main amp in your analog rig?
The Fuchs TripleDrive Supreme 3-channel, 100 watts. Those amps suit my playing and the flexibility with the three channels is great.
Do you have a favorite piece of gear?

There's a piece of equipment that makes a very specific sound that has existed on a lot of Frank's records; it's called a DynaFlanger. He had two of them and used them in conjunction with each other. Those are hard to find but they make a very specific sound. They're in the analog rig, but I've also been able to recreate them to a pretty good extent within the Fractal, as well. As far as signature sounds go, the sounds that Frank got out of them on the Shut Up 'N Play Yer Guitar record are among the coolest guitar sounds that I've ever heard. Knowing that those boxes made those sounds, that's a pretty cool thing. I've never been able to getthem quite where Frank got them but that's because [pause] he's Frank. [laughs]
You're particular about your picks. What do you use?
Red Bear Trading Company. I use some of the heaviest ones they make; they're really thick with the beveled edge and the whole thing. That's all I use. In fact, people get bummed out when they ask me for a guitar pick because they're too expensive to give away constantly so I have to get some plastic ones made just to give out. The Red Bears really do make a difference in your tone. For me, less effort is involved because the pick is so heavy to strike the note. Every note ends up having a similar volume; there's almost a high-end attenuation because the mass of the pick imparts more bass than it does treble. Guthrie [Govan] is using them now. I've also gotten John Petrucci on 'em.
Let's talk about your What the Hell Was I Thinking project—your ongoing project that involves the best guitar players in world—where are things these days?
It might have some new additions to it as my playing evolves. That means I might take some existing stuff off there, but there are still some guitarists I'd like to include. There are some modern players like Guthrie, and there's also a guy named Marshall Harrison who, I don't think there's a guitar player on the planet who has more ridiculous technique than this guy. You can't even believe what this guy can do. Check him out online. I've never really heard much of his own music; I've just seen his online stuff where he's playing Chopin, etudes and whatnot on guitar. He's playing like seven billion notes at a tempo that's ridiculous and he's never making any mistakes. It's crazy.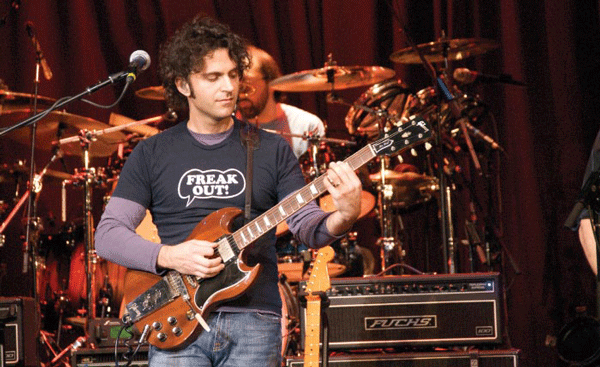 Photo by Michael Mesker.

As for the project, the players that already exist on the record are pretty impressive. I've even got Angus and Malcolm Young, who have never played on anything other than AC/DC records—they're on this record. Eric Johnson, Yngwie Malmsteen, Eddie Van Halen, Steve Vai, Steve Morse, Albert Lee, Brian Setzer, Steve Lukather, Robben Ford, Jimmie Vaughan, Joe Walsh… I'm forgetting a ton of people, I'm sure. Blues Saraceno, Warren DeMartini, Tim Pierce… there are tons and tons of players, but I'd still like to record Jeff Beck and Jimmy Page, and then some of the new guys like I was saying. I think I'll add some more new interstitial musical pieces and then mix the whole thing in surround sound and make it an audio experience. Moment to moment the music changes drastically and becomes these soundscapes and different types of music. It's an insane project. By the time it's all done it'll definitely be one of these things that people say, "Uhhh, how'd you do that?"
How long has this been in the works and what will this finished product look like?
It'll be one disc that runs in its entirety as one piece of music. There'll probably be index points for people to get to parts they want to hear, but it's intended to be one continuous piece of music that's 75 minutes long. I'm not exactly sure what the final product will be like when it gets released, but I do want to put it in surround sound. It'll be an interesting experience. I started it almost 14 years ago. Crazy—back when guitar was still popular but on its way out, and now it's having its resurgence of sorts.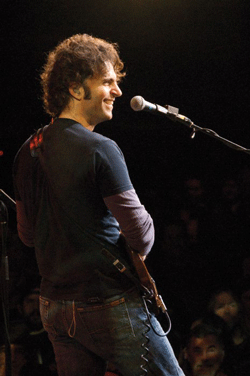 Photo by Michael Mesker.
I understand there's another record with your band in the works.
It'll be coming out in the early part of 2010. It'll be called Return of the Son of. The main thing about that record is that all the stuff that we currently have in the marketplace from Zappa Plays Zappa is from the 2006 tour. This record bridges the gap from 2006 up to our current state of the band, so it's definitely representative of what we sound like and what we will be doing all year.
It has some of my most adventurous guitar playing on it, in my opinion. There's one particular solo on the song "Zomby Woof" where I… when I was playing it… the process that I decided was to ignore what key I was in and I was only going to create contours and shapes. Frank talked about when he was really in the zone of playing he was making air sculptures and he was thinking about making shapes and contours. For one of the only times when I've been present enough to be in that moment and decided to go for it and have a completely out-of-body experience, I was lucky enough to actually get a recording of it. The solo itself is like nothing I've ever played before and I have no idea what it is. It's like, literally, I knew the solo was in A, but I was certainly anywhere but in A. But it works. [
Click to download an mp3 of the Zomby Woof solo.
]
That sounds crazy, like the whole modal jazz thing but without the patterns.
Completely. That's what's cool about it and that's what's cool about this project in general, is that you can take those kinds of chances and the band can support it and make it work. When I hear it, I'm like, "Man, I have no idea how I played that." And I can never do it again. It was definitely one of those crazy, crazy moments, and there are a lot of those kinds of things on this record. I'm very happy with this guitar playing. I think it's very representative of all the work that I've put in, in terms of transforming my playing. If somebody had never heard me play, this record would be the best example of what I can do at this point.
I understand the Roxy DVD is closer to being finished.

Another big thing for next year is another DVD, our Roxy concert that we did 35 years to the date that Frank last played at the Roxy. We're also working hard to complete Frank's Roxy film, so hopefully both of those can get released by the end of 2010.
Will these be packaged together or separate?
Most likely, they'll be separate. The thing that's really cool about it is that it's one of my favorite records anyway. We got Frank's version transferred to high-def from the film master, and that's an important step. That's going to be a major focus of 2010.
Tell me about the educational project that you're working on.
At some point I want to create some kind of situation where we can share what we've learned over the past five years. It was like training for the Olympics or bootcamp, ya know; it was powerhouse musician type stuff. So, one of the things I want to do in 2010 is create a couple of events so I can do some teaching and share some ideas and get a community of people who are interested in becoming better players and experiencing some different types of music you know, particularly Frank's music. This event would be the kind of thing where people could learn how to play some stuff, you could test some gear and it would just be the kind of thing that people would want to get involved with. It's something that I think would be fun, like a summer camp kind of thing. [mocking the movie trailer voice…] Prepare to learn some crazy shit! [laughs] I just turned 40, so in some ways this is how I can have a more life-enriching experience. Why not share knowledge? It's a good thing.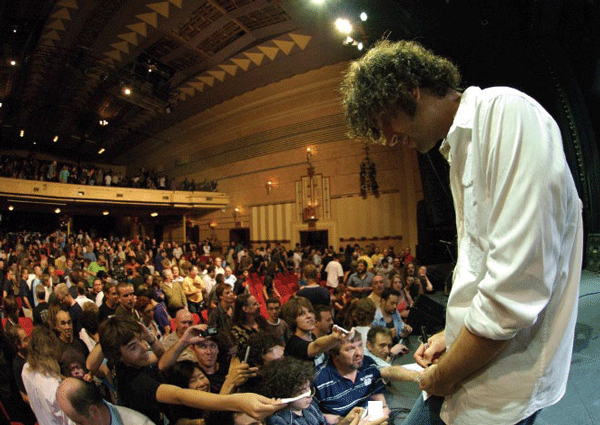 ZAPPA'S GEARBOX

CURRENT DIGITAL RIG

Guitars:  

Fender Eric Johnson Signature Strat, Gibson SG, Gibson ES-336


Amps:
None

Controllers: 
Sound Sculpture Switchblade GL, Axess Electronics FX1 w/ Expansion Unit EFFECTS: Two Fractal Audio Systems Axe-FX Ultra Preamp/Effects Processors, Freekish Blues Bety Bdbst prototype (Fuzz/ Clean Boost), Dirty Boy Afro Fuzz, Way Huge Pork Loin Overdrive, Way Huge Fat Sandwich Distortion, Butler Tube Driver (modded with bias adjustment), Dunlop Wah, 4 Boss RV-500L pedals (two expression, two volume)

Pedalboard: 
Modified from a lighting board case

Cables: 
Bullet Coiled Cables, Zzyzx Snapjack Connectors and Pedalboard Cables

Strings:
Ernie Ball Hybrid Slinky Nickel Wound .009-.046; Extra Slinky Nickel Wound .008-.038 (for Strat) PICK: Red Bear Trading Company "Classic," Extra Heavy gauge, with a right-handed speed bevel and grips