Jerry Douglas: Stirring the Gumbo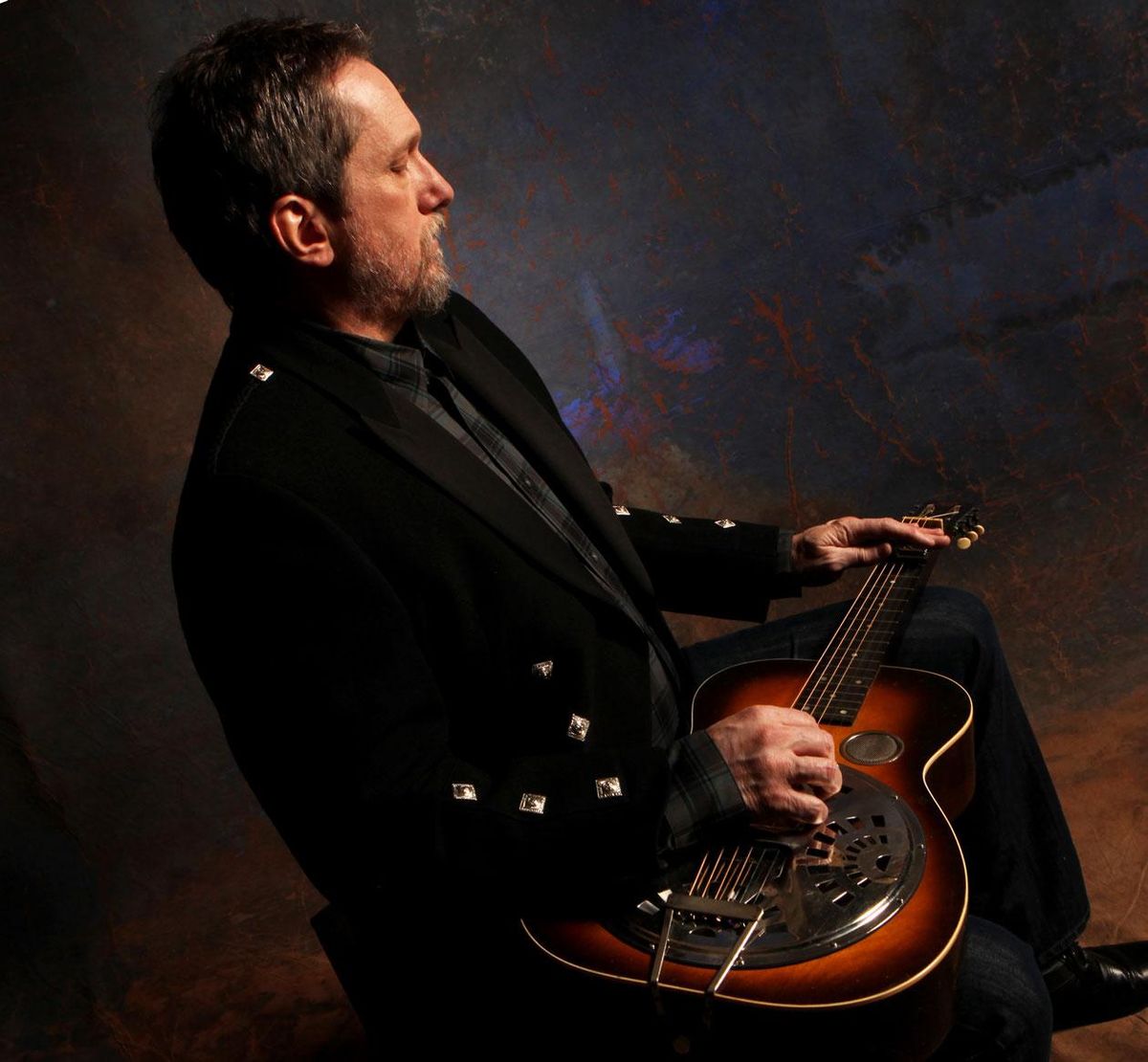 Backed by an ace horn section and a killer band, the resonator master serves up a daring fusion of jazz, rock, and bluegrass on his new album, What If.
Few musicians have put their imprint on as much music as the resonator specialist and 14-time Grammy winner Jerry Douglas, widely considered the preeminent square-neck resonator guitarist. As a sideman, Douglas has logged over 2,000 recording sessions and worked with such prominent artists as Dolly Parton, Paul Simon, Eric Clapton, and Elvis Costello.
Whatever the context, Douglas plays with fastidiously good and often jaw-dropping technique—a result of his having spent his formative years woodshedding on fiddle tunes, with their flurries of notes. Few players can match the effortless speed he achieves on his instrument, not to mention his accuracy with the bar in terms of intonation. Playing most often in open-G or open-D tunings, he uses nonstandard techniques, like a range of slurs, to achieve a richly singing sound. At the same time, his complex pick-hand work—he uses a thumb pick, along with two finger picks—adds depth to his sound.
A cross section of Douglas' recorded output might speak to his breadth and diversity, but like many resonator players, his playing is rooted in bluegrass and traditional country, and he's a longtime member of Alison Krauss and Union Station.
As a leader, beginning with 1979's Fluxology, Douglas has pursued a synthesis of all that catches his ears. And he clearly has catholic tastes. On his latest album, What If, Douglas and his band mix country, bluegrass, rock, bebop, fusion, and R&B in a set that's as technically deep as it is thrilling to hear.
"The more rocking area is definitely a frame of mind—trying to make a more powerful statement by being explosive and very dynamic."
One summer day, right before he kicked off a tour in support of the album, Douglas called to talk about how he reconciles the worlds of bluegrass and fusion, how he views his instrument mathematically, and how Joni Mitchell and other vocalists have led him deeper into the realm of the square-neck resonator guitar.
You come from a bluegrass background, but one of your most transformative moments came when you first heard fusion as a young musician. Can you describe what happened?
I was predominantly a bluegrass player, though I'd been influenced by jazz musicians like Django Reinhardt and Stéphane Grappelli. I grew up close to Cleveland, so I also had access to the powerful rock stations coming out of the city. And then one day when I was living in Lexington, Kentucky, playing with J.D. Crowe and Tony Rice and Ricky Skaggs, a friend set me down on his porch and played me Light as a Feather [Return to Forever's second album] and Heavy Weather by Weather Report, and it blew my mind. I'd never heard anything like that before and it was just overwhelming to hear that kind of music. I had to go out and find more music like it, because I couldn't believe so much was happening. I had to adapt it to my instrument and try to find a way into it. It was so far ahead of its time, and no one's really even caught up to it yet.
My friend Béla Fleck and I were in Nashville, and we went together to Vanderbilt University and listened to the reunited Return to Forever. Our jaws were just on the ground the whole time. Neither one of us could believe what we were hearing. It was another one of those landmark moments in my life.
Douglas' debut album, 1979's Fluxology, was a trailblazing study in bluegrass packed with a host of other formidable youngbloods and veterans that included banjoist J.D. Crowe, guitarist Tony Rice, Ricky Skaggs on mandolin and fiddle, fiddler Darol Anger, and bassist Todd Phillips. Photo by By Jordi Vidal
Béla, of course, jumped right on it and after his time with the New Grass Revival, formed Béla Fleck and the Flecktones and went out and pretty much started writing his own material that kind of bordered on [leader of Return to Forever] Chick Corea's stuff. And then eventually he and Chick became friends and they started working together and still are.
But I didn't go at it the same way. I kind of stuck with my base and worked on the fringes of that along with David Grisman and Tony Rice, and sort of pushed the envelope out to make the kind of music I was steeped in relate to it.
At this point, I have a horn section in my band. So it's pushing it even further—in a way that still hits my ear in a nice way. I'm not trying to be a jazz musician. I'm trying to be more of a hybrid musician and connect all of these influences.
Were you playing the resonator guitar when you first heard fusion?
That's always been my main instrument. At that point I'd dabbled with lap steel and electric guitar, but Dobro was my instrument of choice and the conduit between my head and my hands.
You didn't set out to be a jazz musician, but listening to your new record it's clear you have quite a command of the language. Did you acquire this skill through formal study or just by ear?
Just by ear, by osmosis, by being around musicians. When I used to go out to San Francisco, to Marin [County], to work on a David Grisman or a Tony Rice record, I'd go to Tony's house and we would sit up all night and listen to Miles Davis. And it soaks in. I guess you're studying it, but not really.
I was just submersing myself in the ways that Miles played and the reasons why—directions and misdirection in turning things upside down, playing alternative melodies and things like that. I could never know everything that he knew. But it was a nice lesson, and that's kind of the way I soaked up the jazz area.
---
---

Tone bar king Jerry Douglas has risen to the top of the square-neck-guitar playing field by developing a style that blends speed, accuracy, and melodicism—even in short, quick phrases—during his 30-plus-years career. Photo by Frank Serio
What about the more rock-oriented aspects of your playing?
The more rocking area is definitely a frame of mind—trying to make a more powerful statement by being explosive and very dynamic, which is something that was easy for me to come by from playing bluegrass music. It's acoustic and it's so physical.
In bluegrass, you control the dynamics with your right hand instead of a volume pedal. So what I usually do is just floor the volume pedal and then do the dynamics with my right hand. I'm playing the more rocking stuff in the same way that I would approach bluegrass, but with a whole lot more wattage.
What are some of the connections you make between traditional bluegrass and fusion?
There's a different instrumentation and sound, scales and substance, but both are highly improvisational, and I enjoy floating back and forth between the two worlds. One of the fundamentals of playing bluegrass music is that, much like in a jazz setting, you state the melody and then you have your blowing sections. And then you restate the melody and you drift to the end of the tune. It's just the way you formulate a tune so the listener knows what's going on.
"I try to stay in one voice and deliver a statement instead of jumping all over the fingerboard to put a solo together."
I really like to have the listener involved. I don't like running off from the listener. I like connecting listeners and having them involved in the solo, more than just trying to show off my chops. It's boring to me to be overwhelmed by somebody's technique and to not understand why they did something.
What kind of strategies do you use in taking listeners on the journey?
Well, I think the success of the music is all in the dynamics and the path, just shaping your solos. You start breaking it down into smaller increments to keep everybody involved and listening. It's like being in a band: The best bands you've heard were bands that listened to each other and elongated one solo into another. They'd start by echoing some phrase played by whoever soloed before them and take off from there.
It's also really important to not just keep the dynamics up in your face all the time. I like to hear breakdown sections in songs and let things rest for a second before taking them back up. Those kinds of things are more interesting to me than flat-out-in-your-face type of stuff.
Was it difficult for you to find musicians to play your unique music at such a high level?
I think it would have been had I not run into my bass player, Daniel Kimbro, who studied at University of Tennessee in the jazz department. He met a lot of great musicians when he was there and he's turned me on to them. Some of them are in my band.
Jerry Douglas' Gear
Guitars
Beard Guitars Jerry Douglas Signature BlackBeard resonator guitar with Hipshot DoubleShot multiple-tuning tailpiece, Hipshot roller nut, and Fishman Nashville pickup
Lap King Rodeo steel guitar with Supro bridge pickup and Teisco neck pickup
Amps
Fender Deluxe (tweed)
Effects
Boss DD-3 Digital Delay
DigiTech Whammy
Electro-Harmonix POG Polyphonic Octave Generator
Electro-Harmonix Memory Man
Strings and Picks
D'Addario EJ42 (.016–.056)

Daniel introduced me to another world. He grew up playing bluegrass music in a family band, but he discovered this stuff as he was going through school and learning and playing with these different jazz bands. He really helped me decide to go ahead and go for it. Because of him I met these other musicians who helped me form this band and turn it into the record that you heard.
The trumpet player, Vance Thompson, teaches arranging at University of Tennessee. Jamel Mitchell, the guy that plays saxophone with us, is from a completely different school. He's from Memphis. His father, James Mitchell, was one of the original Memphis Horns, and wrote all those great horn charts. Jamel's uncle Willie was the producer for all those Al Green records and things like that. So there's DNA there. Jamel plays these wonderful solos, but he also writes really great parts that he and Vance play together, which really makes sense for the stuff I write. It can add comedy, or it can be very serious. Jamel is great at figuring these things out—what the substance is and what the emotion is at the right time.
My electric guitar player, Mike Seal, adds another facet to the band that wasn't there before. I mean, he's just amazing. He plays piano and guitar—he's just a fount of knowledge on anything he picks up. Our fiddle player, Christian Sedelmyer, is classically trained but also steeped in old-time music and bluegrass, and is another incredibly natural musician. Doug Belote, the drummer, is from New Orleans. So we've got a real gumbo going on, but it's very cohesive.
How did this gumbo influence the way you wrote the tunes?
I try to find the essence of the band and write more adventurously. I'm writing for these musicians, not for a bluegrass band. It's a different way of writing. It's like we all have our own opinions about what the melody is, and then we'll form these counter-melodies and ultimately we all meet back at the end to agree on what constitutes the main melody and when it should be stated. It's all math, really, when you look at it, but you try not to sound like a mathematician.

The ringmaster and his psychedelic circus, from left to right: saxist Jamel Mitchell, Jerry Douglas, guitarist Mike Seal, drummer Doug Belote, bassist Daniel Kimbro, and violinist Christian Sedelmyer.Photo by Patrick Sheehan
Can you elaborate on the mathematical aspects of your music?
The way I look at it is, the fingerboard is a grid and I've got one finger to work with because I'm using a slide. So I'm playing with a metal bar and I have to figure out all these different combinations I can do with two strings or three strings or all six strings. But a lot of the time I can't play an Fm or an Ebm chord, so I'll have to play different pieces of that chord to structure the whole chord. And they can be substitutions—parts of the chord and different altered versions of it. But that, to me, is math: trying to figure out things that work within the confines of one chord. I mean, there are all kinds of places you can go on the neck to find those, but I try to also play like a singer.
How so?
Singers tend to stay in voice. I try to stay in one voice and deliver a statement instead of jumping all over the fingerboard to put a solo together. There are times when that does fit, when there are very wide phrases you want to play to make a statement and create a mood, but more often than not, I look at the fingerboard and determine how small a space I can use to play a whole song and stay in voice like a singer.
Are there particular vocalists who have impacted your work the most?
I've been lucky to have worked with some of the greatest singers. I mean, Alison Krauss and James Taylor and Paul Simon and Sting … but the one singer who impacts me more and more when I hear her is Mitchell. She's got such a great reading of the song, but also she has dynamics and she has range.
"The one singer who impacts me more and more when I hear her is Joni Mitchell."
The truth is, whoever I'm listening to at the time influences me. There's a lady named Gabriela [Marrone] who has worked with Bill Frisell and puts Spanish lyrics to some of his songs. I don't know what she's saying, but she's singing so beautifully. At the same time, there are so many instrumentalists—like [jazz pianist] Brad Mehldau or Derek Trucks—who can emote without words. They get to me by teaching me new things to try on the Dobro. I'm always hearing different things that I want to express.
It's apparent that your broad listening habits have informed the record. For instance, in spots the title track sounds almost like Philip Glass.
That's funny. When I did A Prairie Home Companion, Chris Thile told me it sounds like Debussy. It's really kind of athletic—pull-off arpeggios in different positions on the neck. It was an exercise at first and then I finally added a melody, and Jamel wrote a beautiful horn melody that went on top of that. So it turned into a beautiful piece. We drop that into the middle of the set and everybody just goes, "Ah." It's a nice release from all the strife that's going on onstage.
What If features your unique spin on "Hey Joe." How did you approach arranging a song immortalized by Jimi Hendrix?
Well, I cut it a long time ago with singer and mandolin player Tim O'Brien, and Arty McGlynn, an Irish guitar player who's just like a steamroller. But this time I took a different approach with those nice horn lines. It's a tune that everybody knows, but they never heard it this way. It's just a mixture of my world music, bluegrass, and rock. I love playing fast arpeggios and solos against a backdrop that everybody knows is like a dirge, but which I see as a fast-moving thing. And I think Jimi would have loved it.
Joined by upright bassist Daniel Kimbro at Paste Studios in New York, Jerry Douglas puts a burning, bluegrass-infused spin on "Hey Joe."
---
On fire! The Jerry Douglas Band brings their unique blend of fusion, rock, and bluegrass to an enthusiastic crowd at Nashville's Station Inn.