Oscar Lang—From 'Guitar Hero' to Guitar Hero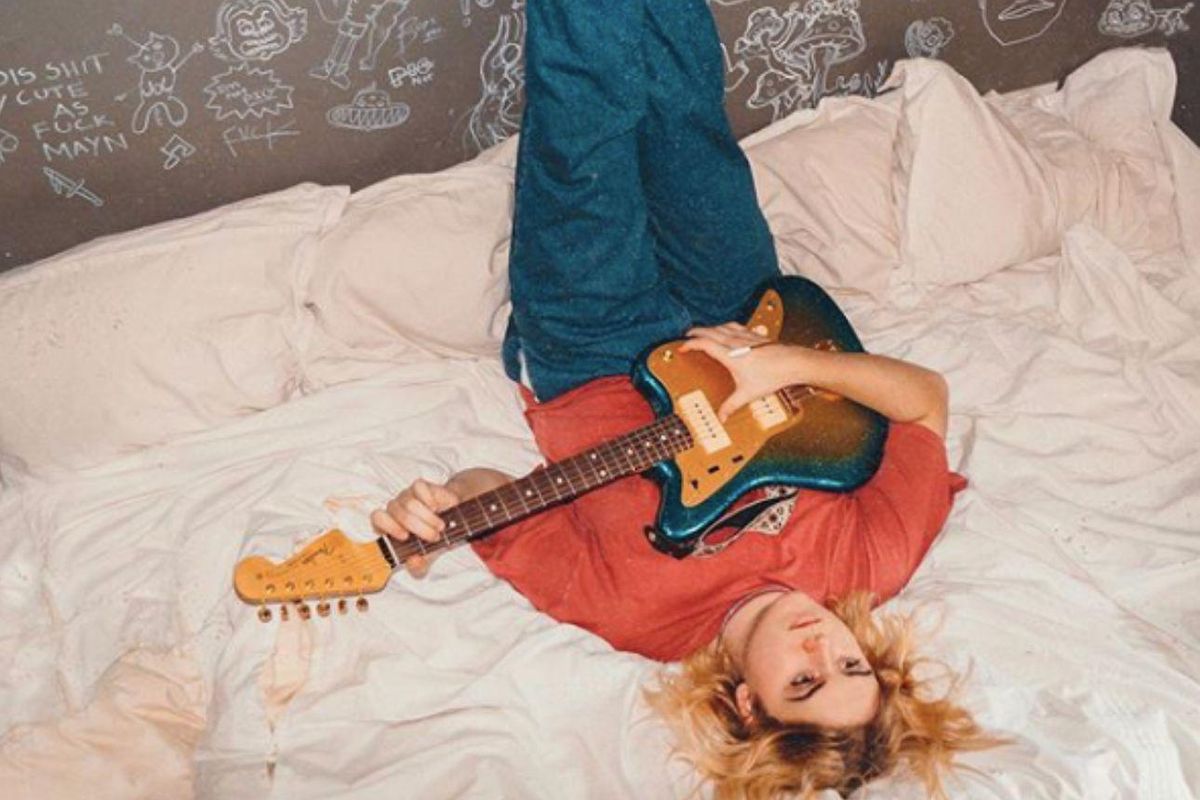 Gaming inspired the young dream-pop star to pick up a real guitar. Now he puts a couple of Fenders to work on his bash 'n' roll breakout album, Chew the Scenery.
Fans of lo-fi bedroom pop have undoubtedly already heard of Oscar Lang. Since his early teens, he's been a leader in the dreamy, synth-laden genre. Guitarists who prefer their music loud and rocking may not know Lang, but with the release of Chew the Scenery, the two worlds are colliding as the young songwriter comes of age, electric guitar in hand.
---
Lang has built quite a name for himself over the last half-decade. Songs from his seven-plus self-produced and self-recorded EPs and singles are featured in EA Sports' video games, and he holds production credits with modern stars like songwriter-guitarist beabadoobee and Canadian rapper Powfu. Not bad for a 21-year-old.
Lang's love of all things music came very early in life. His late mother, who was also a musician, fed her child's prodigious talent with her love of great pop. Though she died when he was 7, her favorite music, combined with the piano she gave him, opened his eyes to a life of unending artistic possibilities.
Oscar Lang - Stuck (Official Music Video)
"There was this little CD that my dad made for me when she died," says Lang. "It had all of her favorite types of music, and I used to play that. That gave me a weird kind of influence when I was younger. I was listening to music that I wouldn't have listened to if I hadn't had that CD. I used to play that over and over in my room, listening to the songs that she loved.
"I've lost the CD, and we don't know what songs are on it, so it's a mystery. But sometimes I'll listen to a song that just unlocks a sound, and I'm there—I can remember the CD. Deee-Lite's 'The Groove Is in the Heart' is one that's always stuck in my brain. That bass line ingrained a little bit of funk into me.
"I get influence from everywhere in my life. I started playing music and actually writing songs when I was about 11. But I got into rock music and guitar stuff through playing Guitar Hero. I used to love that so much as a kid and got back into it when I was 14. I dug out my Wii and whipped out Guitar Hero, and then I was like, 'Why don't I actually learn how to play the guitar?' That got me inspired to start taking guitar lessons." Once Lang got a guitar in his hands, he crafted a bare-knuckled approach to the instrument—attacking it with ferocity for both emotional and physical release.
"When I was 14 I dug out my Wii and whipped out 'Guitar Hero,'' and then I was like, 'Why don't I actually learn how to play the guitar?' That got me inspired to start taking guitar lessons."
Lang is as in love with the stage as he is the studio. So much so that, he explains, it was the catalyst behind Chew the Scenery's powerful new sound. "I was more into the bedroom-type stuff and that synth-y sound. But we had these few songs like 'Flowers' and 'Drinking Wine' that were a live rock sound. I was really keen to go in that direction." He started moving that way in 2019, and the EPs bops etc. and Hand Over Your Head hinted at what was to come with Chew the Scenery.
"It was really hard for a bit, because we've played those songs for years. People would be like, 'What is that song? Where can I find it?' We'd say, 'It'll be out one day.' Then, finally, the songs came out, and it happened to be in the middle of a pandemic where we couldn't play any of them live. These songs are made to be played live, and people need to see that. It's been hard. But I've also recorded a whole bunch of music that I probably wouldn't have done if I'd been playing a whole bunch of shows."
When Lang couldn't bring his new songs to the stage, he sought to bring the excitement of the stage to his songs. As he recorded, he leaned on influences as diverse as Black Kitty and the Scott Pilgrim vs. the World soundtrack for the "whole bunch of music" that became Chew the Scenery. "The last year, I've been listening to a lot of post-punk. Me and the boys are big musos, because a lot of post-punk is weird rhythms. The tracks that Nigel Godrich and Beck did for the Scott Pilgrim soundtrack … they wrote those songs for the [movie's fictional] band Sex Bob-Omb. I was listening to their song 'Threshold' a lot. I used to listen to that while I was running, and that was the one song that could just get me absolutely blasting! It was just so intense in your headphones. That's what kind of inspired 'Stuck.'"
Oscar Lang's Gear
"Me and the boys in my band like music that's interesting and weird, with polyrhythms and countermelody," says Oscar Lang. "We sneak them in here and there."
Photo by Korrie Powell
Guitars
Fender Telecaster
Fender Player Jazzmaster
Fender Stratocaster (studio only)
6-string and 12-string acoustics (studio only)
Strings and Picks

.014 sets
Cuts his own from discarded plastic cards
Amps
Effects
Fuzz pedal
Strymon BigSky
Waves auto-wah plug-in
That song—the album's first single—is a perfect microcosm of Chew the Scenery's no-rules vibe. It roars with gritty guitars, fuzzed-out bass, and harmonized 6-string lines that are equally exciting and jarring from beginning to end. Hot on the heels of "Stuck," "Yeah!" introduces a very '90s electronic element. Then the piano ballad "Final Call" arrives at the end of the album to remind you of the wild, diverse ride you've been on.
The explosive energy and the stylistic shifts are no accident, obviously. From the start, Lang knew what he wanted, who it was for, and that this would be a different sort of album. "We wanted to encapsulate all the sounds that I had done. You look at my Spotify profile, and my music's changed so much over the years. I wanted to bring everything in and tie it up in the new, crispy sound we had with me and Rich. [Rich Turvy co-produced the album and has worked with Blossom, the Coral, and other pop-rock breakthrough artists.] I also wanted it to work for the two different types of listeners. There are the musos that like to listen to the album as a whole. It's not that it has to have a huge storyline or anything, but I wanted it to flow nicely. But, also, the songs are different enough that the average listener is only going to listen to one or two songs. So you can come in wherever, and it'll still make sense."
"I'm well known for breaking strings in my band, so nobody gives me their guitars. That's why I use .014s. Those are the ones that snap the least when I'm playing."
For Chew the Scenery, Lang—who was joined by his bandmates and co-producer—recorded in a professional studio for the first time. "We wrote a lot of songs up in Parr Street in Liverpool, which is a famous studio that Coldplay recorded a lot of their earlier albums in. And we finished off writing some of it in Coastal Sound. It was the first time that I'd spent a long time in a studio with windows [laughs]. It felt pretty good, to be honest, because of the amount of time I've spent in basically a dark box. The album is mostly me and Rich Turvy. We just sit in a room and figure things out. As I'm starting a song, I can really hear where it's going, and he hears the same thing, which is really helpful. He really understands me. And a lot of the bass is Rich. He has a touch that I can't quite replicate.
"I also had two members of my band. Mac [Luis] does all of the drums. Then Daniel Bath comes in and does guitar. He'll shred a solo that I can't rip because I'm not that technically proficient."
Technically proficient or not, Lang understands what's exactly right for his songs, so his raging bass and guitar parts are all over the album. "There'll be times where we listen to the demo, and it's just so extreme that Rich can't do that. I go in and just smack a bass or guitar. I can just hit it with fucking attitude. Nobody else does that for some reason. I have to fill in when it needs to be messed up in a good way. I'm well known for breaking strings in my band [laughs], so nobody gives me their guitars. That's why I use .014s. Those are the ones that snap the least when I'm playing."
TIDBIT: Although Lang's earlier singles and EPs may have made him a star, his new full-length is the first album he's recorded in a formal studio and his first guitar-focused recording.
Despite Lang's ham-fisted approach, Chew the Scenery features some surprisingly advanced musical concepts, from polyrhythms and countermelodies to strange intervals and chromatic flourishes. "Me and the boys in my band like music that's interesting and weird, with polyrhythms and countermelody," he relates. "We sneak them in here and there. But the music-theory side of music, I've never been into. And with all the instruments that I've learned, I've never really been good at practicing. I always used to hate it. I'd go in and do the first few lessons. From then on, I was just teaching myself through doing covers and looking at different chords."
Lang knows as much about tone chasing as he does music theory. Yet he crams the new album with captivating guitar sounds. "I think a lot of [the record] was recorded with DI. There would be times we'd run through an amp and, for some reason, it didn't have the same tonal qualities that the demo that I'd done had. We went, 'Yes, it sounds like guitar, but it doesn't sound like the guitar that we want.' And a lot of the time, the sounds are Rich trying to recreate the mad sound that I've made in Logic at 3 a.m. I've probably just worked two amp simulators and an overdrive, then whacked it through compression. It's not done the right way, but sounds weirdly good. Rich has to try and do that, but also make it sound professional and clean.
Inspired by his love for the game 'Guitar Hero,' Lang reached for the guitar at an early age.
"Other than that, I don't really know what we used on the album. There's probably a little bit of phaser and some reverb on there. I know that we doubled all the acoustics. And we might've whacked a 12-string on it. I'm not 100 percent sure. I think we tried to whip out a Les Paul one time. Then we were like, 'This is too much. We're going too far in the wrong direction.' So, most of it was recorded on a mix of Strat and Tele. I never take time to sit down and be like, 'What guitar is this?' It's more like, 'What does this song need? Acoustic guitars.' We'll go grab it, and you're instantly recording. Then you put it down, and you're moving on to the next thing. It's all a blur—go, go, go, go! So, I never have a chance to look down and see what I'm doing. I'm just cranking the gain on overdrive, and it's, 'Yes, that sounds good,' and moving on with the day."
Nonetheless, Lang does have a pair of pet guitars. "I have a Fender Telecaster, which is a matte light blue. It's just so nice. That one's called Mary. She's homey and just sweet—my little light blue guitar. Then I've got Murphy, who's the naughty boy. He's a Fender Jazzmaster, buttercream with a black fretboard. It's so nice."
"The music-theory side of music, I've never been into. And with all the instruments that I've learned, I've never really been good at practicing."
The bottom line, though, is that Lang doesn't even really consider himself a guitarist. "I'm a piano player first, really. I was the classic 7-year-old. My mom got me into it and signed me up for the lessons. So I'd say the instrument I could stick with is piano, just because it's so versatile. I'm also trying to put the guitar down as much as I can, to be as free as possible. When we get back out live, I'm going to put the guitar down and have my hands out to make as much movement as I can
"I also like to make music on my laptop. Having a piano, you can pretty much do everything. You can do drums, bass guitar, everything you need. There were times where I was trying to exclusively write on guitar. But now I'm back and writing on piano. I'm getting into synths and electronic vibes. The plan is to keep releasing music. It's something that I'm always doing—constantly making music. I'm not really ever going to stop."
Oscar Lang - Antidote to Being Bored (Live)