Ride's Andy Bell: Addicted to Noise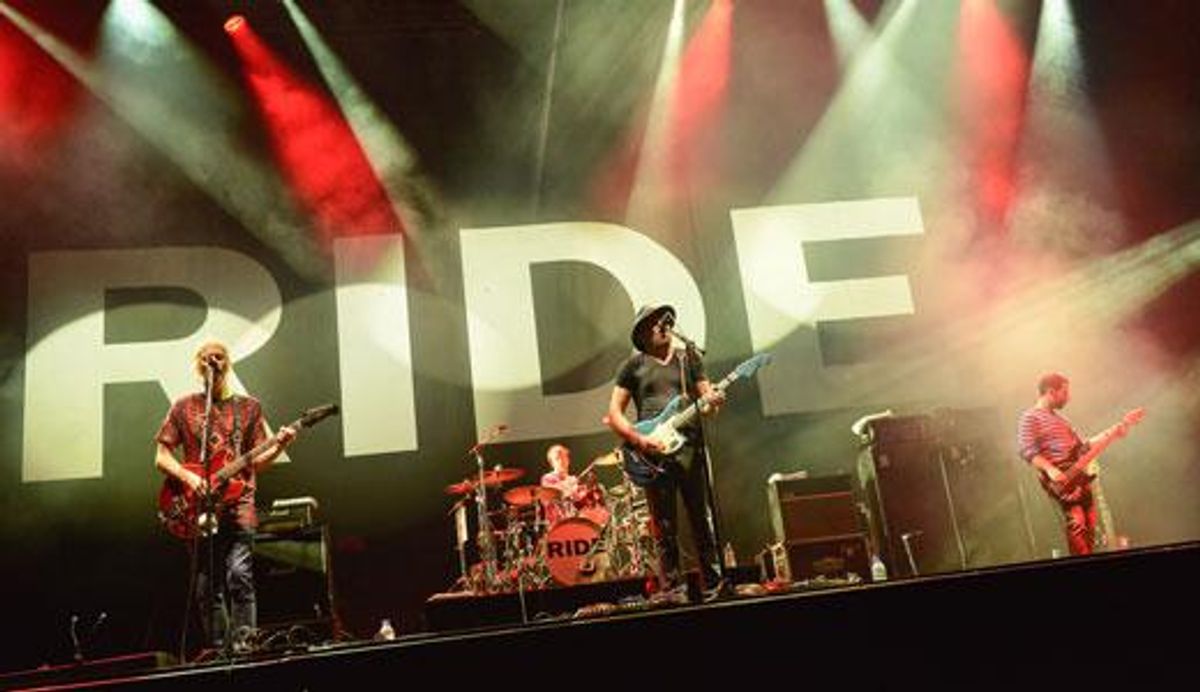 Photo by Kazumichi Kokei
The shoegaze vet details his subversive sonic strategies and the creation of the reunited band's '90s classics.
In the late '80s, while much of the U.K. was still raving to the electronic sounds of acid house, a new form of music was gestating in university towns. Inspired by noise groups like My Bloody Valentine, Dinosaur Jr., and Spacemen 3, as well as dreamier bands such as Cocteau Twins, musicians with an artistic bent began to explore what was possible by adding ambient guitar textures to rock.
Rooted in the ego-free punk philosophy that anyone could form a band, and using the back-to-basics instrumentation of guitar, bass, and drums, they married drone and melody to form a new generation's psychedelic music. Their often detached stage presence was blamed on an over-reliance on the effects pedals at their feet or, worse, snobbery—albeit unfairly. The now-defunct British pop-rock newspaper Melody Maker, unaware of the paradigm shift that was happening, dubbed it "The Scene That Celebrates Itself" and waved them off as "shoegazers." Few people, even the bands themselves, expected that creative wave to have such an impact decades later, but the DNA of Slowdive, Lush, and the Telescopes can be found in current bands as diverse as A Place To Bury Strangers, Mogwai, Sigur Rós, Yeah Yeah Yeahs, and I Break Horses.
Andy Bell was there at the beginning, when he and some friends from Oxford decided to form Ride in 1988. Like their contemporaries, they incorporated noisy guitars, but their calling card of vocal harmonies and jangly 12-strings set them apart. After a chain of successful albums, things wound down. The band split in 1996 and Bell eventually landed as the bass player in Oasis for a decade.
"Really, all of the bands respected each other and there was a lack of macho posturing. There's very little rivalry when you're not big."

October 2015 marked the 25th anniversary of Ride's massively influential first full-length, Nowhere. Regularly topping "Best of the '90s" and "Most Influential" lists, it's only fitting that the album would be honored with a reissue, complete with a booklet, photos, and liner notes by Bell. Included is a DVD of a performance shot in 1991 at London's Town & Country Club that hasn't seen the light of day until now and shows the band peaking. Last April the reformed Ride played Coachella and set off on a massive world tour, which finished at year's end. We sat down to talk with Bell about the band's history, the gestation of the shoegaze scene, his evolution as a sonic expressionist, and his favorite tools of the noisemaker's trade.
Was guitar your first instrument?
I'd had a ukulele, but never really got it together with that. I decided I wanted a guitar for my ninth birthday. I was given a basic nylon string classical and put into guitar lessons. I didn't really catch fire with it, and I got bored quickly. Then, somewhere along the way, my uncle Pete got me going with a few chords and taught me some folk songs. Still, I didn't think about it too much until I heard the Smiths on the radio when I was 13, in 1983. I really, really liked the sound of the band, so I went and bought the first cassette of theirs I could find. That's when it all clicked. I was immediately trying to figure out Johnny Marr's guitar parts.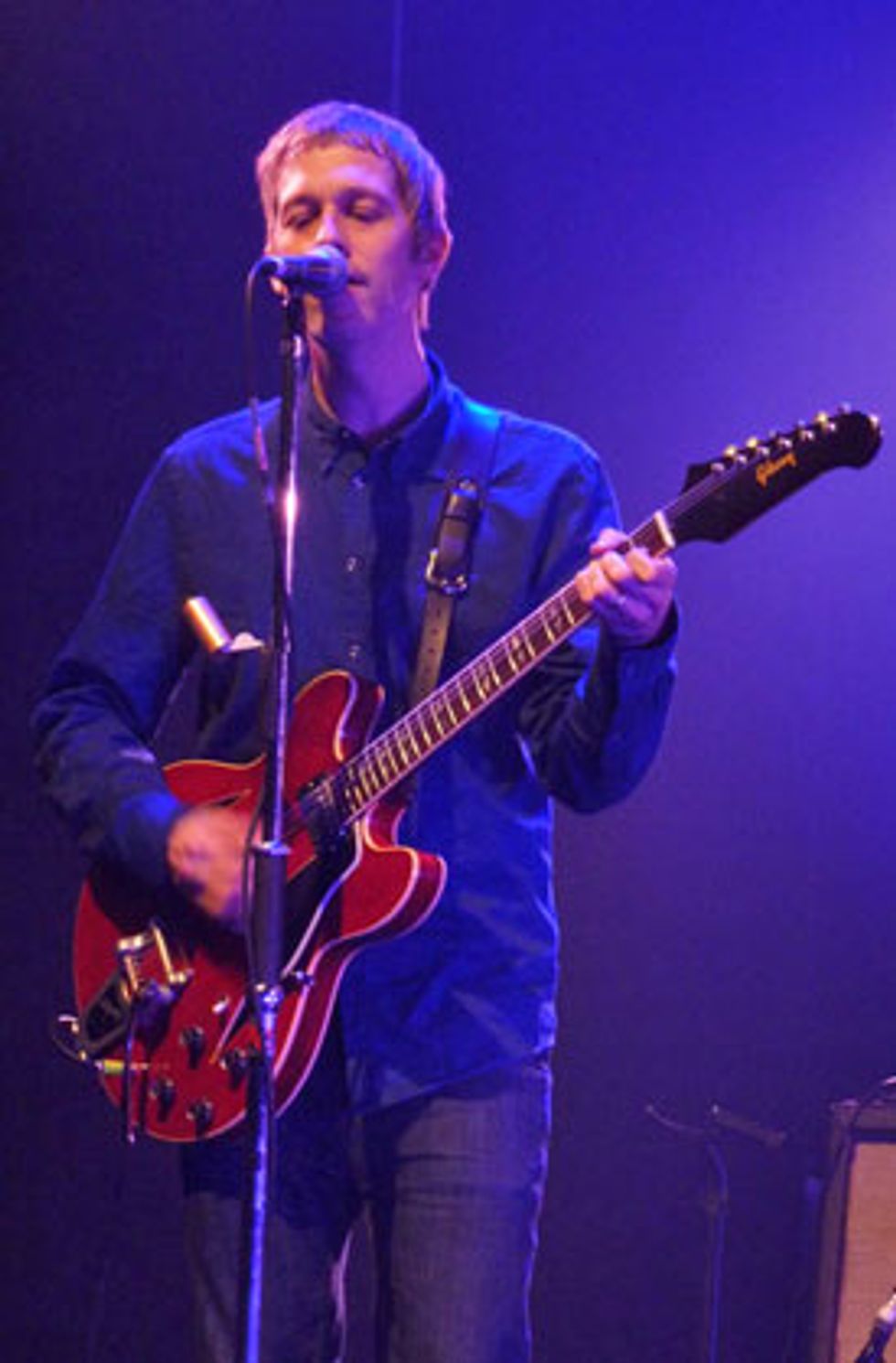 George Harrison and Johnny Marr both influenced Bell's decision to use 12-string guitar, which he later augmented with a pair of Gibson Trini Lopez models, a Les Paul, and a Fender Jazzmaster.
Photo by Solly Darling
Marr is incredible. That's a pretty difficult first foray into playing guitar.
Yes it was! I was trying to figure out "This Charming Man." Well, I was playing my version of it, based on single notes, but that was enough to get me thinking I needed to learn more chords. It was all very organic. I didn't go down the route of learning classical theory or reading sheet music. I still play my E chord wrong to this day. I took some more lessons, but, again, it was frustrating. The instructor would play something and I'd play it back, but he'd say, "You're playing it right, but you're not doing it right because you're not reading it off the music, you're playing by ear." I thought, "If I'm playing it right, why is it not right?" When I look at sheet music I feel musically dyslexic, but I can pick things up by ear easily.
When did you switch over to electric?
I had been playing along with records on the classical guitar. Then friends of my parents gave me a Hohner. It was black, had three pickups, and was covered with loads of switches, like a Jazzmaster. I just played it without an amp for quite awhile. Then I went to a jumble sale in my hometown of Oxford and found this strange valve amp. I think it was homemade. In retrospect, it was probably really dangerous [laughs].
When did you get what you considered to be a professional instrument? Something you'd had your eye on?
I played the donated Hohner for quite a while, then got a Satellite, which was a nice 335 copy. I used that for the early Ride stuff, and when we got signed I bought two Rickenbacker 12-strings—a 330 and a 360—and a Gretsch Tennessean, all in one shopping trip on Denmark Street in London. Mark [Gardener, Ride's other singer and guitarist] bought a Fender Jaguar and a Rickenbacker as well. He got the smaller John Lennon-sized one and I got the larger ones like George Harrison and Roger McGuinn used.

In the early days of shoegaze, Ride quickly rode the sonic tsunami of indie Brit-pop that also carried peers like My Bloody Valentine, Swervedriver, and Lush to stardom. Photo by Piper Ferguson
Are the Beatles what drew you to the 12-string?
Yes, of course. The Beatles were massive for me, but Johnny Marr played them, too. I always enjoyed Harrison's playing, and Marr was quite similar in some ways—half chords, open strings, different inversions of the same chord, lines where you're not sure if they are rhythm or lead. Sometimes they are both at once! Plus, that almost country style of picking that they both do is fantastic. That was inspirational, so that's how I learned to play. On the acoustic side, I loved Paul Simon. I worked out "Scarborough Fair" and "Anji," which were pretty hard.
That certainly explains the melodic and jangly side of Ride. Where did the noise and aggression come from?
From the bands that were forming and playing around us at the time. We were also into the Who's My Generation. I loved the Rolling Stones' Big Hits (High Tide and Green Grass), which has "19th Nervous Breakdown" on it. The bass on that track is amazing and noisy. I love that descending riff. I was drawn to those bits in songs. Also, it was the late '80s and all around us, in the air, it seemed, were bands that came a bit before us, like My Bloody Valentine, Spacemen 3, and Loop. They had a noise element that we found really cool. Sonic Youth's [1988] Daydream Nation had a huge effect on us. The first songs we had written were very English and soft, with major chords, like the Smiths or Felt. But when you listen back, you can easily tell when it was we'd heard Sonic Youth, because we immediately started to employ noise techniques. Things start getting more freeform and arty. Songs like "Nowhere" and "Seagull" came out of that. My Bloody Valentine was hugely influential on the bass sound—the overall dreaminess of the guitars, even the drums, and our overall production. We had become addicted to noise.
"I bought two Rickenbacker 12-strings—a 330 and a 360—and a Gretsch Tennessean, all in one shopping trip on Denmark Street
in London."

At that point you weren't in any danger of being signed to Postcard Records?
At our first rehearsal we did play "What Presence" by Orange Juice. [Editor's Note: Orange Juice was one of the influential '80s U.K. indie pop label's first signings.] Mark, Steve [Queralt, Ride's bass player], and me had become mates, and then we met Loz [drummer Laurence Colbert] at art school. When we rehearsed at his mum's house we didn't know each other that well, so we had to feel that out a little bit. We also played "I Wanna Be Your Dog" by the Stooges, "Blue Monday" by New Order, and "How Soon Is Now" by the Smiths.
It sounds like the DNA of the band was fully in place at the first practice.
Yeah, but to be clear, when I say "played those songs," of course, I mean "attempted to play those songs" [laughs]. Later, tunes we were trying to play became others. "How Soon Is Now" morphed into our song "Drive Blind," for example.
The Stooges seemed big in that scene. Swervedriver mentions them, too.
Swervedriver grew out of Shake Appeal [which is also the title of a Stooges song], and they were the biggest band in Oxford at that time. Everyone was scared of them. They were scary motherfuckers! Through them we learned about the Stooges and became hooked on songs like "1969," and "No Fun." We learned "I Wanna Be Your Dog" because it was the easiest.
Andy Bell's Gear
Guitars
2—1967 Gibson Trini Lopez models with Bigsby vibratos
Rickenbacker 360/12
Rickenbacker 330/12
1967 Gibson Hummingbird
1966 Fender Jazzmaster
Amps
Marshall 2061X 20-watt head
vintage Marshall 1960A slant front 4x12 cab
Effects
Boss TU-3 Tuner
Dunlop BG95 Buddy Guy Cry Baby wah
Ibanez CP9 Compressor/Limiter (always on)
Origin Effects Cali76 Compact Deluxe compressor
MXR Micro Amp (usually on)
Boss DD-3 Digital Delay
Electro-Harmonix Holy Grail Nano reverb (on "Hall" setting)
Strymon Mobius modulation pedal
Eventide TimeFactor Delay
Gollmer '60s Trem
Ibanez TS9 Tube Screamer
Fulltone Octafuzz
Eventide Space reverb
Strings and Picks
Various brands of .010 sets
Jim Dunlop .73 mm
It seems to be the "Iron Man" riff of punk rock. You've mentioned that abstract art also influenced the band. Bands like Mission of Burma and Gang of Four say the same thing. How so?
Three of us had been to North Oxfordshire Technical College and School of Art in Banbury. We were filled with ideas of seeing, perception, and deconstruction, so it wasn't a very big leap to apply those theories to music. A great thing about art school is the brilliant reading list. Ways of Seeing by John Berger and The Shock of the New by Robert Hughes represented the cutting edge of thinking by the late '80s—what art means, and what we do with it. We were all very … arty guys, but the ironic thing is the only one of us who hadn't been to art school, Steve, who worked in a record shop, was the one who had the biggest influence on our visuals. He found all of the pictures for the EPs and albums. He had all of these artsy pictures on the walls of his flat and would make our fliers with pictures of people like Nastassja Kinski and Sophia Loren on them. Art and sexy actresses were our stock-in-trade back then. We had the sleeve of Nowhere [a photo of a wave at sea] before the album was even recorded. We took that picture to the studio when we went to make it.
The Jericho Tavern seemed to be the center of the Oxford music scene. Did you play there?
Yeah, a lot of bands did their first gigs there [including Radiohead and Supergrass]. It's the upstairs of a pub. We only had four songs and we had to fill up the set with something, so we played a song called "Mind Fuck." It was really just what would become the loud part of our song "Drive Blind," only as it's own song, with a slower beat. So we did "Chelsea Girl," "Mind Fuck" for five minutes, then "I Wanna Be Your Dog," and then "Chelsea Girl" ... again [laughs]. It was great to play full volume. That in itself was inspirational. We thought, "Let's use this," and developed ideas basing a song on volume and noise, taking advantage of having a P.A.
Did you feel you had an affinity with the other bands in your scene?
We were friends with Slowdive, Lush, and Chapterhouse. I was quite good friends with Blur as well, though they weren't labeled as "shoegaze." In fact, Graham Coxon [of Blur] got me interested in Les Pauls and bending notes more, which had been difficult on 12-string. There's a lot of note bending on a Les Paul later, on [1992's] Going Blank Again, in fact. Really, all of the bands respected each other and there was a lack of macho posturing. There's very little rivalry when you're not big. You are all part of the same underground. We knew each other and became mates with some bands who got there a bit earlier, like My Bloody Valentine and Primal Scream. It felt like we were all working for the same cause.

Bell has played his way through the evolution of guitar effects, from stompboxes to rackmount units back to stompboxes, and now performs with two pedalboards filled with boxes. Photo by Kazumichi Kokei
Ride is associated with using effects. Were you using them early on?
I used them back then, but it was quite basic. I had a small Boss multi-effects box with delay, chorus, distortion, and one other thing I can't remember. The biggest thing was when I added a wah pedal, though. When I got that it was like "ahhhhh … oh yeah." I used it all the time, to the point that the other guys were saying, "Andy … you have to ration this thing. Every song can't go 'Wah! Wah! Wah! Wah!''' I still use one all the time, but more like a solo boost now. I've figured out my style with it. I know it's sweep really well, and where the notches are. Sometimes I'll turn it on and just leave it in one position.
When you went into the studio to make Nowhere,were you excited about what the studio offered, now that you had figured out your aesthetic?
Our first EP was basically cobbled out of demos, really. The second was done by going into the studio with an idea. We did four songs and we were out of material, so we did a loud jam that was intended for the full album [Nowhere], but didn't use it because we decided we didn't want to carry anything over. We wanted to start from scratch with Nowhere. We spent more time at the console, taking more control of the songs.
"It was great to play full volume. That in itself was inspirational. We thought, 'Let's use this,' and developed ideas basing a song on volume and noise, taking advantage of having a P.A."

We'd had arguments with the engineer when we made theEPs. The whole thing was a big battle. There was a right way and a wrong way, and in his mind we were doing it the wrong way. By the time we were ready to make Nowhere, we'd found Marc Waterman. He had worked in the EMI demoing studio, where we prepared for the album, and was the same age as us. We knew we could work with him. Not only was he not always saying no, he was saying, "Yeah, that's cool, let's do that!" Nowhere was his first big break, moving from engineer to producer. The thing is, we pushed him so far that he got a bit worn out, so Alan Moulder [Smashing Pumpkins, Nine Inch Nails] came in to mix it. He went on to produce our next one [Going Blank Again]. That record was yet another step up, and we spent even more time in the control room, using things like the Eventide Ultra-Harmonizer on the guitars—especially for lead parts. We used slave tape machines, tried backwards parts, slowing things down and speeding them up, editing two songs together. There were more "studio as an instrument" ideas than on Nowhere. While Nowhere is more sophisticated than the EPs before it, at its core it's still basically a rehearsal captured.
Reproducing things live must have presented a challenge.
We had versions of the songs, then demoed them, then made the album. But when it was time to play live, we referred back to the first versions of the songs, before production was added. It wasn't essential to make it exactly like the record. We did a few takes of [Nowhere's] "Seagull" in the studio and one became the version—the one on the album—but live it would be different every night. The only time we listened back to the albums as a reference was when we reunited, much later. A song like "Cool Your Boots" [from Going Blank Again] had a randomness to it, and we had to learn that randomness. On the current tour we've been able to take advantage of new technology. In the past we could never hear our singing or what we were doing—just the roar of our guitars and drums. Now, with in-ears, we can hear everything crystal clear. It makes us play a lot better than we did before!
YouTube It
Andy Bell displays his signature Rickenbacker 12-string chime and his addiction to wah repeatedly during this 1991 performance from the companion DVD to the 25th anniversary edition of Ride's classic album, Nowhere, issued in time for the group's 2015 reunion tour. Co-guitarist Mark Gardener also muddies the sonic waters by flogging his Jazzmaster's vibrato arm mercilessly, and the tune ends in an effects pedal driven crescendo that reveals the beating heart within Ride's shoegaze sound.
Oddly, in some ways pedalboards have become lower tech, with the return to stompboxes.
Yeah, the first time around I was using a Boss DS-1 Distortion, a Cry Baby wah, and a rackmount Roland GP-16 to handle all of the rest of the sounds. Now I use two pedalboards stuffed with stompboxes and no rack gear. My wish finally came true, though, and I have a backwards guitar pedal now. The Eventide TimeFactor makes it so I can do things like play the intro on "Seagull" more like the way we recorded it.
Are there any guitars you used back then that you are using on this tour?
Yeah, both Rickenbacker 12-strings I bought when we got signed. I'm still using the exact ones I recorded "Seagull" and "Vapour Trail" [also from Nowhere] with.
Is there anything as a guitarist that you haven't explored, but want to?

Right now I'm building quite a big modular synth setup around my guitar. Snazzy FX in New York City has made me something that allows me to plug in a guitar and use it as a CV controller. It's fun getting to know the modules. The Phonogene from Make Noise is one of my favorites. That's where it's going for me, and I'm so excited about it. I'll be recording and releasing music I make with it.