Covet's Yvette Young Breaks Free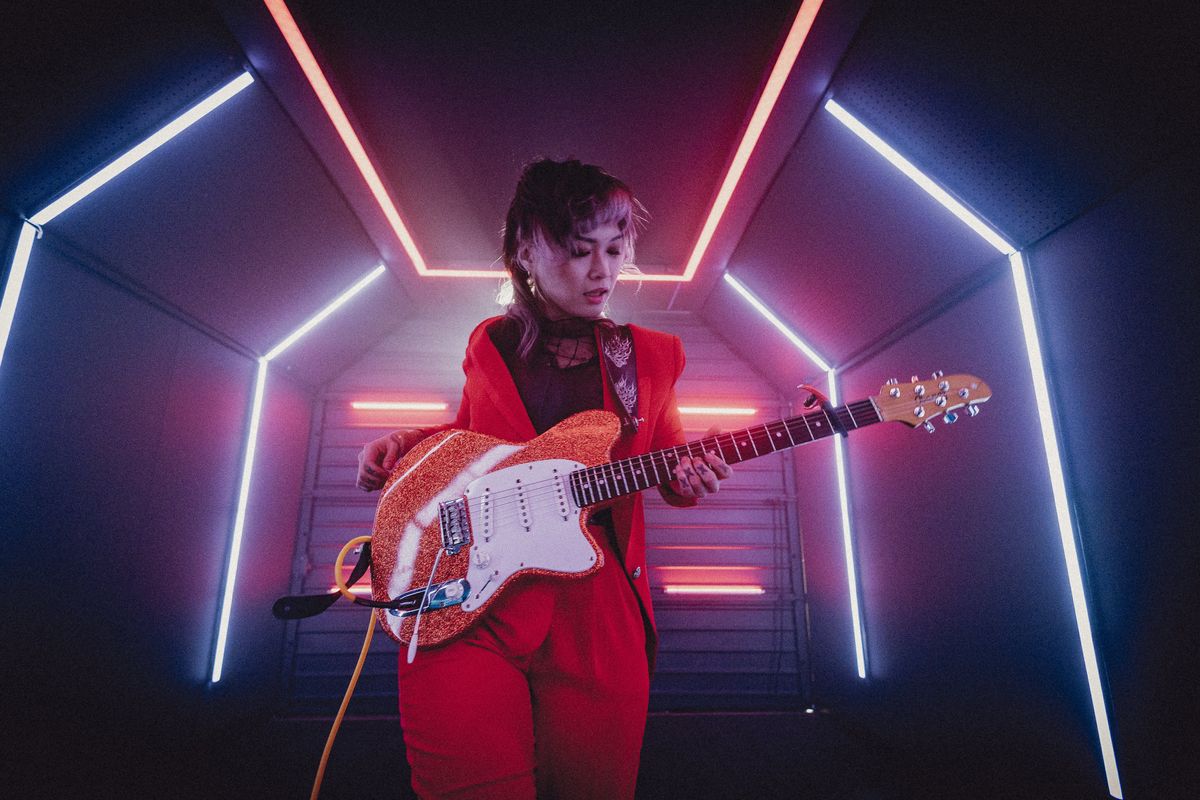 Photo by Eli Chavez
With the album Catharsis, the unique guitar visionary has reached a new creative zenith. But it wasn't easy.
A tattoo of the word "resilient" adorns both Yvette Young's collarbone and the T-shirts and masks that just recently sold out on her website. That's an apt descriptor for Young's strong will. It served her well when, even with the meteoric rise to success of her band, Covet, the behind-the-scenes environment turned extremely toxic after a band member's behavior became erratic. Young is reluctant to say more about the matter, but she felt unsafe and trapped, and she wanted to quit the band she'd started to instead either pursue a solo project or revisit the visual arts. (A former art teacher, she double-majored in fine arts and education at UCLA, and made money painting guitars, including one for WILLOW.)
---
"I went from a situation where I was afraid of one of my bandmates, and did what I needed to do to free myself from what I felt to be an emotionally, and thus creatively draining, situation," reveals Young, who parted ways with Covet's members during the recording sessions for the new album, Catharsis, and had the bass parts re-done by noted touring and session bassist Jon Button.
So, Catharsis reflects the close of an old, painful chapter and the beginning of a new one. "The process was arduous, and decisions were difficult and super daunting, but I'm ultimately so proud I got through. I learned so much about recording and chasing a sound, and I learned about advocating for myself and fighting for what I want," says Young. "I think it's an important thing for a lot of creatives to remember: Art must not come at the expense of overall well-being and safety, and the only sustainable way to create is in an environment that you feel free. That's what this music is to me—my freedom."
covet - firebird (official video)
Making the album proved to be therapeutic. "I feel like, on Catharsis, some of the songs are a bit darker and it was definitely me having an outlet for some stuff that was painful, but a lot of it is uplifting and very happy and dance-y," Young says. "Because music is transformative, and if you're ever feeling in a bad mood, if you write music that sounds really happy, it can uplift you. Writing music that sounds like how you wish you felt can be really helpful sometimes."
"I've always been really fascinated with 'can you make someone feel something or convince them of something without even saying a word?'"
A public search for new band members would have drawn too much unnecessary attention and Yvette would have had to spend too much time vetting every prospect. Instead, she found her new bandmates via her good friend, composer and pianist Summer Swee-Singh, who recruited bassist Brandon Dove and drummer Jessica Burdeaux. Burdeaux was Summer's bandmate at the time, but had an opening in her schedule. "Summer is an angel. She knows me. She knows that I'm an overly nice person sometimes. I tend to let people boss me around and then I give up," explains Young. "She said, 'You need people that are just as caring and just as hardworking.'"
Dove and Burdeaux's work ethic was immediately on full display as they learned Covet's ultra-technical music in just two weeks. To much online gossip and drama, the revamped Covet lineup was revealed on social media in October 2022. But even as the wheels were set in motion, Young's resiliency was put to another series of tests. Just four days before the first show of their appropriately named Rebirth tour, their van—a 2007 Ford E-350 that Young paid for out of pocket—was stolen. Covet then raised money on GoFundMe to rent a van and get the tour going. But then that rental van was broken into, with the windows smashed and gear stolen. Even with all of these mishaps, the first tour of the new Covet lineup was successful.
Emotional Nerd Rock
The songs on Catharsis, with its mix of melancholy and majesty, are the most accurate representation of where Young's current interests are. "I want to write something that's catchy. I want people to be able to hum it—like for your average listener who doesn't understand guitar, who doesn't listen to music. I want them to be able to enter this music and still get something from it," she says. "But I don't want to leave guitar players bored, so I'm going to put some flashiness and odd-time stuff in there, but trick people into dancing to it. That's really fun for me."
The current Covet lineup, touring behind the new album, Catharsis, is drummer Jessica Burdeaux, Yvette Young, and bassist Brandon Dove.
Photo by Eli Chavez
On their Facebook page Covet describes themselves as "Emotional Nerd Rock" and Catharsis songs like "Firebird" and "Lovespell," the album closer that features saxophonist Alex Rose from Minus the Bear, deceptively sneak geeky polyrhythms and metric mind games into the context of feel-good, catchy music. In "Lovespell," Young explains, "There's a part where I'm in five, drums are in four, and bass is in three. And you're dancing to it, and you can't tell. I play it on tour now, and that's the song that people dance to the hardest. They don't even notice it. I feel like I'm in a good place. I have a cool opportunity where I'm writing catchy stuff that moms and dads like and can listen to, but I'm also trying to open people's minds up to more progressive elements of music that you wouldn't necessarily find on the radio."
"Interlude," Catharsis' piano-driven track with a nostalgic/melancholic vibe,is similar in mood to some of Young's previously released solo piano music. "It's so funny, because my voice on piano is a little bit different than my voice on guitar," she explains. "When I write, it feels like I'm not even there anymore. Like it feels that who I am doesn't matter. I just hear stuff and it comes out. I know that sounds crazy, but I feel like I'm just channeling emotions and trying to find ways to express certain abstract feelings without having to use lyrics. That's the value of instrumental music. I've always been really fascinated with 'Can you make someone feel something or convince them of something without even saying a word?' Just by the tension of the music, the timbre, the pedals that you use, the way that you phrase something, the key changes, all of that. It's really fun to try to do that. The piano music and Covet's music is all storytelling. It's me trying to transport people to a fantasy place."
Music on Her Own Terms
Young is among today's most important young guitarists. Steve Vai named her as one of the five guitarists taking the instrument to the next level and recruited her to teach at his Vai Academy last summer. Ibanez has graced the virtuoso with two signature models: the YY10 and the newly released YY20. So, Young is a now a bona fide guitar hero, but the road to stardom was not easy.
Since the beginning, Young has had a conflicted relationship with music. Born in San Jose, California, to parents from Beijing, China, Young started piano at 4 and was immediately thrown into the fire. Her father, a piano salesman/technician, composed music, and her cousins played competitive piano at a very high level. Little Yvette was next in line—a prodigy in the making. She had to practice four hours a day and played high stakes competitions from age 9 to 18.
Young's painting for the cover of her new album is a perfect reflection of its sense of uplift and emergence from adversity.
"The classical world was pushed really hard on me. I don't know if it was my thing when I was younger,'' recalls Young, who, in her youth, was obligated to practice fragments of 30-minute concertos over and over again until they were memorized and mastered. She also started violin at 7 and later played in her high school orchestra and the California Youth Symphony, where she was concertmaster. While Young delighted audiences with her flawless performances, deep down she hated the competitive aspect of music. It was not fun and Young's internalized perfection in her musical and academic pursuits (having to be a straight-A student), combined with the intense pressure of the elite classical world's cutthroat environment, led to anorexia nervosa. This eating disorder saw Young in and out of the hospital during a four-year span in her teens. The condition became so severe that Young would sporadically flatline in her sleep. Miraculously, she survived.
This dark period marked the beginning of Young's new journey. While in the hospital, she picked up the guitar. It wasn't a deliberate move; she wasn't seeking another instrument to conquer and compete with. Rather, the 6-string was therapeutic and empowering. It also helped reignite her passion for music. "One cool thing about guitar, for me, is it was really important that it was an instrument I picked for myself. I don't let anyone else dictate how I approach it," says Young, "Music saved my life. I don't think I'd be here if not for guitar. Guitar helped pull me out of my eating disorder. It made it so I felt like I had a voice, when I don't feel like I'm the most outspoken person. The most exciting part of it all is that now I have the opportunity to share with people how wonderful of an outlet music, in particular guitar, can be. And how amazing it can be for building up your confidence. I've been through a lot. I'll always be writing music. It's kind of like my comfort but it's also my way of expressing joy."
"Art must not come at the expense of overall well-being and safety, and the only sustainable way to create is in an environment that you feel free."
Young learned some chords by watching videos, and while she understood music theory, that didn't factor at all into how she approached the instrument. Young explains: "Honestly, because of my classical upbringing, I feel like I have a good ear. I would listen to songs and—I didn't even really read tabs at that point—I would just figure them out meticulously, note-by-note, and then teach it to myself." The first song Young learned was Creed's wistful ballad "One Last Breath" (referred to as "Six Feet From the Edge"), and she listened to Radiohead, and folk artists like Cat Stevens and Sufjan Stevens. While she first learned everything in standard tuning, Midwest emo bands like American Football and math-rock bands like Toe were major influences and led her to the world of alternate tunings, which she has built her style around ever since.
In 2013, while working as an art teacher, Young found fame accidentally after posting guitar videos on Facebook. One of her students created an Instagram page for her, and suddenly she became very famous. "I didn't expect to have one of my videos go viral. The one video that went viral was this tapping fast thing, and I got contacted by a bunch of companies to do videos for them," recalls Young. "At the time, I was a teacher, I was working in a school, and music was just this fun side thing—this outlet I get to do after I work my 9 to 5, to feel better. I had no idea that these videos would pop off like that, so it was exciting." In 2014, Young formed Covet, and the trio has since been at the forefront of the math-rock scene.
Yvette Young's Gear 
Young's new bandmates, Jessica Burdeaux and Brandon Dove, learned Covet's ultra-technical music in just two weeks.
Photo by Sarah Phung
Guitars
Amps
Vox AC30
Vox AC10
Roland JC-40
Yamaha THR10
Strings
D'Addario NYXL (.011-.056)
Effects
DigiTech Whammy Ricochet
Walrus Audio Julianna
Caroline Guitar Company Somersault
Boss DD-3 Digital Delay
MXR Carbon Copy Deluxe
Earthquaker Devices Avalanche Run
Earthquaker Devices The Warden
Dirge Electronics Slowly Melting
Moreland Magnetics 707 Fuzz
DigiTech FreqOut
Hologram Electronics Microcosm
ZVEX Mastotron
Ground Control Audio Noodles
Boss OC-5 Octave
Meris Mercury 7
Electronic Audio Experiments Longsword
Strymon Zuma
A 6-Stringed Piano
Young is part of a new generation of virtuoso guitarists that have created a new language far removed from the vocabulary of legacy, boomer guitar heroes. You won't hear Hendrix, Slash, or even Yngwie-inspired licks. The omission of these influences wasn't deliberate, however. "I just wasn't exposed to it. It's like when you grow up more sheltered. I didn't really consume any pop culture, to be honest. I wasn't even allowed to listen to rock rock when I was younger because my parents were more traditional, and they were like, 'classical music is the way.' I'm a late bloomer, man. I just discovered rock like, last week,'" she jokes. "I started out listening to indie music/post rock. Post rock really appealed to me because it was a lot like classical music in the way that it progresses. It's very dynamic and it's emotional. For me, music has always been less about virtuosity and more about its emotional appeal."
Still, there's no doubting Young's virtuosic abilities. Her ultra-technical style is inspired by the piano's polyphonic capabilities. She views the lower strings as the left-hand accompaniment register of a piano and will use it to play implied bass parts and harmonies. The upper strings of the guitar are used as the right-hand melodic side of the piano. Both hands may cross over into the other register if the music calls for it. Pianistic effects are achieved by her use of uncommon tunings, fingerstyle moves, and right-hand tapping.
"Now I have the opportunity to share with people how wonderful of an outlet music, in particular guitar, can be."
While tapping is a big part of Young's style, its modern-era pioneer, the late Eddie Van Halen, wasn't even in the equation when Young started doing it. Rather, she picked up the technique from listening to bands like TTNG and other acts in the obscure art/indie scene that she grew up with. She's recently gotten into Van Halen's playing, though, and has also started incorporating more conventional guitar-isms, like bending.
"I don't really know how it happened. One day I was just like 'Instead of this slide up one fret, what if I bent to that?' I was like, 'Ooh, I love the way this sounds with delay.' It sounds really cool. I checked out a bit of Van Halen, too. I wanted something that had a lot of energy. I was running and I was listening to that, and was like, 'Okay, yeah, like the way Eddie plays is really cool.' I think subconsciously I probably just digested all of that and spat it out in the form of my own writing."
Another part of her distinctive sound is muting. "I'm muting with my right-hand palm and with my left hand," she explains. "My right hand will mute the lower strings and I'll sometimes use the pointer finger on my left hand to stop the high strings from ringing out. I'm also doing whammy bar stuff. This is new to me. I feel like I had a little bit of a breakthrough and I downgraded to .011s now because I need to be able to bend. I was using .012s before and I had a dark era where I was at .013s."
"In order to stay passionate at what I do, to not have it feel like how I felt in the classical world—doing things for other people or trying to impress other people—I really have to be my own fortress and I have to really stay in tune with what excites me."
So, Young's new Ibanez YY10 and YY20 models come with .011s. "First I did the YY10, Strat style, then YY20 Tele style, orange finish," she says, explaining their genesis. "There's no Wilkinson tremolo system. There may or may not be a new one in the works, but I'm really excited because [if it happens] it's gonna be a higher end one."
These signature guitars are tuned (low to high) F–A–C–G–B–E when they are shipped. "I wanted to just kind of challenge people to try it," she relates. "I've been talking to a bunch of students and they're like, 'I never tried open tunings because I've always been scared of tuning it to something different.' I was like, 'Well what if it just came that way?'"
Young's own musical voice is ever evolving and, despite making a name for herself as a virtuoso, the self-described "people pleaser" resists pressure to cater to any expectations. "As I matured in my craft, I was like, 'I feel like this isn't even what I'm excited about,'" she says. "I'm sitting here live, playing these technical songs, sweating bullets, not feeling the music, just really worried 'cause everyone has their phone out and all eyes are on me, and I better not mess up this run or else it's gonna end up on YouTube. I hated that. In order to stay passionate at what I do, to not have it feel like how I felt in the classical world—doing things for other people or trying to impress other people—I really have to be my own fortress and I have to really stay in tune with what excites me. The direction I go in becomes really clear when I focus on what gives me goosebumps when I'm playing, what makes me jump up and down 'cause I'm so excited about it."
YouTube It
Yvette Young wasn't raised on legacy guitar heroes and, as a result, her approach is fresh and highly personal. "I truly discovered it like an outsider. I was working on guitar and was like, 'I guess you could play it like this.' That definitely contributed to me sounding the way I sound," says Young. "But I also consumed and listened to a wide variety of music. I was trying to take all the things I find exciting about different genres and just blend them into one sound."
"Shibuya" sees Young—tuned to D–A–D–F#–A–E (low to high) with a capo on the 2nd fret—using her unique approach with plucks, taps, slaps, and slides to create a mesmerizing musical experience.
From Your Site Articles
Related Articles Around the Web