Interview: Flying Grace from Outer Space
Grace Potter, Scott Tournet, and Benny Yurco find their muse and make it soar with a kaleidoscope instrumental attack and a deep guitar bromance.

Photo by Joshua Touster
Making an album is nothing like a live performance, so testifies the sultry-voiced and multifaceted lead woman Grace Potter. Despite a penchant to really lay it all out on the stage, when making The Lion The Beast The Beat—the fourth studio release from her band the Nocturnals—things didn't exactly gel right off-the-cuff in the studio.
The Burlington, Vermont, musicians had been touring hardcore for years, writing from the road, and as they stepped into Jim Scott's PLYRZ studio in Valencia, California, the writing was far from done. After two months, Potter says she wasn't sold on the direction the album was taking, and she had more work to do. So she sent everyone home, got into her car, and went on a journey to find inspiration.
But Ms. Potter isn't the only Nocturnal who's been on a quest for unique musical voice. While frustrated with being pigeonholed as blues-rock players like idol Duane Allman, guitarists (and sometimes switch-off bassists) Scott Tournet and Benny Yurco have developed as players into something Tournet calls a "serious bromance." They've forged a double-guitar attack driven by a love for sonic exploration and a self-described obsession with all things pedalesque.
With the addition of bassist and multi-instrumentalist Michael Libramento on hand (former bassist Catherine Popper left the group last year) for the new album, Potter encouraged this dementia. The liner notes include zany asides for sounds credited as "airplane landing," "Kubrick noise," and "space noises," some of which were inspired by Potter's enthusiasm for watching Stanley Kubrick films. "I wanted to incorporate some of those evil elements on the album," she says, "so I sat Scott and Benny down and said, 'Make the weirdest noises you know how to make. I don't know where they need to come from, but just find a way to make your guitars do evil things.'"
They needed little prompting. After all, this is what Tournet and Yurco live for. Tournet's pedalboard has gotten so out of control ("It's the Moby Dick of pedalboards," Potter says with a laugh) he admits "it's embarrassing," and Yurco's spiraling out-of-control devotion to the color seafoam green (which began with a Jazzmaster) now extends to the bedroom: it's the color he chose for the sheets on his bus bunk.
Here Potter and the Nocturnal guitarists explain their 6-string journey as a band, the instrumental loves of their lives, and the power of restraint.
Photo by Joshua Touster
The Lion The Beast The Beat studio sessions were originally delayed. What happened?
Potter: It just sounded too much like we were searching for a hit, and that's not the kind of record I wanted to make. We're not really a hit song kind of band—we're more like this slow-burn, album by album band that plays music that makes us happy, because when you make a record you have to play those songs over and over again. I just wanted to make sure every song mattered so I kind of started from scratch in the fall [of 2011], when I wrote "Stars" and the beginning to "The Lion The Beast The Beat." I had the structure of a couple of other songs that turned into "Parachute Heart" and "One Heart Missing." A lot of the songs were slowly changing.
We kind of reinvented the whole thing about halfway through … There was a lot more creation in the midst of recording than there ever has been before, which is a very nerve-racking way to make a record.
Yurco: We were doing a lot of stuff as a four-piece, we didn't have a bass player so Scotty and I were switching back and forth from who was playing bass and we were kind of losing the double-guitar attack we are known for. I'm glad that Grace did what she did, because it gave us a chance to look at the big picture. Next thing we know, we have Michael Libramento from my favorite band, Floating Action, recruited to come in and do some multi-instrumentalist work. It was actually a blessing in disguise.
It does have a turning point, coming-of-age feel. What are you most proud about this album?
Tournet: We took some chances and didn't appeal to the lowest common denominator, which can be easy to do sometimes. It was somewhat risky to do, instead of doing an overtly commercially appealing album. We've gotten a bit weirder. Sonically it's different—we didn't rest on the same shit. We messed around on some keyboards to avoid falling into some cliché typical guitar stuff. We were trying to push the envelope a little bit, because in the past people said we sound like the Allman Brothers, and we're like, "We don't want to do that." We love the Allman Brothers and I grew up with that, but we don't really want to be blues-rock guys. We want to do stuff that pertains to now.
Does everyone write their own parts or do you all write together?
Potter: A lot of the songs are just jamming. We sit down and I show them the basic structure of the song and they just go with it and they have so many great ideas. The two of them together [Tournet and Yurco] and individually are a creative force in and of themselves. They actually were in a band called Blues and Lasers together, without me, for years. They also split off and did their own solo records this winter. So they've got unbelievable individual talent that I love tapping into, especially if I've hit a wall or if I'm just not finding the inspiration I'm looking for. They come up with pieces and sounds that one human brain just isn't capable of coming up with. It's a really great way to open up a song and say: "I've done everything I can for this song, now it's time for you to help me out."
Tournet: Benny and I write songs and we understand compositions. Grace will write a melody and that's what it's supposed to be. Sometimes it's cool when she comes up with a part that we wouldn't normally think of. I ponder big philosophical changes in the sound and [Yurco] makes it happen. "Parachute Heart" was my main contribution, and then as a band, with Dan Auerbach, we crafted a few songs as well.
Photo by Joshua Touster
How do you divvy up the guitar parts as a band?
Tournet: We've been playing for a long-ass time. Michael can play everything, and Benny and I can fake it on every other instrument. I think that helped the music in a way. Just as a guitar player, when you think, "How can I stand out and make my statement as a musician through the guitar?," sometimes you can smother the music trying to fit your own ego in there. Especially with two guitar players, you have to think, "What does the music mean?"
Benny, you're the relative newcomer to GPN, but you've been playing in bands for years. Was it hard to be the new guy?
Yurco: No, not at all actually. I knew who they were, I'm from Burlington and I was really familiar with what was expected and I got excited to get in there and play and not overstep my boundaries and be in the mix with the band.
So what does Michael Libramento bring to the big picture?
Yurco: Since I was playing bass and guitar, it's freed up a lot of things and given us more musical possibilities. It frees up Grace to do the frontwoman thing and it gives her stability.
Grace, you're an accomplished musician on multiple instruments as well, but when did you first pick up a guitar?
Potter: I started playing guitar when I was about 20. I took two guitar lessons while I was in college and I bought this weird Canadian acoustic called a Garrison for like $200 at the local music shop in Canton, New York. I tried and tried and I put it down after a while. I was like, "I can only play three chords."
As the band grew and Matty [Burr, GPN drummer] and Scott came into my world and we started making music together, and the songs started coming out, these were all songs that I was writing on the keyboard. About the time we were making the second record I wanted to write songs that were more limited. I thought what if I picked that guitar back up, and try again, but use the limitations of my skill on the guitar to my advantage. Because they always say in country music: it's three chords and the truth. And so I thought, "OK, well maybe that's what I need. Maybe what I need is just three chords and I'll write better songs." I'm limited in that way. So I sat back down with the guitar and began writing.
Photo by Joshua Touster
You've described yourself more as a rhythm player. What are some of the differences between playing your Hammond B3 and playing your Flying V?
Potter: Both instruments are very muscular in the way that I play them. I'm just a muscular musician, I don't like "tinkle-ing" around. It just doesn't fit my personality, it doesn't fit the sound of my music, and it certainly doesn't make me feel the power of a song as much as when I'm really letting 'er rip.
When I was learning how to play guitar, I wanted to be able to make noises that I couldn't make on the keyboard. So I did differentiate my styles a bit where you can be rhythmic and chunky on a keyboard, but there are certain messages you can't convey on a keyboard the same way as when you're playing rhythm and just ripping it up. There are moments on in the studio or when we're out onstage, where I'll try it on both instruments and I'll say, "Let's try this one on guitar, no I'm gonna go back to the keys, no back to the guitar." I'll kind of waver in my preferences because you know both are good in their own way, but very different instruments. But certainly the common thread is that I need a grinding, thrusting, powerful noise behind me before I can even sing the first note.
Who is playing the delayed riffs near the three-minute mark on the track "Never Go Back?"
Tournet: I did those using one slide and one regular guitar. Both of them are using delays, but in a way that's become kind of my thing. I like to use a Line 6 M9 delay but it has an expression pedal where you're basically controlling how much feedback of the delay happens. When you turn up a regular delay pedal, it repeats itself a certain amount of times. The pedal I connect to it is basically like a volume pedal, just an expression pedal that controls how long the feedback will go on for. I have it set up so that if you push it down it'll just go and go and build on itself and go crazy. If you pull the pedal back, I have it set so it goes to, like, nothing.
What's this so-called "Kubrick noise" all about?
Tournet: That was both Benny and I playing behind the bridge. He was playing his Jazzmaster, I think, and I was playing a '64 Fender Jaguar that belongs to [engineer] Jim Scott. It was the same guitar that John Frusciante played for all the Chili Peppers' big hits. Frusciante actually tried to buy it off of him during the sessions, and Jim wasn't having it. I ended up tracking half of the album with that guitar. It's like a Sonic Youth-inspired [approach] to get those harmonics behind the bridge, and those guitars are awesome for that. It just had something—certain guitars just do well in the studio. I got really comfortable with that.
Yurco: I play a 1962 Jazzmaster, sonic blue. I used to switch guitars but not anymore because it's got all the sonic possibilities I need, the floating tremolo that I can't live without—I'm a Jazzmaster guy for sure. But I also used a 1958 Gretsch Corvette, and Jim Scott's '64 Fender Jaguar on the album.
Grace, how did you go about designing your new Gibson signature Flying V?
Potter: I love that guitar so much. We were in Los Angeles a few days ago and I went into the Guitar Center just to see it because I hadn't seen it actually for sale yet, and somebody was playing it. They had it off the wall and were testing it out right as I came in so that was a very exciting moment.
It's definitely one of a kind. Who did you work with at Gibson in the designing process?
Potter: I worked with the team of guys in the finishing shop who do everything, from the selection of the wood, all the way to how they finish it, to the way they bind it. I spent an extensive amount of time in the factory watching them make everything. There are these women who actually hand-coil every single pickup and when it came to the finishes, there was a long discussion because I wanted the guitar to look black on first sight, and then you look a little deeper and there's this depth to the color, I call it a "Tom Ford burgundy." It's a very classy, luscious blend of like a cabernet wine and a rich, brown mahogany and black all at once. I wanted that color to really glow from the inside out, so it took a little bit of work to get to the point where that was the color on the guitar, but I really love it, and I really love that we kept it natural wood on the back so that you can still see what the guitar is made of.
And the contrast of the cream binding, which is actually the first time a flying V has had binding around it, that is not typical in any way of a flying V. It's a very art deco thing, and a lot of ways a flying V is a very art deco piece. No one ever draws that comparison since it's associated with late-'60s bluesmen, or the annoying '80s. It reminds me of skyscrapers being built in the '20s and '30s. I thought it was kind of an interesting way to take it. I took the pickguard design from a napkin, from a super art deco bar that I love going to in Los Angeles that has a very throwback, almost "Brown Derby" vibe to it.
Did you know exactly what kind of electronics and setups you wanted or was that also a long process?
Potter: We tried out a lot of ideas but at the end of the day I knew I wanted that single-coil, raw sound—that ratty, Ray Davies' tone that I've had in some of my older guitars. My older, first one that Matty got me for my birthday was a '71, and I wanted it to really hum like that one did. Some of the cleaner, newer guitars, I do love playing them especially in the studio when I'm looking to layer a lot of different textures, but Vs aren't made to sound clean—they're just not. I A-B'd a couple of ideas but at the end of the day those pickups were the right ones.
Do you play any other guitars?
Potter: I had a white V, I think it was a '92, that was loaned to me by somebody at my record company because it looked good with some dress I was wearing for a TV appearance once. It's so funny because I loved it so much, I ended up keeping it for like two years, and I just gave it back to him. And then I also had a black V, which is the loudest V that I've ever played, that's probably from the hair metal era, I wanna say it's an '81 or an '86 or something like that.
Really the Flying Grace is a culmination of the three flying V's in my life: a white one, a natural wood one, and a black one. So that's why there are so many different elements to the Flying Grace: the sort of black top, the cream binding, and wood back, to reflect all of the Vs that I've played over the years.
What was it like working with Dan Auerbach?
Potter: It was a thrill, he brought us to a different place we didn't even mean to go to. It ended up fitting in with the sonic landscape we had already.
Tournet: He's really good at what he does and works really, really fast. He's got his studio and his sound and a good engineer that works really fast. That was cool to see. I thought he would stress more on the nuances, the small stuff, and he doesn't. But the sounds are still great.
Overall was the studio time pretty fun then?
Potter: You know, I did not enjoy the full experience of the studio because I was torturing myself the whole time, but the guys made it fun. That's really the heart of this band, it's what brings me back to center. If the guys are enjoying themselves and creating music with me, and it's not just me pulling my hair out, it's an amazing experience. Any time I've been in the studio without them, it's hard. They make it fun, so at the end of the day, it was a beautiful experience making this record but there were definitely days where it was just racking my brain for the best decisions to make.
What about as far as logistics like mic'ing the amps—did you make those decisions or did Jim Scott help with that?
Tournet: It was a combination, but first and foremost we try to get comfortable in the studio. So for me, I ended up in an iso booth with my amps because I always have to feel the amps. I hate being in the studio with headphones and having my amps in another room—that freaks me out. I cannot deal with that, I was kind of a prima donna about being next to my amps, I start to get fussy. I had a baffle so if I wanted to get a little more volume or feedback, I would adjust the baffle between the amps and push my guitar into the amps a little more. At one point I think I had three amps going simultaneously in the room for "The Lion The Beast The Beat" so I could get the dirtiest tone of all time. It was quite a thing.
Since this interview coincides with our annual pedal issue, are there any other pedals you love?
Potter: Pedals are the boys' life! But I actually don't use any pedals, I go directly into the amp. Benny and Scott have such unbelievable hold on their tones, I just want to be the meat and potatoes in the middle of it. You can't compete with those two accomplished guitarists. The way they play individually and then the way that they play together, the firepower between the two of them going for it is a pretty unbelievable thing to hear. I don't even try to compete, and I have a feeling if I ever did dip into the pedal world, I'd be in trouble. Because my guitar would be as loud as theirs, and I'd be trying to do screaming eagle solos, and that's just one too many screaming eagles in the band. But have Scottie elaborate on his new spaceship pedalboard [laughs].
OK Scott, what's going on with this pedalboard of yours?
Tournet: It's gotten a little out of control. It doesn't have more pedals than a lot of pro boards, but most guys have their pedals in the racks. I like to mess with shit. I never play a part the same every night and the rooms never sound the same so I'm constantly tweaking and changing knobs. We showed up for tour, and my tech is a sweetheart and loves to get involved with complex things. He's like, "Dude, look at your board." And I'm like, "Oh my god, that's the biggest thing I've ever seen in my life." It's so big, it doesn't even fit on certain stages. I'm almost embarrassed by it; it's so funny … It's just turned into a monster.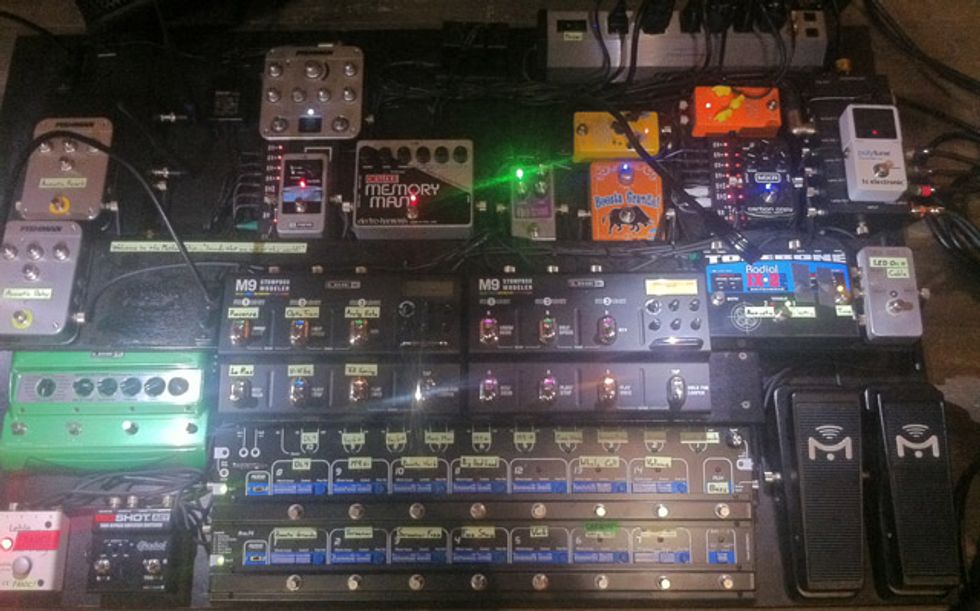 What about your pedalboard, Benny?
Yurco: I use analog delays and a modded Keeley. Robert Keeley makes this old Ibanez A-D9, where the on/off switch he makes is an expression pedal, so it's hands-on and I can control the feedback from it and it gives it that swirling, analog delay sound, that tape echo sound. And I also use the Boss Space Echo. The Keeley one is definitely my favorite, I can't go anywhere without it, it's a big part of me. The Boss is temperamental, but it gets the job done.
Do you and Scott exchange tips and talk gear a lot?
Yurco: That's all we do. Yeah, we're freaks. We're always on that sonic quest.
Any guitar discoveries or new techniques that have been inspiring you in your playing lately?
Tournet: My whole thing is using two amps because we've been on this big-ass stadium tour. You can finally do all the macho, guitar-hero stuff you've ever wanted to do. You can basically play as loud as you've ever wanted, and it's kind of fun to play through two amps and just crank the shit out of them. I just have two Supers going right now, so it's nothing crazy. But mostly that one kind of delay trick has ended up being kind of a signature move.
Yurco: I'm always searching, so anything that I find is super inspiring. Every time I get a new piece of gear I just get inspired and want to write with that piece of gear. I like space echoes, I like tape delays. When I get an Echoplex I sit down with that and all of the sudden the blood starts flowing and my brain starts working and I'm coming up with parts and new ways to manipulate my craft.
Are you going to play today?
Yurco: I already have played today. You ought to see my house—I'm back in Burlington for first time in two-and-a-half months and I've got my Silvertone amp, some crazy keyboards, and I've got my Space Echo out and I'm getting crazy. We're having a dance party here!
Grace Potter's Gear
Guitars
Signature Gibson Flying V, Gibson J-45 acoustic
Amps
Fender Vibrolux (live), Princeton Reverb (studio), Gibson Goldtone GA30
Effects
None
Scott Tournet's Gear
Guitars
Custom Flatline electrics, '64 Fender Jaguar (studio, owned by engineer Jim Scott), Custom Jason Hilbourne Tele-SG hybrid, Gibson acoustics
Amps
'65 Princeton amp and 1950s vintage Gibson amp (studio), Fender Supers (live)
Effects
Two Line 6 M9s, Line 6 DL4, two fuzz pedals, a Cusack Overdrive, Boosta Grande, two reverb pedals, Electro-Harmonix Memory Man, two expression pedals, a 3-way switching system ("so I can go back to two different amps and switch between one of the amps"), Fishman acoustic pedal, wireless rig
Benny Yurco's Gear
Guitars
1962 Jazzmaster, 1964 Fender Jaguar (studio, owned by Jim Scott), 1956 Fender Mustang bass, Martin D-35, Gibson J-45 acoustic
Amps
1963 Fender Super Reverb with original speakers, Victoria Victorilux
Effects
Boss Space Echo, Keeley-modded Ibanez AD-9 analog delay, Echoplex delay
YouTube It

Scott Tournet and Benny Yurco work their expression pedals on "Never Go Back," while Grace Potter alternates from keys to her Flying V, all the while belting it out. Check out Tournet's slide work and delay trick starting at 2:45.

GPN gets out there on Heart's "Crazy On You," with Benny Yurco starting out on acoustic and switching to a Les Paul for the solos. Tournet and Yurco harmonize beautifully at 3:22.

GPN busts out an acoustic, heartfelt rendition of "Stars" from the new album.