Interview: Tommy Thayer on Sonic Boom and Being KISS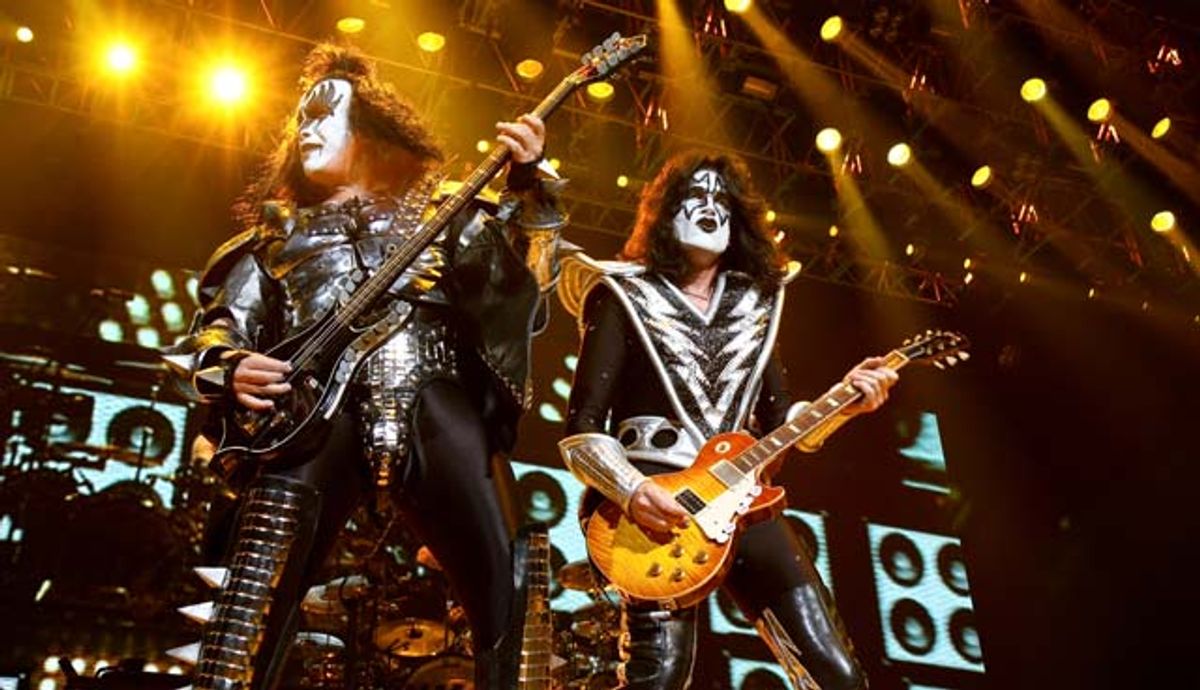 Tommy Thayer talks about recording Sonic Boom, fitting in with the legendary band and the gear he uses in the studio and on stage
Tommy (right) and Gene. Photo: Jasen Petersen
What do you remember about 1974, if you were around? Inane sitcoms on network television. Gasoline shortage. Recession. The resignation of a corrupt U.S. president. But if music was, and still is, your heart and soul, perhaps what stands out most in your memory is the way your life was changed by a KISS album—their first, self-titled: loud, heavy on the guitars and melodic rock, recorded on tape.
Thirty-five years later, some things haven't changed. Inane network television. Gasoline shortage. Recession. A KISS album—their 19th original studio project and first new album in 11 years,
Sonic Boom
: loud, heavy on the guitars and melodic rock, recorded on tape.
Thirty-five years is an impressive stretch for any relationship, particularly one that began this way: "He was wearing overalls and he had a beard," Paul Stanley recalls of his first meeting with Gene Simmons. "I didn't like him. Steve [Coronel, friend and co-writer] said, 'Gene, Paul writes songs also.' Gene said, 'Oh yeah? Play one.' I did. He looked at me and went 'Eh.' … I wasn't crazy about ever seeing him again …"
So much for first impressions. On their second meeting, Stanley and Simmons locked into a groove that has outlasted most marriages. Together, they have survived the best and worst of times: venom from the media, personnel changes, a fragmented and imploding music industry. Through it all, the recording and relentless touring continued, and KISS fans, the loyal millions, never wavered.
KISS today is Stanley, Simmons, drummer Eric Singer and guitarist Tommy Thayer. It's a powerful, well-run machine, and that's no accident. Being part of a band that operates on pure adrenalin, focus and determination, that cares not a whit about outside opinions, and whose members are beholden to its rock and roll history is not a "job" from which one clocks out when the platform boots are put away every night. According to Tommy Thayer, being in KISS—
being
KISS—is a musical and personal commitment. It's about partnership, respect, hard work and a lot of loud guitars.
Thayer spoke to Premier Guitar about the making of
Sonic Boom
, KISS 2009, and what it means to have the ultimate gig as lead guitarist in a band that knows no middle ground.
When did plans begin to record a new album?
Paul spearheaded this project and he decided to do a studio recording again. During my years with Gene and Paul they've been very ambivalent about it because they were put out with the whole thing.
Psycho Circus
[1998] was not a great experience, and the results weren't satisfying to anybody, really. It left a bad taste, to a certain extent, and over the last few years the state of the recording industry has been funky. Where KISS is in their career, to do something is challenging and risky because you'd better hope it comes out the right way, otherwise it can be more of a liability than a positive thing. Fortunately,
Sonic Boom
turned out well. Paul is smart; he made a band album and he took control. We did it on tape, recording together, no outside writers, none of the silly things bands do to try to please and play politics. We have a KISS record and we're not bound by anybody else. So we wrote, recorded and finished it, and nobody heard anything until it was done. It's KISS in the purest sense, it worked out very well, and when it was finished we all said, "We made a damn good record."
[
Read producer Greg Collins' interview about the recording process
]
How long had it been since you recorded on tape?
At least 10 years. I thought it was obsolete! We recorded at Conway Recording Studios, in Hollywood, with Greg Collins. The setup is great. We had Eric's drums in a booth, Paul, Gene and I were together, we had the amps in iso and we cranked it out. We rehearsed the songs at Mates and at SIR in Hollywood. When we first got together, Gene, Paul and I, in different combinations, the point was to write and not over-think. In 20 minutes we'd get a cool idea together, the basic structure, take it to rehearsal, make sure the arrangement was good, practice it four or five times and take it to the studio. We didn't record the album all at once. We did it in sections. We were touring here and there, and then we did the first three songs. We went to South America, and on days off we were in our hotel rooms with guitars and mini-Marshalls, putting songs together and recording on our laptops. We'd come home and do the same thing: rehearse, record three songs. We did vocal and guitar overdubs at Greg's private studio, The Nook, in Studio City. The whole thing, from start to finish, took a total of six weeks, which is a relatively short period by today's standards. My vocal on "When Lightning Strikes" took 20 minutes.
Which computers and software did you use on the road?
We all have Macs and Mac Pros and GarageBand. It's the easy way to record. No one in this band is super technical. Gene, in particular, is low tech. You send him an e-mail with an attachment and he e-mails you back and says, "I don't do attachments." He does it to the band, to Doc McGhee, no matter who you are! Or if the e-mail is too long, "I don't scroll." That's where he is. He hasn't figured out how to do attachments; he doesn't know how! The fact that we can all turn GarageBand on—I figured that out!
How did working with tape change your approach to recording, if it did at all?
One of the main things we did differently from other groups is that we recorded very organically, together as a band. Today, 99.9 percent of people record a drum track and build from there, adding guitars and vocals, step by step. We recorded all the basic tracks together as a four-piece, occasionally fixing bass notes and doing vocals and guitar solos, the way it was done in the 1970s and before. It's a different approach, and I know that from experience.
Was it worth it?
Oh, absolutely! Part of doing it this way is what gives it that real, spontaneous sound. If you make a record too perfect, if you do it step by step, it ends up sounding good, but the feel can be generic. This way, the flow has a real feel.
Walk us through your gear: the room, guitars, amps, how you created that organic sound.
It was pretty simple. I used Les Pauls and my Gibson Wine Red Deluxe. It's not a guitar I use on the road. I got it in the mid-'80s and it's a good sounding
Les Paul
for the studio and at home. I borrowed Paul's Gibson 61 SG Reissue and used that more than the Les Paul for rhythm and solos because it has a nice mid-range. I used an old Marshall, my H&K Tommy Thayer Duotone and Statesman combo amp, and an orange practice amp of Greg's for the raspy edge on my solos. My strings are Ernie Ball Hybrids, 9-46 gauge. The only pedal I used in the studio to give my solos a nicer boost was an Ibanez Tube Screamer. It's an original from the 1970s or '80s that I borrowed from Doug Aldridge of Whitesnake 24 years ago and never gave back. Every time I see him, he asks for it and I say, "I'll give it right back!" Doug gave me a really nice lead guitar sound on this album!
What is your role as lead guitarist in a two-guitar band, and how does it change from studio to stage?
They turn me up and turn Paul down, and that works! Two-guitar bands are my favorite because of the interplay, especially in KISS. When we're writing, we try to have that counterpart and interplay between the guitars and voicings so that we're not doing exactly the same thing. That's a big part in the way the songs were written. The other thing that makes the sound of our two guitars distinctive is that we use different approaches and settings to set the two off, and the more we do that, the better we are. The familiarity we have, the years of playing together, including Gene, have solidified that sense of rhythm and feel. We're all locked in together. It gives us a lot of power and we're all good at that. It just works.
What are you using onstage?
My live set-up is very straightforward: four Hughes & Kettner Tommy Thayer Signature Edition Duotone amplifiers, plus four Hughes & Kettner 4x12 speaker cabinets. I use four Gibson Custom Shop '59 and '60 reissue Les Pauls in sunburst, black and silver sparkle, one Custom Les Paul with rocket/gerb firing system [pyrotechnics], and a Gibson Custom Shop Explorer in Silver Sparkle. I use no effects onstage besides an octave divider and an MXR digital delay used in my guitar solo.

Tommy's combo during the recording of Sonic Boom

Tommy Thayer's Signature H&K
In 2008, Tommy Thayer partnered with Hughes & Kettner for the launch of his line of Tommy Thayer Signature Edition guitar amplifiers. As mentioned by Thayer and Sonic Boom co-producer/engineer Greg Collins in their interviews with Premier Guitar, the Duotone was used for recording the album and performing live.

What makes the Duotone particularly special is that Thayer donates 100 percent of the royalties earned from sales of the amp directly to the Childrens Hospital Los Angeles.

Thayer is on the Board of Trustees at Pacific University in Forest Grove, Ore. He works to bring new musical instruments into school band programs in his home state and has made speaking appearances at middle and high schools. He also hosts the annual Pacific University Legends Golf Classic, bringing together musicians, celebrities and PGA pros to raise funds for Pacific University's Athletics Program in Oregon.

Thayer credits his parents for instilling his philanthropic interests. "I get a lot of that from them," he says. "My dad taught me that it is very important to help people and that it should not be all about yourself; that helping others is a quality you should always have."
You've been involved with KISS for 20 years.
I began songwriting with them after Gene produced
Black 'N Blue
. I recorded demos with them. Then
Black 'N Blue
ran its course and I needed a job. I worked for KISS' organization and helped out on projects; it's now 15 or 20 years ago. It evolved quickly, with more responsibility and spearheading projects, conventions, the reunion tour, DVDs, editing. As Ace and Peter bowed out again, I was heir apparent because I knew how to do it.
When did you begin to feel like a band member?
There was always a strong familiarity between us, knowing each other very well, even when I worked in their office. I got in the band in 2002-2003. One of the main elements to making things work in a band is being comfortable with each other. Gene and Paul have been around a long time, and one of their main criteria is that everyone be comfortable and compatible personality-wise. People think that being in a band is all about how you play, and certainly that is a big part, but personalities are important too. It took me a year or two to feel confident and a part of the band, and that's understandable. KISS has a long history, and you can't just come in feeling like you're a big part of this. Having had a lot of input with the new album, I definitely feel very much like a solid member.
When fans attend KISS concerts, they want to hear the songs played a certain way. How do you stay true to form without feeling like you're playing in a cover band?
First of all, I don't want to do it any other way. People sometimes suggest, "You should put more of your personality into the old songs." No. I want to play them the way they were written and recorded originally, because when I see a new guitarist in a band, I want to see him nailing it the way it's supposed to be. I hate going to concerts where the new guitarist is playing a new interpretation of the songs. That doesn't work for me. The other side of that is that sometimes I take flak for copying Ace. No, I'm playing KISS songs and making them sound the way they should. Ace was a part of the 1970s sound, and I don't want to do them another way. Capturing the KISS sound is a big part of the new record, and if people say I'm an Ace clone, fine, all I'm doing is capturing the classic sound of KISS. Tommy Thayer is there, too, but it's not 75 or 80 percent Tommy Thayer. That's a different direction, although my style is very similar to Ace's style, and he was one of my influences.
Are the members of KISS underrated as musicians and songwriters?
I think that has always been true with KISS. They took a lot of flak in the old days: "Oh, they can't play." To me, they were the band with great nights and off nights, so that can make them seem less consistent. The band today is fiery and in your face. We go out every night and lay it down, and the point of view that someone may have taken before doesn't apply anymore. Eric is one of the greatest rock drummers out there, I don't do so bad, Gene and Paul have been at it for a long time, and we're all very cohesive and strong when we're together. We're coming from the same place in how we approach the songs, and that can be very lethal onstage, especially with a big P.A.!
Does being the guy who replaced the guy [Frehley] who replaced the guy [Kulick] who replaced the guy [St. John] who replaced the guy [Vincent] who replaced the original guy [Frehley] cost you rep points? Can you be Tommy Thayer, guitarist, and not just Tommy Thayer, replacement guitarist in KISS? Or is being Tommy Thayer, replacement guitarist in KISS, the gig and that's enough?
It's more about that, because at this point does it really matter? Look at the Stones. There have been a lot of configurations in that band, and they're still around. I don't try to compete with that concept. I'm the guitarist in KISS 2009, the band is kicking ass, and so I'm not worried about what came before me. This is where I am now, and I'm standing proud with a great new record, enough said. It is what it is. I'm the guy onstage, I'm doing it very well, and that's all I need to know.
Is there a guitar album in your future?
Honestly, I don't aspire to do a solo or guitar album. It doesn't seem like something I want to try to approach. It would never be as good or as important as KISS and I have no desire to do it. It doesn't appeal to me. Remember, I like two guitars!
What is the difference between playing guitar and being a guitarist?
There's a big difference. Playing guitar, to me, is more a technical, rudimentary thing—picking up a stringed instrument, making chords and playing solo lines. A guitarist, especially in a band like KISS, opens up a whole other world of attitude and point of view and approach that's unique. When someone listens to the new record and says, "Tommy did real well and he's on the mark," or when fans say that, part of me thinks, I am on the mark. Not that it's about what people say, because I feel it inside and the guys tell me I'm doing it right, and that's reassuring. To do this and do it well is not as simple as some people think. Combine it with the personalities involved, and living KISS day to day—it's not a simple thing. Making it work so smoothly is part of being the guitarist in KISS. And I can assure you that being the guitarist in KISS is completely different from being the guitarist in any other band.