Keith Urban: Aspiring Outlaw
Contemporary-country superstar Keith Urban reflects on how Waylon Jennings' indie spirit inspired him more than 20 years ago in Australia, why Mark Knopfler became his first guitar hero, and how he rehabilitated many of his treasured vintage axes after the tragic Nashville flood of 2010.
With his scruffy surfer-heartthrob looks, his celebrity lifestyle (he regularly shows up in paparazzi pics with his wife, actress Nicole Kidman), and his incredible string of hits—which includes 15 singles on the US charts, 10 of which went No. 1—Keith Urban is one of those success stories that's so big it's hard for serious musicians to take seriously.
But that probably says more about the skeptics and haters than it does the man himself. See, although Urban has been a mainstay on the American contemporary-country scene for the past 12 years or so, he started slogging it out as a session guitarist in his native Australia 20 years ago before scoring a record deal with his band the Ranch in the late '90s. And though most of us are used to seeing him singing and wearing an amazing vintage guitar on a TV program or in a Target endcap display, that guitar isn't just a stylish pendant. The man is a hardcore player—and not just of acoustic and electric guitar: He also plays bass, banjo, keyboards, mandolin, drums, bouzouki, and sitar.
Given that Urban's audience is a lot larger than the world's population of guitarists, it's natural that people focus a lot more on his singing and songwriting abilities. Reviewers point out that his recent albums focus primarily on love. His November 2010 release,
Get Closer
, is a largely upbeat affair full of happy songs dedicated to the positive influences of a solid relationship. He sings about putting his woman in a tune, taking her for a drive, loving her since the first day, and savoring the change she introduces into his life. Gossip magazine readers quickly assumed these songs were all about him and Kidman.
Urban inspires a toast from a fan with his double-cutaway Les Paul Junior.
However, given Urban's enviable collection of vintage guitars, these sentiments could just as easily apply to his love of the instruments he uses onstage each night. Many of those axes were tragically damaged during the catastrophic flooding in Nashville, Tennessee, last year. As a guitarist who felt more like a caretaker of fine instruments than an actual owner, Urban was heartbroken when his guitars floated in dirty river water for days. He and his team struggled to resurrect the instruments, making the lyric, "Hiding from the world with a broken wing, But you better believe you gonna fly with me" particularly meaningful to this conversation. Currently, many of those rehabbed guitars accompany Urban on his 50-plus-city Get Closer 2011 world tour.
Knopfler, Vintage Guitars, and Old Cars
Urban's musical career began not on a well-loved guitar but on a simple instrument more aligned with soothing island rhythms than with searing solos.
"My dad bought me this ukulele when I was four," he says. "I don't know why he bought it for me. He comes from a musical family, so maybe he just thought it would be a cool thing. I used to strum that in time with the radio, so he thought, 'When the kid gets older, maybe we'll get him a real guitar to learn some chords—because he seems to have rhythm.' It was just a progression from that little ukulele I used to hack at."
As his musical endeavors grew, Urban initially focused more on songs, chords, and rhythms than on obsessively scrutinizing guitar heroes. "I just wanted to learn songs," he recalls. "I learned a lot of songs that I heard on the radio, and I would not have a clue who was playing guitar. I was not really thinking about the lead guitar—I was just playing chords and singing."
But that all changed when Urban discovered Mark Knopfler while playing in a band as a teen. An older bandmate suggested he check out the Dire Straits axe slinger. "I just fell in love with his playing," Urban says. "Mark had a real clean, compressed, Strat style that was right at home with the kind of country music I was listening to. He had a melodicism and a touch and feel that was like nobody else. It was such a recognizable tone."
Today, Urban's love of vintage guitars, amplifiers, and automobiles is well documented. The fascination with cool rides comes from his father, who owned a Pontiac, a couple of Chevys, and some classic Lincolns.
"Old cars were part of my family," he recalls. "But I never thought much about vintage guitars until I had some money. Suddenly, I got to play somebody's Les Paul or old Strat, and it was just a whole different thing—there's nothing quite like it."
One of Urban's favorite acquisitions is the iconic black-and-white, leather-wrapped Fender that outlaw legend Waylon Jennings made famous. Added to his arsenal in late 2009, the 1950 Broadcaster is particularly special not simply because of its historical significance. There's a very personal tie-in to Urban's life and career.
Chris Rodriguez (left) backs Urban on 6-string banjo while the boss takes a solo on one of his Teles.
"I grew up listening to Waylon and, ultimately, I probably have a career today because he had the courage to come to a town like Nashville and do it his way," Urban says. "He wanted to use his own band, he wanted to choose the studio, he wanted to choose the songs, choose the producer—and that was not the way things were done. So many of us have that freedom today in Nashville, and we really have Waylon to thank for that. So that guitar represents so much to me about just following your path. Even if you come up against the system, you can stay true to yourself. When I plugged it in and played it, it was just amazing. It's so full of mojo."
While Jennings' Broadcaster obviously stays at home, Urban uses a number of pricey vintage guitars on tour. And several of those—including a 1952 Gibson Les Paul Standard and a 1962 Gibson ES-335—were damaged in the Nashville flood.
"The Les Paul was submerged for four days. It has some flaking that happened after it got out of the water and started drying out," Urban says. "From the goldtop around the pickups, there are huge chips that have come off since then, and it has bits flaked off all around the neck. That is particularly worn from all of the flood damage. The ES-335 was also a flood victim that has been salvaged. It does not look overly damaged, but it has a muted look to the lacquer and got more worn looking—much more so than before it went into the river."
Urban's main stage instrument was also waterlogged but successfully revived. Nicknamed "Clarence," it's a Fender 40th Anniversary Telecaster obtained at Manny's Music during the musician's first visit to the United States. According to Urban's guitar tech, Chris Miller, over the years the guitar has had "every pickup combination under the sun put in it at one time or another." During the restoration process, Miller set about returning the instrument to its original state before subsequently launching new pickup experiments. Of course, no guitar could go through so much physical devastation and remain tonally unchanged. However, Urban says the tone has changed for the better as a result of the flood and restoration.
"I think it sounds a little more unique now than it did prior to going into the river," Urban says.
Asked about his ultimate tone, Urban says he loves amps that have lots of headroom without sounding sterile. To that end, he owns many revered amplifiers—including a Dumble Overdrive Special and an EL34-driven, 45-watt Trainwreck Express, both of which feature prominently on
Get Closer
. However, he's sticking to old Fenders and Marshalls—a purple 100-watt 1969 Marshall Super Bass head and a mid-'60s blackface Fender Showman—on the road. Miller says the amps are routed through two vintage Marshall 4x12 speaker cabinets loaded with Electro-Voice speakers and two Alessandro open-backed 2x12s, so that each head goes through six speakers, "as loud as I can get them without them breaking up."
No Vintage Snob
Despite his drool-inducing collection of old 6-strings and amps, Urban's arsenal also includes some offbeat acquisitions.
"He has a thing for cheap guitars with a funky, lo-fi vibe," guitar tech Miller laughs. "He owns several old Airlines and Teiscos that were damaged in the flood and have yet to be put back in working order. He recently got another Teisco that [Nashville tech] Joe Glaser is improving so it can be used during a gig—the bridge is a little dodgy."
Urban himself ascribes the habit of buying these overlooked instruments to a Charlie Brown-like desire to take care of an item everyone else ignores.
"I often buy or go to the store and look for the ugliest runt guitar and bring it home because I feel sorry for it," he says. "I often think about the 10-year-old kid at our concert who is checking out all the brands of the guitars. I always loved Tom Petty and those guys with the quirkiest, weirdest guitars. I like to remind kids that if you've got a hundred bucks, you can go and buy a great guitar that is going to get you where you want to go. You don't have to have thousands of dollars to get a solo happening!"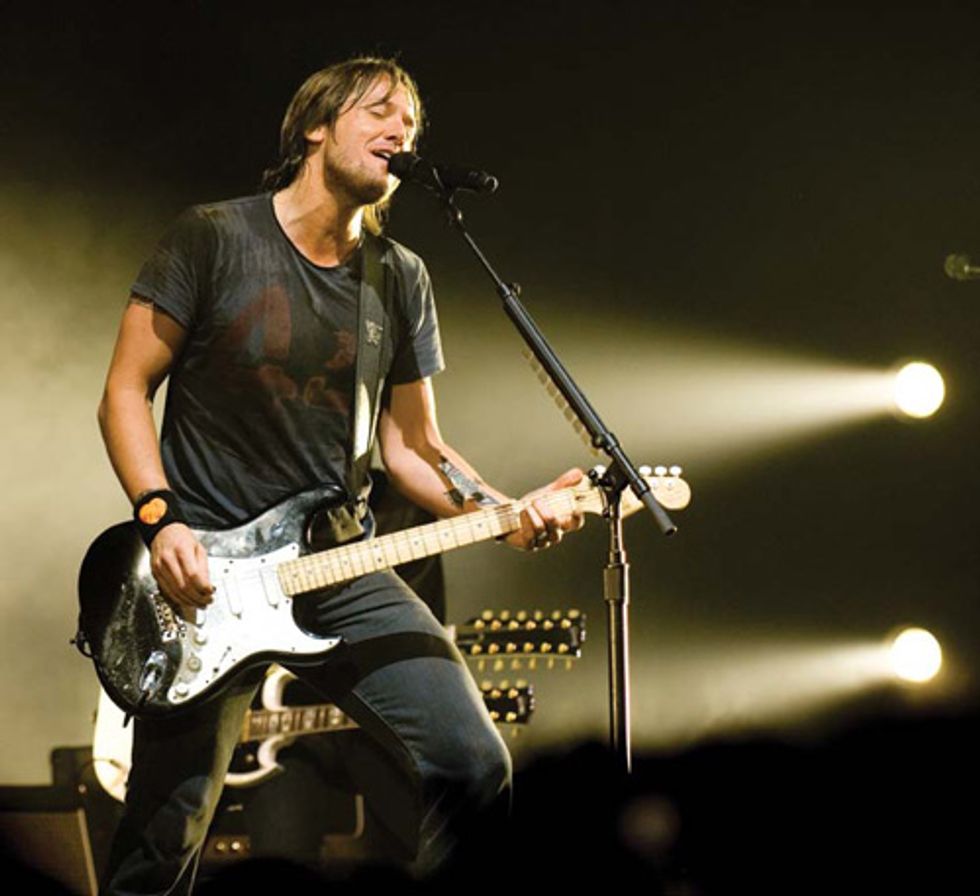 The Aussie star strums an Em chord on an Eric Clapton Signature Strat with Lace Sensor pickups.
Taking It on the Road
Typically, studio versions of tunes are rearranged and adjusted for live performances—for instance, maybe a long intro is shortened or adjusted to make up for lack of an orchestra—and to a limited degree, Urban has done so for his current tour. For example, he kicks things off with "Put You in a Song," the first single from
Get Closer
. Urban says the song has been stretched and elongated to the point of functioning almost like a remix. He also explains that other tunes have to be tweaked because delicate lines and musical textures aren't necessarily going to translate well to large arenas.
"Like in 'Long Hot Summer,'" which begins with a warm, Andy Summers-like arpeggio, "the important piece is the electric riffs," Urban says. "The banjo has a nice sound to it on the record, but it's not something you would miss live. So I would probably put my guy onto some other instrument that sounds more needed in a live situation." As for the song's Police-esque vibe, Urban says, "It definitely comes from that 'Message in a Bottle'- kind of place, but the actual lyrics were inspired by a song called 'Short Memory' by Midnight Oil. 'Short Memory' is completely different, but the arpeggiated intro always stayed with me, and this is sort of a sped-up version of that with a couple of chord changes."
Other than the live adjustments made to "Long Hot Summer," Urban says his set doesn't require as much alteration as you might think. "I've gotten to the point where I record songs like I would probably play them live anyway, y'know?" he says. "Like long solos on the outros, if the songs require them. That's definitely an ode to the Dire Straits records I grew up with, which had three-minute outros—almost like a part two of the song."
Other than Knopfler, one of Urban's big guitar influences is U2's the Edge, as evidenced by the shimmering, echo-y part that gently floats under the piano in "All for You."
"The Edge is absolutely one of the greats," Urban says. "We were just playing today—we were trying to get a muted, arpeggiated, single-string thing—and I was trying to get my other guitarists to get the right guitar to make it nice and woody in the middle. I said, 'Y'know, like the Edge— that kind of thing.' Then, I actually came to the conclusion that it was probably more David Gilmour than the Edge because of that single-string thing."
Following in Waylon's Footsteps?
Urban's current Get Closer tour affords fans plenty of opportunities to check out his guitars and be inspired by either the vintage gear or the quirky stuff. The concert features an entirely new stage set, new production, and a new look that fans are going to love—including multiple stages that enable Urban to get closer to fans all over the venue.
During one of those forays into the audience, it's entirely possible that some young boy, an eager and determined young musician, might look upon Urban and Clarence the Tele with the same reverence that the Aussie once bestowed upon Waylon Jennings and that leather-clad Broadcaster.
"It would be a huge honor—I'd better take care of it!"
Keith Urban's Gearbox

Watch Keith's tech take you through his gear in our Rig Rundown:
Part 1 - Guitars
Part 2 - Amps, Effects