The Devil Knows My Name: An Interview with John 5
With the release of his latest album, Requiem, John 5 has been a busy man. Between touring with Rob Zombie and playing clinics for Guitar Centers around the country,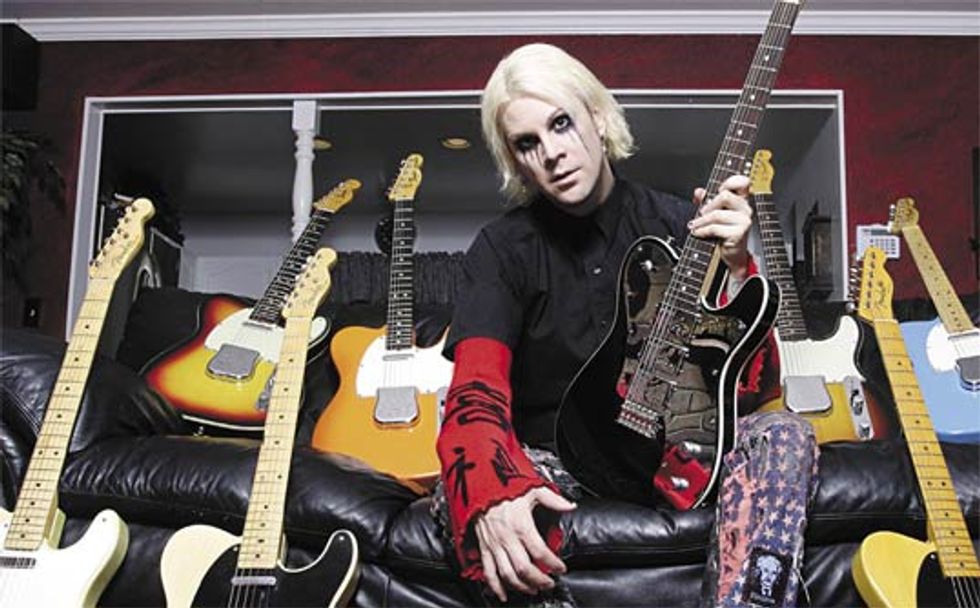 With the release of his latest album, Requiem, John 5 has been a busy man. Between touring with Rob Zombie and playing clinics for Guitar Centers around the country, it seems that his subtly unnerving brand of gothic rock has struck a nerve with fans. They're absolutely eating it up everywhere he goes, perhaps because it's something different in a world of homogeneity. From his best-selling instructional DVD, The Devil Knows My Name, which blends twisted horror imagery with lightning fast licks, to his new album, chock full of allusions to the darkest ports of human exploration, it would seem that John 5 has found a healthy musical and stylistic niche to exist in.
Of course, it's never quite that easy. John 5 is a musician full of tough, disorienting contradicitions – things that might make sense if it wasn't for his darker-than-dark image. The former guitarist for shock rocker, Marylin Manson, John 5 is actually a friendly, passionate guy who is happy to answer any and all of your questions, whether its about his guitar or his floorlength leather coat. He is upfront about his love for old country pickers like Jerry Reed, and peppers Requiem with some of the hottest picking you'll ever hear on an album with song names inspired by torture devices. He's made a name for himself within guitar circles for producing punishing riffs with a
Telecaster
and Marshall, an odd combination that stands in direct defiance of what many assume to be a standard-issue rock rig. There's absolutely no pretension surrounding him, and the fact that there isn't is almost maddening – why can't he just be what we expect him to be?
Needless to say, within the first minutes of our interview we stopped trying to label John. Instead, we talked about his beginnings due to a cornpone television show, his collection of classic Telecasters and why he's a Marshall man for life.
---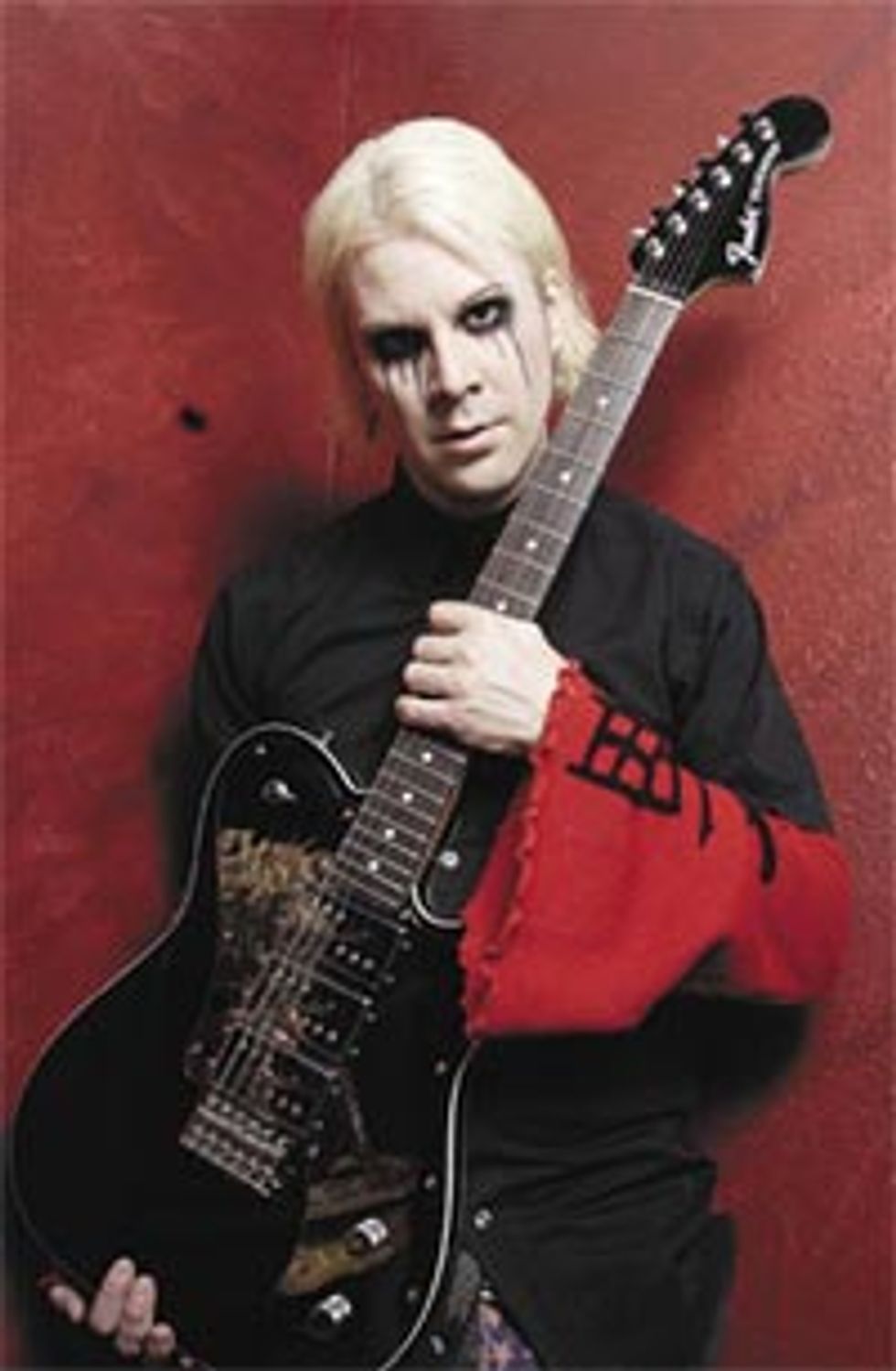 Photo: ©2008 Neil Zlozower
You've said in other interviews that you picked up the guitar after seeing Buck Owens and Roy Clark on Hee Haw. What was it about that show that sparked your interest?
What I loved about it was that Hee Haw was a show that everyone crowded around the TV and watched together because it was the thing to do. I remember one time there was a little kid on there. He had to be ten or eleven, and he played banjo like nothing I'd ever seen. I mean, you're shocked when kids do things, but this kid played the banjo so well I couldn't believe my eyes! It always stuck in my head.
The other thing that stuck in my head was that everybody played Telecasters – I just thought that it was the electric guitar. I wanted an electric guitar and I wanted it to look like that.
As you began learning the guitar, what did you cut your teeth playing?
I started learning from Jimi Hendrix and people like that. I slowly learned Jimi's riffs and then I learned "Happy Birthday" for my dad. I loved playing, but I wasn't learning songs that I loved. Once I learned "Crazy Train" and a few other favorite songs, I never put the guitar down. I was like, "Wow! I can play my favorite songs!" If someone wants to learn guitar, I'll teach them a couple of songs and then I'll teach them songs they really love. That's what my teacher did for me; I had a very smart guitar teacher in that regard. If someone loves Neil Young, I'll teach them an A and an F chord, and then introduce them to a Neil Young song they can play – at that point, they're just amazed.
Did you ever get into guys like Don Rich or Roy Nichols because of that Hee Haw connection?
Of course! Those guys, and players like Jerry Reed, were awesome. I loved that stuff and still do today.
It's nice to see that you have a wide range of influences and favorites. Most musicians seem to lean predominantly towards either rock or country.
You know, I've been doing these Guitar Center clinics and I've never done anything like them before. I was nervous because it was the first time I was without a band. I was thinking, "Do people want to hear this stuff or not?" Not only did tons of people come and hear it, people really enjoyed it. I was playing heavy stuff and then playing bluegrass and Western swing stuff, and you're right, it's a very diverse range of sounds, but people really enjoy it. I think that's one of the reasons I'm popular is because it's different. To make something different that works is just awesome.
You've made a name for yourself by playing absurdly heavy music with a Tele. How do you create those sounds? Why don't you just pick up a Les Paul?
[Fender] built these guitars, Subsonic Teles, which are really low, like baritone guitars. It's like having a seven-string, but in a sixstring form. And, as you know, they had those back in the day – they could have been playing Korn songs back in the sixties with these types of guitars. They have always had those guitars as an option; they have been around longer than most people care to remember. I just love the feel of the Telecaster – I love the Les Paul, too, but I just feel more comfortable with the Tele. It's like an old friend of mine.
Can you tell me more about your three signature Telecasters created by Fender?
The first one I created was when I was in Marilyn Manson. At the time, Fender had a guitar called the Maverick and they also made a 12-string guitar called the Villager – both had similar headstocks from the sixties. I thought both of these headstocks were cool, which is where I got the idea for the headstock on the first guitar I created [the Fender Custom Shop J5 Bigsby Signature Telecaster]. It's elongated and has a similar layout to 12-string guitars, but we shaved a little bit off the bottom of the headstock so I could do the behind the nut bends and things like that. I love the rosewood fingerboard, too.
I put the Bigsby on there for those old country guys – I always thought it looked so crazy. Although I like the Floyd Rose, I don't like depending on them; I like being able to use a little finesse here and there with the Bigsby. I also put a Hot Rail pickup in there and chromed it up. With the next version I did [the J5 Telecaster], everything stayed the same, except we put a
humbucker
in and replaced the Bigsby with a hardtail, because, as everyone knows, the Bigsby is very tough to string up and keep in tune.
After that, I wanted to take it to the next level and just knock it out of the park with the old three humbucker [J5 Triple Tele Deluxe]. It looks like an old, mean Harley with all that chrome. I've always loved triple humbucker guitars and I don't think the Tele had ever done it before. The headstock goes to a seventies Fender Tele Deluxe; I also liked adding the Deluxe pickguard.
I also noticed that your guitars come with Fender's Enforcer humbuckers. What do you like about those?
I like that I can get a heavy enough sound to play with Rob Zombie, but it's clean enough to play with Chet Atkins. That's what I said to Alex [Perez, Fender Artist Relations Manager] and that was the first humbucker that he mentioned, and it works perfectly.
I understand you have a pretty healthy Tele collection.
Well, I have a very collective personality, so I was trying to get one from every year, starting with the first year. But let's be honest; it's not an easy task. It wasn't something I set out to do in a few years or even ten, but something I can enjoy doing for the rest of my life. Anybody can find these guitars, but the key is to find them in original and excellent condition. I don't want any issues, refinishes, re-dressings, overspray, or even knobs or wires changed. I want them all to be original, which is the hard part. I enjoy the thrill of the hunt.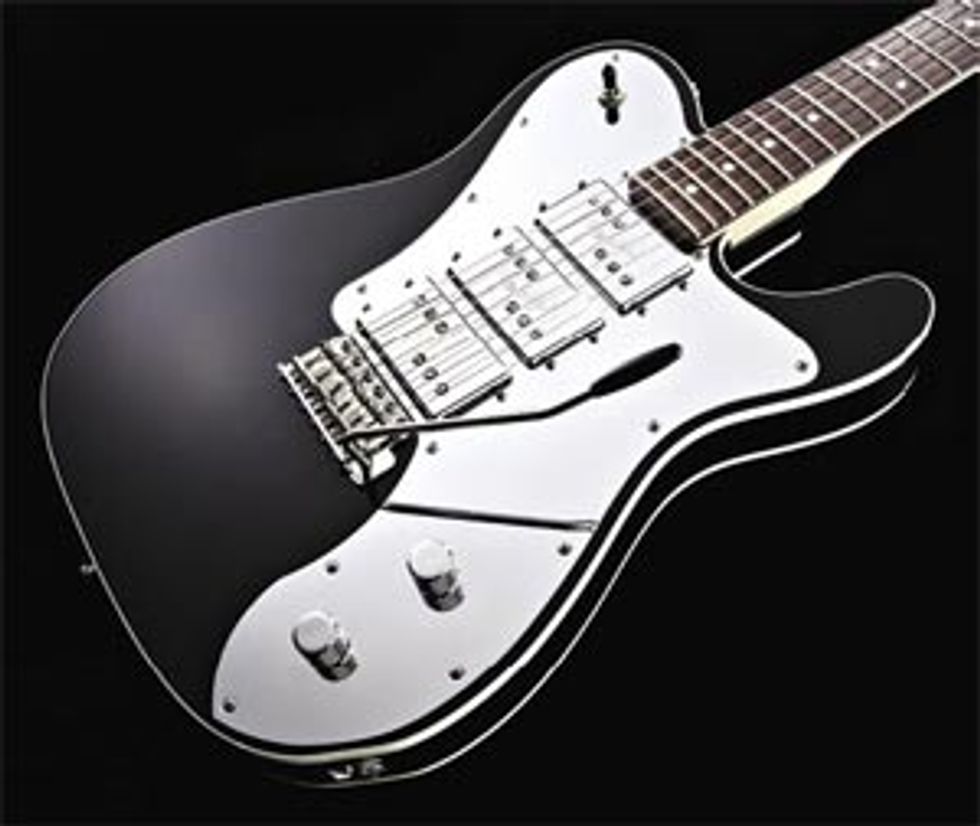 Fender J5 Triple Tele Deluxe
My number one, Holy Grail is a 1950 Fender Broadcaster. Only 149 were made in its first year, and I was lucky enough to purchase one that is in amazing condition. Another unique thing about it was that Fender got sued by Gretsch for using the Broadcaster name, because they had already developed a line of drums with that name. The only difference was that Gretsch spelled the named with a "k" instead of a "c." So they had to take the Broadcaster name off of the guitar, but luckily, I got one of the originals.
Here are the other guitars that I own right now: a beautiful blonde 1952 Esquire in perfect condition; a 1953 Telecaster; a 1954 Esquire; a 1958 Tele; a 1963 Esquire; a 1964 Custom Tele; a 1966 Esquire; a 1967 Custom Tele with a maple neck; a 1968 Thinline – the first year of that model; a 1969 Thinline with a rosewood neck – the first year that was an option; a 1971 blonde Tele; a 1972 Fender Deluxe; a 1973 Custom Tele with the single-coil pickup and the humbucker in the neck; and Teles from '75, '76 and '77. In 1978 I started getting them in the international colors that they introduced, like [Capri] Orange, [Maui] Blue and Arctic White. I plan on stopping at 1980, at least for now. Once I get the missing years, maybe I'll go on from there.
Do you play these guitars or are they just hidden away in some vault?
I play them sometimes, but most of them are just for my visual enjoyment.
I noticed you also use Marshall's Mode Four heads.
Yes, I do use Marshall Mode Fours, but I'm changing it up a little bit and just started trying these new Marshall JVMs. They are the Vintage Modern Series and are very cool.
What do you like about Marshall?
I think they are just very familiar to me – I've always used them and loved them. They are well made amps and I like their quality. Just like Mercedes and BMW, they are always well done, and I love quality.
I think it gives you a really unique, identifiable sound. You really don't see the Tele-Marshall combination all that much.
No, you rarely see it, but that's why I like that setup. It's a great guitar and a great amp, so why not put them together?
I've read in other interviews that effects aren't a large part of your rig, but as I listened to your albums, I noticed that you seem to get a lot of different sounds with a limited range of products. How do you pull that off?
When I record an album I love using old effects. One of my favorites for the rhythm parts is the pedal by Electro-Harmonix called the Bass MicroSynthensizer. It's such a cool sound and it makes the rhythm parts sound so nasty. I'll also use some old Fender phasers and fuzz-wahs and things like that, but when I'm live, I don't use them because some guy once said, "Oh, John 5 is all effects," and I was like, "Oh my God, no I'm not!" So, I never use effects live – I just play the distortion parts and the lead parts with them.
Do you throw an overdrive in your signal chain or are you relying on the Marshall to give you most of that?
Oh no, I use a [Boss] Super Overdrive, a Noise Suppressor and a tuner. I usually have about three little pedals in my rig, but sometimes I use those Boss analog delays to make it feedback when you twist the knobs and things like that.
We've touched on your beginnings a little bit, but I'm wondering about your progression as a musician. What did you do after that inspirational Hee Haw moment?
Well, I grew up in Gross Pointe, Michigan. My first real gig was with this band called Dirty Tricks. I was in sixth grade and we just played a bunch of Van Halen tunes. In seventh grade, we did this battle of the bands thing – the lead singer and I were the most popular kids in town because we were in a band. We did that show and felt like the Beatles – all of the girls were screaming. I think that just gave me the bug to play live music.
Eventually, I started to play with bands in the Detroit area and worked on my craft as a live performer. I was in a band called Vampirella with all these dudes with long hair and we played in smoky bars. Another band I was in was called Pepperland, because of the Beatles. After that I moved to Los Angeles and started as a session musician, and things just took off.
You had the opportunity to work with Diamond Dave on his DLR Band album. What was that like for you?
It was incredible. All I ever wanted to be was Eddie Van Halen. Back in the day I kept saying to myself, "All I want to do is play with David Lee Roth."
How did it come about?
I was sitting at home, looking at the bookshelf, and saw Dave's book,
Crazy From the Heat
. I called his manager and asked if they needed any songs. Of course they had no clue who I was, but they told me to send them some stuff. I recorded some songs that sounded like old Van Halen and Dave liked them, so I finally got to meet Dave. He said that we should make a record. And so we did this record in something like two weeks because Dave is old school. We just got into a room, played live and tried to create the best record we could. It was an incredible experience and I'm happy to say that I'm still very close with Dave. It's not only a highlight of my career, but a highlight of my life.
That sounds like an understatement; I mean, you've played with some heavy hitters. You played with Marilyn Manson in the late nineties, when they were arguably one of the most visible bands in the world.
I played with [Marilyn Manson] from 1998 to 2003, and that was an incredible journey. I learned a lot from being in that band – I was in it at the perfect time, when they were on top of their game. I was lucky and am still fortunate for that opportunity.
I really enjoy playing with great musicians in general. I recently wrote a song with the Scorpions for their new record, which was great. In the past, I've worked with Paul Stanley and Meat Loaf; now I'm working on some songs with Lynyrd Skynyrd. I've been with Rob Zombie for over three years now and it has been great working with someone I've been a fan of for such a long time.
Playing with Zombie, have you had to make any changes to your style or rig?
No, actually he told me to be my own person and player, which is just great and relaxing. I'm lucky enough to be my crazy self.
Is Zombie still going after that intense industrial sound, or has it changed?
We're doing it a little more rough and live. It's not so tape-heavy, but it's still one of the most amazing live shows you'll ever see in your life.
You're such a busy guy – you put out a pretty popular instruction DVD a while back called The Devil Knows My Name, which mixed healthy amounts of horror footage with your guitar playing. Depending on who you are, that sounds like an incredible concept.
Once you watch it, you're going to freak out. It's not like anything you think or may have seen before. It's been a number one seller at Guitar Center for a long time. There's a lot of guitar solos, but there's also a lot of nudity and debauchery. It's not necessarily a horror movie, but it has a lot of craziness – you know, naked girls with big heads. What guy doesn't like guitar solos and nude women? It's totally filthy and when you see it you'll love it.
Did you encounter any negative reaction from it? Was there anyone saying, "This is too over the top?"
Everyone loves it. I got the thumbs-up from everyone. The only negative thing I got was from Hal Leonard, which I'm surprised they even left in what they did of the movie, but they did take out this one, very brutal scene at the end.
Are there plans for another one?
You know, I don't know. This went so well, and with anything, when the original is successful, there's always another one.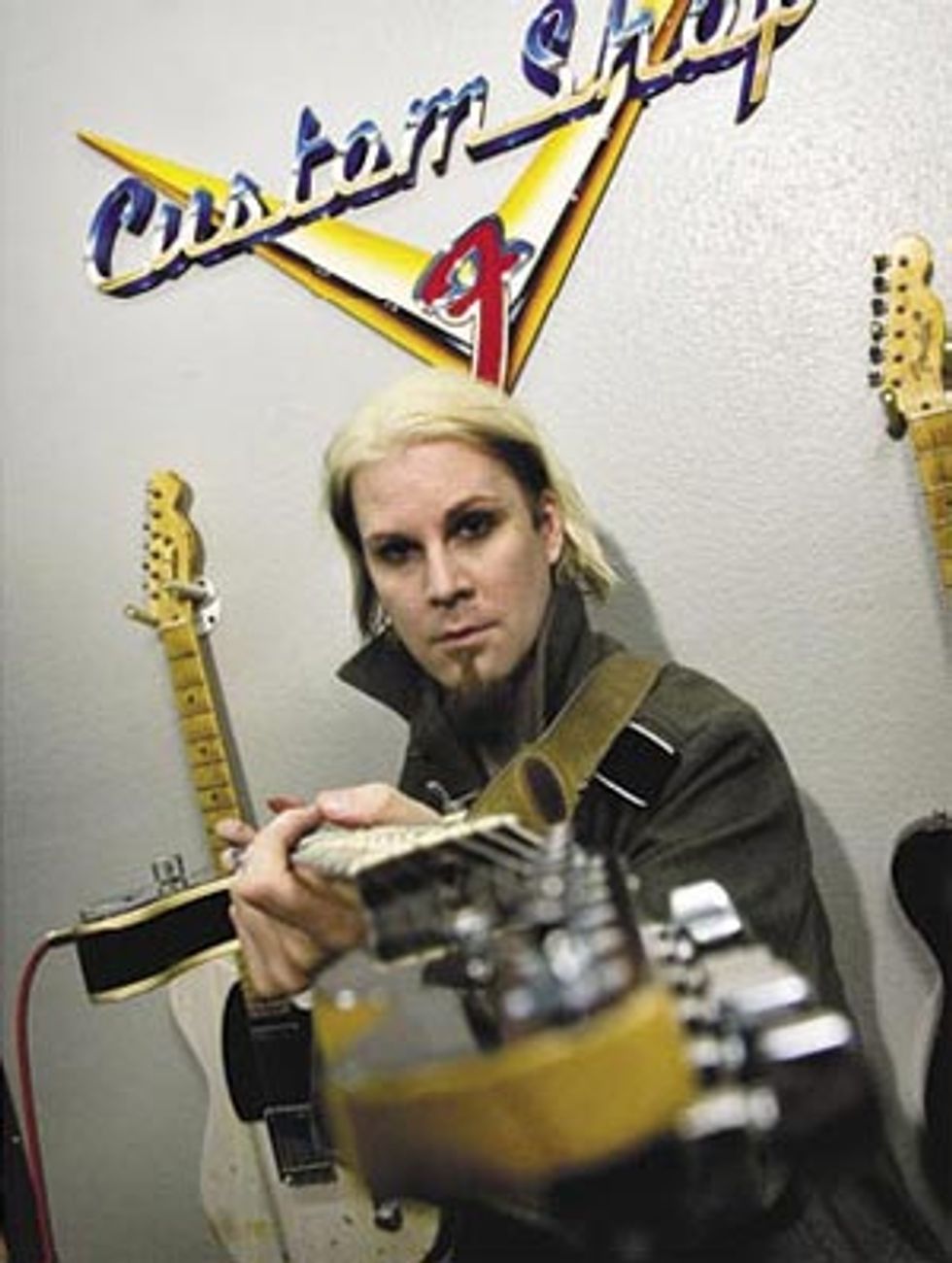 Your latest album, Requiem is incredibly intense. I've heard you describe it as, "everything but the kitchen sink." What were you thinking about as you headed into the studio for this release?
I like to take each instrumental record to the next level, starting with
Vertigo
.
This record has a little classical, western swing, bluegrass and lots of heavy shredding, which has created some crazy songs. The album is a guitar player's wet dream because it's so intense.
Can you give us some insight into your recording process for Requiem?
Well, I recorded it in [producer] Scott Humphrey's house. He's got this massive studio. It's one of the nicest studios I've ever been in in my whole life. It's in the Hollywood Hills and Motley Crüe, Zombie and Metallica have all used it. They were so busy that I had to record in the middle of the night and my mind would kind of get a little crazy. Requiem is one of my favorite things that I've ever done. Everyone that worked on the album did an incredible job and I'm extremely proud of it.
All of the song titles on Requiem are named after torture devices; the song, "27 Needles" on The Devil Knows My Name is an homage to serial killer, Albert Fish. I'm sure our readers are wondering where your fascination with the darker side of life comes from.
I think people have things in their closet they like to watch. It's so true – look at the [former] New York governor, Eliot Spitzer. Everybody has deep, dark secrets, and I have an interest in serial killers and crazy stuff. I would never want anyone to get hurt, but I am just interested in how people's minds are so twisted. There is this song called, "The Washing Away of Wrong," and it's about this serial killer that thought washing his hands after brutally chopping someone up would make everything okay. I just think it's crazy how someone's mind works like that.
What's on your plate looking forward?
I'm doing these Guitar Center clinics and saying thanks to all the people that have bought the album and have supported me throughout the years. I am also finishing up my work with Lynyrd Skynyrd and currently working on the new Rob Zombie album. I'm pretty busy, but I totally appreciate and love it.
John 5's Gearbox
When John 5 is tearing it up with Rob Zombie, here's what he's plugging into.


Guitars
Fender J5 Acoustic
Fender J5 Telecaster
Fender Custom Shop
J5 Bigsby Signature
Telecaster
Fender J5 Triple Tele Deluxe

Amps
Marshall JVM heads

Effects
Boss SD-1 Super Overdrive
Boss TU-2 Chromatic Tuner
Boss NS-2 Noise Suppressor

Accessories
GHS John 5 Boomers

---
John 5
john-5.com