The Prolific Robert Pollard
Photo by Terri Nelles
The Guided by Voices frontman and indie icon still writes songs at light speed, with two new releases under his new guise, Ricked Wicky, and another solo album by summer.
With more than 32 years of recording and zero Grammys, platinum records, or People's Choice Awards on the mantle of his mansion—which also doesn't exist—Robert Pollard fits the definition of a cult artist. In the world of indie and alternative rock, Pollard is a legend, akin in his diversity, unpredictability, influence, and profuse output to Bob Dylan in his '60s folk-rock heyday.
Pollard, who is on the verge of launching a new solo project under the moniker Ricked Wicky, is best known as the main brain in Guided By Voices, the beloved ensemble he founded in his hometown of Dayton, Ohio, in 1983. Over the decades Guided By Voices has come and gone (currently the band is disbanded) with various lineups recording 22 albums and nearly as many EPs along the way. Among them are a handful of low-key classics, like 1992's knowingly ragged Propeller, which was mostly cut on a 4-track cassette recorder, helping launch the '90s "lo-fi" movement.
Bee Thousand was another home-brewed gem that raised Pollard's songwriting benchmark and the band's profile with songs like the gently earnest and self-examining "I Am a Scientist," which deftly balances openhearted melody with 6-string growl. The year after Bee Thousand's 1994 release, Guided By Voices ended up on the big deal post-punk indie label Matador, taking their place alongside such creative peers as the Pixies and R.E.M.
"I do just about all of my work, musical and visual, in the morning at my dining room table with a notebook, acoustic guitar, magazines, scissors, paint, and a beaten-up old boom box."

If inspiration were lightning, nobody in their right mind would stand next to Pollard. Though he says he only writes songs when inspiration strikes, he seems to write constantly. "I've never had writer's block," he allows. And it's been reported that he has more than 1,700 tunes registered with BMI.
Pollard's never had stage fright either. He's earned a reputation for delirious, high-energy performances centered on his singing, peripatetic hoofing, and beer swilling. And he's released a slew of recordings via side and solo projects, too. His cornucopia of cuts by Guided By Voices, the Boston Spaceships, Acid Ranch, Airport Five, Circus Devils, the Takeovers, Lifeguards, Moping Swans, Lexo and the Leapers, and other outfits carry Pollard's signature touches: gnashing and chiming guitars, melodies with a classic rock and pop framework, nods to musical heroes from the '60s through the '90s, and lyrics that run from pensive to incisive to reflective to anthemic to schizophrenic.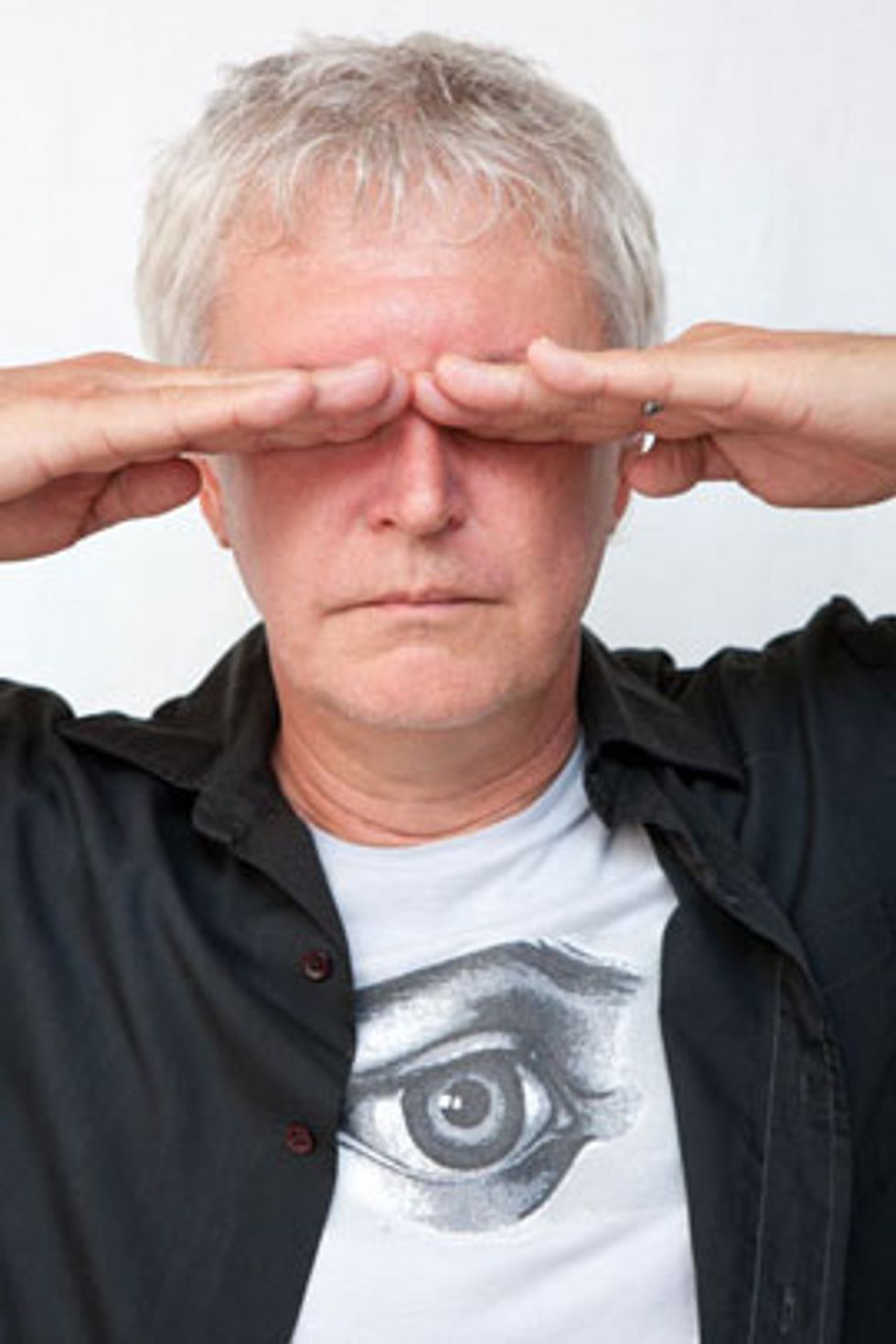 "I've pretty much emulated his style as a guitarist and a songwriter," says Robert Pollard of his hero, Pete Townshend. Photo by Beowulf Sheehan.
Pollard's love of making music that he loves and his monster work ethic hold all of these disparate elements and entities together. And they've won him plenty of accolades, from favorable reviews in Rolling Stone to Paste magazine naming him the 78th greatest living songwriter to a nomination for the Shortlist Music Prize. He's also won a host of celebrity fans, from R.E.M.'s Michael Stipe to comic actor Rob Corddry, who's appeared in two Guided By Voices music videos. Heck, Dogfish Head brewing even released a special run of "BEER Thousand" imperial lager last year to mark the 20th anniversary of Bee Thousand's release. (Pollard: "I can't believe it's been 20 years, but I'll drink to that.")
Even as Ricked Wicky's debut I Sell the Circus gets ready to roll out on February 3, a second Ricked Wicky album, King Heavy Metal, is in the wings, due on June 23. And between those releases, Faulty Superheroes is slated under his own name for April 28. He cut them all at the ironically named Cyberteknics in Dayton, which Pollard favors for its plethora of un-cyber analog gear. He also hints at a new project in development for a bigger label than his own Guided By Voices Inc.
As usual, Pollard is balancing brash and bash with literate smash as Ricked Wicky. I Sell the Circus' "Well Suited" and "A Real Stab" echo his inveterate appreciation of Pete Townshend and the Who, with kar-rooming power chords, chiming downstroked rhythms and an arrangement that breathes as it seethes. "Cow Headed Moon" takes a prog-folk turn, with offbeat, gothic lyrics fit for the dark doppelgänger of The Cheerful Insanity of Giles, Giles and Fripp or Genesis' Trespass, and enough Mellotron to help conflate the period vibe. And then there's "Piss Face," a rugged blast from the land of the Pixies where Pollard and his guitar buddy Nick Mitchell come on like a four-armed Joey Santiago.
Oh, yes, that's the other thing—and the reason Pollard's in Premier Guitar. Although he never appears onstage with a guitar slung over his shoulders, Pollard's raw and textural guitar rhythm forms a sturdy spine for nearly all his music. So that's where we started our Q&A session.
What's your relationship with the guitar like? Is it a tool or a source of inspiration?
I've always considered it primarily, if not solely, a vehicle for writing songs. That was the reason I needed to learn how to play to begin with. A friend and I started at the same time—around 1975 after I graduated from high school. After about a year or so I had gotten to the point where I was proficient enough to write. I got together with my friend to check out our progress. I had 50 or so songs and he knew the entire lead from "Aqualung" note for note. My point being that the guitar serves a different purpose for different people.
How important is Pete Townshend to you as a player? I hear a lot of Pete in your style, as well as an interesting overall arc that extends from the '60s to the Pixies.
I've pretty much emulated his style as a guitarist and a songwriter. I think I have a longer line of influences because I've been a fan and not an active participant for a longer time than he has. In other words, I continued to study indie and underground music in the '80s and '90s, when he more than likely didn't, and there would be an understandable, natural tendency in that. When you're older and more established with his kind of reputation, the general output of contemporary rock music starts to become tedious and uninspiring.

Robert Pollard writes all of his songs on guitar, but he hasn't played one onstage in years. "I just want the freedom of getting onstage and dancing around, not having to worry about coordination and too many things at one time, like guitars and pedals and such." Photo by David Newgarden.
What do you strive for in your guitar tone, and how do you achieve it?
It depends on the type of song, but for a rock song or anthem-type song, I'm particular to a more sustained, brighter sound that I get with an SG through a Fender—in my case usually a [Fender-like] Music Man—as opposed to a heavier Les Paul through a Marshall. I will, however, occasionally use the latter to emphasize a point.
I understand that in late 2012 or early 2013, you altered your approach to songwriting. Please explain that—and how I Sell the Circus represents an evolutionary step.
Well, it started with 2013's Blazing Gentlemen. I decided that the perfect hook was the combination of an interesting lyric with a great melody and chord progression, so I created a formula where I could almost ensure—for myself anyway—that each line in a song was a hook. It started with keeping a notebook of titles, lines, and word imagery, and when it was filled or nearly filled, I'd write lyrics by stringing those lines together with added phrases for cohesion. From there I went on to melody, singing each line of the song a cappella until it was complete. The last step was adding guitar chord progressions. I think it worked, and I still employ a modified version of that method, although nothing is ever locked in.
How did you and Nick Mitchell divide up the guitar parts on I Sell the Circus?
We both learned the songs together, but Nick added the more complicated parts. He's a really good player. He's like [former Guided By Voices and current Nada Surf guitarist] Doug Gillard. He can play almost any song.
Robert Pollard's Gear
Guitars
Gibson SG Faded
Parts Telecaster with Fender Nashville Telecaster body, Allparts neck, and Seymour Duncan pickups (Seth Lover neck, SSL-2 middle, and Broadcaster bridge)
Gibson Les Paul Custom (modified by Todd Tobias) Alvarez and Seagull S6+ acoustics
Amps
Early '70s Fender Super Reverb
1970s Music Man HD212 combo
Fender Hot Rod DeVille 410 1980s Fender Concert Hiwatt 100-watt head with Sound City 4x12 cabinet
Marshall JCM800 with Marshall 4x12 cabinet
1967 Gibson Skylark GA-5T
Effects
Ibanez TS9DX Turbo Tube Screamer JangleBox Compression/Sustainer
Strings and Picks
Ernie Ball Power Slinky (.011-.048) Ernie Ball Regular Slinky (.010-.046) Martin M140 light-gauge acoustics (.012-.054) Fender and Dunlop medium picks
Are you ever tempted to take up guitar onstage again?
You know, I think about it all the time, to the point that after we finished the second Ricked Wicky album, I decided I would. But when I get pretty inebriated I always decide not to. I just want the freedom of getting onstage and dancing around, not having to worry about coordination and too many things at one time, like guitars and pedals and such. Nick really wants me to, but I don't think so. It's hard enough just trying to remember the words.
What's your songwriting regimen?
I write when I feel inspired. I do just about all of my work, musical and visual, in the morning at my dining room table with a notebook, acoustic guitar, magazines, scissors, paint, and a beaten-up old boom box. I know it's primitive, but it's worked pretty well for me.
Given how prolific you are, how do you know whether a song is worth completing or should be abandoned?
Immediately. Simultaneously with conception. That's an exaggeration, but it mostly holds true. I brainstorm and record everything and then listen back. I take the workable stuff, which might be 80 percent, and elaborate. It's very difficult not to repeat some aspect of something you've written before, but if it's too blatant I abandon or abort.
There were a couple for I Sell the Circus that I thought were too obviously generic or poppy, but sometimes you have to record them anyway to find out. I often find that I should've trusted my original instinct—that after I hear the recorded version, my original instinct was correct. Other times, a song that I'm doubting might turn out surprisingly interesting and definitely keepable.
Do you consciously work to keep your writing eclectic?
Well, I start with a notebook of lyrics, so I go for variety when I choose the ones I want to work with. Some are more straightforward, some are more poetic, and some are just insane. I'm going for different emotions to fit different styles. I want to create diversity because that carries the listener's attention throughout the album. Occasionally I'll even throw in a "novelty"-type song.
How arranged are your songs when you convene to record?
I give everyone a set of boom-box demos haphazardly slopped together. I give everyone time to come up with parts, and then we convene and bang them out—sometimes as a full band, sometimes with just drummer Kevin March and me, with Nick and bassist Todd Tobias overdubbing their parts. We have a pretty good idea of what we're going to do ahead of time, but nothing is overworked once we start recording.
What's your philosophy for recording guitars?
Get it down quickly. Don't be overly concerned about perfection except for obvious, blatant rhythm mistakes. I like fuck-ups that don't interfere with the essence of the song. They become part of the character and composition.
YouTube It
Proving he's a man of his word, Pollard uses a boom box and an acoustic guitar to record a rough demo of "Girls of Wild Strawberries" from Guided By Voices' 2004 album Half Smiles of the Decomposed. Note the frequent use of downstrokes to define the tune. At the end Pollard calls the song "Keith Richards-y," but his hero, Pete Townshend, is in there too.
How does your approach differ on acoustic?
I like to create different atmospheres and dynamics on an album, and a lot of times the easiest way is to vary tempos or occasionally incorporate an acoustic song. The effect is to slow things down or mellow it out, creating a stark contrast to the faster or heavier stuff.
You're a classic pop diehard, and sequencing was key to the great classic pop and rock albums. How important is sequencing to you today, given our MP3-driven culture? And how do you envision the arc of a well-sequenced album of your songs?
I think sequencing is a very important aspect of making a record. It's the same as telling a story or making a film. You want to start strong and end strong with no filler, and if you do have filler, it should at least be an interesting "set up" song—something that makes the next song sound really good when it comes in. It's a little like making out a baseball lineup: The leadoff hitter gets a hit. The second one moves it to first and third, and the third or fourth one brings 'em all in. At the end you bring in your closer.
The first Guided by Voices record was released in 1987. What did you need to learn to maintain that kind of longevity?
Only to improve as a songwriter. To find my own voice, to a degree. I obviously show my influences, but there are so many that I think my songs can be somewhat identifiable as my own. I love rock 'n' roll and I love making albums. I think that's obvious.