Tim Mahoney: 311 Comes Full Circle
After two decades of making funk-metal with his buds, 311's guitarist is excited about the band's first release on 311 Records.
Tim Mahoney is a cheerful dude. You can't blame him—he's coming up on some enjoyable milestones. For starters, he just welcomed his first son, Tim Jr., in late 2013. And he's been playing guitar in the ska-funk-metal band 311 with the same homeboys from Omaha, Nebraska, for more than 20 years. For the group's 11th studio album, Stereolithic, 311 reunited with producer Scott Ralston for the first time since Transistor and Soundsystem in the late '90s.
"We're the happiest, most content we've been as a unit in a long time, and I think that, combined with reconnecting with Scott [Ralston] as our producer, made this last album cycle a really fruitful, fun time," says Mahoney. "We've always been a close band, but we have our own families, friends, and lives outside of the band and sometimes that takes precedent—as it should. But right now we're all in a good place and it's hopefully felt in our music and live shows."
The band released Stereolithic on March 11, or 3/11—a date that has become an annual holiday for the band, celebrated with special extended performances in a different city each year. Surprisingly, this is the first time 311 has released an album on March 11, and it also marks the first release on the band's new label, 311 Records. Mahoney recorded his parts at the home studio of SA Martinez (vocals, turntables).
"We all kind of recorded in our most comfortable environments this time. I love the Hive, our studio in L.A., but it was nice for me to record at SA's house because we live in the same area so traffic and the commute wasn't bumming me out when I was going in to record [laughs]," says Mahoney. "It's funny, back when we started we fought, clawed, and grinded to get a major label deal, and now two decades later we're liberated to go full circle where we're still making music we're proud of and releasing it ourselves to get to the fans a lot easier, quicker, and smoother."
As a guitarist in 311, Mahoney combines interpretations of reggae and metal—his two favorite kinds of music—sometimes in the same song. Take, for instance, 311's "Sweet," Transistor's "No Control," and Evolver's "Beyond The Gray Sky." The new music continues the tradition of mixing a Marley-esque Kaya vibe, sonically moving from tranquil beachside jam to '80s metal with harmonized solos and pick squeals.
"My favorite guitarists are probably Bob Marley or Jerry Garcia, and Dimebag Darrell of Pantera," says Mahoney. "So for me to be able to incorporate both my musical loves into our band has pretty much been a dream come true."
Lucky for him, his band of brothers enables his pedal addiction. Constantly.
"Pedals can be inspirational," Mahoney testifies. "The main riff of Stereolithic's "Revelation of the Year" came when I stumbled upon a combination of phaser, vibe, and chorus that breathed new life into an old riff I've been sitting on for years. I'm just lucky I'm in the band that not only understands my pedal love, but encourages it [laughs]."
Each head is routed through its own 4x12 and our producer Scott Ralston mics each cabinet with two mics—and all four mics are different—so when we're mixing we have an entire collection of choices that we can queue up, dial back, isolate, and mix to best suit the overall song.

In between dad duties and rehearsals, the perpetually upbeat Mahoney spoke about his mahogany-bodied guitar preference, the ins and outs of his complex pedalboard setup, and what acid and Jerry Garcia have to do with his favorite stompbox.
Last time we talked you were using a Diamond Spitfire II for your dirty tones. Is that still the case on Stereolithic?
All the high-gain sounds on this album are a '90s Bogner Uberschall and a Diamond Spitfire II. Recently I got my hands on a PRS Custom amp and I couldn't believe how great the overdrive sounded, so we used that quite a bit, too.
Are you still using a '63 AC30 for your clean tones?
Nope, this time I paired one of my Spitfire II heads with a Lexicon PCM-42 in its effects loop and an early '68 Fender Twin—it has the silverface front panel but the components and guts are of the AB763 circuit.
Why the switch from the AC30?
I've always had Fender amps in my personal stash, but I got hip to a great vintage AC30 when we worked with Bob Rock on Uplifter and Universal Pulse. I loved blending in tones with that combo. I tracked at S.A.'s house about 90 minutes north of our rehearsal space in L.A., which is where my Vox was. So I just used my Twin that I had out of necessity and it turned out to be some of the best tones I've recorded to date.

Tim Mahoney runs three signal paths through his pedalboard, and often uses multiple brands of the same effects for different flavors through different amps. Still, he says he uses everything on his board.
Why are you a big user of the two-amp (or more) setup for recording clean and then two more for dirty?
I really enjoy the complement meshing and a fatter, wider spread the two amps give a recorded guitar track. Each head is routed through its own 4x12 and our producer Scott Ralston mics each cabinet with two mics—and all four mics are different—so when we're mixing we have an entire collection of choices that we can queue up, dial back, isolate, and mix to best suit the overall song.
Are the similar output tubes a concern? Both amps use EL34s.
I've found that even if you have two of the same exact amps, they produce a distinct tone all their own. So with the Spitfire and Uberschall having the same tube layout, they still produce unique sounds because the brand of tubes is different, and the wiring, transformers, and capacitors are all different, too.
What about your live rig?
We pretty much used my live rig to record my parts. The only thing we indulged on was adding amps to thicken the sound and provide more options in post. I used my live pedalboard and my go-to guitars that I still take on the road. For amps, I'll just be using a Spitfire II for clean and probably the Uberschall for dirty, which will be her first time on the road so I'll have to extra nice to her [laughs].
Did you track predominantly with "Ol Blue"—your early '90s PRS Standard 24?
Oh yeah, Blue was the main dog again [laughs]. I got the Paul Reed Smith Signature Limited last year and it has these pickups (the bridge is oversized and the neck is a tad undersized) that make it sound monstrous like a Les Paul so I used that a bit on the heavier parts. For the clean parts, I primarily used my Fender David Gilmour Stratocaster.
Last time we talked you were using modern humbuckers, but looking to dive into the world of PAF-style 'buckers. Has that happened yet?
I tried out and really liked Seymour Duncan's Antiquity humbuckers designed after the Seth Lover pickups from the '50s. I actually put PRS 57/08s in all of my main PRS guitars and I love them. Everything I try to go after when it comes to guitars and pickups is based on what I love in my '76 Gibson Explorer that has its original PAF pickups. Another guitar I use as a benchmark for tone is my early '70s Fender Telecaster Deluxe with the Lover-designed Wide Range humbuckers.
You seem to prefer using older, mahogany-based guitars with lower-output pickups. Why is that?
Typically, guys might think they want high-output pickups through a high-gain amp for the best, most aggressive sound, but I need to balance between very, crystal-clean chill parts and heavy-rocking jams. The lower-output pickups have clarity and leave an open, dynamic range—especially with the high-gain stuff—that you lose if you push everything to the max. I think it gives you more room to use overdrives and boosts because if you're using active or high-output humbuckers, you're eating up a lot of frequency space just from their power. It takes the tone out of the wood, amp, and effects.
What are you using on the solo of "First Dimension" to get that nasally, pitch-shifting, phased-out quality?
There were no time constraints like when you rent studio time so we procrastinated and the solo on "First Dimension" was the spontaneous last take I did after about 100 other solos. I didn't realize until I listened back that the delay time on the PCM-42 was cranked so it starts to wash out a bit, which is something I didn't intend to do at all, but it was a happy accident. The pitch shifting you're hearing is my Boss OC-2 pedal running through the dirty Uberschall/Spitfire II setup.
YouTube It
Watch 311's entire set from the 2011 KROQ Almost Acoustic Christmas show to fully appreciate Mahoney's chameleonic range, from ska to funk to metal.
"Friday Afternoon" starts out real tranquil and ends up like a raging '80s rocker from the strip. How did that song come to be?
That is a song Nick wrote before rehearsals and it's funny because he's a very relaxed, centered dude. So for him to exhibit this hard side—which I love because I'm a metalhead from Omaha—was interesting and funny because he's not really into that scene as a music fan. It gave me a chance to work out some scales and brush up on my pinch-harmonic squeals [laughs].

Another song with heavier vibes is "The Great Divide"—you really flex your metal muscle.
I love pinch harmonics and I try to incorporate them in the live setting, but this album I was able to put some in that felt timely and appropriate with the overall song. Whether it's spacey interludes or more aggressive tones, we're a bit more reserved when we record and push things to the extreme live. But "The Great Divide" was a riff I've had worked up for years and we implemented an old, unused drumbeat from Chad [Sexton] to salvage our two separate, incoherent ideas into a complete song. It was a fun challenge working that into shape with the basis of a cool riff and fresh beat.
I love Jerry Garcia so being a deadhead opened the door to the Mu-Tron. I remember tripping on acid and hearing songs like "Delta Dawn," "Estimated Prophet," and "Run for the Roses," and being just blown away [laughs].

How do you feel collaborating with Scott Ralston again shaped Stereolithic?
It was a comfort thing. He's been around us the longest and he's been our live sound guy forever, so he knew how to craft things and push us in a new direction or further in a familiar area to deliver an album that is polished but represents our dynamic range showcased when we perform live.
One thing I've noticed on this album that hasn't been felt since the '90s is the power of the songs. I can envision them energizing crowds to get down. Was that a specific goal with the heavier tracks on Stereolithic?
I hope so—we really try to keep the liveliness of certain songs in mind when we write, record, and come up with setlists because we want our fans to get off their feet to jump, dance, and have a good time—that's our main goal as a band. [Laughs] It's not as easy to go there anymore now that we're older dudes, but I think this new batch of songs should really capture and excite our fans like the early stuff.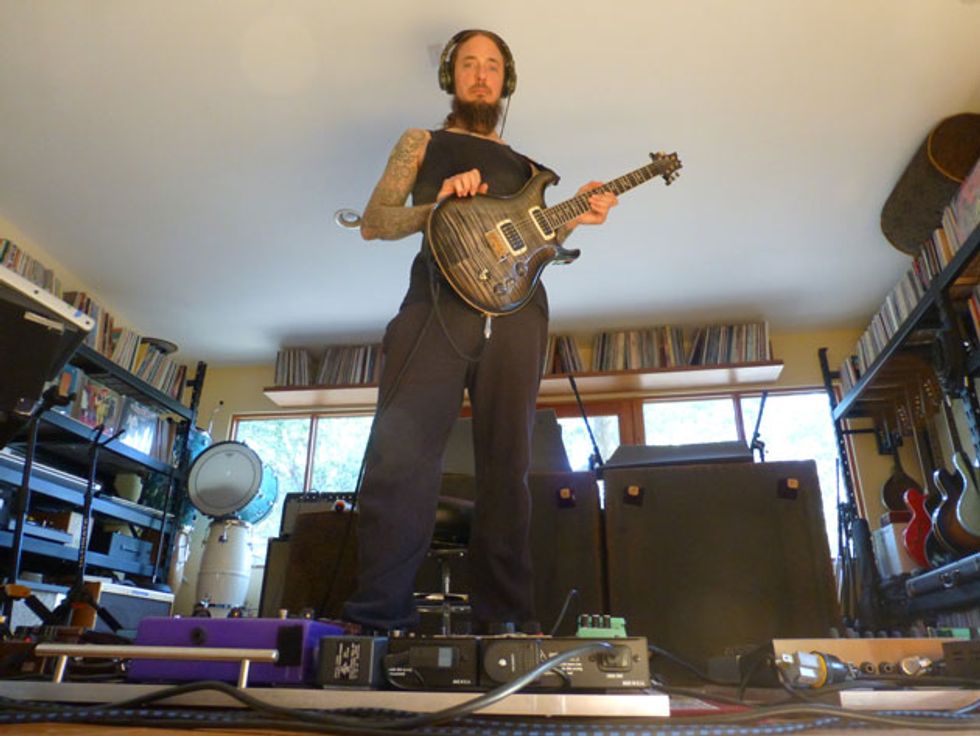 Mahoney recorded his guitar parts in the home studio of bandmate SA Martinez. The members of 311 transplanted from Omaha, Nebraska, to Van Nuys, California, in the early '90s.
Tim Mahoney's Gear

Guitars
Early '93 PRS Standard 24 ("Ol Blue")
2012 PRS Signature Limited
1976 Gibson Explorer
Fender David Gilmour Stratocaster
1975 Fender Telecaster Deluxe
Amps
Two Diamond Spitfire IIs (one set to clean, one to dirty)
'90s Bogner Uberschall
1968 Fender Twin
Two Diamond 4x12 cabinets with Celestion Vintage 30s
Effects
DigiTech Whammy
CAE Wah MC404
Boss TU-2
Boss FV-100 Volume Pedal
Boss OC-2
Mu-Tron III
KR Musical Products Mega Vibe
MXR Phase 90
Ibanez CS-9
XTS Pegasus Boost
Maxon AD-9
MXR Envelope Filter
EHX Small Stone Phaser
XTS Precision Overdrive
TC Electronic ND-1 Nova Delay
Strymon Timeline
Jacques Meistersinger
DigiTech Synth Wah Envelope Filter
Boss DSD-2 Digital Sampler/Delay
TC Electronic Repeater
Mr. Black SuperMoon
TC Electronic Ditto Looper
Two Lexicon PCM-42s (rackmount)
Lexicon PCM-60 (rackmount)
L.A. Sound Design Loop Strips
Strings and Picks
Ernie Ball Slinkys .010–.046
Dunlop Tortex 1.14 mm
Dunlop Big Stubby 2.0 mm

What is going on during the opening of "Sand Dollar" that gives the song such a video-game buoyancy vibe?
That's my Mu-Tron III paired with a PCM-42 dialed in with a fairly long delay time. The Mu-Tron III is great by itself, but in that instance the PCM-42 gives those repeated notes such life instead of sounding sterile or repeated.
The Mu-Tron is a special beast that not many people mess with. How'd you fall in love with it?
I love Jerry Garcia so being a deadhead opened the door to the Mu-Tron. I remember tripping on acid and hearing songs like "Delta Dawn," "Estimated Prophet," and "Run for the Roses," and being just blown away [laughs]. I started playing music on a trombone and the envelope filter can dial in some horn-like tones and sounds. I just totally dig the expressiveness you can get with it depending on your picking style or attack. You can get it to quack or mellow and fade into the mix. When I realized Jerry used the Mu-Tron III I knew it was my holy grail.
Are you using a different envelope filter on "Boom Shanka?"
I'm using a vintage MXR Envelope Filter on that song. I track with that as my go-to dirty envelope filter effect since it's really warm and almost lends itself to being overdriven. The Mu-Tron works fine through a dirty amp, but I prefer to leave that one pristine because it's that classic sound. I set the MXR so the effect is more exaggerated, but the length of each pulse isn't nearly as long as the Mu-Tron.
Is that why you have so many duplicates of pedal types on your board?
Yeah, I pretty much run three different signal paths on my pedalboard. One goes through my clean amp. The second goes through my dirty amp. And the third goes through my "party board"—which can go through either head—that has fun effects like ambient 'verbs, long delays, and a looper. Thanks to Dave Phillips at L.A. Sound Design who rigged this up for me so I could go from a tone with my clean amp, the Mu-Tron III and a long delay like my Maxon AD-9 to a sound with my dirty amp, Boss OC-2, and TC Electronic Nova Delay—on a short delay time—by hitting one button … otherwise I'd need a lot more feet onstage.
I prefer to set and use pedals so they can sound the best for what I feel they can do. Like, with my phasers, I think the MXR Phase 90 is great for either clean or dirty so I start it on the dirty side set to a quicker setting, and the EHX Small Stone is at its best through a clean amp so I use that for a watery, almost-Leslie-ish vibe and for a reggae tone. But some pedals sound killer and they can go to both amps like the XTS Pegasus Boost—good for a level boost and giving me more clarity depending on the room—and my MXR Phase 90, but it's currently only going into the dirty amp so I can have a subtle or luscious phase effect.
Both heads have Lexicon PCM-42 delays in their effects loops so I can have the purest sound when I just want an amp and delay. Plus, putting those digital rackmounts after the preamp gives you the cleanest, straightest-sounding delay. It's more important for the dirty amp because I'm using it on solos so I'm delaying the preamp signal and it thickens it up a bit, too. I've heard you're supposed to jumper the effects loop if you're not using it to engage the preamp tube that governs the master volume for a bigger, fuller sound.
What are you using during the swirling, creeping riff that blooms before the first verse of "Revelation of the Year?"
We put that song together on the demo and when we tried recreating it in the studio, I couldn't remember what I was using when I came up with the riff originally, jamming by myself. So I ended up playing that part through the Small Stone, Mega Vibe, and the Ibanez CS-7 chorus. And then for some of it, I squish it with the TS9.
Does that happen a lot?
Many times, I'll take a picture of my pedalboard with the pedals lit up so I know what I'm using when I record something into my phone or my computer and I queue it up a few months later. And then when we record, I'll take detailed notes along with photos so I can dial in my rig before the tour or rehearsals. It's like a crazy science experiment [laughs].
Honestly, do you have too much stuff?
I don't see it like that at all … probably not enough. Currently, everything I bring on the road gets used at every show—all the effects, guitars, and amps. I'm streamlined!
Have you ever thought about having your tech do the switching offstage?

I don't think I could trust anyone else to do it. I enjoy being able to screw with things on the fly, even if it's just bending down or using my foot to max out a delay so it starts oscillating [
makes spaceship landing noise
] and sounds like its powering down.