Vince Gill: Nashville's Guitar Bard
With a new album and a U.S. tour underway, the masterful player and singer takes a groove-heavy trip into the heart and soul of country music. His enviable collection of vintage guitars and cool amps rides shotgun.
On a cool, clear night in Montgomery, Alabama, Vince Gill is chuckling with anticipation over the first of several shows he's co-headlining with Lyle Lovett. It's their second Songs and Stories acoustic tour—an intimate, informal setting that allows each to sit back and admire the other as a fan and fellow traveler. In fact, it's so informal that there's never even a setlist.
"Man, we never even talk about what we're gonna play before we go on," Gill says excitedly. "We did some of these gigs last year and it was always, 'You wanna start? I'll start! You start!' We took turns doing that and then teasing the other guy—'so, you're opening for me tonight.' We just trade songs, you know? It's fun with Lyle because he has such a tremendous wit. By the end of the night, we do more laughing than we do singing."
It's a great way to unwind, which, as it turns out, is a gift that comes naturally to Gill. His approach to playing and making music is about as easygoing as a sunny Saturday in his home city of Nashville. He's outwardly humble, but inwardly focused, active, and creative. He draws strength and sustenance from family and friends, but he's also restless in his pursuit of emotional honesty and authenticity in his songwriting—as well as his pursuit of new sounds, new songs, and old guitars. With a collection of acoustic and electric rarities that would make most museum curators seethe with envy, he is truly an aficionado of guitars. And if every guitar tells a story, then Vince Gill is arguably the modern bard of country music.
Vince Gill takes a solo spin through "Liza Jane" from his 1991 album Pocket Full of Gold during his first Songs and Stories tour with Lyle Lovett in 2015. The acoustic format allows Gill to display his estimable talents as a singer and songwriter.
On Down to My Last Bad Habit, the latest in a string of albums tracked at his state-of-the-art home studio (called, simply, the House), Gill pulls out all the stops. From the summery ragtop boogie of "Me and My Girl" to the cheatin'-hearted schmaltz of "I Can't Do This" to the classic whiskey-soaked sound of "Sad One Comin' On (A Song for George Jones)," the country flavors are deep-fried, but so are the bluesy grinds like "Make You Feel Real Good" and the radio-ready hits like "Take Me Down," with country rockers Little Big Town). Working with co-producer and confidante Justin Niebank, and with able backup throughout from fellow guitarists Richard Bennett, Tom Bukovac, Dann Huff, Dean Parks, and pedal-steel maestro Paul Franklin, Gill stretches out and finds his soulful center.
He credits a key part of that growth to his able-bodied rhythm section, which consists of longtime friend and bass legend Willie Weeks and newly recruited drummer Steve Jordan, known for his collaborations with Keith Richards and Eric Clapton. "Willie has played with me for 25 years on a lot of records, and we're great friends," Gill says. "And with Steve, I got the opportunity to see and feel and hear first-hand what makes him so great. It's not just a banging groove—there's a depth to it. There's something palpable. I can't really say what it is, but I sure know how it made me feel and how it made me sing. This is one of the best singing records I've ever made, and I've been doing this for over 40 years, so it was powerful what these musicians bring to the table. That groove is so badass that you'd better find your way into it, or you're gonna sound like a fool."
Pictured on the cover of Bad Habit with a beautiful 1960 Gibson ES-335 sunburst (just acquired last year, so it wasn't actually used on the sessions), Gill plugged into so many different guitar-amp setups that assistant engineer Matt Rausch kept a song-by-song notebook for posterity (see sidebar). A cache of vintage Les Pauls, Teles, Strats, J-45s, and Martin acoustics, along with Fender Champs, Little Walters, and other classic combos, all made the rounds, with each chosen for the color and character it would lend to the song.
My dream is to see that song become a commercial for Cialis or Viagra [laughs], because it's so funky and sleazy, you know?

"Every guitar that he has, Vince will tell you a story about it," Niebank marvels. "One's funny, one's heartbreaking—I mean, it's amazing. And that's the great thing about him. As a guitarist and a singer, he's so humble that he doesn't want to show up anybody. He's all about subtlety, but at the same time, live, he'll blow up a little more. So in the studio, that's what we wanted: to be organically tough groove-wise and to give him the opportunity to soar. Without showing off—just dig in and fire up your guitar. And he nailed it."
Gill detailed his 6-string exploits on Down to My Last Bad Habit, his sources of inspiration, and his philosophy on what makes guitar playing timeless and poignant when we spoke.
This album really brings home the sense of someone looking back over his life and drawing love, strength and sustenance from those memories, whether they're sweet or painful. It's a really bluesy album.
I've always been drawn to a melancholy spirit, musically. It's more interesting to me. It's that simple. Townes Van Zandt's most famous quote is, "There's really only two kinds of music—the blues and zip-a-dee-doo-dah." [Laughs.] And I don't really do zip-a-dee-doo-dah. It's just a matter of what I really like.
But I had a great time making this record, from a musician's point of view. I think with all my records, I've always tried to come more from a musician's heart than anything else. And there's a lot of really great guitar work on this record by the other guys that set me up to shine. It's Dean and Tom and Dann—the way that they play, it's all a conversation. All this music is guys playing together, and you don't notice anybody stepping on anybody very often at all on this record. Everybody's listening to each other and playing off of each other, and that's what makes it interesting to me.
Another angle of Gill during his album release party at Ernest Tubb's Record Store on lower Broadway in Nashville.
You worked on this album over the course of a couple of years, and meanwhile you were also busy recording with the Time Jumpers, Ashley Monroe, Paul Franklin, Sheryl Crow, and even Don Henley. How do you keep up the pace?
I've got so much left that I want to do, but it really helps to have the studio here at home. You get to go to work barefooted and not have to put on a collared shirt [laughs]. But it's a really neat environment there, too. Amy [Grant, Gill's wife] and I really love to let a bunch of musicians run around the house. It's quite a gift, and just a creative place with a great spirit.
Was there one guitar in particular that you relied on to make the album, or did you mix it up on every song?
I played a little something different on every song. Les Pauls, Strats, Telecasters … I played a 335 on a couple of songs. I just played whatever was appropriate for what I was doing. I'm always looking for a new sound, something unique, and obviously I want to play what's most appropriate to honor the song. Justin Niebank is a great musician himself and a world-class engineer, so we're always getting a good sound and we make it better to up the ante. There's a few things on here where I think I wound up with some sounds and played some things I've never played before, and that's encouraging—to improve as a player, and not play your nine licks that you know, and the one sound that you might always gather.
I'm willing to experiment and I'm trying hard to be an economist when I play. I'm not a fan of lots of notes and flashy things like that. The "wow" factor is more in the subtlety of someone's playing—the brevity of it, more than a lot of it.
Your daughter, Jenny, joins you on harmony vocals for "Reasons for the Tears I Cry," which is a great song to open with. And speaking of brevity, you take a short solo that really showcases how you use your fingers. What would you say is the basis of your different picking techniques? Do they come from bluegrass or are they rooted in a few different styles?
Well, I think it's all over the map. In that solo, it's the way I'm bending the start of it. That's what I really enjoy—bending notes in a way that the length of time you take to bend to the note is critical; the intonation, and when it gets to its apex, is critical. Some of it came from me figuring out how to make my fingers emulate a steel guitar, and the way those pedals work. A lot of people think I have a B-bender in my guitars, but I don't.
When you hear someone like Derek Trucks, he's a great example of someone who plays with the most exquisite intonation. It's so precise and so amazing to hear, but he never ever even thinks about losing its real soul, you know? It's inspiring, and I try to take the same approach. My ears are pretty good, so all those little nuances are in there to make me better, but also to drive me nuts [laughs]. So it's a neat solo, but it's a "part" solo more than "Okay, watch me riff now." It's a chance to make a musical statement that's a little bit more concise, and not just playing some blues licks over changes, you know?

This 1960 ES-335 made its way into Gill's collection after the sessions for his latest album, but has become a favorite and appears on the album's cover.
"Take Me Down," with Little Big Town, has a great sound on the acoustic guitar at the opening. It just pulls you in from the beginning.
I wrote that song with Richard Marx and a young lady named Jillian Jacqueline, and at first I just started playing that riff. It went to the F chord, with the Am chord over it, and we had our hook. It was interesting right off the bat, and that's true of most really great records, to me. There's something that a musician plays that completely defines what the song is, long before the singer starts singing. You know when it's Jimmy Page playing the intro to "Stairway to Heaven," or really any Led Zeppelin song. It's mind-boggling how many records you can listen to, and you know within three notes where it's going. I don't think musicians get enough credit for that, and I have a pretty good reverence for it.
Vince Gill's Gear
Guitars
1953 Fender Telecaster (main road guitar)
1959 Fender Stratocaster
1960 Gibson ES-335
Gibson Les Paul Custom (chambered)
Gibson Eric Clapton 1960 Les Paul
Gretsch 6130
Martin 0000-28
Martin 0000-18
Gibson J-45
Amps
3—Little Walter VG50s
Little Walter 22W
2—Little Walter 1x12 cabs with Celestion G12T-75s
Jim Kelly custom
Fender Champ
Swart AST Pro
Effects
Boss TU-2 Chromatic Tuner
EBS Unichorus
Boss TR-2 Tremolo
Strymon Flint Tremolo & Reverb
Electro-Harmonix Deluxe Memory Man 1100-TT tap tempo delay
Hermida Audio ZendriveCreation Audio Labs MK.4.23 Clean Boost
Boss CS-3 Compression Sustainer
Wampler Faux Spring Reverb
Voodoo Lab Pedal Power 2
Radial Engineering Tonebone Headbone VT
Strings and Picks
D'Addario Strings:
EJ16 Phosphor Bronze, Light (.012–.-053)
EJ17 Phosphor Bronze, Light (.013–.-056)
EXL110 Nickel Wound, Regular (.010–.046)
EXL110+ Nickel Wound, Regular (.0105–.048)
EXL115 Nickel Wound, Regular (.011–.049)
NYXL 1046 Nickel Wound, Regular Light (.010–.046)
NYXL 1149 Nickel Wound, Regular (.011–.049)

"Me and My Girl" is a great road trip song, with a great solo.
Yeah, that whole acoustic guitar part was where it came from. I just dropped the E string down a step, and then I started that little riff, and that's where
the song came from. I think the solo was a Les Paul through a couple of little Champs, and I'm playing with just the meat of my fingers, like Mark Knopfler does. I've loved the way he's played forever. It's so different versus a pick, and that's a sound I hadn't tried before. That might be my favorite solo on the record. Very musical, and it was an inspiring one to come up with.
"Make You Feel Real Good" really jumps out. The slapback echo on your voice gives the song this great throwback, rock 'n' roll, Sun Records kind of feel.
I've got a great partner in Justin, and he's the reason all those things sound good. He's doing that more than me—I'm just the idiot playing! But that was one of the most fun records I've ever made because of the way Steve and Willie played. Everything on there, it feels so authentic. I feel like I'm channeling Howlin' Wolf or Muddy Waters or some of those greats, and it's funky enough—like I said, if you get that groove behind you, you better get in it, or you're gonna get exposed. So that's as deep a groove as I've ever gotten to play and sing over in a unique way. And it's a pretty nasty song, honestly, but they all better be authentic. My dream is to see that song become a commercial for Cialis or Viagra [laughs], because it's so funky and sleazy, you know?
But that was no-holds-barred on the vocal and guitar. For one of the lead guitar parts, I played a 5-string Telecaster like Keith Richards plays all the time, and capoed it up and played that part in the middle. It's amazing how little parts like that find a way to help direct a record sometimes. Bekka Bramlett sings on that with me, too, and she's one of the most high-octane voices that God ever put on this earth. She makes you better, she makes you funkier, she makes you all those things because of the way she sings. So that was a blast.
The mood you get across in "Sad One Comin' On" almost made me think of George Jones's "Who's Gonna Fill Their Shoes."
Oh, that's cool. He was a great friend, and I've always found a place to go and write songs about people who mean a lot to me. My most well-known song is probably "Go Rest High on that Mountain"—I wrote that for my brother when he passed away, and then "The Key to Life" I wrote for my dad, and I wanted to do something for George. What I admire most about him—his voice and all that was a given, that was such a slam-dunk—but all the mistakes and things that he did that would have sabotaged anybody else's career, but didn't sabotage his, because he was honest about it. He didn't try to hide it or make excuses. He just said, "Yeah, I did that." I admired his honesty so much.
So we honor him with this song, and really it wasn't hard to write. All I had to do was tell his truth—not so much anything about me. From my perspective, it's me observing what I thought was his life. And then his wife Nancy, who comes up in that last verse—her loving him was life-changing for him, and put him in a pretty good place.
YouTube It
Gill plays his tribute to his late friend, "Sad One Comin' On (A Song for George Jones)," alone—fitting for an homage to country music's master of melancholy—on a Gibson J-45. Gill's lyrics and high, heartfelt singing drive the tribute home.
When I listen to guys like George Jones, Johnny Cash, Merle Haggard, and Hank Williams—and I feel this in your music too—I'm connected to the soulful part of it.
You're spot on, because I think that most people can't perceive that a country artist can be a soul singer, too. We always have a tendency to think soul singing is black music, and soul singing is Ray Charles and Otis Redding and Marvin Gaye. There's soul in every kind of music, if you go and look for it. If you listen to Joe Walsh play guitar, he's one of the most soulful rock 'n' roll guitar players you'll ever hear in your life. George Jones was as soulful as Ray Charles—the music was way different, but man alive.
It's the sound that those voices make. That's what makes them soulful. But do yourself a favor and go listen to some really early George Jones from the late '50s. That early stuff as about as good as it ever gets. You hear a lot more fire and a lot more youth in him, and by the time you get to "He Stopped Loving Her Today," he sounds like an old troubador.
How about the title of this album? There must be a story behind Down to My Last Bad Habit.
A friend said it to me at breakfast one morning. I just waltzed over to his table, and he was sitting there with another friend of mine, and we started visiting, and I said, "You doing alright?" And he said, "Well, I'm about down to my last bad habit." And I said, "That's awesome—can I use that in a song?" It sounds very funny, but the way I used it in the song, in a nutshell the guy quit everything she left him for, and he found himself down to his last bad habit, which was her. So a turn of a phrase turned into a pretty cool song. I'm always looking for little things like that.
Did you take the same approach to choosing which acoustic guitars to play on the album as you did with the electric guitars?
Absolutely. Sometimes when I play something on acoustic, it might really dictate where we're going with the song. It might even dictate the feel to some degree. And it's just that combination of guys playing music together. It's like, "So where does this sit back? Is it too fast? Is it too slow?" Everybody makes room for everybody, and that's what I love about watching these people take a song and turn it into something valuable.
I feel the same about which guitar I'm gonna grab. Some people want the biggest and the loudest and the widest, but sometimes you only want to take up a small sonic space, so maybe you play an archtop for rhythm, rather than a big dreadnought. That's what a lot of experience in the studio will help you figure out.
Gill's Tone Notes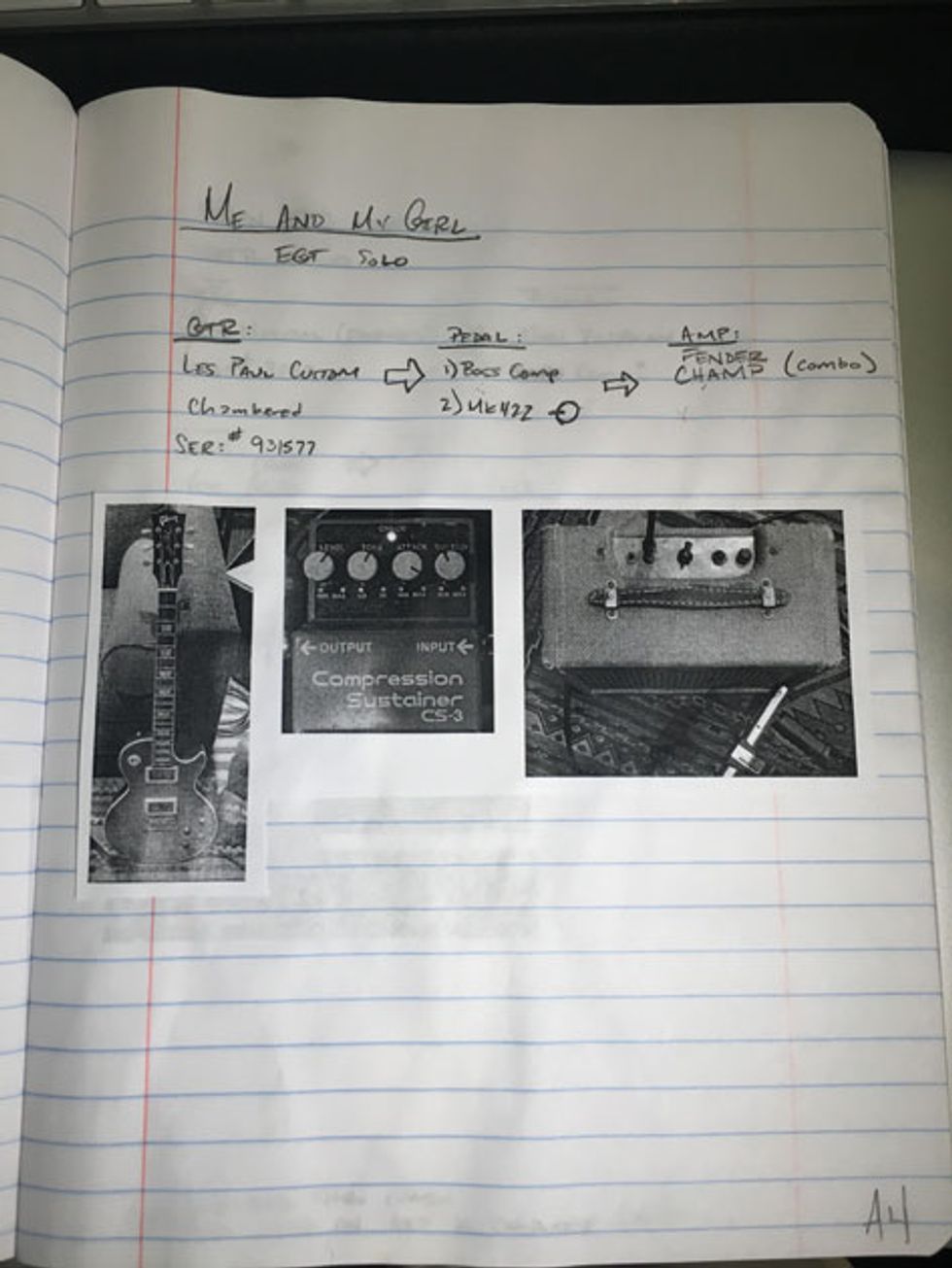 Photo 1
Assistant engineer Matt Rausch kept a song-by-song notebook of the gear Gill used during the sessions at his home studio. Photo 1 shows a chambered Les Paul Custom, Boss CS-3 compressor, and Fender Champ were used for "Me and My Girl."

Photo 2
Photo 2 records a "Beano" Les Paul, Creation Audio MK Boost and Strymon reverb pedals, a Jim Kelly amp, and Little Walter 1x12 cabinet for "Feel Real Good."

Photo 3
Photo 3 reveals that a Gretsch 6130 with a MK Boost pedal, a Swart head, and 4x10 Little Walter cab were used on the title track.