Deceptively simple—this straight-ahead rocker is a many-toned, stereo-enabled scorcher with a subtle side.
Very well made, cleverly simple yet deceptively versatile. It's a superbly playable guitar that translates easily to a wide range of playing styles.
4.5
5
5
3.5
Further stretching the reach and diversity in its Artist Series, Ernie Ball Music Man's latest offering beautifully embodies the subtle power of the player that gives it its name. Dustin Kensrue has shepherded his band Thrice's development from post-hardcore/punk thrashers to more mature and evocative stylists, and forged a flourishing solo career as a singer/songwriter plumbing the emotive depths and possibilities of heavy rock. Appropriately, the new Dustin Kensrue StingRay from Ernie Ball Music Man is subtly beautiful, restrained, powerful, and surprisingly adaptable.
Outwardly, the Dustin Kensrue Artist Series is a classic StingRay. And just about any player or fan of this unheralded Ernie Ball Music Man model could find inspiration in this guitar, regardless of their perspective on or knowledge of Kensrue's style and tone. But it's built around several features that are unique in an already varied StingRay lineup.
Clean: Guitar's mono output into a Twin Reverb preset on the Quad Cortex; 0:00 – bridge pickup , 0:16 – middle position, 0:34 – neck pickup.

Mean: Guitar's mono output into a Boogie MkIIC+ preset on the Quad Cortex; 0:00 – bridg pickup, 0:55 – neck pickup.

Stereo: Guitar's stereo output—recorded all in the same single take—into two different treatment paths in the Quad Cortex: neck pickup into a pitch shifter for faux-12-string; bridge pickup into high-gain amp. The two are gradually blended together.
Down Time
While the StringRay body shape nods at Music Man's strong Fender family heritage, the satin TV blonde finish on our test guitar (a dark satin tobacco burst is also available) is sprayed over a very Gibson-like African mahogany body that lends the StingRay range unexpected heft. But the mahogany also lends a warmth and reactivity that extends the sonic palette.
The neck joins the body using a refined and practical 5-screw attachment and sculpted heel. It's carved from solid maple in the maker's appealingly comfortable "C" profile, with a vintage-tinted satin finish and rosewood fretboard. There are 22 medium-jumbo frets, a 10" fretboard radius, and a 1 5/8" width at the nut, which is compensated for precise intonation. Scale length is 25 1/2".
While those specs look pretty conventional, you'll notice something very different about this guitar when you start playing. String gauges are Kensrue's choice of .011–.058, and the guitar comes tuned to his preferred D standard. The D standard tuning is not mandatory, of course, but everything certainly sounds and feels bigger and more muscular in this configuration. The guitar is easy enough to set up for E standard and lighter strings, too.
Despite its simplicity, it is a canvas across which you can paint just about any tone color.
The Dustin Kensrue StingRay further differentiates itself by way of its pickups. A medium-wound Ernie Ball Music Man single-coil in the neck and a Ernie Ball Music Man humbucker in the bridge are selected via a 3-way toggle switch on the small chrome control plate. It's also home to a concentric volume/tone control, which is a smart, easy, no-look way for a singing guitarist like Kensrue to make those adjustments on the fly. The lower horn is home to a small black mode button, which is easy to miss until you start exploring up close. When the button is up, the standard neck/combined/bridge selections are routed to a mono output. In button-down mode, however, the circuit taps each pickup individually and sends the signals to a stereo output for processing via two amps, or two channels on your modeler of choice. (Kensrue often makes use of a Line 6 Helix.)
Hardware includes Ernie Ball Music Man's impressively stable, 2-post floating vibrato system and locking Schaller tuners. The guitar is also equipped with the 9V-powered silent circuit hum-cancelling system.
Super Thumper
It's little surprise that the Kensrue StingRay is super playable and easy to get comfortable with. Ernie Ball Music Man's reputation on that count is well founded. Nor is it surprising how ferociously and readily this seemingly simple instrument takes to being amped up and played with attitude. But for all that bold, trenchant, lively core tonality and simplicity, the Kensrue is a canvas across which you can paint just about any tone color.
It excels at mellow jangle, warm ballad tones, and crushingly heavy rock. It also loves raunchy garage and swaggering roots and twang moves. If you're worried this guitar will pigeonhole you into some kind of Thrice/Kensrue style compartment, forget it. The mono/stereo capabilities are stupidly easy to use, and I had fun crafting wildly divergent dual-path rigs on a Neural DSP Quad Cortex (simultaneous faux-12-string from the neck pickup and high-gain metal from the bridge, anyone?). Suffice to say, this is a guitar that will do just about whatever you want in brilliantly straightforward fashion.
The Verdict
Deceptively streamlined, the Dustin Kensrue had me skeptical at first. (A stereo guitar that ships in D standard can do that.) But the design is so well executed, and the guitar so appealing, that I ultimately found its musical potential addictive. The build quality and playability are outstanding. It sounds great in the most straight-ahead settings or at the extremes of its stereo-enabled potential. And the clever pickup and switching complement make it ridiculously versatile. With powerful modelers becoming a go-to solution for more and more guitarists, it's also easier to leverage the stereo output and create mammoth tones in the process. Well done Ernie Ball Music Man—and Dustin Kensrue.
The good vibes, retro rocker remembers his "cool" aunt sneaking him some quintessential rock cassettes that led him to the watershed album and forever changing his life's course.
See it in action in the upcoming Rig Rundown (Aug.4, 2021)!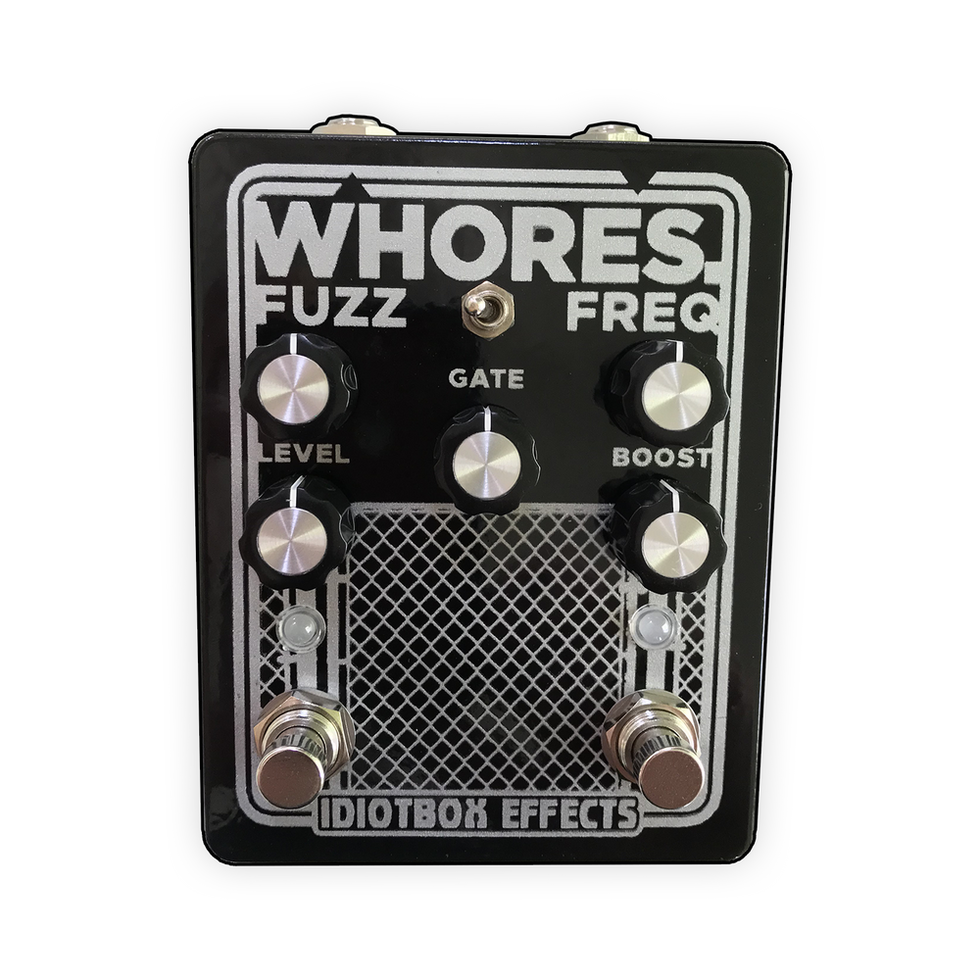 The Fuzz Freq is two effects in one. The Fuzz Freq is a gnarly 80's Russian germanium transistor fuzz and a wah style filter that can be used together or separately.
The rad thing about this is that you can switch which effect runs into the other. Toggle switch to the left and you've got fuzz into filter. Switch to the right and its filter into fuzz.
Separate foot switches for the fuzz and frequency filter, controls for fuzz, filter frequency, volume, gate and clean boost.
Used on the songs "Playing Poor" "Baby Teeth" and "Participation Trophy" from the "GOLD." record.
Specs:
4.7″ x 3.7″ x 1.18″ enclosure, true bypass switching, common 9vdc center negative 2.1mm BOSS style power input. Current draw ?mA. Power supply not included.
Idiot Box Effects
A beautiful homage to the Deluxe Memory Man dishes the delay and the dirt.
The new album features Bruce Springsteen, Eddie Vedder, Chris Stapleton, and more.
Following his critically acclaimed and groundbreaking 2018 album The Atlas Underground, Rock & Roll icon and two-time Grammy winner Tom Morello announced his latest project today, a follow-up album entitled The Atlas Underground Fire, which will be released on October 15th.
Featuring a jaw dropping cast of collaborators including Bruce Springsteen, Eddie Vedder, Chris Stapleton, Mike Posner, Damian Marley and more, Morello's insane guitar playing will be on full display taking the instrument into the future and forging an alternative/rock/EDM masterpiece with all-time legends and cutting edge firebrands.
Tom Morello - Highway To Hell (ft. Bruce Springsteen & Eddie Vedder) [Official Audio]
Morello – co-founder of Rage Against The Machine, Audioslave and Prophets of Rage – will release this forthcoming album The Atlas Underground Fire on October 15 by Mom + Pop Music. The record is available for pre-order now HERE.
"Our version of "Highway To Hell" pays homage to AC/DC but with Bruce Springsteen and Eddie Vedder, brings this legendary song into the future. One of the greatest rock'n'roll songs of all time sung by two of the greatest rock'n'roll singers of all time. And then I drop a shredding guitar solo. Thank you and good night." said Morello.

Tom Morello is widely known as a barrier breaking guitarist who continues to push the limits and prove the transformative power of music. Throughout his remarkable career, Morello has collaborated with everyone from Wu Tang Clan to Johnny Cash. On The Atlas Underground Fire, as he did in 2018's The Atlas Underground, Morello took a path into new sonic territory with the project's breadth of talented collaborators, transforming his sound. With his guitar leading the way, Morello continues to create powerful alloys of different genres.
The album, as testified by Morello, is a clear byproduct of very dark and challenging pandemic days. Recording guitars on his phone, the album was made both creatively and technically from his home studio in Los Angeles, while sharing files with collaborators around the globe. "During lockdown I had no access to an engineer so I had to record all of the guitar parts on the voice memo of my phone," said Morello. "This seemed like an outrageous idea but it lead to a freedom in creativity in that I could not overthink any of the guitar parts and just had to trust my instincts."

And while Morello is known as one of the world's greatest social justice crusaders who has written songs that quickly became manifestos, he said the pandemic allowed him a freedom on this album to follow more of the emotions and anxiety of the times. "This record was a life raft in a difficult time that allowed me to find new ways of creating new global artistic connections that helped transform a time of fear and anxiety into one of musical expression and rocking jams," said Morello. To be sure, Morello isn't done with social justice manifestos, and many of those threads can be found within this album, but unusual times created an altogether unique album.
The Atlas Underground Fire Track Listing
Harlem Hellfighter
Highway to Hell (featuring Bruce Springsteen and Eddie Vedder)
Let's Get The Party Started (featuring Bring Me The Horizon)
Driving to Texas (featuring Phantogram)
The War Inside (featuring Chris Stapleton)
Hold The Line (featuring grandson)
Naraka (featuring Mike Posner)
The Achilles List (featuring Damian Marley)
Night Witch (featuring phem)
Charmed I'm Sure (featuring Protohype)
Save Our Souls (featuring Dennis Lyxzén of Refused)
On The Shore Of Eternity (featuring Sama' Abdulhadi)
Photo by Philip Tuck
John Bohlinger has been the musical director for the CMT Music Awards for 12 years. Before that, he was the bandleader for Nashville Star. Here's how he got—and kept—those gigs.
I just completed my 12th year as musical director/bandleader for the CMT Music Awards. You might be wondering: How does a guy of suboptimal intelligence and talent get and keep such a gig? Here's my odyssey.
I'd been in Nashville for over a decade, struggling to support a wife and child as a mostly working musician. This was in an earlier age of the internet, so you just had to find opportunities anywhere you could—word of mouth was the only social media. I heard through some songwriter friends that Tracy Gershon was working on a new singing-contest show called Nashville Star, a country version of American Idol, which had just wrapped its first season. Tracy ran the publishing company where I was formerly a staff writer, so we knew each other. I called and asked Tracy about the producer, and she pointed me toward Jon Small.
Jon is a successful film producer/director, but in his DNA, he is a badass musician, having grown up playing with Billy Joel in their band, the Hassles, on United Artists and their duo, Attila, on Epic Records. Jon played with everybody in the East Coast scene in the '60s and '70s. To this day, Jon is a great drummer, and that musicality makes his films flow musically. He cuts to the beat, so you feel the groove when you watch his work. Check it and you'll know what I mean.
I borrowed a friend's VCR recorder, plugged it into mine, and made a reel of TV shows I'd played on with different artists. If you were touring with an act on the radio 20 years ago, you'd do several shows a year, so I had enough TV performances on tape to cobble together a pseudo reel.
For my meeting with Jon, I rehearsed a little pitch, which went something like: "Jon, when Nashville puts together TV bands, they hire the best, but it's always old guys, sitting down, reading perfectly but playing without passion. I can put together a band of young, hungry players who will give you a fire performance."
I left Jon with my one copy of my "reel." He called me later and said something like: "Put together your band. Here's a list of 120 songs that our 200 finalists are going to perform live with the house band on this audition tour." I said, "Thank you. I'll have your band ready in 10 days."
I charted the songs, arranged them alphabetically in six binders and called friends to fill the slots (bass/BGs, drums, keys/BGs, utility fiddle/BGs, utility steel). There was no budget for rehearsals, so we met in steel-player Dave Ristrim's basement and learned all the songs well enough to play in any key. A few weeks after the meeting with Jon, we were on a private plane with the show's production crew and judges.
The greatest thing in the world is to gamble on yourself and win. The second greatest is to gamble on yourself and lose.
The audition tour alternated travel day/show. On show days, alone with an acoustic, I'd meet each of the roughly 30 to 60 contestants in a hotel meeting room from about 10 a.m. until we were done. A nervous contestant would come in and tell me what two songs they were performing. I'd work out the key and any production-style request (like the record, rockabilly, old-school country, rock, jazz, etc.) and we'd perform it a few times and I'd make notes. After the last artist, I'd race to the venue, read my notes to my bandmates and we'd work out the ideas on my acoustic as they took their own notes. We'd soundcheck, try a few arrangements, then the house would fill with an audience and contestants, and we'd perform with these strangers in front of the cameras, judges, and live audience. We actually pulled it off.
After the third night, Jon said, "You guys are nailing it. You got the gig."
I led the band for Nashville Star for all six seasons. We broke Miranda Lambert, Kasey Musgraves, and Chris Young, three of the biggest and coolest country stars working today, 15 years later. That's an amazing batting average compared to American Idol, which has had 19 seasons.
Here's how I kept the gigs. I always hire a band of genuinely good people I trust, and I utilize their talent. I rarely tell anybody what to play. If a player puts it in a direction that doesn't work, I'll suggest options and we'll jam until it grooves. Although we chart everything, I never have music stands onstage for a show. We have notes at our feet, but the trick is to learn the songs, then watch and play off each other live. It always looks and sounds more engaging when you're not reading.
Being capable is only a small part of getting gigs. You have to look for opportunities and if you can't find any, make some. You also must be willing to work harder than the other person even though there's a good chance nothing will come from your work.
Family, friends, love: Sure, that's all the sweetest stuff in life. But the greatest thing in the world is to gamble on yourself and win. The second greatest is to gamble on yourself and lose. Either way, at least you're playing.