Collings'' 290 solidbody guitar releases P-90s from their usual fare
Slab-bodied axes with P-90s are supposed to be full of piss and spittle. Players like Mick Ralphs with Mott or Mick Jones' early work with the Clash showcased the Junior and the Special's innate ability to deliver thoroughly enjoyable sonic bitch-slaps at a moment's notice. But in the years since those lightning bolts were first unleashed from gargantuan wicker and veneer-covered speakers, the world has drifted toward a kinder, gentler use of the P-90. Exemplified by players like Doug Pettibone, the P-90 has been released from its previous pigeonholes as blues skronk machine or punk rock truncheon, capably demonstrating its ability to deliver broad ranging, dynamic tones when installed in the right guitar and played by the right player.

The Collings 290, featuring two custom Lollar pickups and a mahogany neck and body, is a rather remarkable example of what is possible within this seemingly simple design formula. Our test guitar was delivered with a beautiful TV Yellow, nitrocellulose lacquer finish, just a shade or two creamier than the current crop of Nocasters, which looked – and smelled – phenomenal. The finish seems to have been applied thinly, with the clear coat's surface showing just the slightest hint of the wood's underlying grain.
The Austin-based guitar company is known for their nearly-legendary build quality, and the 290's noticeably crisp edges and jewel-like fretwork are no exception. There is nothing flashy about this guitar – its see-through blond finish, black pickup covers and pickguard are all unremarkable on their own. But taken as a whole, the 290 retains a distinctive look without the need for binding or abalone. Tasteful is the word here, and subtle touches like ivoroid dot fingerboard inlays and tuner buttons, coupled with a mother of pearl Collings logo on the headstock, offer more than enough flash for a machine this focused on function. The East Indian rosewood fingerboard isn't afraid to show some grain either, adding to the guitar's classy, yet stripped down vibe.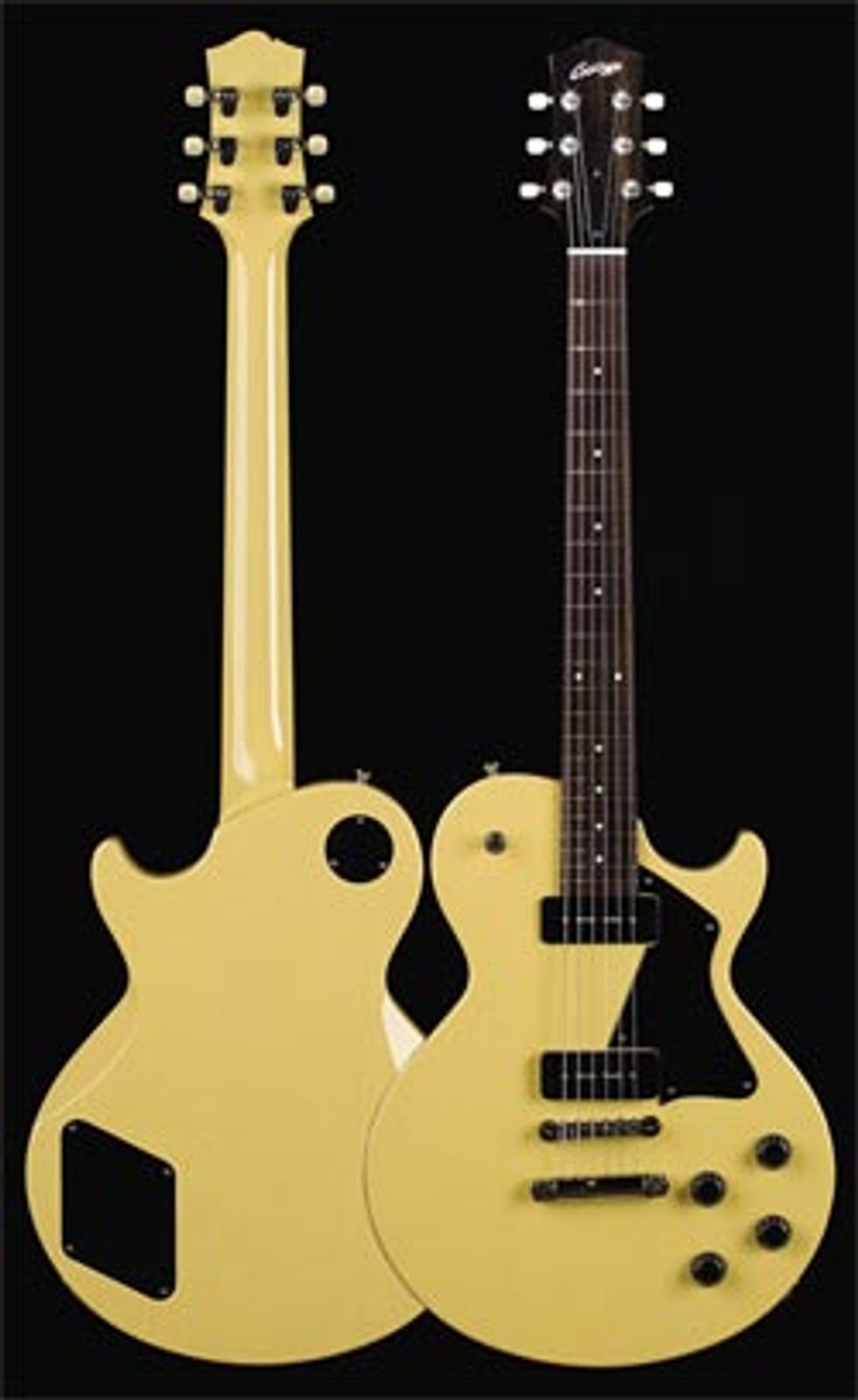 Another aspect of the 290 that sets it apart from similar instruments is its unique, big-bottomed silhouette – the result of 3/4" more width than traditional LP-derived shapes. Other individualistic cues include an upper bout that curves back around to meet the lower cutaway section and comfortable rib/belly and lap contours on the back of the instrument. Our sample was sent with a nice, flat neck with relief measuring .006" at the eighth fret. Somewhat surprisingly, the 290 also sported "generous" action, measuring 4/64" at the 12th fret, which earned the guitar's sole criticism from a member of our staff, who declared it a little tough to play. This was no doubt due in part to Collings' use of .011 gauge strings, although I never caught on, thinking I was rocking .010s the whole time, grooving along quite nicely, thank you. I reckon the medium/high action is so dealers can set up the instruments for their specific clientele.
4/64" must be some sort of magic number, as it was also the distance from the tops of the pole pieces to the bottoms of the strings when depressed at the 22nd fret. What this "tough" setup offered was incredibly clean and detailed tones, more grown-up than we expected from what initially seemed like a stripped-down rock n' roll machine. The 290 brings depth to the table, replacing the expected snarl with an almost bell-like chime that seems to come from behind the note in the listening spectrum, made even more prominent when both pickups are active. This enables the 290 to consistently deliver some of the most beautiful clean tones I have ever experienced from a set-neck solidbody. The mix of Jason Lollar's custom pickups with Bill Collings' guitar is an almost divine pairing – at least as close as you're going to get on this mortal coil. The equally impressive dirt and raunch tones available when kicking in an OD or fuzz seem almost expected from a guitar like this, but the clean and in-between sounds are simply incredible. What's even more delightful is the 290's ability to clean up, no matter how much dirt you have stacked on, by simply rolling the volume knob back to six or so.
The dirty sounds produced by the Collings always retain definition, no matter how many electrons have been excited, although this guitar seems incapable of entering into metal territory, dutifully staying true to its roots-music heritage. The pickups are particularly lively and have that cool, just-on-the-verge-of-feedback thing going on. If you love them, they'll love you back, but quit paying attention for just a second and they will show the audience the holes in your technique faster than you can turn around and blame the drummer.
The neck, like the body shape and contours, capably displays its own personality. With a 1.7" nut width and a depth of .87" at the first fret, the neck feels wide and flat with a steady taper that provides a healthy 1" depth at the 12th fret. A slightly longer-than-average 24 7/8" scale length gives the Collings a little more snap than usual and is a nice compromise for players with both Fender and Gibson backgrounds. I don't know if it's the width, but the 290's neck is deceptively big. I initially thought it was too narrow from front to back for my liking, but I quickly became acclimated to it and was honestly shocked when I measured it, expecting it to be much thinner.
The Final Mojo
The 290 is a truly magical instrument that may be almost too much for recent P-90 converts – this guitar seems better suited to players already familiar with the ins-and-outs of what is achievable with the right mix of mahogany and P-90 pickups. But for those players, I can't think of too many other choices that can deliver this depth and variety of tone, as well as quality, for this price.
Buy if...
you''ve outgrown your current P-90 solidbody.
Skip if...
high gain is your thing.
Rating...

Our expert has stated his case, now we want to hear yours. Share your comments and ratings below.