The ZZ Top legend on what makes his "Pearly Gates" Les Paul so special, why he recently had his hands x-rayed, and the "slithering" slide guitarist whose work still inspires him.
Jumbo sounds resound in a flattop that's a straight-up steal.
Excellent value. Great quality for the price. Super playable. Unique tone profile.
Midrange can sound brash.
4
4.5
4.5
5
Everyone should try playing a jumbo-bodied acoustic at some point. Though unless you live somewhere with a well-stocked guitar shop, it's not always the easiest thing to do. Compared to dreadnoughts and orchestra-sized models, jumbos make up just a small fraction of the acoustic market. But playing a good one is an extraordinary experience. They are viscerally vibrating things—loud, powerful, and pianistic for all their sustain and panoramic tone spectrum.
While they didn't build the first jumbos, Guild is a giant in this narrow field. The company launched their F-50 in the mid 1950s, and the basic body style has been a fixture ever since, becoming a platform for rosewood- and maple-backed incarnations as well as a number of 12-string versions, which are an absolutely essential acoustic guitar playing experience.
The F-240E is Guild's newest addition to their jumbo family. And as a member of the company's affordable Newark St. line, it's Guild's most affordable jumbo. At $399 and with Fishman-designed electronics, it is as fine an acoustic bargain as you'll find. But the F-240E provides much more than the generic entry-level acoustic experience you often encounter in that price class. It offers a truly different sound picture and tone profile that, depending on your comfort with the big body, can unlock inspiration and dormant approaches to acoustic playing. It also upsets the notion about jumbos being exclusively strummers. The F-240E is a beautifully responsive fingerstyle instrument, as well.
Arched and Feathery Light
Many Guilds—particularly from the '60s and '70s—are pretty heavy guitars (remarkably, at no detriment to their tone, which can be massive). The F-240E suffers no such afflictions. It's light for its size and very well balanced. And while players of small stature will probably find the body to be an armful, the satin finish makes it a pleasure to hold.
While a lot of old Guild jumbos were top-of-the-line instruments and dressed-up accordingly with acres of inlay, the F-240E is comparatively austere and flattered by the minimalist design. Like any jumbo, the F-240E is a beautifully curvaceous instrument, and those lines are, in fact, accentuated by a lack of adornment.
Construction quality is excellent for a guitar in this price range. There are a few details that could use a bit more attention: some fret ends, for instance, felt like they could have used another quick pass from the file. But for the most part, this Guild exhibits the kind of build quality that you see in instruments much further up the affordable- to mid-price food chain. One notable deviation from flattop convention that is typical of many Guilds is the laminated arched back. Many luthiers swear by the structural integrity of this approach, but it's not hard to imagine that has more than a little to do with the F-240E's lively personality.
The F-240E is comparatively austere and flattered by the minimalist design.
A Baby Baby Grand?
It would be an exaggeration to equate the F-240E's output or tone complexity with that of a grand piano. Nevertheless, the Guild's big body does impart many piano-like dynamics and sonorities that can shape and inform your playing style. The guitar's 6th-string notes, for instance, could certainly be more rich or characterful, but the big body and expansive spruce top lend them a lovely sustaining quality that is a beautiful counterpoint to the clear, bell-like top-end. It makes a very pretty combination of sounds in spacious fingerstyle arrangements.
If there's a downside to the F-240E's tone profile, it's a very present midrange that can sound strident against the more gently resonant high and low strings. This affect is exaggerated in aggressive strumming situations—a playing style that many aspiring Pete Townshends associate with jumbo bodies. Some players may end up perplexed by this essential paradox in the F-240E: a born strummer that arguably sounds finest with a light touch. But these are highly subjective assessments, and if you fear midrange less than me, you may find the Guild's big strumming voice exciting. Certainly, it can sound massive in recording situations. And with a little compression and EQ, you can create a mighty wall of chugging rhythm with the F-240E.
The Verdict
There's a slightly giddy thrill that goes along with playing an inexpensive instrument that sounds great. And while there are certainly affordable flattops that sound as "good" as the F-240E by one measure or another, few have a character quite this distinct. As with any affordable guitar, there are limitations. I'd love to hear more bloom and complexity in the low end and less dryness in the midrange. But the sensation of feeling bass notes resonate against your ribs, and the expansive piano-like contrasts of the high notes and droning bass notes, could guide you to entirely new approaches to songcraft. And if $399 is all you have to pay to add a few extra tunes to your catalog and some extra musical verbiage to your vocabulary, how can you go wrong?
The Snarky Puppy guitarist and session ace talks about playing in the pocket, approaching new music, crafting the perfect take, and his new PRS signature guitar.
Mark Lettieri on Playing Rhythm and Lead | Wong Notes Podcast
The charismatic Canuck demonstrates how to be a one-person power trio with drumstick-equipped vintage Gibsons and a pedalboard that's been sidelined by a kick drum and crash cymbal.
French-Canadian Steve Hill has been a professional musician since the age of 17. Sometimes as a sideman, sometimes as a frontman, but always onstage with a guitar in his hands and a smile on his face. About 10 years ago, Steve Hill released an album, and it was DOA—it bombed and nothing happened with it (his words, not ours).
"I don't know how to do anything else besides music, so I had to make a living and I own a studio so figured I'll do some solo shows and I'll record a solo album to sell at those shows," says Hill.
That album was called Solo Recordings, Vol. 1 and it's his best-selling record to date. It completely changed his career and it really helped him find his artistic voice. Vol. 1 started out very simple—he sang, played guitar, and stomped his feet. About halfway through that record, he added a kick drum. Then he bought a hi-hat that was used on a few of the last songs recorded for Vol. 1. And for every acoustic song he's recorded, he's used a can of coins tapped to his feet as added percussion.
The success of the Vol. 1 led him to record subsequent albums Vol. 2 and Vol. 3. Each of those records incorporated more and more instrumentation falling on the hands, feet, and shoulders of Hill to pull off both onstage and in the studio. But this wasn't his artistic vision.
"It's all accidents—I never planned for this. I never wanted to be a one-man band [laughs]," says Hill. "125+ shows a year provides a great learning environment. Plus, when I'm not performing, I'm in the studio fine-tuning my approach and working out new material. Everything I recorded for those first three albums was performed live with no overdubs. I wouldn't allow it [laughs]!"
And what's the typical reaction he sees onstage: "Some people are mesmerized, and some people are horrified."
In this episode, the multi-tasking Steve Hill virtually invites PG's Chris Kies into his Canada-based recording studio. The Juno-Award-winning guitarist [Blues Album of the Year (2015)] details why he slides vintage Teisco gold-foils on his holy grail Gibsons and Fenders, explains the evolution of his setup that now covers bass and drums, and proves that one man can get the job done of three.
[Brought to you by D'Addario XL Strings: http://ddar.io/XL.RR]
All Steve Hill's video, audio, and photos captured and edited by Stephan Ritch.

1959 Gibson Les Paul Junior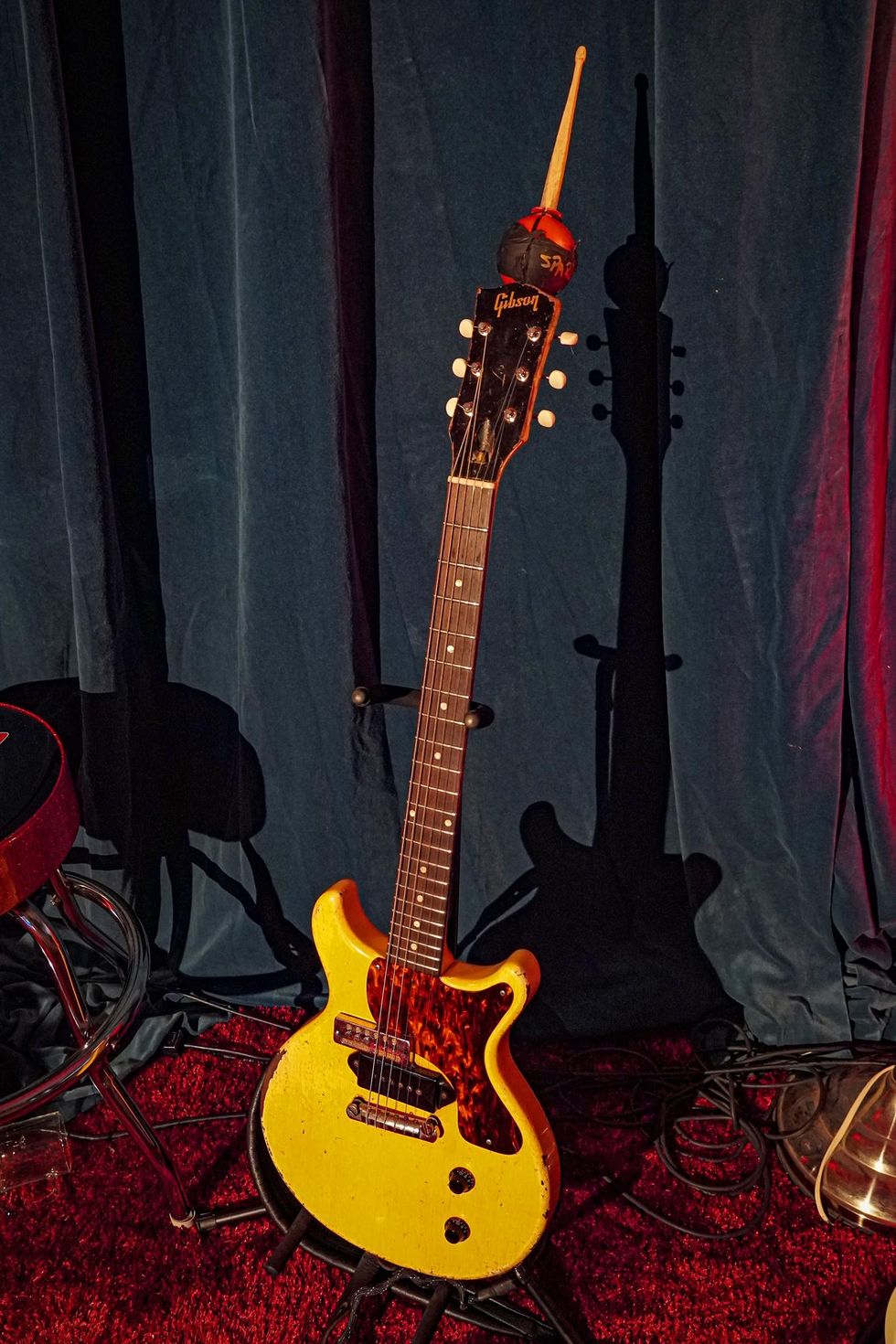 No, your eyes aren't deceiving you, that is a true 1959 Gibson Les Paul Junior that was been jerry-rigged with a Teisco gold-foil pickup. Before you start trolling, realize that the guitar has not been damaged or modded in any irreversible manner. When building his solo sound barrage, he specifically sought out the old gold-foils because they slid under the strings without any routing or surgery. And notice how the gold-foil only sits under the Junior's top three strings. (The only thing he had to do was add a stereo output to the Junior so the Teisco pickup hits a bass amp — a 1966 Ampeg B-15 paired with an EHX POG— while the stock P-90 goes through varied combinations of old Fenders.)
Yes, the neck has been broken (five times), but believe it or not, only one occurred while drumming. ("The final punch of a show in Scotland.")
For his Juniors, Hill typically rides with D'Addario NYXLs (.011–.056) and he hasn't used a pick in nearly 30 years. His tunings include D standard, a tweaked open G (D–G–D–G–B–C), and several of the usual-suspect open tunings. And all his gold-foil guitars take a Vovox stereo cable.
Close-Up of Hill's '59 Junior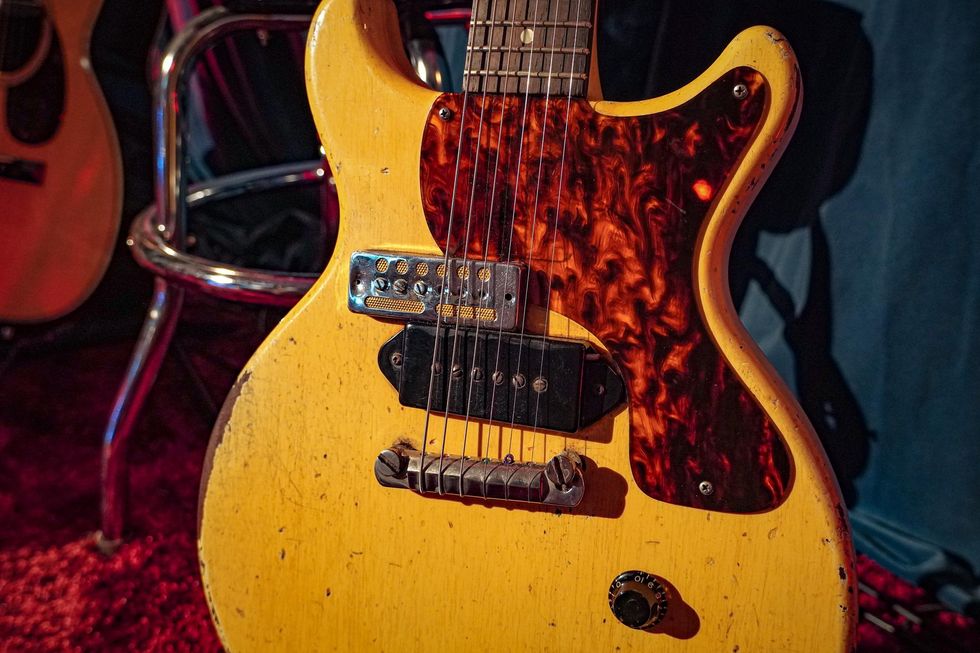 Here's a close-up of the 1959 Gibson Les Paul Junior with its stock P-90 and retrofitted Teisco gold-foil.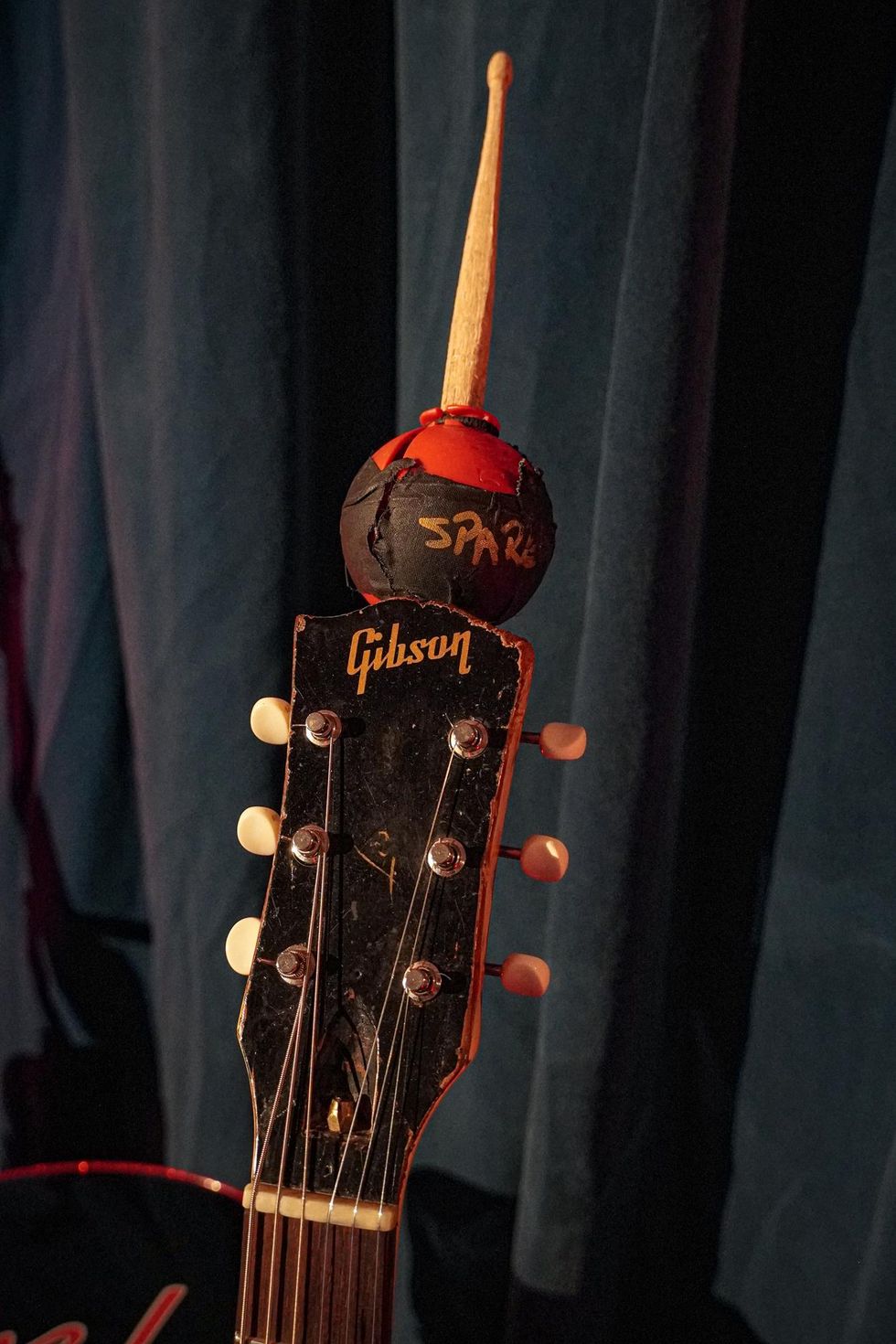 Here's the '59's headstock with a maraca and drumstick.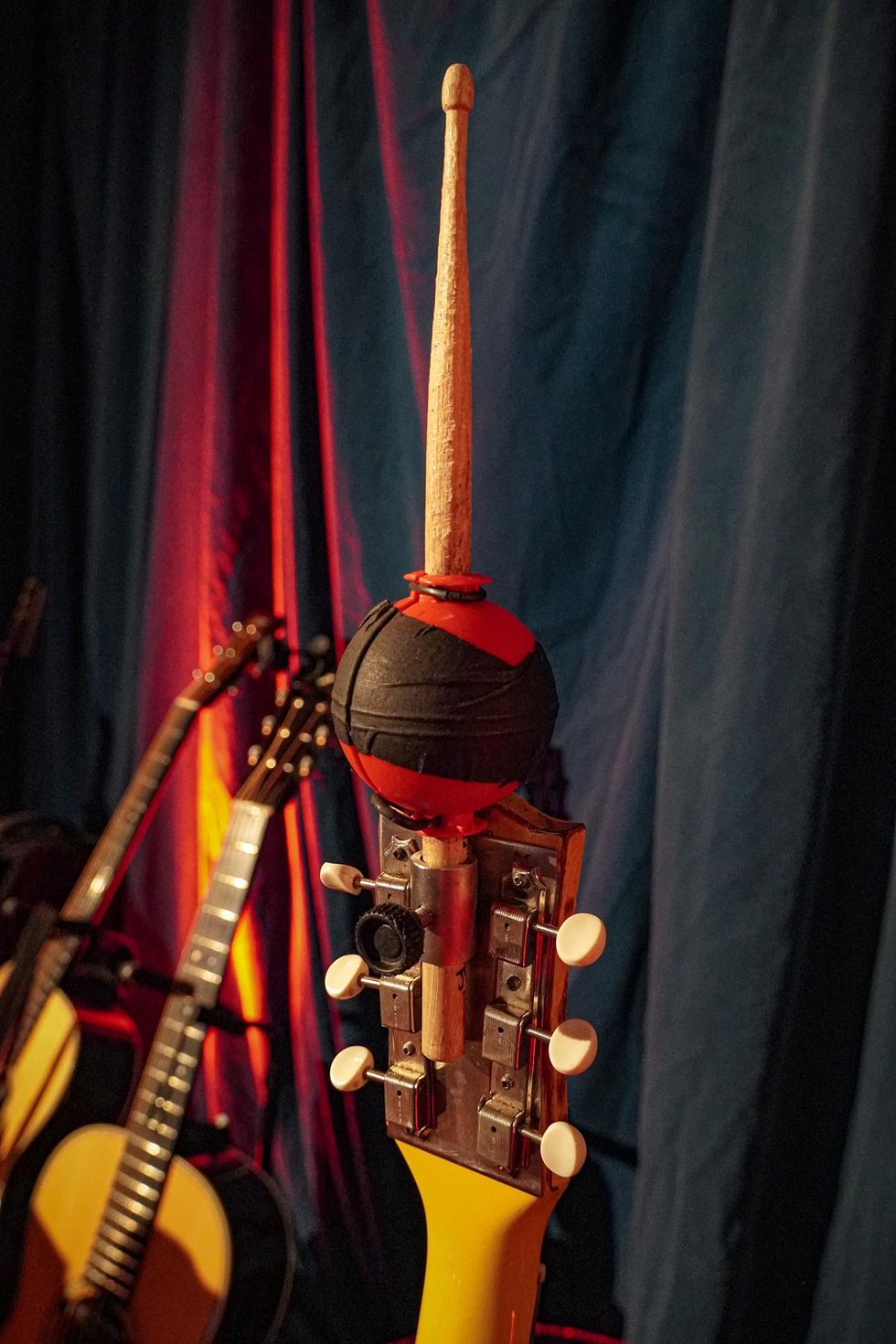 This is how they fasten to the headstock. Again, no major surgery, Hill just removed the tuners and put the metal plate on the headstock before putting back on its tuning pegs.
1956 Gibson ES-225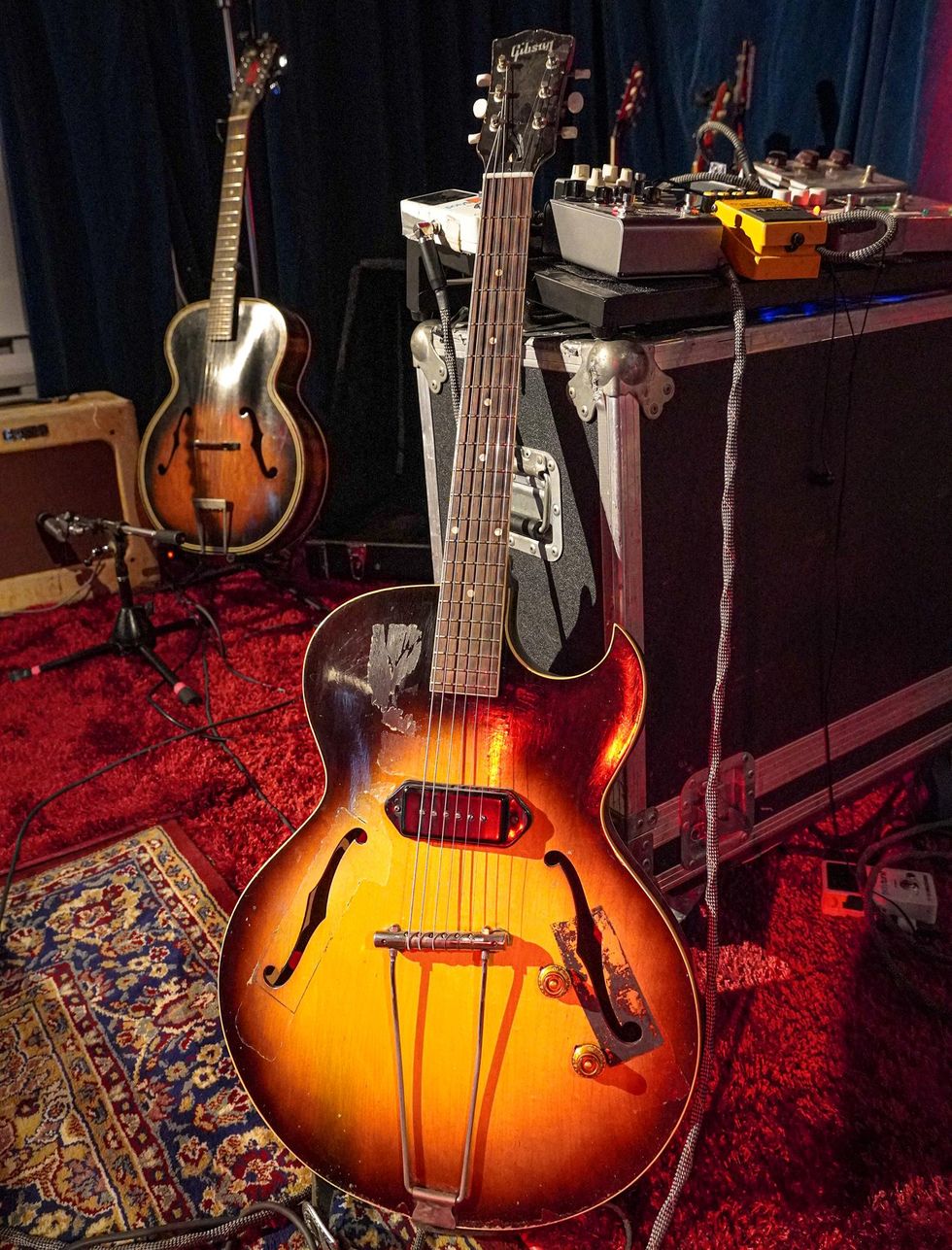 This 1956 Gibson ES-225 is where all this craziness started. He primarily used this guitar to record Vol. 1 and the first to feature the P-90-and-gold-foil recipe. (If you look towards the upper bout, you can see residue from gaffer tape that held the Teisco to its top.)
1962 Fender Jazzmaster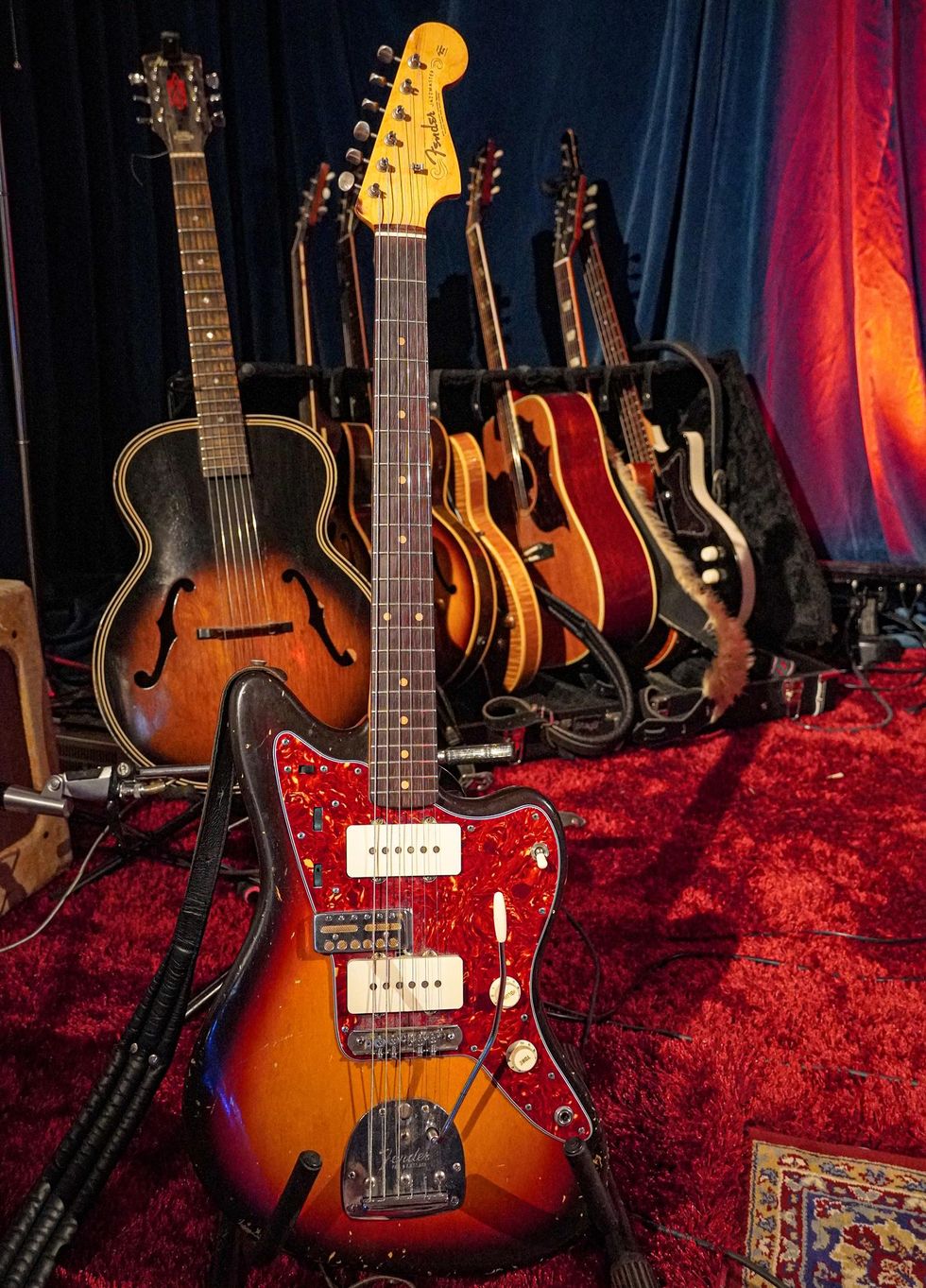 "Over the past year, this guitar has become my favorite," gushes Steve Hill when introducing his 1962 Fender Jazzmaster. "After putting a Mastery bridge on it, I don't think I've played a better guitar than this."
Obviously, we see the gold-foil, but to fit the additional pickup he had to make a custom pickguard. (Rest assured, purists, he still has the original in the guitar's case.)
Collings 002H T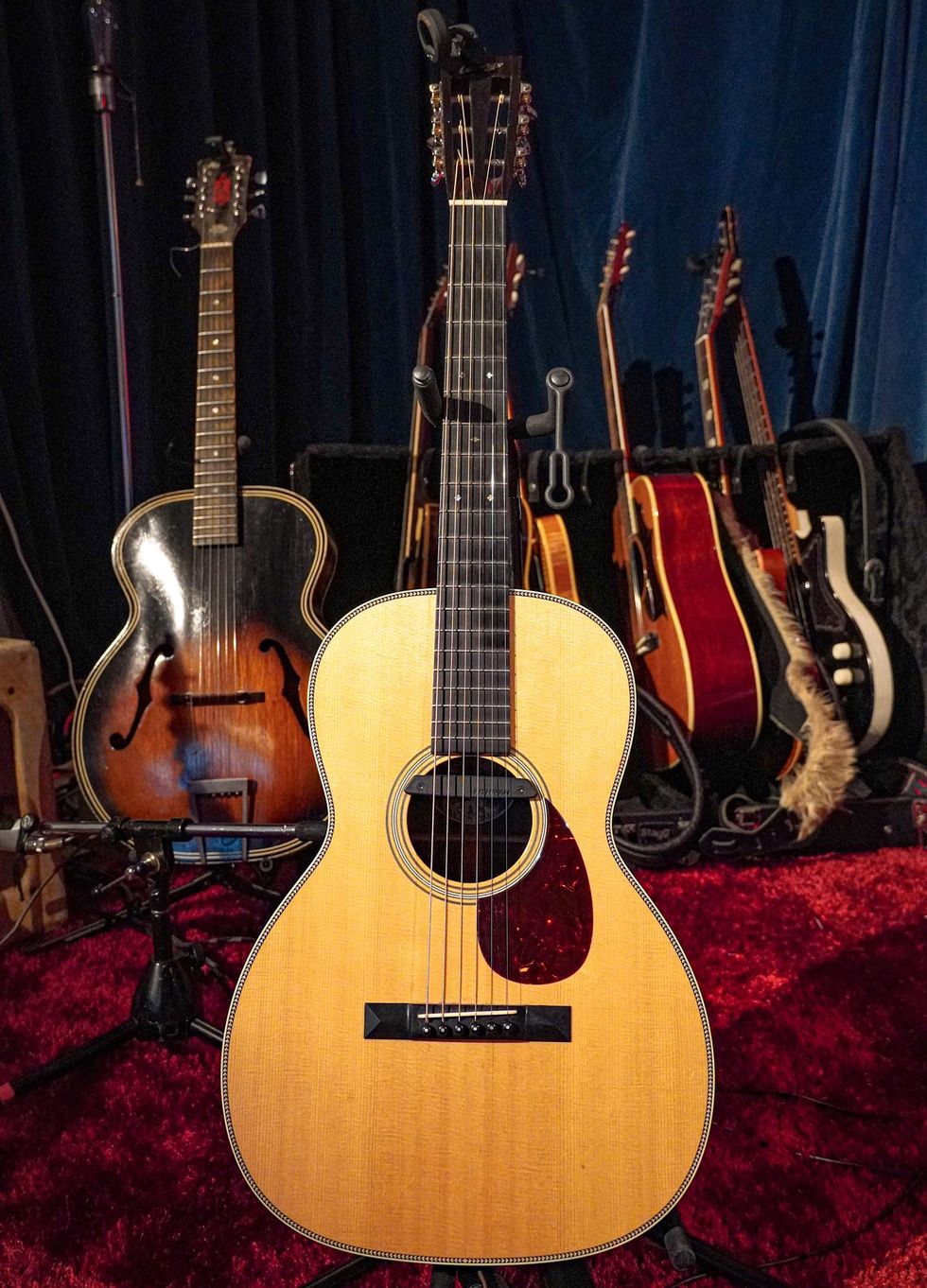 "I've had many acoustic guitars, but this is perfection," says Hill when referring to his Collings 002H T. "I've been playing more acoustic guitar and it's absolutely because of this 00 parlor." Since getting it, he's added the Fishman Rare Earth soundhole pickup.
1964 Gibson SG Junior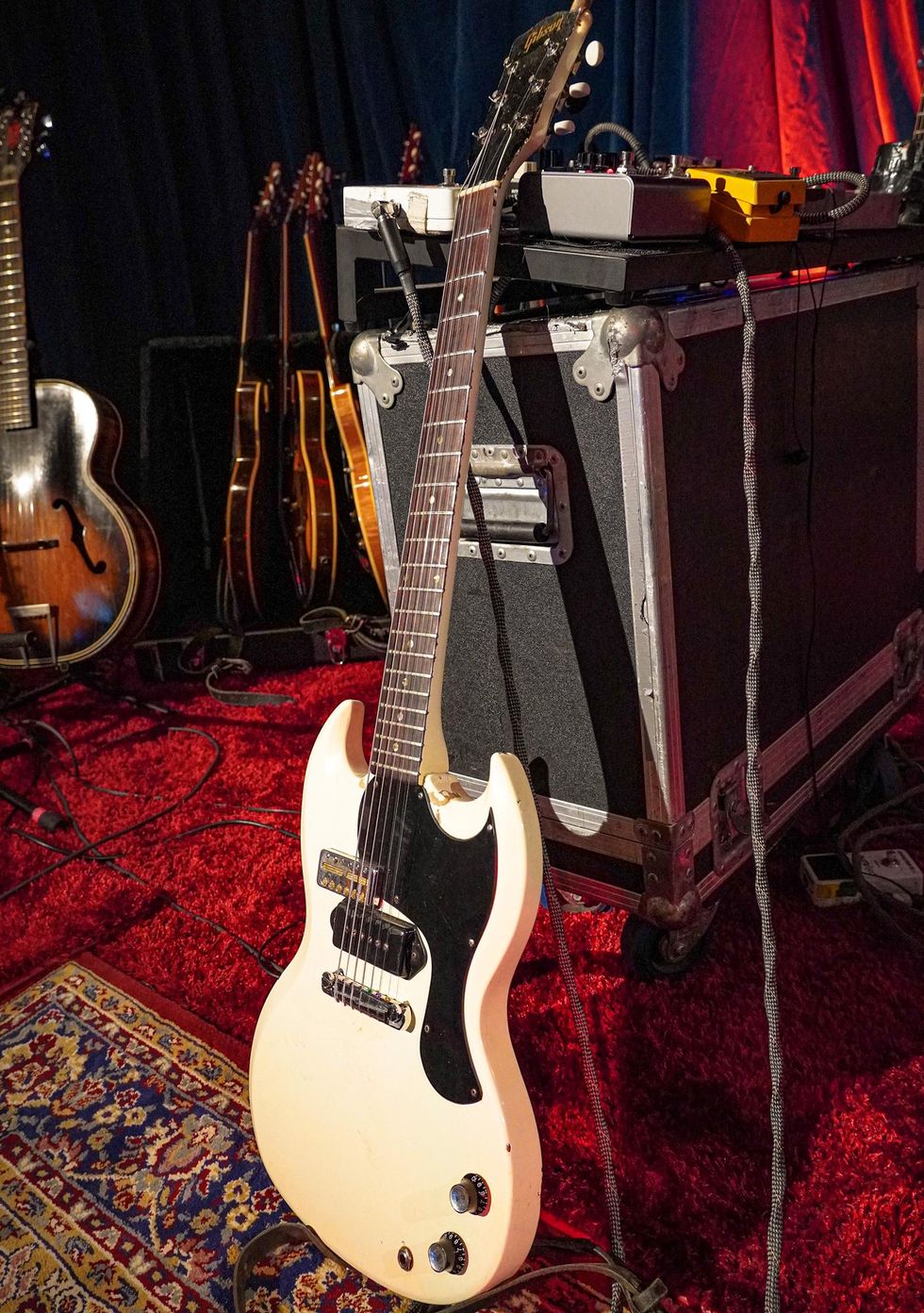 If it's slide time for Steve, he's grabbing this 1964 Gibson SG Junior. Another consideration beyond tone for Hill is the instrument's weight. If it's too heavy, it throws off his headstock-drumming technique. This one is light and rips, so it's a keeper.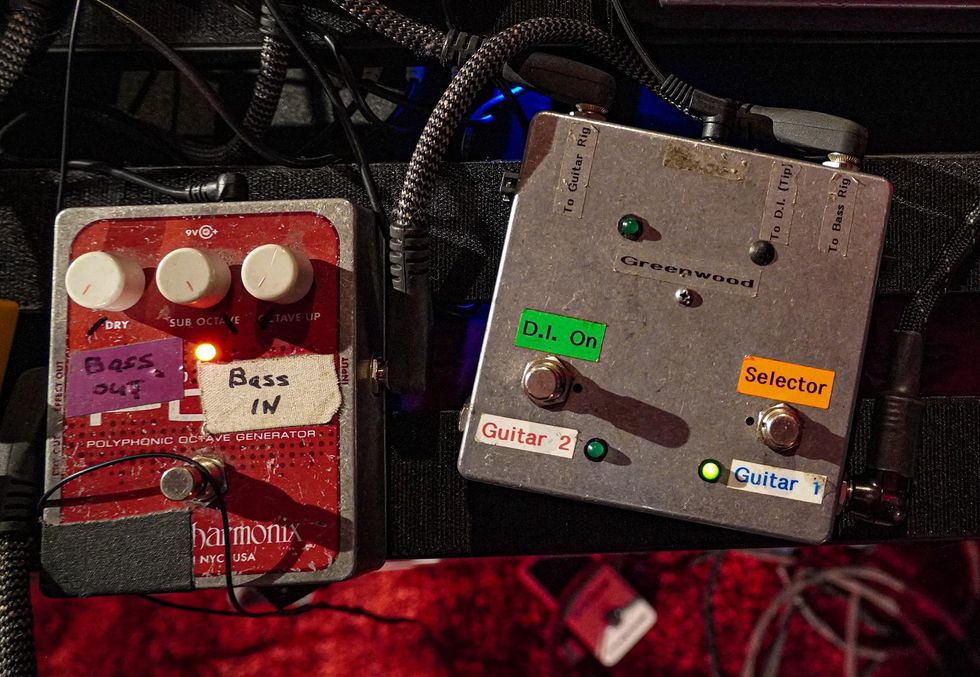 Here is the aforementioned EHX POG that bolsters the bass signal before hitting the 1966 Ampeg B-15. The nondescript box on the right splits the signal coming out of the guitar so he can hit multiple bass and guitar amps.
Steve Hill's Pedalboard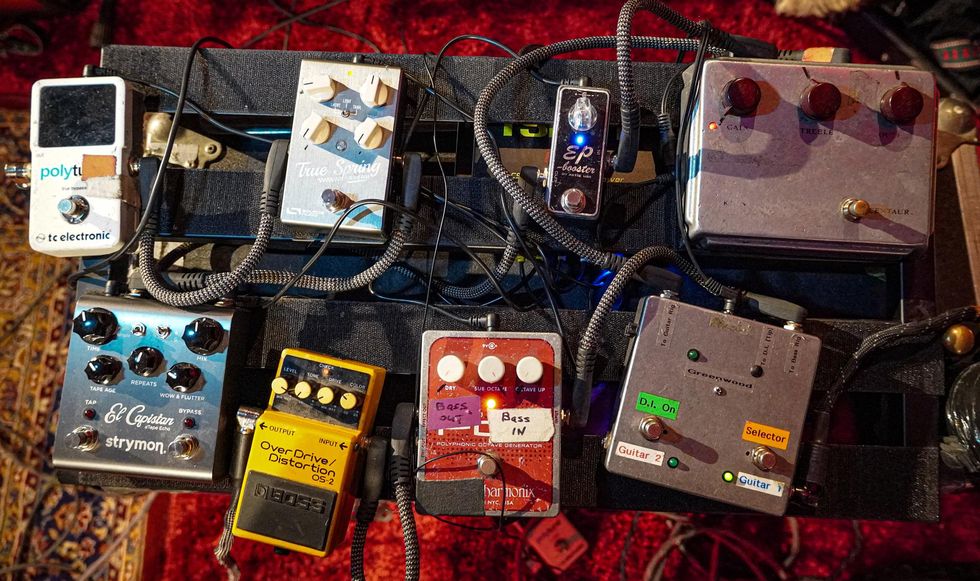 The guitar signal is met with an always-on, three-stage boost blast—Xotic EP Booster, Klon Centaur, and Boss OS-2 OverDrive/Distortion. Hill rides the dynamics with the guitar's volume knob. The EP and Klon are set to neutral settings with only the Klon having the treble and output knobs at noon (while the is gain dialed out). For road work, he opts for a Strymon El Capistan and Source Audio True Spring for delays and reverb. A TC Electronic PolyTune keeps his guitars in check.
Steve Hill's Studio Effects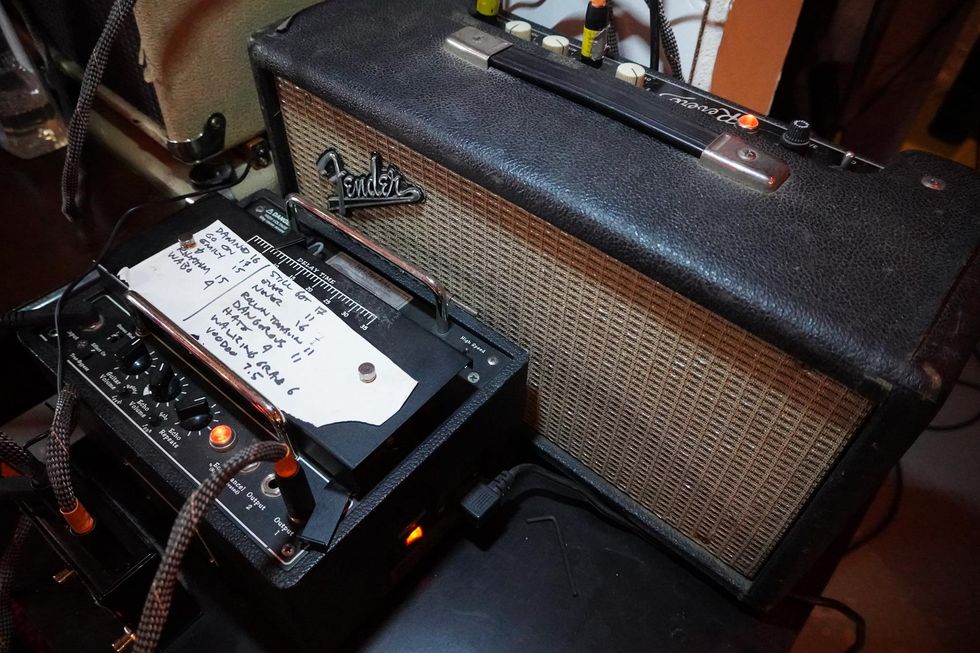 For studio work, Hill trusts his tone to a Fulltone Custom Shop Tube Tape Echo CS-TTE and 1964 Fender Reverb Unit.
1966 Ampeg B-15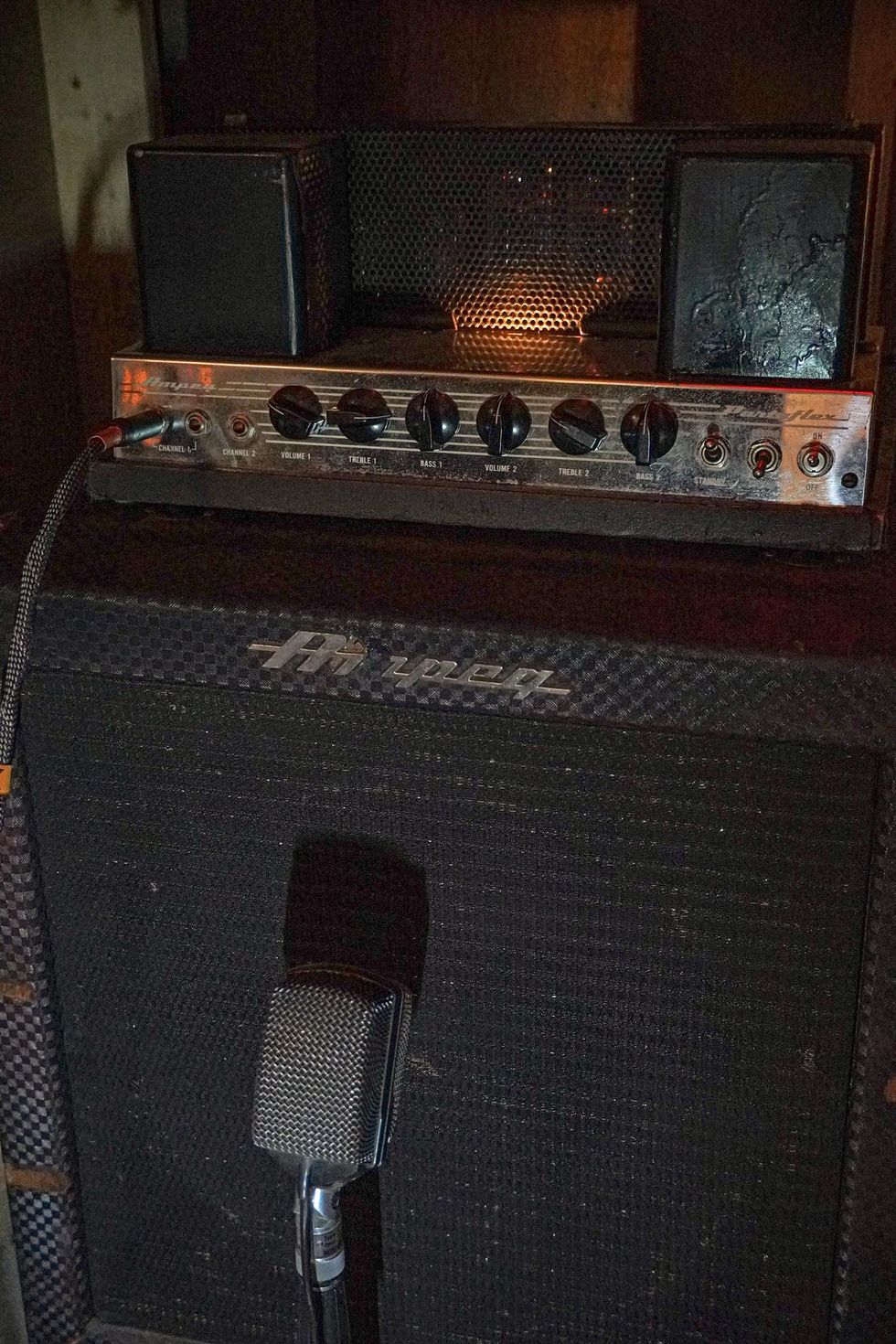 Here is a 1966 Ampeg B-15 used for Steve's "bass" signal.
Hill's Vintage Fender Combos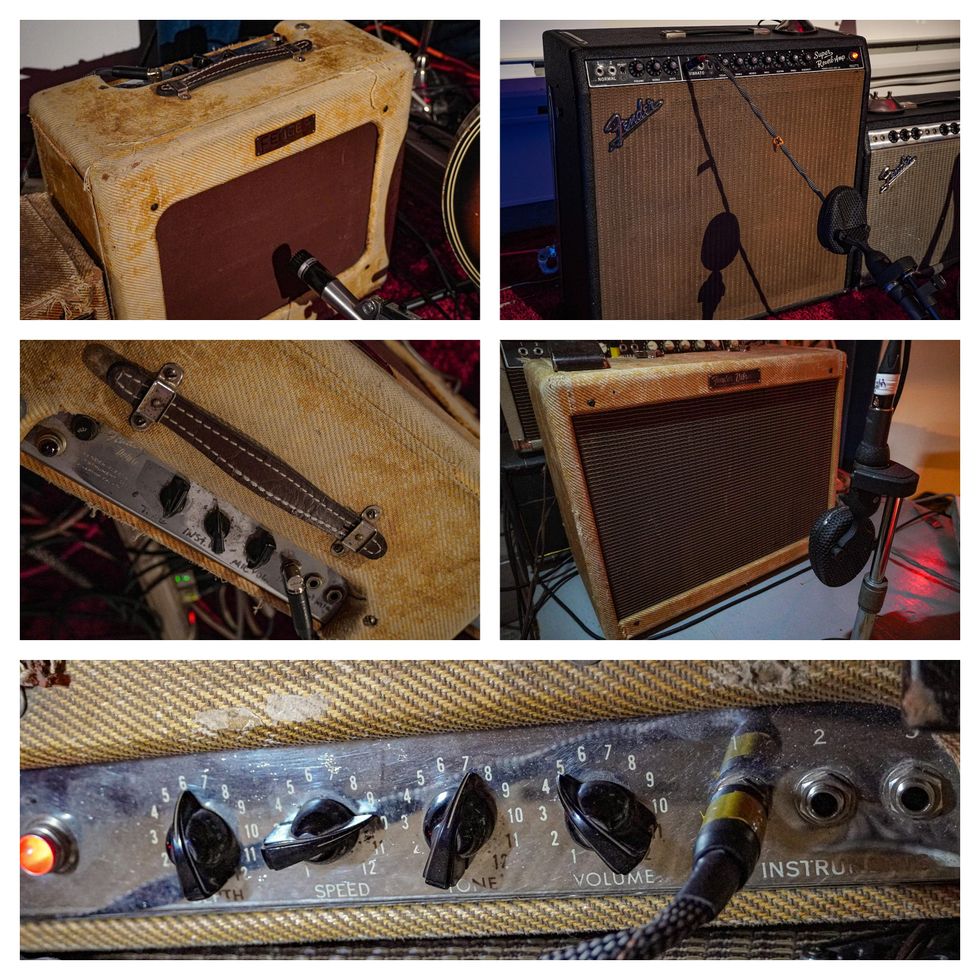 A lot of Steve's tone comes from his jaw-dropping amp collection. For the shoot, we were introduced to a 1950 Fender Deluxe (left photos), a 1964 Fender Super Reverb for acoustics (top right), and a 1956 Fender Vibrolux (bottom right and lowest photo).
The 4-knob drive includes transparent and character drive voices (changing the order of drive & EQ circuits) that cover boost, drive, and fuzz tones.
Overdrive versatility with its own voice Hamstead Soundworks are proud to introduce Comet: a meticulously voiced overdrive pedal that opens up a whole world of tones from a simple control set.
Representing our pursuit to take analogue drive circuitry to new heights, it can be moulded from boutique sounding overdrive with a vocal midrange, right through to a rich and creamy fuzz. Both transparent and character drive tones are accessed via a deceptively simple, but incredibly powerful switch. Furthermore, your tone can be shaped via an intuitive two-band EQ, for additional tone sculpting.
Comet Features:
Incredibly versatile tone shaping from a simple control set

From tone-enhancing 'always on' preamp gain, to boutique overdrive and all the way to rich, creamy fuzz
Transparent and Character drive voices
Multifunction EQ/Drive switch:

Changes the order of the Drive & EQ circuits
Switches between two distinct clipping circuits
Adjusts the gain structure for a wide range of drive sounds

Active EQ with +/-15dB of clean Treble & Bass boost & cut Up to 30dB of Level boost
High Gain mode (via an internal switch)
Global Hi Cut adjustment (via an internal pot)
Silent optical switching and TheGigRig's OptoKick footswitch, for excellent reliability
Drive, EQ & Gain Structure
The EQ/Drive switch sits right at the heart of Comet, providing two distinct tonal paths. While on the surface it may appear to be just a simple physical switch, it's much more than that. By selecting DRV>EQ or EQ>DRV, you not only change the order of the Drive and EQ circuits, but also the type of clipping and gain structure circuitry. The design uses complex analogue engineering on the inside, to be simple and instinctive to use on the outside.
DRV>EQ mode gives you a very dynamic and transparent clipping circuit and places the EQ after the Drive Circuit, for studio style EQ sculpting.
EQ>DRV mode moves the EQ in front of a more raw, yet organic clipping style that boosts the input gain into the drive circuit. Doing this provides a wide range of character drive tones that can be pushed all the way to into super saturated fuzz tones.
Global Gain & Tone Control
From pre-amp boost and right through to fuzz, Comet has a very wide range of gain available onboard. However, to push the circuit even harder into high gain territory, we've also added an extra gear. Selectable via an internal switch, Hi Gain Mode can open up heavy crunch and distortion or even highly saturated fuzz tones.
While Comet is voiced to work excellently with any guitar or bass set-ups straight out of the box, we wanted to add a little extra flexibility for those players who really want to fine tune their sound. With the internal Hi-Cut pot, you can tailor the high frequencies to suit any rig or tonal preference.
Comet Specification:
All-analogue design

Dimensions: 70 w x 130 d x 65 h mm
Weight: 525 g / 1.16 lbs
Power Requirement: 9-12 V DC ONLY, 65 mA (Centre Negative) Input Impedance: 500 kΩ
Output Impedance: < 300 Ω
Warranty: 5 Year Limited Warranty
Comet has been extensively tested with a large range of familiar guitars and amplifiers to ensure that it will work superbly with any setup.
An all-analogue circuit designed by Peter Hamstead. Built at the Hamstead labs in Cambridgeshire, Great Britain.
Hamstead Soundworks COMET: Interstellar Driver
Hamstead Soundworks Comet Interstellar Driver : RRP £199 // €235 // $259
hamsteadsoundworks.com
Built with KT77s, this living-room-worthy, stage-ready combo rocks out in 40W/20W modes and comes stock with a 12" Celestion alnico Cream speaker.
Based in the Flemish region of Belgium, Da Capo manufactures totally hand-built, valve-driven guitar combination amplifiers of the highest quality.
With switchable 20watt Studio and 40watt Stage outputs, the Da Capo GT Deluxe Series 1x12 class a/b amplifier, features circuitry designed in-house by respected engineer Guy Tiels, delivering sweet, hot-valve musical cleans, with an abundance of harmonic induced sustain when pushed to its natural overdriven voice.
"The Da Capo GT Deluxe Series brings a fresh new approach to tube amp design," says Da Capo owner and founder Nicolas Acou. "There's a noticeable increase in clarity and separation within chords and lead lines, what you hear from the speaker is an open and direct, unimpaired translation of the guitar, with exceptional focus and definition.
A Fresh New Sound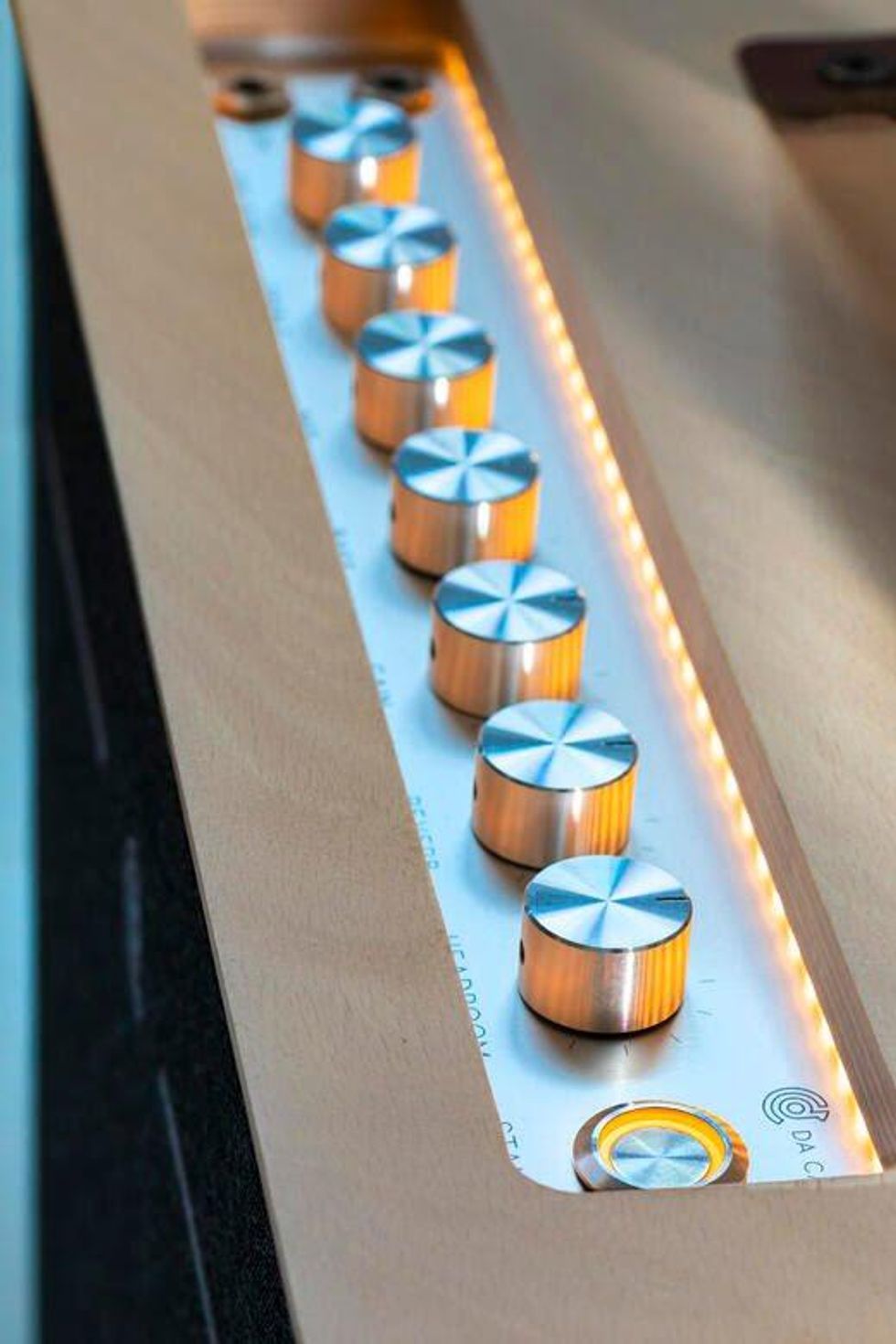 Controls:
Pré Gain
Treble
Mid
Bass
Gain
Reverb
Headroom
Studio / Live switch
Dimensions:
W540xH430x245
15kg
20w/40w
240v / 110V

Ins and outs:
High / Low input
Power inlet
8ohm extension
Effects loop
Mic out
Hardware:
1X Ecc 83 Tung-Sol- 2x ECC83 JJ's
2X KT77 JJ's- Custom wired toroidal power traffo
Van der Veen toroidal output trafo
12" Celestion alnico Cream speaker
Beech cabinet
Leather handle
Top Design
We also worked with renowned contemporary designer Joeri Claeys, whose emphasis is on form and vision, for a striking cabinet design, featuring well-balanced, fluid curves, creating a minimalist contemporary guitar combo that suits every interior.
Modern Ergonomics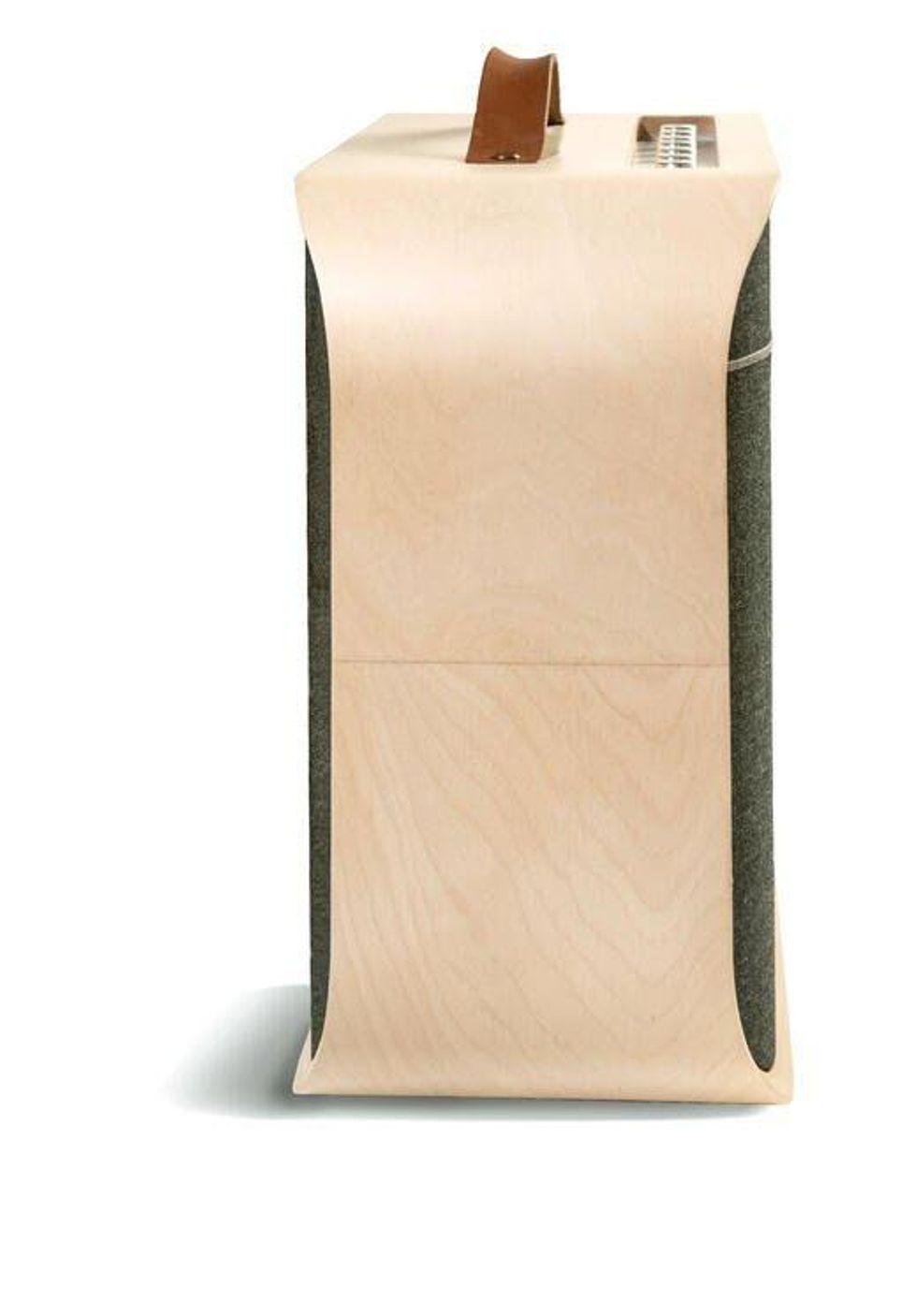 No more heavy lifting with oversized and heavy amplifiers. The GT deluxe is easy to carry and will fit in any car. It is designed to make traveling and setting up a breeze.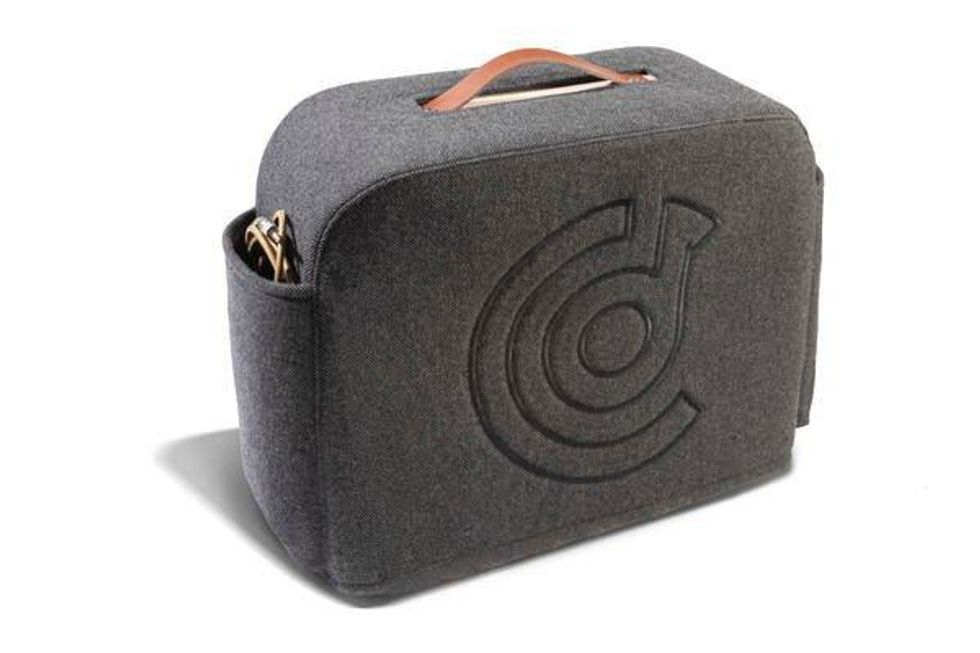 GT Deluxe amplifier
€ 3.630,00 incl.tax

Optional Integral mic'ing system
€ 150,00 incl.tax

Extension Cabinet
€ 965,00 incl. tax

Padded cover
€ 230,00 incl. tax
Da Capo GT Deluxe Demo