The Mustang LT40S is the newest addition to the popular Mustang LT series and features 40 watts of stereo power, a pair of high-fidelity, and full-range 4-inch speakers.
The Mustang LT40S features a collection of presets covering a wide range of music—a "greatest hits'' of electric guitar tones. The versatile signal chain with high-quality onboard amp and effects models produces amazing tones. With the free Fender Tone®LT desktop app download, use your Mac or PC to edit, store and manage your presets with ease. The Mustang LT40S is a fun, flexible, and easy-to-use modeling amp for any guitarist. It's the only desktop amp in its class with such a rich feature set

Features
1/8 in (3.5mm) Stereo Auxiliary Input
Two 4" Full Range Fender Special Design Speaker
Black Textured Vinyl Covering
Molded Plastic Strap with Black Powder Coated Caps
Exploring the Fender Mustang LT40S | Fender Amplifiers | Fender
Priced at $229.99. For more information, please visit fender.com.
Watch John Bohlinger test out this diverse unit that houses spring reverb, chorus, and vibrato.

This page contains affiliate links that help to support Premier Guitar financially.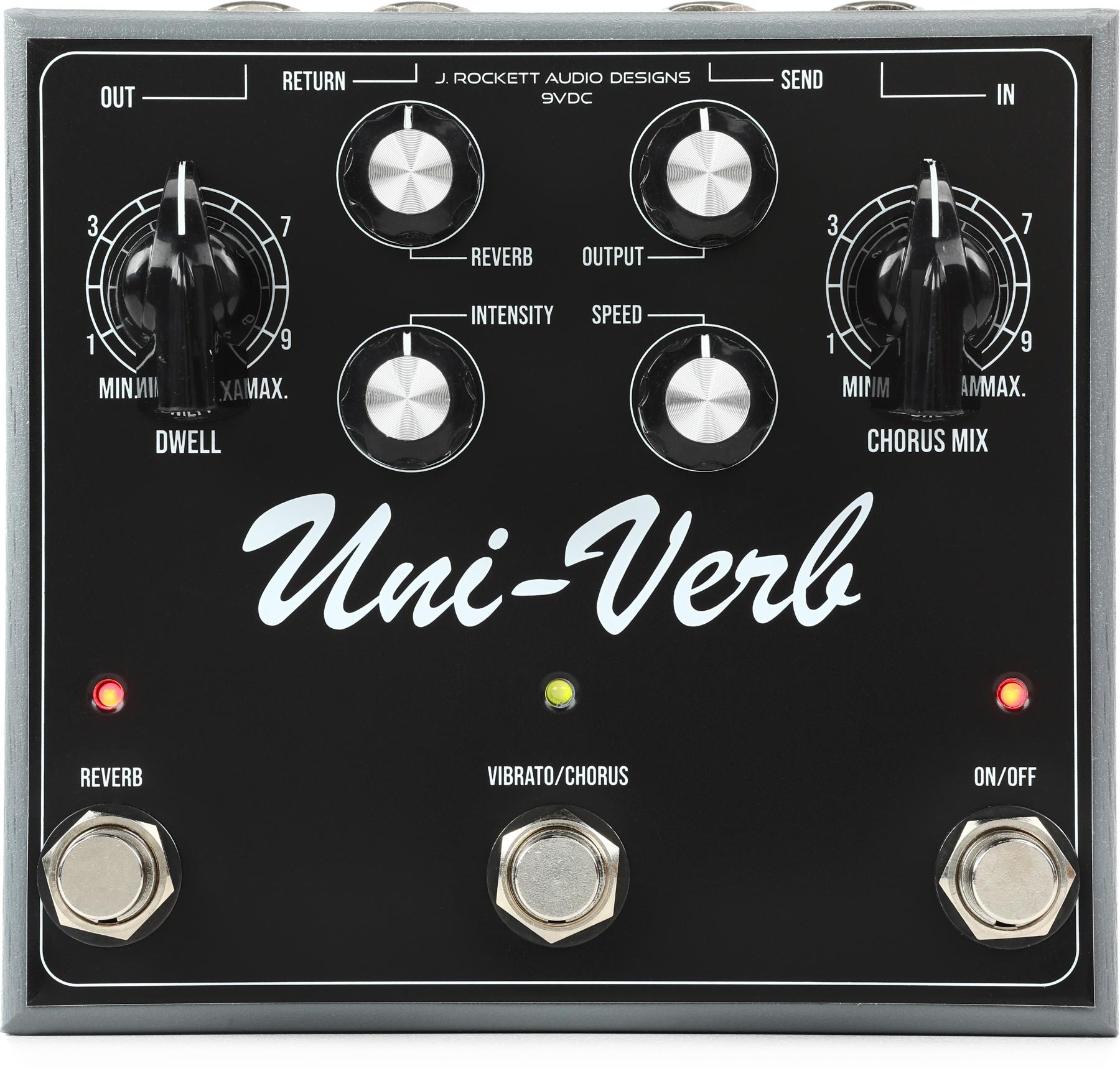 The J. Rockett Uni-Verb is the company's take on the classic vibe-style chorus/vibrato effect from the 1960s. But that's not all — you also get a spring reverb tank for adding boing-y goodness to this stompbox's swirling, Doppler-like ear candy. A built-in loop enables you to place the Uni-Verb's chorus/vibrato and reverb effects before and after your overdrives, respectively. You can also use the two effects individually or simultaneously, plus you get a generous complement of top-panel controls for dialing in your sound. This effects pedal is much more than a vintage re-creation, as it supplies you with a greater sonic range than its predecessor. And just like the original box, the Uni-Verb runs at 24V. That said, it's designed to work with modern 9V power supplies. If you want to cop the throbbing, hypnotic vibra-chorus-style effects of yesteryear, the J. Rockett Uni-Verb not only nails them, it takes them to new worlds entirely.
J. Rockett Audio Designs
Dr. Z releases the Z-28 Mk. II, a new take on his EF-86 design, and designed to hold its own amongst the classics of the Z Amp lineup.
Two-plus years in the making, the Z-28 Mk. II builds upon the original Z-28 by revamping the power section to two robust 5881 tubes pushing a Celestion Creamback M65 in a specially-designed 1x12 cabinet draped in muscle car red tolex. Dr. Z included his Mk. II master volume control circuit, as seen in the flagship MAZ series, to achieve full control over the volume and dynamics this high-headroom amp is capable of, be it at home at practice, or on stage.
The Z-28 Mk. II features:
​35 watts of power from dual 5881 power tubes, controlled by Dr. Z's Mk. II master volume; a first in his EF-86 series of amps.
A high-headroom, high-voltage preamp designed around a NOS Winged C EF-86 tube, capable of producing dynamic range and harmonic content beyond the typical 12ax7 designs.
A return to Dr. Z's signature red tolex for this combo only, which was specifically tuned to be light-weight, yet project a massive sound from the cabinet.
Hand-wired turret board construction assembled in Cleveland, OH utilizing high-quality Heyboer transformers, a custom welded aluminum chassis, and Mallory signal capacitors.
The Z-28 Mk. II 1x12 Combo retails for $2049, and the head version for $1899. The Z-28 Mk. II is available for sale at authorized Dr. Z dealers.
For more information, please visit drzamps.com
Dr. Z AMA: Introducing the Z-28 Mk. II!