ESP Announces 2011 Models, Including Metallica and Slayer Guitars
2011 lineup includes models in the ESP and LTD lines, including James Hetfield, Kirk Hammett, Slayer, DevilDriver, and Max Cavalera guitars, and more.
North Hollywood, CA
(January 5, 2011) -- ESP Guitars has announced their 2011 guitar lineup to be released at NAMM. The releases include Signature Series models for James Hetfield and Kirk Hammett, as well as a 25th Anniversary Slayer guitar. See the full lineup below with details from ESP:
James Hetfield Snakebyte
The James Hetfield Snakebyte is a brand new body style for ESP and LTD in 2011. It has a set-neck construction at 24.75" scale, with a mahogany body and neck, and an ebony fingerboard with 22 XJ frets. The Snakebyte comes with a bunch of high-end components, including Sperzel locking tuners, Schaller straplocks, a Tonepros locking bridge/tailpiece, and EMG 81 (bridge) / EMG 60 (neck) active pickups. The James Hetfield Snakebyte will be available both in ESP and LTD versions, and both are available in two finishes: Black and Snow White, featuring a pearloid snake inlay on the fingerboard.
Kirk Hammett Signature Series ESP KH-2 and LTD KH-SE
Another limited edition Kirk Hammett Signature Series model is also being introduced in 2011. The ESP KH-2 SE and LTD KH-SE are special edition guitars that will be limited to just 100 and 300 pieces worldwide respectively. Highlighted by a brilliant Metallic Greenburst finish, the ESP KH-2 SE offers neck-thru-body construction, a 25.5" scale, an alder body, and maple neck with rosewood fingerboard, 24 XJ frets (with frets 17-24 scalloped), and green pearloid skull inlays. Other high-performance features include Gotoh tuners, EMG 81 (bridge) / EMG 60 (neck) active pickups, and an original Floyd Rose bridge. The LTD KH-SE has a bolt-on maple neck, a basswood body, ESP tuners and pickups, and a Floyd Rose Special bridge.
Slayer-2011 25th Anniversary Reign in Blood Guitar
Back in 1986, Slayer released their landmark album
Reign in Blood
that helped shape the sound of metal for decades to come. ESP honors that release with the limited-edition Slayer-2011 guitar.
Limited to just 250 guitars worldwide, the LTD Slayer-2011 is highlighted with a custom graphic finish that employs elements of the cover artwork from the
Reign in Blood
album. Details include a special LTD headstock logo in Slayer's distinctive typeface, pentagram-shaped neck inlays, and the Slayer logo inlaid near the 12th fret. The guitar uses bolt-on construction, an alder body, a maple neck with rosewood fingerboard, 24 XJ frets, a TOM bridge with string-thru-body design, and EMG 81 (bridge) and EMG 85 (neck) active pickups.
DevilDriver LTD MS-1 and LTD JK1
Mike Speitzer and Jeff Kendrick of DevilDriver have been long-time ESP players, and ESP is proud to offer the new LTD MS-1 (Spreitzer) and LTD JK-1 (Kendrick) models in 2011. The MS-1 is a asymmetrical V-shaped guitar in a maroon sunburst finish. It offers neck-thru-body construction with a mahogany body and neck (ebony fingerboard), and features EMG 81 active pickups. The JK-1 is based on our EC shape, and comes in a dark see-thru blue finish. It also has neck-thru construction, with a mahogany body (flamed maple top), maple neck, and ebony fingerboard, and also has two EMG 81's to rock your world. Both guitars have a DevilDriver logo inlay at the 12th fret.
Max Cavalera EX
Another guy who's been playing ESPs for a long time, Max Cavalera (Soulfly/Cavalera Conspiracy), has new signature models. The ESP Max Cavalera EX features an urban camo finish, and has all the features Max specified for his latest ESP axe (mahogany body, maple neck, rosewood fingerboard, Gotoh tuners, Schaller straplocks, and Seymour Duncan Distortion pickups). ESP is also releasing the LTD Max-200, the most affordable Max Cavalera model to date. It's available in snow white.
200-Series Signatures - George Lynch, Stephen Carpenter, Michael Paget
Continuing our goal of providing excellent guitars for everyone, LTD has also introduced more 200-Series models that are affordable for any musician on a budget. George Lynch, who's been playing ESPs longer than 99% of people ever heard of ESP, has a new Signature Series model, the LTD GL-200K (with a graphic finish based on his well-known ESP Kamikaze model). For those of you who want to venture into the zone of 8-strings, the LTD SC-208 is a new standard-scale 8-string model from Deftones' Stephen Carpenter. There's also a new 200-Series version of Michael Paget's (Bullet for My Valentine) v-shaped model, the LTD MP-200.
New LTD Deluxe and Standard Guitars
The LTD Deluxe EC-1000T/CTM is a classic single-cutaway mahogany guitar with a traditional body shape, and is available in two finishes: Snow White and Black, with binding on the top and back of the body. Also, after many customer resquests, ESP offers two new H-Series models, the LTD H-1007 and LTD H-1007FR. Both guitars are 7-string versions of ESP's H-Series guitars, with the H-1007FR also including a Floyd Rose bridge.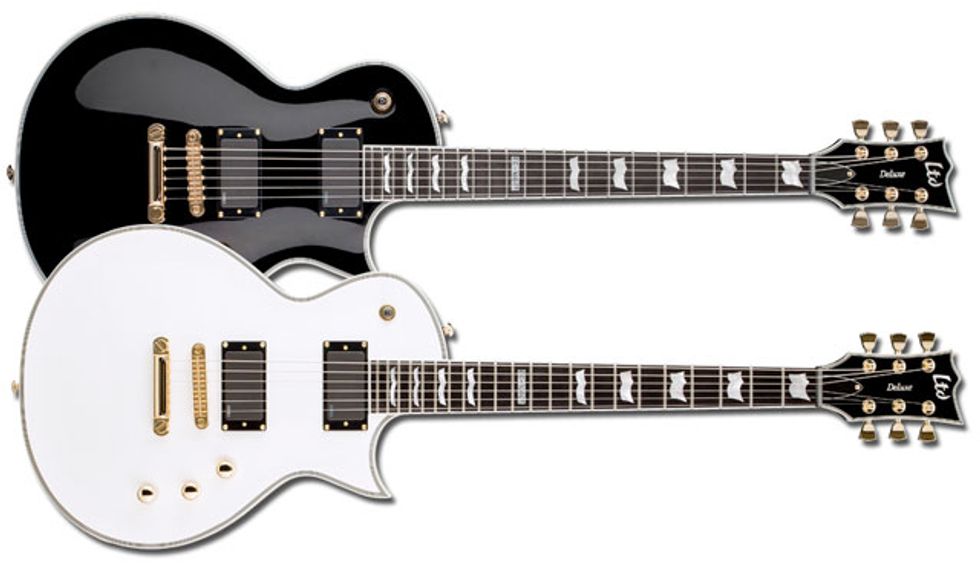 For a more traditional shape in a high-performance LTD guitar, ESP is releasing the LTD TE-202. It draws from designs including ESP's Ron Wood Signature model, and is available in two pre-distressed finishes: Three Tone Burst with a rosewood fingerboard, and Black with a maple fingerboard. Also new are the LTD EX-401FM (See-Thru Black) and LTD V-401FM (See-Thru Black and See-Thru Black Cherry).
LTD Xtone Acoustics
ESP says that after years and years of customers asking us to take the high-performance look and feel of their electric models and make equally cool acoustics, they've delivered in droves. The LTD Xtone AC-5E, AC-10E, AC-20E, and AC-30E will soon be available at ESP dealers.
All of the new LTD Xtone Series acoustic-electric models are designed with a highly-playable cutaway mini-jumbo shape. The AC-5E offers a spruce top with mahogany back and side materials, and offers a built-in ESP preamp with EQ and tuner. Finishes for the AC-5E include See-Thru Black Sunburst, See-Thru Blue Sunburst, and See-Thru Red Sunburst. The AC-10E adds accoutrements such as block pearloid/abalone inlays, abalone purfling, abalone rosette, and white binding on the body, neck, and headstock, and is available in Black, Pearl White, and Tobacco Sunburst finishes.
The AC-20E and AC-30E both take another step up by implementing a B-Band Transducer pickup and onboard preamp. The AC-20E is equipped with a T-35 preamp w/EQ and tuner. This guitar features an attractive flamed maple body top, along with sapelle back and sides. Available finishes for the AC-20E include See-Thru Blue, See-Thru Magenta, and See-Thru Green. The AC-30E is highlighted by a beautiful quilted maple top, back and sides. It includes a B-Band T-55 preamp w/EQ and tuner, and is being offered with three finishes: Honey Natural, Dark Brown Sunburst, and See-Thru Red.
LTD Surveyor-4 and Surveyor-5 Basses
The new Surveyor basses (4- and 5-string, respectively) offer a classic design with bolt-on construction at 34" scale, and an ash body with maple neck. The new models add white binding on the fingerboard and pearloid block inlays. The basses are available in three finishes: Black and Three Tone Burst (with rosewood fingerboards) and Snow White (with maple fingerboard).
For more information:
ESP
Source: ESP Blog