2011 lineup includes models in the ESP and LTD lines, including James Hetfield, Kirk Hammett, Slayer, DevilDriver, and Max Cavalera guitars, and more.
North Hollywood, CA
(January 5, 2011) -- ESP Guitars has announced their 2011 guitar lineup to be released at NAMM. The releases include Signature Series models for James Hetfield and Kirk Hammett, as well as a 25th Anniversary Slayer guitar. See the full lineup below with details from ESP:
James Hetfield Snakebyte
The James Hetfield Snakebyte is a brand new body style for ESP and LTD in 2011. It has a set-neck construction at 24.75" scale, with a mahogany body and neck, and an ebony fingerboard with 22 XJ frets. The Snakebyte comes with a bunch of high-end components, including Sperzel locking tuners, Schaller straplocks, a Tonepros locking bridge/tailpiece, and EMG 81 (bridge) / EMG 60 (neck) active pickups. The James Hetfield Snakebyte will be available both in ESP and LTD versions, and both are available in two finishes: Black and Snow White, featuring a pearloid snake inlay on the fingerboard.
Kirk Hammett Signature Series ESP KH-2 and LTD KH-SE
Another limited edition Kirk Hammett Signature Series model is also being introduced in 2011. The ESP KH-2 SE and LTD KH-SE are special edition guitars that will be limited to just 100 and 300 pieces worldwide respectively. Highlighted by a brilliant Metallic Greenburst finish, the ESP KH-2 SE offers neck-thru-body construction, a 25.5" scale, an alder body, and maple neck with rosewood fingerboard, 24 XJ frets (with frets 17-24 scalloped), and green pearloid skull inlays. Other high-performance features include Gotoh tuners, EMG 81 (bridge) / EMG 60 (neck) active pickups, and an original Floyd Rose bridge. The LTD KH-SE has a bolt-on maple neck, a basswood body, ESP tuners and pickups, and a Floyd Rose Special bridge.
Slayer-2011 25th Anniversary Reign in Blood Guitar
Back in 1986, Slayer released their landmark album
Reign in Blood
that helped shape the sound of metal for decades to come. ESP honors that release with the limited-edition Slayer-2011 guitar.
Limited to just 250 guitars worldwide, the LTD Slayer-2011 is highlighted with a custom graphic finish that employs elements of the cover artwork from the
Reign in Blood
album. Details include a special LTD headstock logo in Slayer's distinctive typeface, pentagram-shaped neck inlays, and the Slayer logo inlaid near the 12th fret. The guitar uses bolt-on construction, an alder body, a maple neck with rosewood fingerboard, 24 XJ frets, a TOM bridge with string-thru-body design, and EMG 81 (bridge) and EMG 85 (neck) active pickups.
DevilDriver LTD MS-1 and LTD JK1
Mike Speitzer and Jeff Kendrick of DevilDriver have been long-time ESP players, and ESP is proud to offer the new LTD MS-1 (Spreitzer) and LTD JK-1 (Kendrick) models in 2011. The MS-1 is a asymmetrical V-shaped guitar in a maroon sunburst finish. It offers neck-thru-body construction with a mahogany body and neck (ebony fingerboard), and features EMG 81 active pickups. The JK-1 is based on our EC shape, and comes in a dark see-thru blue finish. It also has neck-thru construction, with a mahogany body (flamed maple top), maple neck, and ebony fingerboard, and also has two EMG 81's to rock your world. Both guitars have a DevilDriver logo inlay at the 12th fret.
Max Cavalera EX
Another guy who's been playing ESPs for a long time, Max Cavalera (Soulfly/Cavalera Conspiracy), has new signature models. The ESP Max Cavalera EX features an urban camo finish, and has all the features Max specified for his latest ESP axe (mahogany body, maple neck, rosewood fingerboard, Gotoh tuners, Schaller straplocks, and Seymour Duncan Distortion pickups). ESP is also releasing the LTD Max-200, the most affordable Max Cavalera model to date. It's available in snow white.
200-Series Signatures - George Lynch, Stephen Carpenter, Michael Paget
Continuing our goal of providing excellent guitars for everyone, LTD has also introduced more 200-Series models that are affordable for any musician on a budget. George Lynch, who's been playing ESPs longer than 99% of people ever heard of ESP, has a new Signature Series model, the LTD GL-200K (with a graphic finish based on his well-known ESP Kamikaze model). For those of you who want to venture into the zone of 8-strings, the LTD SC-208 is a new standard-scale 8-string model from Deftones' Stephen Carpenter. There's also a new 200-Series version of Michael Paget's (Bullet for My Valentine) v-shaped model, the LTD MP-200.
New LTD Deluxe and Standard Guitars
The LTD Deluxe EC-1000T/CTM is a classic single-cutaway mahogany guitar with a traditional body shape, and is available in two finishes: Snow White and Black, with binding on the top and back of the body. Also, after many customer resquests, ESP offers two new H-Series models, the LTD H-1007 and LTD H-1007FR. Both guitars are 7-string versions of ESP's H-Series guitars, with the H-1007FR also including a Floyd Rose bridge.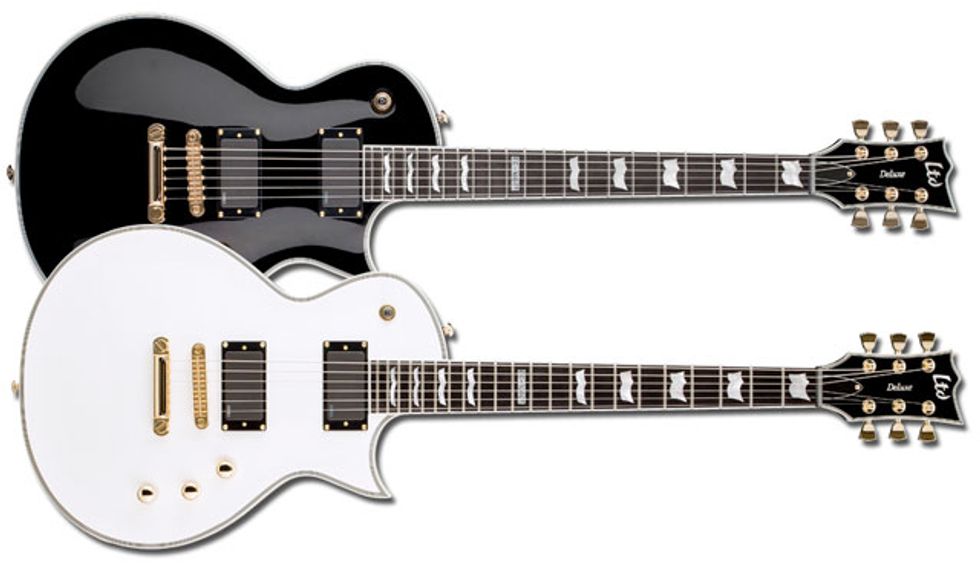 For a more traditional shape in a high-performance LTD guitar, ESP is releasing the LTD TE-202. It draws from designs including ESP's Ron Wood Signature model, and is available in two pre-distressed finishes: Three Tone Burst with a rosewood fingerboard, and Black with a maple fingerboard. Also new are the LTD EX-401FM (See-Thru Black) and LTD V-401FM (See-Thru Black and See-Thru Black Cherry).
LTD Xtone Acoustics
ESP says that after years and years of customers asking us to take the high-performance look and feel of their electric models and make equally cool acoustics, they've delivered in droves. The LTD Xtone AC-5E, AC-10E, AC-20E, and AC-30E will soon be available at ESP dealers.
All of the new LTD Xtone Series acoustic-electric models are designed with a highly-playable cutaway mini-jumbo shape. The AC-5E offers a spruce top with mahogany back and side materials, and offers a built-in ESP preamp with EQ and tuner. Finishes for the AC-5E include See-Thru Black Sunburst, See-Thru Blue Sunburst, and See-Thru Red Sunburst. The AC-10E adds accoutrements such as block pearloid/abalone inlays, abalone purfling, abalone rosette, and white binding on the body, neck, and headstock, and is available in Black, Pearl White, and Tobacco Sunburst finishes.
The AC-20E and AC-30E both take another step up by implementing a B-Band Transducer pickup and onboard preamp. The AC-20E is equipped with a T-35 preamp w/EQ and tuner. This guitar features an attractive flamed maple body top, along with sapelle back and sides. Available finishes for the AC-20E include See-Thru Blue, See-Thru Magenta, and See-Thru Green. The AC-30E is highlighted by a beautiful quilted maple top, back and sides. It includes a B-Band T-55 preamp w/EQ and tuner, and is being offered with three finishes: Honey Natural, Dark Brown Sunburst, and See-Thru Red.
LTD Surveyor-4 and Surveyor-5 Basses
The new Surveyor basses (4- and 5-string, respectively) offer a classic design with bolt-on construction at 34" scale, and an ash body with maple neck. The new models add white binding on the fingerboard and pearloid block inlays. The basses are available in three finishes: Black and Three Tone Burst (with rosewood fingerboards) and Snow White (with maple fingerboard).
For more information:
ESP
Source: ESP Blog
Looking for more great gear for the guitar player in your life (yourself included!)? Check out this year's Holiday Gear Finds!
Created in collaboration with legendary guitarist George Lynch of Dokken and Lynch Mob fame, the Mr.Scary Mod adds an adjustable tube gain stage and an onboard Deep control, which together are designed to enable an amp to have increased sustain while still retaining note definition and dynamics.
LegendaryTones, LLC today announced production availability of its new Mr. Scary Mod, a 100% pure tube module designed to instantly and easily expand the capabilities of many classic amplifiers with additional gain and tone shaping. Created in collaboration with legendary guitarist George Lynch of Dokken and Lynch Mob fame, the Mr.Scary Mod adds an adjustable tube gain stage and an onboard Deep control, which together are designed to enable an amp to have increased sustain while still retaining note definition and dynamics.
Originally released as the Lynch Mod in February 2021, the updated Mr. Scary Mod features the same core circuit as the Lynch Mod but is now equipped with a revised tube mix combo per George's preference as well as a facelift in a newly redesigned electro-galvanized steel enclosure. As with the Lynch Mod, each run will be limited and the first run in Pumpkin Orange with Black hardware is limited to just 150 pieces worldwide.
​The Mr. Scary Mod adds an adjustable tube gain stage on top of the cathode follower position, keeping note definition and articulation while further increasing sustain. Each Mr. Scary mod is meticulously built by hand in the USA, one at a time, and tuned using high-grade components. Equipped with a single ECC81 (12AT7) in the first position and ECC83 (12AX7) in the second, the Mr. Scary Mod can clean up beautifully when rolling down your guitar's volume, and still adds scorching gain when you roll it back up. This is a gain stage that's been tuned and approved by the ears of the maestro George Lynch himself.
"The Mr. Scary Mod excels with dynamics and is incredibly touch-responsive, allowing me to shift from playing clear, lightly compressed cleans to full-out aggressive sustain and distortion –and control it all simply by varying my guitar's volume control and picking," said GeorgeLynch. "In many ways, it's an old-school approach, but it's also so much more natural and expressive in addition to being musically fulfilling when you can play both the guitar and amp dynamically together this way."
The Mr. Scary Mod installs in minutes, is safe and effective to use, and requires no special tools or re-biasing of the amplifier. Simply insert the module into the cathode follower preamp position of compatible amplifiers (includes Marshall 2203/2204/1959/1987 circuits) and

immediately get the benefit of enjoying a hot-rodded amp that delivers all the pure harmonic character that comes with an added pure tube gain stage. The handmade in the USA Mr. Scary Mod is now available to order for $319.
For more information, please visit legendarytones.com.
October Audio has miniaturized their NVMBR Gain pedal to create two mini versions of this beautifully organic-sounding circuit – including an always-on gain device.
The NVMBR Gain is a nonlinear amp that transitions gracefully from clean boost to overdriven tones. Volume increases from just over unity to about 10db before soft-clipping drive appears for another 5db of boost. Its extraordinary ease of use is matched by outstanding versatility: you can use it as a clean boost, push a stubborn amp into overdrive or create a just-breaking-up sound at any amp volume.

October Audio's new family of mini NVMBR Gain pedals includes a switchable version that allows you to bypass the effect: one option features brand logo pedal graphics, while the other sports a fun "Witch Finger" graphic with a Davies knob as the"fingernail".
The second version in the new lineup is an always-on device featuring the Witch Finger graphic and Davies knob, with the same NVMBR Gain circuit that lies at the core of the switchable version.
Features:
Knob controls gain and clipping simultaneously
Stunning silver hammertone finish
Switchable versions are true-bypass, available with classic or witch finger graphics
Authentic Davies knobs, including the "fingernail"
9V center negative power supply required
Dimensions: 3.63 x 1.50 x 1.88 in​
Witch Finger (always on NVMBR Gain) demo
​All October Audio pedals are assembled in Richmond, VA, and available for purchase directly through the online shop. Street price is $109 for NVMBR Gain footswitch versions and $89 for the always-on device.
For more information, please visit octoberaudio.com.