Photo by Ken Settle
ZZ Top's legendary bassist dies at 72 after more than a half century as the steward of Texas Boogie.
When Dusty Hill passed away on July 28, 2021, the world lost an icon of American music. It's hard to encapsulate the enormity of ZZ Top's impact on the canon of American rock music, but there's a moment in the 2019 Banger Films documentary, ZZ Top: That Little Ol' Band from Texas, where the band's early producer, Robin Brians, perhaps puts it best: "ZZ Top plays the blues, but they don't sing the blues. They turned blues into party music."
The magnitude of that singular act can be traced directly to bands like Van Halen, the Anglo-American versions of Whitesnake, and countless others—that's how deeply embedded in popular music ZZ Top's influence has become. Not only are they quite possibly Texas's most successful musical export—with more than 50 million records sold worldwide and more than 50 years as a band—they are one of America's, too.
ZZ Top - Sleeping Bag (Official Music Video)
Hill's role in ZZ Top has always been understated and underrated. Upon hearing the news of his untimely passing yesterday, a colleague asked if I'd ever met him, to which I replied, "Only through his bass lines." Though I never got to interview him personally, there's an intimacy in learning someone else's music and bass parts. Dusty's Texas groove was undeniably delicious, and an exercise in restraint. It's tempting to want to overplay, but his bass lines represent a masterclass in the age-old musical mantra, "less is more." His performances are seemingly simplistic, but copping his indelible feel is another matter entirely. His deep-pocketed, hard-hitting grooves on now-classic tunes like, "La Grange," "Tush," "Cheap Sunglasses," and "Tube Snake Boogie," were based on a simple, yet effective strategy.
"Sometimes you don't even notice the bass," he said in a 2016 article by Gary Graff in For Bass Players Only. "That's a compliment. That means you've filled in everything and it's right for the song, and you're not standing out where you don't need to be." Ultimately, his spin on the blues, and attitude about bass, created the perfect foil for Billy Gibbons' masterful guitar playing and Frank Beard's rock-infused Texas Shuffle.
Born Joseph Michael Hill on May 19, 1949, in Dallas, Texas, Dusty grew up a self-professed Elvis Presley fanatic. He retells the story of his musical origins in the Banger documentary, recalling that he got into music by singing along to an Elvis record his mother brought home from the diner where she worked. When he was eight years old, he decided to sing a song in public, at a restaurant presumably, which resulted in the patrons at a nearby table giving him change. That was it—he got money in exchange for singing and essentially never looked back. He played cello for a bit in high school but switched to bass at the behest of his older, guitar-playing brother, Rocky Hill, who decided that their band, in which Dusty was solely a vocalist at the time, needed a bassist. And so, from 1966 to 1968, along with future ZZ Top drummer Frank Beard, the Hill brothers played locally in Dallas with the Warlocks, the Cellar Dwellers, and American Blues.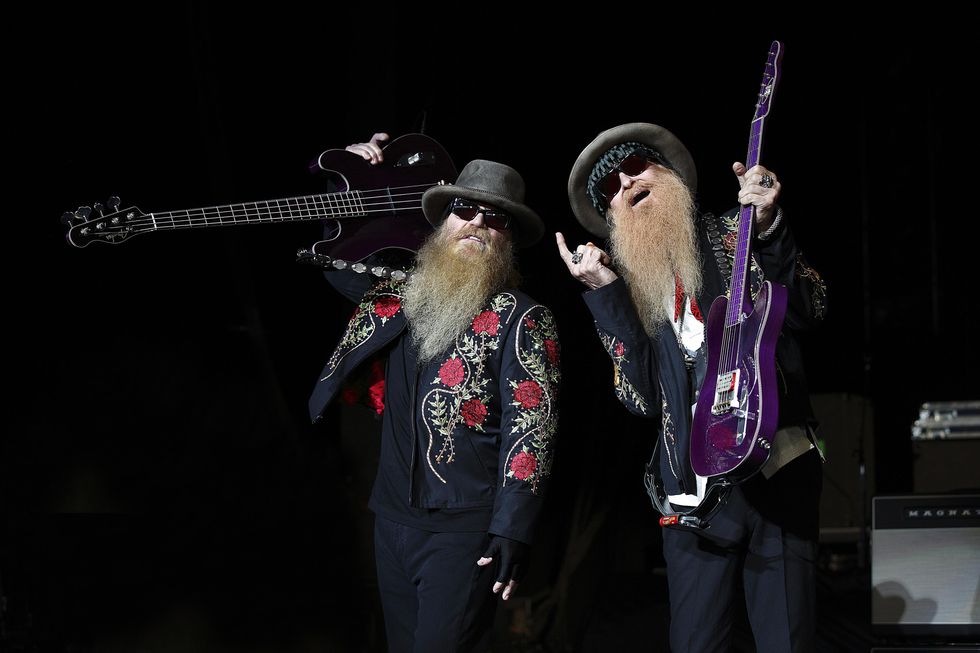 ZZ Top's bassist Dusty Hill and guitarist Billy F. Gibbons played together for 52 years. Atop Hill's shoulder is his main bass at the time this photo was taken in 2013: a John Bolin-built chambered slab body with a Seymour Duncan stacked P-bass pickup for Texas Blues tone with a dash of nastiness.
Photo by Ken Settle
In 1968, tired of the straight blues, and wanting to embrace a bit more of the British-Invasion-style rock music that was infiltrating America at the time, Dusty and Beard moved to Houston, where they subsequently teamed up with guitarist/vocalist Billy Gibbons of psychedelic-rockers Moving Sidewalks. Together, the trio took their combined Freddie King, B.B. King, Muddy Waters, and Howlin' Wolf influences, cranked up their amps, imbued them with a rock 'n' roll attitude, and ZZ Top was born.
They released their first album, the cheeky-titled, ZZ Top's First Album, in 1971, which captured their fledgling rock-infused blues sound. But it was their third album, Tres Hombres, released in 1973, featuring the songs, "La Grange," "Waitin' for the Bus," and "Jesus Just Left Chicago," that cemented their reputation as innovators. Perhaps it was Hill's early foundation in singing that allowed him to hone a bass skillset that embodies the instrument's most fundamental role: supporting the melody. His vocal ability, best represented on the 1975 Fandango! single, "Tush," the band's first Top 20 hit, and one of their most enduring songs, seems to have placed emphasis on indelible feel, rather than technical prowess. He used that same approach when playing bass. Check out any of the aforementioned tunes for a sample of his nasty grooves and dynamic tone. What he's playing may seem simple, but try to capture that feel. That's not something you just pick up. That comes from being steeped in a particular lifestyle and culture, comprised primarily of incessant touring, and growing up provincially, in Texas.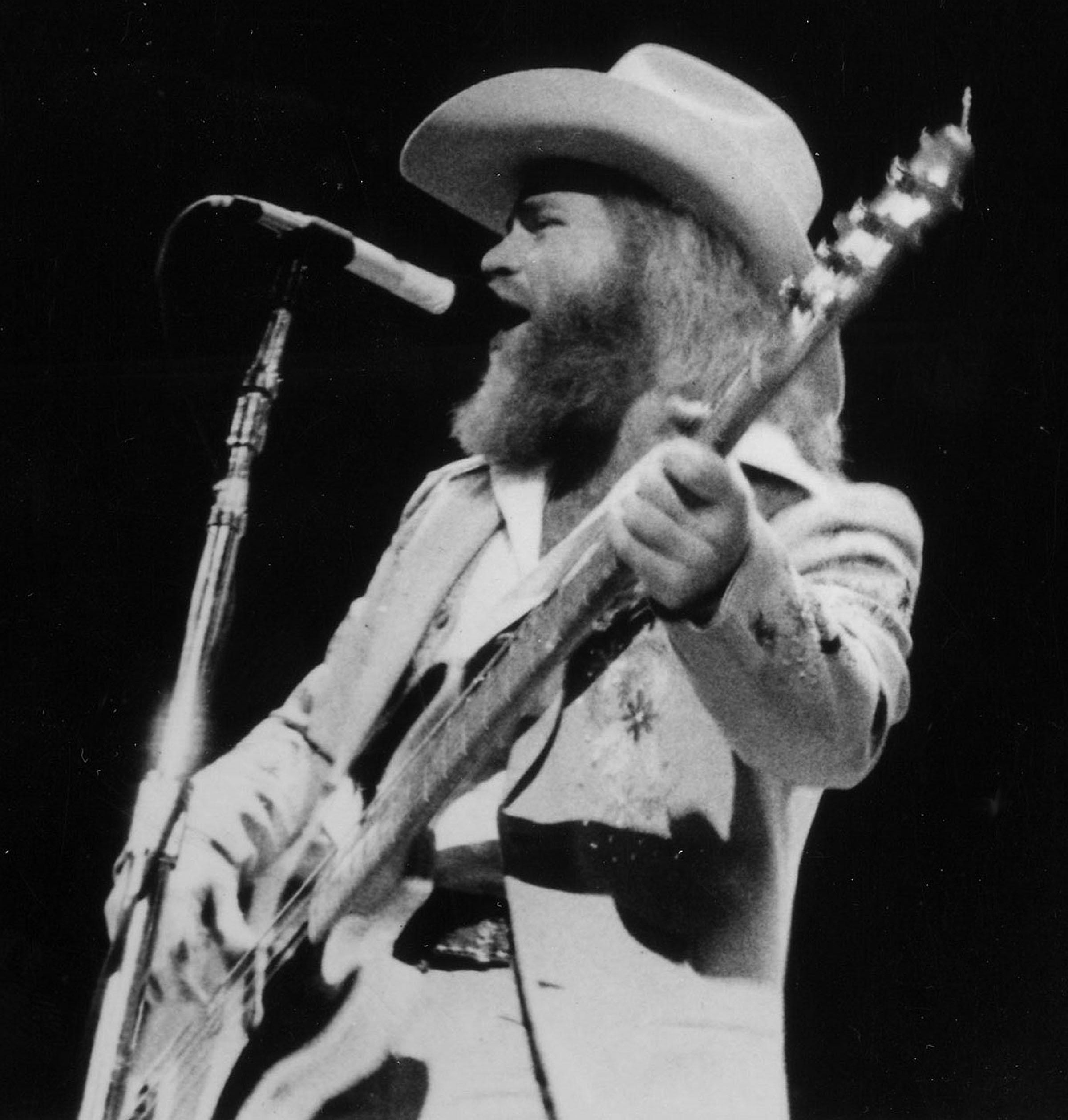 Dusty Hill circa 1975 playing the cornerstone of his sound: a vintage 1970s Fender P bass he bought in a Dallas pawnshop.
Photo by Phil McAuliffe / Frank White Photo Agency
ZZ Top had a successful '70s run before taking a three-year hiatus and reemerging in the early '80s with long beards and new records into a burgeoning, yet welcoming, MTV music-video era. If Tres Hombres put them on the map as musical innovators in 1973, it was 1983's Eliminator that turned them into cultural icons a decade later. Though the production was chastised by blues purists for having synthesizers and drum machines, the band's authentic blues roots still undergird the material, and tunes like "Legs," "Sharp Dressed Man," and "Gimme All Your Lovin'" solidified their place within the annals of pop culture. And, after all, as Dusty Hill says himself in the Banger documentary: "We never said we were a blues band. We are interpreters of the blues." In 2004, ZZ Top was inducted into the Rock & Roll Hall of Fame by Keith Richards of the Rolling Stones.
It appears the band will carry on with longtime guitar tech Elwood Francis taking over bass duties, as he did on July 23 at the Village Commons in New Lenox, Illinois, when Dusty was forced to sit out due to a hip injury.
YouTube It
Snarky Puppy's Mark Lettieri digs into the opening track of 5150 and describes his reaction to EVH's new sound.
The 30-episode podcast will be available exclusively through dweezilzappa.com and packages will include listening parties, Q&A sessions, "Brown Sound" bonus episodes, custom Axe-FX, Helix, and Kemper presets, a 1-year subscription to Premier Guitar, and much more.
A portion of the proceeds will go to benefit Mr. Holland's Opus Foundation and Feeding America.
Presented by Walrus Audio
Dive-bombs, belly cuts, and sweet-singing split-coil tones—the Rush maestro signature Epiphone is a supreme steal too.
Don't miss your chance to get loud with these amps!
Classic-rock warriors Doug Aldrich and Glenn Hughes show us their latest touring setups.
The Dead Daisies play classic rock—a catalog of songs practically etched in the granite of popular music history.
When we rolled into Nashville's Mercy Lounge during soundcheck, the band was roaring through the Deep Purple classic "Mistreated," with Glenn Hughes hitting all the requisite high notes and Doug Aldrich laying down the song's heavy riff. Drummer Tommy Clufetos and bassist Hughes had the groove in a headlock, and guitarist David Lowy—who leads this musical collective—was grinding out the rhythm.
After the check, we talked to legends Aldrich, of Whitesnake and Dio fame, and Hughes, whose bona fides include Deep Purple, Black Sabbath, and Black Country Communion, about the gear they're using to push up Daisies, who have a new album called Holy Ground. So, get ready for gold tops, Marshalls, a killer Nash bass, and a couple stacks of Orange-flavored goodness.
[Brought to you by D'Addario's XPND Pedalboards: https://ddar.io/xpnd.rr]
Doug's Gold and Black Beauty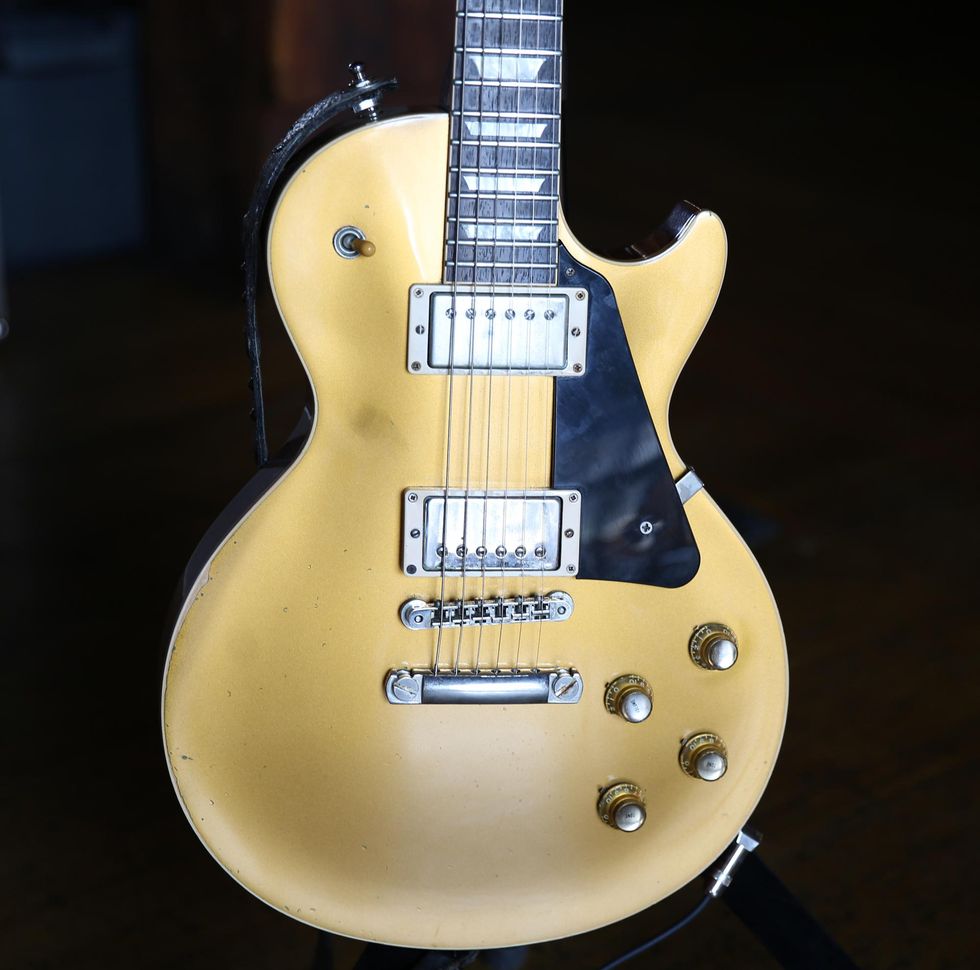 For the Dead Daisies' current tour, Doug Aldrich is slinging three LP-style gold tops. His main instrument is this black-pickguard-wearing road-warrior. It's his favorite among the six gold tops he owns, yielding what he describes as a "big, open sound." (True that!) He acquired this '57 Gibson Custom Shop reissue in 2008 and replaced the pickups with his Suhr signature high-outputs. The tuners are by TonePros and the well-played axe has been refretted by Bruce Nelson of L.A.'s Nelson Guitar Works. Otherwise, it's stock. And he uses .11–.50 Dunlop strings and tunes down a whole step on all his guitars for Dead Daisies.
The Golden Ruby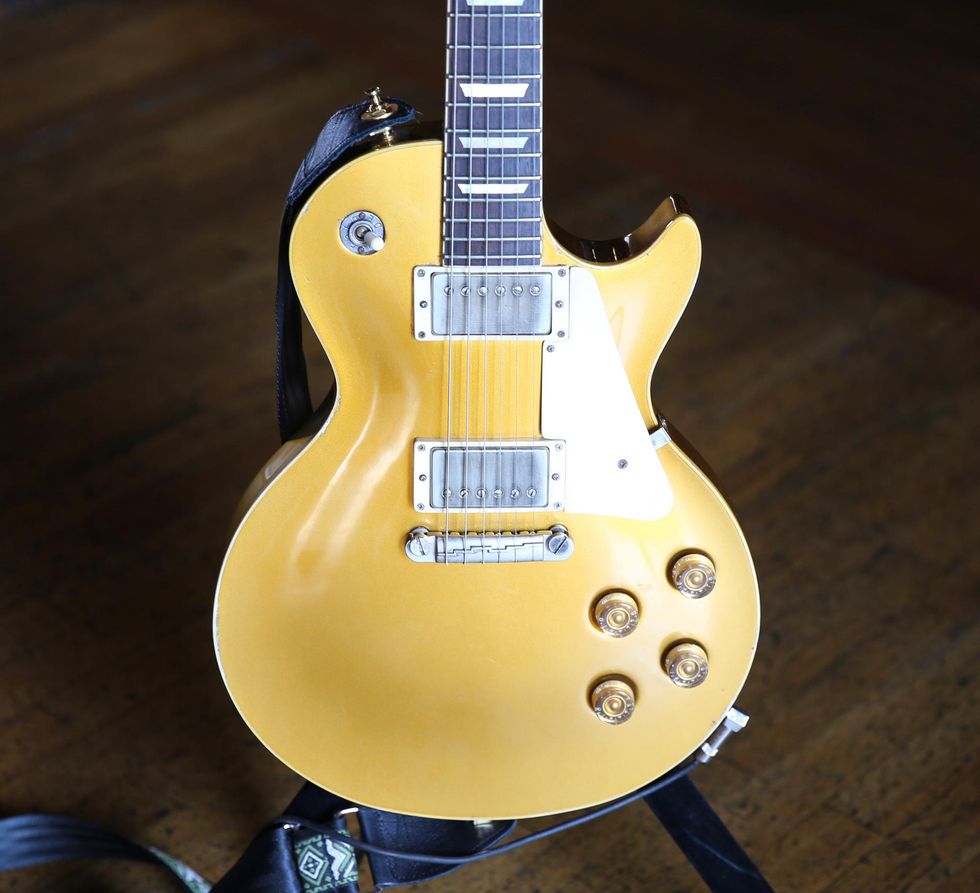 The Golden Ruby was built by Leo Scala and named for Aldrich's pre-school-aged daughter. In addition to being onstage, it's gone to class with her for show-and-tell. It's a bit different from his Gibsons, although it also sports his Suhr signature pickups, in that the neck's got a slightly thinner profile—"but still chunky," Doug adds. "I like a chunky neck." There's also a wraparound bridge and, like most L.P.-style guitars, it's got a mahogany body and maple top.
Head Games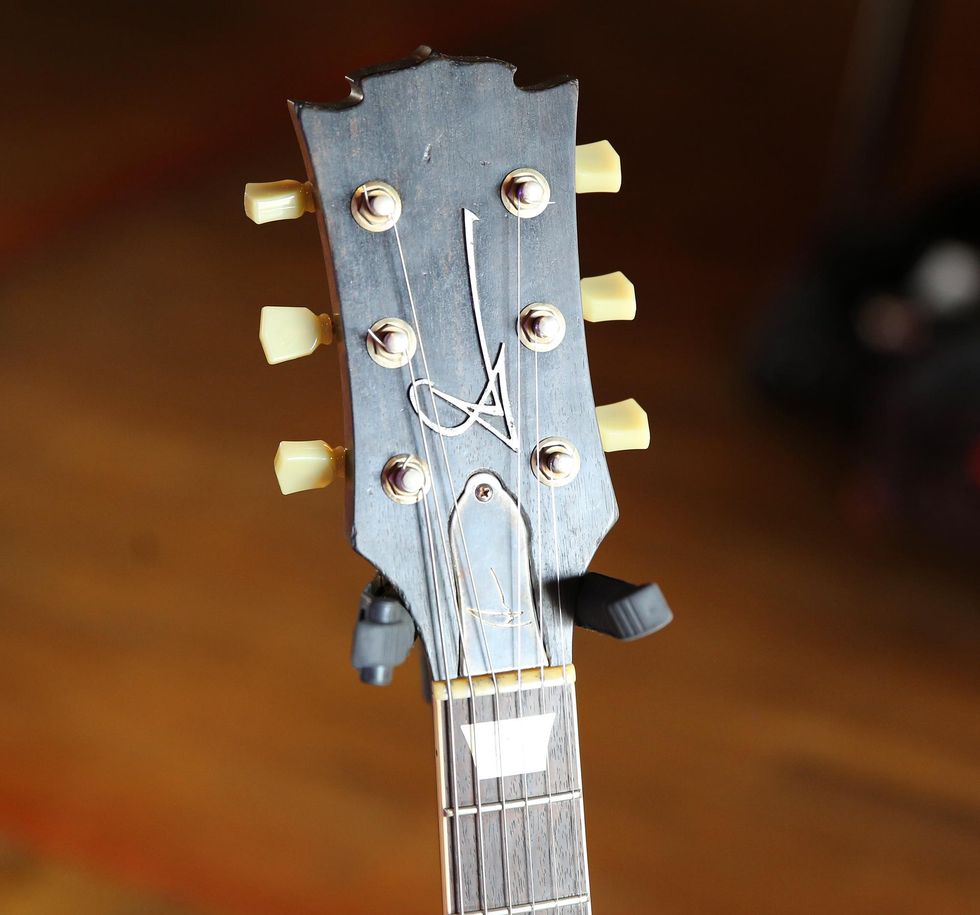 The most immediately noticeable difference on Aldrich's Scala L.P.-style is its hand-tooled headstock, which features a distinctive top cut and Scala's signature logo.
A Real Signature Model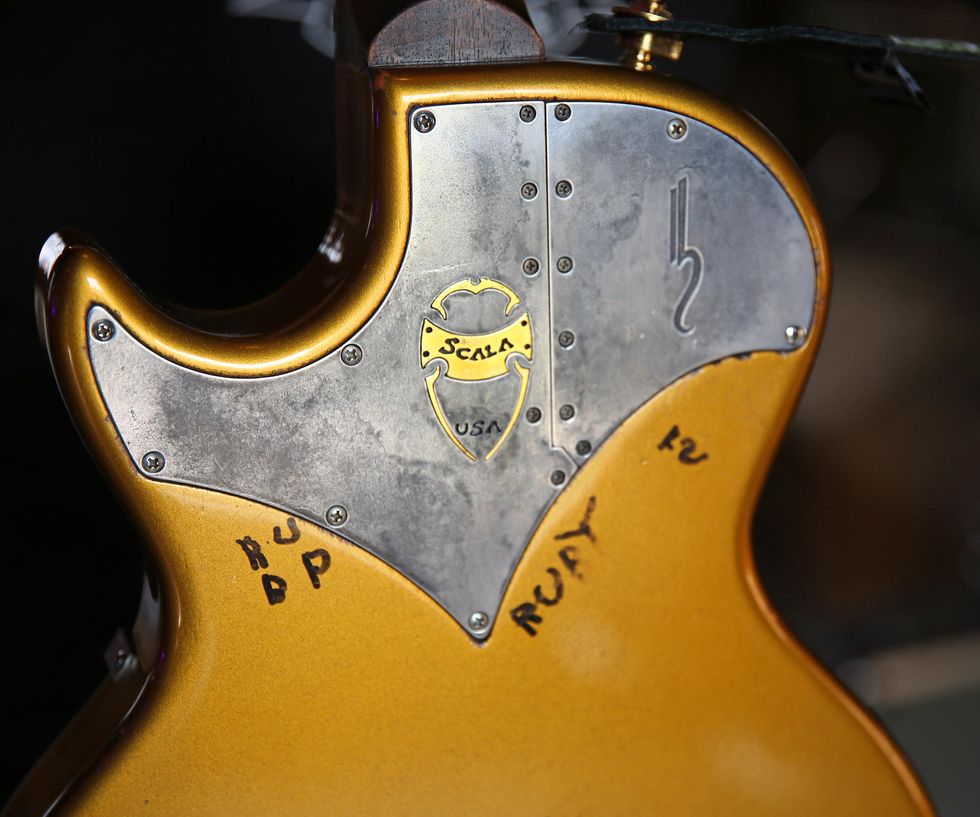 And Ruby's done a little customizing on this Scala herself. It took a few practice runs to nail this autograph for daddy.
Born on the Sunburst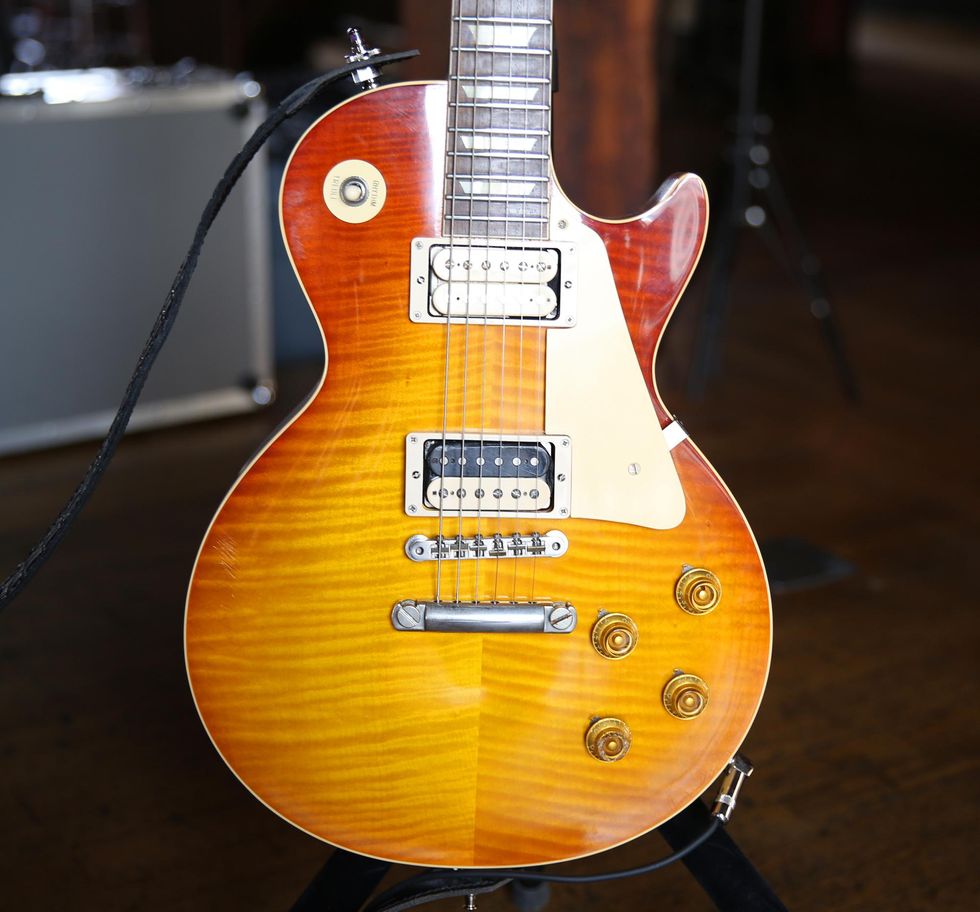 It was love at first site when Aldrich saw this '59 reissue at a friend's house during the COVID lockdown. It was sent to his pal by Gibson, and the high eye-appeal of its flame top made it a must-have. This one has Gibson tuners and his signature Suhr pickups. He also had it refretted. And there's another customization—tooth marks on its bottom, top, and one dial courtesy of another COVID acquisition: a Boston terrier puppy. This guitar's voice accents the high-mids a bit, making it perfect for covering Ritchie Blackmore leads.
Did You Say Marshall?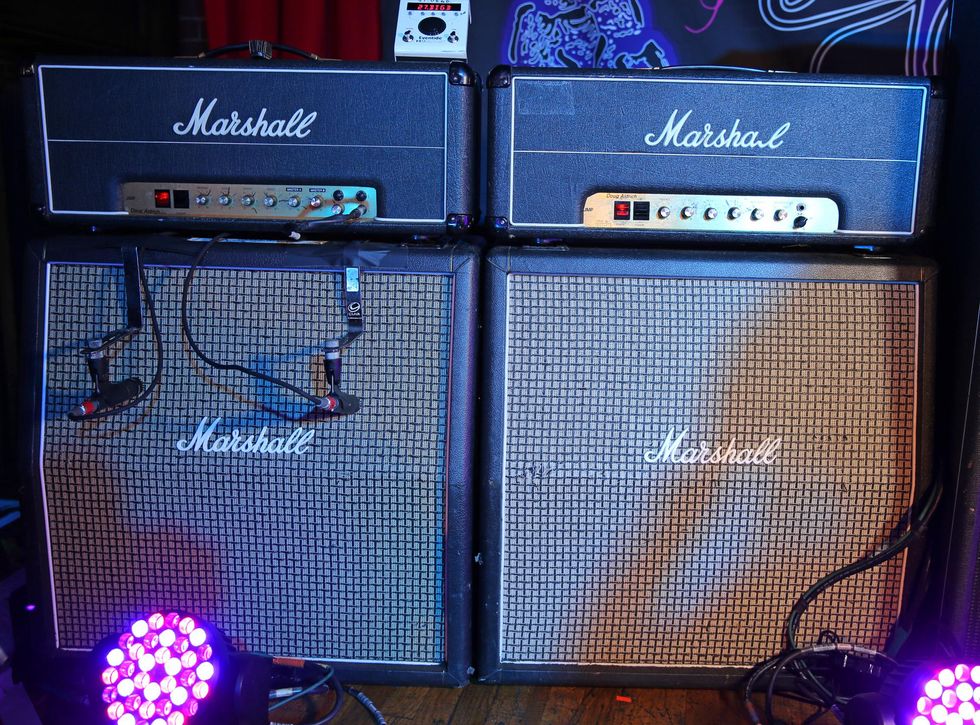 You want rock tone? You get rock amps. Aldrich plays a pair of John Suhr-modded 100-watt Marshal JMP heads. The one on the left is from 1978 and was a one-master 4-input head until Suhr added another master "so I can kick it up a little bit for solos," the guitarist explains. There's also an effects loop. In that loop resides an Eventide H9, set only on 27.DIGD to provide a reverb sound its owner loves.
On the right, a 1979 model with an added master. It's the first amp Doug bought when he moved to Los Angeles in 1981. The 4x12 cabs are both reissues, with Celestion Vintage 25s. The cabs are always miked live with SM57s and behind them lurks a Palmer line driver.

Doug Aldrich's Pedalboard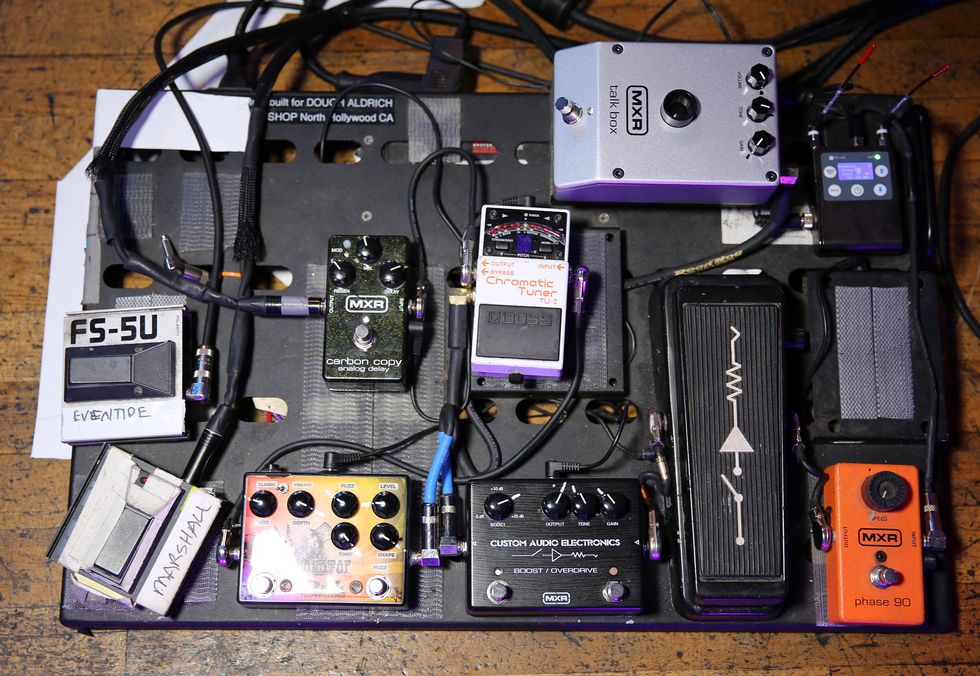 Aldrich is big fan of the tried-and-true sounds of MXR pedals. First stop on his board is a Phase 90 set slow, and then a Dunlop-made Custom Audio Electronics (CAE) wah, a CAE Boost/Overdrive, a DVK GoldTop (which was standing in until his preferred Dunlop Authentic Hendrix '69 Psych Series Uni-Vibe Chorus/Vibrato pedal arrived just in time for the gig), a Boss TU-2 Chromatic Tuner, an MXR Talk Box, an on/off for the Eventide, and a boost switch for the amps. His wireless is a Lectrosonics.
Glenn Hughes' Main Bass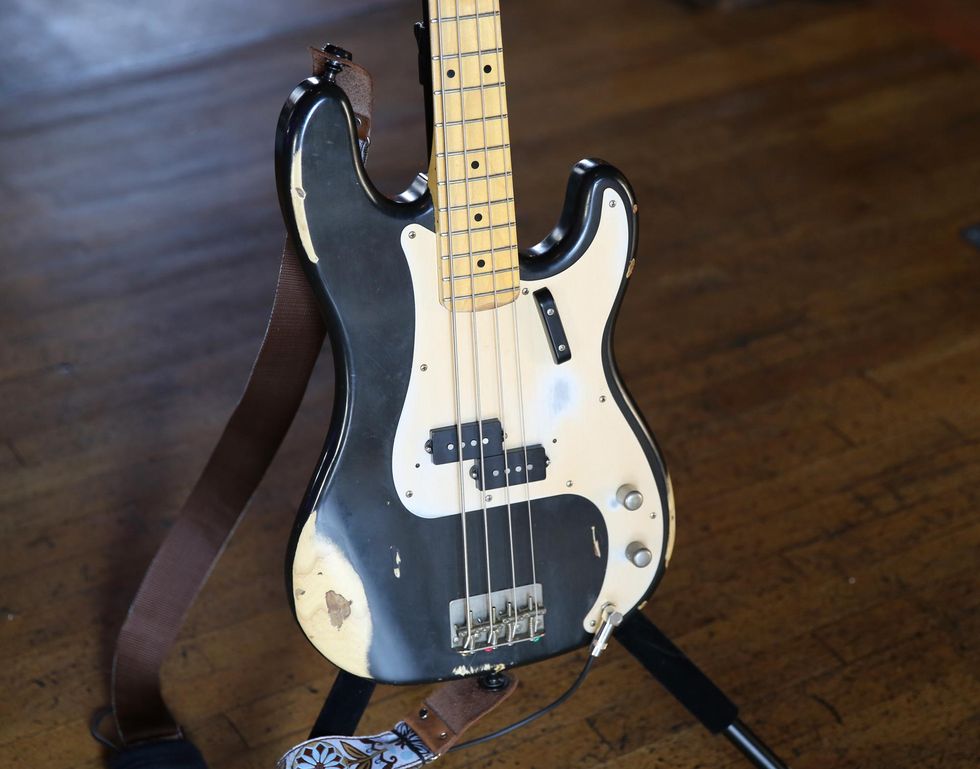 This custom Bill Nash-built bass has traveled with Glenn Hughes for 12 years. It's a JB model with Lollar pickups and a custom thin neck. And has it got a voice!
Orange Squeezers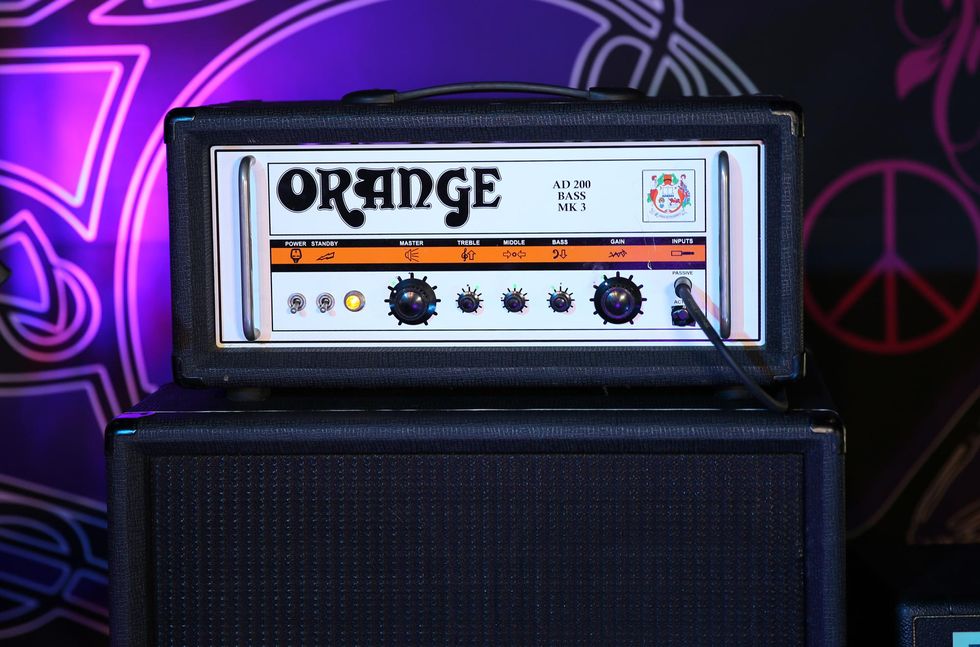 Hughes powers up two Orange AD200B MKIII heads running through two 8x10 Orange OBC810 cabinets.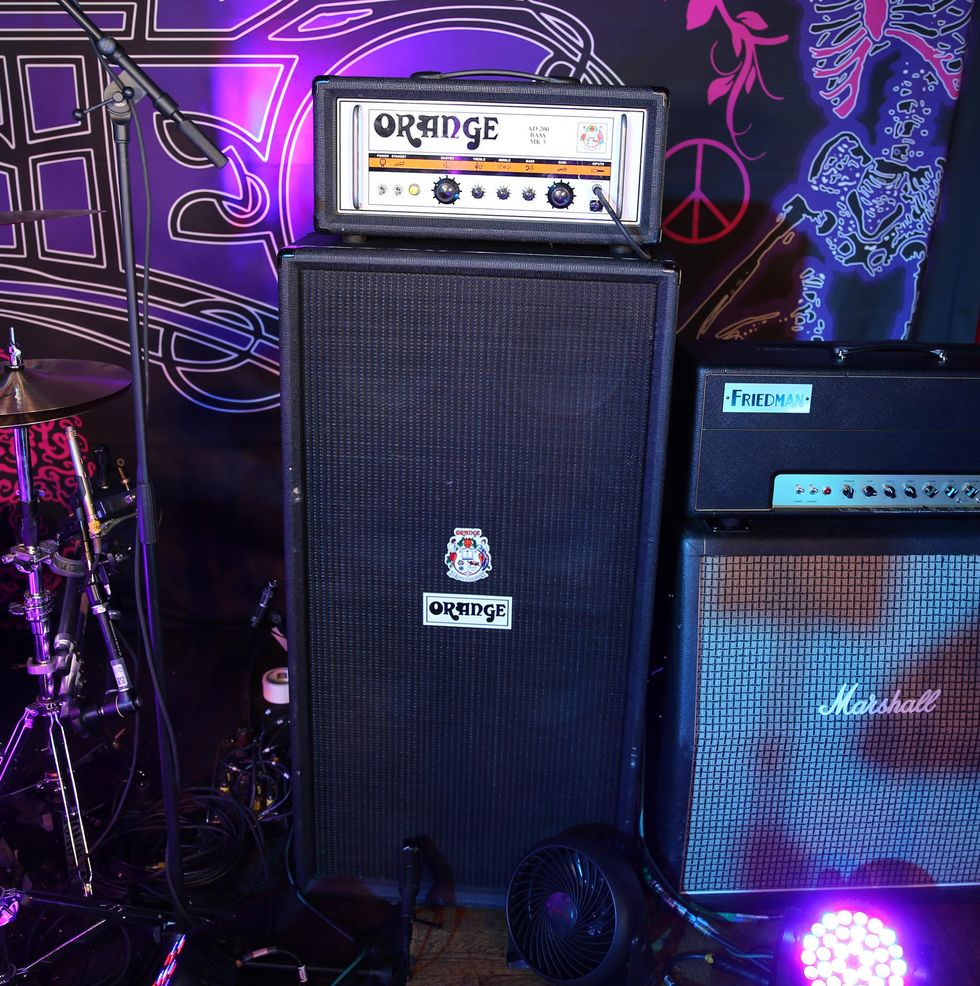 (A second tower is at stage right of the drum kit, and those are David Lowy's Friedmans at front-view right.)
Glenn Hughes' Pedalboard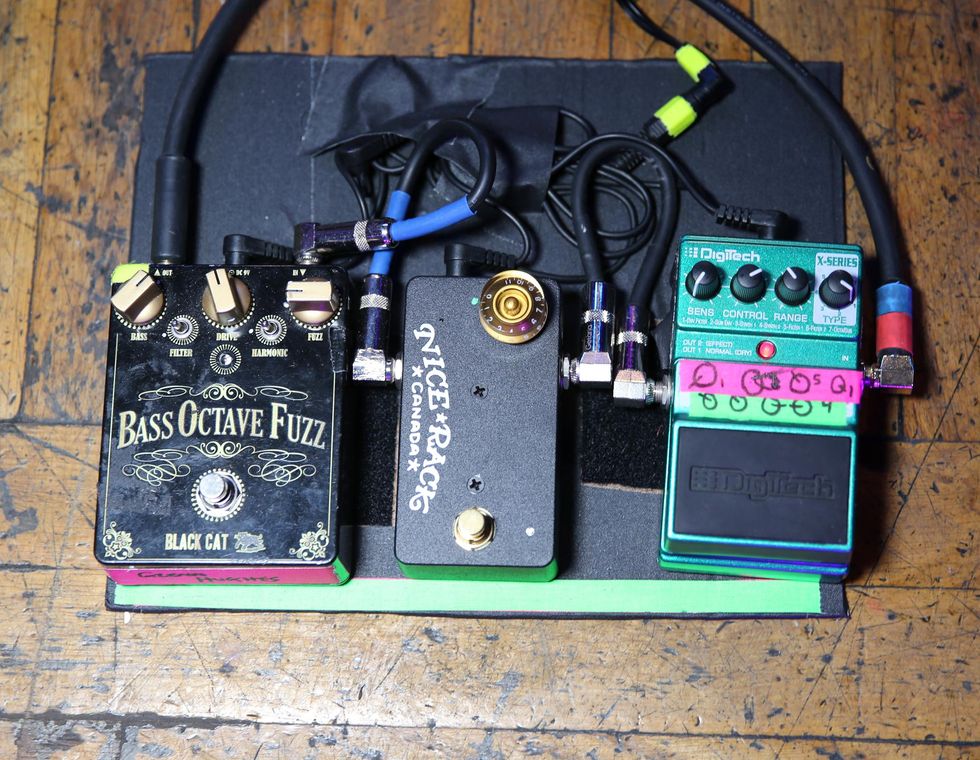 It's a short but sweet affair: a Black Cat Bass Octave Fuzz, a Nice Rack Y-boost, and a DigiTech X-Series delay.
The new partnership will span across Gibson Brands including Gibson and Epiphone guitars.
Gibson, the iconic American instrument brand, has announced an official brand partnership with Kirk Hammett of Metallica, one of the most iconic rock guitarists today. The new partnership will span across Gibson Brands including Gibson and Epiphone guitars.
"It's a really great and exciting time for me to be joining forces with Gibson," says Kirk Hammett. "I look forward to achieving great things together in the future."
"It's an honor to welcome the icon, the ripper, Kirk Hammett back to the Gibson family," says Cesar Gueikian, Brand President, Gibson Brands. "Kirk has been carrying the flag for hard rock and heavy metal for decades, and his Gibson guitars have been there with him from the very beginning. From his first Gibson, his 1979 Flying V to 'Greeny' and everything in between, Gibson guitars have been an integral part of Kirk's sound. All of us at Gibson are looking forward to this collaboration and are grateful that Kirk has trusted us to begin a new partnership."
Gibson Welcomes Kirk Hammett To The Gibson Family
Born in San Francisco in November 1962, Kirk Hammett quickly found himself obsessed with watching monster movies and reading books and comics. Transitioning through his teenage years meant taking up guitar and teaching himself how to play by ear for hours on end. In 1979, Kirk Hammett named and founded the metal band Exodus.
After recording a three-song demo in 1982, Hammett was called out to New York to audition for Metallica, and by the time Kill 'Em All was released in July of 1983, he was officially part of the Metallica plan for world domination. Adding his style and passion into the mix helped define and shape the sound of Metallica as they grew into the band they are now, and Hammett's solos and signature licks have inspired a legion of musicians young and old.
From Hammett's early sonic experiences with a guitar out of a Montgomery Ward store catalog special, progressing to hitting Hendrix vibes with a '78 Fender Stratocaster, then moving on professionally to Gibson Flying Vs and Les Pauls, and customized ESP's. It goes without saying that Kirk Hammett is a guitar geek and has an affinity for anything with six strings including his 1985 Jackson Randy Rhoads Flying V or a frequently played Gibson 59 Les Paul Standard that once belonged to the immortal genius of both Peter Green and Gary Moore - affectionately known and celebrated worldwide as "Greeny." Now as Metallica celebrates their 40th Anniversary in 2021, Kirk Hammett is ready to let those strings shine once again.
For more information:
Gibson