Need to wrangle a pile of pedals? These 10 options can put an end to your tap dancing.
Gone are the days of expensive custom controllers. It's never been easier to harness the power of MIDI to get the most out of your pedalboard.
Jet Pedals MCX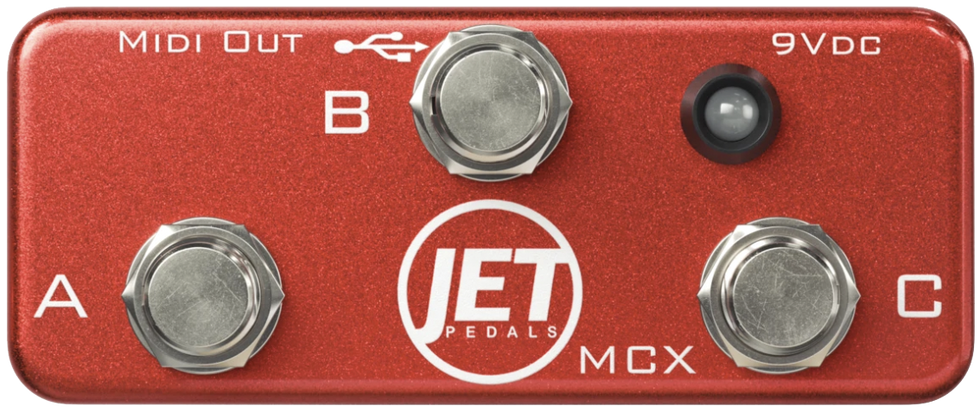 If space is a consideration, this compact 3-button setup could be the answer. It's designed around eight banks, each with a unique identifier that gives up to five presets per bank. It can be powered via USB or a standard 9V power supply.
$190 street
jetpedals.com
Behringer FCB1010

Express yourself with this full-featured controller that houses a pair of built-in expression pedals along with 10 assignable control pedals. It can send five program-change commands simultaneously.
$149 street
behringer.com
Morningstar MC6 MkII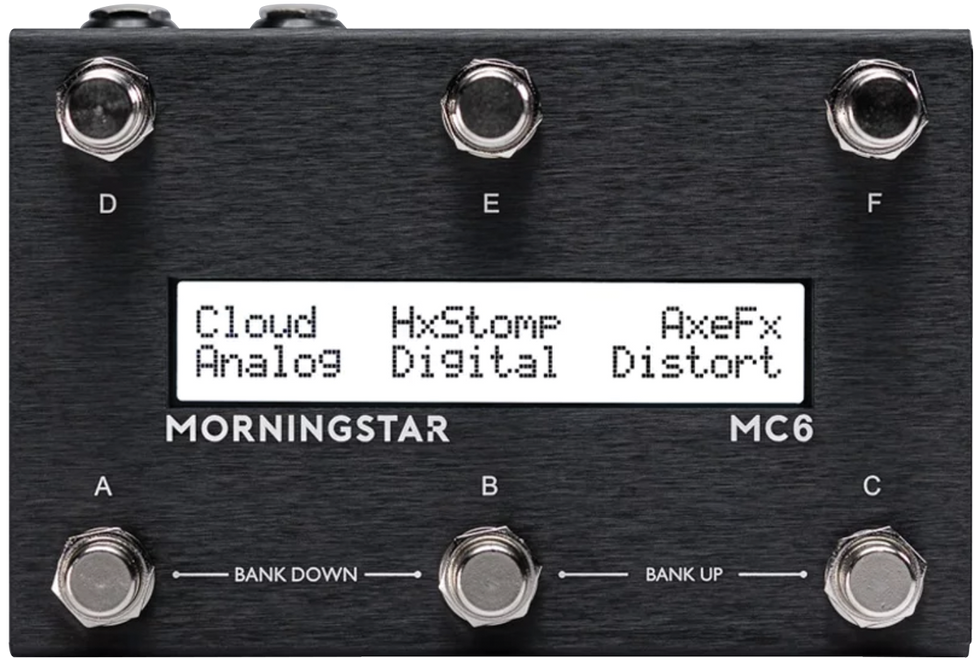 Inside this modestly sized box sits a powerful MIDI control station that offers 30 banks of 12 preset slots, two omniports with TRS MIDI out, and a robust online editor.
$229 street
morningstarfx.com
Rocktron MIDI Mate

With three different modes (bank, instant, and controller), this slender MIDI controller allows multiple program changes on different channels. The fully editable setup can arrange presets in a setlist order, change settings on the fly, and send phantom power via MIDI.
$219 street
rocktron.com
RJM Music Technology Mastermind LT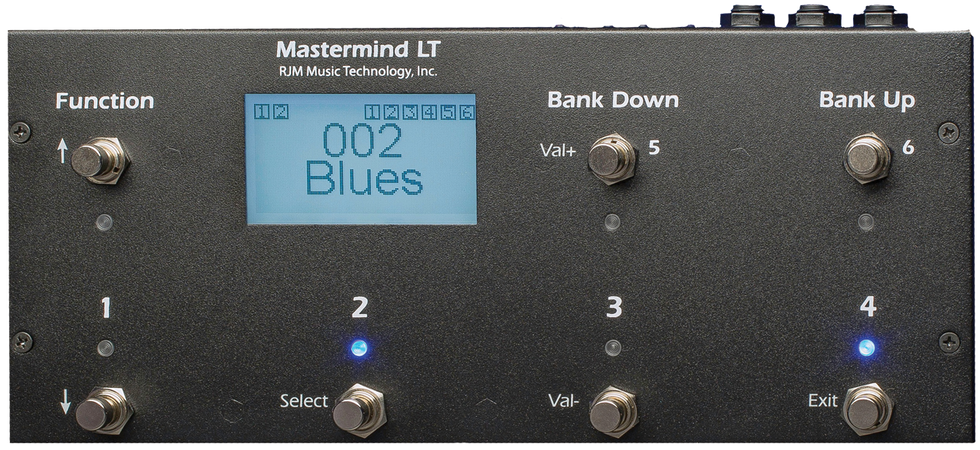 This rugged MIDI controller can store up to 768 presets via 16 different pages that can be totally customized. Each of the seven buttons have a multi-color LED, plus it offers support for expression pedals.
$399 street
rjmmusic.com
Matthews Effects The Futurist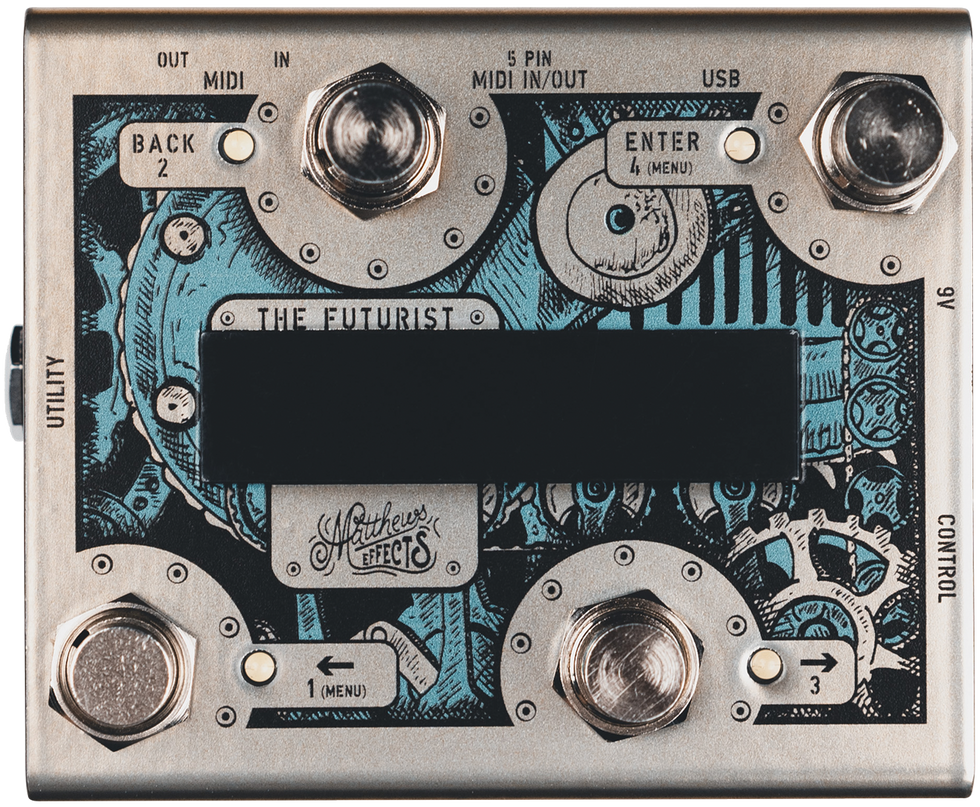 This 4-button controller is a compact way to handle a smaller stash of pedals. The accompanying online editor allows for deeper programming and the unit is expandable up to seven buttons.
$230 street
matthewseffects.com
Singular Sound MIDI Maestro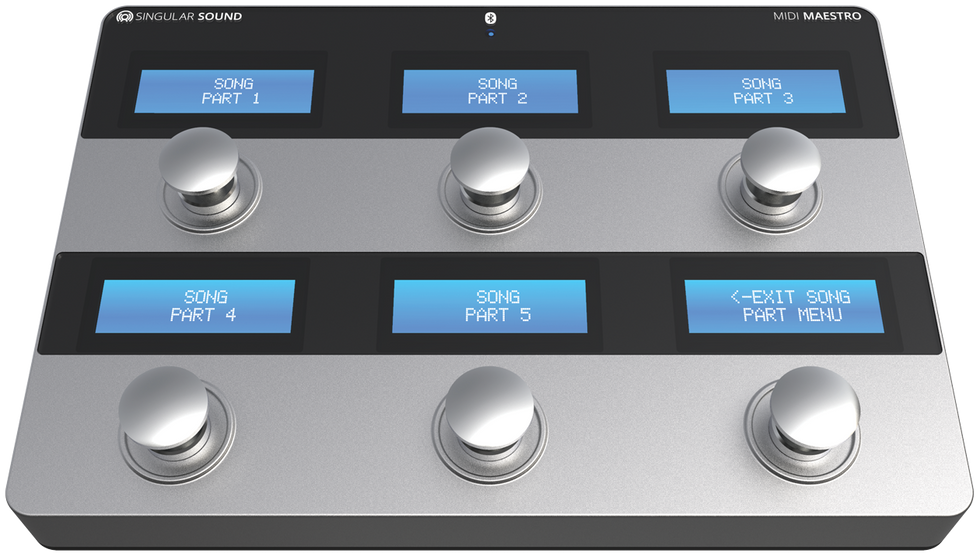 A sleek unit made of anodized aluminum that features customizable labels for each of the six buttons. You can have 10 active pages per preset and it works directly with Beat Buddy and Aeros Loop Studio.
$299 street
singularsound.com
Source Audio Soleman

You can easily end the tap dancing by utilizing one of the unit's three modes: scene, setlist, or panel. It can also control DAWs, virtual instruments, or plugins via the USB/MIDI interface.
$249 street
sourceaudio.net
Meloaudio MIDI Commander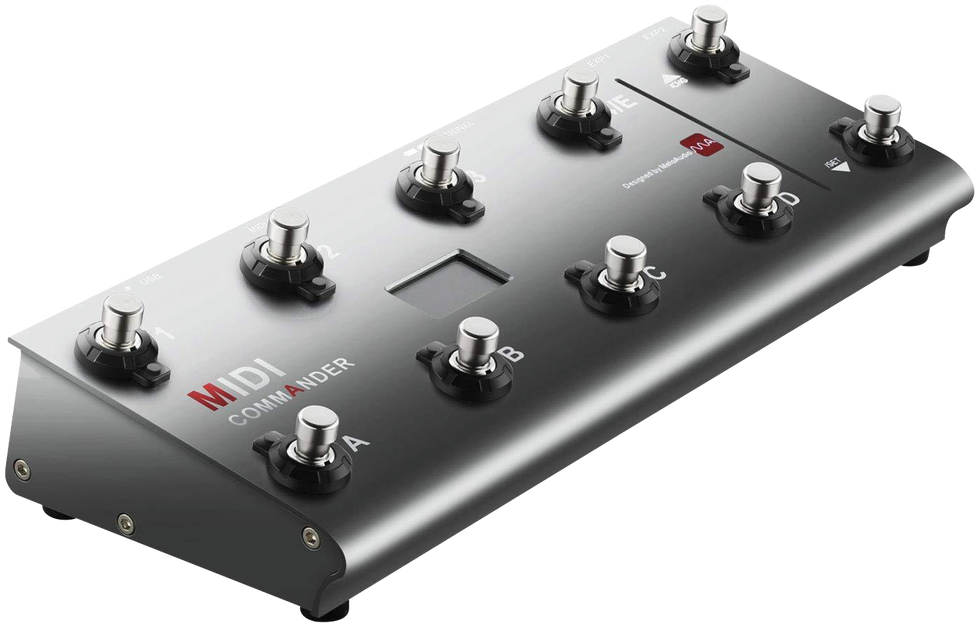 This 10-button controller can run up to 40 hours via a pair of AAA batteries. It's compatible with a wide range of MIDI units and houses two power modes. Includes six host modes to work directly with JamUp, Bias FX, Kemper, and more.
$160 street
meloaudio.com
Voodoo Lab Ground Control Pro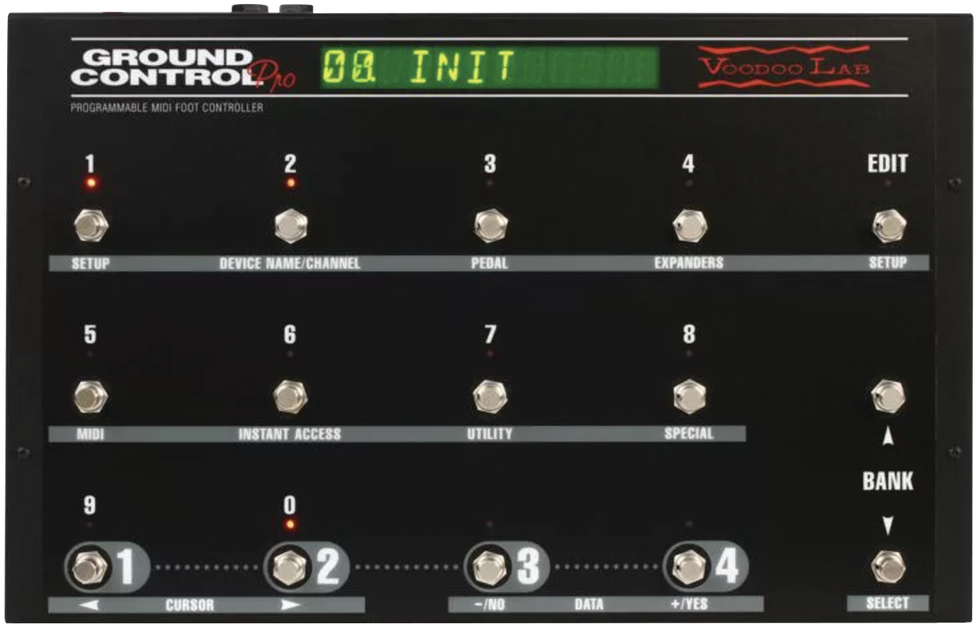 Recalling the days of Bradshaw-designed rigs, this expansive, roadworthy controller offers 12 switches for patches, can process up to eight devices, and gives you stompbox-style control over your rig.
$430 street
voodoolab.com
Photo by Kara Sheridan
Bill Dess was working as a cashier in a Harlem bodega in 2016, making songs in his apartment. Then he uploaded one to SoundCloud, and well … sometimes dreams do come true.
Bill Dess, who makes music under the name Two Feet, became a sensation virtually overnight. The 28-year-old's musical career blasted off in 2016 with his breakout song, "Go Fuck Yourself," when he unassumingly uploaded it to SoundCloud in the middle of the night from his rodent-infested apartment in New York City. The next day, he awoke to millions of streams and several major labels courting him. His next hit, "I Feel Like Drowning," reached No. 1 on the Billboard Alternative charts in 2018. In the span of a few years, he went from working as a cashier to traveling the world while opening arena gigs with Panic! at the Disco.
Two Feet's success is an example of what can happen when a guitarist with a vision embraces technology. Dess was making complete songs with just his Strat, a janky microphone, and Ableton. His recipe—impeccably phrased, soulful guitar solos over heavy 808 drumbeats, and breathy vocals—sounds simple enough. Yet, it's unique for an accomplished guitarist who was accepted to Berklee College of Music on scholarship to fuse bluesy guitar lines with thumping electronic beats made with drum pads. For Dess, that was mostly out of necessity: He couldn't jam with a bassist and a drummer in his apartment.
The phrase "electronic music" can be polarizing. It's a bunch of different things with infinite subgenres, but the first type of artist called to mind might not be a multi-instrumentalist who started playing guitar around age 7, spending his teen years playing in jazz and blues ensembles. The musical touchstones and influences Dess cites—Stevie Ray Vaughan, John Mayer, Clapton, Hendrix—reflect a burgeoning blues hound, but also a 6-stringer who spent a fair amount of time chasing the tone dragon. Dess also plays piano, bass, and produced all of his early EPs, as well as his first two LPs: A 20 Something Fuck (2018) and Pink (2020). He largely made this year's release, Max Maco Is Dead Right?, on his own, but the new Two Feet album, coming in late 2021 or early 2022, will have production assistance from Geoffrey Hufford, aka Huff, who is the keyboardist/drummer in Two Feet's live band.
Two Feet - You? (Live)
At the end of high school, Dess got serious about his future in music. "I just thought of going to college, and then what would I do after college? I had some weird sort of break with reality for a second, where I was like, the only thing I really want to do is try to make music," he says. "So, I ended up focusing on that. Obviously, I'd played since I was a little kid, but I didn't ever really think this was what I'd end up doing, because everyone would always say it's impossible, you know, it's all luck or whatever, so it kind of turns you off from trying."
He decided Berklee was where he wanted to go. "My dad was like, 'We can't really afford that,'" Dess recalls. "So, I thought, I'll try to get a scholarship. I saw this video of this guitarist—Jon Gomm, 'Passionflower'—where he does this tapping, crazy guitar thing and I was like, 'I'm going to learn that.' I didn't even really play acoustic guitar. So, I went out and got an acoustic guitar, I fitted mics inside it, and I practiced, practiced, practiced." Dess ended up getting a scholarship but dropped out a few months into the first semester. "I got there and hated how regimented it was. It felt like they were trying to teach everyone there to become teachers rather than musicians. I realized I didn't need to be there to do what I wanted to do. It felt like a waste of time."
"I was obsessed. It's all I played—B.B. King, Wes Montgomery, or Buddy Guy and stuff like that. I didn't ever practice anything else but blues."
It's clear now that all Two Feet needed to craft songs was his Strat and a computer. His roots are as a blues-guitar player, although he was reluctant to say that's exactly where he lands today. "It's sort of a big mix. It also has a lot of rock in it, so it's not purely blues," he says. "I think when I was younger, I would've said that. I was obsessed. It's all I played—B.B. King, Wes Montgomery, or Buddy Guy and stuff like that. I didn't ever practice anything else but blues."
Now, his influences run the gamut. The day of our interview, he was finishing up a mix for the artist Grandson. Throughout the pandemic, he's been listening to Sam Fender, Fred again.., Harry Styles, and the Strokes. The title track to his second album, "Pink," is an homage to Pink Floyd. "I love David Gilmour, and that song has a Pink Floyd tone to it," Dess says. "That's why I named it that." Two Feet's early EPs include songs that are basically accompanied guitar interludes, such as "Quick Musical Doodles," and "Felt Like Playing Guitar and Not Singing."
Two Feet's Gear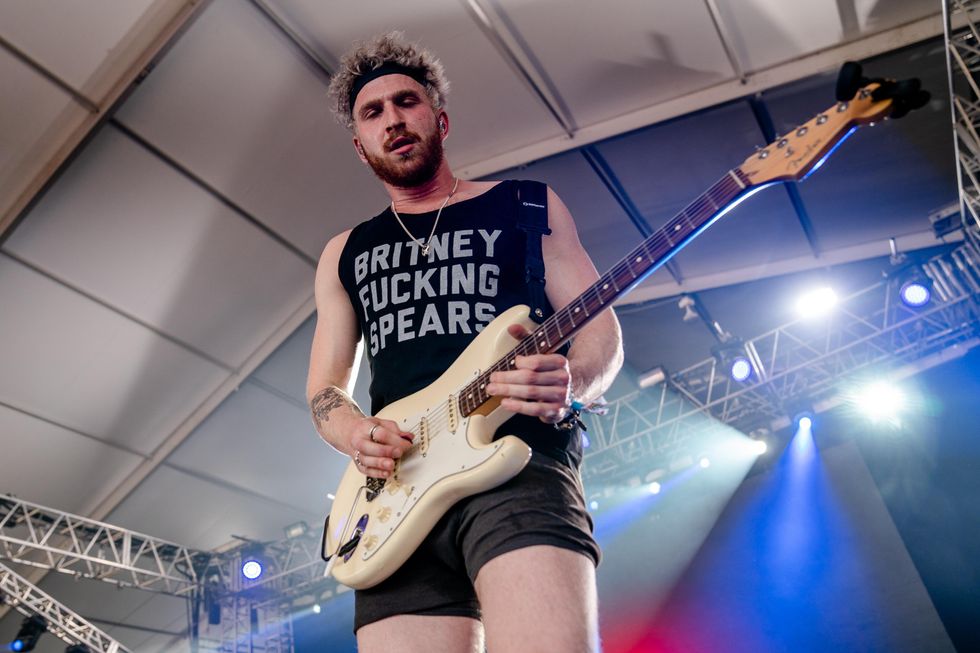 Bill Dess, aka Two Feet, shows his support for Britney Spears while channeling a Strat solo at the 2019 Bonnaroo Music & Arts Festival in Manchester, Tennessee.
Photo by Josh Brasted
Guitars
Fender American Professional Stratocaster customized by Paul Nieto with 1950s-era single-coils, Seymour Duncan humbucker in middle position (olive green)
Fender American Stratocaster (Olympic white)
1980s Fender Strat (red)
Martin D-42
Amps
Effects
Boss HM-2W Waza Craft Heavy Metal Distortion

Ibanez TS9 Tube Screamer
Hotone Skyline Eko Digital/Analog Delay
Dunlop Cry Baby Classic Wah
MXR M300 Digital Reverb
Strings and Picks
Elixir Strings with NANOWEB Coating, Light (.010–.046)
Dunlop Tortex Picks 1.14 mm
The shifting dynamics and contrast between the guitar melodies and dropping bass beats is part of what draws you into a Two Feet song: The high/low elements he blends work extremely well together. Or as Dess put it, it's like "a mini genre within a genre." Dess is an alternative-rock artist who builds around electronic music. There was already a community of likeminded musicians building this genre on SoundCloud when Dess came on the scene in 2016.
"At the time, none of it really had blues guitar. It was sort of MGMT-ish, or trap beats with alt singing on it. My bandmate Huff always makes fun of it. He says in a joking, insulting way: 'You created blues-trap music.' I guess that's what I would call it. There was no one who sounded like that before "Go Fuck Yourself" came out. There was no blues guitar with the saw bass pad and the 808 drums. There was no one doing that."
"Sometimes it's easier to rip your shirt and look weird and pretend like a different person so you can get out of your own head and so you can get up there with a lot of confidence, like you're acting."
His latest album, Max Maco Is Dead Right? is an evolution in songwriting for Dess. The concept album was born out of finding ways to cope with fame and anxiety and was inspired by Dess' own inner struggles.
"Max Maco is this character I would get into when I would get nervous," says Dess. "We really, really quickly went from 200-cap rooms to playing in front of 30 thousand people in Mexico. You're standing on the side stage. You see this massive crowd of people, you hear the cheering, and you're freaking out because you're really nervous.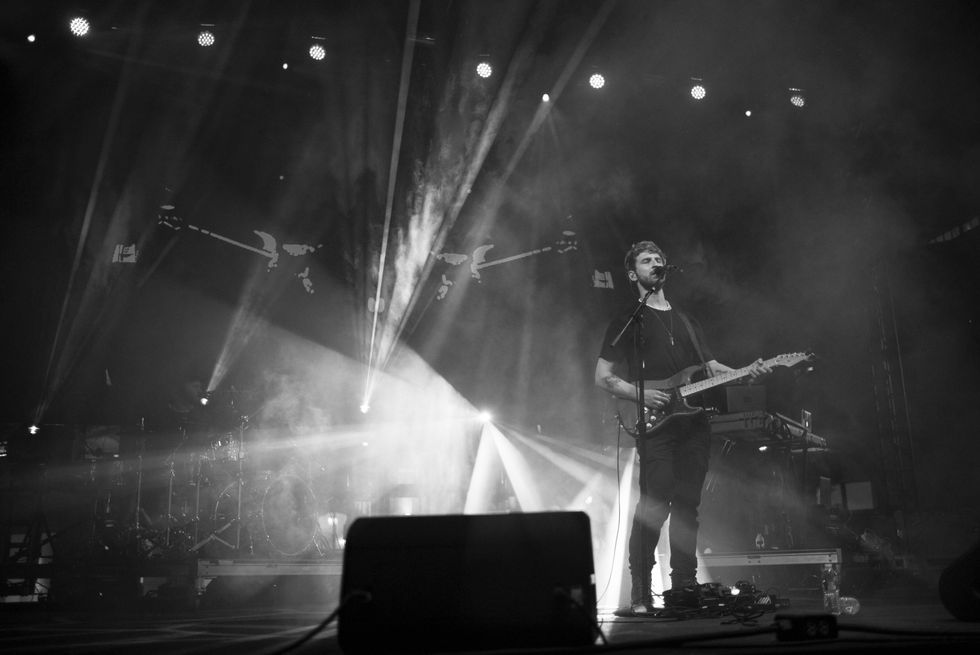 Two Feet on playing guitar: "Most of the time I have to close my eyes and hear and feel, and it just creeps its way up through me. Not even thinking really. It's hard to describe but at the same time it's the simplest thing in the world."
Photo by John D Gray (@itsnotpork)
"Sometimes it's easier to rip your shirt and look weird and pretend like a different person so you can get out of your own head and so you can get up there with a lot of confidence, like you're acting. I created characters in my head for myself before we went onstage. It was part of the entertainment and I think the fans catch onto that, that you're doing something in that moment."
Dess created his Max Maco alter ego during Two Feet's opening spot on Panic! at the Disco's "Pray for the Wicked Tour." The transition from unknown opening act to finding a groove on the road was rocky, Dess admits, but he recalls a moment when everything changed.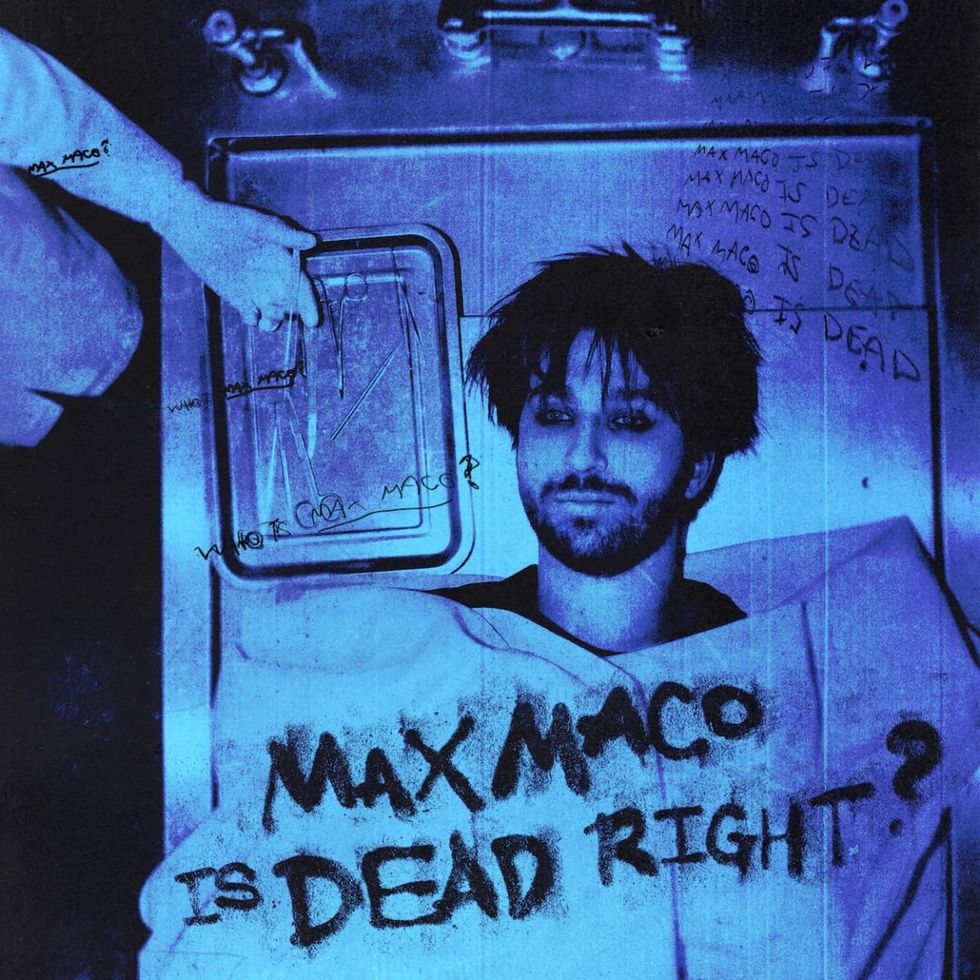 TIDBIT: Two Feet's latest release, Max Maco Is Dead Right?, is a concept album based on a character that Bill Dess created and would pretend to be in order to calm his nerves before going onstage in front of big crowds.
"The first few shows were really tough since the music is so unrelated. Why would Panic! at the Disco fans like my music? Then we get to Montreal. We were having a hard time, and it was really cold—so cold we couldn't even go outside. We meandered onto the stage, like 'Oh god, another one of these, everyone's going to be sitting and confused as to what this Brooklyn-heavy sort of sound is.'
"We started playing and the crowd started getting more energetic and more energetic, and I started feeling it in my chest. Then we started playing 'I Feel Like I'm Drowning.' For the first time in my life, 20 thousand people turned on their phone lights and lighters and were swaying. When you're onstage and it's pitch dark in an arena and everyone's swaying their lights, it looks like outer space—it's the most insane thing from the stage, and you're also playing and singing. That happened and it turned the whole tour around. That was one of my favorite memories from my career so far."
At home, Dess is constantly working on new material. He currently has about 30 unreleased songs and is working on a film project, in addition to collaborations and mixes for other artists. "I can't go a day without sitting and writing music," he says. "I'm a total workaholic."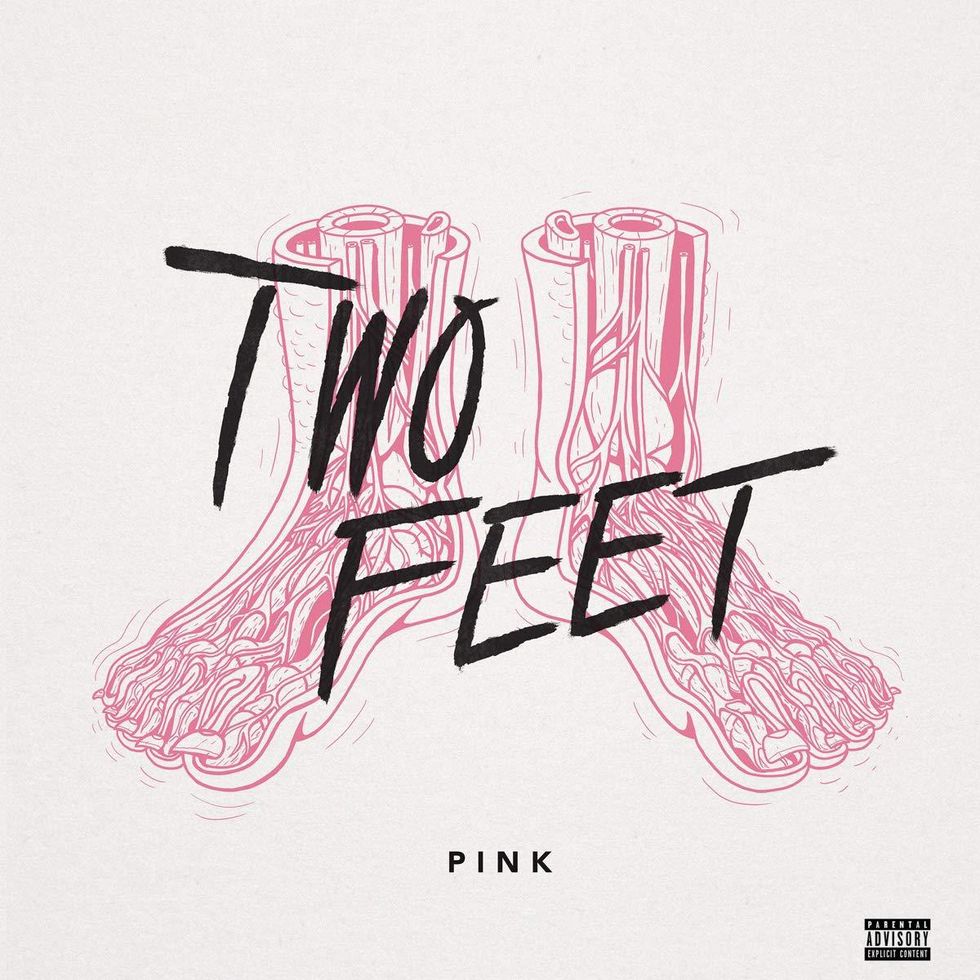 TIDBIT: Bill Dess has several answers about where his Two Feet moniker came from. One is about hearing this quote on Jerry Maguire: "There is an insidious disgusting monster that walks around the earth on two feet and it's a human."
His go-to tool is an olive green Fender Strat, which he plays unplugged at home when writing music. But his favorite guitar is one of the first guitars he ever got—an early 1980s red Fender American Stratocaster, which he's now retired from the road. On the advice of his tech, Paul Nieto, Dess replaces his Strat pickups with vintage standard single-coils from the 1950s, because "the newer ones are wound really tight and buzz too much," he says. "I replaced the center pickup with a [Seymour Duncan] humbucker so I can have that more sustained rock tone for it."
Dess has dozens of pedals, but his live pedalboard stays about five stomps deep. "One of my favorites is a Boss Heavy Metal Distortion pedal," he shares. "It's amazing for when I want to go into a David Gilmour–type thing. I usually use it in conjunction with my classic Tube Screamer. And then I have this tiny little mini delay pedal [Hotone Skyline Eko]. It's the size of an apricot, almost, and it has the most simple settings ever but it just sounds so good. I find a lot of delays sound computer-y and too digital-sounding, and this one has this great natural sound. I've used that for years; I have like 30 of them."
Starting out, Dess toured with a big Marshall stack, but when he started playing bigger shows, he switched to a Fender Twin Reverb. "You hook up to PA system, so it doesn't matter how big the amp is, unless you want it for looks or something," Dess says. "The Fender Twin sounds great with my guitar, it's easy to take onstage, easy to set up, and it's not too complicated, so that's what I use on tour."
One development Dess didn't anticipate is that his music would gain a carnal reputation. He says one of his most "mainstream moments" came when Chart Data released a Top 10 list of artists people have on their "Sex Playlists," which included household names like Drake, the Weeknd, and Ariana Grande. "I was number 9 above Party Next Door," he says.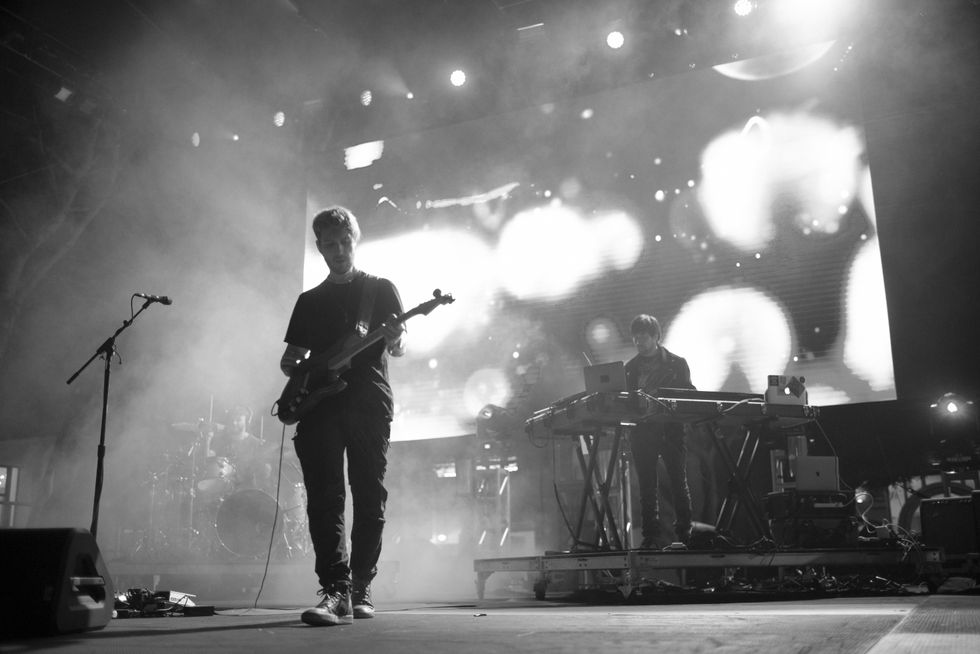 Two Feet's live band performs as a trio, which includes Bill Dess on guitar and vocals, Geoffrey Hufford on keyboards and drum pads, and Matt Swain behind the drum kit.
Photo by John D Gray (@itsnotpork)
The interesting part about that is, Two Feet's lyrics are not literally suggestive, though many of his songs document the pain of relationships, heartbreak, betrayal, and making mistakes.
"If you use pure statistics, I must be making sexy R&B music [laughs]," he says. "I never looked at it like that. I just tried to make stuff I thought sounded cool and I guess it comes off that way.
"I was analyzing myself the other day. I cover in a lot of songs: the passage of time, existential stuff, and large amounts of relationships and personal stories, lyrically. I don't think a lot of them are the sexiest lyrics. There's not too much of that in the lyrics. I think when people are talking about the 'sexiness,' it's more just the way everything sounds—smoky and dark and bluesy guitar."
His sound is also resonating with the jam-band scene, likely owing to his skilled phrasing, bendy solos, crystalline Strat tone, and a knack for writing melodic hooks on the guitar.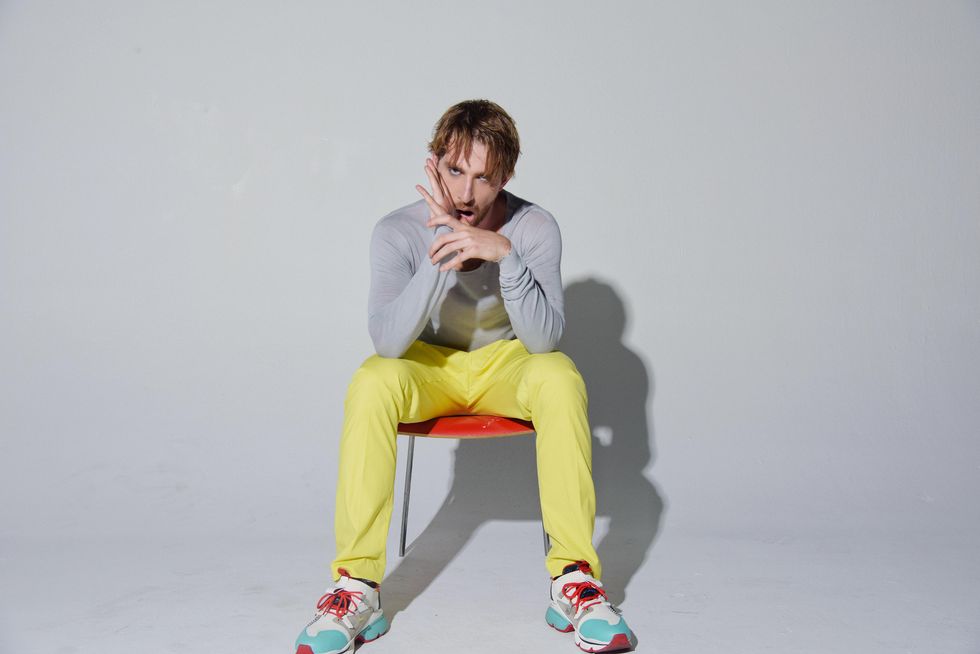 "I can't go a day without sitting and writing music. I'm a workaholic." —Bill Dess
Photo by Shervin Lainez
The ups and downs of becoming a person people recognize on the street, paired with the stress of touring and being a sensitive human, contributed to a difficult time a few years back when Dess took a break to tend to his mental health. But in 2021, he's more ready than ever to get back on the road. With three full albums, and a fourth on the way, Dess has plenty of material to draw from as he readies his live show. He's dipping into more stripped-down performances with just an acoustic guitar, which is a newer approach for him, and writing more traditionally on an acoustic.
"This new album is way more guitar heavy than Max Maco was," he says. "I change what I want to do all the time."
So, is Max Maco dead now? "I don't want to give too much away but he might be around again," Dess offers.
And with a little more experience under his belt, what does it feel like being onstage now?
"All I know is time passes very differently. An hour set sometimes feels like 20 minutes. Most of the time, I have to close my eyes and hear and feel and it just creeps its way up through me and that's how I start improvising and not even thinking. It's hard to describe but at the same time it's the simplest thing in the world."
Two Feet - Digital Mirage (Official Full Set)
Guitarists Tim McIlrath and Zach Blair enjoy tenacious tones with rock's mightiest tag team—Gibsons into Marshalls—aided by a few everyman effects and one mythical stomp.
Rise Against rose out of Chicago around Y2k on the back of roaring Gatling-gun guitars, blast-beat rhythms, and defiant, sharp-tongued social commentary. The band's first pair of albums—2001's The Unraveling and 2003's Revolutions Per Minute—are blistering bangers rooted in traditional hardcore chaos, spiced up with fist-pumping, boot-stomping choruses.
Siren Song of the Counter Culture in 2004 was their major-label debut, on Geffen. That album highlighted a broadening hardcore sound buffed up with more melody. (Think '90s Bad Religion messaging cloaked in early 2000s AFI harmonies.) However catchy they became, their message still ripped like a dagger. Appealing to a bigger audience with bouncier hooks, acoustic numbers, and string overdubs earned them their first splash into the Billboard 200 albums chart (eventually certified gold in the U.S.).
Elevated visibility scored them back-to-back platinum albums—2006's The Sufferer & the Witness and 2008's Appeal to Reason, and that momentum carried over to a continued residency in the top 10 of the Billboard 200 with 2011's Endgame, 2014's The Black Market, and 2017's Wolves. And 2021's Nowhere Generation represents a maturing, melodic hardcore outfit that continues to stand up for what they believe in and still provide the revolutionary attitude to back it up.
The continual growth and evolution of their melodic-hardcore formula has allowed them to roll into mainstream airwaves like a Trojan horse. Newcomers who were enamored with anthemic choruses ("Savior," "The Prayer of the Refugee," "Nowhere Generation," "Give It All," "I Don't Want To Be Here Anymore") quickly became dancing disciples because of the band's knack for earworms.
The twin-guitar team of singer Tim McIlrath and lead guitarist Zach Blair welcomed PG down to Birmingham, Alabama's Avondale Brewing Company to see how their simple-but-stinging setups have morphed since 2015.
[Brought to you by D'Addario XPND Pedalboard: http://ddar.io/xpnd.rr]
The Black-and-White Guitar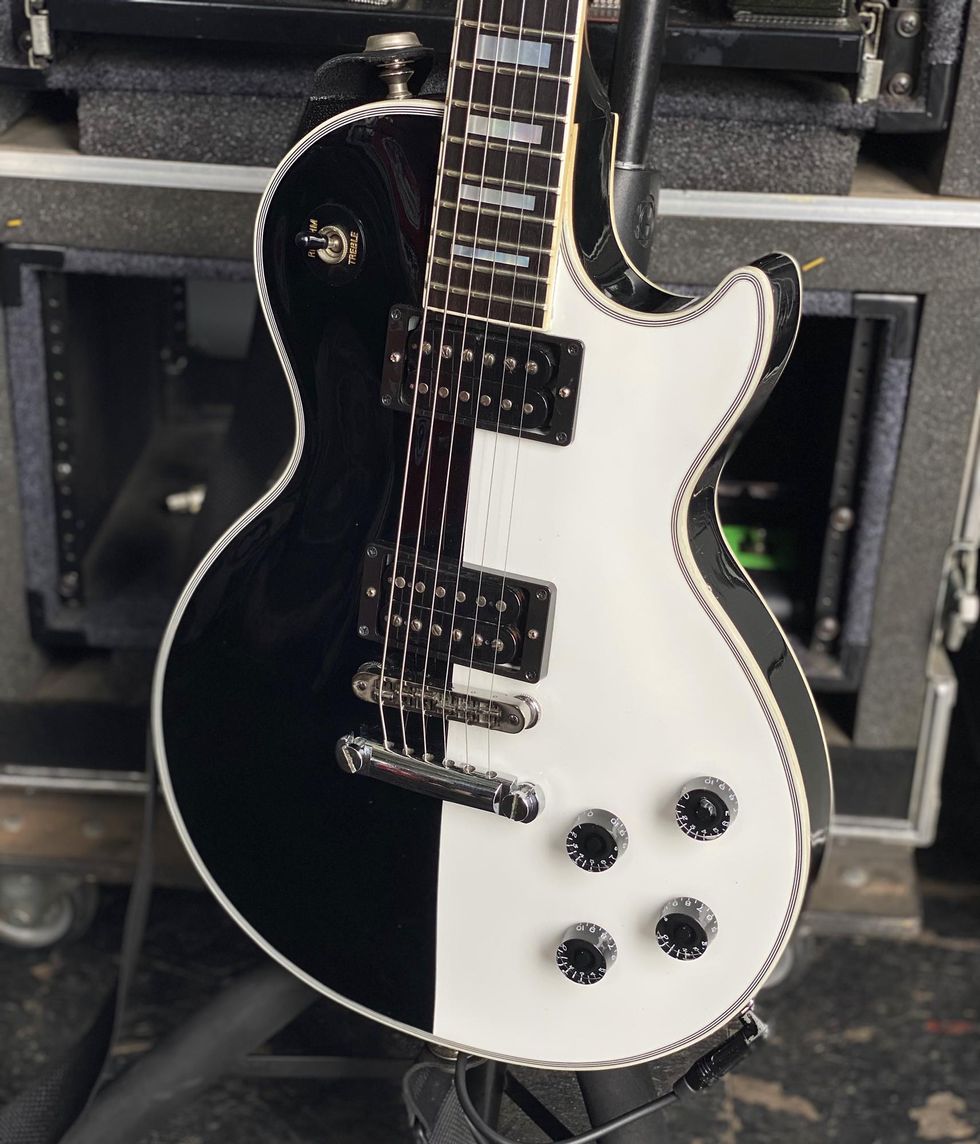 Lead guitarist Zach Blair's No. 1 was given a facelift for this run to match the black-and-white motif of the recent release Nowhere Generation. Honoring a hero, Blair went full Schenker (his favorite lead player) on this Gibson Custom Shop Les Paul Custom to vibe with the new album.
(If you recall from our 2015 episode with Blair, he had an "Ace Frehley" Les Paul Custom that loosely mimicked a Starman signature, with white pickup surrounds, a stark white pickguard, and gold speed knobs…. That's this guitar!)
Pivoting from Ace to Schenker, he swapped out the bridge Seymour Duncan Distortion for a SH-4 JB—otherwise it's that axe with a different personality.
All of Blair's electrics are strung with Ernie Ball Burly Slinkys gauged .011–.052, he's typically tuned to E-flat standard, and they all integrate with his Shure UR4D+ rackmount wireless.
Goldilocks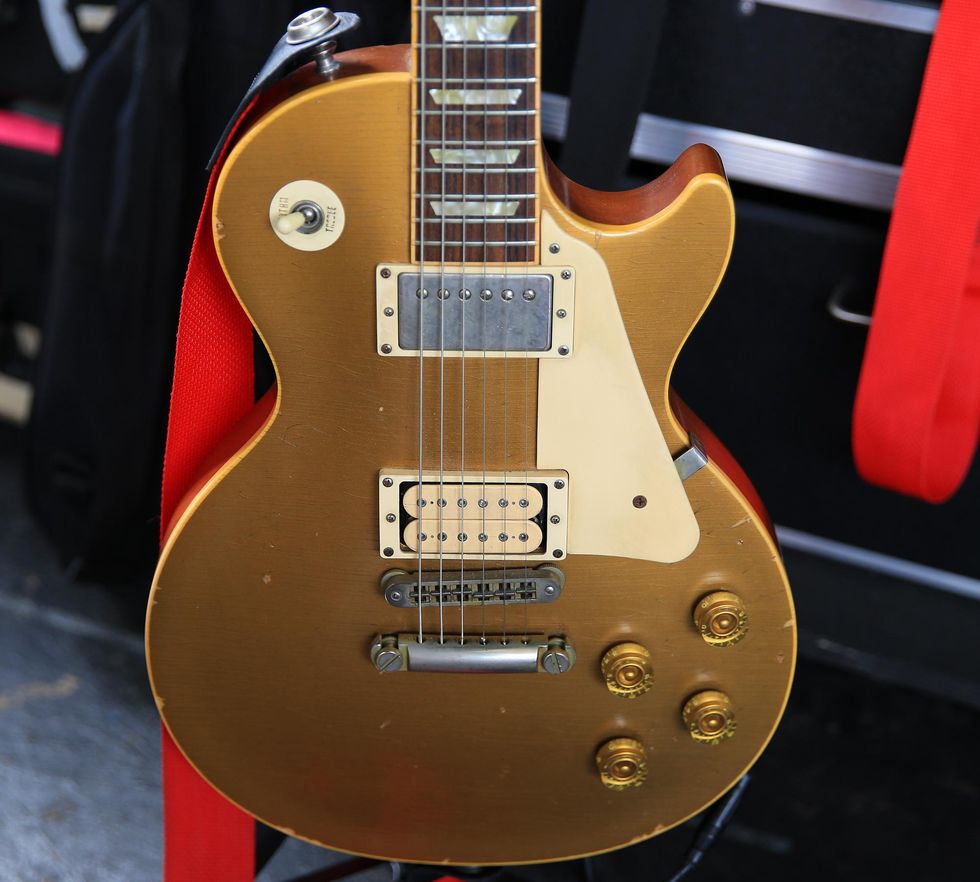 Here's Zach Blair's 2012 Gibson Les Paul goldtop that was affectionately aged by Nash Guitars to appear like a true-blue '57. Blair's gear guru and fellow Rig Rundown alumnus Brian Baker (Bad Religion) suggested he put a DiMarzio Super Distortion in the bridge. Baker didn't need to tell Blair twice!
Cherry Cola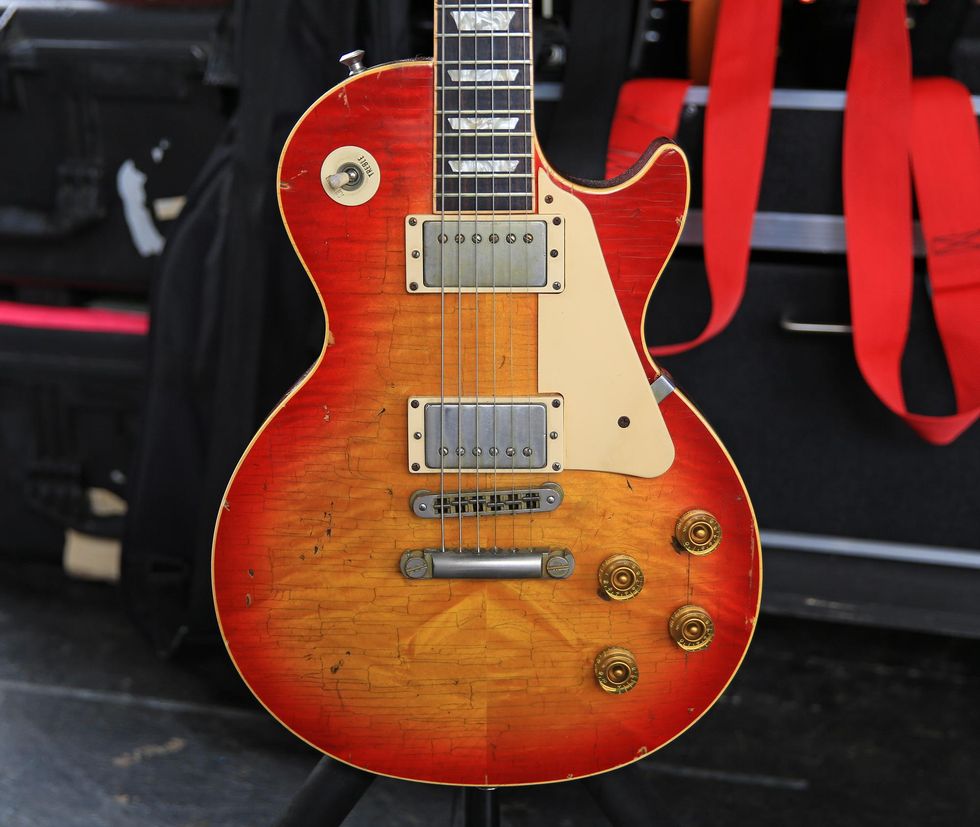 Zach Blair's 2013 Gibson Les Paul Standard also got the Nash "makeover" treatment, so the newish guitar looks (and plays) like a seasoned vet. This one received a bridge-pickup swap by introducing a Lollar humbucker into its DNA.
Drop D Me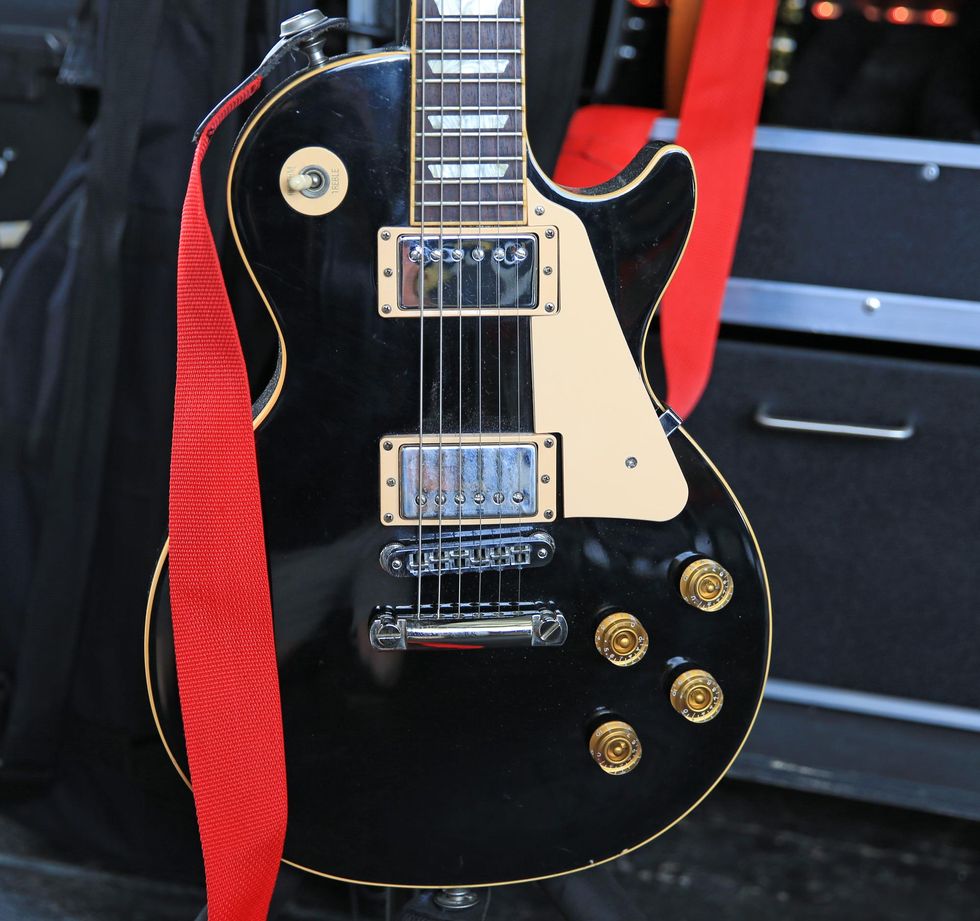 Rise Against's current set spanning nine albums requires one jam in drop-D tuning, so Blair brought out this 2012 Les Paul Standard to cover the task.
The Mighty Marshall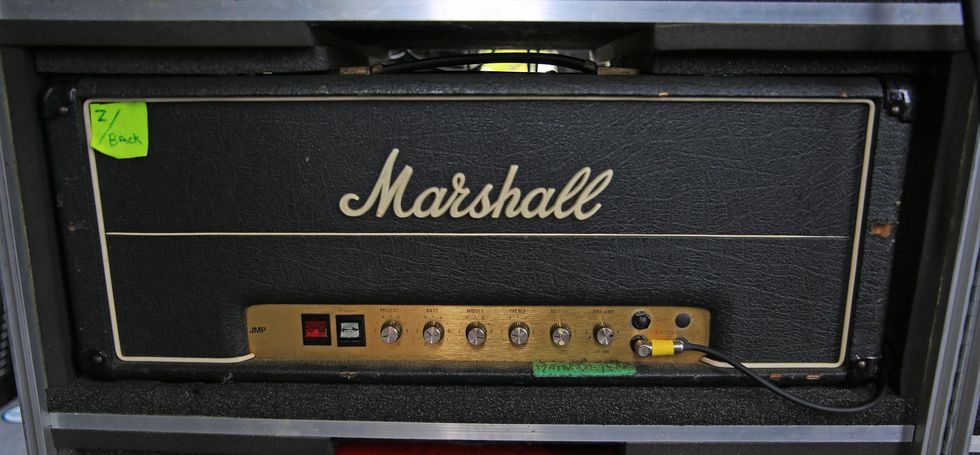 While touring with A Day to Remember, Blair became fast friends with their tech, Johnny Myer, who hotrods Marshalls. Blair offered up his '70s JMP that was malfunctioning from an awry "EVH brown sound" mod, hoping Myer could resuscitate the rock in the head. To his amazement, the amp gnashes like a Bengal tiger. Thanks to Myer, the JMP was rejuvenated, complete with a resonance mod and five cascading gain stages.
Angus Angle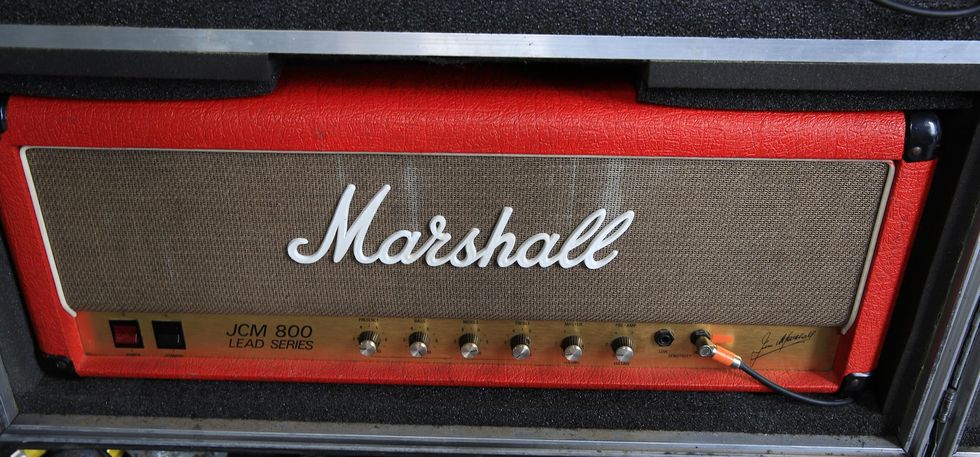 For the band's "clean" tones (Blair approximates them to a slight AC/DC grind), he switches on this 1987 Marshall JCM800. Before the tour, the 800 was re-tubed with fresh EL34s.
Pedal Time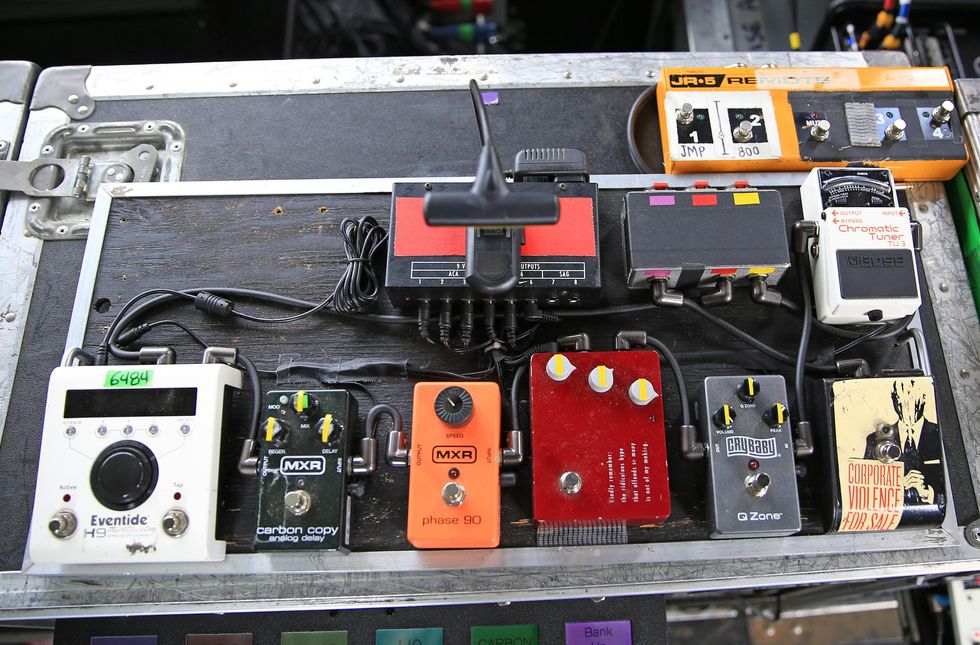 Last time Blair relied on his tech to make all the changes, with his pedals safely stowed in a rolling rack case. This go-round he wanted to "put pedals in front of me like a normal human being," so he can manipulate his tone as he likes. Standbys from 2015 include an Eventide H9, MXR Carbon Copy, and MXR Phase 90. New flavors include a Klon KTR, Dunlop Cry Baby Q-Zone, and a custom amp switcher (lower right-hand corner) that toggles between the JMP and 800.
A Boss TU-3 Chromatic Tuner keeps his guitars in check, a Voodoo Lab Pedal Power 2 Plus juices his stomps, and a Radial JR5 Remote Foot Controller handles any amp moves.
This Guitar Is On Fire!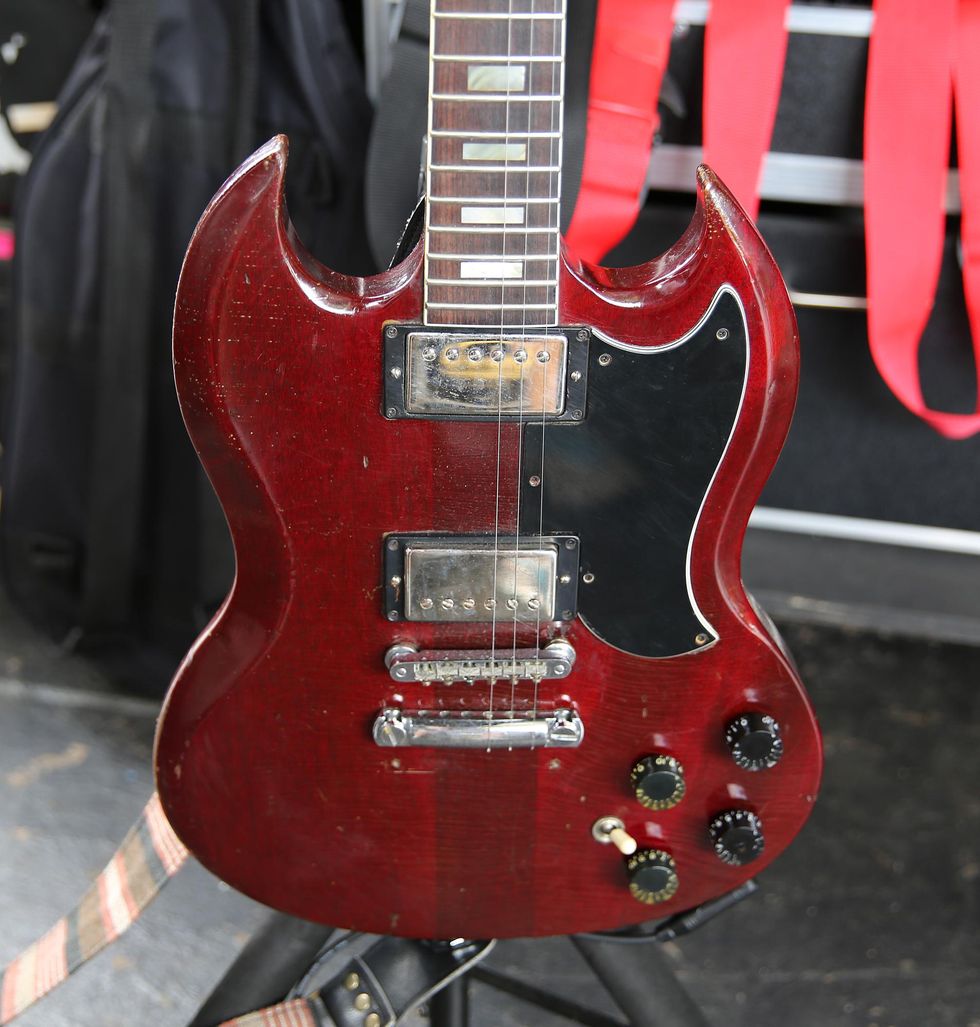 Founding frontman/guitarist Tim McIlrath goes into most stage battles with his fearless sidekick: a 1982 Gibson SG that survived a fire. Everything appears to be stock (this was in storage the last few tours), but it did get upgraded with locking tuners, and the infamous snake-bite marking indicates a move from a vibrato tailpiece to the current Tune-o-matic configuration. Most of McIlrath's electrics take Ernie Ball Slinkys (.010 –.046) and he's usually in E-flat standard tuning.
Bubbling Under the Surface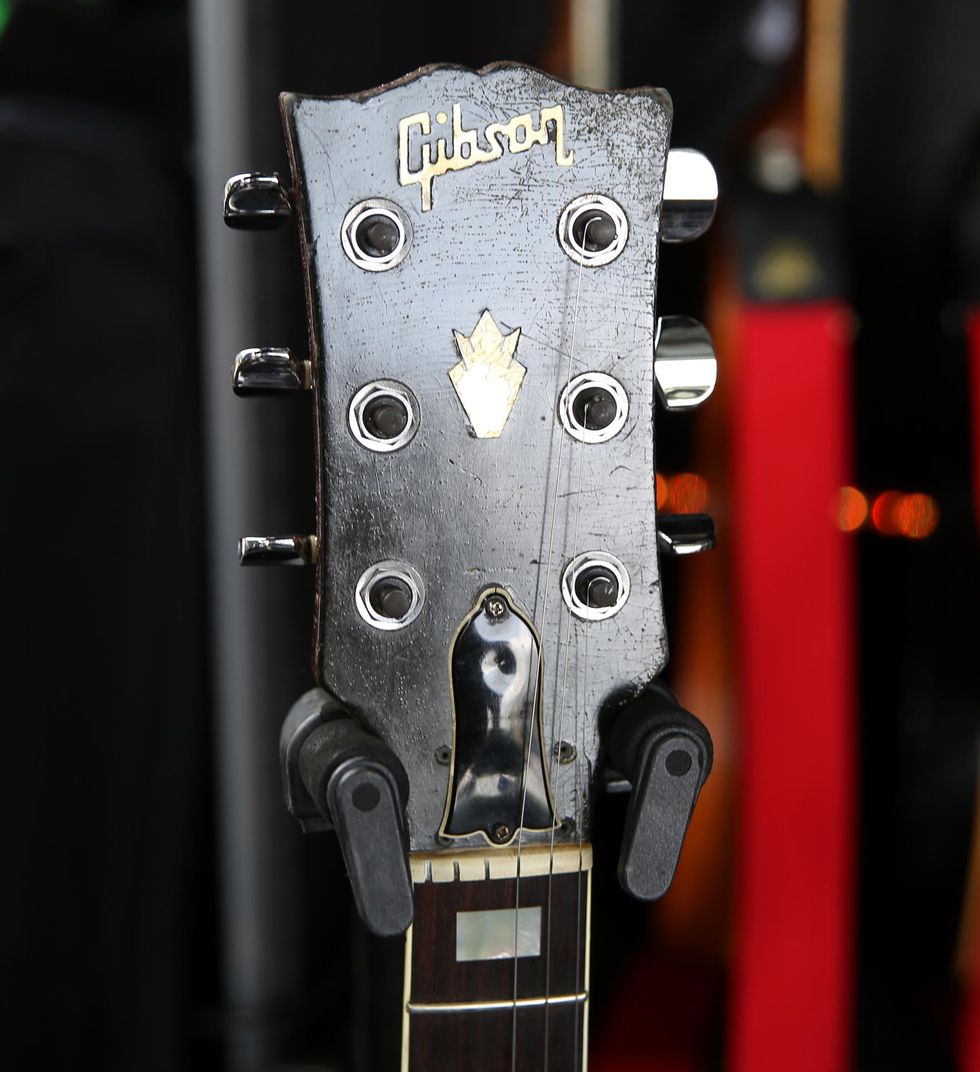 The SG's tortured headstock has seen better days but it's still in one piece.
Oh, Black Betty!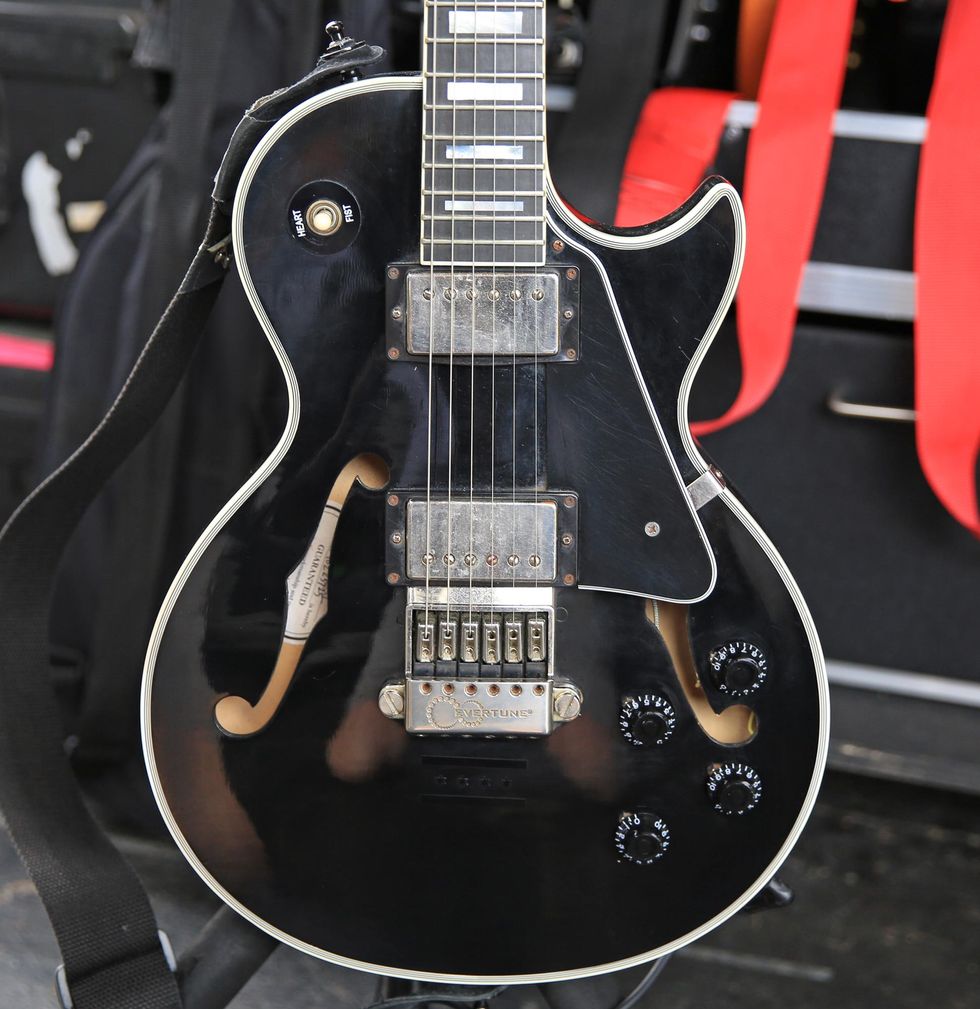 Playing second fiddle to the '82 SG is the above 2015 Gibson Memphis ES-Les Paul that's been retrofitted with an EverTune bridge.
Nowhere Generation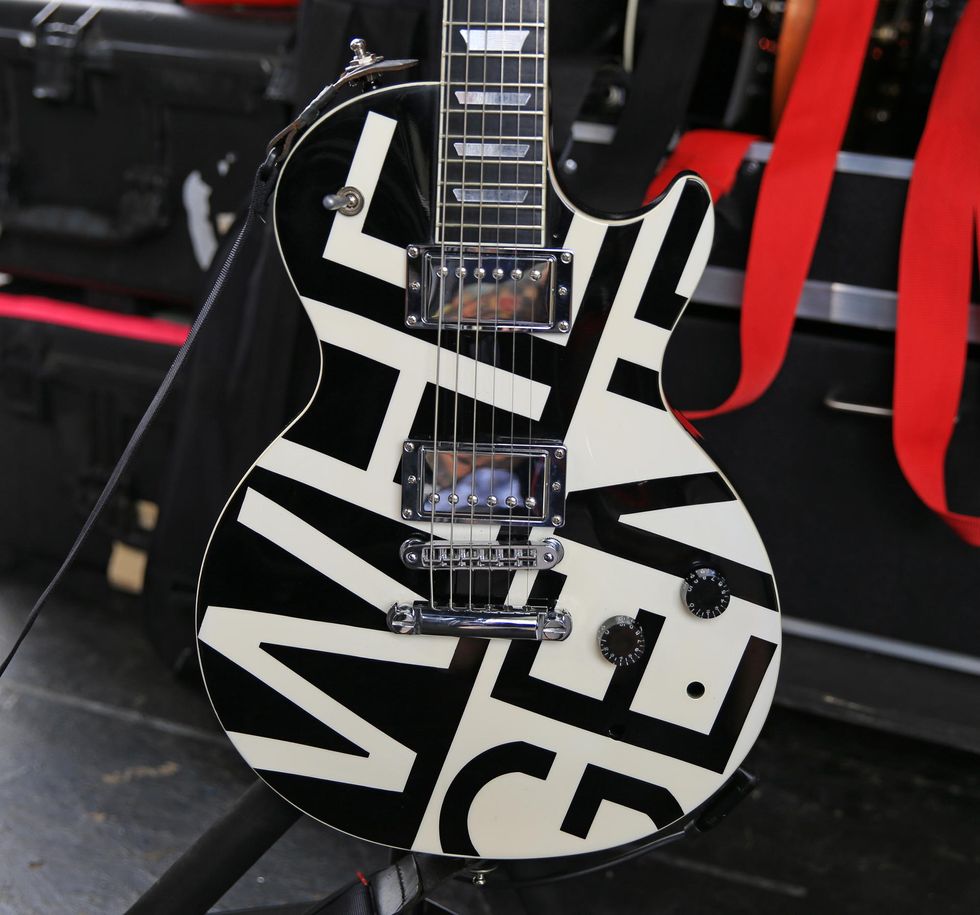 When Tim straps on this Les Paul, the fans know they're about to hear the title track off the band's 2021 release. This LP takes Ernie Ball 2215 Nickel Skinny Top/Heavy Bottom strings (.010–.052), because he tunes down to drop-D. (One cool thing to note are the mirrored inlays.)
SG Me, Please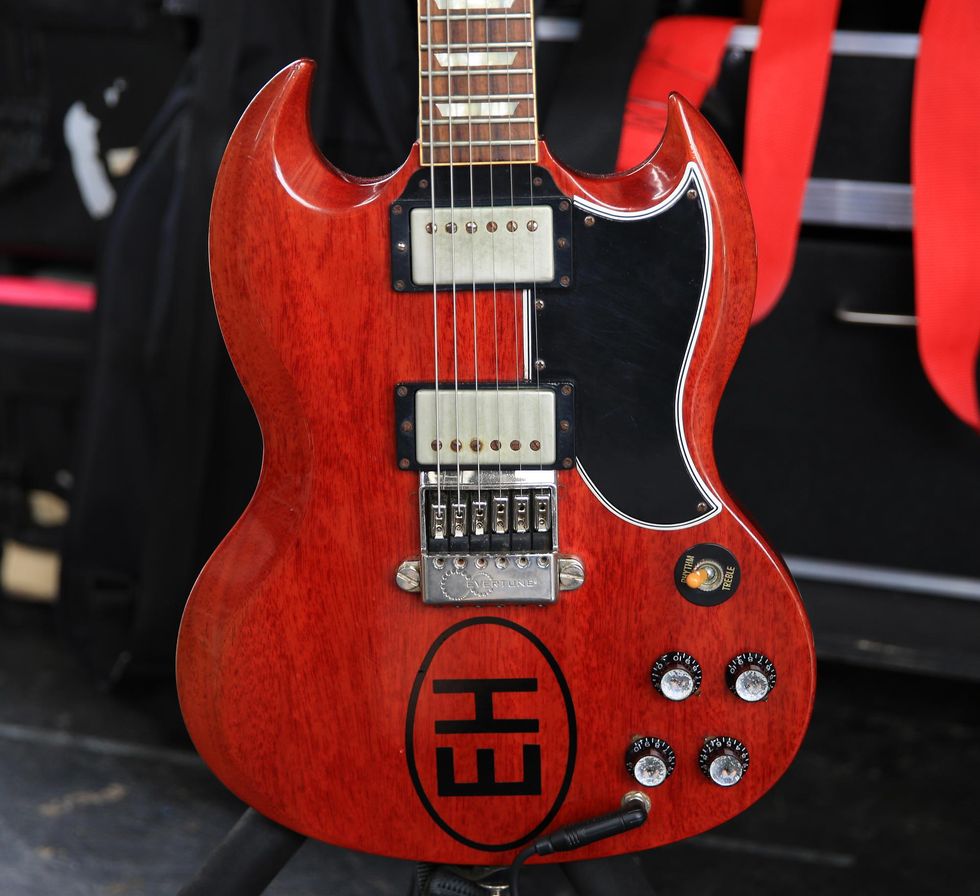 This 2012 Gibson SG—also given the EverTune treatment—is another backup Tim McIlrath has toured with for years.
Mahogany Martin For McIlrath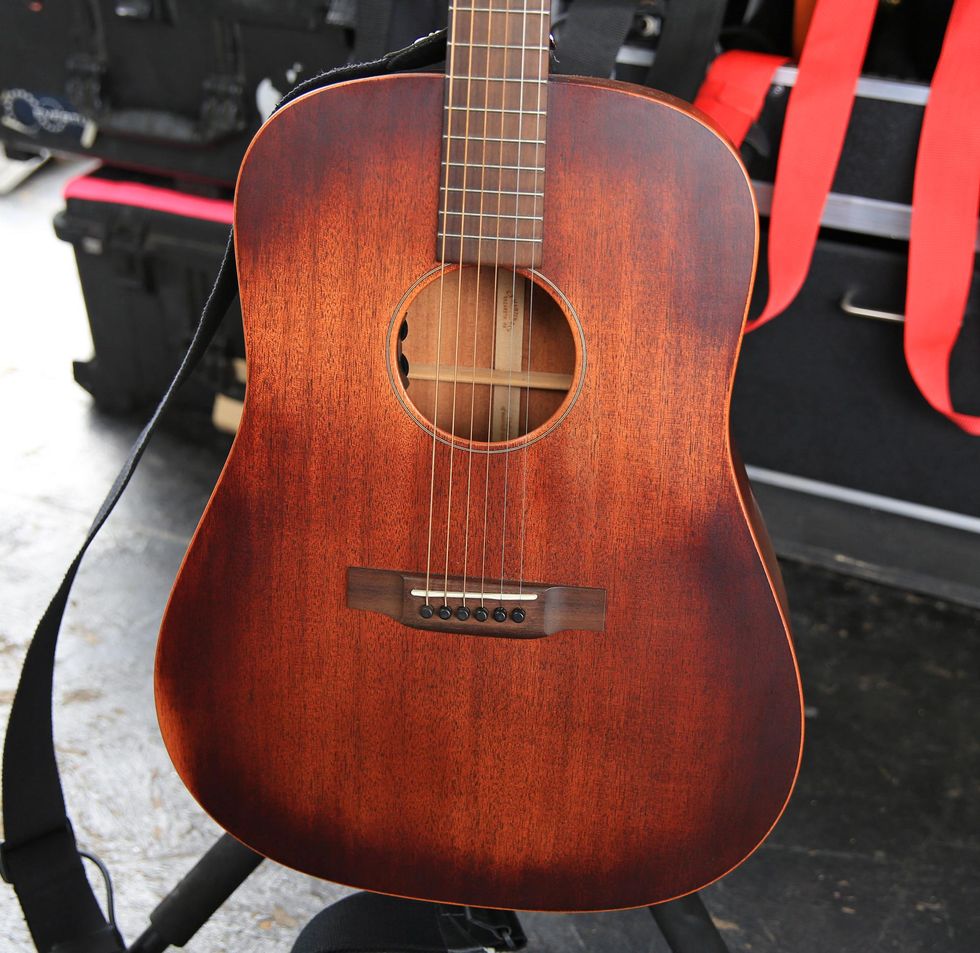 For acoustic songs like "Forfeit" or "Swing Life Away," Tim McIlrath hits the stage with just his scratchy pipes and this Martin D-15M StreetMaster.
Nifty 50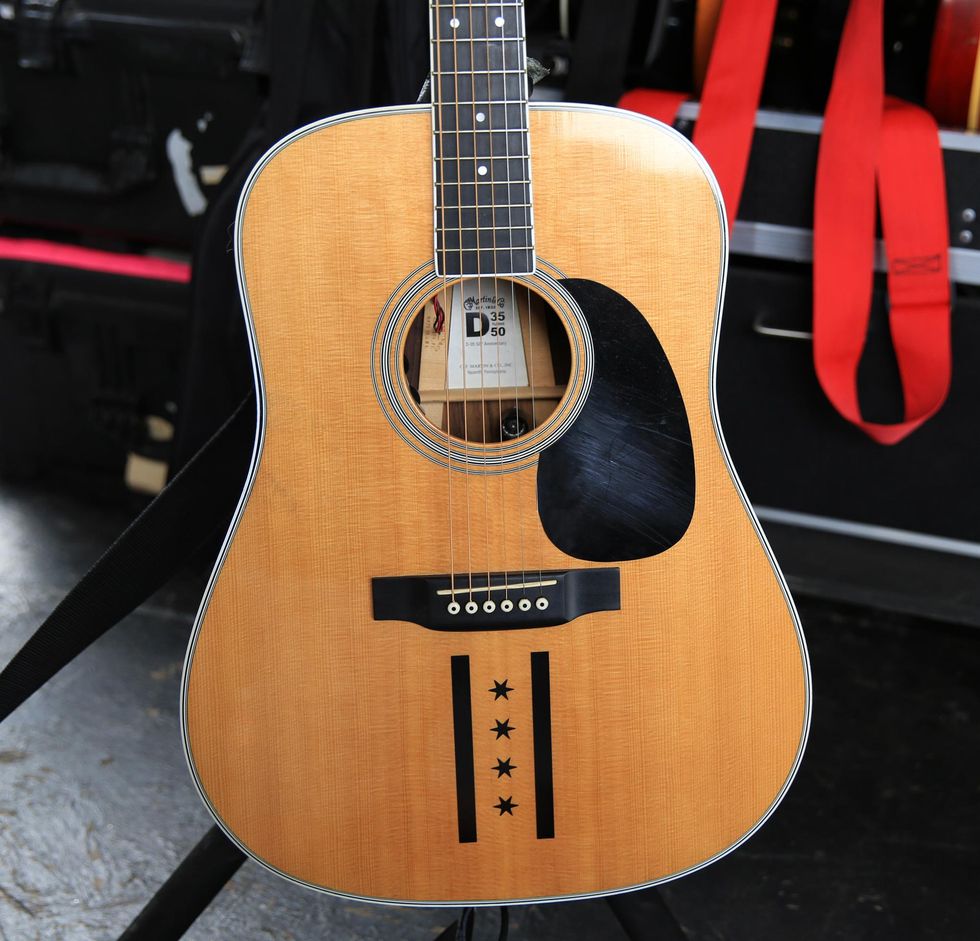 Acoustic backup duties are handled by this 2015 Martin D-35 50th Anniversary model spruced up with a sticker of the city of Chicago flag.
Marshall! Marshall! Marshall!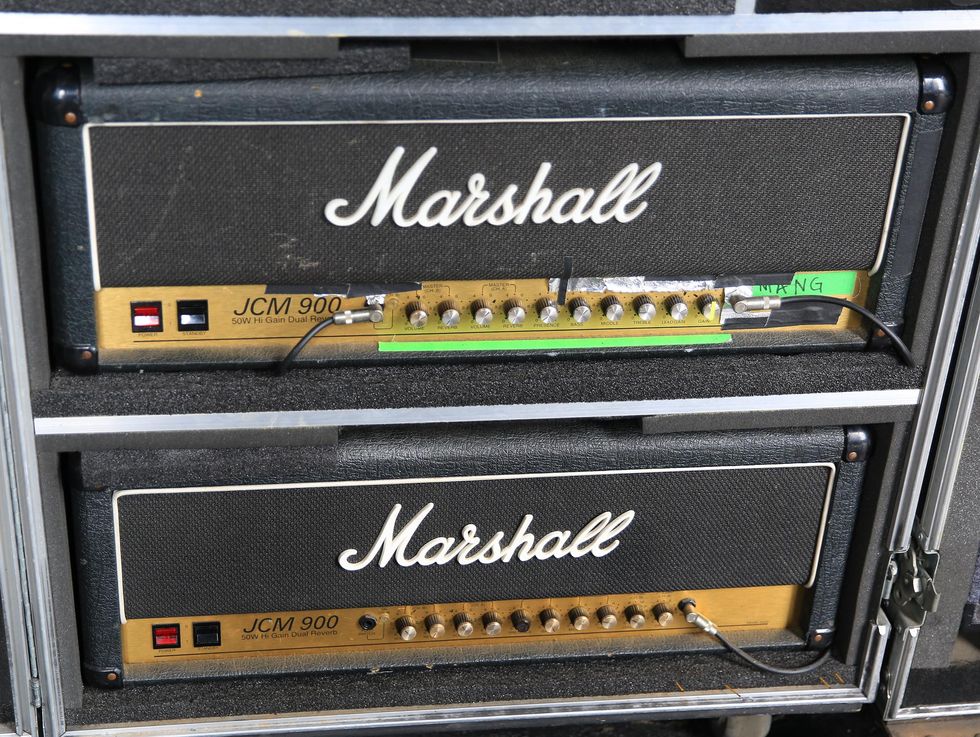 McIlrath fills his side of the stage with a pair of 50W Marshall JCM900s from the 1990s.
A Little Goes a Long Way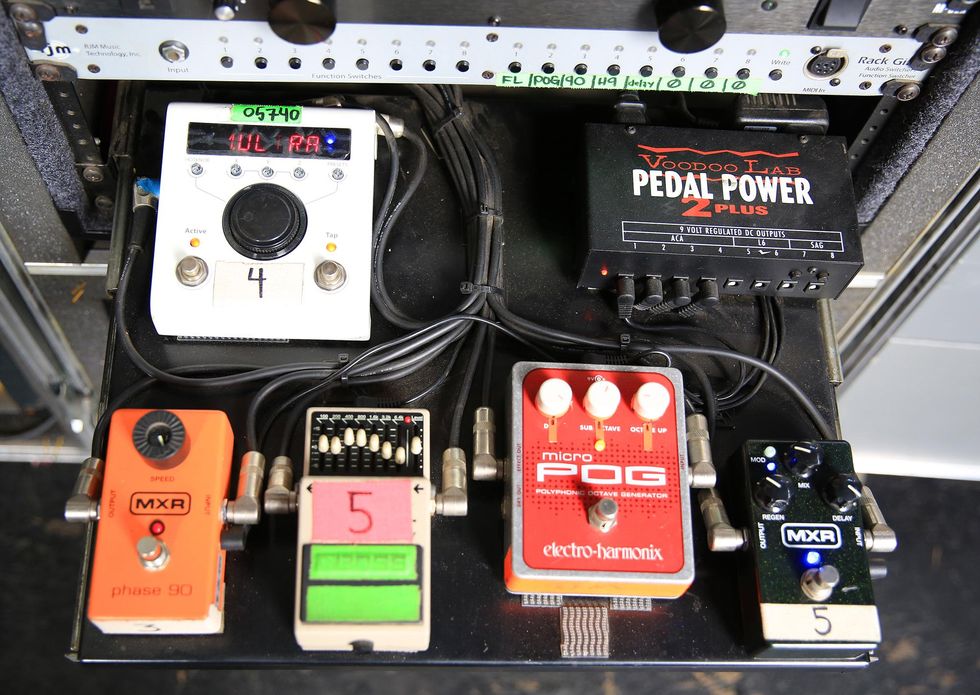 Tim McIlrath's rack contains his basic five pedal groups: phaser (MXR Phase 90), EQ (Boss GE-7 Graphic Equalizer), octave (Electro-Harmonix Micro POG), delay (MXR Carbon Copy), and everything else (Eventide H9). A Voodoo Lab Pedal Power 2 Plus feeds his stomps and an RJM Rack Gizmo helps with signal flow.
Kick on the Pedals, M#ther F@cker!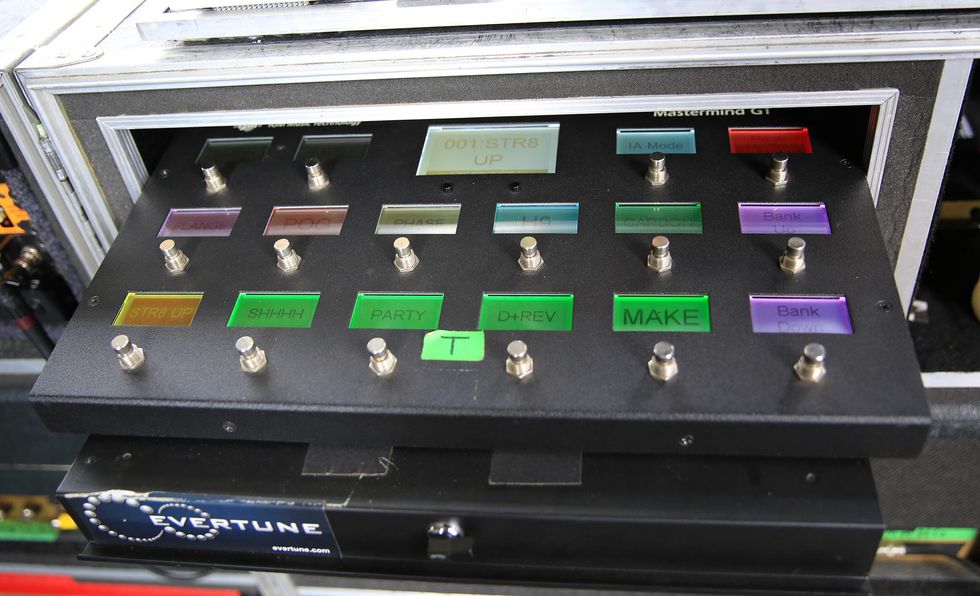 Sidestage, McIlrath's tech Geoff Bilson triggers all the effects with a RJM Mastermind GT.
Cory Wong talks with Dirty Loops bassist Henrik Linder about their blistering, new collaboration, Turbo, how the band became an accidental YouTube sensation, playing with tempered frets, the changing role of bass in pop, and tips for increasing speed and improving technique. Plus … Flea!
Henrik Linder (Dirty Loops) on Flea | Wong Notes Podcast
Dusky Electronics is proud to announce the newest addition to its award-winning pedal lineup, Toasted. An update of Dusky's Toasted Drive pedal, Toasted sports an expanded range of control and more pleasing distortion, while retaining the same basic topology that gave the Toasted Drive its unique, original voice. Toasted does everything its ancestor could do, just better.
Eschewing opamps and clipping diodes, Toasted's discrete, class-A circuitry consists of a pair of MOSFET gain stages cascaded one into the other, like tube gain stages in a guitar amplifier. Toasted's dynamic low-to-medium gain range stacks well with other pedals and its substantial output volume allows it to push a tube amplifier over the edge. Think of Toasted as a semi-transparent gain stage that can be used to expand the range of an existing guitar to amplifier connection.
Features
Real overdrive from a discrete class-A circuit
Internal MEAT switch to expands low end range
High impedance input allowing for flexible placement in signal chain
18V power option, for extended dynamic range and headroom
Battery power option
The Toasted retails for $180 and can be purchased online at duskyamp.com.