Gear Finds: Acoustic Edition 2022
Check here for some of the latest and greatest acoustics in 2022!
---
PRS Guitars
The PRS SE P20 is a parlor-sized acoustic with a
big voice. Boasting traditional parlor features
like sweet, midrange tone, historic vibe, and easy
portability, the PRS SE P20 also brings a unique
voice to players. The PRS hybrid "X"/Classical
bracing locks down the back and sides while
allowing the top to freely vibrate, allowing the
PRS SE P20 to project with even, bold tone, while
the all-mahogany construction provides an organic
warmth to the guitar. Its smaller size keeps
playing fun and comfortable for hours, so whether
writing, recording, or performing the P20 is sure
to impress.

Available in three satin finishes with herringbone
rosettes and accents, PRS SE Parlor acoustics look
as good as they sound. Other high-quality features
include a solid mahogany top, ebony fretboard and
bridge, bone nut and saddle, as well as PRS
trademark bird inlays and headstock design.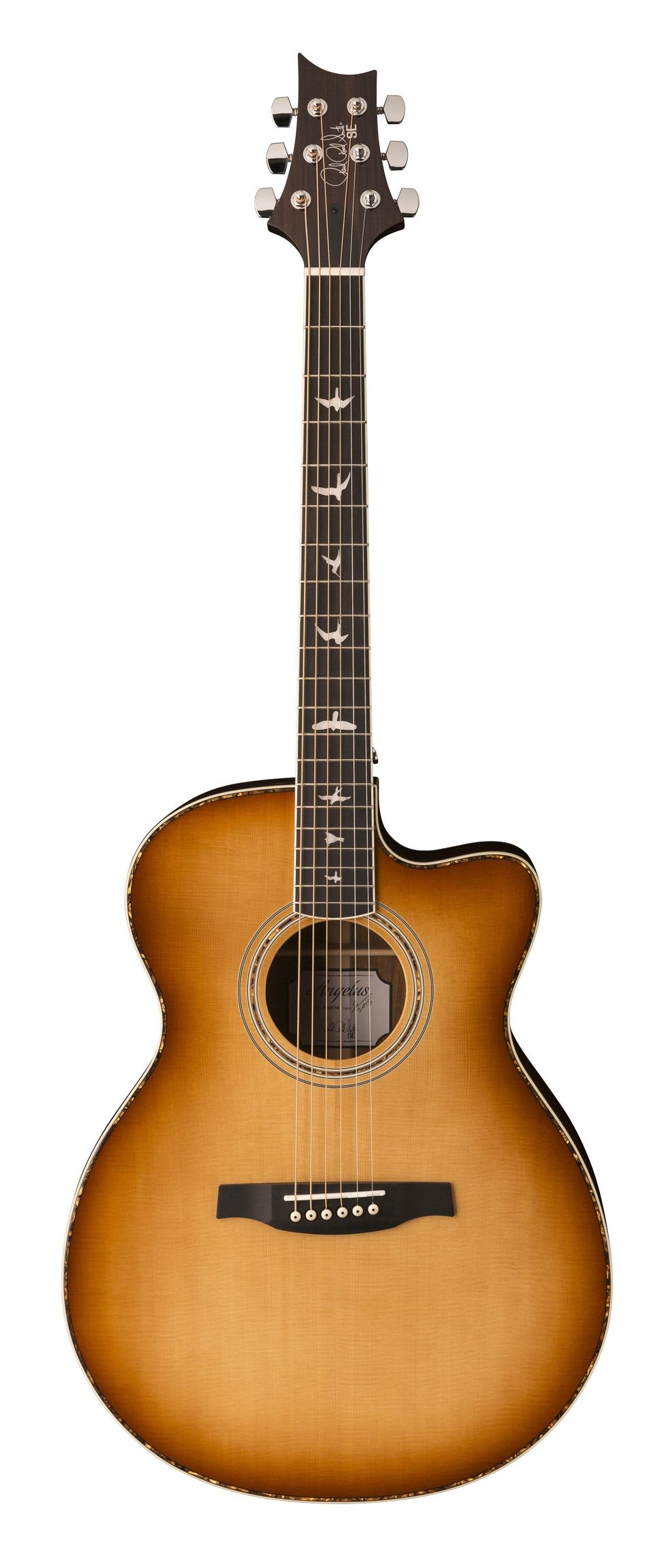 Ibanez
The Advanced Acoustic series represents an important step forward in the long and storied tradition of the acoustic guitar. In what amounts to a fully reimagined acoustic experience, these instruments were designed from the ground up to deliver a richer, brighter, and louder tone, with an unprecedentedly wide dynamic range. With slightly larger than typical proportions, Ibanez decided to name this new body shape the "Grand Dreadnought." This reinvented design achieves a superb, powerful sound, and thanks to the extensive consideration given to the ergonomics, it's extremely comfortable to play. The Advanced Acoustic series pushes the acoustic guitar to new heights in a way that promises an exciting experience for all players.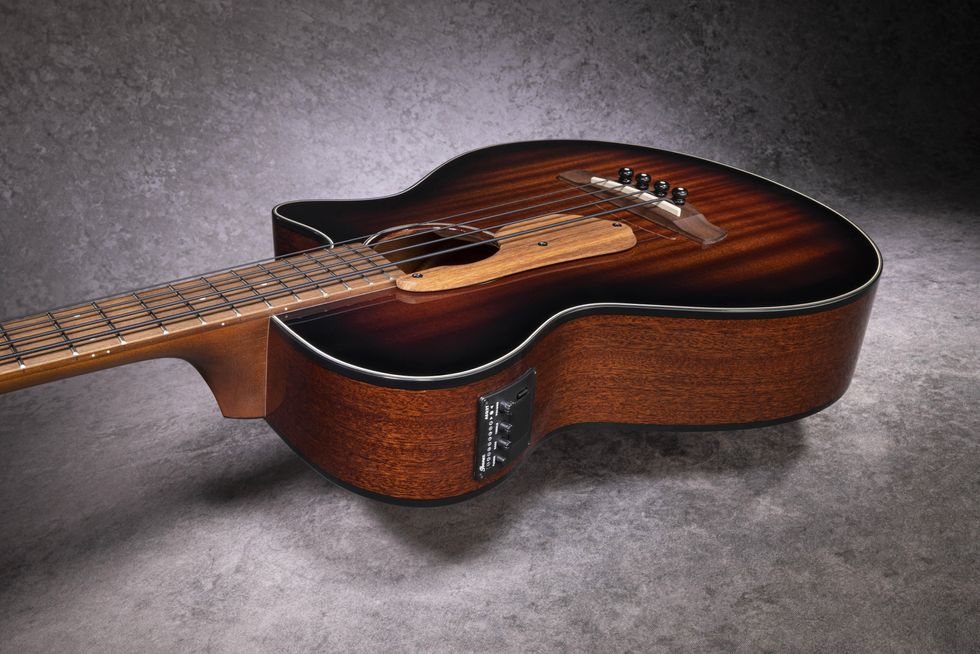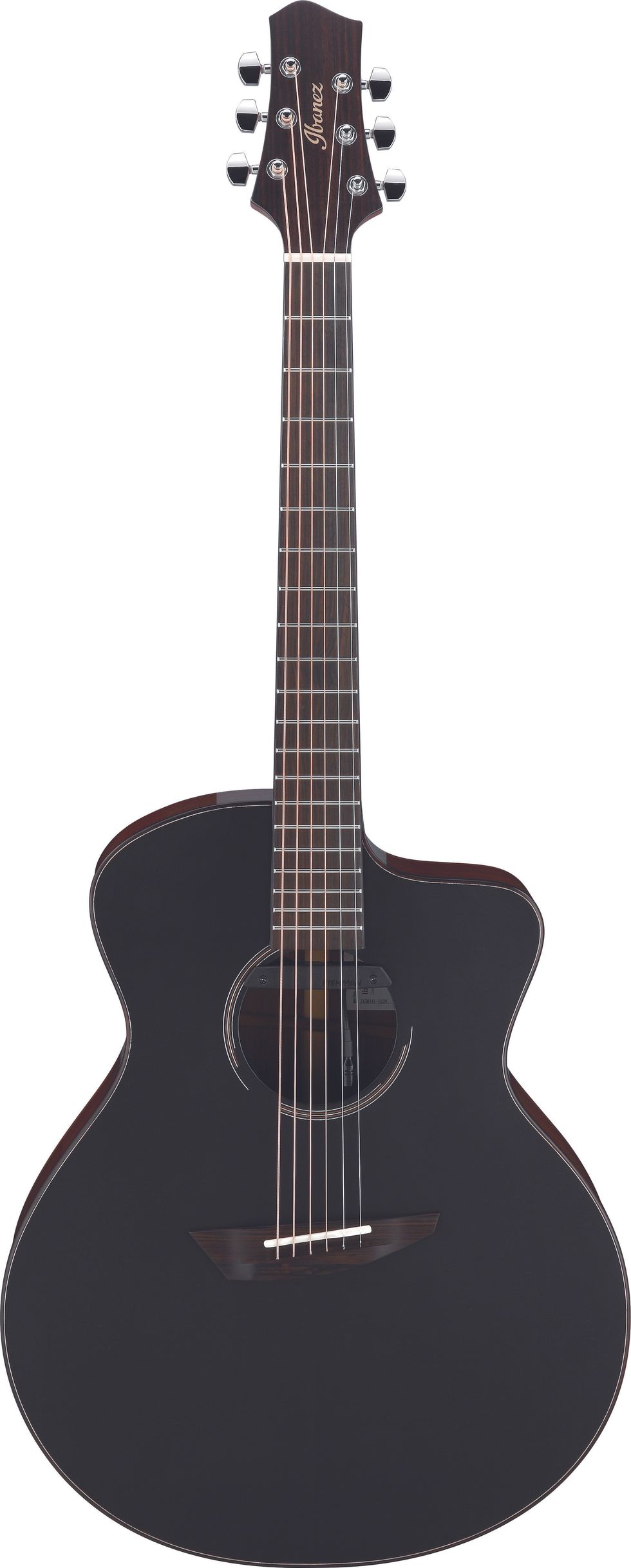 Left-Handed Guitarists: mid-priced acoustic-electric with an Ergonomic Armrest seeking partner to make beautiful music.

"Wow, the armrest really helps keep from cutting off blood circulation when I'm practicing and feels like I'm playing a smaller instrument. Responds nicely both to some intimate playing, and has nice character when you hit it a little hard; it responds with a good full low end and is still crisp and clear." ~ Sean Harkness, NYC

The NATURA G550RCEL is a Left-handed acoustic-electric featuring an Ergonomic Armrest for comfort. The G550RCEL is a solid Spruce top Grand Auditorium Cutaway with weight reducing Low-Mass bracing. It has a voice that is focused and harmonically complex and suitable for left-handed players looking for the volume of a full-sized instrument and the comfort of a smaller body. A Glass-fibre reinforced neck ensures a lifetime of neck stability.

Watch Video Clips
Walden Guitars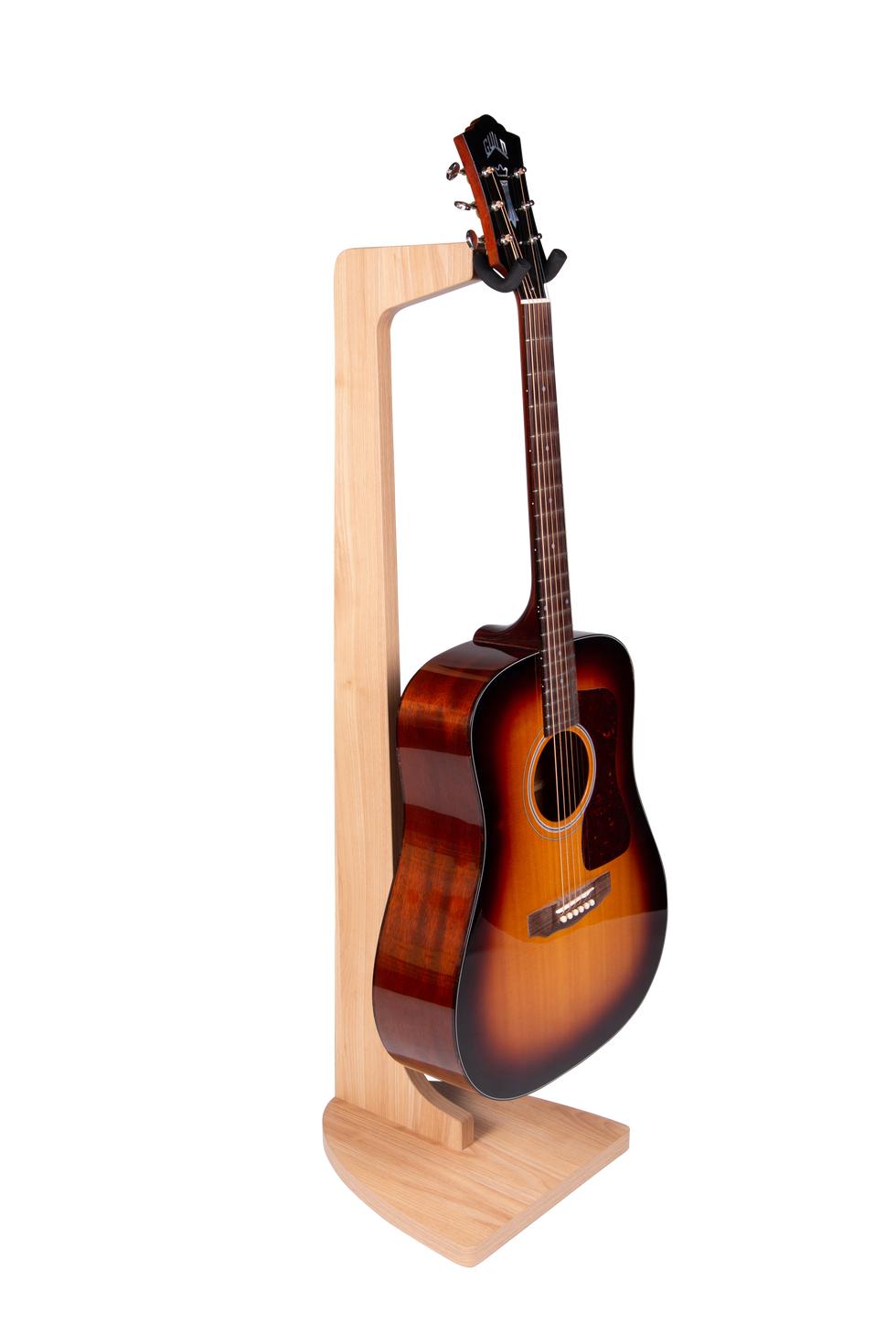 We love metal at Gator – both the head-banging and physical types. While our metal stands are great for the stage and studio, they don't always blend into their environment. Sometimes you need something more elegant and adaptable to the overall vibe of

your living room or studio furniture, which is exactly what the Elite Guitar Hanging Stands by Gator Frameworks provide – simplicity with an aesthetic to match any home or studio décor. These stands satisfy all types of players by providing a comfortable fit for most electric, bass and acoustic guitars. Show off your collection with style!

Watch Video Clips
Follow on Instagram
Gator Frameworks
The Grace Design BiX preamp shares the exact same DNA of its bigger siblings, FELiX2 and ALiX, but with an intelligently streamlined feature set and a price that puts it in reach of any performer, whether on your way to the coffee shop or the Megadome. BiX delivers maximum clarity and detail for any plugged in instrument, with dead simple controls – input gain, high and low shelving EQ, and a 10dB variable boost circuit, with footswitches for mute and boost. I/O includes instrument input, separate send and return insert jacks, an unbalanced line output, and a balanced ISO DI output on XLR. And BiX is pedalboard friendly, with a 9VDC power input and a compact, rugged low-profile chassis. Visit www.gracedesign.com for complete details.

Listen to Audio Clips
Watch Video Clips
Follow on Instagram
Grace Design
The Ryan "Fluff" Bruce Artist Series StingRay guitar will be offered in limited quantities and in two exclusive finishes. Aqua Sparkle is limited to 25 units and is available exclusively in the Ernie Ball Music Man Vault. Tealy Dan is limited to 25 units and is available exclusively from Sweetwater.
Ernie Ball Music Man
Ernie Ball Music Man
Features 
Mahogany body for added weight and sustain
Hardtail bridge for added resonance
Dual-voice Fishman Ryan "Fluff" Bruce signature humbucking pickup
Volume-only push-pull potentiometer for two distinct humbucking sounds
Custom neck plate
Certificate of Authenticity
Mono Case
Ernie Ball Music Man: Ryan "Fluff" Bruce Artist Series StingRay Guitar
The famous producer's concepts on art and spirituality are a guiding force in our columnist's creative process.
About two months ago, I watched a few video clips featuring legendary producer Rick Rubin. Since then, TikTok has sent me a steady stream of Rubinisms. At this point, I've watched or listened to pretty much every one of his interviews and episodes of his podcast, Broken Record, and I've even read his book, The Creative Act: A Way of Being. Never met the guy, but Rick Rubin has become my career counselor, shrink, spiritual advisor, and guiding spirit. If you don't have the hours I've spent reading, listening, and watching, let me distill it all down to a few gems that I've gleaned from the R.R. deep dive.
"Everything we make, we are making as an offering for God."
If we approach our creative endeavors with the intention of connecting to something beyond ourselves—pick your higher power—we tap into a limitless wellspring of inspiration. We transcend the limitations of our tiny brains, societal expectations, and external validation, and open ourselves up to new possibilities and allow ourselves to be vessels for something greater than ourselves.
"Some scientists and spiritual traditions propose that consciousness extends beyond the physical body."
"We are all translators for messages the universe is broadcasting."
"The best artists tend to be the ones with the most sensitive antennae to draw in the energy resonating at a particular moment."
While science has made strides in understanding the workings of the brain, it is still unable to fully explain the intricacies of human consciousness. Some scientists and spiritual traditions propose that consciousness extends beyond the physical body, suggesting that our thoughts may originate from a higher source or collective consciousness. Rubin maintains that the best creators have tapped into universal intelligence or divine energy.
You know when you have a great idea—a song title, screenplay, app, business plan—and you don't do anything about it, then that identical idea becomes a huge success for somebody else? It's rarely plagiarism. This divine creative source sent that message out there, many people heard, few did anything about it. These ideas are out there for everybody, free for the picking.
"Creativity is not a rare ability."
"Creativity is a fundamental aspect of being human."
How does one access this creativity? Rubin explains: "Living life as an artist is a practice. You are either engaging in the practice or you're not. It makes no sense to say you're not good at it. It's like saying, 'I'm not good at being a monk.' You are either living as a monk or you're not. We tend to think of the artist's work as the output. The real work of the artist is a way of being in the world…. A way of perceiving. A practice of paying attention. Refining our sensitivity to tune in to the more subtle notes. Looking for what draws us in and what pushes us away. Noticing what feeling tones arise and where they lead."
Creating is "like gardening, not architecture." Architecture is set in stone. With gardens, nature calls the shots. But if you nurture it, it will probably grow. Rubin looks at creativity as free play, where ideas can blossom and flourish without limitations. It is in this space of freedom that true innovation can take root. Rubin's way is to allow ourselves to explore without fear of failure or judgment. The trick is to get out of your head and quit worrying about what others think.
"The audience doesn't know what they want. The audience only knows what's come before."
Think about the times you've deeply connected with the music you were playing and felt like your soul was talking. That doesn't happen if you're worrying about the audience. I wish I could live by this rule. I gig a lot. Shamefully, most of my solos I play are just reaching into my bag of cliché riffs and stringing together some flashy ones because I think "that's what these drunks in the crowd love to hear." But you know what they love even more? Authenticity.
I only authentically connect to music when I turn off my ego and quit worrying about what other people think. It's a very Zen paradox: The only way to give the people what they really want is to not let them influence the creative process.
The chief takeaway is in the title of Rubin's book: The Creative Act: A Way of Being. This isn't a collection of hacks to help you create; it's a way of living to make life richer.
Quotes taken from
The Creative Act: A Way of Being
by Rick Rubin
,
In Shangri-La with music producer Rick Rubin
from
60 Minutes
, and the
Rick Rubin: How to Access Your Creativity
episode of the
Huberman Lab Podcast.
We asked Barry O'Neal of Nashville's XAct Tone Solutions for his vision of a 'board that would cover all the sonic bases for most pop, rock, and country sounds. Here's what he created.
While in high school, thinking about guitar rigs was a regular pastime. Before I had built my first rig, I had thought through a hundred. I often vacillated, sometimes violently, between entertaining practical and fanciful considerations, bouncing off of budgetary limits and preparing for a theoretical band's imagined show to an imagined, but supportive, audience. Now, one of the main aspects of my day job at XAct Tone Solutions (XTS) in Nashville is helping others build their dream 'boards. Whether it's Peter Frampton or Billy Strings, Tom Bukovac or Andy Wood, every guitar player has a unique set of pedalboard needs and wants dictated by the music they dream about creating.
How do we start making a dream 'board? I have often told clients that this stage is the best, as it's all possibilities and no responsibilities. However, being able to do anything can lead to option paralysis, so it can be helpful to quickly apply some constraints. What material needs to be covered? What venues will we play? What is my budget? Sadly, the last question is usually the most restrictive.
Testing the placement of pedals and the adhesive mounting is an important stage of organizing the overall flow of a 'board.
The songs to be played dictate the sounds to be played. The sounds to be played dictate the stuff to be played. For our pedalboard, we want to choose gear that, in combination, has the ability to round the required sonic bases. In general, increasing the quantity and diversity of sounds means increasing the amount of gear required to cover them. For example, your Hendrix rig will have more weight in coily cable than pedals, and your U2-inspired pedalboard will likely require the lead singer to begrudgingly help with load-in. For our dream 'board, we want to pick a set of effects that can cover most pop and rock sounds of the last 60 years well. This generality means abandoning the painstaking recreation of any specific sound and settling for evocative when exact is unavailable.
For many players, one of the first choices made is what sort of overdrive and/or distortion their rig requires. What sort of timbres are needed? Light overdrive or massive distortion? Will you use your amplifier's gain to produce overdrive, or will you run your amp mostly clean, letting the grit come from pedals at your feet? It is a good idea to look at your overdrive elements as a system that works together, considering each pedal's sonic signature individually, as well as in combination with other effect pedals on 'board. For this rig, I've made subjective choices that hit the fundamental food groups of pop and rock timbres when paired with a clean amplifier. It's not cheap—but neither are dreams.
"The songs to be played dictate the sounds to be played. The sounds to be played dictate the stuff to be played."
Greer Lightspeed
The Greer Lightspeed has become a nouveau-classic, regularly showing up on the 'boards of professionals and enthusiasts alike. A so-called transparent drive, it shapes and pushes your instrument's voice without making it unidentifiable. This pedal can serve as a light overdrive alone or be used to push pedals and amplifiers farther down the line. The Lightspeed on our pedalboard is a special—made by Nick Greer himself out of his very own mojo component stash. $229 street, greeramps.com
XTS Rehoused Nobels ODR-1
The original version of the ODR-1 has reached near-mythical status. Nashville session ace Tom Bukovac sowed these once-dirt-cheap overdrives all over the city like a late-'90s, guitar-playing Johnny Appleseed. The originals have since blossomed into $2,000-plus uber-vintage prizes. With a strong low-mid presence compared to something like a Tube Screamer, they are a great match for black-panel Fenders. More affordable reissues and clones are available and compete well with the real thing. This one was bought before the boom and rehoused to replace worn-out parts. Mechanical footswitches and jacks don't appreciate in value, even if green overdrive pedals do. $119 street for current reissue, nobels.de
Soldered cables are preferable for the sake of longevity.
XTS Winford Drive
This pedal does both overdrive and distortion. Prototypes can be heard on Keith Urban records, and a great many Nashville session players use this pedal every day in the studio. It ranges from light gain to woolly fuzz sounds, and with the gain all the way down, the mid boost can be an effective boost for amps that are already breaking up in an upper-mid-forward way (think Matchless, Badcat, and Vox). It also stacks well with pedals pushing its input, adding more flexibility to the system. $249 street, xacttone.com
​Behringer SF300 Super Fuzz
New fuzz pedals are seemingly born wherever transistors and hot soldering irons meet, and they produce a timbre ecosystem all their own. Fuzz is a sound that amps don't often produce in and of themselves, so having a fuzz pedal can help round out a pedalboard, giving access to vintage and modern sounds. The SF300 may be cheap, but proves that listening is best done with your ears. When placed in a true bypass loop, it won't need to be stepped on, mitigating the risks associated with its economical enclosure. $29 street, behringer.com
​XTS Shapecharger
The Shapecharger gives this 'board a boost. Where you put your boost will depend on what function you want it to satisfy. Engaging boosts before overdrives and distortions will increase the level of saturation in your dirt pedals with a less pronounced level increase. Assuming your amp has sufficient headroom, engaging boosts after dirt boxes will result in an increase in level without a significant increase in saturation. The Shapecharger also has a separate, sweepable mid control to cut through a band mix, as well as a high-pass control to keep amps and pedals after it from becoming saturated with low frequencies. $199 street, xacttone.com
​RAF Mirage Compressor
Compression is great for spanky R&B rhythm parts as well as country-style picking. The Mirage compresses in a natural-sounding way, squeezing your signal without overtly crushing it. Its relatively transparent response creates separation in arpeggiated parts and provides sustain without resorting to overdrive. $199 street, fxeng.com
After overdrive, players might consider modulation and time-based effects. Modulation effects change amplitude and/or frequency in a periodic way, like tremolo or vibrato. Time-based effects, like delay and reverb, store and manipulate your signal to create repeating or spacious effects.
​Line 6 HX Stomp
The Line 6 HX Stomp is a multi-effect unit that models all sorts of classic and cutting-edge effects. From overdrive and distortion to reverb and delay, the Stomp does a great job of providing lots of options in a very compact package. The HX series is a significant evolution from the company's M-series effects, as the increases in processing and algorithmic power are considerable and particularly evident in computationally-intensive effects like reverb. Additionally, if a song requires a sound not covered by the other pedals on 'board, the Stomp can pinch hit, providing access to esoteric effects you enjoy, but perhaps don't want to carry—like envelope filters, synths, and pitch benders.

The HX Stomp also provides for the very real, if not preferred, possibility of needing to go direct on a gig. Many venues in Nashville and elsewhere have prohibited live amps being on stage. Because the HX Stomp has the ability to model amplifiers and cabinets, adding a DI to this 'board will allow it to function well on an ampless stage.
$699 street, line6.com
Strymon Mobius
Why include the Mobius modulation pedal when, hypothetically, the HX Stomp can do all the same modulation types? There is some overlap, but adding the Mobius gives fast access to two great wobbly sounds per bank. The Mobius can also serve as a sort of placeholder. If some new effect comes on the market, it's likely that it'll fit in the same physical spacing as well as use the same type of power. Whether future change is driven by preference alone or a paying gig, it is helpful to have a pedal position that can serve as an escape hatch.$449 street, strymon.net
Placement is key to the exact sonic combinations you're seeking on any pedalboard, and philosophies vary—although distortion, OD, and fuzz usually make up the first bank of tone tools. But with a device like the GigRig G3 Atom, all rules can be broken.
​GigRig G3 Atom
We've spent a great deal of time picking out all of the widgets we will use to squeeze, pull, and twist our guitar sound. We could cable these together and have a fully functional guitar rig, but a dream 'board is more than what you want to use. It also encompasses how you want to apply those devices. When you spend a bunch of time developing sounds, it's very nice to be able to save or index them for later use. A MIDI controller can send commands to MIDI-capable effects, recalling previously saved patches. Non-MIDI-capable effects, like typical overdrives, need external help to be accessed via presets. One solution is to put them in loop-switcher-controlled bypass loops. If chosen wisely, the loop switcher can both control our so-called "dumb" pedals and their MIDI-responsive siblings.

On our dream 'board, the effects we've selected will orbit around the GigRig G3 Atom. In the past, presetable switching systems had a tendency to get bogged down in the preset modality. Everything worked great when you were on a show with a predetermined setlist and cues, but when it came to improvising sounds, effects were often trapped and inaccessible inside of presets, unless the controllers expanded to include foot switches for every effect—at great monetary and volumetric expense. With a button-per-audio-loop interface, improvising different combinations of pedals on the G3 Atom is simple, and sonic-spelunking sessions are not impeded by a preset-only straightjacket.
The Atom can also send MIDI commands to both the Mobius and the HX Stomp, directing them to previously saved sounds for instant recall. The Dunlop Volume X connects to the Atom's expression pedal port, meaning that changes in the position of the treadle can be translated to changes in the MIDI connected effects, controlling any number of effect settings including volume and effect levels.
The Atom can also reorder the effects in your signal chain. By default, the G3-controlled effects are ordered in a very traditional way: fuzz> dynamics> overdrive> distortion> modulation> boost> delay/reverbs. Being able to change where the Mobius is in the signal chain means that modulations like chorus can be post-dirt boxes and effects like phaser can be pre-dirt. The Shapecharger is run outside of the G3's control. This means that the boost can be added at any point without setting up another preset or dedicating a controller button to do so.
$995 street, thegigrig.com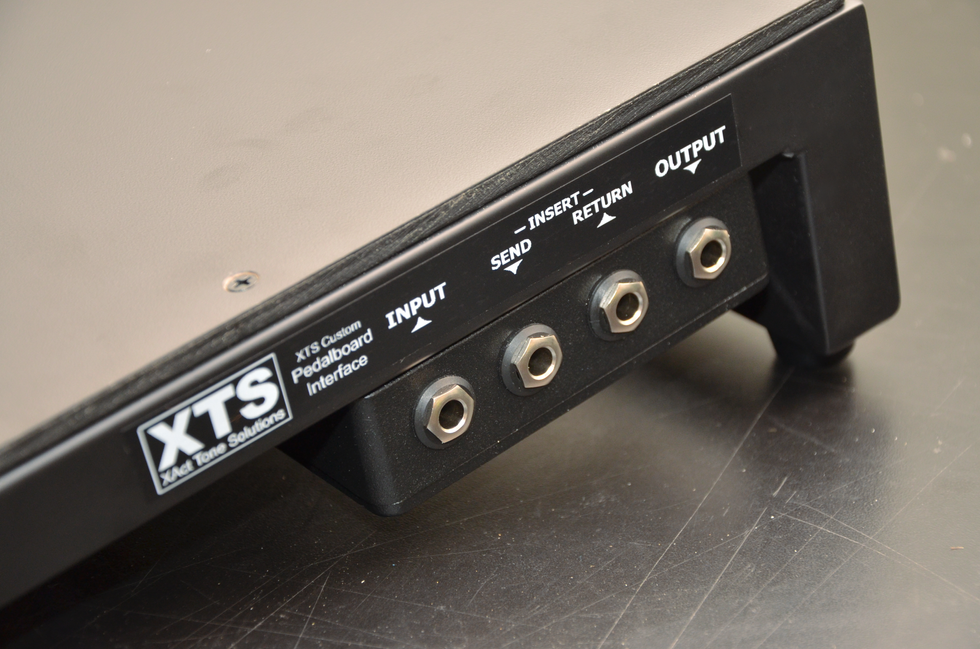 Barry's custom interface is mounted below the frame of the Pedaltrain JR MAX ($189 street) that is the platform for his dream pedalboard.
Interface
A pedalboard interface can add ease of use and functionality. This one has an instrument input and an output for the amplifier. In addition, there is a normalling insert loop that allows a "pedal of the day" to be connected externally. The insert connects to the rig via a loop in the G3. If one part of one song in one show needs an effect, you can add it here without removing something else on the 'board, and pedals on trial can be connected and tested before permanent installation.

"A higher mA port rating will not damage your pedal; it will just leave some capacity untapped."
Power
Powering pedalboards is getting trickier these days. When everything ran off of batteries, things were easy. Now, high-powered DSP-based effects and computer-controlled true-bypass loop switchers are power hungry, requiring high amounts of current. Each device needs to be powered by a power supply port that has the appropriate voltage and current ratings. Voltage should be exactly what the manufacturer calls for—no more, no less. Manufacturers publish how much current is needed for their devices in milliamperes (mA). Connect your stompbox to a port that has that mA rating or greater. A higher mA port rating will not damage your pedal; it will just leave some capacity untapped.
It is also a good rule of thumb to use a supply whose outputs are isolated, meaning there is not a shared ground path or means of conducting noise between pedals via their supplies. We're using a Strymon Zuma as a supply for this build. At 9VDC at 500 mA, each port has enough power for most pedals on the market. If there's ever a need to swap pedals, it's likely the power supply is up to the job. This 'board does have some special power considerations. The G3 is powered by combining two ports in parallel, summing their individual capacities for a total of 1000 mA. The HX Stomp also requires ~1000 mA nominally, but its power-on surge can cause start-up issues when the Zuma gets up to operating temperature. Stomp powering duties are handed over to a CIOKS Crux, which converts the 24V DC expansion output of the Zuma into the 9V DC the HX Stomp requires.
Mounting the power supply beneath the 'board—here, a Strymon Zuma mated to a CIOKS Crux—is an essential space saver.
We've selected a Pedaltrain JR MAX for this build. It's lightweight and, at 28" wide and 12.5" deep, has room for all the required pedals without being deeper than necessary. The power supply and interface can be mounted underneath, leaving the top of the 'board for the fun bits. We've given the 'board a laminate top, which looks great and allows us flexibility in pedal placement.
Wiring up a 'board like this can seem daunting. To keep things neat, we custom-cut every cable to length and stay them to the 'board with adhesive mounts and zip ties. Soldered cables are preferable for longevity's sake, but if available tools or skill sets demand an alternative, there are many sturdy solderless cable options.
"Just play. Your dream 'board should inspire you to dig in without getting bogged down."
This 'board is a flexible tone platform. Setting up a new sound can be as simple as selecting which loops to include in a G3 preset and combining them with a set of bread-and-butter modulations, delays, and reverbs in the Mobius and HX Stomp. Alternatively, you can dig deeper and build bespoke effects in the Mobius and Stomp, and recall them via MIDI commands from the G3. So if a tune requires a very specific rhythmic delay and/or chorus, you can dial them in and recall them for a song-specific preset. The possibilities are nearly endless.
Even if you've built your dream 'board and made the choices that best suit you and your situation, finishing a personal build can lead to a feeling of "what do I do now?" If the materials and methods are fitting, the answer should be easy. Just play. Your dream 'board should inspire you to dig in without getting bogged down. Choose gear that inspires you, and put it together in a manner that does not impede your inspiration. Seeing your rig go from daydream to realization can invigorate the same creative drive that makes music. Go use the thing you made to make something greater!