Give your pedals a home with the Gator Cases G-Tour Series Large Pedalboard with Road Case! Enter for your chance to win in this Stompboxtober giveaway.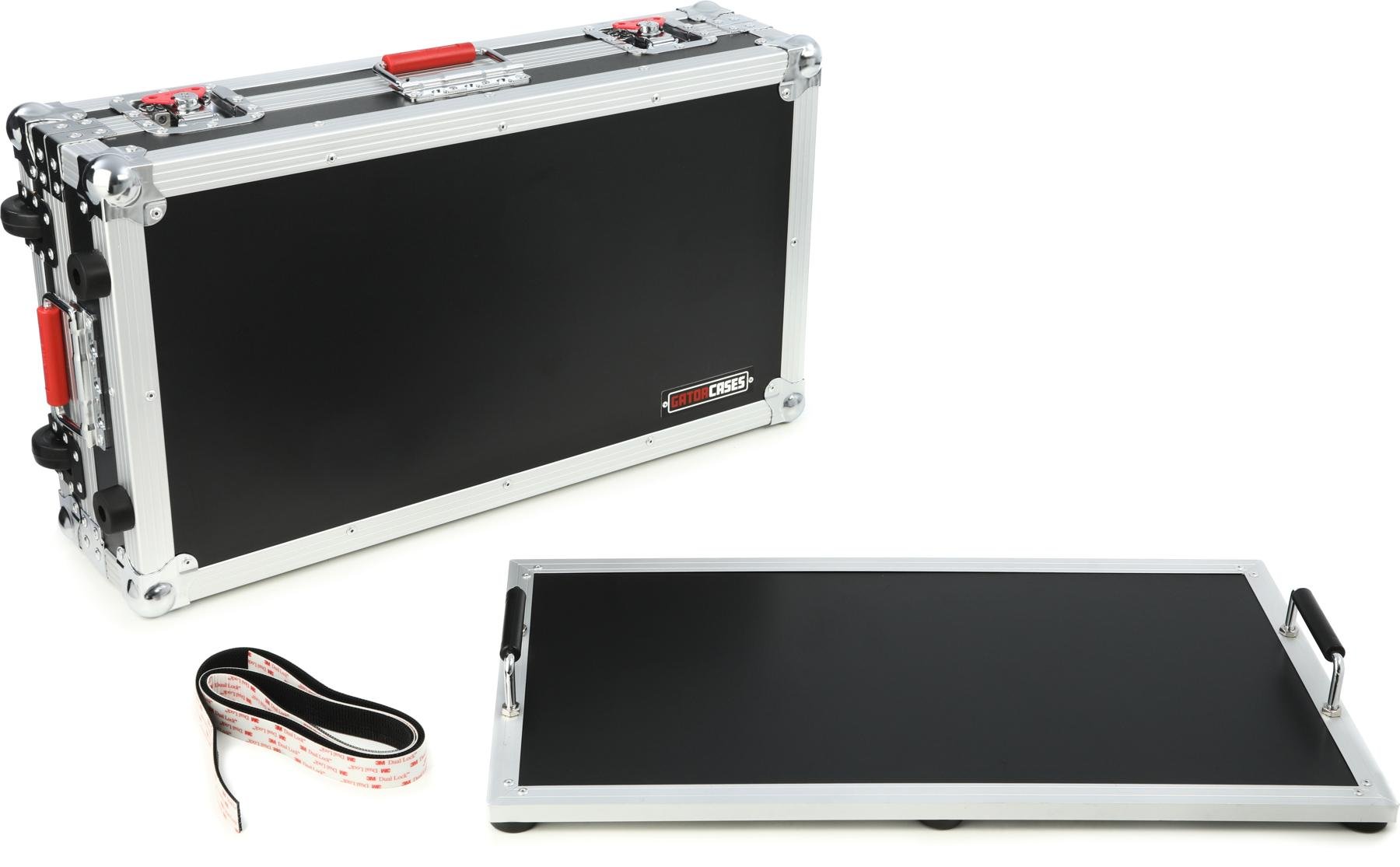 Pro-grade shock absorbing EVA foam interior
Removable pedal board surface measures 24" x 11"
Two (2) rubber-gripped handles for easy lifting in and out of the case
3M Dual Lock hook and loop fastener for pedal installation
Cable and accessory storage under the removable pedal board
Retractable tow-handle and recessed wheels
Plywood construction with aluminum edging to create a secure closure between lid and base
Protective ball corners at vulnerable points
Commerical grade Gator red signature hardware
Lockable latches
Spring-loaded rubber gripped handles
Gator
A pair of new tilt-back amp stands and heavy-duty power supplies highlight the company's NAMM offerings.
Tampa, FL (January 9, 2020) -- Gator Frameworks, the stand, hanger, and accessories brand for music, audio, and video professionals released a new series of innovative tilt-back combo guitar amp stands (GFWGTRAMP100 and GFWGTRAMP200). The tilt-back combo guitar amp stand series provides safe, rugged, and efficient solutions for lifting your favorite amps. This keeps your amplifiers safe from the hazards of the stage and also improves sound projection to your audience.
The series includes a fixed height stand that folds completely (GFWGTRAMP100) and an elevated stand with angle adjustment capability (GFWGTRAMP200). Each stand separates your amp from the ground to help project sound to your audience and protect against spills and other hazards. Any guitarist knows the drag of having to bend over to adjust volume and tone knobs on ground-sitting amps, which is why the angled positioning of the stand allows you to easily access controls in a pinch. Rubberized feet are also added as a nice addition to isolate sound and keep your gear from sliding around on stage.
When you want better protection from the natural hazards of the stage and overall superior sound projection, the tilt-back combo guitar amp stand series is your go-to.
Exterior Dimensions:
GFWGTRAMP100 (folded): 25" L x 12.5" W x 1.25"H
GFWGTRAMP200 (folded): 33" L x 16" W x 10"H
Max Weight Capacity:
GFWGTRAMP100: 50 lbs.
GFWGTRAMP200: 55 lbs.
GFWGTRAMP100 = $26.99
GFWGTRAMP200 = $69.99
The new tilt-back combo guitar amp stand series is available from authorized Gator dealers. Visit www.gatorframeworks.com for more information.
Gator Cases just released the new Guitar Pedal Power Supply Series, offering a unique and stylish power bank solution for pedalboards (GTR-PWR-5 and GTR-PWR-8). Now with the innovation of Gator Cases, any musician can power up their playing with style and efficiency.
The GTR-PWR-5 guitar pedal power supply by Gator delivers five quiet isolated outputs rated at 120mA each for powering effects pedals, tuners, and other accessories (600 mA Max Output). The GTR-PWR-8 guitar pedal power supply by Gator delivers eight quiet isolated outputs rated for powering effects pedals, tuners, and other accessories (2 x 4~9V DC @ 120mA, 3 x 9/12V @ 120mA, 1 x 9/18V DC @ 250mA, 1 x 9/12V DC @ 250mA, 1 x 12V AC @ 500mA (1600 mA Max Output).
The power supply boasts a heavy-duty metal enclosure to keep your pedals powered in any situation, along with vented slots to allow for heat dissipation. When traveling internationally, simply select between 115/230 volts for mains power input voltage to ensure safe operation with your particular wall outlet.
The power switch with LED indicator light makes powering down your rig a snap, saving you from having to unplug the power cable from hard-to-reach areas when finished. You can also mount the GTR-PWR-8 directly to your favorite pedalboard using the integrated mounting holes.
GTR-PWR-5 = $99.99
GTR-PWR-5 = $149.99
For more information:
Gator Cases
Whether it's collections of old-school straightforward stomps or elaborate circuits for spacey experimentation, each year we're blown away by the different pedalboard setups our readers come up with. Here's a dozen for the tonal takeaway.
1. Dan Stinson: Maple Staple
This board was designed to house all my pedals for my home jam space in Canada. A carpenter friend put together the pure maple board and I soldered all the cables including an output harness. It has primarily been used for lead tones on my Orange amp and sounds killer!
The Chain: MXR EVH Phase 90, ISP Decimator G-String noise reduction, Electro-Harmonix POG2, Orange FS-1, Mojo Hand FX BMP-1 fuzz, Xotic SP Compressor, ZVEX Sonar tremolo, Sonic Research Turbo Tuner ST-200, Strymon TimeLine, Eventide Space, Pigtronix/Mission Dual Expression Pedal, and Dunlop Dimebag Cry Baby Wah.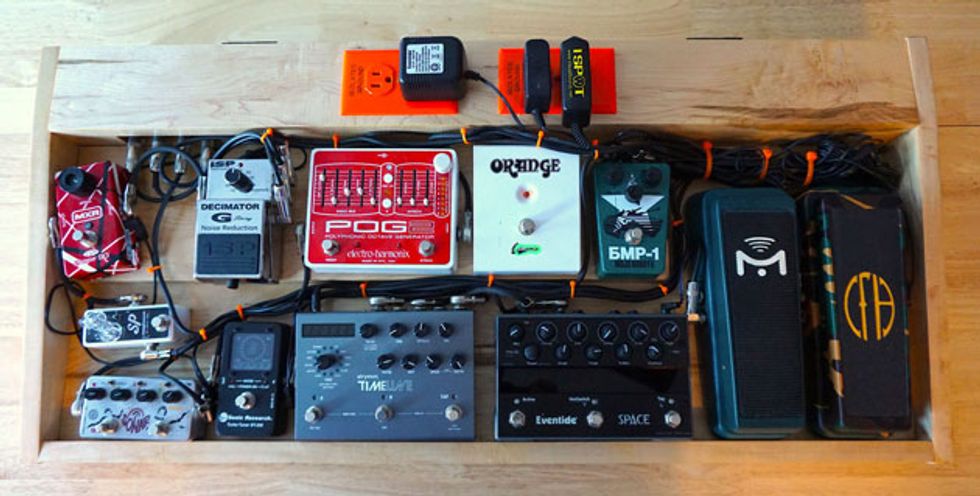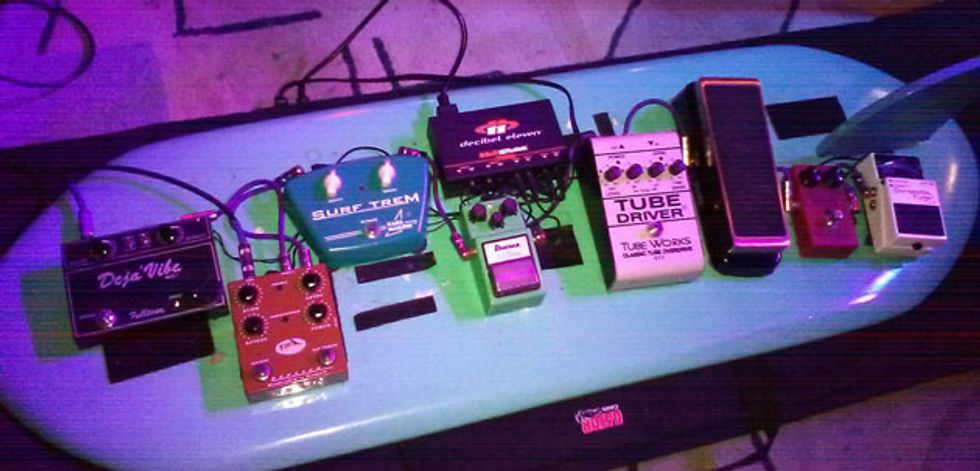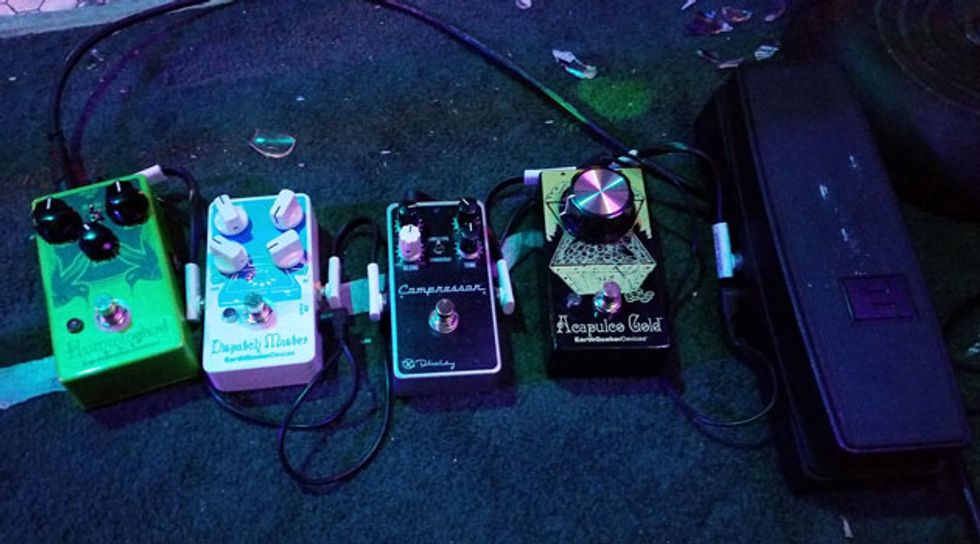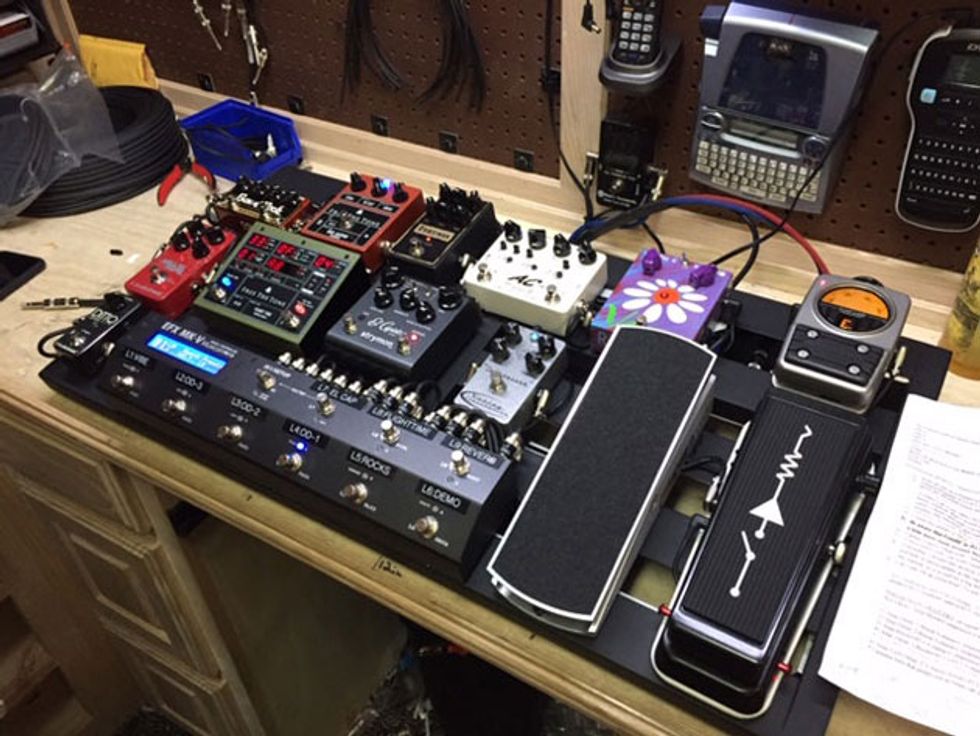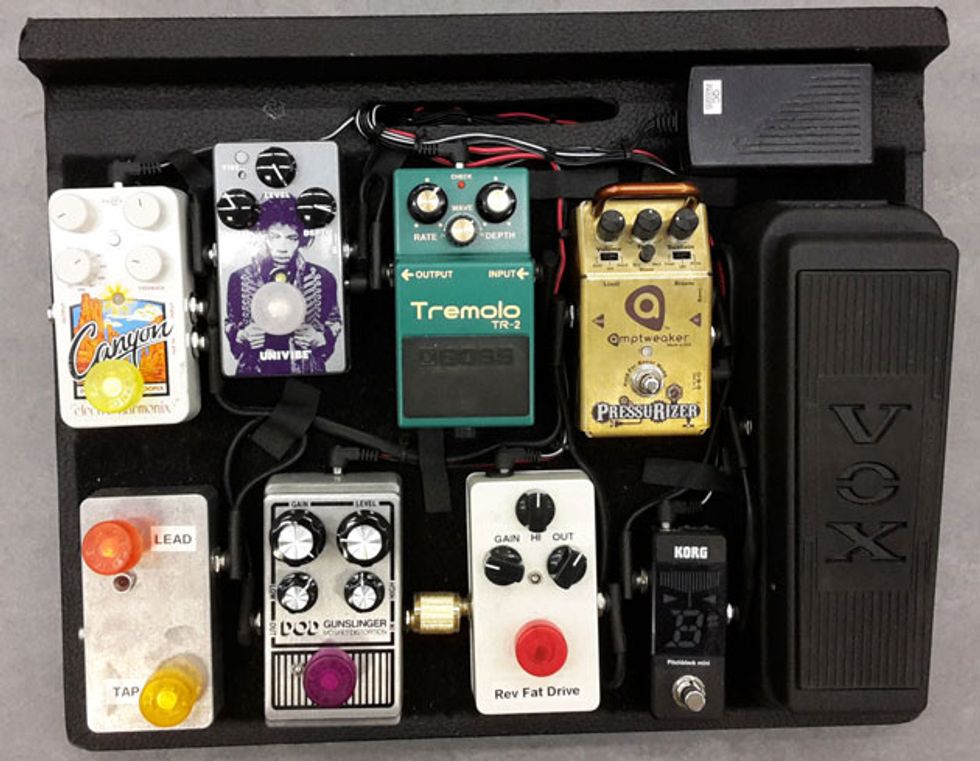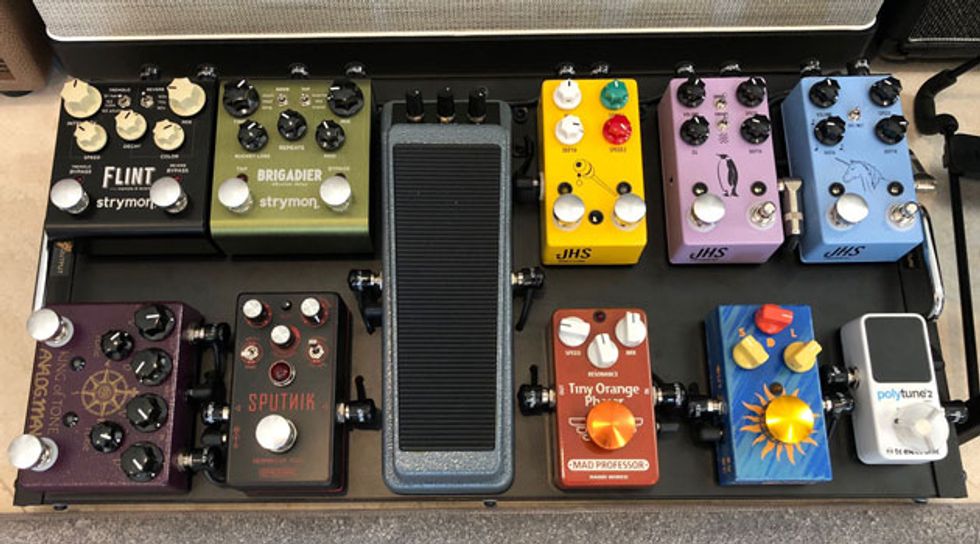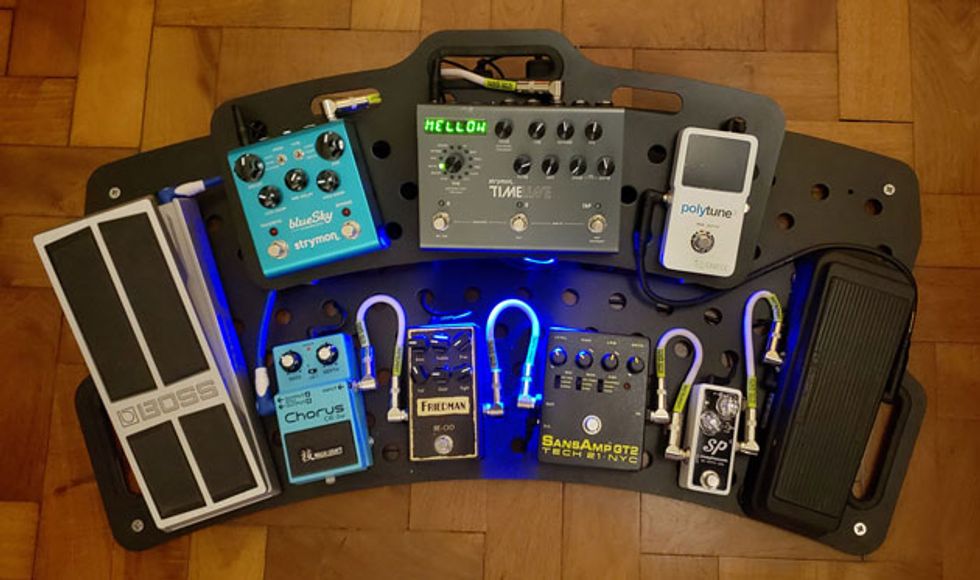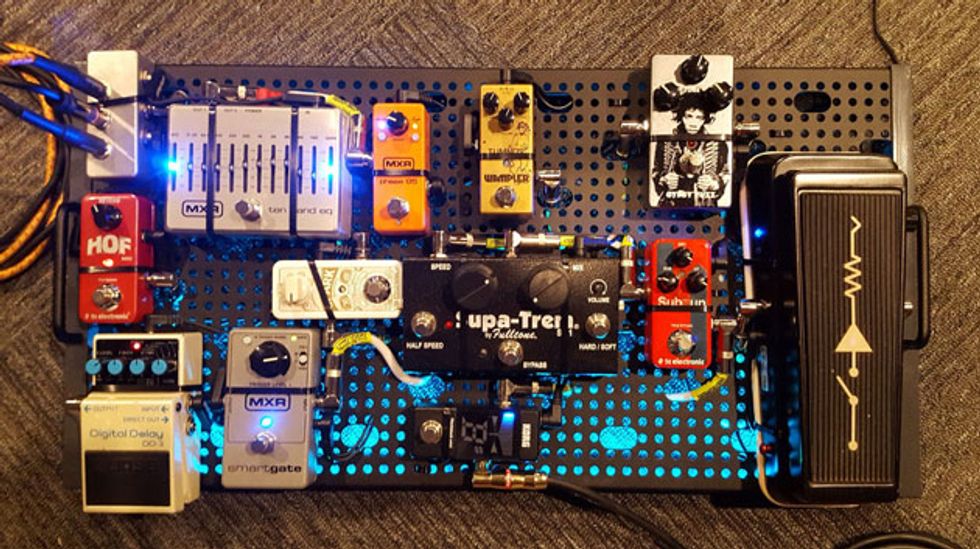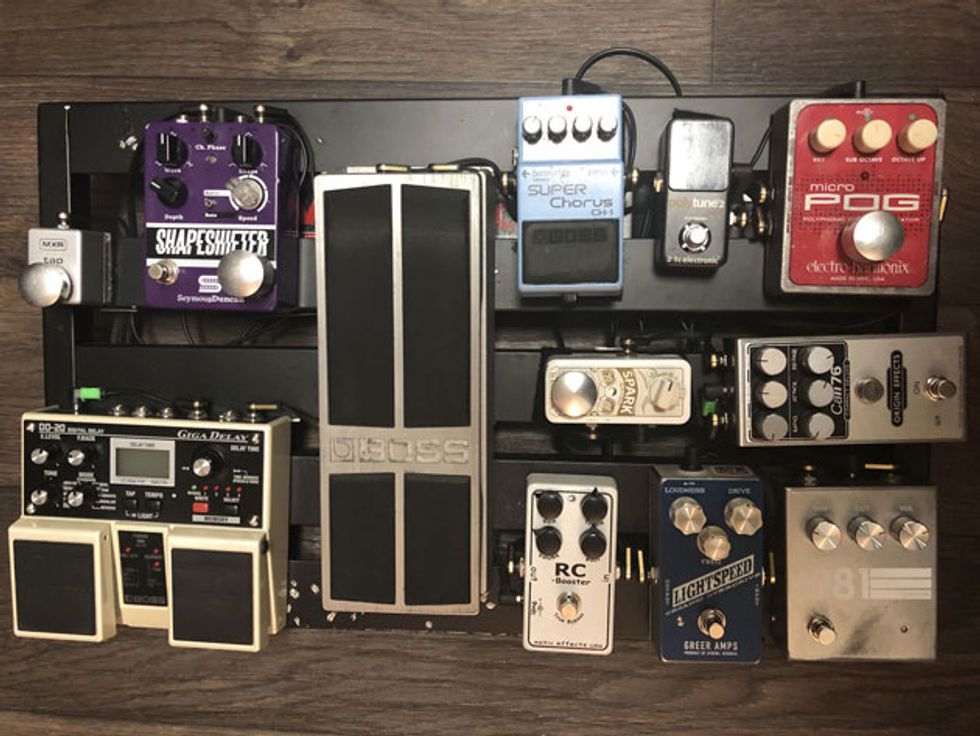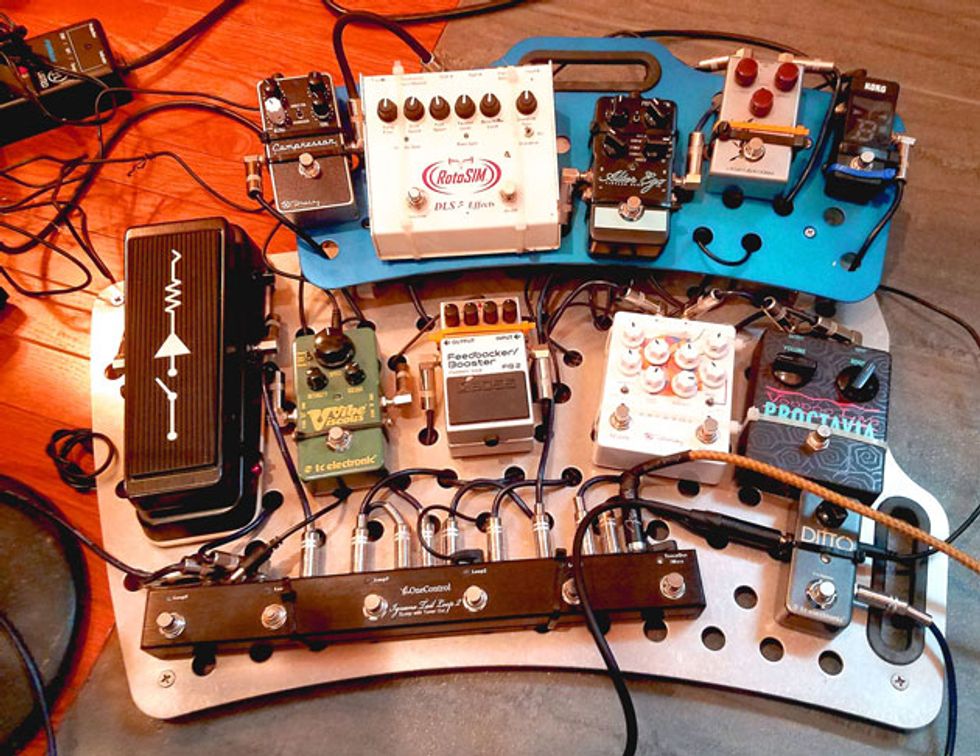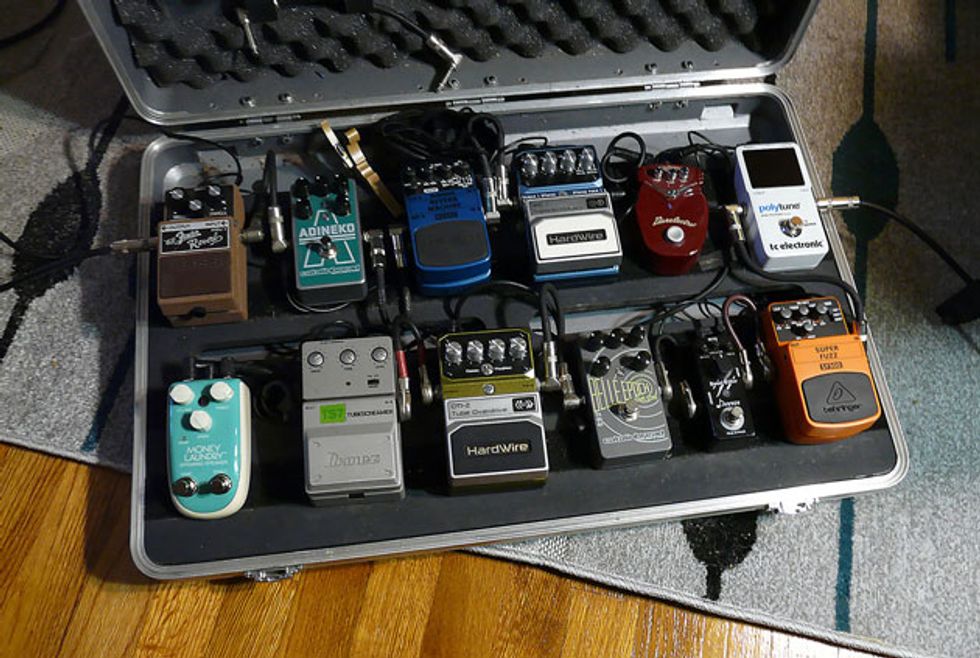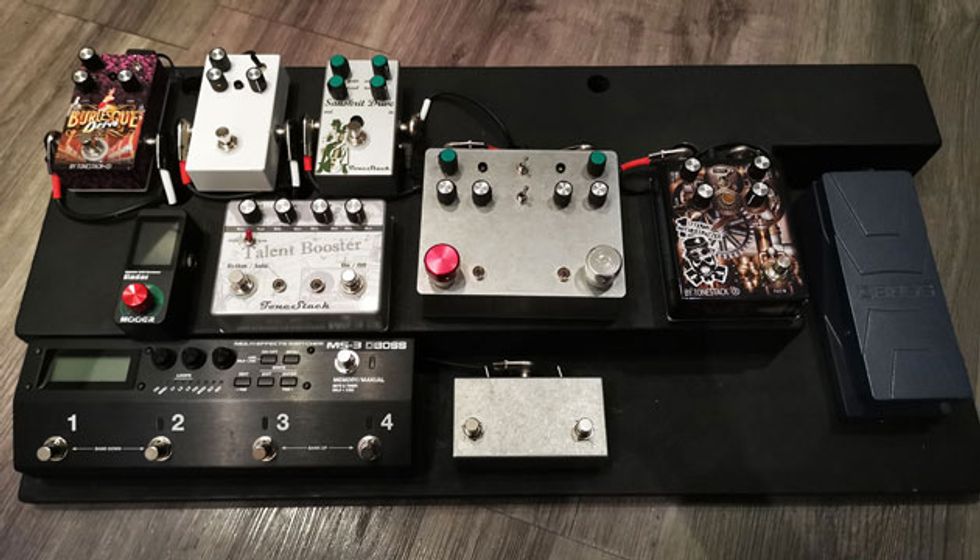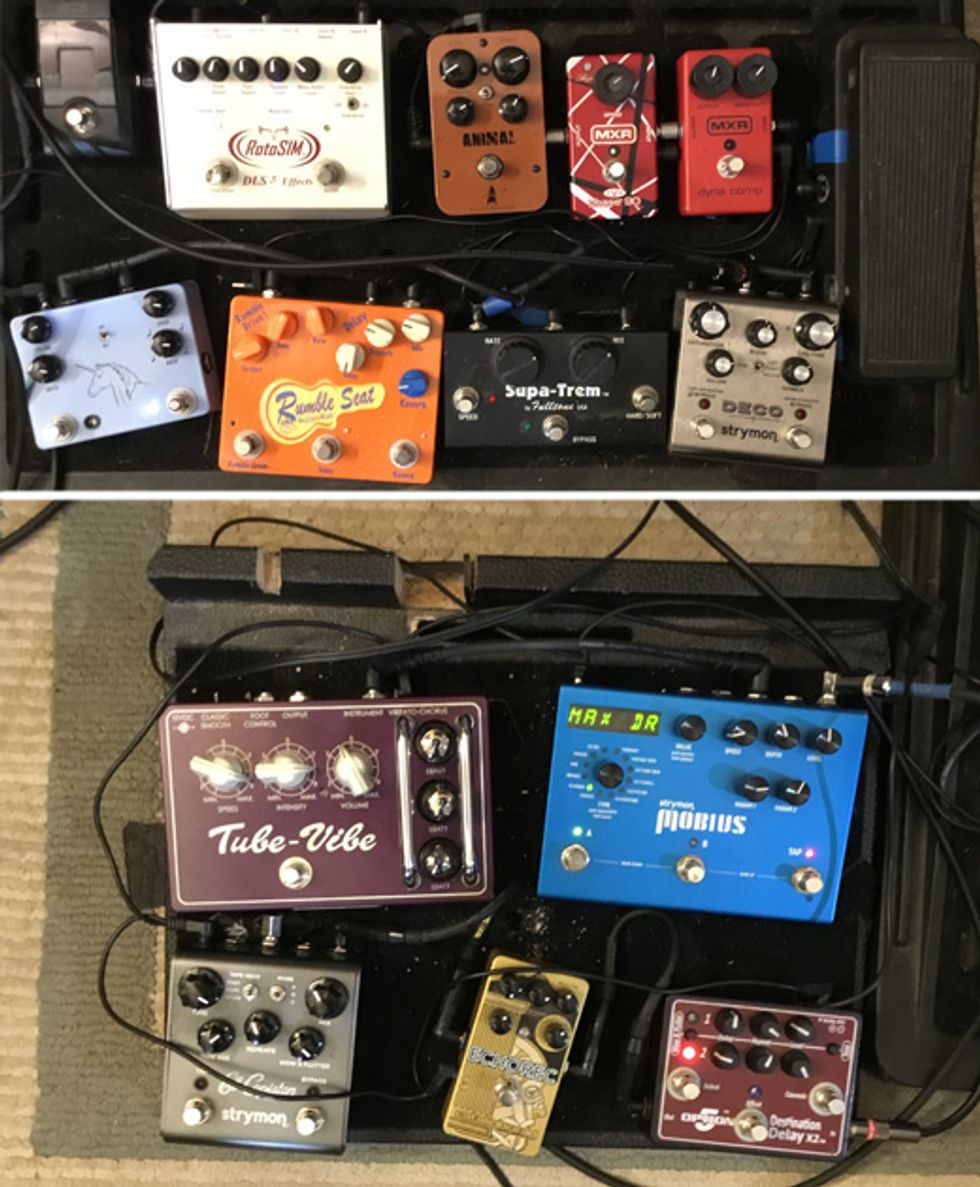 It's that time of year, when Premier Guitar readers wow us with the intricate details of their pedalboards. A few highlights for 2019 include a surf board station, a bright board with LED lighting, a Nashville guitarist who gigs on Lower Broadway, and a pedal setup with no frills … and literally no board at all. (All this player needs is beer and broken glass.) As an added bonus, a pro pedal builder shares his demo board and tells us why and how he started building pedals from scratch. Read on, play on, stomp on!