Gear Finds: Acoustic Edition 2022
Check here for some of the latest and greatest acoustics in 2022!
---
PRS Guitars
The PRS SE P20 is a parlor-sized acoustic with a
big voice. Boasting traditional parlor features
like sweet, midrange tone, historic vibe, and easy
portability, the PRS SE P20 also brings a unique
voice to players. The PRS hybrid "X"/Classical
bracing locks down the back and sides while
allowing the top to freely vibrate, allowing the
PRS SE P20 to project with even, bold tone, while
the all-mahogany construction provides an organic
warmth to the guitar. Its smaller size keeps
playing fun and comfortable for hours, so whether
writing, recording, or performing the P20 is sure
to impress.

Available in three satin finishes with herringbone
rosettes and accents, PRS SE Parlor acoustics look
as good as they sound. Other high-quality features
include a solid mahogany top, ebony fretboard and
bridge, bone nut and saddle, as well as PRS
trademark bird inlays and headstock design.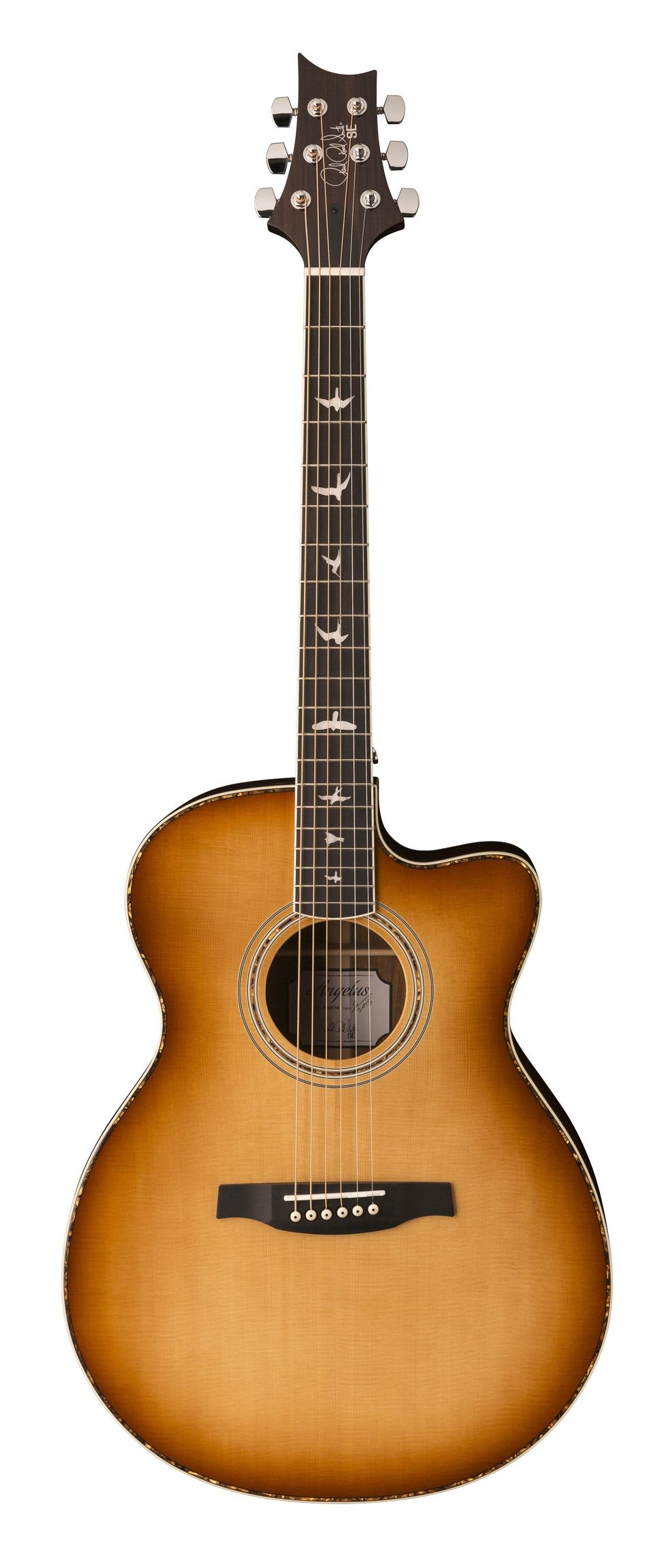 Ibanez
The Advanced Acoustic series represents an important step forward in the long and storied tradition of the acoustic guitar. In what amounts to a fully reimagined acoustic experience, these instruments were designed from the ground up to deliver a richer, brighter, and louder tone, with an unprecedentedly wide dynamic range. With slightly larger than typical proportions, Ibanez decided to name this new body shape the "Grand Dreadnought." This reinvented design achieves a superb, powerful sound, and thanks to the extensive consideration given to the ergonomics, it's extremely comfortable to play. The Advanced Acoustic series pushes the acoustic guitar to new heights in a way that promises an exciting experience for all players.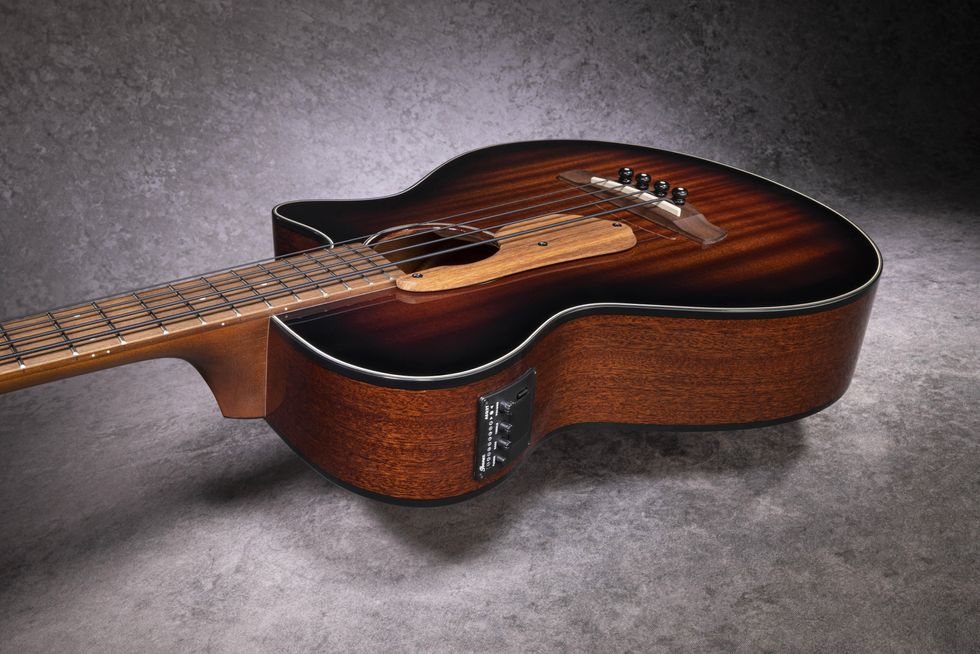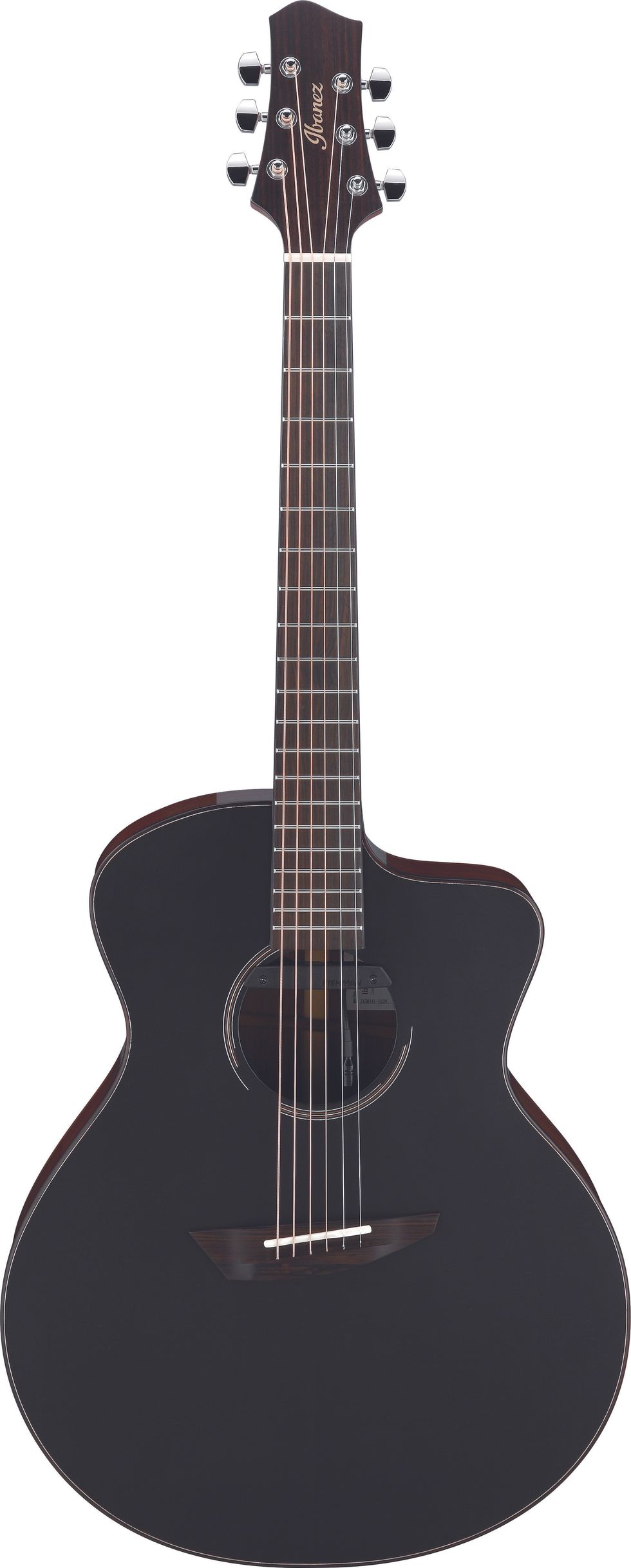 Left-Handed Guitarists: mid-priced acoustic-electric with an Ergonomic Armrest seeking partner to make beautiful music.

"Wow, the armrest really helps keep from cutting off blood circulation when I'm practicing and feels like I'm playing a smaller instrument. Responds nicely both to some intimate playing, and has nice character when you hit it a little hard; it responds with a good full low end and is still crisp and clear." ~ Sean Harkness, NYC

The NATURA G550RCEL is a Left-handed acoustic-electric featuring an Ergonomic Armrest for comfort. The G550RCEL is a solid Spruce top Grand Auditorium Cutaway with weight reducing Low-Mass bracing. It has a voice that is focused and harmonically complex and suitable for left-handed players looking for the volume of a full-sized instrument and the comfort of a smaller body. A Glass-fibre reinforced neck ensures a lifetime of neck stability.

Watch Video Clips
Walden Guitars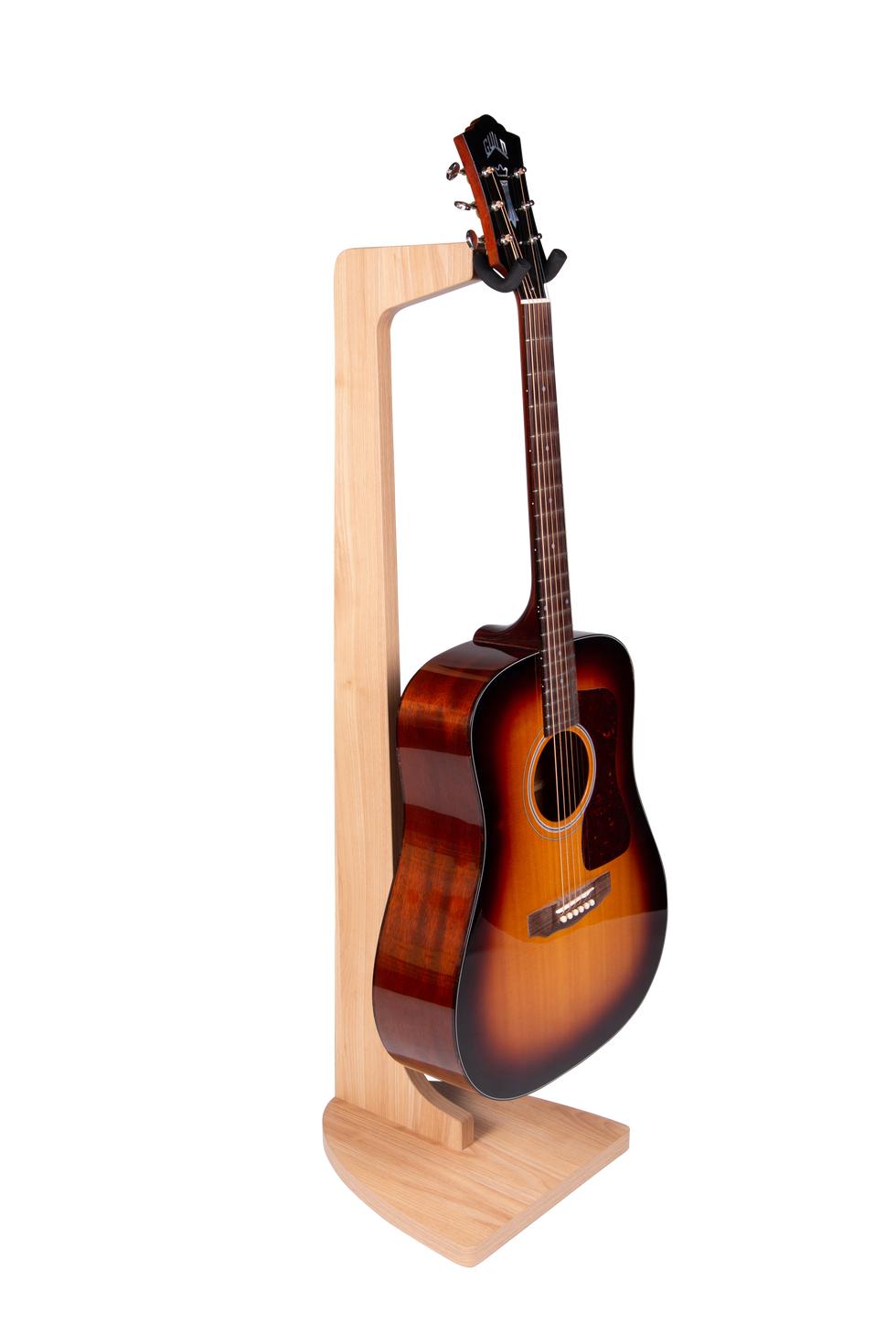 We love metal at Gator – both the head-banging and physical types. While our metal stands are great for the stage and studio, they don't always blend into their environment. Sometimes you need something more elegant and adaptable to the overall vibe of

your living room or studio furniture, which is exactly what the Elite Guitar Hanging Stands by Gator Frameworks provide – simplicity with an aesthetic to match any home or studio décor. These stands satisfy all types of players by providing a comfortable fit for most electric, bass and acoustic guitars. Show off your collection with style!

Watch Video Clips
Follow on Instagram
Gator Frameworks
The Grace Design BiX preamp shares the exact same DNA of its bigger siblings, FELiX2 and ALiX, but with an intelligently streamlined feature set and a price that puts it in reach of any performer, whether on your way to the coffee shop or the Megadome. BiX delivers maximum clarity and detail for any plugged in instrument, with dead simple controls – input gain, high and low shelving EQ, and a 10dB variable boost circuit, with footswitches for mute and boost. I/O includes instrument input, separate send and return insert jacks, an unbalanced line output, and a balanced ISO DI output on XLR. And BiX is pedalboard friendly, with a 9VDC power input and a compact, rugged low-profile chassis. Visit www.gracedesign.com for complete details.

Listen to Audio Clips
Watch Video Clips
Follow on Instagram
Grace Design
A clever triple-delay offers infinite avenues to echo bliss.
Mysterious, hazy, and uncommon echo colors. A cool break from the same-old-delay blues. Streamlined design.
Clock noise could turn off some users. Limited numbers available—so far.
4.5
4.5
4
4.5
If you don't follow the many-splendored musical world of noisy psychedelia, you might be surprised to know that Oliver Ackermann, co-founder of the sometimes psychotic but often thrilling stompbox concern Death By Audio, also helms the equally psychotic and thrilling band A Place to Bury Strangers. If you've seen APTBS live, you'll understand much about what makes Death By Audio pedals unconventional. APTBS is generally a sensory overload experience. They are loud, sonically confrontational, and capable of oscillating between chaos and dark beauty. Last year marked the 13th anniversary of the band's breakthrough LP, Exploding Head, and,in typically perverse fashion, Ackermann elected to celebrate that most unlucky of anniversaries with a triple delay named in the LP's honor.
In very relative terms, the Exploding Head seems normal compared to many DBA pedals. It's three identical delays run in series. Simple, right? But that simplicity belies great range and a deep capacity for weirdness and subtlety. Exploding Head creates washy reverbs, percussive multi-head delay effects, and mutant delays that chatter like rogue tremolos. It can feel quirky and tricky to handle as you get to know it's weird ways. But mastering just a few simple tricks makes the Exploding Head an engaging, painterly, and even practical effect.
Honed To Honor the Head
Delays arranged in series are one of the coolest ways to mangle and massage sound and time. I often prefer the texture and complexity of two simple delays to traditional delay-and-reverb setups because fewer overtones and harmonics go missing in the wash. In fact, a two-delay setup can actually enhance certain overtones as echoes intertwine and collide. The Exploding Head expands on this concept and enables deep exploration of those interrelationships.
The Exploding Head is effectively an evolution of DBA's own extinct and much-coveted Ghost Delay—an effect instrumental in creating the blown out, industrial, Jesus and Mary Chain-meets-Isn't Anything haze of Exploding Head. The Ghost Delay utilized three cascading delays as well, but featured preset wet/dry blends instead of the three independent blend controls on the Exploding Head. That design change, however, makes a big difference.
"The bright, rhythmic underpinning of the echoes makes individual delay lines more distinct as you add in others."
Controls are superficially simple. There are delay time, feedback, and wet/dry blend knobs, just as you'd see on any delay. But like an analog synthesizer, the interactivity between the three cascading sets of controls makes it hard to replicate sounds precisely, and there are no presets or digital control. Practice and tuning your ear to the pedal's quirks and tendencies helps you engineer roughly identical setups pretty readily. Still, I was inclined to snap pictures of settings that made my favorite sounds—just in case.
Exploding Head's infinity switch is another treat that distinguishes it from the Ghost Delay. Engaging it feeds the output from the third delay in the sequence (red) into the first (black), which enables momentary self-oscillation effects. The addition of this option—on top of a delay array that already lives happily at the edge of feedback and creates blurry washes of polyrhythms—makes the Exploding Head a delightful chaos engine if you choose to take it there.
Willows and Hurricanes
The Exploding Head's chaotic side is a big part of the pedal's personality. But it can be civilized and subdued, too. It happily generates trad delay textures. And when you get a feel for how Exploding Head works as an organism, you'll find a varied lot of echo colors that are as familiar as they are freaked out.
While digital, the basic tonality of a single Exploding Head delay line is not worlds apart from a bright analog echo. It's a touch trebly. There is also perceptible clock noise at many settings, just like an analog unit. This can be jarring at first if you like your delay lush and dreamy, but the bright, rhythmic underpinning of the echoes make individual delay lines more distinct as you add in others, which also has a thickening and darkening effect that blunts the clock noise.
A good place to start exploration of the Exploding Head is to turn all the blend controls to completely dry settings, set the time and feedback controls to near-identical levels (each at high noon is a good place to start,) and then advance the blend of the first delay until it sounds right. As you slowly, incrementally elevate the blend levels of the other delays and shift the other parameters, you'll hear the signal get thicker and wider. And, depending on your time and blend settings, the pedal will generate wild multi-head patterns or subtler variations that have the quality of tremolo or chorusing.
Like any delay, you can use short delay times, dry blends, and long feedback levels to approximate reverb textures. These are a great addition to composite delay images in any position. But I found that situating reverb-like textures in the middle position enables the most ambient colors. The middle delay can also be critical in creating polyrhythmic echoes. Mating a delay-forward blend setting to an odd subdivision of the first delay generates complex percolating repeats that vary in volume. It sounds a little like a multi-head delay arranged via William Burroughs cut-up method—disorienting but also a source of sound poetry that shifts your perspective dramatically.
The Verdict
It seems preposterous to try to assign ratings to the Exploding Head. Some players will find great utility in the pedal, readily encounter beauty in theintermingled echoes, and get blissfully lost exploring the interactive controls. Other players will be baffled. Given that, a prospective customer should be prepared to round up or down—particularly where the tone and ease of use scores are concerned.
One thing all users will agree on, though, is that the Exploding Head sounds colossal. And with a loud amplifier, it sounds wonderfully alive. In the absence of presets, you'll have to be pretty fearless to make changes to the controls on the fly. But perhaps a chain of Exploding Heads is the answer? That would be an expensive proposition. But it might actually result in few exploding heads, too.
Death By Audio
The vintage Diamond models offer kitsch—and a strange charm.
I've had so many guitars pass in and out of my house that I often forget some of the cool little gems that I've owned. And I mention gems because, during a recent pawnshop crawl, I happened upon one of the cool, old Aria Diamond guitars with the rhinestone "gem" inlay. Finding these Diamond guitars back in the day was like hitting the guitar lottery! You just felt lucky with a diamond-head guitar.
Most players probably associate the Aria and Arai name with high-quality electrics from the late '70s and early '80s. Some of the later Aria Pro guitars are the stuff of legend and were made with the finest wood by the finest builders in the city of Matsumoto. But of course, I flock towards the kitschy diamond. Give me the cheap stuff!
I actually met the owner of Aria, Shiro Arai, back in 2015 when I visited the Aria factory. There was a small retail store/museum out in front, and as I entered, there was Arai plucking on a classical guitar. We began talking and sat there for a few hours in a lounge area. Guitar playing was a passion for him, and unlike many other guitar-factory founders, he could actually read music and was an accomplished player. He also had several vintage classical guitars displayed there, and man … did he have a cool collection. He also smiled a lot, which is a quality I look for in people these days. He was living a joyful existence, surrounded by the things he loved.
Aria guitars were always decent instruments out of the box, and that was mainly because, as a player himself, Arai felt it was important to have good quality control and good setups from the factory.
Arai started his company back in 1956 as a general import/export business, but soon he was focusing almost exclusively on guitars. He even became the Japanese importer of major guitar brands such as Framus, Guild, Rickenbacker, and Epiphone. Aria guitars were always decent instruments out of the box, and that was mainly because, as a player himself, Arai felt it was important to have good quality control and good setups from the factory. As a youth in the '80s, I used to see tons of Aria guitars, and they seemed rather popular.
Using Aria as his company brand name, Arai utilized the famous Matsumoku factory for just about all his electric guitars. The earliest Aria electrics appeared around 1966, and several models featured the ultra-cool diamond logo, complete with a faux gem! From the get-go, Aria guitars were almost all copies or models that drew design inspiration from Gibson, Fender, Mosrite, Höfner, and Rickenbacker. But hidden at the low end of the price range was the strange 1532T. With an offset design, a sweeping lower bout, and exaggerated double cutaways, the guitar was unlike any other Aria guitar. This weirdo lasted into the 1970s, when almost every Japanese electric maker was focused on copies.
The 1532T has 21 frets and a Gibson scale. Aside from the body design, most of the components are standard Matsumoku fare. The two pickups are fine-sounding units—powerful single-coils that sound phenomenal. It's operated with one volume and one tone knob, and its pickup switch is a 3-way toggle. The adjustable bridge works well, but sometimes has some sort of hard-plastic string guides. What really shines on these 1532T guitars is the tremolo, which was used on this model and the Mosrite copies (dubbed as the 1702T). Among the 1960s Japanese electric guitar makers, tremolo units were not that great as a whole. But this unit on the 1532T is fantastic, with great touch sensitivity and return (maybe it was those plastic bridge saddles?).
I think I've only owned a few other Diamond guitars, but that recent pawnshop visit reminded me how fun it is to find cool, old stuff. You gotta get out there, people! Maybe you'll hit the lottery? You never know.
Photo by Ken Settle
The great multi-instrumentalist, world music pioneer, and larger-than-life personality is warmly remembered by his friend, veteran music journalist and musician Dan Forte.
People often ask me, "Who was the best musician you ever met?" or, "Who was your favorite interviewee?" I always say David Lindley and David Lindley. Across 47 years and some 1,000-plus interviews, with such fascinating subjects as Frank Zappa and George Harrison and master musicians the caliber of Stéphane Grappelli and James Jamerson, Lindley takes the cake.
Have you ever been too depressed to cry? That's been my condition since hearing that Lindley died on the morning of March 3 due to complications with long Covid. I did nine articles on David and interviewed him several times more. In the grand scheme of things, it's very rare for a writer and artist to become friends and have a relationship beyond the interview. But there was a connection from our first meeting, and I was lucky enough to spend quality, "off the clock" time with David.
I've been asked to share a few stories about Lindley … not to make it all about Me, but to illustrate what kind of person, as well as musician, he was.
In 1967, I saw the man in Kaleidoscope, arguably the first "world music" rock band, decades before the term was coined. They played an "Electric Band Session" as part of the Berkeley Folk Music Festival. I was not quite 14. Practically every member of the group was a multi-instrumentalist, and David even brought his huge Gibson harp guitar (an early-20th Century Style U) on the road. At one point they'd gotten themselves situated with their chosen instruments when, just before the downbeat, some fan hollered, "Louisiana Man!" They paused, looked at each, and then started exchanging instruments while the crowd laughed. They proceeded to peel off a terrific rendition of Doug Kershaw's Cajun classic.
Decades later, I interviewed Ben Harper, who was a neighbor of the Lindleys growing up in Claremont, California. He's about 15 years younger than I am, and when I told him I'd seen the band, we got into a "No way!" "Way!" exchange à la Wayne's World.
I first interviewed Lindley in 1977, after a United Farm Workers benefit with Jackson Browne and Warren Zevon. Riding to the hotel with Lindley and Zevon, their back-and-forth had me laughing all the way, including a battle of the Long John Silvers: Robert Newton versus Wallace Beery.
Completing the interview a month later at his home, David allowed me into the "inner sanctum," where instruments took nearly all floor and wall space—guitars, steels, banjos, mandolins, fiddles, viola de gamba, saz, tar, cümbüş, the Gibson harp guitar, and more. Regarding his approach to disparate instruments, he said, "You know how an ant can taste and hear and smell with one organ—this all-encompassing feeler? That's more what it's like … being an ant."
Blurring lines between traditional and iconoclastic, he studied, investigated, incorporated, and became a prominent voice in styles spanning the globe, on more instruments than even he knew. He said, "I played all kinds of things which were 'not played' on guitar." This included bowing an electric guitar. He laughed, "And it wasn't Jimmy Page."
David Lindley lays into a vintage Silvertone. Dan Forte recalls, "He was the first guy I saw in a major act playing Silvertone amp-in-case models or a Dan Armstrong London with two sliding pickups—extracting killer tones—leading me down a rabbit-hole hunt for Goyas and Zim-Gars."
Photo by Ebet Roberts
In the process, he expanded the parameters of popular music, stylistically and instrumentally, to a degree that precious few can claim.
His inspiration for taking up lap steel was the late bluesman Freddie Roulette. But of influences on the instrument, he said, "I'm basically a sax player"— naming King Curtis, Junior Walker, and David Sanborn.
Obituaries lump him in with soft rock, which was true of much of his '70s work. But the highlights of countless Jackson Browne concerts were Lindley's incandescent lap-steel solos on "Doctor My Eyes" and "Running on Empty." And his performances were also an indelible part of hits by Linda Ronstadt, Rod Stewart, Zevon, Dolly Parton, and many more.
When it finally came time for a solo album, 1981's El Rayo-X defied and exceeded all expectations. It was mature, fully realized, and original; eclectic but cohesive. Rather than present a Whitman's sampler of various styles, he said, "I wanted to have a coherent theme to the whole thing.
"You know how an ant can taste and hear and smell with one organ—this all-encompassing feeler? That's more what it's like … being an ant."—David Lindley
His associates were eager to sing his praises, and I was able to interview several. Booker T. Jones said, "He's the one who makes the band go," while Ry Cooder declared, "He has the sensitivity that allows him to grasp what the hell is going on."
Graham Nash described a session with Lindley on fiddle: "I said, 'I'd like you to stand on the street corner and play like an old bum.' And he said, 'Boy, that's real easy for me.'"
Ronstadt offered, "He just instinctively gravitates towards something that is extremely high-quality and has integrity in whatever art form he's contemplating—which is a lovely thing to have."
Although Lindley supports Jackson Browne on round-neck guitar here, the highlights of countless Browne concerts were Lindley's incandescent lap-steel solos on "Doctor My Eyes" and "Running on Empty."
Photo by Ebet Roberts
And Browne stated, "I can't even call it 'my music' when I think about David, because he's such an integral part of it."
The band David put together, also named El Rayo-X, was without question one of the top five live bands I ever saw. And I saw Jimi Hendrix twice! Mr. Dave had me open for them in 1981, when my surf combo Cowabunga had only done three gigs. But I got to actually play with David in '98, as part of the Festival d'été de Québec City's "guitar summit," featuring Martin Simpson, Bob Brozman, percussionist Wally Ingram, and Lindley on acoustic Hawaiian Weissenborn slide. During a mini-rehearsal, I'm guessing he could sense that I was nervous. (Wouldn't you be?) But he put me at ease, and wanted to give me a chunk of the spotlight. I asked him if he still did "Brother John," the Wild Tchoupitoulas song. I had a second line take on "Limbo Rock," so we stitched them together. Somewhere during my solo, I quoted War's "Low Rider," and Lindley was on it in a millisecond.
Things That Lindley Fans Might Not Know About Him
• Correlating his musical aptitude and high school track career, he said, "I could run hurdles the first time—I knew what I was doing. So, they put me in the 120 low hurdles."
• Also, during high school, he played flamenco in a guitar duo.
• The bane of Lindley's existence was that loud knock from housekeeping—despite threatening signs he affixed to hotel doors. As good as he was with voices, his impersonation of a mad dog just inside the door was so convincing, the next sound was that of the maid running for dear life.
• He was a great cartoonist, illustrating his solo CDs with comical self-portraits.
• David once mentioned that Peter Lewis of Moby Grape was his cousin. I said, "Isn't he Loretta Young's son?" "Yep." "So, Loretta Young is your aunt?" It's true: Lindley was part of the same gene pool as the epitome of Hollywood glamor.
• At a time when female producers were extremely rare, he asked Ronstadt to helm his fourth solo album, Very Greasy.
• He was an expert marksman and archer.
• He and guitarist/producer Henry Kaiser traveled to Madagascar to record the acclaimed A World Out of Time albums with indigenous musicians, resulting in considerable income for the Malagasy players and citizens.
The Zone
I've always been fascinated with the so-called "zone" musicians sometimes achieve, like a basketball player with a hot hand, when you play something you didn't know you could. It doesn't require virtuosity, but the chances for someone with Lindley's talent surely improves the odds. He described the sort of out-of-body experience. "I fail a lot. When that happens, that's when you have to fall back on all the mechanical stuff and technique," he told me in 2006. But being in the zone, he said, was like watching himself from three feet away.
"The bane of Lindley's existence was that loud knock from housekeeping. His impersonation of a mad dog just inside the door was so convincing, the next sound was that of the maid running for dear life."
I've thought about what influence, if any, David had on me. Not as a guitarist, really, because I can't play like him; no one can. But he was the first guy I saw in a major act playing Silvertone amp-in-case models or a Dan Armstrong London with two sliding pickups— extracting killer tones—leading me down a rabbit-hole hunt for Goyas and Zim-Gars. He even gave me my pen- and stage-name, Teisco Del Rey. Then there was his clothes. Need I say more?
He was a serious musician not taking himself too seriously. He didn't hide his wacky sense of humor in order to make music of the highest order. That's the dichotomy. He wrote songs like "Sport Utility Suck," "Cat Food Sandwiches," and "When a Guy Gets Boobs," and told hilarious stories onstage. He led audiences in singalongs to Frizz Fuller's "Tiki Torches at Twilight." So, you'd see this leprechaun in garish polyester, talking about Krispy Kreme donuts, and then he'd play something beautiful like his "Quarter of a Man" or something biting like "Revenge Will Come" [for every child kept down].
He gave me permission to display all sides of my personality, and you have that permission too. We have him to thank for that and so much more.