Gear Finds: Acoustic Edition 2022
Check here for some of the latest and greatest acoustics in 2022!
---
PRS Guitars
The PRS SE P20 is a parlor-sized acoustic with a
big voice. Boasting traditional parlor features
like sweet, midrange tone, historic vibe, and easy
portability, the PRS SE P20 also brings a unique
voice to players. The PRS hybrid "X"/Classical
bracing locks down the back and sides while
allowing the top to freely vibrate, allowing the
PRS SE P20 to project with even, bold tone, while
the all-mahogany construction provides an organic
warmth to the guitar. Its smaller size keeps
playing fun and comfortable for hours, so whether
writing, recording, or performing the P20 is sure
to impress.

Available in three satin finishes with herringbone
rosettes and accents, PRS SE Parlor acoustics look
as good as they sound. Other high-quality features
include a solid mahogany top, ebony fretboard and
bridge, bone nut and saddle, as well as PRS
trademark bird inlays and headstock design.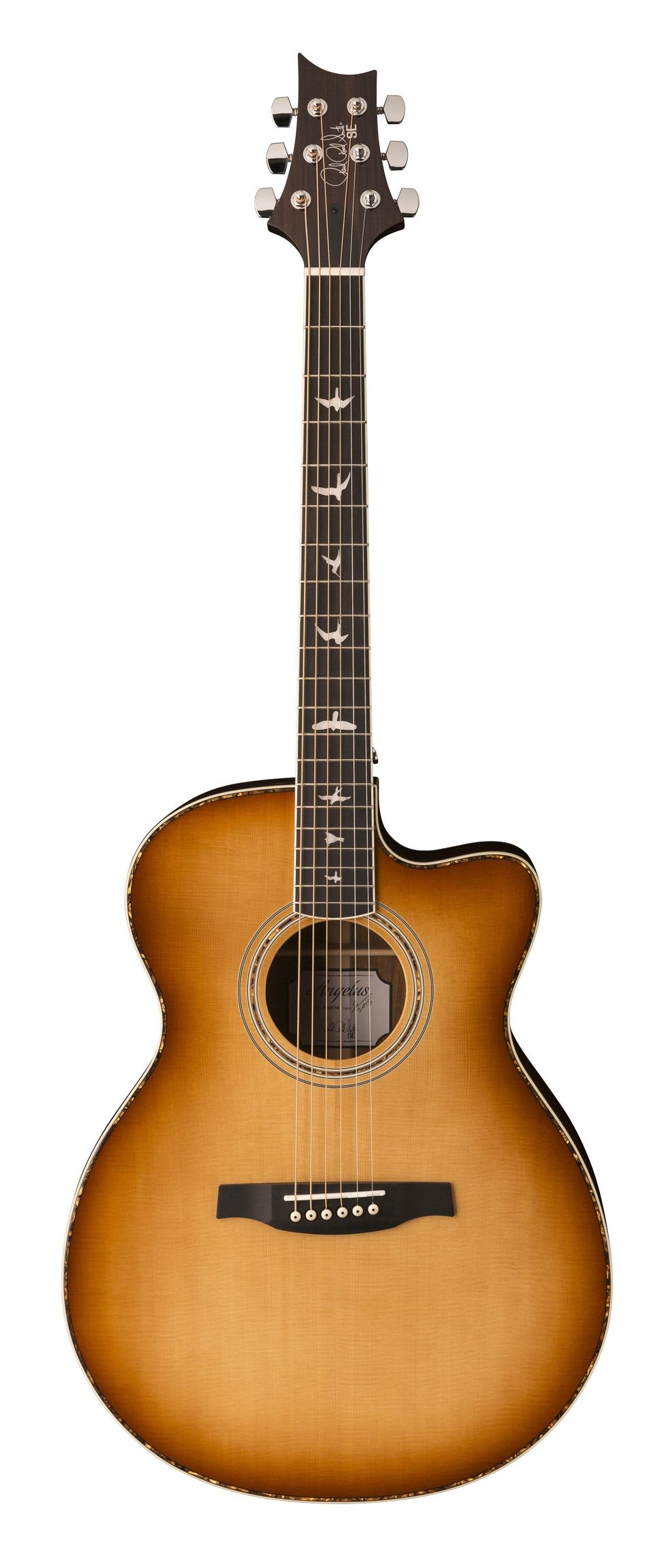 Ibanez
The Advanced Acoustic series represents an important step forward in the long and storied tradition of the acoustic guitar. In what amounts to a fully reimagined acoustic experience, these instruments were designed from the ground up to deliver a richer, brighter, and louder tone, with an unprecedentedly wide dynamic range. With slightly larger than typical proportions, Ibanez decided to name this new body shape the "Grand Dreadnought." This reinvented design achieves a superb, powerful sound, and thanks to the extensive consideration given to the ergonomics, it's extremely comfortable to play. The Advanced Acoustic series pushes the acoustic guitar to new heights in a way that promises an exciting experience for all players.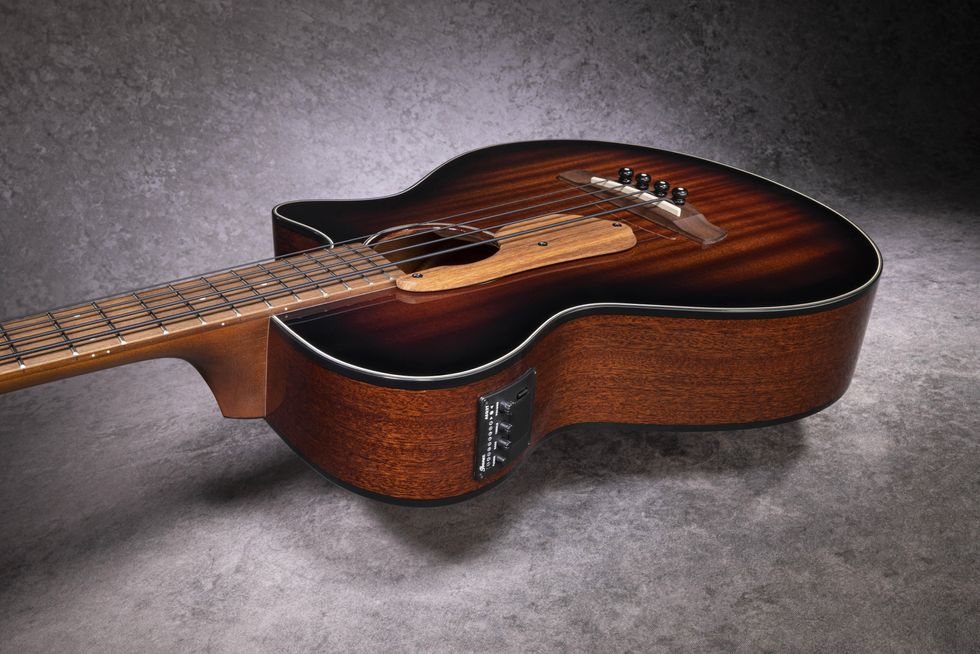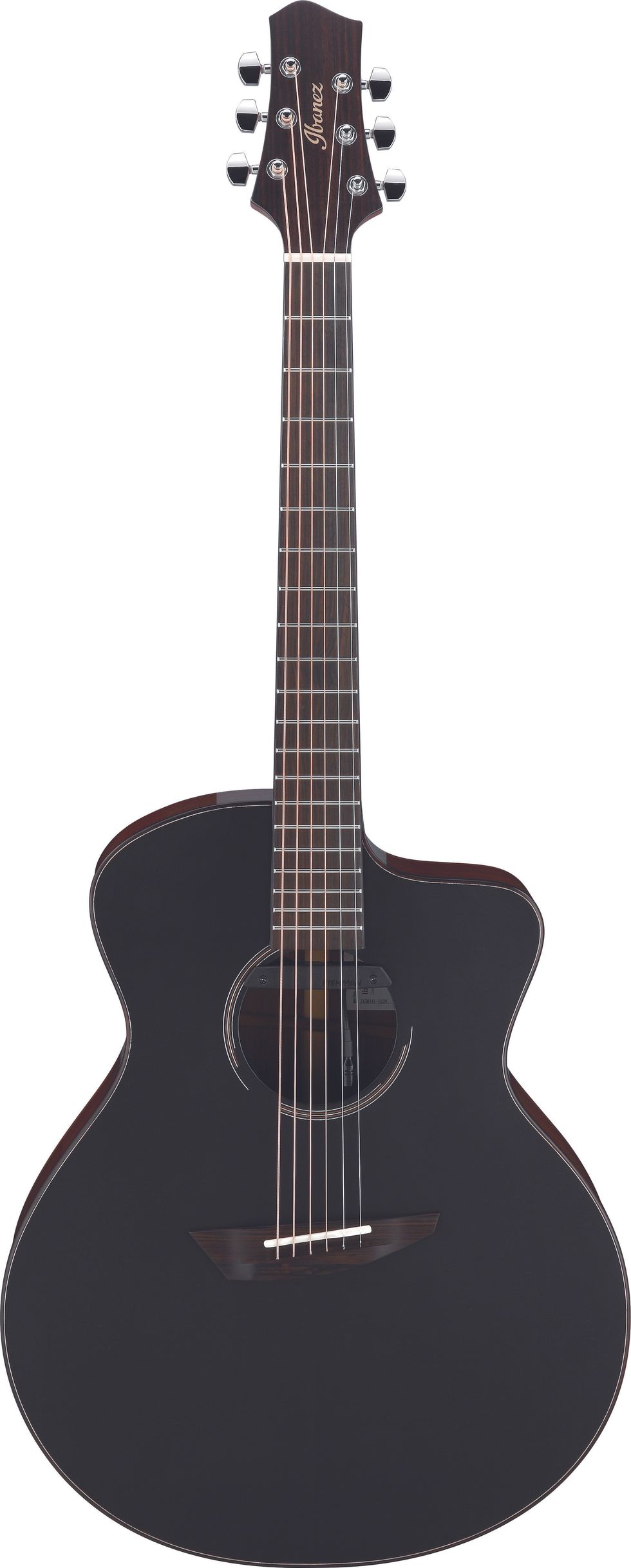 Left-Handed Guitarists: mid-priced acoustic-electric with an Ergonomic Armrest seeking partner to make beautiful music.

"Wow, the armrest really helps keep from cutting off blood circulation when I'm practicing and feels like I'm playing a smaller instrument. Responds nicely both to some intimate playing, and has nice character when you hit it a little hard; it responds with a good full low end and is still crisp and clear." ~ Sean Harkness, NYC

The NATURA G550RCEL is a Left-handed acoustic-electric featuring an Ergonomic Armrest for comfort. The G550RCEL is a solid Spruce top Grand Auditorium Cutaway with weight reducing Low-Mass bracing. It has a voice that is focused and harmonically complex and suitable for left-handed players looking for the volume of a full-sized instrument and the comfort of a smaller body. A Glass-fibre reinforced neck ensures a lifetime of neck stability.

Watch Video Clips
Walden Guitars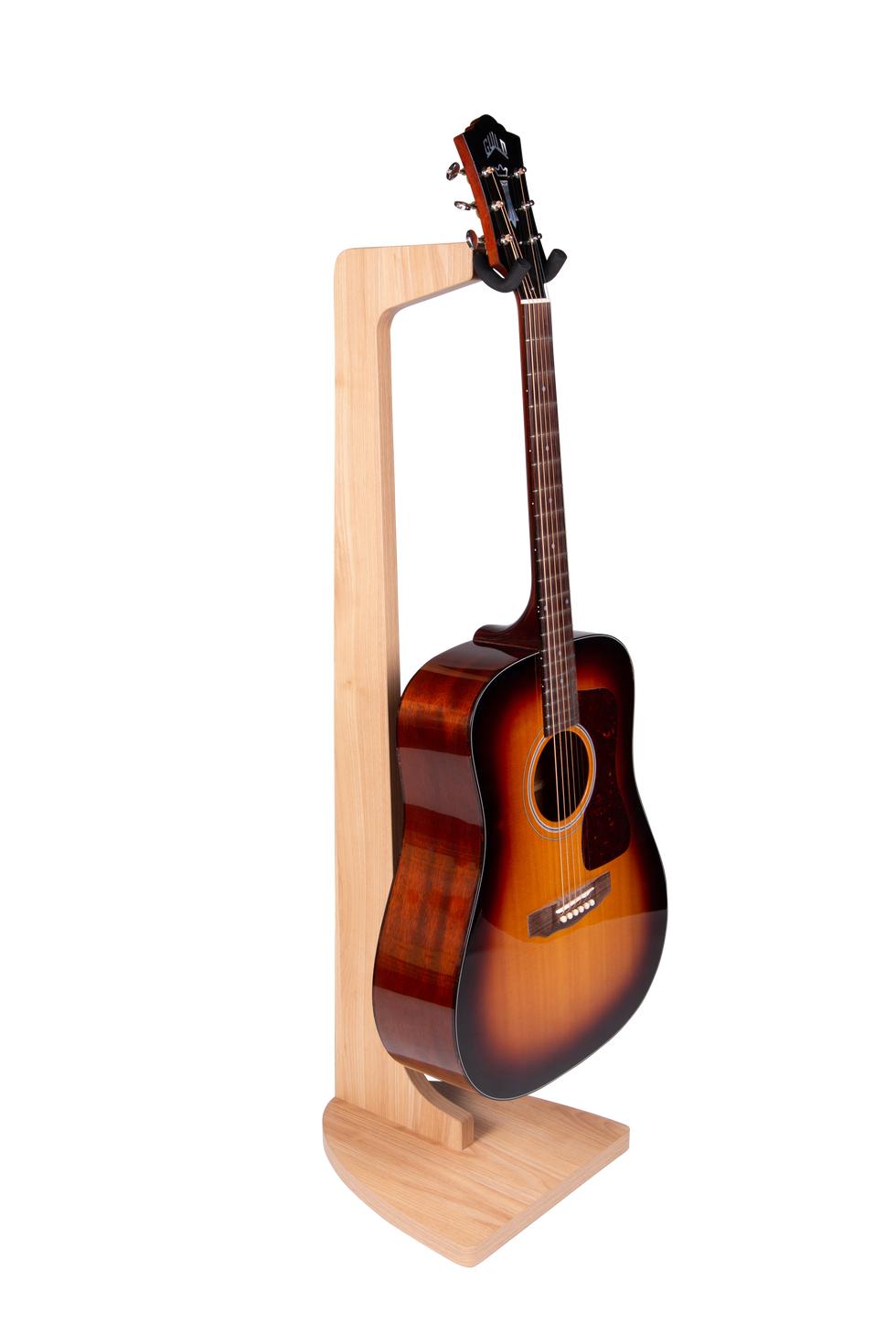 We love metal at Gator – both the head-banging and physical types. While our metal stands are great for the stage and studio, they don't always blend into their environment. Sometimes you need something more elegant and adaptable to the overall vibe of

your living room or studio furniture, which is exactly what the Elite Guitar Hanging Stands by Gator Frameworks provide – simplicity with an aesthetic to match any home or studio décor. These stands satisfy all types of players by providing a comfortable fit for most electric, bass and acoustic guitars. Show off your collection with style!

Watch Video Clips
Follow on Instagram
Gator Frameworks
The Grace Design BiX preamp shares the exact same DNA of its bigger siblings, FELiX2 and ALiX, but with an intelligently streamlined feature set and a price that puts it in reach of any performer, whether on your way to the coffee shop or the Megadome. BiX delivers maximum clarity and detail for any plugged in instrument, with dead simple controls – input gain, high and low shelving EQ, and a 10dB variable boost circuit, with footswitches for mute and boost. I/O includes instrument input, separate send and return insert jacks, an unbalanced line output, and a balanced ISO DI output on XLR. And BiX is pedalboard friendly, with a 9VDC power input and a compact, rugged low-profile chassis. Visit www.gracedesign.com for complete details.

Listen to Audio Clips
Watch Video Clips
Follow on Instagram
Grace Design
Two legendary green overdrives are melded in a OD of many moods.
Imagine being able to combine your favorite parts of different overdrive & boost pedals in order to create hybrid sounds no one has ever played through before. That is exactly what we've engineered with the Noble Screamer. It's a 4-in-1 pedal that gives you two very familiar drive circuits and two brand new amp-like distortion tones that no one has used before. It's almost like pedal-modeling, except these are 100% analog circuits, and you decide which tone-control or clipping-section you want to play through. You can play through battle-tested, classic overdrive effects or innovate new music with hybrid tones, let your ears be the judge. Even with all of these features the pedal remains a simple and easy to use three knob overdrive. The innovation in the Noble Screamer doesn't end there; our new design features true-bypass or buffered, truly silent switching, on the fly. The Keeley Noble Screamer Overdrive and Boost is entirely manufactured at Keeley Electronics and is the first in our new aluminum enclosure.
Learn more here.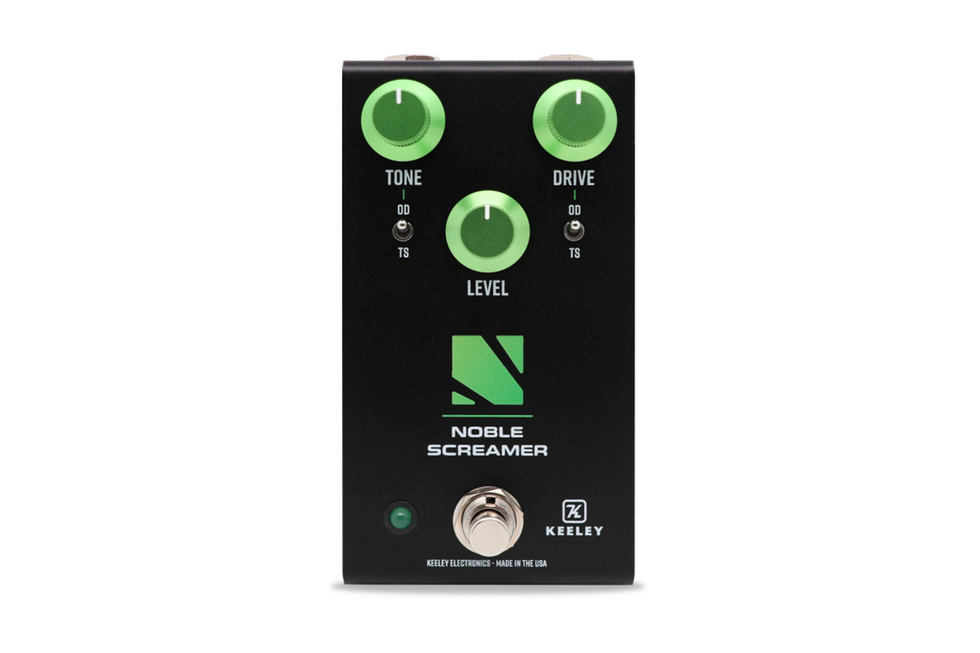 Keeley
Designed to serve as a 4-in-1 pedal that gives you two very familiar drive circuits and two brand new amp-like distortion tones.
Tone Control
Broad Spectrum Tone Control or Narrow Focus Filter Control: The Noble Screamer gives you two tone control circuits to choose from. When the Tone Switch is up and in the OD Position you will hear a 'Spectrum' type of tone control that has the ability to go from a flat EQ to an EQ that has a boost in the treble and bass response. If the Tone Switch is in the TS Position you have a Low Pass Filter that rolls off the high frequencies only.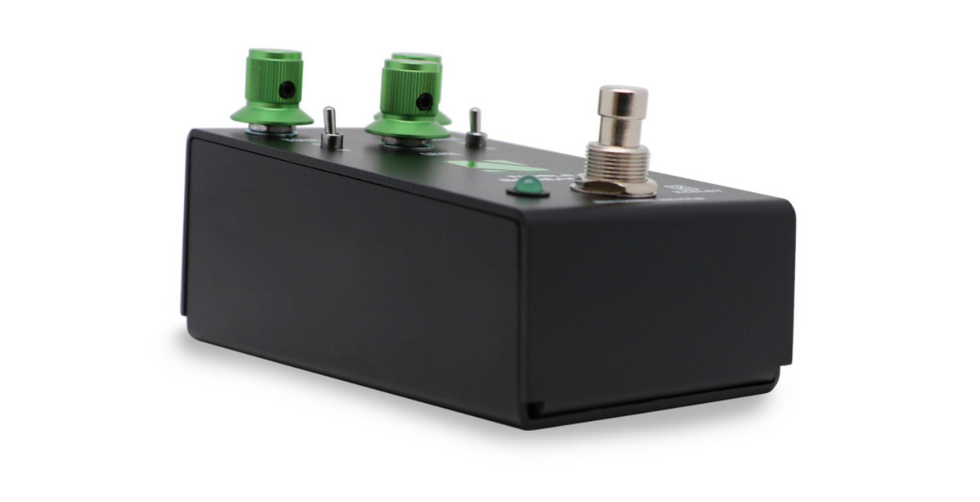 Diode Clipping
Hard or Soft Clipping: The Noble Screamer gives you both styles of diode clipping. Diodes are used to create hard clipping distortions or smooth overdrive sounds. If the Clipping Switch is in the OD Position it features Hard Diode Clipping which is an edgier, more aggressive tone. When the Clipping Switch is in the TS Position that uses Soft Diode Clipping, like a tube amplifier softly overdriven.
Noble Screamer Has Both Buffered and True Bypass
The Keeley Noble Screamer features our Vitamin K Infused Buffer for noise free switching. We have developed an amazing sounding buffer which not only makes your rig sound better, it gives you silent switching with no tone loss. No more pops and clicks to distract from your music. If you want to turn that feature off and go back to true bypass, simply press and hold down the foot switch for two seconds and the pedal will switch to True-Bypass (LED will flash twice). True Bypass is great for players that want the effect of plugging directly into their amp when the pedal is off. Alternatively, players that want a strong and clear signal even when the Noble Screamer is turned off, simply hold the stomp switch down for two seconds and the effect is back to Buffered Bypass (LED flashes three times). Enjoy truly silent switching and let your music be the only voice.
The third edition of Blackstar's best-selling valve amplifier range.
In 2009 when the original HT Venue was designed the goal was to combine the best of our two flagship valve amp lines; the boutique cleans of the handwired Artisan amps and the modern high gain of Series One. This gave guitarists incredible flexibility of tone from a single valve amp, with no compromise between their clean and overdrive tones.

Seven years later Mk II introduced the most requested features; an expanded tone section on the Clean channel, footswitchable voices and power reduction.
A game-changing addition is their advanced CabRig DSP technology, an embodiment of our latest innovations in speaker, cab, mic, and room emulation. This technology, originally featured in our St. James and AMPED products, represents our commitment to staying ahead of the curve. Coupled with 4-channel audio via the USB-C, capturing professional quality valve tone in your DAW is simple.
The CabRig outs (XLR, Stereo Line Out and USB) can also be used in Standby Mode making it ideal for both recording and silent stages too.
Upgraded circuit board components and an all-new digital reverb with adjustable parameters further enhance the tone and performance.
All this comes in an all-new livery using materials normally found on boutique amps; premium tolex and fret, mini-toggle switches and a metal plate logo.
Blackstar's new HT Venue MK III Series of guitar heads, combos and cabinets. Valve amps that are the culmination of decades of design experience and innovation; delivering "the sound in your head" with absolutely no compromises in tone, feel or performance.
Models in the range: HT Club 40 MK III combo, HT Stage 60 112 MK III combo, HT Stage 60 212 MK III combo, HT Club 50 MK III head, HT Stage 100 MK III head, HTV-112 cabinet, HTV-212 cabinet, HTV-412A cabinet, HTV-412B cabinet.