Check out the ALL-NEW PRS Pedals and more in this edition of our Stompbox Gear Finds!
---
PRS Guitars
The PRS Horsemeat transparent overdrive pedal is designed to enhance your sound without coloring your tone. Horsemeat adds harmonic midrange richness and overdrives without cutting out your high notes – all while giving you more available headroom. It features a robust EQ section so you can dial in your tone and has a wide range of gain on tap. Depending on the setting, Horsemeat can be used as a clean boost, straight overdrive, or even enhance your amplifier's distortion by slightly pushing the front end of the amplifier's preamp section.PRS pedals were created to be high-end pieces of audio gear. Designed by PRS Guitars in Stevensville, MD, USA. Made in the USA.
Maestro Pedals
Maestro created the world's first fuzz pedal – the Maestro Fuzz-Tone FZ-1. Introduced in 1962, the Fuzz-Tone became the sound of rock and roll and a must-have accessory for guitarists everywhere after the success of 1965's (I Can't Get No) Satisfaction by the Rolling Stones, which prominently featured its cutting edge sound. Now Maestro is bringing the fun and sonic fury of those early Fuzz-Tones back with the new Maestro Fuzz-Tone FZ-M. This all-analog pedal boasts a Mode toggle switch that provides two pedals in one functionality for increased sonic versatility with both an FZ-1 inspired fuzz sound and a thicker, more modern fuzz tone. Its 3-knob control layout gives you intuitive control. The Attack knob controls the amount of fuzz. The Tone control lets you adjust the timbre from bright and raspy to warm and wooly and anywhere in between.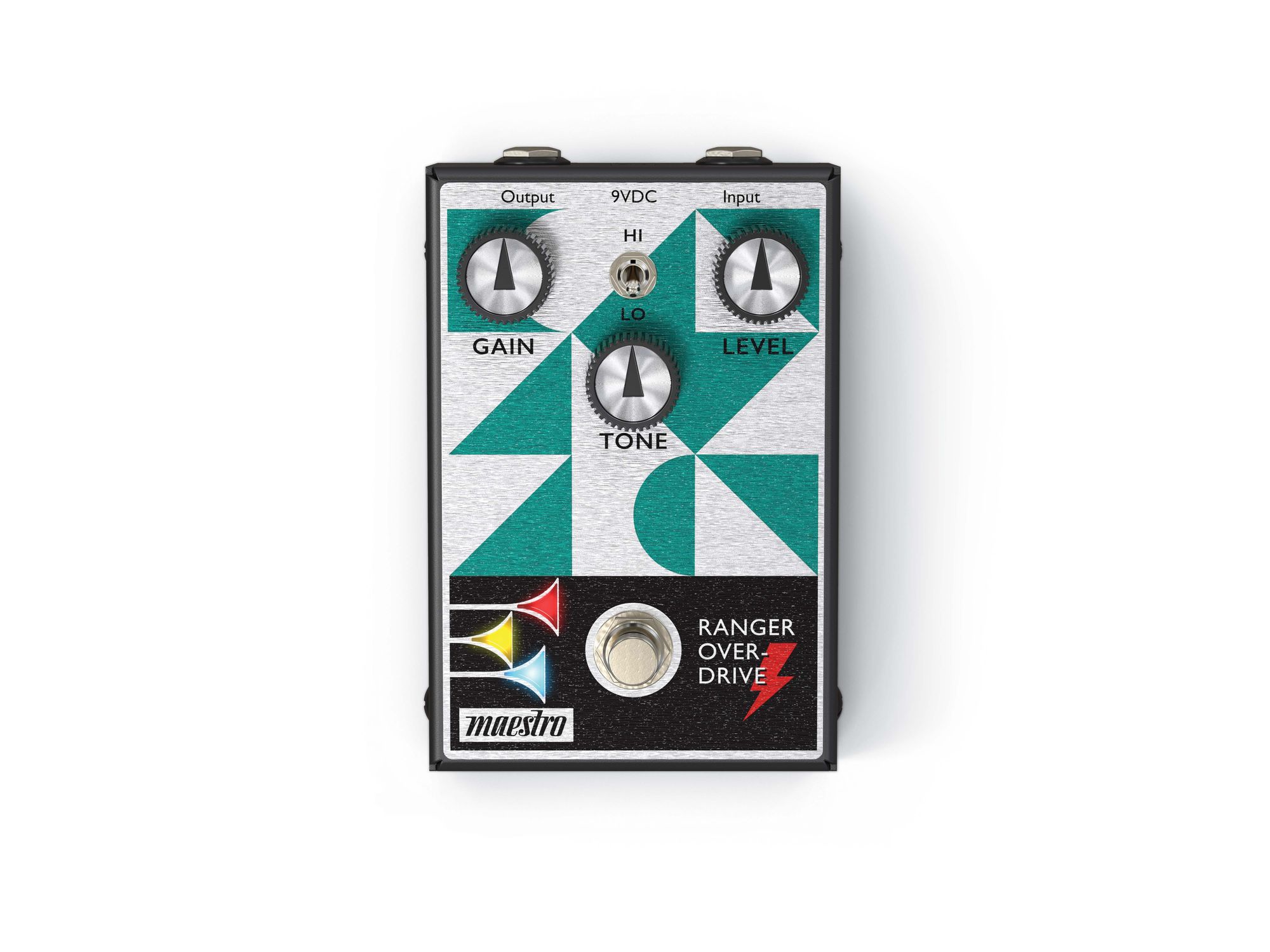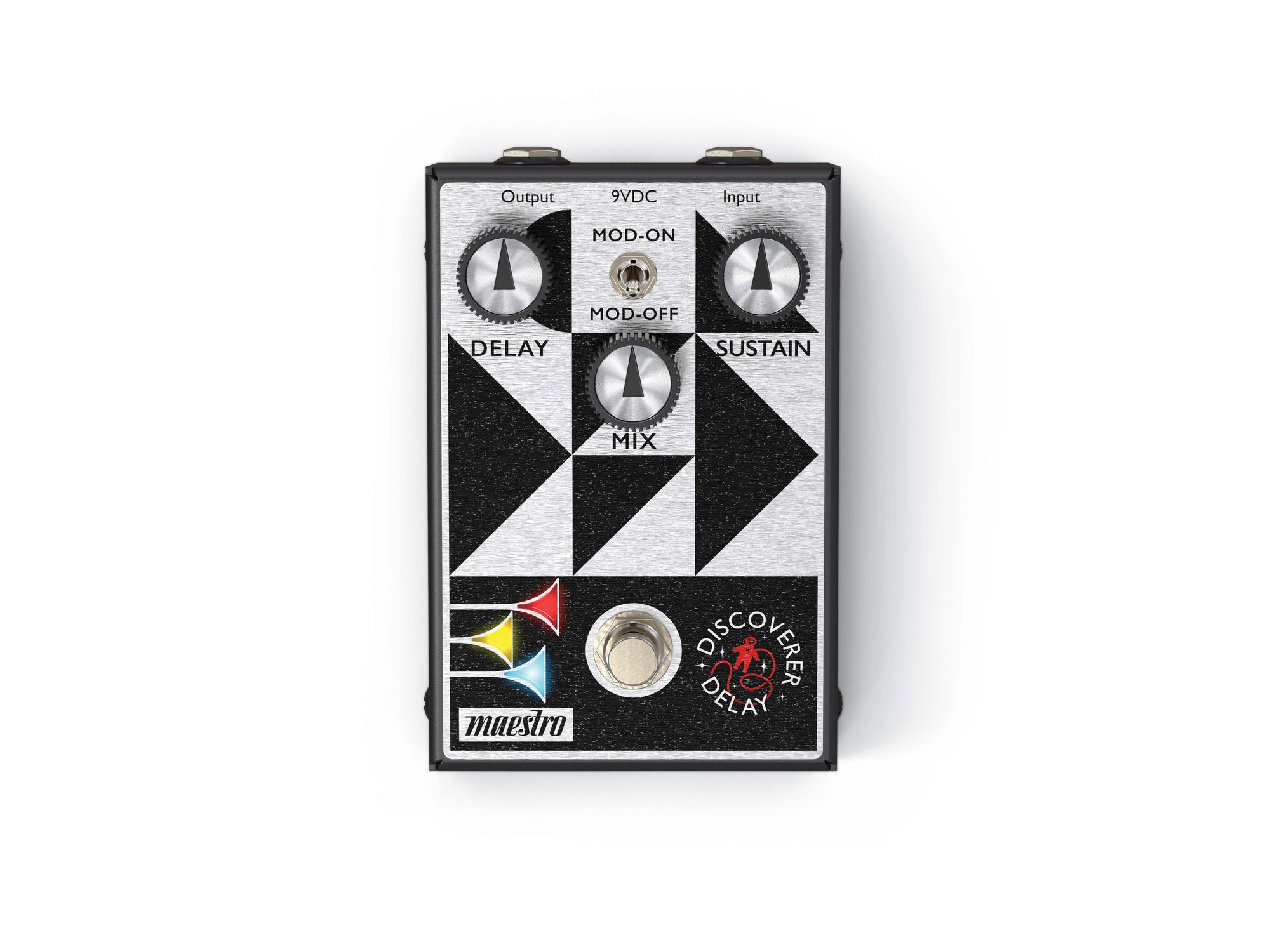 Tech 21
The SansAmp Character Plus Series celebrates the unique chemistry between specific historic amplifiers and specific historic pedals, and cleverly unites them together in single packages:

Screaming Blonde = Fender-style + Tube Screamer-style
English Muffy = HiWatt-style + Big Muff-style
Fuzzy Brit = Marshall-style + Fuzz Face-style
Mop Top Liverpool = Vox-style + Rangemaster Booster-style
Each of the individually-voiced Character controls sweep through an entire spectrum of eras within their particular amp style. Screaming Blonde tones range from the '50s Fullerton to blackface and silverface. The English Muffy spans from classic UK rock to prog rock. Fuzzy Brit goes from classic hard rock to all current rock genres. The Mop Top Liverpool embodies the British invasion through "Bohemian" rock.
These 2-channel multi-function pedals are each like having a stompbox within a stompbox. You can use the SansAmp amplifier emulation on its own or just the effect on its own. The all-analog SansAmps Character Plus Series pedals can be used as stand-alone pre-amps to drive a power amp, a studio mixer, or a PA system, or to complement your existing amp. Other features include built-in speaker simulation individually tuned to match each of the speaker/cabinet configurations associated with each amplifier type; 3-band active EQ, XLR Output, included 9V DC Power Supply. Rugged all-metal housing measures 7.75"l x 2.5"w x 1.25"h and weighs just 12 oz.
EARTHBOARD Music
Never before has an effects pedalboard been so effortless to build and painless to change or rearrange on the fly - So you can Focus on the Music, Not the Set-Up!

Our game-changing design incorporates Rare Earth Magnets ("cupped" so there is no risk to your pedals!) and a long-lasting Battery to give you the neatest, cleanest sounding and looking rig! All of the hassles of using a traditional board are gone. No more messy cobweb of cords and cables. No need to look for outlets and extension cords. No need to deal with dirty noise at gigs. Increase voltage and isolate those "picky" pedals without adding more mess and expense of separate power bricks and adapters. NO MORE SOUND OF RIPPING VELCRO!!!

Here's what's possible with EARTHBOARD:
- Your choice to use our Battery or AC Adapter
- Jacks are on both sides to accommodate YOUR style and the unknowns of the gig space
- All of our power supplies have built in circuit protection to safeguard your pedals
- Built-in cross board audio patch cable saves you money and the hassle of finding the right length cable to connect your top and bottom rows of pedals
- Ability to power large pedals off the board to maximize board real estate - make room for one more pedal!
- The built-in, under mounted, Blue LED lights enhance visibility and the "cool factor"
- Daisy-chain multiple boards and power them all with a single battery
- Rearrange or add pedals on the fly, between sets, in a matter of seconds
Large tour grade pedal board and flight case for 10-14 pedals with removable 24″x11″ pedal board surface and inline wheels

Features:
Pro-grade shock absorbing EVA foam interior
Removable pedal board surface 24" x 11"
Two (2) rubber-gripped handles for easy lifting in and out of the case
3M Dual Lock» hook and loop fastener for pedal installation
Cable and accessory storage under the removable pedal board
Retractable tow-handle and inline wheels
Plywood construction with aluminum edging to create a secure closure between lid and base
Protective ball corners at vulnerable points
Commercial grade Gator red signature hardware
Lockable latches
Spring-loaded rubber gripped handles
George L's Effects Cable Kits
Enhance the tone and clarity of your pedalboard with award winning sound.
The George L's effects kit.
The kit comes with 10' of cable, 10 right angle plugs and 10 stress relief jackets.
Available in black, vintage red and purple.
As easy as 1, 2, 3 no soldering!
Cut, poke and screw your way to 47 years of sound excellence.
George L's
A guitar designed to intuitively transition from acoustic to electric voices with the 3-way switch, or from clean to driven with a turn of the Blend Knob.

Fender continues to explore the sonic possibilities of an acoustic-electric guitar with the Acoustasonic Player Jazzmaster. Purposefully streamlined and equally versatile, this guitar intuitively transitions from acoustic to electric voices with the 3-way switch, or from clean to driven with a turn of the Blend Knob.

Features
3-way switch, or from clean to driven with a turn of the Blend Knob
Modified Jazzmaster body
2-pickup configuration: Under-Saddle Piezo, Acoustasonic Shawbucker Magnetic
Finishes include: 2-Color Sunburst, Shell Pink, Antique Olive and Ice Blue
Exploring the Acoustasonic Player Jazzmaster | Fender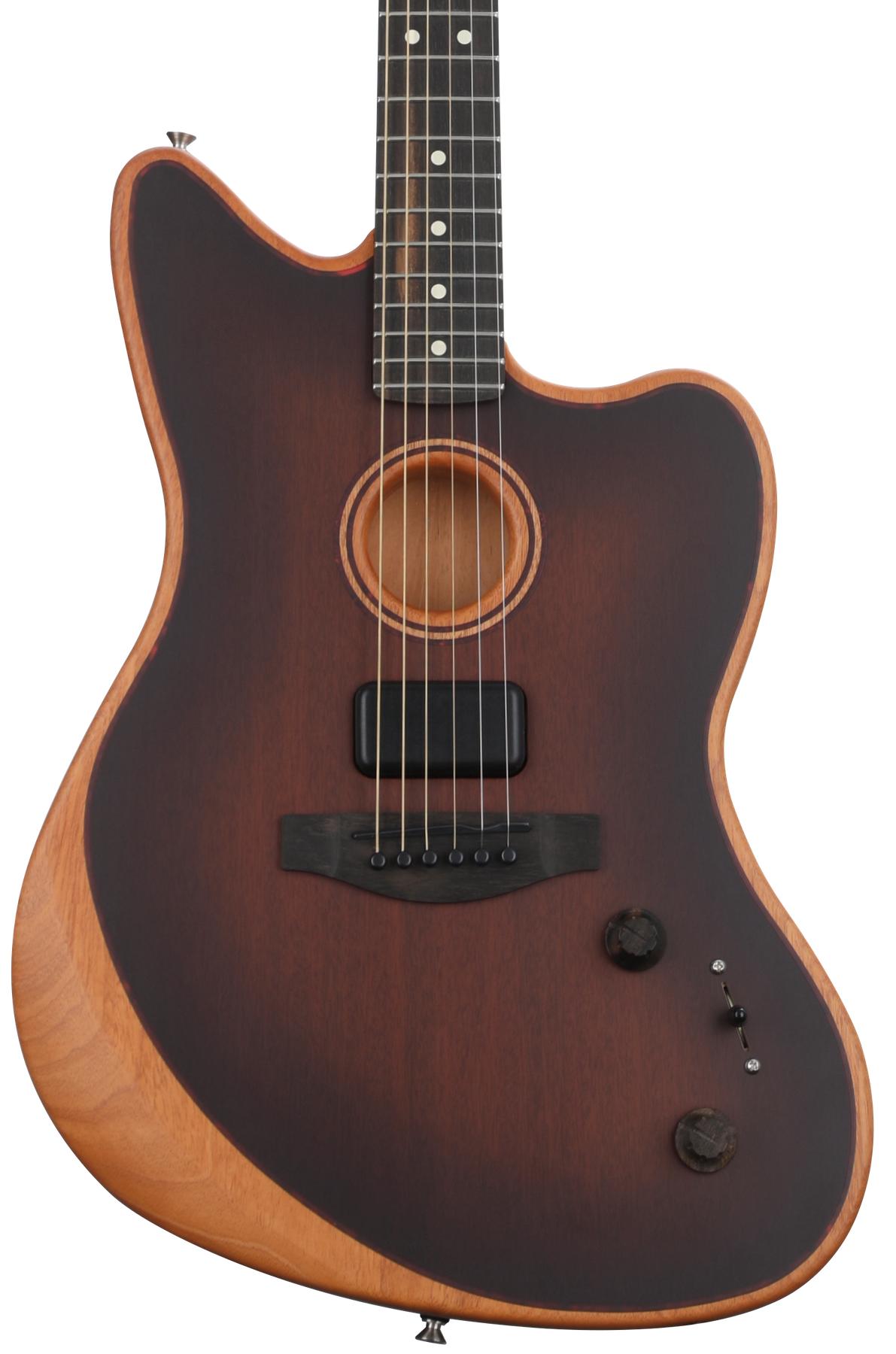 Hybrid Jazzmaster with 10 blendable acoustic and electric voicings
Piezo and magnetic pickups supply an impressive range of rock, blues, country, folk, and pop tones
Body sensor pickup (P3) is perfect for loop building and percussive playing
Fender
A deep octave-fuzz-filter with interactive controls.
Versatile, interactive controls offer deep access to tones. Fast octave tracking.
On its own, the fuzz circuit is a bit bright.
4
5
4
4
Octave fuzz often sounds best when applied in brutish extremes, where tracking goes explosively haywire. But some pedal builders have made the case for a more refined approach. Mastro Valvola's OFF1—an octave fuzz filter that combines three analog circuits, an octave with sub1 and sub2 frequencies, a fuzz, and a ladder filter—fits that bill.
The OFF1's octave and fuzz circuits can be used independently, each controlled by their own footswitch, while the filter is tied to the fuzz circuit. The octave controls are simple, with three level controls for dry, sub1, and sub2. Sub1 tracks well, while cranking sub2 is home to the most glitchiness. The fuzz circuit is bright. And generally, I kept the tone knob at sub-noon settings, with the mid-shift toggle on, so I could tame the treble. But when using fuzz with the octave circuit, all that treble is an asset. The filter has a wide range, and I accessed everything from crushing distorted organ bass to square-wave-style faux synth and treble-y cocked-wah sounds.
The OFF1 rewarded my recent ZZ Top obsession by getting me as close to the Reverend's tone as I could hope for with an SG and a Deluxe Reverb.
Though I tested the OFF1 with and SG and a Strat-style instrument, I found that the fuzz circuit played best with humbuckers. The OFF1 rewarded my recent ZZ Top obsession by getting me as close to the Reverend's tone as I could hope for with an SG and a Deluxe Reverb. The OFF1 is a refined, well-crafted pedal, and with so much controllability, there is much to discover.
For these new recreations, Fender focuses on the little things that make original golden-era Fenders objects of obsession.
If there's one thing players love more than new guitars, it's old guitars—the unique feel, the design idiosyncrasies, the quirks in finish that all came from the pre-CNC era of instrument manufacturing. These characteristics become the stuff of legend, passed on through the years via rumors and anecdotes in shops, forums, and community networks.
It's a little difficult to separate fact from fiction given these guitars aren't easy to get your hands on. Fender Telecasters manufactured in the 1950s and 1960s sell for upwards of $20,000. But old is about to become new again. Fender's American Vintage II series features 12 year-specific electric guitar and bass models from over two decades, spanning 1951 to 1977, that replicate most specs on their original counterparts, but are produced with modern technologies that ensure uniform build and feel.
Chronologically, the series begins and ends, fittingly, with the Telecaster—starting with the butterscotch blonde, blackguard 1951 Telecaster (built with an ash body, one-piece U-shaped maple neck, and 7.25" radius fretboard) and ending with the 1977 Telecaster Custom, which features a C-shaped neck, a CuNiFe magnet-based Wide Range humbucker in the neck position, and a single-coil at the bridge. The rest of the series spans the highlights of Fender's repertoire: the 1954 Precision Bass, 1957 Stratocaster in ash or alder, 1960 Precision Bass, 1961 Stratocaster, 1963 Telecaster, 1966 Jazz Bass, 1966 Jazzmaster, 1972 Tele Thinline, 1973 Strat, and 1975 Telecaster Deluxe. The 1951 Telecaster, 1957 Strat, 1961 Strat, and 1966 Jazz Bass will also be offered as left-handed models. Street prices run from $2,099 to $2,399.
Fender '72 American Vintage II Telecaster Thinline Demo | First Look
Spec'd To Please
Every guitar in the series sports the era's 7.25" radius fretboard, a mostly abandoned spec found on Custom Shop instruments—Mexico-made Vintera models, and Fender's Artist Series guitars like the Jimmy Page, Jason Isbell, and Albert Hammond Jr. models. Most modern Fenders feature a 9.5" radius, while radii on Gibsons reach upwards of 12". Videos experimenting with the 7.25" radius' playability pull in tens of thousands of viewers, suggesting both a modern fascination with and a lack of exposure to the radius among some younger and less experienced players.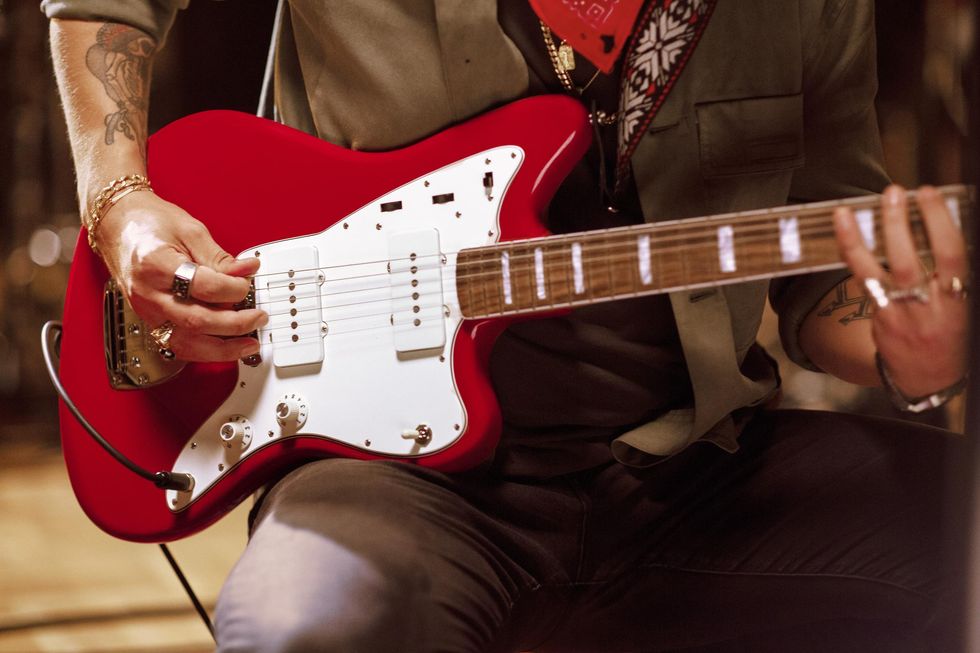 T.J. Osborne of the Brothers Osborne picks an American Vintage II 1966 Jazzmaster in Dakota red.
Bringing back the polarizing 7.25" radius across the entire series is a gamble, and it's been nearly five years since Fender released year-specific models. But Fender executive vice president Justin Norvell says that two years ago when the Fender brain trust was conceptualizing the American Vintage II line, they decided the time was right to "go back to the well."
"We've been doing the same [models], the same years, over and over again for 30 years," says Norvell. "We really wanted to change the line and expand it into some new things that we hadn't done before and pick some different years that we thought were cool."
"It takes a lot of doing to go back in time and sort of uncover the secret-sauce recipes."—Steve Thomas, Fender
To decide on which years to produce, Fender drew from what Norvell calls a "huge cauldron of information" from Custom Shop master builders to collectors with vintage models to former employees from the 1950s and 1960s. The hands-on manufacturing of Fender's golden years meant guitars produced within the same year would have marked differences in design and finish. So, the team had to procure multiple versions of the same year's guitar to decide which models to replicate. Norvell says some purists would advocate for the "cleanest, most down-the-middle kind of variant," while others would push for more esoteric and rare versions. Norvell says that ultimately, the team picked the models that they felt best represented "the throughline of history on our platforms."
Simple and agile, the Fender Precision Bass—here in its new American Vintage II '54 incarnation—earned its reputation in the hands of Bill Black, James Jamerson, Donald "Duck" Dunn, and other foundational players.
Norvell says the American Vintage II series was developed, in part, in response to calls to reproduce vintage guitars. Just like with classic cars, he says, people are passionate about year-specific guitars. Plus, American Vintage II fits perfectly with the pandemic-stoked yearning for bygone times. "For some people, these specific years are representative of experiences they had when they were first playing guitar, or a favorite artist that played guitars from these eras," says Norvell. "These are touchstones for those stories, and that makes them very desirable."
Cracking Codes
Fender's electric guitar research and design team, led by director Steve Thomas, dug through the company's archive of original drawings and designs—dating all the way back to Leo Fender's original shop in Fullerton, California. They found detailed notes, including some documenting body woods that changed mid-year on certain models. Halfway through 1956, for example, Stratocaster bodies switched from ash to alder. That meant the American Vintage II 1957 Stratocaster needed to be alder, too. That, in turn, meant ensuring enough alder was on hand to fulfill production needs.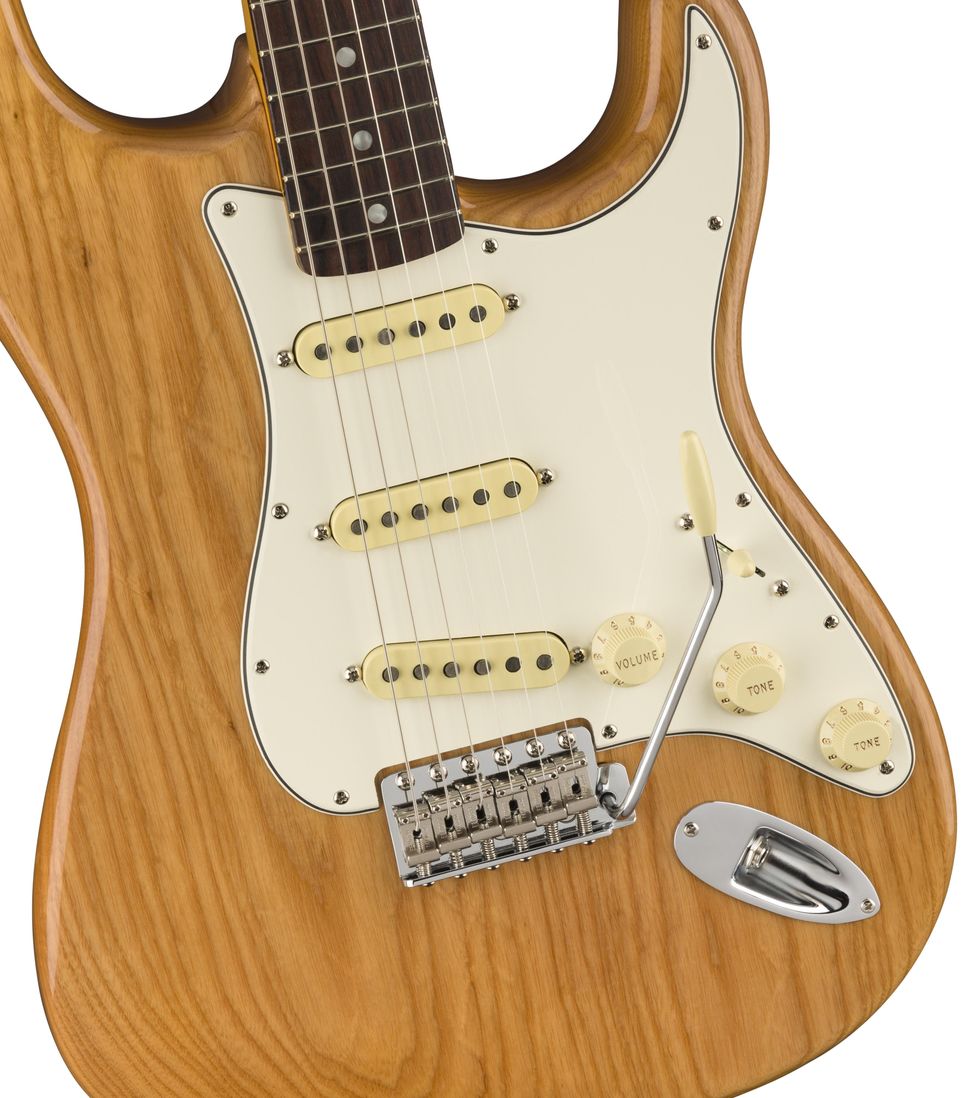 Among the series' Stratocaster recreations is this 1973-style instrument, with an ash body, maple C-profile neck, rosewood fretboard, and the company's Pure Vintage single-coils.
Thomas and his team discovered another piece of the production puzzle when researching how pickups for that same 1957 Strat were made. "We realized that if we incorporated a little bit more pinch control on the winders, we could more effectively mimic the way pickups would have been hand-wound in the '50s," says Thomas. "It takes a lot of doing to go back in time and sort of uncover the secret-sauce recipes."
Thomas proudly calls the guitars "some of the best instruments we've ever made here in the Fender plant," pointing to the level of detail put into design features, including more delicate lacquer finishes which take longer to cure and dry, and vintage-correct tweed cases for some guitars. New pickups were incorporated in the series, like a reworking of Seth Lover's famed CuNiFe Wide Range humbuckers, which were discontinued around 1981. Even more minute details, like the width of 12th fret dots and the material used for them, were labored over. Three different models in the line feature clay dot inlays at unique, year-specific spacings.
Ironically, modern CNC manufacturing now makes these design quirks consistent features in mass-produced instruments. While the hand-crafted guitars from the '50s and '60s varied a lot from instrument to instrument. "Everything needs to be located perfectly, and it wasn't necessarily back in the day," says Norvell. "Now, it can be."
Don't Look Back
With this new series so firmly planted in the rose-tinted past, Fender does run the risk of netting only vintage-obsessed players. But Norvell says the team, despite being sticklers for period-correct detail, sought to strike a balance between vintage specs, practicality, and playability. The 1957 Stratocaster, for example, has a 5-way switch rather than the original's 3-way switch. Norvell also asserts that the "ergonomic" old-school radius feels great when chording. "It might not be [right for] a shred machine, but it feels great and effortless."

The 1966 Jazz Bass is also represented, shown here in a left-handed version.
Norvell also pushes back on the notion that Fender is playing it safe by indulging nostalgia and leaning on their past successes. He says that while the vintage models are some of the most desirable on the market, the team "purposely did not stick to the safe bets," citing unusual year models like the 1954 P Bass and the 1973 Stratocaster.
There's a good reason why anything that hails back to "the good ol' days" hits home with every generation. We're constantly plagued by a belief that what came before is better than what we've got now. But with the American Vintage II series, Fender makes the case that guitars from the '50s, '60s, and '70s can very easily be a relevant part of the 2020s.