Stompbox Gear Finds Fall 2022
Check out the ALL-NEW PRS Pedals and more in this edition of our Stompbox Gear Finds!
---
PRS Guitars
The PRS Horsemeat transparent overdrive pedal is designed to enhance your sound without coloring your tone. Horsemeat adds harmonic midrange richness and overdrives without cutting out your high notes – all while giving you more available headroom. It features a robust EQ section so you can dial in your tone and has a wide range of gain on tap. Depending on the setting, Horsemeat can be used as a clean boost, straight overdrive, or even enhance your amplifier's distortion by slightly pushing the front end of the amplifier's preamp section.PRS pedals were created to be high-end pieces of audio gear. Designed by PRS Guitars in Stevensville, MD, USA. Made in the USA.
Maestro Pedals
Maestro created the world's first fuzz pedal – the Maestro Fuzz-Tone FZ-1. Introduced in 1962, the Fuzz-Tone became the sound of rock and roll and a must-have accessory for guitarists everywhere after the success of 1965's (I Can't Get No) Satisfaction by the Rolling Stones, which prominently featured its cutting edge sound. Now Maestro is bringing the fun and sonic fury of those early Fuzz-Tones back with the new Maestro Fuzz-Tone FZ-M. This all-analog pedal boasts a Mode toggle switch that provides two pedals in one functionality for increased sonic versatility with both an FZ-1 inspired fuzz sound and a thicker, more modern fuzz tone. Its 3-knob control layout gives you intuitive control. The Attack knob controls the amount of fuzz. The Tone control lets you adjust the timbre from bright and raspy to warm and wooly and anywhere in between.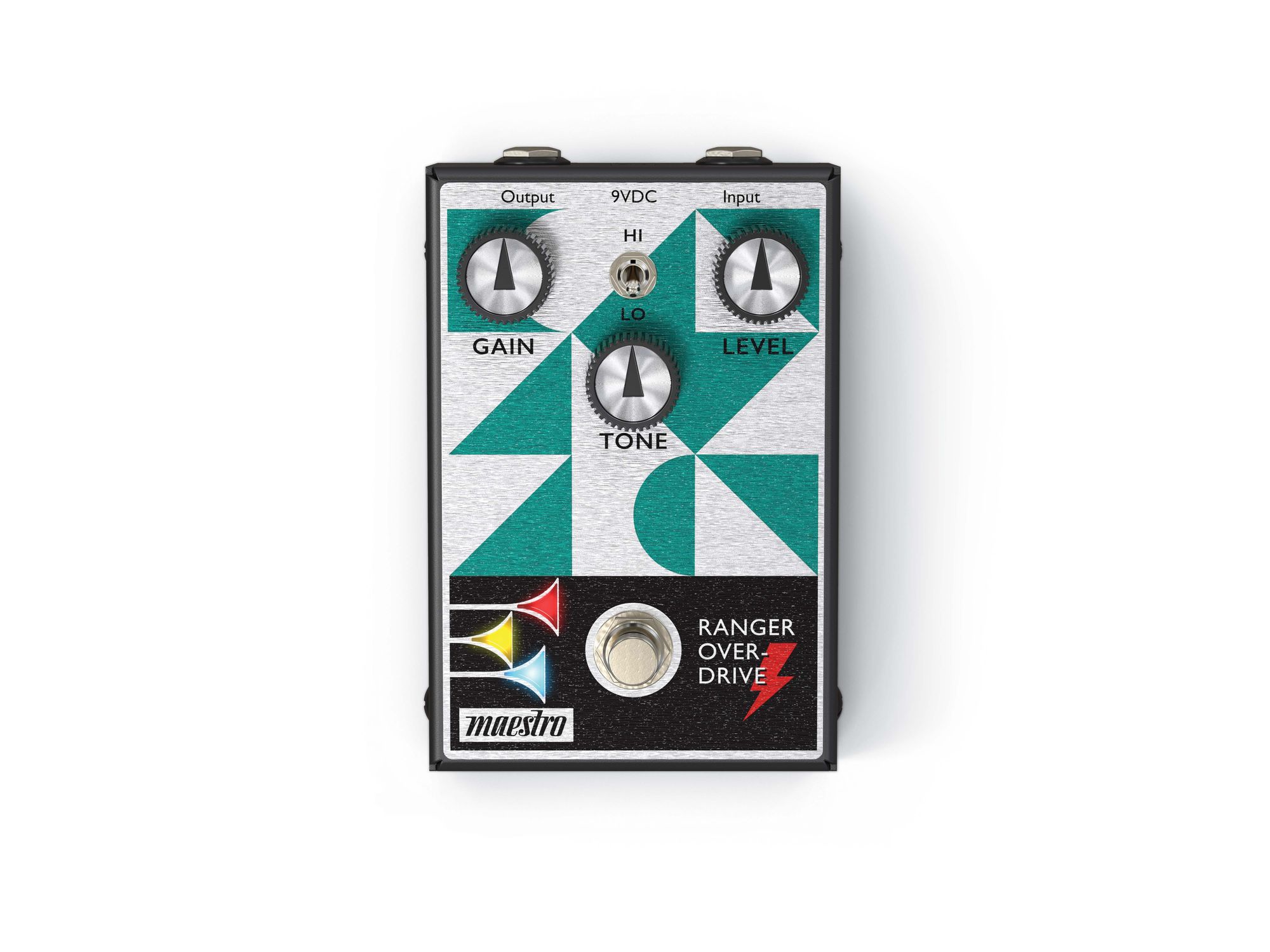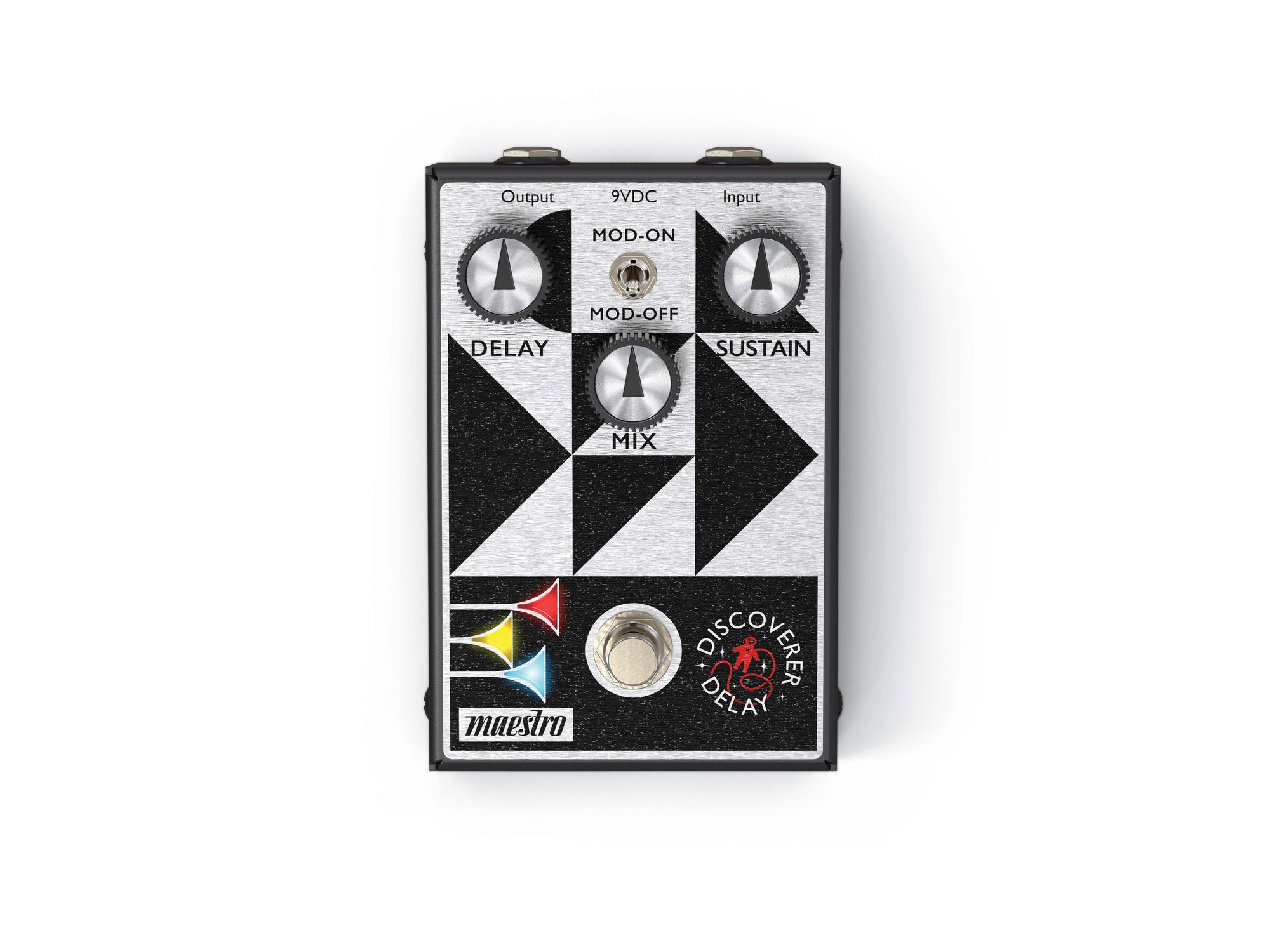 Tech 21
The SansAmp Character Plus Series celebrates the unique chemistry between specific historic amplifiers and specific historic pedals, and cleverly unites them together in single packages:

Screaming Blonde = Fender-style + Tube Screamer-style
English Muffy = HiWatt-style + Big Muff-style
Fuzzy Brit = Marshall-style + Fuzz Face-style
Mop Top Liverpool = Vox-style + Rangemaster Booster-style
Each of the individually-voiced Character controls sweep through an entire spectrum of eras within their particular amp style. Screaming Blonde tones range from the '50s Fullerton to blackface and silverface. The English Muffy spans from classic UK rock to prog rock. Fuzzy Brit goes from classic hard rock to all current rock genres. The Mop Top Liverpool embodies the British invasion through "Bohemian" rock.
These 2-channel multi-function pedals are each like having a stompbox within a stompbox. You can use the SansAmp amplifier emulation on its own or just the effect on its own. The all-analog SansAmps Character Plus Series pedals can be used as stand-alone pre-amps to drive a power amp, a studio mixer, or a PA system, or to complement your existing amp. Other features include built-in speaker simulation individually tuned to match each of the speaker/cabinet configurations associated with each amplifier type; 3-band active EQ, XLR Output, included 9V DC Power Supply. Rugged all-metal housing measures 7.75"l x 2.5"w x 1.25"h and weighs just 12 oz.
EARTHBOARD Music
Never before has an effects pedalboard been so effortless to build and painless to change or rearrange on the fly - So you can Focus on the Music, Not the Set-Up!

Our game-changing design incorporates Rare Earth Magnets ("cupped" so there is no risk to your pedals!) and a long-lasting Battery to give you the neatest, cleanest sounding and looking rig! All of the hassles of using a traditional board are gone. No more messy cobweb of cords and cables. No need to look for outlets and extension cords. No need to deal with dirty noise at gigs. Increase voltage and isolate those "picky" pedals without adding more mess and expense of separate power bricks and adapters. NO MORE SOUND OF RIPPING VELCRO!!!

Here's what's possible with EARTHBOARD:
- Your choice to use our Battery or AC Adapter
- Jacks are on both sides to accommodate YOUR style and the unknowns of the gig space
- All of our power supplies have built in circuit protection to safeguard your pedals
- Built-in cross board audio patch cable saves you money and the hassle of finding the right length cable to connect your top and bottom rows of pedals
- Ability to power large pedals off the board to maximize board real estate - make room for one more pedal!
- The built-in, under mounted, Blue LED lights enhance visibility and the "cool factor"
- Daisy-chain multiple boards and power them all with a single battery
- Rearrange or add pedals on the fly, between sets, in a matter of seconds
Large tour grade pedal board and flight case for 10-14 pedals with removable 24″x11″ pedal board surface and inline wheels

Features:
Pro-grade shock absorbing EVA foam interior
Removable pedal board surface 24" x 11"
Two (2) rubber-gripped handles for easy lifting in and out of the case
3M Dual Lock» hook and loop fastener for pedal installation
Cable and accessory storage under the removable pedal board
Retractable tow-handle and inline wheels
Plywood construction with aluminum edging to create a secure closure between lid and base
Protective ball corners at vulnerable points
Commercial grade Gator red signature hardware
Lockable latches
Spring-loaded rubber gripped handles
George L's Effects Cable Kits
Enhance the tone and clarity of your pedalboard with award winning sound.
The George L's effects kit.
The kit comes with 10' of cable, 10 right angle plugs and 10 stress relief jackets.
Available in black, vintage red and purple.
As easy as 1, 2, 3 no soldering!
Cut, poke and screw your way to 47 years of sound excellence.
George L's
Three of five new analog stomps from the revived brand forge unique paths from vintage origins.
Unique, vintage-colored modulations. Boost compensates for perceived volume loss.
Modulations could be a little more liquid and cohesive.
4
4
4
4
Many different effects can salvage a crappy backline situation. A nice reverb goes a long way toward making a lame amp sound okay. A delay or compressor can usually lend a little energy and mystery to an otherwise lifeless tone, too. But in my experience, few effects coax magic from garbage quite like tremolo.
Mariner Tremolo
Just ask Keith Richards. For the spooky-as-hell guitar track that underpins "Gimme Shelter," Keith used a Triumph solid-state amp that legendary engineer and producer Glyn Johns hated. But while Johns may have thought the Triumph sounded lame, it had a tremolo circuit Keith loved. Go ahead, give the song a listen. It's hard to imagine "Gimme Shelter" without that haunting pulse.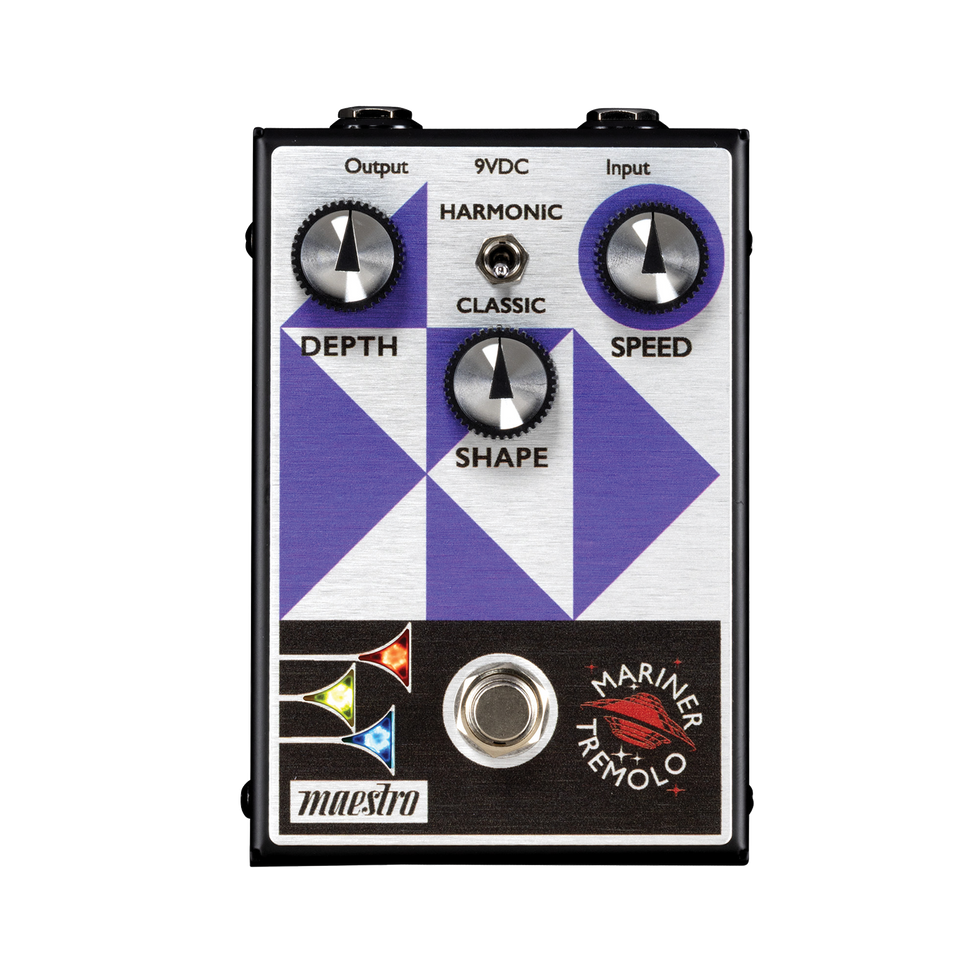 Maestro's Mariner tremolo has the same potential to rescue a lifeless track or performance. It's not the most refined tremolo (it can come on a bit strong at times), nor does it sound like an approximation of any vintage standard. (It sounded very different from a black-panel Fender Tremolux and Vibroverb, as well as an excellent digital take on those circuits.) Functionally speaking, it will probably remind many players of the Boss TR-2, with its depth, speed, and wave shape controls, which move between sine and square waveforms. Even its controls are arranged in an inverse triangle like the Boss. But the Mariner offers a second, more phase-y mode that it calls harmonic tremolo, which approximates, to some extent, the harmonic vibrato on some early-'60s Fender brown-panel amps. That extends the practical and fun potential of the Mariner.
Maestro
Pick Your Pulse
If you're a stickler for vintage-correct emulations, Mariner might not be your first pick for a pedal tremolo. That doesn't mean it lacks vintage feel, though. In classic mode (it's not clear if this all-analog circuit was designed to approximate an optical tremolo circuit, bias tremolo, or neither), you can dial in very pretty, immersive modulations that will sound more than adequately vintage-like in a mix. Classic settings are also easy to shape in creative ways with the waveform knob. Compared to what's arguably the affordable analog tremolo standard bearer, the Boss TR-2, the Mariner's maximum depth and square wave settings are more pronounced and intense. Some of this intensity might be due to the fact that the Mariner is flat-out louder. Tremolo-pedal makers often build in a very mild boost to compensate for the perceived loss of signal that accompanies some tremolo effects, and Maestro certainly seems to have included one here. The Mariner is perceptibly louder than both a TR-2 and a Strymon Flint.
Even still, Mariner's harmonic mode is rich and charming, and the wobbly pulses lend a very psychedelic edge.
The Mariner could be more nuanced at times. The classic mode's pulses, for instance, sometimes seem more hard-edged than liquid. These less-fluid modulations can be even more pronounced in the harmonic tremolo mode. Many players, however, will prefer this texture, even though amp-based harmonic tremolo tends to sound smooth and contoured. Still, Mariner's harmonic mode is rich and charming, and the wobbly pulses lend a very psychedelic edge. And at slower rates, in particular, the harmonic mode finds its stride. The modulations are phasey and elastic and can sound both beautiful and striking in the right setting.
The Verdict
At nearly 160 bucks, the Mariner is priced near the top end of the affordable tremolo class. But Mariner's secret weapon may be the fact that it sounds vintage without clearly imitating other circuits or sounding too generic. That relative individuality, plus its extra output, make it an appealing option for those who'd rather not default to the most obvious standard.
Orbit Phaser
One of my favorite ways to make a tremolo pedal like the Mariner sound even cooler than it already does is by situating a phaser downstream. I tend to disagree with guitarists that regard phase as one-dimensional. I've seen ripping players with great dynamic touch and broad tone palettes that almost never turn them off. And it's always impressive how they weave a phaser's cool mysterious sense of motion into a complex whole instead of placing the modulation front and center.
There's a lot more flexibility to do that these days now that phasers have evolved so considerably from early one-knob classics. Maestro's Orbit Phaser walks the line between contemporary and complex, and vintage and stupidly simple, though it tends toward the latter. So, while it lacks some of the fine-tuning features you see on more powerful units, it facilitates creation of subtle, backgrounded blends and much more prominent modulations.
Maestro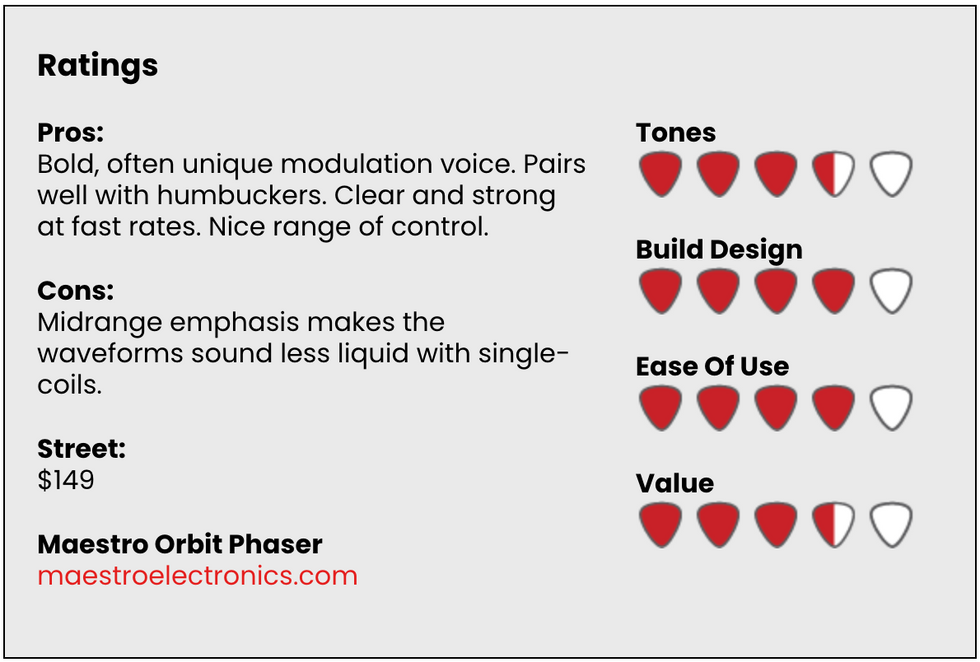 You Gotta Move
The Orbit's phase is bold and clear. There is no perceived signal loss—a problem that plagues a lot of older analog phasers and which becomes a fear among many first-time phaser shoppers. In some situations, the Orbit cuts because of a very pronounced midrange emphasis. The pedal adds a distinct tone color—midrange-y enough to evoke a cocked wah or filter at certain settings and with certain guitars. There are some awesome applications for the voice. For example, I paired the pedal with a Telecaster on which I rolled the tone way back. The resulting skwonky waveforms I heard could transform an otherwise dull part into something hooky and weird. The midrangey voice also meshes very nicely with PAF-style humbuckers, creating pronounced, muscular waveforms that cut in jangly settings or psychedelic blues solos. The Orbit sounds extra cool and assertive at fast modulation rates—another neat way to pepper up a same-old fake-Jimi solo. It also sounded bolder in this setting than the very old and familiar Small Stone and Phase 90 I used for reference.
The Orbit sounds extra cool and assertive at fast modulation rates.
At slower rates­—the kind that, say, you would use for The Dark Side of the Moon tracks, soul ballads, or Waylon Jennings jams—the Maestro's mid-focused voice works less well. Rather, the more open-ended and less specific voices of the Phase 90 and Small Stone let your signal breathe a lot more across the frequency spectrum, while the Orbit feels punkier and more snarling. Which flavor is better is totally subjective. But I would say Orbit's slow phase tones read as a little less liquid than those from the old MXR and Electro-Harmonix units.
The Verdict
The Orbit Phaser can be a real joy for how unique it sounds. Faster rate settings are particularly rich. The ability to tailor width and feedback enables loads of contrasting subtle-to-robust waveforms. The 4-and-6-stage modes provide additional versatility, though the differences between them is less pronounced than on some phasers with that option. The Orbit's range would make it the ideal candidate for an always-on phaser, and there will be players who use it in just that fashion. But the strong midrange emphasis will probably dissuade many from using it that way— especially those that primarily use single-coils. Humbucker players might have a different experience. The Orbit's voice gets along great with a PAF. And that's just one of many intriguing and satisfying sounds here.
Agena Envelope Filter
To a large segment of the guitar-playing populace, "envelope filter" usually means "auto wah" or "that quacky thing." Most good envelope filters do that stuff. It's probably what most buyers expect of them. But envelope filters can do other really cool things. They can effectively work like high-contrast EQ presets—transforming solos as radically as a fuzz can. They can also work like dynamic phasers and summon interesting phrasings from pedestrian chord changes and melodic lines, particularly when you get used to working in bendy, elastic give-and-take tandem with the effect. Correspondingly, they are great tools for digging out of a rut.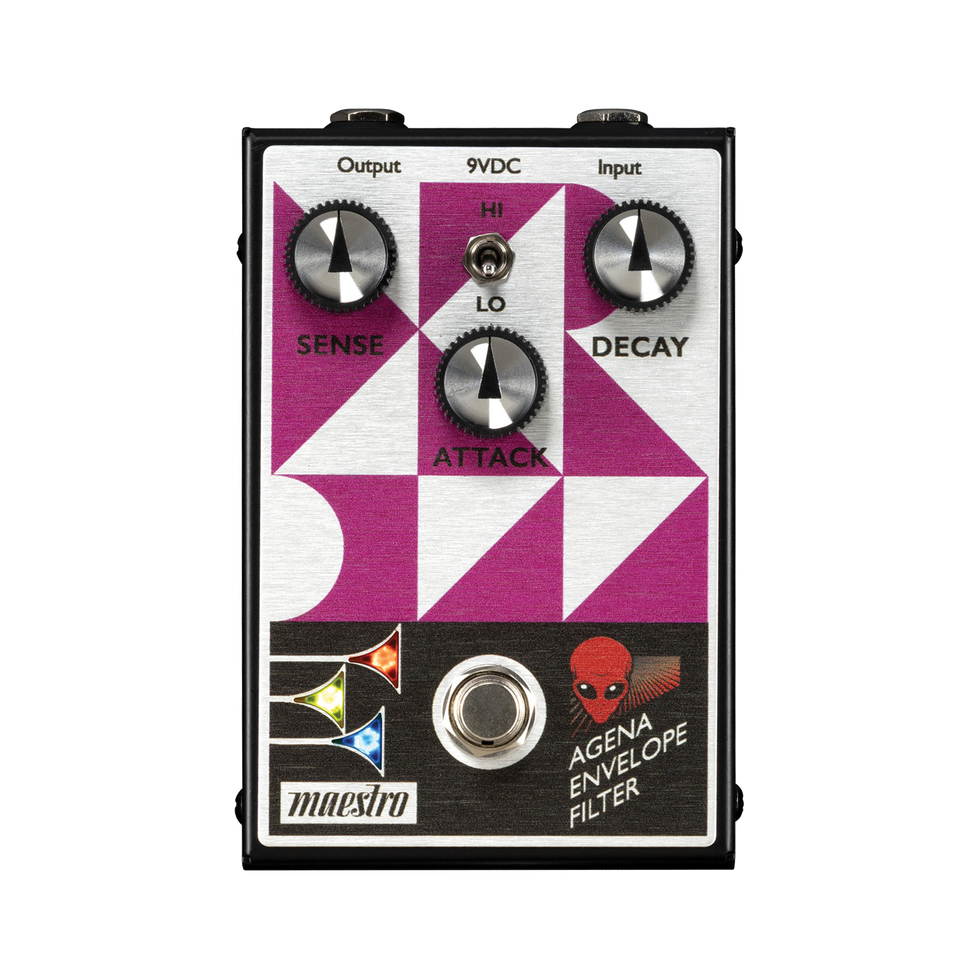 Maestro's Agena lives a little less on the quacky end of the filter spectrum, trading some of those hyper-vowely, percussive and snappy filtering qualities for a more expansive dynamic palette and a little more control over attack. But for anyone keen to explore the effect beyond Jerry Garcia and Bootsy Collins sound archetypes, it will seem much more forgiving and usable than many more clearly Mu-Tron III-derived circuits.
Maestro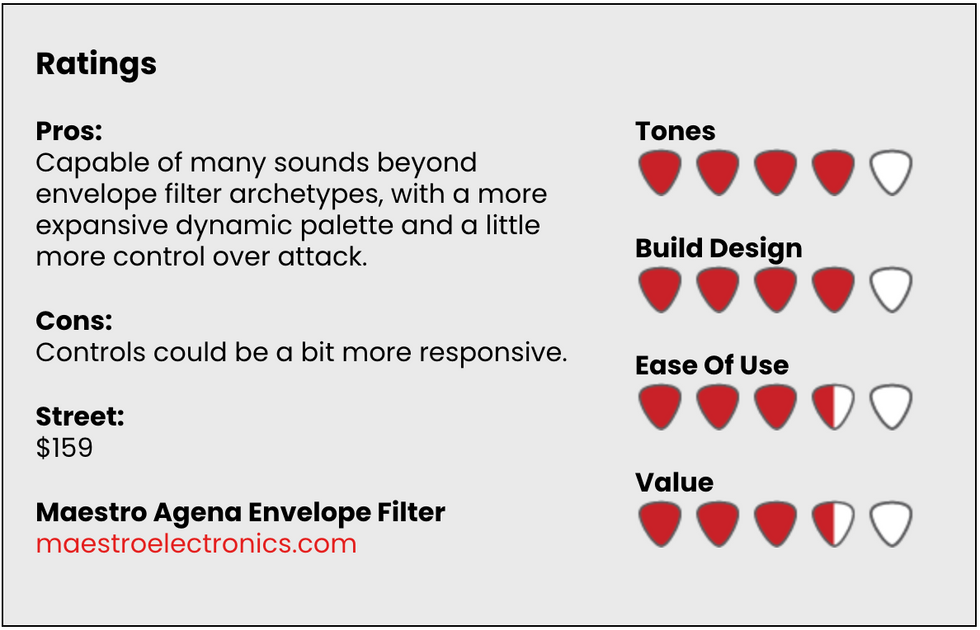 Practical in Practice
If you're at all put off by envelope filters because their controls are counterintuitive on the surface, you should not fear the Agena. Even if you're not familiar with how envelope filters are supposed to work, it's easy to feel your way through how they interact and respond to the input from your guitar and fingers.
The sense knob governs how much picking energy is required before the envelope is activated. Attack controls how fast the envelop opens. Decay regulates how long the filter stays open. A small toggle will be familiar to old-school Mu-Tron and Electro-Harmonix Q-Tron users. It assigns emphasis to higher or lower frequency ranges. The controls are fairly interactive. You can set up classic quacky sounds by cranking up the sense and attack controls and situating the decay control in the middle third of its range. More subdued, less vowel-y tones lurk at faster decay rates, where you can also coax great narrow-focus filter sounds that evoke old octave effects like the Ampeg Scrambler or Dan Armstrong Green Ringer.
You can also coax great narrow-focus filter sounds that evoke old octave effects like the Ampeg Scrambler or Dan Armstrong Green Ringer.
Because the Agena is a dynamically controlled filter, it responds to any change in your input signal. So, it reacts differently to varied pick attack and heavier or thinner picks. Boosts and overdrive remove dynamic range but can add emphasis to quacky and vowelly filter responses or filter effects that highlight specific frequencies. Different guitars and pickups can have very different relationships, too. Telecaster bridge pickups were especially good for coaxing dynamic phase sounds at high-sense/fast-attack/medium-decay settings. PAF-style humbuckers, meanwhile, sounded hot and vocal.
The Verdict
In some ways, the Agena could be the envelope filter for people that don't like envelope filters. It rarely feels like an all-or-none proposition, and the filter is capable of many sounds in between Grateful Dead caricature and less loaded voices. It also rewards players who pursue less obvious, droning playing approaches as opposed to those who play it funky. But even if it's just classic quack you're after, the Agena gives you many shades to work with.
Maestro [Gibson] Mariner Tremolo, Titan Boost, Arcas Compressor, Agena Filter & Orbit Phaser Demos
French heavy metal luminaries Gojira will join forces with iconic Grammy-winning heavy rock band Mastodon for a massive co-headline tour across North America.
"The Mega-Monsters Tour" finds these two juggernauts taking over arenas and amphitheaters throughout the Spring and Summer, alternating closing sets each night.
The tour kicks off at the Veterans Memorial Coliseum in Portland, OR on April 18th and includes stops at legendary venues such as the Forum in Los Angeles, CA on April 21st. The first leg concludes at Santander Arena in Reading, PA on May 11th and resumes with a second leg that runs August 9th through September 2nd. Special guest Lorna Shore serves as direct support on all dates.
Mastodon hit the road in support of their critically acclaimed ninth studio album, HUSHED AND GRIM. Meanwhile, Gojira are out supporting their seventh full-length album, Fortitude, which garnered a Grammy nomination in the category of "Best Metal Performance" for "Amazonia." These two titans previously canvased North America together in 2014, and this reunion represents another major milestone in their respective careers.
Mastodon
Gojira
GOJIRA & MASTODON
"THE MEGA-MONSTERS TOUR"
WITH SPECIAL GUESTS LORNA SHORE
LEG 1
4/18 Portland, OR Veterans Memorial Coliseum
4/20 Concord, CA Concord Pavilion
4/21 Los Angeles, CA The Forum
4/22 Phoenix, AZ Arizona Financial Theatre
4/23 Las Vegas, NV Virgin
4/26 Dallas, TX The Pavilion at Toyota Music Factory
4/28 Houston, TX 713 Music Hall
4/29 Austin, TX Moody Center
4/30 Oklahoma City, OK Zoo Amphitheatre
5/2 Nashville, TN Municipal Auditorium
5/4 Boca Raton, FL Sunset Cove Amphitheater
5/5 St. Augustine, FL St. Augustine Amphitheatre
5/6 Atlanta, GA Ameris Bank Amphitheatre
5/7 Asheville, NC Harrah's Cherokee Center
5/9 Richmond, VA Virginia Credit Union Live
5/10 Baltimore, MD Pier Six Pavilion
5/11 Reading, PA Santander Arena
LEG 2
8/9 Cincinnati, OH MegaCorp Pavilion
8/10 Cleveland, OH Jacob's Pavilion
8/11 Pittsburgh, PA Stage AE Outdoors
8/12 New York, NY Coney Island Amphitheater
8/13 Syracuse, NY OneCenter
8/15 Detroit, MI Masonic Temple
8/17 Toronto, ON RBC Echo Beach
8/18 Laval, QC Place Bell
8/19 Portland, ME Cross Insurance Arena
8/20 Boston, MA MGM Music Hall
8/23 Milwaukee, WI BMO Pavilion
8/25 Hammond, IN Horseshoe
8/26 Omaha, NE Westfair Amphitheater
8/27 Minneapolis, MN Waite Park Amphitheater
8/29 St. Louis, MO The Factory
8/30 Kansas City, MO Azura Amphitheater
9/1 Salt Lake City, UT USANA Amphitheater
9/2 Denver, CO Fiddler's Green Amphitheater
Fan pre-sales for tickets begin January 18th at 10:00am local time and include both Mastodon and Gojira artist pre-sales, alongside Blabbermouth, Spotify and local promoter / venue / radio pre-sales. General on-sale will launch January 20th at 10:00am local time with VIP ticket packages available at www.gojira-music.com and www.mastodonrocks.com.
You could be one of 25 winners of the brand-new Snark Air Tuner in this PG Perks exclusive giveaway! Enter below for your chance to win.
Snark Air Tuner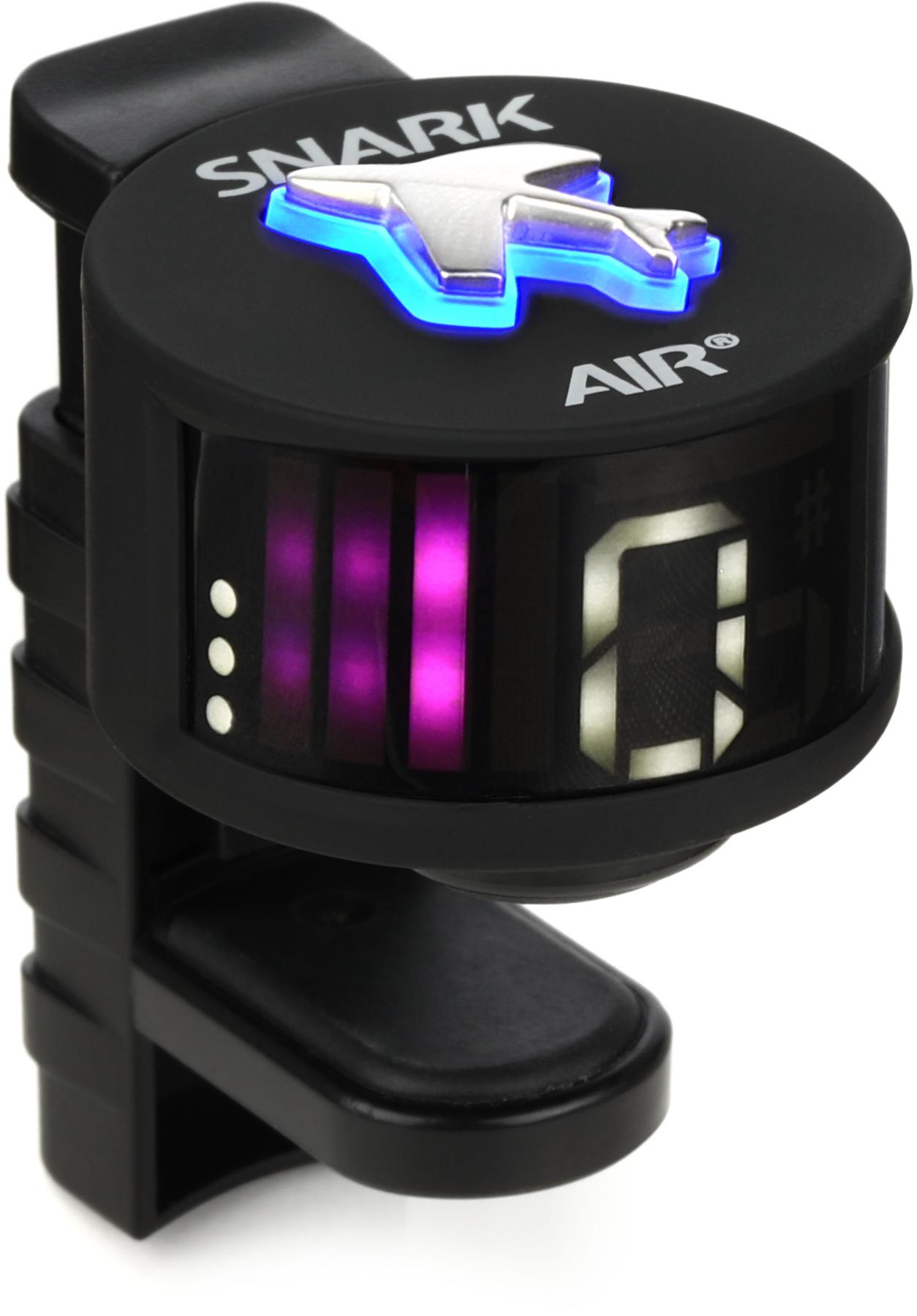 The Snark Air is one value-packed little tuner! Of course, it tunes guitars and basses, but you can also use it with ukuleles, banjos, mandolins, and more. Courtesy of its bright, colorful LED display, you'll always know when your pitch is flat (magenta), sharp (orange), or on target (green). Placing the Snark Air behind your headstock and double tapping the airplane logo reorients the display, letting you discretely tune during gigs. You'll never need to replace batteries either, thanks to the Snark Air's micro-USB charging capabilities. Sweetwater guitarists are impressed by the Snark Air's many features, especially considering that its price is "airy" on your wallet.
Snark