Check out the ALL-NEW PRS Pedals and more in this edition of our Stompbox Gear Finds!
---
PRS Guitars
The PRS Horsemeat transparent overdrive pedal is designed to enhance your sound without coloring your tone. Horsemeat adds harmonic midrange richness and overdrives without cutting out your high notes – all while giving you more available headroom. It features a robust EQ section so you can dial in your tone and has a wide range of gain on tap. Depending on the setting, Horsemeat can be used as a clean boost, straight overdrive, or even enhance your amplifier's distortion by slightly pushing the front end of the amplifier's preamp section.PRS pedals were created to be high-end pieces of audio gear. Designed by PRS Guitars in Stevensville, MD, USA. Made in the USA.
Maestro Pedals
Maestro created the world's first fuzz pedal – the Maestro Fuzz-Tone FZ-1. Introduced in 1962, the Fuzz-Tone became the sound of rock and roll and a must-have accessory for guitarists everywhere after the success of 1965's (I Can't Get No) Satisfaction by the Rolling Stones, which prominently featured its cutting edge sound. Now Maestro is bringing the fun and sonic fury of those early Fuzz-Tones back with the new Maestro Fuzz-Tone FZ-M. This all-analog pedal boasts a Mode toggle switch that provides two pedals in one functionality for increased sonic versatility with both an FZ-1 inspired fuzz sound and a thicker, more modern fuzz tone. Its 3-knob control layout gives you intuitive control. The Attack knob controls the amount of fuzz. The Tone control lets you adjust the timbre from bright and raspy to warm and wooly and anywhere in between.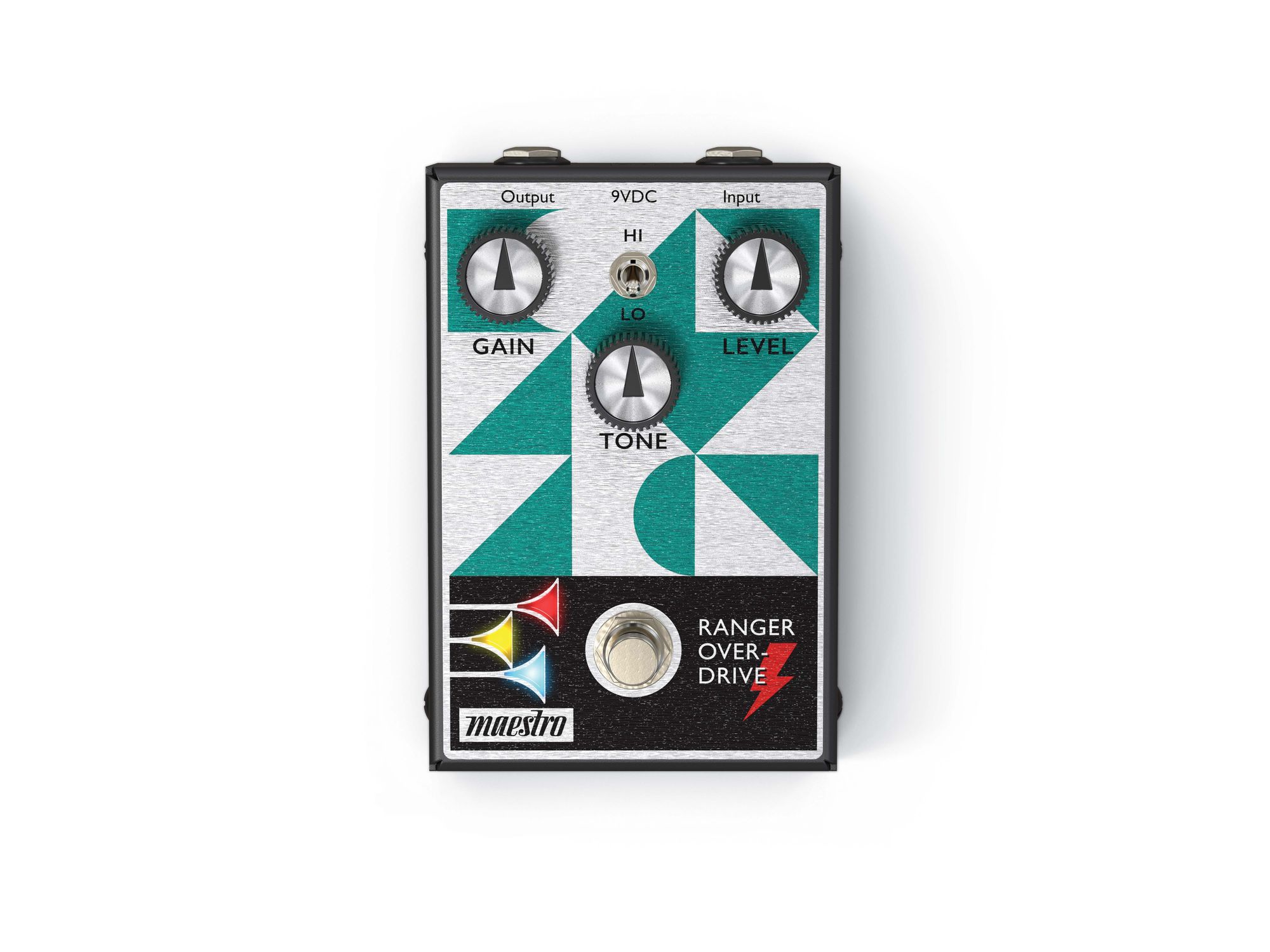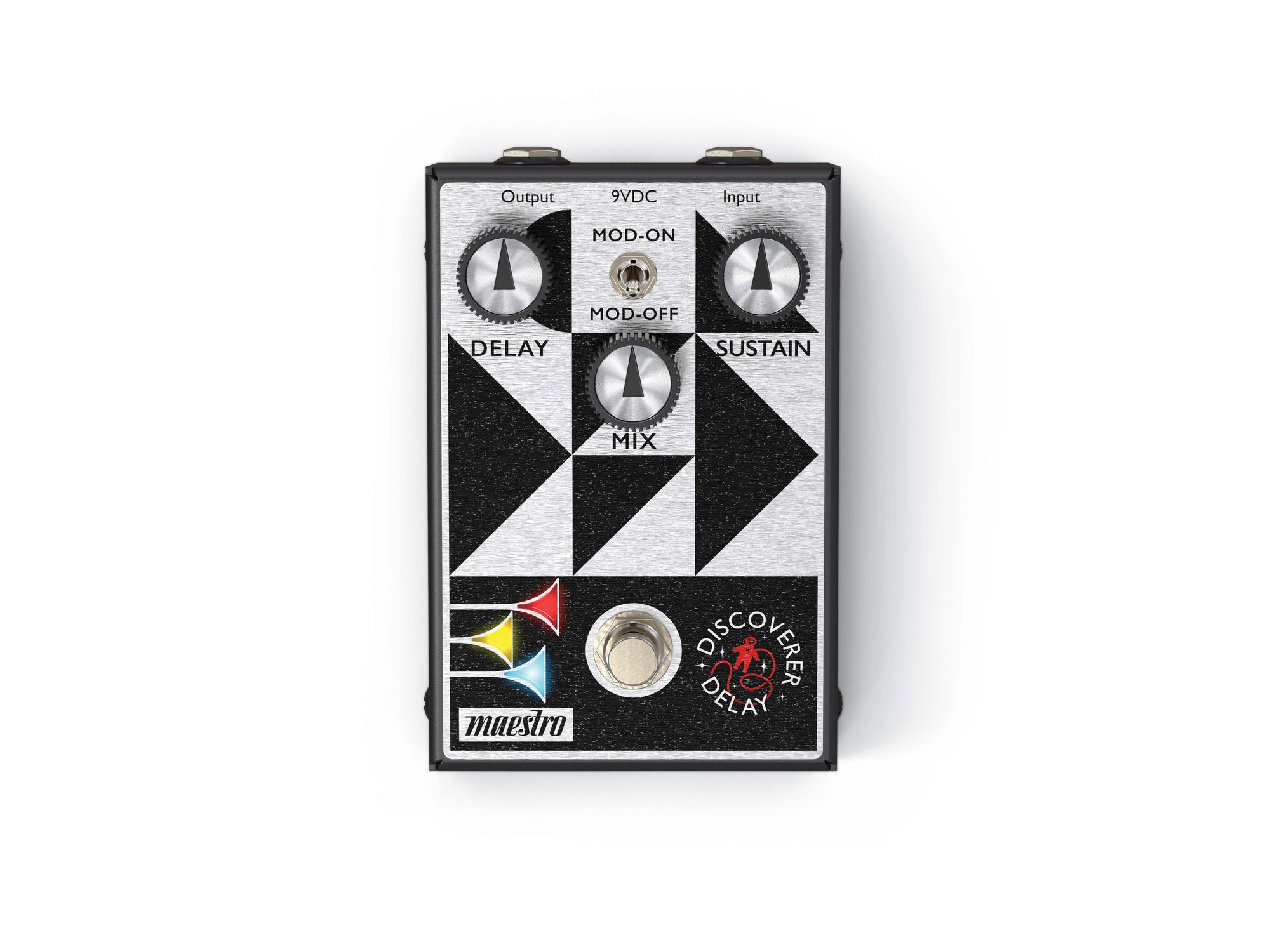 Tech 21
The SansAmp Character Plus Series celebrates the unique chemistry between specific historic amplifiers and specific historic pedals, and cleverly unites them together in single packages:

Screaming Blonde = Fender-style + Tube Screamer-style
English Muffy = HiWatt-style + Big Muff-style
Fuzzy Brit = Marshall-style + Fuzz Face-style
Mop Top Liverpool = Vox-style + Rangemaster Booster-style
Each of the individually-voiced Character controls sweep through an entire spectrum of eras within their particular amp style. Screaming Blonde tones range from the '50s Fullerton to blackface and silverface. The English Muffy spans from classic UK rock to prog rock. Fuzzy Brit goes from classic hard rock to all current rock genres. The Mop Top Liverpool embodies the British invasion through "Bohemian" rock.
These 2-channel multi-function pedals are each like having a stompbox within a stompbox. You can use the SansAmp amplifier emulation on its own or just the effect on its own. The all-analog SansAmps Character Plus Series pedals can be used as stand-alone pre-amps to drive a power amp, a studio mixer, or a PA system, or to complement your existing amp. Other features include built-in speaker simulation individually tuned to match each of the speaker/cabinet configurations associated with each amplifier type; 3-band active EQ, XLR Output, included 9V DC Power Supply. Rugged all-metal housing measures 7.75"l x 2.5"w x 1.25"h and weighs just 12 oz.
EARTHBOARD Music
Never before has an effects pedalboard been so effortless to build and painless to change or rearrange on the fly - So you can Focus on the Music, Not the Set-Up!

Our game-changing design incorporates Rare Earth Magnets ("cupped" so there is no risk to your pedals!) and a long-lasting Battery to give you the neatest, cleanest sounding and looking rig! All of the hassles of using a traditional board are gone. No more messy cobweb of cords and cables. No need to look for outlets and extension cords. No need to deal with dirty noise at gigs. Increase voltage and isolate those "picky" pedals without adding more mess and expense of separate power bricks and adapters. NO MORE SOUND OF RIPPING VELCRO!!!

Here's what's possible with EARTHBOARD:
- Your choice to use our Battery or AC Adapter
- Jacks are on both sides to accommodate YOUR style and the unknowns of the gig space
- All of our power supplies have built in circuit protection to safeguard your pedals
- Built-in cross board audio patch cable saves you money and the hassle of finding the right length cable to connect your top and bottom rows of pedals
- Ability to power large pedals off the board to maximize board real estate - make room for one more pedal!
- The built-in, under mounted, Blue LED lights enhance visibility and the "cool factor"
- Daisy-chain multiple boards and power them all with a single battery
- Rearrange or add pedals on the fly, between sets, in a matter of seconds
Large tour grade pedal board and flight case for 10-14 pedals with removable 24″x11″ pedal board surface and inline wheels

Features:
Pro-grade shock absorbing EVA foam interior
Removable pedal board surface 24" x 11"
Two (2) rubber-gripped handles for easy lifting in and out of the case
3M Dual Lock» hook and loop fastener for pedal installation
Cable and accessory storage under the removable pedal board
Retractable tow-handle and inline wheels
Plywood construction with aluminum edging to create a secure closure between lid and base
Protective ball corners at vulnerable points
Commercial grade Gator red signature hardware
Lockable latches
Spring-loaded rubber gripped handles
George L's Effects Cable Kits
Enhance the tone and clarity of your pedalboard with award winning sound.
The George L's effects kit.
The kit comes with 10' of cable, 10 right angle plugs and 10 stress relief jackets.
Available in black, vintage red and purple.
As easy as 1, 2, 3 no soldering!
Cut, poke and screw your way to 47 years of sound excellence.
George L's
The good doctor refines an old mid-power favorite that dishes beautiful American-style clean and overdriven tones while packing a muscular punch.
A killer reimagining of an already great design. Bold cleans and toothsome overdrive in an impressively portable package.
5
5
4.5
4
Though he's built bona fide iconic modern guitar-amp designs—and a reputation that he could happily ride into the tube-glow sunset—Dr. Z's head honcho, Mike Zaite, has always stayed creative. He's steadily revamped his lineup over the years. And the new Z-28 Mk. II represents a thoughtful update of an amp that many of us assumed couldn't get much better. The original Z-28, discontinued in February 2018, was a robust 22-watter that reveled in simplicity and thick, versatile tonality. Players loved it. And more than a few lamented its discontinuation.
Those players will be happy to hear that much of the Z-28's basic architecture remains intact in the Mk. II. Crucially, the original Z-28's EF86 pentode preamp tube carries over to the front end of the new design. It was a key to that amp's personality and combination of high headroom, high gain, and thick-yet-clear voicing that hooked many Z-28 followers. But the platform's dual-6V6 output stage has now been upgraded to a pair of larger 5881 output tubes in cathode-bias, generating 35 watts of power. Additionally, a new master volume control helps rein in the output, so there's plenty of the good stuff available at less overall volume than the Mk I.
Red Menace
The Mk. II is more than an updated circuit. Dr. Z houses the Z-28 Mk. II 1x12" combo in an updated cabinet, too. This time out, the Z-28 lives in a cab Dr. Z introduced with the Joe Walsh Signature Z-Master. But where that amp was configured with three 10" speakers, the Mk. II features a single-12" baffle and a Celestion G12M Creamback. The cabinet is built from thin-walled ply and measures 22" x 21.5" x 10.9". The dimensions and construction help keep this mid-powered combo's weight down to a very reasonable 38 pounds. The Mk. II also brings Dr. Z's popular red-Tolex livery back to the fold. It's exclusive to the Z-28 Mk. II combo. (A Z-28 Mk. II head is also available, in black only.)
Control interface-wise, the Z-28 Mk. II is just as austere as the original, with the exception of the master volume. Apart from the single input, there's a volume knob and independent treble and bass controls in the EQ stage, which conceals tone-sculpting capabilities much more powerful than you would expect. Utilizing Dr. Z's version of a Baxandall tone circuit, these controls offer fairly traditional high and low frequency sculpting from the fully counterclockwise position to noon. Past noon, though, the frequency boost comes with a bump in preamp gain. The result is that there are many more voices and gain gradations available than the deceptively simple 3-knob preamp implies. What's more, the post-phase-inverter master volume is removed from the circuit when it's maxed if you want to run the MK. II wide open.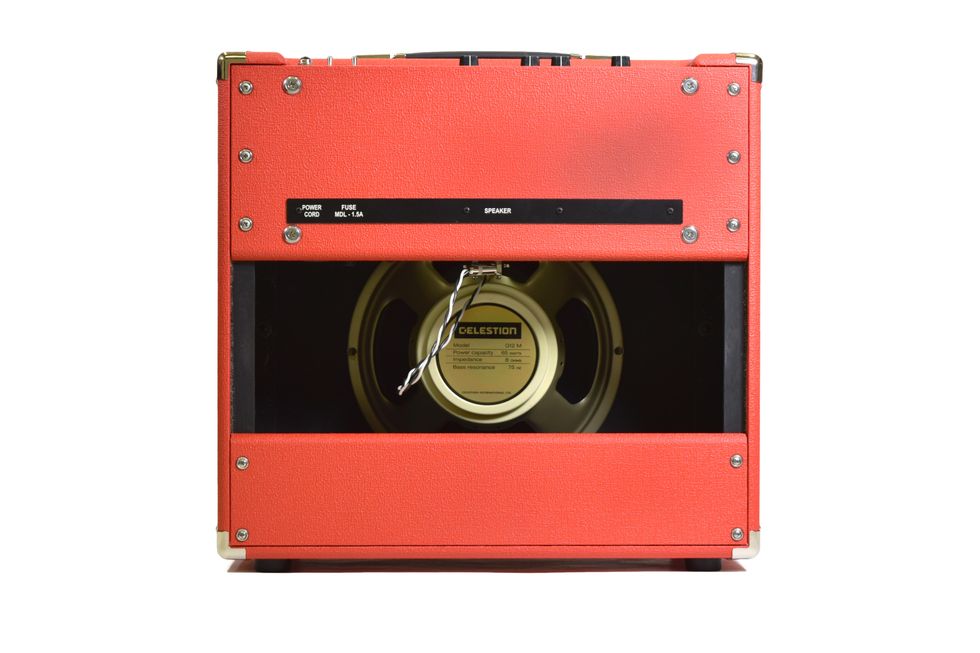 The Z-28 Mk. II uses a 12AX7 in the phase inverter and has a 5AR4 tube rectifier. Cathode biasing of the output stage means you just pop in new replacement tubes when the time comes—there's no need to re-bias, which is very convenient. Although the 5881s can be substituted with more common 6L6GCs—also with no bias adjustment—the Doc tells us: "I like the 5881s better than the 6L6s I tried. The 5881s seem, to my ear, to be closer sonically to the 6V6, which is what I was trying to achieve in the Mk. II." Otherwise, a look inside the chassis reveals the same kind of high-quality, handwired circuit that we have come to expect from this Cleveland-based maker.
American Muscle
The Mk. II is an able successor to the original, and then some. I should confess here that I was a fan of the dual-6V6 Z-28 from the time of its release, and I chatted with Zaite about that amp's merits on many occasions. In my estimation, the Mk. II simply brings more of the good stuff to the table, without leaving out any of the stuff that made the Z-28 great.
A big part of this amp's magic is in the character of the EF86 pentode preamp tube, which is thicker, lusher, and more full-frequencied than a 12AX7 in most circuits. This tube's capacity to be pushed hard without folding into self-distorted fizz means the signal is bold, clear, and articulate before it hits the next stages of the amp. As a result, the overall voicing and character is classic '60s-era American, but it's complex—blending late tweed, early '60s brown-panel, and mid-'60s black-panel tonalities with a little extra girth and muscle that tends toward Marshall-like—especially when pushed to overdrive.
As such, the Mk. II makes a great clean-to-mean template without any help from pedals. And the versatile tone controls extend the broad range of voicings considerably. While It's probably not the best shred platform, the Mk. II's ability to span roots and blues colors, rowdy classic and garage-rock sounds, and even jazz tones is impressive. The preamp's copious headroom and robust performance also makes it an outstanding platform for drive pedals—without exhibiting any of the sterility that the handle "pedal platform" often implies. The Z-28 Mk. II lapped up the output from a TS10 Tube Screamer, Tsakalis Six, Wampler Tumnus Deluxe, and JHS Angry Charlie with ease and relish. The master volume works great, too, meaning you can explore the Mk. II's voices at much lower-volume settings than the Mk. I could handle and dig every minute of it.
The Verdict
The Z-28 Mk. II is a clever reimagining of a well-loved original Dr. Z design. And it quite simply delivers more of everything that won fans for the already impressive Mk. I. Simultaneously stout, thick and articulate, with beautiful cleans and excellent overdriven tones, it's also a great drive-pedal platform, and a dynamic and expressive amp by any measure.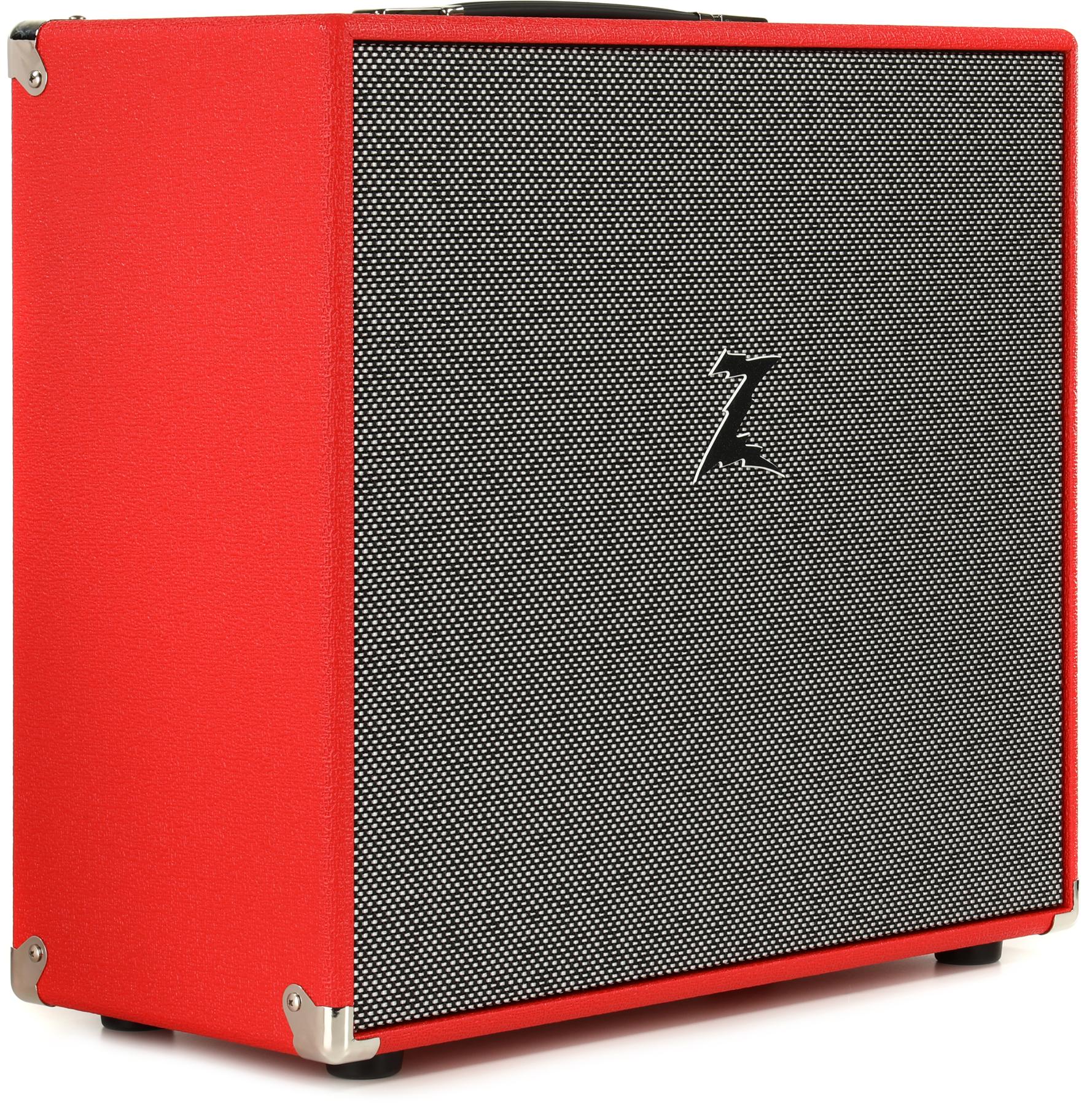 EF86 preamp delivers a high-fidelity sound with outstanding dimensionality and dynamic response
Delivers everything from crystal-clear cleans to muscular overdrive
Clean tones makes a superb pedal platform; effects sound like they're built right into the amp
Dr. Z
Lilly Hiatt joins us in discussing a couple of our treasured musical couplings. Plus, musical obsessions!
December 2022: Who is your favorite musical duo?
Q: Who is your favorite musical duo
Lilly Hiatt — Guest Picker
Photo by Gregg Roth
A: My fave musical duo is the White Stripes because their sound blows me away. I got to see them at Bonnaroo and was floored by how loud it was, and the crowd being completely mesmerized by the whole experience. Love Meg's drumming, love Jack's guitar and voice.
The White Stripes - Seven Nation Army (Live at Bonnaroo 2007)
Current obsession: Recording at home. My husband and I have made a lot of music in our house. Fun to do so because we can be impulsive and free with what gets put down, as well as crank it up anytime we want to!
Rubén Iván Antonio — Reader of the Month
A: Rodrigo y Gabriela because they are guitar virtuosos and play metal songs in their own acoustic style. A huevo a huevo!!!
Rodrigo y Gabriela - Full Performance (Live on KEXP)
Current obsession: I play rhythm guitar in a metal band with friends I've known for 25 years (and counting). We've played under different names, with different bandmates, and even different genres of metal until we stuck with the name Against the Ropes and started to gain attention. Now, our band is considered the best metal band in town (Reynosa, Mexico), and that gives me so much hope that soon my best friends and I will be playing alongside our favorite bands in festivals and tours.
Against The Ropes - Glass
Tessa Jeffers — Managing Editor
A: I've loved the Swedish duo First Aid Kit since I heard them reference Frank O'Hara in "To a Poet," but the sisters have blossomed into a full-on creative force that can do it all. Their ability to move Emmylou Harris to tears in a tribute performance is testament to their power. Also, a few months ago, I saw Robert Plant and Alison Krauss in concert and felt lucky to witness such magical harmonizing in person. A vocal marriage like peanut butter and jelly: sweet, satiating, timeless.
First Aid Kit - Angel (Glastonbury 2022)
Current obsession: Yeah Yeah Yeahs' Cool It Down and Meg Baird's new single, "Will You Follow Me Home?" I listen to the latter on my chilly late-autumn hikes and feel free.
Meg Baird "Will You Follow Me Home?" (Official Music Video)
John Bohlinger - Nashville Correspondent
A: Black Sabbath, Iron Maiden, and Molly Hatchet all had sex and are proud to announce the birth of their two-headed baby, Tenacious D. Caution: The surgeon general of rock warns that viewing this band is equal to 29 orgasms. The D is undeniably the hardest rocking duo to ever crawl out of hell and ascend to heavenly heights by combining brilliant musicianship with purely poetic lyrics and sublime vocal bliss.
"You Never Give Me Your Money / The End"
Current obsession: There's a lot of talk about "the hand of God" ... but let me be the first to talk about "the thumb of God"—that divine digit lived on Wes Montgomery's right hand.
Wes Montgomery-Four On Six (1965)-Guitarra de Jazz.
Fender honors the indie-legend with signature pickups and accessories.
Fender announces the J Mascis Signature Jazzmaster Pickups, an ode to one of alternative music's most prolific shredders. Throughout Dinosaur Jr's twelve album discography and his rich solo career, Mascis has established himself as one of guitar playing's most tone-savvy and ferocious players.
At the heart of his genre-defining, nearly four decades-long legacy is the Fender Jazzmaster. Not only does the bold and angular design of the Jazzmaster lend itself to a player as subversive as Mascis, but there is no instrument that sounds quite like it. That is, until now.
Compared to the tones on the Fender J Mascis Signature Telecaster and the Squier J Mascis Jazzmaster, Mascis notes,"The new pickups have a sweeter more vintage sound," and as his hopes for what people might feel when they test out the new pickups, J Mascis adds, "I hope they feel like playing their guitar, ideally they could make a song that could be my new favorite record!"
Key Features Include:
Neck Pickup: 7.27K and Bridge Pickup: 7.31K DC Resistance
Neck Pickup: 3.6 Henries, Bridge Pickup: 3.7 Henries Inductance
Enamel-coated magnet wire delivers warm vintage-style tones
Alnico 2 rod magnets for warm, sweet output
Flush-mount pole pieces produce even string response
Installation hardware include
Exploring the J Mascis Signature Jazzmaster Pickup Set | Artist Signature Series | Fender
The pickups are being released as part of a larger collection of signature J Mascis Accessories which include J Mascis Magenta Flower Strap, J Mascis Yellow Burst Strap, J Mascis Coiled Instrument Cable and J Mascis Dinosaur Jr. Pick Tin.
For more information, please visit fender.com.