Stompbox Gear Finds Fall 2022
Check out the ALL-NEW PRS Pedals and more in this edition of our Stompbox Gear Finds!
---
PRS Guitars
The PRS Horsemeat transparent overdrive pedal is designed to enhance your sound without coloring your tone. Horsemeat adds harmonic midrange richness and overdrives without cutting out your high notes – all while giving you more available headroom. It features a robust EQ section so you can dial in your tone and has a wide range of gain on tap. Depending on the setting, Horsemeat can be used as a clean boost, straight overdrive, or even enhance your amplifier's distortion by slightly pushing the front end of the amplifier's preamp section.PRS pedals were created to be high-end pieces of audio gear. Designed by PRS Guitars in Stevensville, MD, USA. Made in the USA.
Maestro Pedals
Maestro created the world's first fuzz pedal – the Maestro Fuzz-Tone FZ-1. Introduced in 1962, the Fuzz-Tone became the sound of rock and roll and a must-have accessory for guitarists everywhere after the success of 1965's (I Can't Get No) Satisfaction by the Rolling Stones, which prominently featured its cutting edge sound. Now Maestro is bringing the fun and sonic fury of those early Fuzz-Tones back with the new Maestro Fuzz-Tone FZ-M. This all-analog pedal boasts a Mode toggle switch that provides two pedals in one functionality for increased sonic versatility with both an FZ-1 inspired fuzz sound and a thicker, more modern fuzz tone. Its 3-knob control layout gives you intuitive control. The Attack knob controls the amount of fuzz. The Tone control lets you adjust the timbre from bright and raspy to warm and wooly and anywhere in between.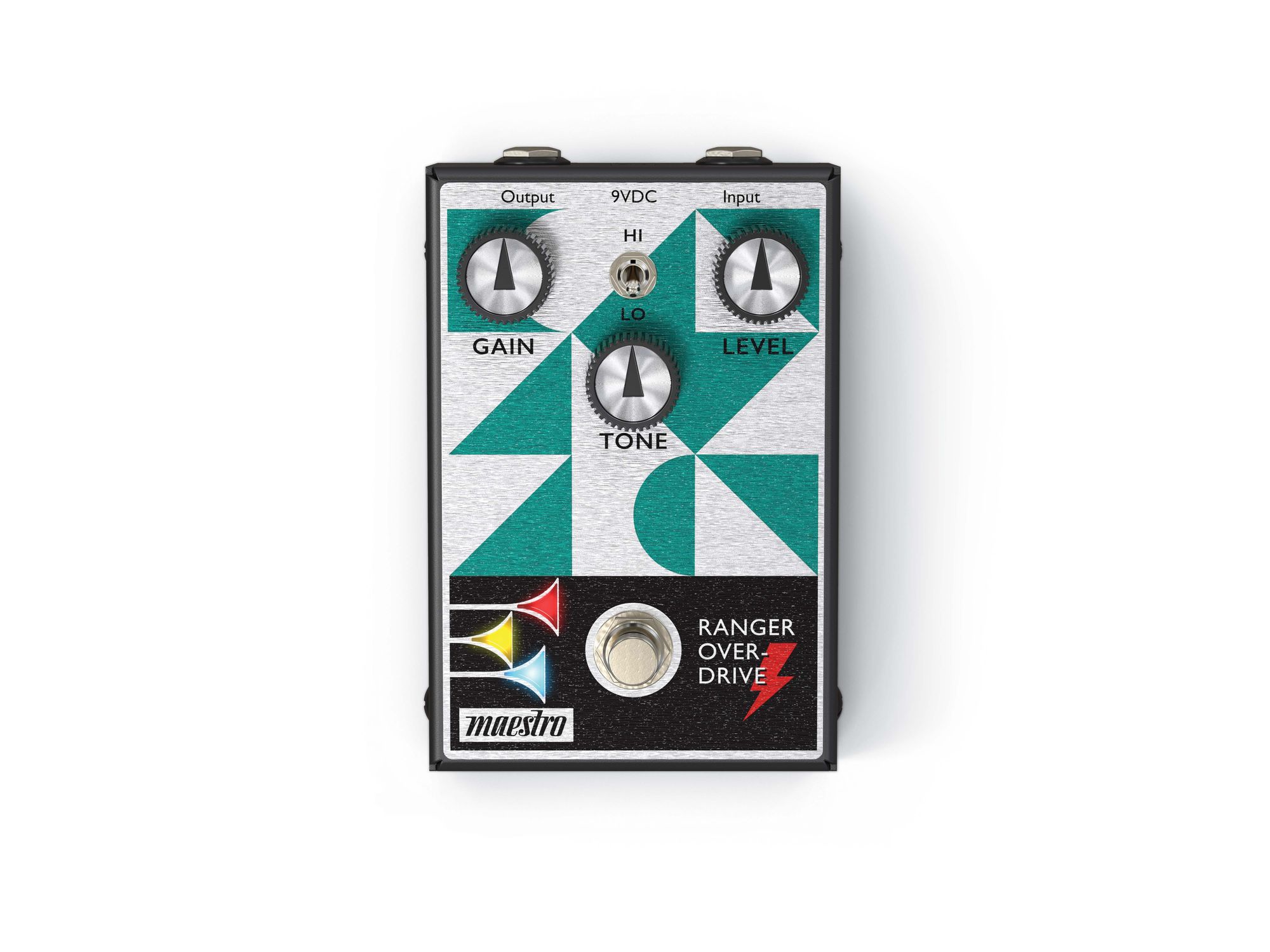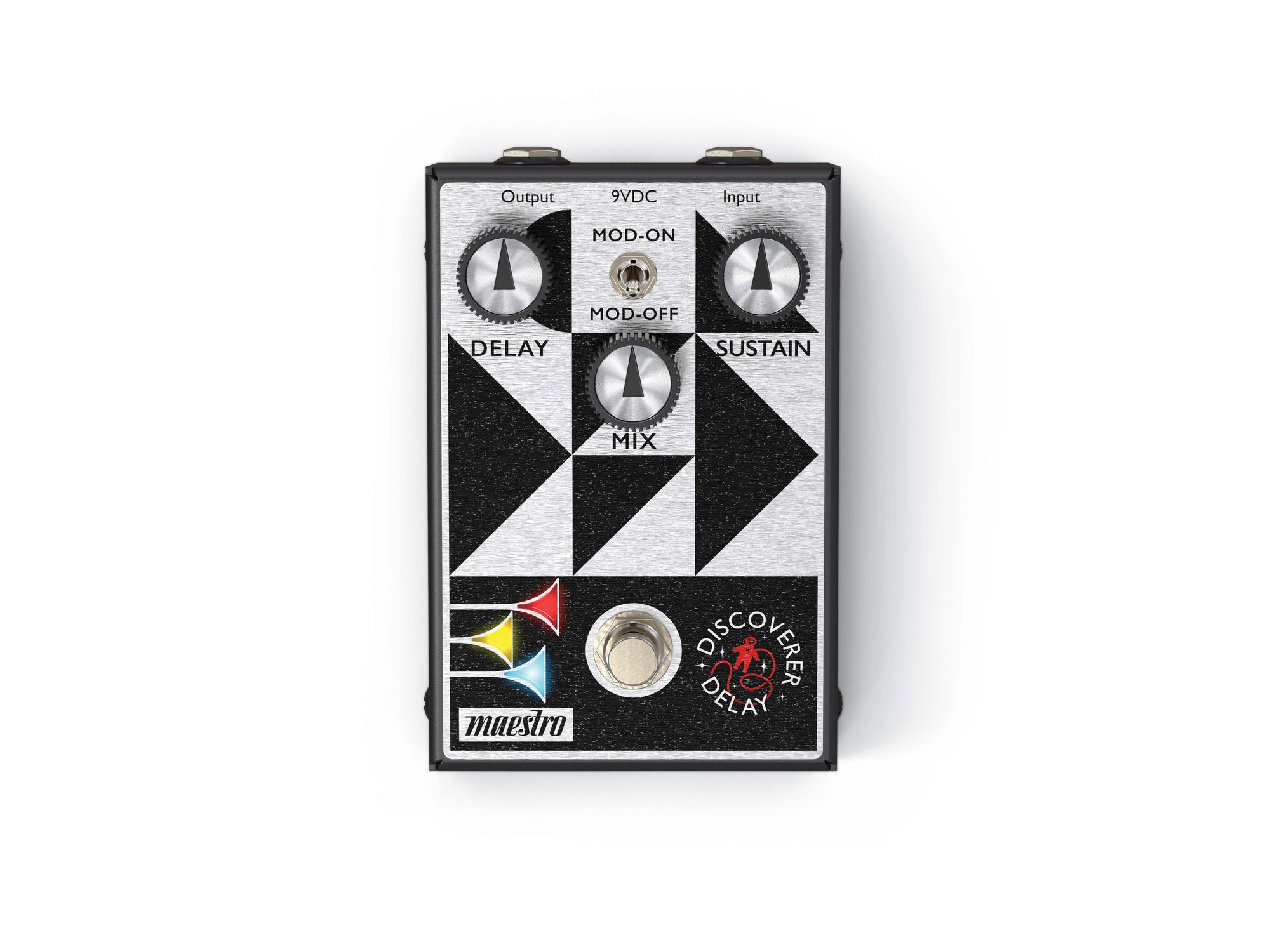 Tech 21
The SansAmp Character Plus Series celebrates the unique chemistry between specific historic amplifiers and specific historic pedals, and cleverly unites them together in single packages:

Screaming Blonde = Fender-style + Tube Screamer-style
English Muffy = HiWatt-style + Big Muff-style
Fuzzy Brit = Marshall-style + Fuzz Face-style
Mop Top Liverpool = Vox-style + Rangemaster Booster-style
Each of the individually-voiced Character controls sweep through an entire spectrum of eras within their particular amp style. Screaming Blonde tones range from the '50s Fullerton to blackface and silverface. The English Muffy spans from classic UK rock to prog rock. Fuzzy Brit goes from classic hard rock to all current rock genres. The Mop Top Liverpool embodies the British invasion through "Bohemian" rock.
These 2-channel multi-function pedals are each like having a stompbox within a stompbox. You can use the SansAmp amplifier emulation on its own or just the effect on its own. The all-analog SansAmps Character Plus Series pedals can be used as stand-alone pre-amps to drive a power amp, a studio mixer, or a PA system, or to complement your existing amp. Other features include built-in speaker simulation individually tuned to match each of the speaker/cabinet configurations associated with each amplifier type; 3-band active EQ, XLR Output, included 9V DC Power Supply. Rugged all-metal housing measures 7.75"l x 2.5"w x 1.25"h and weighs just 12 oz.
EARTHBOARD Music
Never before has an effects pedalboard been so effortless to build and painless to change or rearrange on the fly - So you can Focus on the Music, Not the Set-Up!

Our game-changing design incorporates Rare Earth Magnets ("cupped" so there is no risk to your pedals!) and a long-lasting Battery to give you the neatest, cleanest sounding and looking rig! All of the hassles of using a traditional board are gone. No more messy cobweb of cords and cables. No need to look for outlets and extension cords. No need to deal with dirty noise at gigs. Increase voltage and isolate those "picky" pedals without adding more mess and expense of separate power bricks and adapters. NO MORE SOUND OF RIPPING VELCRO!!!

Here's what's possible with EARTHBOARD:
- Your choice to use our Battery or AC Adapter
- Jacks are on both sides to accommodate YOUR style and the unknowns of the gig space
- All of our power supplies have built in circuit protection to safeguard your pedals
- Built-in cross board audio patch cable saves you money and the hassle of finding the right length cable to connect your top and bottom rows of pedals
- Ability to power large pedals off the board to maximize board real estate - make room for one more pedal!
- The built-in, under mounted, Blue LED lights enhance visibility and the "cool factor"
- Daisy-chain multiple boards and power them all with a single battery
- Rearrange or add pedals on the fly, between sets, in a matter of seconds
Large tour grade pedal board and flight case for 10-14 pedals with removable 24″x11″ pedal board surface and inline wheels

Features:
Pro-grade shock absorbing EVA foam interior
Removable pedal board surface 24" x 11"
Two (2) rubber-gripped handles for easy lifting in and out of the case
3M Dual Lock» hook and loop fastener for pedal installation
Cable and accessory storage under the removable pedal board
Retractable tow-handle and inline wheels
Plywood construction with aluminum edging to create a secure closure between lid and base
Protective ball corners at vulnerable points
Commercial grade Gator red signature hardware
Lockable latches
Spring-loaded rubber gripped handles
George L's Effects Cable Kits
Enhance the tone and clarity of your pedalboard with award winning sound.
The George L's effects kit.
The kit comes with 10' of cable, 10 right angle plugs and 10 stress relief jackets.
Available in black, vintage red and purple.
As easy as 1, 2, 3 no soldering!
Cut, poke and screw your way to 47 years of sound excellence.
George L's
Support your local independent venues. They are citadels of community and creativity. And they need your help.
An important part of my music education started when I began sneaking into clubs when I was 16. I was a tall kid, and usually had no trouble walking in. It's not surprising these venues were lax about checking IDs, since back then more than a few tolerated weed-smoking and other shenanigans. But I was there for the music, where it was raw and unproven and just a few feet away, and I quickly learned you didn't have to be on TV or play arenas to be great. Connecticut-area outfits from the Scratch Band (featuring a pre-fame G.E. Smith) to the Simms Brothers Band to Saucers became my new heroes.
In college, New York City was a short train ride away, and the first time I stumbled into the dark, beer-stinking cavern of CBGB, I felt that I had gone to both another planet and home. I also discovered it was more than a club. It was a community where originality was uncaged and embraced, where bands and bonds were formed, and where, clearly, some pretty wild stuff went down.
As I got older and started to play there and other indie venues, my appreciation for all of them grew. Sure, if you turned the corner behind the stage, to the stairs leading down to CB's restrooms, you might see somebody sitting on the doorless men's room's toilet, or you might have to step over a dude on the way to the urinal. One night, onstage there, one of my newish $100 custom earplugs plopped out and fell into a grayish puddle. I immediately chose not to retrieve it. But every moment I was there, I knew I was somewhere important and that just being present, where so much great music ignited and was allowed to flourish, was a privilege.
"The first time I stumbled into the dark, beer-stinking cavern of CBGB, I felt that I had gone to both another planet and home."
We are losing that privilege at an alarming rate. Urban upscaling, insurance costs, fallout from Covid, and scores of other reasons are costing us independent venues across the country. I recently read about the closing of Dobbs, formerly J.C. Dobbs, on Philly's South Street, where Nirvana, Pearl Jam, Smashing Pumpkins, and more played while they were getting their wings. One night, when my band Vision Thing gigged there in the '90s, we shared the dressing room with a "family" of self-proclaimed vampires—an experience both priceless and uncomfortable.
But my point is, independent music venues are the bloodstream of live rock, jazz, pop, improv, and many other styles. And if we do not support them, these unruly citadels of incubation and joy are going to go away. I have nothing against chain venues and larger corporate enterprises. Honestly, that's not true. I dislike that big companies block rising-star artists from playing the indie venues that nourished them and control the concert business in ways that result in $1,000-and-up ticket prices. They don't give a damn about the soul of music.
Photo courtesy of Adicarlo/English Wikipedia
But many indie venue owners do. They have to. They understand that emerging artists are their viscera, and that by nurturing these artists and their fans, they are also sustaining themselves. And many of the indie-room owners I've known were also willing to take the risks inherent in providing a proving ground for unproven talent because they actually believe in supporting the art and evolution of music-making. But unlike corporate-owned venues, they do so at more risk, handling all the costs and complexities of running their rooms on their own.
Here in Nashville, we've lost great indie venues in recent years, including Douglas Corner, after 33 years of shows, and, in 2022, the 20-year-old Mercy Lounge/High Watt/Cannery Ballroom complex, but we are lucky to still have wonderful examples. Among the prominent are the 5 Spot, the Bluebird Cafe, the Station Inn, Dee's Country Cocktail Lounge, Eastside Bowl, the Basement and Basement East, DRKMTTR, the Underdog, Rudy's Jazz Room, 3rd & Lindsley, and Springwater. And each is the nucleus of a creative community.
We need to begin looking at indie venues as the sacred places they are—where magic can be made, and, on the flip side, even a terrible band can get the occasional gig, because they're part of the community, too. And we need to sustain them. Because if these places disappear, we lose all of the good things they provide.
So, even if you're not the biggest fan of what's on the musical menu, I'm asking you as a friend and fellow music lover to support your local indie venue. It's worth stopping by for the occasional beer to help keep these businesses alive. Netflix and your couch will be there—at least for a while. Indie venues might not, and every time a place like CBGB, J.C. Dobbs, or the Mercy Lounge closes, another door shuts on both musical opportunities and history. And we need to keep those doors open.
The Kirk Hammett "Greeny" 1959 Les Paul Standard is aged to match the original by the Murphy Lab and was inspired by the legendary guitar, once owned by Peter Green.
"I am very honored and grateful for this opportunity with Gibson," says Kirk Hammett. "To be able to share some of that mojo which 'Greeny' has means a lot to me. It's exciting to know that anyone can experience some of that 'Greeny' magic. I truly think these models are just as inspiring as the original and hope you do too!"

Greeny, originally owned by Peter Green, was used throughout his time with Fleetwood Mac and later sold to Gary Moore, who used it for three decades with Thin Lizzy and as a solo artist. Now owned by Kirk Hammett, Greeny has passed through the hands of three legendary guitarists. Its distinctive sound is partly from the out-of-phase middle switch position due to the neck pickup's reversed magnetic polarity.
"We are excited to continue the evolution of Greeny with the Gibson Custom Shop Murphy Lab Aged Kirk Hammett 'Greeny' 1959 Les Paul Standard, and on April 11 we'll also be releasing the Gibson Kirk Hammett 'Greeny' Les Paul Standard," adds Cesar Gueikian, Gibson Brand President. "Kirk has been inspiring musicians for decades, starting with his 1979 Gibson Flying V, and over the years expanding his collection across many Gibson guitars. Over the last 10 years since he became the custodian of Greeny, he has incorporated the Greeny sound into everything he does, making it a staple of his Metallica sound on records and on stages around the world. And as I said before, we're just getting started!"
Features
Murphy Lab Aged
Lightweight Mahogany Body with Figured Top
Custom Greeny Profile Mahogany Neck
Indian Rosewood Fingerboard
Neck Pickup: Custom Greeny Bucker with Flipped Alnico 2 Magnet; Reverse Mounted
Bridge Pickup: Custom Greeny Bucker Alnico 2 Magnets
Brown/Pink Lifton Reissue 5-Latch Case
Gibson Custom Shop Kirk Hammett "Greeny" 1959 Les Paul Standard
Due out on April 11, 2023, the Kirk Hammett "Greeny" Les Paul Standard version was inspired by this legendary guitar and gives players around the world the opportunity to experience some of the magic of "Greeny" for themselves. The Gibson Kirk Hammett "Greeny" Les Paul Standard comes with an Original Series hardshell case.

$19,999 USD.
For more information, please visit gibson.com.
Photo by Scott Kowalchyk
The self-described "utility knife" played drums with John Scofield and Marcus Miller and spent time in the studio with Q-Tip before landing on Stephen Colbert's show as a multi-instrumentalist member of the house band. Now, he's taken over as the show's guitar-wielding bandleader and is making his mark.
It's a classic old-school-show-biz move: Bring out the band, introduce them one by one, and build up the song to its explosive beginning. It's fun, dramatic, audiences love it, and that's how every The Late Show with Stephen Colbert taping starts.
By this time, us audience members have been sitting in Manhattan's chilly Ed Sullivan Theater for about 90 minutes. We've gotten our seats, had a bathroom break after getting settled, and had some fun with warm-up comic Paul Mecurio. The first musician summoned by announcer Jen Spyra is drummer Joe Saylor. Wearing his trademark cowboy hat, he jogs out, gets behind the kit, and kicks off an up-tempo second-line groove. Next comes upright bassist Endea Owens and percussionist Nêgah Santos. The band's trumpeter, Jon Lampley, is introduced, and he's brought along his bandmates in the Huntertones as guests, so saxophonist Dan White and trombonist Chris Ott come out as well.
Louis Cato feat. Stay Human "Look Within"
The multitalented Louis Cato leads the Stay Human band through a special rooftop performance of his song "Look Within," from his album, Starting Now.
The audience is now on its feet, the band's pocket is thick, and the energy is building. When bandleader Louis Cato charges onstage, he reaches his mic on the bandstand and shouts, "I feel good today!" with explosive enthusiasm and a big grin, and the band launches into Jon Batiste's "I'm from Kenner." Cato sings the catchy and gleeful refrain: "I feel good, I feel free, I feel fine just being me / I feel good today." And the audience is feeling the love. Almost everyone is bouncing and clapping along.
A couple minutes in, when it seems like the song has reached its super-positive-vibe, high-energy climax, Cato shouts into his mic, "How do you feel today, Stephen?" And with that, Colbert comes running out from the middle of the set. Cato leaps from the bandstand toward the host as the crowd explodes. The two grab hold of each other and attempt to spin around, but the bandleader, holding his black-sparkle Tuttle T-style, loses his grip and goes sliding across the shiny stage. There's a second where both are comically stunned—Kevin McCallister Home Alone-expressions on both of their faces—but Cato quickly jumps to his feet, both he and his guitar unharmed, and runs back to the bandstand, where he keeps the song moving along with his bandmates, who haven't missed a beat.
All this excitement isn't even for the TV audience! Colbert is coming out for the un-televised pre-show Q&A. In a few minutes, they'll do a new taped intro that looks more like what we see every night. But they've gotten the crowd energized, and we need to keep it up. They need our energy to do their jobs.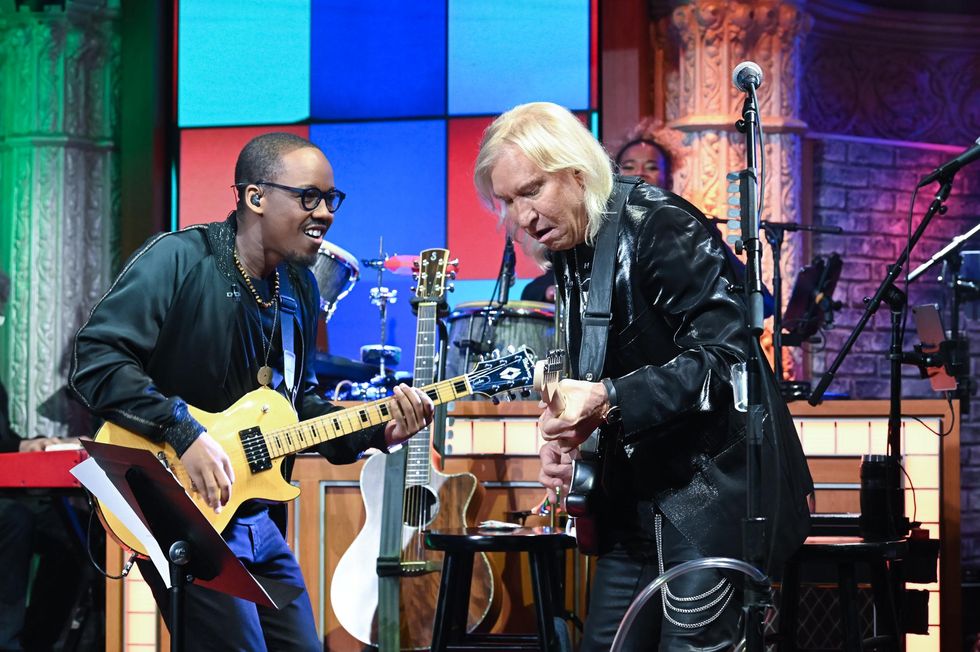 The Late Show Band welcomes a lot of guests up on the bandstand. Here, Cato and Joe Walsh boogie down.
Photo by Scott Kowalchyk
As Cato sees it, that's what his role as bandleader is all about: keeping the audience engaged and amplifying the drama and action of the show. "That translates to the energy that the viewers get at home," he explains. "For all of us here, we're able to feed off that energy and do the best possible show that we all can."
Colbert agrees with that job description and adds that the bandleader himself has the same contagious effect on his players. "Louis is an extraordinarily gifted multi-instrumentalist," he says, "whose spirit of creativity and collaboration not only elevates everything the band does musically but inspires me to be better at my job." He adds, "I'm so happy to call him my friend."
Beyond his infectious energy and charisma, there are a lot of ways Cato keeps the Late Show Band invigorated from night to night. For one, he keeps the music fresh by tackling a new cover song every day. That doesn't mean running down rote note-for-note charts. Cato and the band take a reconstructionist approach that fans of his work—whether from his collaborations with artists such as the Huntertones, Scary Pockets, or Vulfpeck, or from his regular Instagram cover-song posts—will recognize.
"Louis is an extraordinarily gifted multi-instrumentalist whose spirit of creativity and collaboration not only elevates everything the band does musically but inspires me to be better at my job."—Stephen Colbert
On this evening, the band runs through a host of multi-genre reinterpretations during the two-episode taping, including a slow-burning and soulful "Smokestack Lightning," a New Orleans-style "Down by the Riverside," and a fingerpicked, acoustic-led take of Joni Mitchell's "Free Man in Paris" that gets Colbert lip syncing along off camera. On a horn-driven arrangement of Stevie Wonder's "Love's in Need of Love Today," there's a re-worked bridge that creates a generous feature spot for the guest horn players.
Every arrangement brings a new and unique perspective to a classic track, to ensure the band is "not just a wedding band doing a cover of a song on the radio." Cato adds, "We're arranging it and making it our own—because that's the sonic fingerprint of our show."
St. Vincent jams with Louis and crew.
Photo by Scott Kowalchyk
A Lifelong Path
Listening to the story of Cato's musical life, it seems that this job—with its demand for a blend of careful strategizing and on-the-fly creative thinking, as well as effortless instrumental skills and charismatic showmanship—is what he's been training for since the beginning.
On the morning of the taping I attended, I meet Cato in his dressing room. Painted with sky-blue walls and a cloud mural on the ceiling, it's a comfortable place to hang. The bandleader is wearing slim-fit floral pants, a hoodie over a black T-shirt, and a long necklace. He sits across from me on his couch, next to a guitar stand that holds a few instruments—including his Tuttle, a Jesse Stern-built baritone acoustic, and his Univox LP-style—and a '65 Deluxe Reverb reissue with a Universal Audio Dream '65 pedal plugged into it.
"There's not a time in my brain when I was not making music in some way or form," Cato says. His mother, a pianist in the Church of God in Christ, bought her son a Diamond drum kit that he recalls having paper heads when he was just 2 years old, and she started teaching the toddler to accompany her. "I marvel at my mom," he laughs. "Like, who buys their 2-year-old a drum kit?" After playing those drums every day for a year, he started accompanying her at services.
The family moved around a lot. Cato's father was in the Air Force, and Louis was born on a base in Lisbon, Portugal, before moving to Dayton, Ohio. Not long after he started playing in church there, they moved again to Washington, D.C., and when Louis was 5 they settled in Albemarle, North Carolina. A few years later, Louis started playing guitar on a "little burgundy sunburst acoustic. Eventually, I busted a string and busted another string and just kept playing with four strings. I delved more into bass from playing bass lines on the acoustic guitar. So, for my 9th birthday, my dad bought me a 4-string bass."

"I'd show up to Tip's and we'd do a week of writing sessions with John Legend or have André 3000 in the studio for a couple of weeks."
While it was strictly pragmatic reasons that initially drew him to the bass, he says his biggest inspiration was the bass player he knew best: his mother's left hand. Her playing, rooted in the COGIC (Church of God in Christ) style, "involves heavy left-hand bass. I wasn't as psyched to play bass in church since the way my mom plays is very defined. But eventually I kind of had to learn how she plays. It was always just her and me playing. And I had to learn to move with that and follow that. She's a great bass player."
Along the way, Cato picked up more instruments. By the time he headed to Berklee, he was playing drums, guitar, and bass as well as tuba, trombone, and euphonium. "I was going from being a big fish in a small pond to a small fish in a large pond of super-talented people who had heard oodles of music I had never dreamed of," he recalls. So, he decided to focus his studies on the instrument he'd played the longest.
Louis Cato's Gear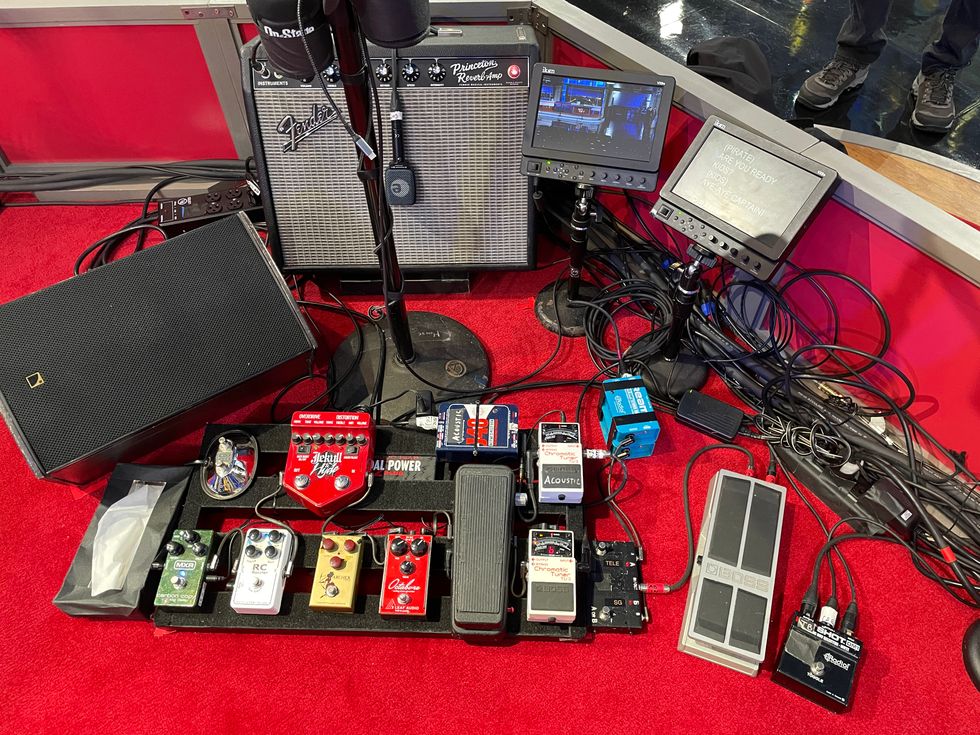 A glimpse at Cato's pedals and amp, which mostly live outside of the camera's eye, behind his stage monitor.
Guitars
Univox LP-style
Tuttle Custom Hollow T
1961 Gibson SG reissue
Martin OM-28
Amps
'65 Fender Princeton Reverb reissue
Effects
Boss FV-500H Volume Pedal
Boss TU-3 Chromatic Tuner
Dunlop Cry Baby
3 Leaf Audio Octabvre
J. Rockett Archer
Truetone Jekyll & Hyde
Xotic RC Booster
MXR Carbon Copy
Strings and Picks

D'Addario EJ16 (.012-.053)
D'Addario EXL110 (.010-.046)
Dunlop Max Grip .88 mm
Cato completed just two semesters—fall '03 and spring '04—before deciding to concentrate on playing the gigs that were paying his bills. "My rationale was, much to my parents' chagrin, here's an opportunity where I can keep learning on the job and be working my way out of the debt I went into in this year."
Gigging with wedding and church bands gave the multi-instrumentalist an opportunity to keep all his instrumental and vocal skills alive. "My oldest daughter was born soon after that," he recalls, "so I felt really, really aware of how lucky I was, how lucky any of us are, to make a living and support a family as a musician." Cato spent five years in Boston, playing various instruments in gigging bands, and he frequented local institution Wally's Cafe Jazz Club, just two blocks down the street from Berklee, "for self-education and inspiration. When that felt like I hit a ceiling, I looked at where I could go to continue my inspiration and working on the kind of projects I wanted to be working on, and that led me here."
By that time, Cato's friend Meghan Stabile, had moved to New York and created the promotion and production company Revive Music, which was dedicated to the kinds of jazz and hip-hop collaborations he wanted to pursue. Cato moved to Bushwick, Brooklyn, with his band Six Figures— "There were six of us; we did not make six figures!"—and would head back to Boston each weekend for the gigs that were paying his bills. Eager to soak up the New York scene, he'd return to New York on Sunday nights and go directly to jam sessions.
All that time back and forth on the Northeast Corridor paid off. A self-described musical "utility knife," Cato's multi-instrumentalism, as well as his talents as a songwriter, arranger, producer, and engineer, made him a major asset as a collaborator, and the New York scene took notice. Soon, he established essential connections that would affect his career, forming "an instantaneous brotherhood that continues to this day" with producer Kamaal Fareed, aka Q-Tip. "Through that, I ended up really delving into a lot of relationships and credits."
The two artists worked on high-level collaborations that not only bolstered Cato's reputation but served as a major piece of his education. "I'd show up to Tip's," he explains, "and we'd do a week of writing sessions with John Legend or have André 3000 in the studio for a couple of weeks. Sometimes things would come from it, and sometimes nothing would come from it. But being in the creative process on that level in a trusted space was invaluable for me. I learned so much."
Outside of Q-Tip's studio, Cato was learning from plenty of masters, mostly from behind the kit. "It's really special when you find yourself learning things you connect to," he says about his work alongside artists such as bassist Marcus Miller, keyboardist George Duke, and guitarist John Scofield. "And I learned so much about myself from connecting to some of these people."
Staying Human
Back in 2015, Cato received a phone call from pianist Jon Batiste. The two had never met, but Batiste rang him up about a mysterious project—a theme song for a TV show that he couldn't disclose. "I had a wisdom tooth appointment back in Boston, and I got a random call," Cato remembers. "I think his exact words were, 'I'd love to have your ears on it.' And I followed my gut, rescheduled my trip, stayed in New York an extra day with an abscessed wisdom tooth."
The two got together to co-write and produce "Humanism," which would become the theme song for the Stephen Colbert-hosted Late Show. Batiste played piano, Cato played the guitar, bass, and drum parts and "put on my editing hat." They brought in Joe Saylor—who would become the show's drummer—to play tambourine, as well as saxophonist Eddie Barbash. "After the session," Cato remembers, "I went back, got my wisdom tooth out, and went back on the road with John Scofield."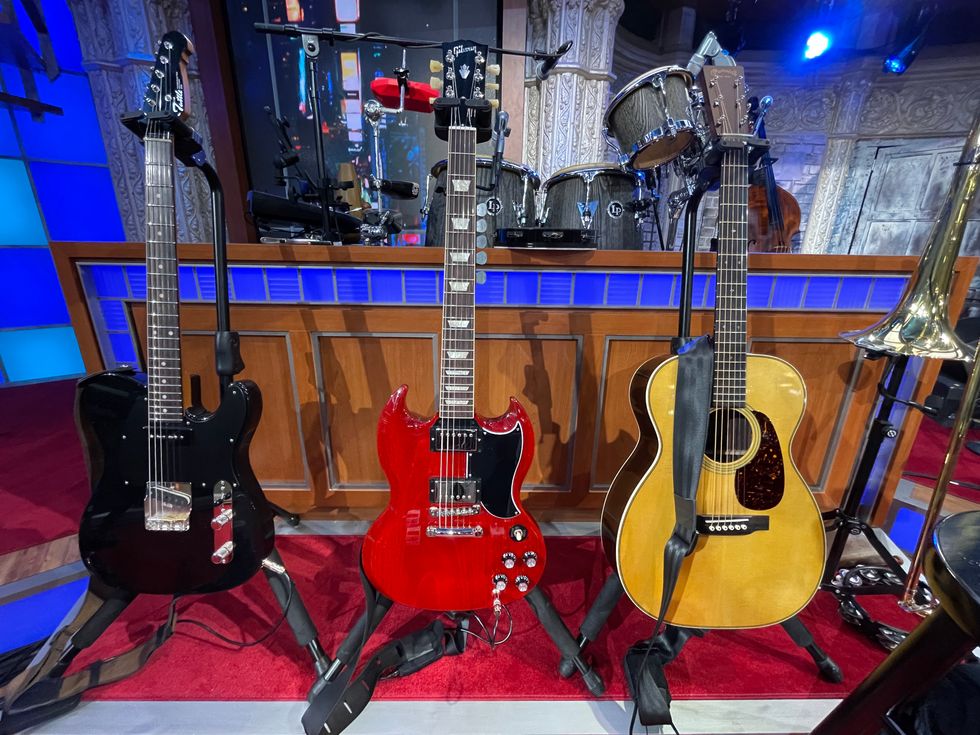 Three of the four go-to guitars Cato uses on The Late Show: a black Tuttle T-style, a cherry-red Gibson SG, and a Martin OM-28.
At first, Cato played the multi-instrumental role of his dreams, attempting to surround himself with every instrument he could play. "That lasted about three days before reality set in," he laughs. "Slowly, one by one, things started disappearing—a floor tom going away here, a Pro Tools setup going offstage there. Eventually, as the band formed out, I moved around to what was needed. I was the utility guy—played a lot of kazoo, a lot of cowbell."
While on the road drumming with Sco', Cato got the invite from Batiste to join the show's band, Stay Human. "It was a huge life shift for me," Cato explains. "I was making really good money on the road with really good musicians, which was really fulfilling. And I took a chance. I loved the idea of being a part of something creatively from its inception."
Eventually, Cato settled into a more consistent electric bass role, until Batiste brought in upright player Endea Owens, and he moved to guitar, where he's mostly stayed. When Batiste left the show last year, Cato took over as bandleader—officially starting this season, back in September—and decided he'd lead from his role as guitarist. "Of all the places I occupied," he says, "guitar was the easiest and most natural to me to lead the band, in the energy. From behind the drums, it's a different thing, and we've done it when Joe was out. But it just was a really natural progression."
Same Show, New Job
In just a few months, Cato's new role as bandleader has had an impact on the show. The renamed Late Show Band's engine seems to be burning on a new kind of fuel. And it feels as though that energy is coming directly from Cato.
When we talk, the guitarist is deeply engaged, in a kind of hyper-focused way that is not intense but more casually un-distractable. He brings that same focus to the show. While Colbert delivers monologues, Cato is zoomed in on the host, listening to every word, often riffing around on his guitar to contribute musical commentary. During interviews, he's taking cues and following the tone of the conversation, looking for ways to adapt.
The bandleader gig requires loads of big-picture improvisation, but also lots of prep. Cato explains that each week he makes a set list, but the band will react and make changes in the moment. "My job ends up being a lot of judgement calls that affect the flow of the show," he says. "We have a group of compositions we wrote for the show that can complement different moments. If there's a major energy shift in an interview that takes a turn or something happens in the day, like a tragedy, we'll call one of the songs we wrote for the show for a moment such as that. Recently, we had a guest on that started improvising a song. So, I have on our in-ear mic and call out the key and start playing, and we all jump in, and now we're doing this instead."
Cato poses with his black-sparkle chambered T-style, made by Tuttle. "When I'm checking off core priorities in sound," he says, "if I'm going for rhythmic things, I go to the Tele."
Photo by Scott Kowalchyk
Watching the Late Show Band in person, I see this play out as Treasury Secretary Janet Yellen explains the steps the U.S. can take to avoid a recession. It's a heavy and heady conversation, and, frankly, it's anything but fun. Cato knows he'll need to pick the audience back up. As he watches from the bandstand, he gives tempo cues to the band, who nod along, so they can effectively shift the energy and get the audience re-focused for the next guest, actor/director Sarah Polley.
As a guitar player, Cato says he sticks to playing things that feel most natural to him so he can concentrate on his bandleading duties. He adds that he considers himself more a rhythm guitarist than a lead guitarist. (It's worth noting that his delineation is more conceptual than musical: Cato is an inspired and dynamic melodic lead player, but his deeply rooted phrasing and feel is at the forefront of everything he plays, so the rhythm-first thing applies to it all.) "This is not a space as a guitar player where I'm jumping out of the box trying any and everything and exploring," he explains. "You get to some of those places. But for me, it always has to start from something I can do while leading the band and reading the energy and making judgement calls."
"We're arranging it and making it our own—because that's the sonic fingerprint of our show."
That rooted, pragmatic ethos applies to the gear he chooses as well. "I never was a big gear person," he admits. Luckily, he has Late Show Band tech and informed gearhead Matt Mead to help him keep his pedalboard well-stocked. "There's so many things I'm learning about the job and trying to keep straight in my head that this ends up getting the short end of the stick, and it wouldn't work if there was not a Matt Mead to make up the rest of that stick and make it sound good."
"The show throws a lot of curveballs," Mead points out. "He steers the boat as far as the tones he's looking for and if there's a particular sound he's looking for. Sometimes, I'll recommend stuff and say, 'Hey I notice you're doing this, maybe we should try this.'"
Cato's collaboratively curated pedalboard is pretty simple at its core: It starts with a Boss FV-500H volume pedal, a Boss TU-3, a Dunlop Cry Baby, and 3 Leaf Audio Octabvre. Cato shows me how he uses the latter for more traditional, Hendrix-style playing, but he points out that the band plays a lot of montunoes, and he tends to use the octave pedal for those. For drive, he uses a J. Rockett Archer and a Truetone Jekyll & Hyde, which are followed by an Xotic RC Booster and an MXR Carbon Copy, all into a Fender '65 Princeton Reverb reissue, and powered by a Voodoo Labs Pedal Power Plus.
In live performances outside of The Late Show, Cato uses various guitars, but says that the studio's cold temperature doesn't do many favors for instruments such as his Gibson Luther Dickinson ES-335 or some of his acoustics, so he's careful when selecting which guitars come on stage at the Ed Sullivan Theater. The three guitars that most commonly appear on the show are his black Tuttle Custom Hollow T, a cherry red Gibson SG 1961 Reissue, and a Martin OM-28.
Another guitar that sometimes appears on the Late Show is his LP-style Univox, which I ask Cato about in his dressing room. "If I need to be altogether comfortable," he explains, "I pull out the Univox, because it's my earliest guitar. I've had this since high school."
Cory Wong "Lunchtime" - The Late Show's Commercial Breakdown
When musical guests visit The Late Show, they get the full-band treatment from Cato and company. Here, Cory Wong sits in for a rhythm guitar showdown of the highest level.
Back when he first got the guitar, Cato remembers, it was in rough shape, desperately in need of wiring and pickup repairs and a new set of tuners. It stayed that way until he was in Boston. When he picked up a wedding band gig playing trombone and guitar, he was lucky enough to have a roommate who could get the Univox performance-ready by replacing the original tuners with locking units, cleaning out the electronics, and swapping the pickups for a pair of Seymour Duncans.
"I didn't even know there was a such thing as a professional musician."
But Cato says that even before those repairs, he's always "loved it because it's all I had. I remember I was playing a little Vox amp, and this guitar had a feeling out of that amp. This guitar just became home base and felt super natural to my fingers. If I need to just not be thinking at all, this is home."
Did he ever dream he'd be on television every night, holding this Univox and chumming with a late-night host? "Never! Not once!" he says. "It was just a product of my nurture growing up in a small town. I didn't even know there was such a thing as a professional musician." And yet, Cato pursued music as fully and single-mindedly as he could. "I just knew that I liked it and felt connected to it."