Check out the ALL-NEW PRS Pedals and more in this edition of our Stompbox Gear Finds!
---
PRS Guitars
The PRS Wind Through the Trees dual analog flanger pedal is best described as two flangers fighting each other, resulting in a sound reminiscent of the wind whipping through the trees. With Manual, Depth, and Rate controls per flanger as well as global Regeneration and Added Highs, Wind Through the Trees offers nearly endless tonal possibilities. Bottom line, Wind Through the Trees offers hours of fun for any player.

PRS pedals were created to be high-end pieces of audio gear. Designed by PRS Guitars in Stevensville, MD, USA. Made in the USA.
Maestro Pedals
Maestro created the world's first fuzz pedal – the Maestro Fuzz-Tone FZ-1. Introduced in 1962, the Fuzz-Tone became the sound of rock and roll and a must-have accessory for guitarists everywhere after the success of 1965's (I Can't Get No) Satisfaction by the Rolling Stones, which prominently featured its cutting edge sound. Now Maestro is bringing the fun and sonic fury of those early Fuzz-Tones back with the new Maestro Fuzz-Tone FZ-M. This all-analog pedal boasts a Mode toggle switch that provides two pedals in one functionality for increased sonic versatility with both an FZ-1 inspired fuzz sound and a thicker, more modern fuzz tone. Its 3-knob control layout gives you intuitive control. The Attack knob controls the amount of fuzz. The Tone control lets you adjust the timbre from bright and raspy to warm and wooly and anywhere in between.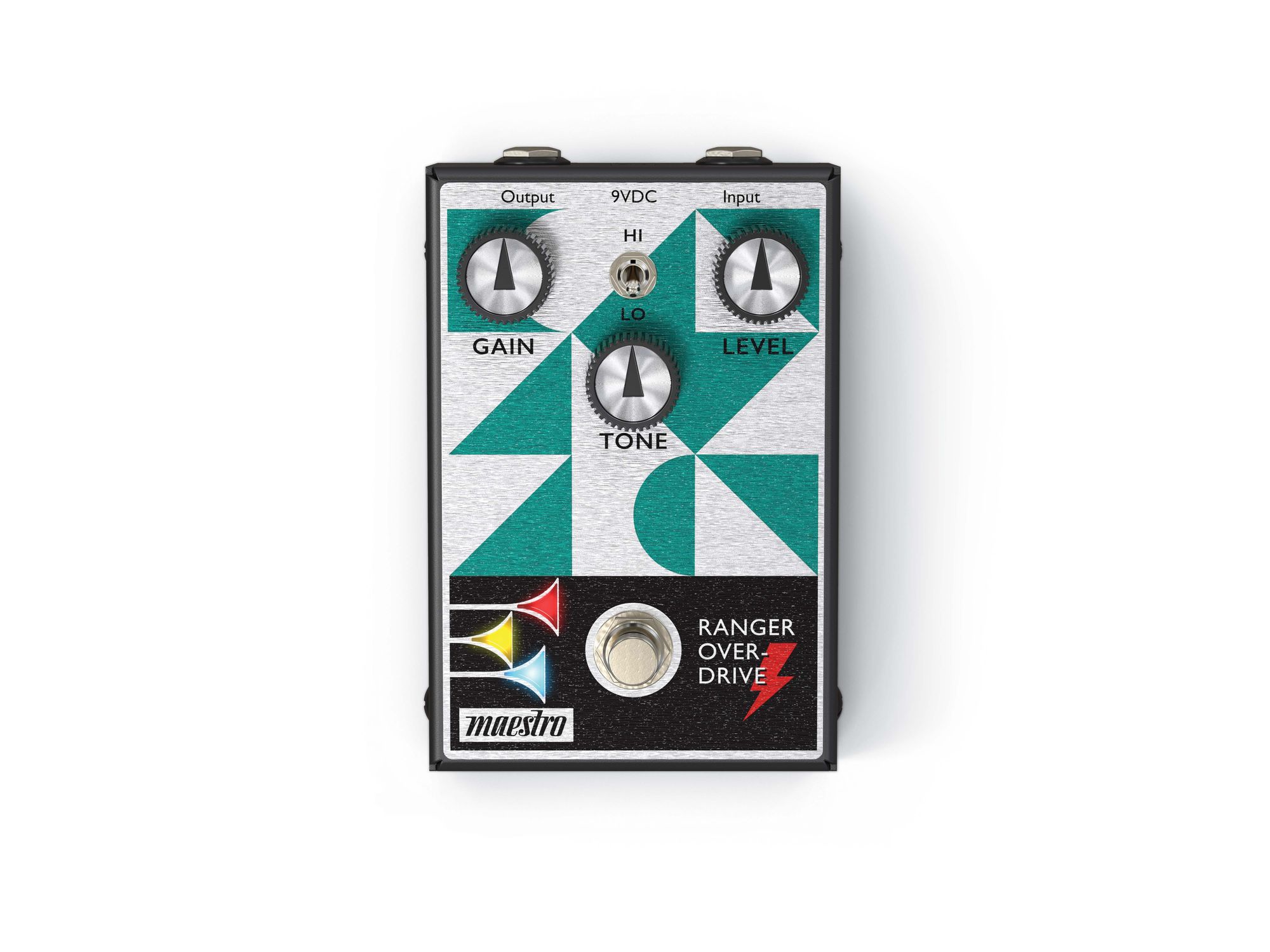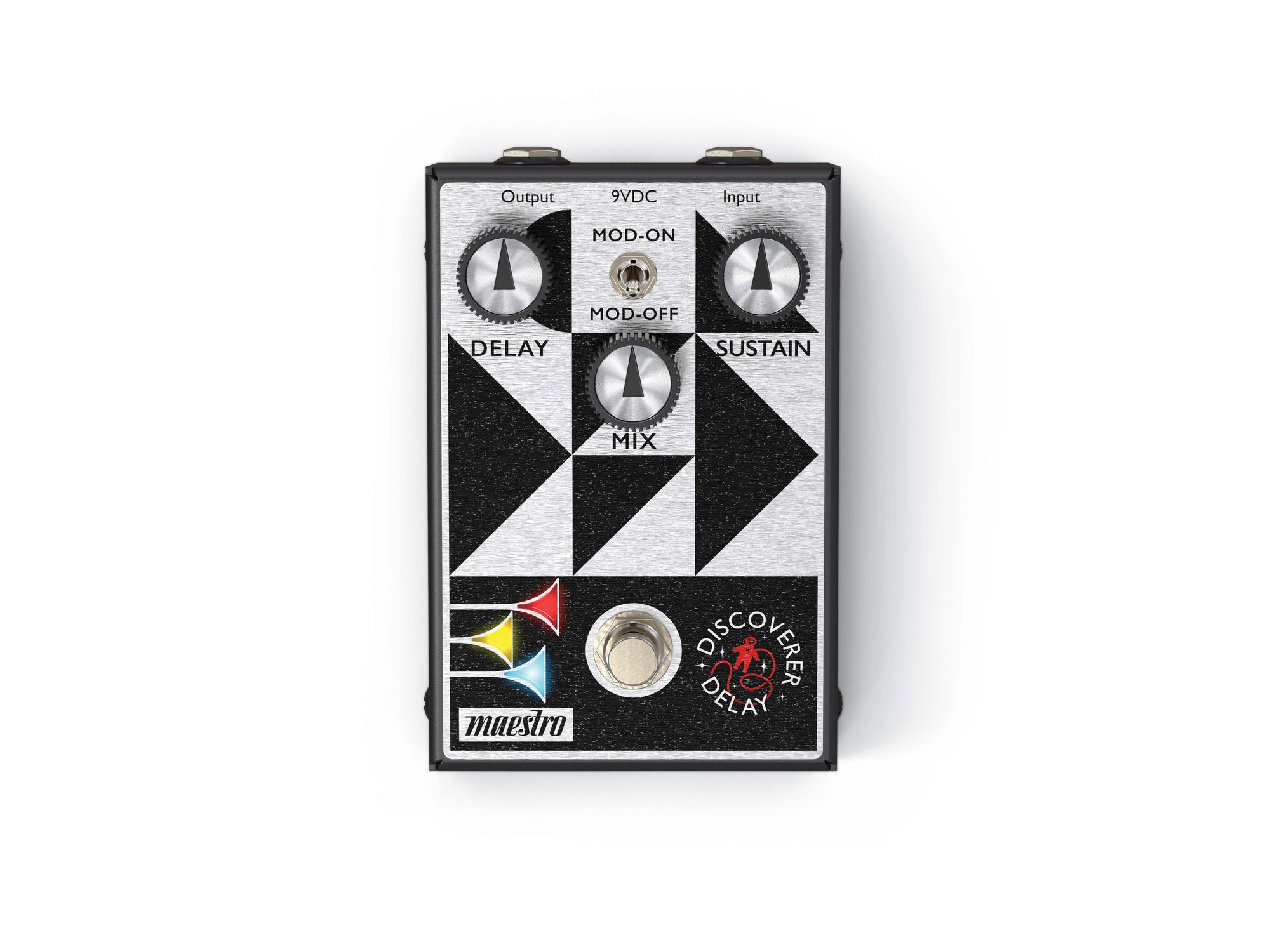 Tech 21
The SansAmp Character Plus Series celebrates the unique chemistry between specific historic amplifiers and specific historic pedals, and cleverly unites them together in single packages:

Screaming Blonde = Fender-style + Tube Screamer-style
English Muffy = HiWatt-style + Big Muff-style
Fuzzy Brit = Marshall-style + Fuzz Face-style
Mop Top Liverpool = Vox-style + Rangemaster Booster-style
Each of the individually-voiced Character controls sweep through an entire spectrum of eras within their particular amp style. Screaming Blonde tones range from the '50s Fullerton to blackface and silverface. The English Muffy spans from classic UK rock to prog rock. Fuzzy Brit goes from classic hard rock to all current rock genres. The Mop Top Liverpool embodies the British invasion through "Bohemian" rock.
These 2-channel multi-function pedals are each like having a stompbox within a stompbox. You can use the SansAmp amplifier emulation on its own or just the effect on its own. The all-analog SansAmps Character Plus Series pedals can be used as stand-alone pre-amps to drive a power amp, a studio mixer, or a PA system, or to complement your existing amp. Other features include built-in speaker simulation individually tuned to match each of the speaker/cabinet configurations associated with each amplifier type; 3-band active EQ, XLR Output, included 9V DC Power Supply. Rugged all-metal housing measures 7.75"l x 2.5"w x 1.25"h and weighs just 12 oz.
EARTHBOARD Music
Never before has an effects pedalboard been so effortless to build and painless to change or rearrange on the fly - So you can Focus on the Music, Not the Set-Up!

Our game-changing design incorporates Rare Earth Magnets ("cupped" so there is no risk to your pedals!) and a long-lasting Battery to give you the neatest, cleanest sounding and looking rig! All of the hassles of using a traditional board are gone. No more messy cobweb of cords and cables. No need to look for outlets and extension cords. No need to deal with dirty noise at gigs. Increase voltage and isolate those "picky" pedals without adding more mess and expense of separate power bricks and adapters. NO MORE SOUND OF RIPPING VELCRO!!!

Here's what's possible with EARTHBOARD:
- Your choice to use our Battery or AC Adapter
- Jacks are on both sides to accommodate YOUR style and the unknowns of the gig space
- All of our power supplies have built in circuit protection to safeguard your pedals
- Built-in cross board audio patch cable saves you money and the hassle of finding the right length cable to connect your top and bottom rows of pedals
- Ability to power large pedals off the board to maximize board real estate - make room for one more pedal!
- The built-in, under mounted, Blue LED lights enhance visibility and the "cool factor"
- Daisy-chain multiple boards and power them all with a single battery
- Rearrange or add pedals on the fly, between sets, in a matter of seconds
Large tour grade pedal board and flight case for 10-14 pedals with removable 24″x11″ pedal board surface and inline wheels

Features:
Pro-grade shock absorbing EVA foam interior
Removable pedal board surface 24" x 11"
Two (2) rubber-gripped handles for easy lifting in and out of the case
3M Dual Lock» hook and loop fastener for pedal installation
Cable and accessory storage under the removable pedal board
Retractable tow-handle and inline wheels
Plywood construction with aluminum edging to create a secure closure between lid and base
Protective ball corners at vulnerable points
Commercial grade Gator red signature hardware
Lockable latches
Spring-loaded rubber gripped handles
George L's Effects Cable Kits
Enhance the tone and clarity of your pedalboard with award winning sound.
The George L's effects kit.
The kit comes with 10' of cable, 10 right angle plugs and 10 stress relief jackets.
Available in black, vintage red and purple.
As easy as 1, 2, 3 no soldering!
Cut, poke and screw your way to 47 years of sound excellence.
George L's
A pop idol's signature edition shines a light on an underrated and intriguing Martin body style.
Easy playability. Great harmonic balance between high and low strings. High-quality build. Crafted from sustainable woods.
Electronics don't entirely capture guitar's balance.
4
5
4.5
4
There's not a lot of reason for Martin to mess with new body styles. Just about every standard shape in their line—from the 0, 00, 000, up through their dreadnoughts—are inarguably stone-cold classics and foundational works from which much of the rest of the acoustic-guitar industry takes their inspiration and cues.
The release of the $799, Mexico-made 000JR-10E Shawn Mendes, however, turns a spotlight on a Martin body style that, to date, could qualify as underappreciated. It also finds the company toying with construction based completely on Forest Stewardship Council (FSC)-rated sustainable tonewoods and, in turn, addressing the reality of shrinking and endangered traditional tonewood supplies that faces the whole guitar industry. The results of this effort are a comfortable, affordable, high-quality, and inviting flattop that says a lot about where the industry can still go in terms of design and materials.
A Body in Between
If you don't play a lot of different acoustic guitars, you could conceivably pick up the Mendes (which is based on the existing standard 000JR-10) and notice little more than the fact that it's smaller than a dreadnought and bigger than a parlor guitar. If you've got a little more experience with the breadth of acoustic body shapes and neck sizes out there, though, you'll notice that the Mendes is indeed a unique and unusual amalgam of design elements.
"Junior" designation aside, Martin's decision to call the Mendes and its 000JR-10 and 000JR-10E stablemates "000s" is a curious one. The Mendes is actually closest in dimensions to a 00, though the body is shorter and the profile is a bit more pinched at the waist than on that venerable Martin shape. The neck, too, may feel unusual to a seasoned acoustic player. It's built around a short 24" scale, where most Martins are a 24.9" or 25.4" scale. The short scale feels even more unique for the presence of the 000JR-10E's most 000-like element, a 1 3/4" nut width.
Combined with the relatively substantial neck profile, the wider nut width makes the Mendes feel very easy to play.
Together, the Mendes' most vital dimensions and design elements add up to an interesting whole. It's small enough to feel a little like an instrument from the larger "travel" guitar category populated by guitars like Taylor's GS Mini. But few guitars in that loose categorization feature a neck as expansive feeling as that on the Mendes, which benefits immensely from the wider nut width. Combined with the relatively substantial neck profile, the wider nut width makes the Mendes feel very easy to play. The wider spacing facilitates alternate thumb picking, while the shorter scale makes extended chords easier. For players used to classic formulas, the mix could feel strange. For less biased players and many novice players who aren't attuned to such nuances, the blend could be ideal.
Construction quality, by the way, is excellent. The woods used here are all FSC certified, right down to the bracing—which means they are sourced from responsibly managed forests. But they will be familiar tonewoods to Martin enthusiasts and acoustic players in general. The back and sides are layered sapele, while the top is Sitka spruce. The grain on the latter is rather plain, but the top is no less lovely for it, and an informal tap test reveals it to be a very resonant, lively section of lumber. The 2-piece neck is made from sipo, an African hardwood quite like mahogany. The fretboard, meanwhile, is surprisingly made from ebony. Responsible sourcing of the ebony on the fretboard means that the wood used here isn't the uniform, ultra-dark type you see on top-shelf acoustics. But the grain variation is lovely and works well with the Mendes-specific design touches like the signature at the third fret and diamond-pattern, mother-of-pearl inlay. Inside and out, fit and finish are perfect. And we can't say that about every $800 flattop we see.
 Easy Equilibrium
Like most small-body guitars, the Mendes won't bowl you over with low end. But the projection from the 000JR body is still impressive. You hear very, very little of the messy, compressed, blur you typically hear from guitars of this size when you strum vigorously. In fact, the guitar feels very punchy and exceptionally balanced across the whole frequency spectrum when you hit it hard.
That balance is just as evident in fingerstyle situations. The first and second strings ring with a particularly sweet and crystalline clarity that chimes beautifully against the round, concise resonance of the third and fourth strings. And again, while the low end won't dislodge any pictures from the wall, the output from lower strings creates a very cohesive and rich, if compact, harmonic whole.
The Verdict
While there aren't a ton of structural details to differentiate the Shawn Mendes signature edition from its less expensive 000JR-10 and 000JR-10E stablemates, the little differences add up to an interesting guitar. The honey-hued finish on the top and the inlay both add an upmarket aura to the instrument. And construction from 100 percent FSC tonewoods is no small or inconsequential distinction. We love to see guitar companies follow this path and execute the instruments made with these woods with such care. Materials and ethics aside, however, it's cool to see this signature release shine a light on a Martin model family that, to this point, may have received less than its due respect. Like the 000JR-10 and 000JR-10E, it's an exceptionally comfortable and sweetly ringing instrument that fits many styles.
Martin 000JR-10E Shawn Mendes Demo | First Look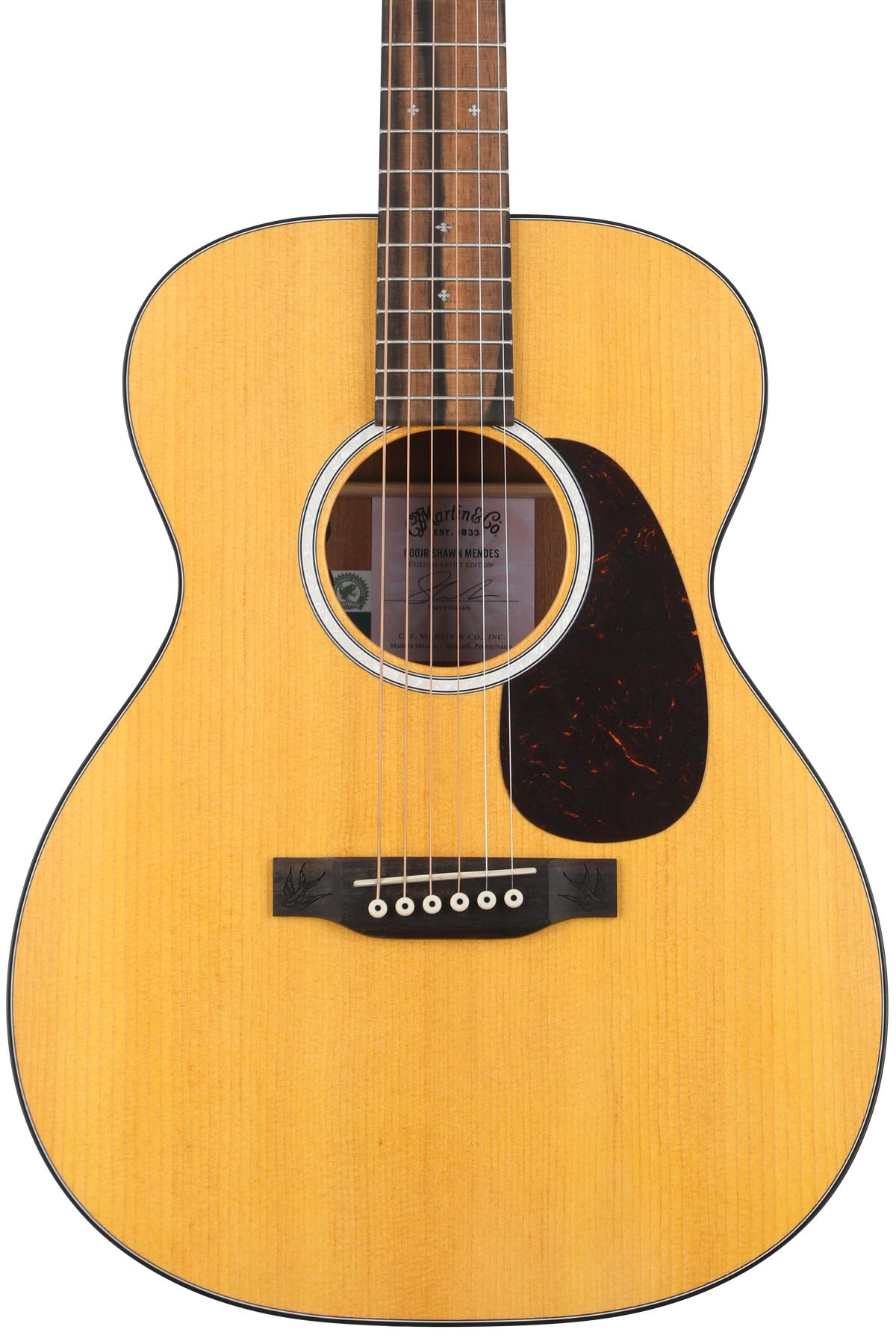 Shawn Mendes signature embellished with swallow design that recalls his hand tattoo symbolizing home as a place filled with family, friends, and loved ones
Spruce top and sapele back and sides offer strong, bright fundamentals with balanced tone
Scaled-down Auditorium body shape sits easily in the hands of any player
Martin
The 7-string Kaizen was crafted with design concepts born from Tosin Abasi's playing style and vision.
Offered with a decidedly contoured alder body, roasted figured maple neck, and ebony fretboard, the multi-scale length fretboard also features an "infinity radius" that provides improved visibility of the fretboard in any playing position. The electronics include a new Music Man HT bridge humbucker, custom offset neck humbucker, and a 3-way switch wired with a custom middle position. Each guitar comes equipped with a MusicMan tremolo, Steinberger gearless tuners, and a G&G hardshell case.
Features
Multi-Scale Neck - 24.75" to 25.7" (E to B or 1st to 7th string) multi-scale design provides affirmative string tension for thick and chunky rhythms on the bass strings, with a traditional feelon the treble strings for smooth bends and solos.
Infinity Radius Fretboard - Conical fretboard radius peaks along the treble-side edge of the fretboard and folds towards the player for an unobstructed view of the entire fretboard in playing position.
Steinberger Gearless Locking Tuners – Contemporary low profile, accurate and lightweight tuning machines feature smooth rotation and allow for a straight string pull.
Multi-Scale Tremolo – Super smooth modern Music Man tremolo with spring dampeners to alleviate unwanted overtones and ringing.
New Music Man Pickups – Music Man designed custom HT (Heat Treated) humbucker in the bridge position features powerful lows with remarkable definition resulting in one of the hottest pickups on the market. A slanted mini-humbucker in the neck position has been specifically designed to compliment the Kaizen bridge humbucker, offering an array of dynamic tones with outstanding sonic clarity.
Ernie Ball Music Man: The Kaizen Guitar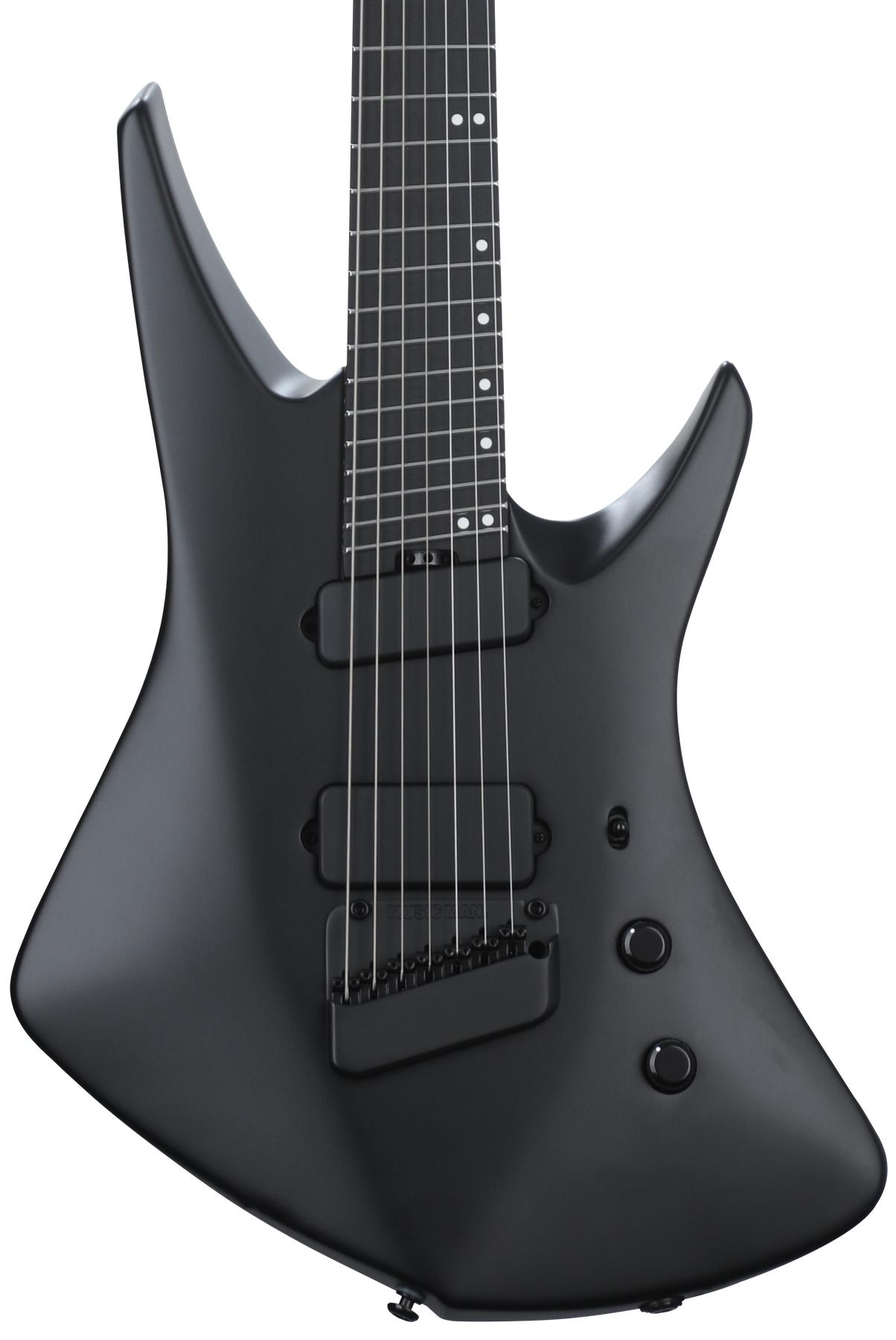 Forward-thinking collaboration between Tosin Abasi and Music Man
Alder body provides a lightweight and solid tonal foundation
Extensively contoured body delivers a more comfortable playing experience
For more information, please visit ernieball.com.
Ernie Ball Music Man
Fender honors the indie-legend with signature pickups and accessories.
Fender announces the J Mascis Signature Jazzmaster Pickups, an ode to one of alternative music's most prolific shredders. Throughout Dinosaur Jr's twelve album discography and his rich solo career, Mascis has established himself as one of guitar playing's most tone-savvy and ferocious players.
At the heart of his genre-defining, nearly four decades-long legacy is the Fender Jazzmaster. Not only does the bold and angular design of the Jazzmaster lend itself to a player as subversive as Mascis, but there is no instrument that sounds quite like it. That is, until now.
Compared to the tones on the Fender J Mascis Signature Telecaster and the Squier J Mascis Jazzmaster, Mascis notes,"The new pickups have a sweeter more vintage sound," and as his hopes for what people might feel when they test out the new pickups, J Mascis adds, "I hope they feel like playing their guitar, ideally they could make a song that could be my new favorite record!"
Key Features Include:
Neck Pickup: 7.27K and Bridge Pickup: 7.31K DC Resistance
Neck Pickup: 3.6 Henries, Bridge Pickup: 3.7 Henries Inductance
Enamel-coated magnet wire delivers warm vintage-style tones
Alnico 2 rod magnets for warm, sweet output
Flush-mount pole pieces produce even string response
Installation hardware include
Exploring the J Mascis Signature Jazzmaster Pickup Set | Artist Signature Series | Fender
The pickups are being released as part of a larger collection of signature J Mascis Accessories which include J Mascis Magenta Flower Strap, J Mascis Yellow Burst Strap, J Mascis Coiled Instrument Cable and J Mascis Dinosaur Jr. Pick Tin.
For more information, please visit fender.com.