Stompbox Gear Finds Fall 2022
Check out the ALL-NEW PRS Pedals and more in this edition of our Stompbox Gear Finds!
---
PRS Guitars
The PRS Horsemeat transparent overdrive pedal is designed to enhance your sound without coloring your tone. Horsemeat adds harmonic midrange richness and overdrives without cutting out your high notes – all while giving you more available headroom. It features a robust EQ section so you can dial in your tone and has a wide range of gain on tap. Depending on the setting, Horsemeat can be used as a clean boost, straight overdrive, or even enhance your amplifier's distortion by slightly pushing the front end of the amplifier's preamp section.PRS pedals were created to be high-end pieces of audio gear. Designed by PRS Guitars in Stevensville, MD, USA. Made in the USA.
Ranger Overdrive
Maestro Pedals
Inspired by the overdriven tones of some of the world's most cherished vintage tube amps, the Ranger is a modern, all-analog overdrive pedal featuring a Mode toggle switch that provides two different tonalities; a warm, expressive, amp-like overdrive and a second tonality that's slightly cleaner and exceptionally touch-sensitive; it blends in some of the clean signal and is a great choice for use as an "always on" effect that can be controlled with your pick attack and your guitar's volume control. The Ranger's classic 3-knob layout provides
intuitive adjustment of Gain (amount of overdrive), Tone, and output Level, with plenty of volume on tap to go well beyond unity gain. You can easily use the Ranger Overdrive as a boost to hit the input of your tube amp harder for even more grit and dirt.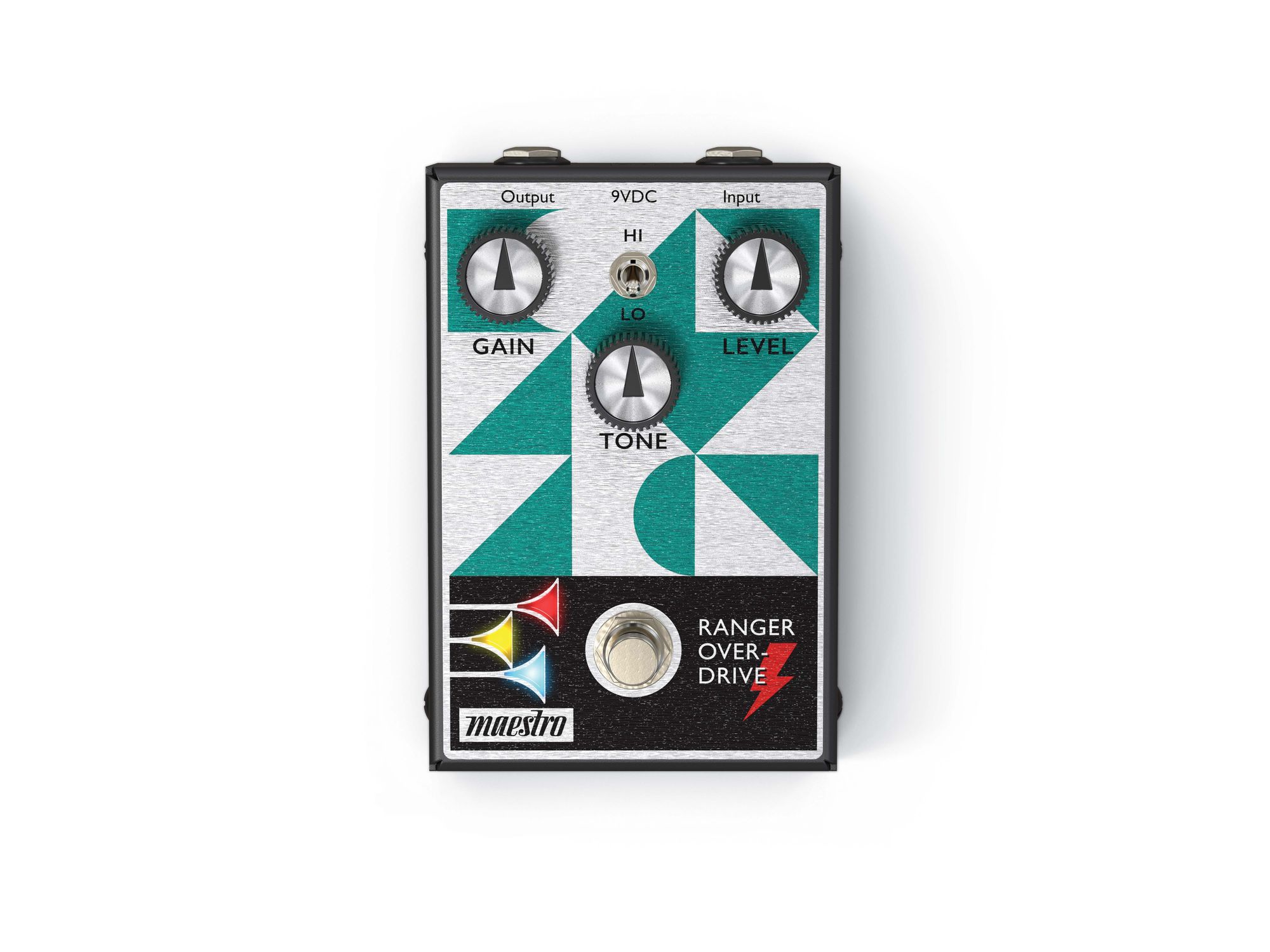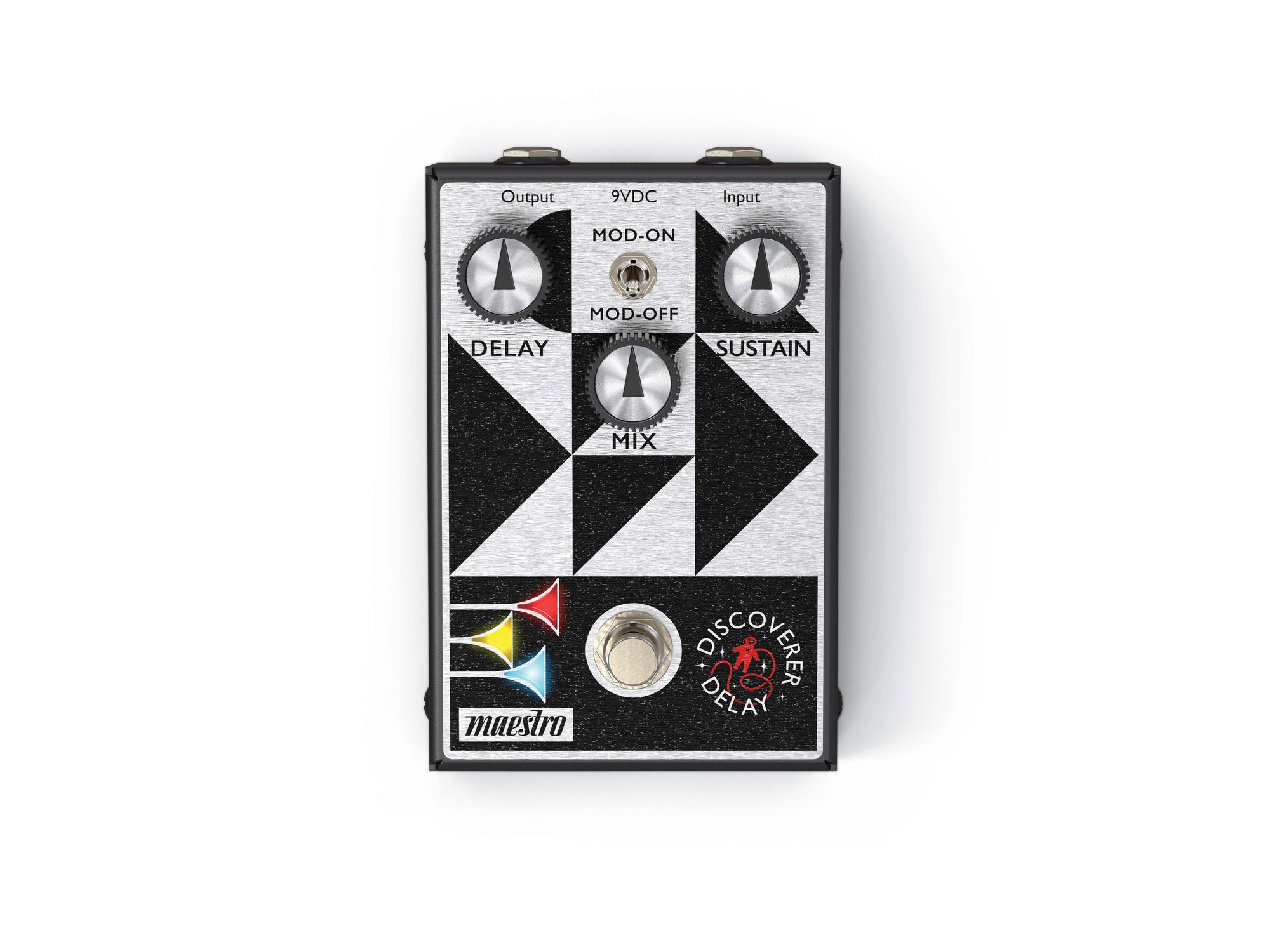 Tech 21
The SansAmp Character Plus Series celebrates the unique chemistry between specific historic amplifiers and specific historic pedals, and cleverly unites them together in single packages:

Screaming Blonde = Fender-style + Tube Screamer-style
English Muffy = HiWatt-style + Big Muff-style
Fuzzy Brit = Marshall-style + Fuzz Face-style
Mop Top Liverpool = Vox-style + Rangemaster Booster-style
Each of the individually-voiced Character controls sweep through an entire spectrum of eras within their particular amp style. Screaming Blonde tones range from the '50s Fullerton to blackface and silverface. The English Muffy spans from classic UK rock to prog rock. Fuzzy Brit goes from classic hard rock to all current rock genres. The Mop Top Liverpool embodies the British invasion through "Bohemian" rock.
These 2-channel multi-function pedals are each like having a stompbox within a stompbox. You can use the SansAmp amplifier emulation on its own or just the effect on its own. The all-analog SansAmps Character Plus Series pedals can be used as stand-alone pre-amps to drive a power amp, a studio mixer, or a PA system, or to complement your existing amp. Other features include built-in speaker simulation individually tuned to match each of the speaker/cabinet configurations associated with each amplifier type; 3-band active EQ, XLR Output, included 9V DC Power Supply. Rugged all-metal housing measures 7.75"l x 2.5"w x 1.25"h and weighs just 12 oz.
EARTHBOARD Music
Never before has an effects pedalboard been so effortless to build and painless to change or rearrange on the fly - So you can Focus on the Music, Not the Set-Up!

Our game-changing design incorporates Rare Earth Magnets ("cupped" so there is no risk to your pedals!) and a long-lasting Battery to give you the neatest, cleanest sounding and looking rig! All of the hassles of using a traditional board are gone. No more messy cobweb of cords and cables. No need to look for outlets and extension cords. No need to deal with dirty noise at gigs. Increase voltage and isolate those "picky" pedals without adding more mess and expense of separate power bricks and adapters. NO MORE SOUND OF RIPPING VELCRO!!!

Here's what's possible with EARTHBOARD:
- Your choice to use our Battery or AC Adapter
- Jacks are on both sides to accommodate YOUR style and the unknowns of the gig space
- All of our power supplies have built in circuit protection to safeguard your pedals
- Built-in cross board audio patch cable saves you money and the hassle of finding the right length cable to connect your top and bottom rows of pedals
- Ability to power large pedals off the board to maximize board real estate - make room for one more pedal!
- The built-in, under mounted, Blue LED lights enhance visibility and the "cool factor"
- Daisy-chain multiple boards and power them all with a single battery
- Rearrange or add pedals on the fly, between sets, in a matter of seconds
Large tour grade pedal board and flight case for 10-14 pedals with removable 24″x11″ pedal board surface and inline wheels

Features:
Pro-grade shock absorbing EVA foam interior
Removable pedal board surface 24" x 11"
Two (2) rubber-gripped handles for easy lifting in and out of the case
3M Dual Lock» hook and loop fastener for pedal installation
Cable and accessory storage under the removable pedal board
Retractable tow-handle and inline wheels
Plywood construction with aluminum edging to create a secure closure between lid and base
Protective ball corners at vulnerable points
Commercial grade Gator red signature hardware
Lockable latches
Spring-loaded rubber gripped handles
George L's Effects Cable Kits
Enhance the tone and clarity of your pedalboard with award winning sound.
The George L's effects kit.
The kit comes with 10' of cable, 10 right angle plugs and 10 stress relief jackets.
Available in black, vintage red and purple.
As easy as 1, 2, 3 no soldering!
Cut, poke and screw your way to 47 years of sound excellence.
George L's
Photo by Madison Thorn
If you were interested in playing guitar in the 1930s and 1940s, you were probably a fan of singing cowboys. The old Western teleplays on the radio were vehicles for marketing all kinds of products, like toys, costumes, and, of course, guitars!
Today, we're familiar with the names Gene Autry and Roy Rogers, but back then, any cowboy fan would have also known Carson Robison. Robison was born in 1890 to a champion-fiddler father and a dance-caller mother. In the 1920s, he was one of the first cowboy singers to become a radio performer, famous for his virtuosic whistling ability. He wrote over 300 songs in his career, including his 1948 hit, "Life Gets Tee-Jus, Don't It," featured in episode 123 of the original Muppet Show, which is how I first heard of him.
The Montgomery Ward catalog offered Carson Robison-model guitars from 1930 through 1941. The 6-string changed a little every couple of years, ultimately ending up with eight different variations. The subject of this month's column is the rare eighth variation, also called Model 964, made only for a short time in the fall of 1941 by the Kay Musical Instrument Company. According to the original catalog, it has a "Selected Spruce Top" and mahogany back and sides, and the top is solid wood as far as we can tell. The back and sides, however, are made of a few disparate pieces. The body on this guitar was shrunk from the previous grand auditorium size (41 1/4 x 16 1/4) to a smaller grand concert size (39 1/2 x 14), and it has a distinctive oval-shaped soundhole. Like the other Carson Robison guitars, it has his signature painted on the body, below the bridge.
Also known as Model 964, this version of the Carson Robison is the eighth variation on the original.
Photo by Madison Thorn
This particular example has had a number of repairs over the years. The tuners are newer, and it's had a bone saddle installed. Its amber sunburst finish has some overspray, likely covering a past repair. It's also had a refret and a neck reset, and it's playing better than ever. The neck has a chunky V-shape, which is typical for these early-20th century guitars that were made before truss rods. It's got a bunch of dings, finish-checking, and evidence of past repairs, which I think adds character. I like to imagine this guitar had a dynamic early life, being played and loved by some rowdy siblings.
While researching this model, we at Fanny's House of Music in Nashville came across a clipping of the 1941 Montgomery Ward catalog this guitar was listed in and found something curious cut off on the left side of the page. Featured right next to the Carson Robison guitar was a 6-string bearing the name of Louise Massey. Could it be that not all singing cowboys were boys? I found myself in the throes of a deep Google search when our old friend Frank Hall came to the rescue.
"I like to imagine this guitar had a dynamic early life, being played and loved by some rowdy siblings."
Frank Hall was a fixture here in Nashville. He was a member of the Serendipity Singers, a folk group that performed at Woodstock. He was also a lifelong guitar collector and one of the world's preeminent "catalog guitar" experts. He came into Fanny's often to tell us stories about these old guitars, and when we were lucky, he'd play us a song. Frank passed away in early 2021, but he left us with a wealth of knowledge, and importantly, for our purposes today, a tome called Cowboy Guitars by Steve Evans and Ron Middlebrook.
Time and wear have given this guitar a character as craggy as the old West.
Photo by Madison Thorn
The owners of Fanny's, Pamela Cole and Leigh Maples, plopped it open on our front desk to page 106, where I read the history of Louise Massey and the Kay-made Montgomery Ward guitar that bears her name. Louise was known for her hit song "My Adobe Hacienda," a beautiful tune calling back to the real heroes of cowboy culture, Mexican vaqueros. Her signature guitar was only made for a few short months in the fall of 1941, at the same time as our Carson Robison. As far as we know, it is the only cowboy guitar to feature a woman artist. Not even the Queen of the West, Dale Evans, had that honor!
This wonderful Kay acoustic took us on quite a journey. We love the stories in these old guitars, and we especially love seeing them write new stories with new owners. Sometimes all it takes is a neck set, and a little flattop like this one is all ready to inspire a new generation. Now, if you'll excuse me, I must go scour eBay for a Louise Massey guitar.
Small acts of kindness can go a long way. Embrace them. Perform them.
This is a story about a small act of kindness. It occurred in 1995 at a club gig, but the tale is rooted a dozen years earlier, when I started to develop my guitar playing in earnest. My bookend idols then were Roy Buchanan and Gang of Four guitarist Andy Gill—a roots and blues icon and a conflagrant punk-rock innovator. It might seem they had nothing in common, but listening reveals a shared love of taking risks, unpredictable turns in their playing, and a determination to push the envelopes of angularity and tone. Roy played a Tele and Andy had a Stratocaster, and when I initially took to stages, I had one of each.
I'd first heard Andy when Gang of Four's blistering, brilliant 1979 debut album, Entertainment!, came out. Absolutely nothing sounded like Andy, with his piercing tone and atonal bombs, and his intention to screw with the conventional architecture of rock. Then there were the songs: salty, wise, withering social commentary in three-and-a-half-minute bursts. I instantly loved Gang of Four!
So, in 1995, during the run of my alternative-rock band, Vision Thing, I got a call from a Boston-area promoter—who I'd been begging for a gig, since he booked all the best joints in town—offering an opening slot for Gang of Four at a club called Axis. I was thrilled, but I was also conflicted, because I wanted us to be our best in front of my heroes and their audience, but Vision Thing was imploding, and that rarely makes for good work.
Moments later, in walks Andy Gill and Jon King, Gang of Four's singer.
Maybe anyone who's been in a band that's a democracy can relate? As usual in such situations, everyone had a voice, but one person—me—did 90 percent of the work, including most of the songwriting. For months there had been constant arguments over direction, arrangements, gigs, attire, producers, the record label, and the beat goes on. Some members were fond of frequently proclaiming how much better they were than most of us, including me. Holding the band together for the cycle of our just-released album was exhausting and depressing, and I thought that perhaps after this "dream gig" with Gang of Four, I should just quit performing. Who needs the BS?
As it turned out, we were great on that gig—colorful, rocking, raw, emotional, and even inspired. But as soon as we got offstage, the rhythm section and Vision Thing's other guitar player abruptly split without conversation, leaving the rest of us in our dressing room, feeling happy but awkward.
Moments later, in walks Andy Gill and Jon King, Gang of Four's singer. They introduced themselves, thanked us for opening, and started talking about how much they liked our performance. When Andy complimented my tone and approach, I could barely stammer a "thank you." And then, after perhaps five minutes, they split to get ready to annihilate the house.
I felt as if I'd been anointed. If Andy thought I was onto something, well, dammit, I was! Just a few words restored my belief in myself as an artist and buoyed me through that band until it died some months later. His simple act of kindness encouraged me to keep writing songs and playing, and to navigate a path that would take me to places like the original Knitting Factory and Bonnaroo, France's Cognac Blues Passions and Switzerland's Blue Rules, and 20 more years of clubs, festivals, theaters, and studios. Heck, maybe even to this gig.
In early 2019, while interviewing Andy for PG, I got to thank him for his kindness, and let him know he'd inspired me to continue making music. He was gracious, of course, although I'm sure he didn't recall that night. For all I knew, he said that to every guitarist who ever played in a band that opened a Gang of Four show.
But that doesn't matter. What matters is that he simply said it. And I try to carry that lesson with me today. If you like what another musician you see is doing, say it. And if you're mezzo-mezzo, offer a compliment anyway—on gear, on a certain song, on a vocal inflection or a lick. Find something pleasant and encouraging to say, because you might be saving someone's musical life. Also, this does not only apply to music. If somebody made you a great sandwich, compliment them. Hell, tell the bagger at your local grocery store that you appreciate them. It doesn't cost anything, and can lift the spirits of that person.
When Andy died a year later, I was sad, but still grateful for his words, and grateful for a simple reminder that can be a buoy for yourself and others in the sometimes turbulent river of life: Be kind.
The HUSH-X is available in maple and mahogany and features a compact, neck-through anddetachable body with upgraded screw-free metal hardware, making it comfortable forguitarists of all skill levels to play.
Donner has announced the launch of the latest addition to their HUSH lineup, the HUSH-X Headless Electric Guitar, following the release of the HUSH-Isilent acoustic guitar in 2022.
The guitar has a matte finish on the neck that complements its overall aesthetic, and the graduated asymmetrical guitar neck shape, similar to the HUSH-I, allows for a comfortable grip and fast playing. It has a 25.5" (648 mm) scale length and features a fingerboard made of HPL with a compound radius of 10"-14" and 22 medium-sized frets. The dual-action truss rod provides a reliable and adjustable setup for any playing style.
Equipped with a humbucker bridge pickup and an Alnico-V style single-coil neck pickup, the HUSH-X delivers a warm and powerful output. The controls include a 3-position flat switching and a 2-in-1 volume/tone knob, offering versatile sound options. The HS pickup configuration is further enhanced by the Active/Passive switch when plugged in with an earphone through 3.5mm jack output.
​What makes the HUSH-X unique is the Donner patented Headless Tuning System and the Full Block 6-Saddle Fixed Bridge, which offers a fast and innovative way to change and tune the strings, as well as a balanced and comfortable playing experience.
Being beginner friendly as always, the HUSH-X Headless Electric Guitar comes with a gigbag, earphones, strap, tuner, 3 Allen wrenches, picks, and 9v battery, making it a complete and convenient package for musicians on the go.
Additionally, at NAMM 2023, Donner HUSH-I Silent Acoustic Guitar launched in 2022 is adding a host of new colors including Black and Sunburst.
Donner HUSH-X ($359) and HUSH-I of new colors ($299) will be available via Donner'sonline marketplaces and authorized retailers.
For more information, please visit donnermusic.com.