Need a new Stompbox? Find your next effect in this month's Gear Finds!
---
You could WIN a Guild Surfliner in this all-new giveaway! Enter below before Jan 1, 2023.
This page contains an affiliate link which may help Premier Guitar.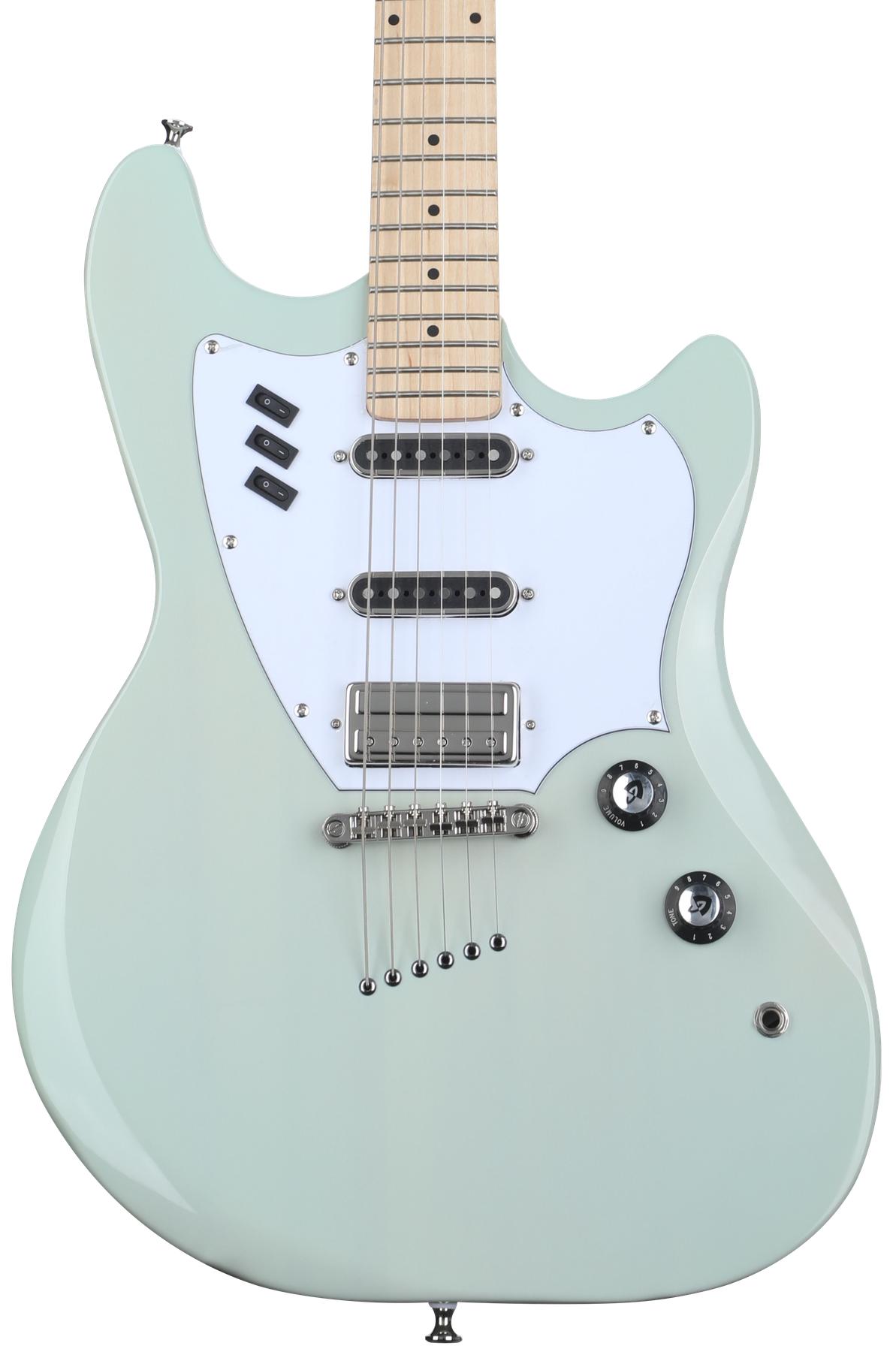 Influenced by the iconic heritage and eccentric shapes of vintage Guilds, the all-new Guild Surfliner compliments the brand lineage by combining classic styling with modern features in an offset, solid-body electric. Available in Sunset Orange, Catalina Blue, and White Sage, the Surfliner features an entirely new solid body platform that crosses subtle offset styling with the vintage lines of 1960s and 1970s Guilds.
One of Guild's few electric models to feature a 25.5" scale length and bolt-on neck, the combination pairs nicely with a Guild LB-1 "Little Bucker" in the bridge position and all-new DeArmond Aerosonic single coils in the middle and neck positions. Premium pickups give the Surfliner a wide array of tones, from crisp and jangly to thick and full when overdriven.
Voicings are driven by the Guild Rocker Pickup Switching System, featuring an on/off switch for each pickup, allowing a total of seven pickup combinations. Rounded out with a master volume and tone, medium jumbo frets, 3-ply pickguard, and a Guild logo resurrected from the 1980s.
Guild
Bass players have a significant role in controlling how harmony is perceived, so brush up on those fundamentals.
Following our "Walking Bass Crash Course," I thought it would be useful to begin a companion piece on harmony for bassists. Harmony is a massive subject, so this will be one of a few. As I've told many students over the years, us bassists must exist between the worlds of rhythm, harmony, and melody. A true understanding will help you realize that these are really all the same thing, and the great master bassists of the past understood this.
Harmony is when individual things are in agreement. In ancient Greek, "harmonia" meant "agreement, concord of sounds," or the optimal joining of things. Those things could be a group of people, planks of wood to make a ship, or nations of the world who get along. We'll focus on tones in harmony. Take A, C, and E for example. It may seem obvious that these tones spell an A minor chord. However, long ago, before the science of harmony was well established, this was not so obvious.
There are two basic states within harmony: dissonance and consonance. Consonant sounds complement/reinforce each other, while dissonant sounds fight each other, creating an overall feeling of unrest. Any combination of notes will fall somewhere along this spectrum, and harmony is about balance, like light and shade in a painting.
There are 12 intervals that represent all the possible two-note combinations (dyads) within the octave: unison, minor/major second, minor/major third, perfect fourth, tritone, perfect fifth, minor/major sixth, and minor/major seventh.
Ear training:It's important to train our ears to identify intervals instantly. Begin by choosing three intervals (unison, major third, and perfect fifth). Find a friend or an app to test yourself. Once you can identify these 95 percent of the time, add two more until you can identify all 12.
Harmony is really based on gravity, and the entire bass role is about reinforcing this.
Unison might be considered the most consonant interval, while a tritone (C to F# for example)and minor second (C to Db) might be the most dissonant. How dissonant depends on who we ask.
Consonance and dissonance are both related to real world physics via the overtone series, and psychosomatics via history and culture, or our exposure to certain sounds. I put more stock in the physics explanation. What we hear as a single note—the fundamental—is in fact an infinite number of upper partials (pitches), which together create what we perceive as a single tone. These partials are arranged in a series called the overtone or harmonic series. Expressed as comparative wavelengths, that looks like this: 1, 1/2, 1/3, 1/4, 1/5, 1/6, 1/7, 1/8, and so on. Expressed as pitches, that's C, C, G, C, E, G, Bb, C, and so on.
Thus, taking into account all the partials involved when we combine two notes, we're combining many notes. Each note's partials vibrate in a manner which either reinforce or fight against the partials of the other note. The notes whose partials reinforce each other are the ones that are most consonant. Venturing further down the rabbit hole: Consonance is not based on overtone coincidence alone. It's also based on the simplicity of the resulting ratio between two notes. Unison = 1:1, octave 1:2, fifth = 3:2, etc. (For a full explanation, see Hermann Helmholtz's On the Sensations of Tone.)
The fifth has a very important role in harmony. People often confuse fourths with fifths. I'll skip ahead and say the only difference between these intervals is which direction you're going, and which note sounds like the root. The concept of "the root" is hard to explain in words. It's a form of "harmonic gravity" that's much easier to hear.
Exercise: Play C to F ascending and listen for which note sounds stronger—some might even say heavier or slightly louder. In most cases people will say F (the top note). Now, try the same with Fto C ascending. Most people will now hear the bottom note as dominant. Try to do the same with other fifths, and then other intervals. With all intervals, except for the tritone (more on that later), one note (the top or bottom) will consistently dominate the other, and you guessed it, once again the partials are to blame.
We could sum all this up by saying that harmony is really based on gravity, and the entire bass role is about reinforcing this. Bass instruments add weight to whatever is happening harmonically by focusing on roots and their progression. Walking bass, where we began a couple months back, is one form of this. Great bass players develop an amazing sense of where the gravity lies in any chord, or progression, and can instantly home in on it.
In the next installment, we'll explore chord qualities, scales, modes, harmonic function, and more exercises.
When it comes to forming patterns, no computer algorithm can outperform the human mind. Sometimes we must change directions to have a breakthrough.
Every now and then, a misguided guitar player asks me something like: "What should I do to become a better guitar player?" For the record, I'm probably not the one to ask. I suspect I don't really know what I'm doing in guitar or life, but I love to play music, and I've noticed some improvement in my playing over the years, so here goes. A surefire way to get past a plateau and become a better player is to stop playing guitar … then dive deep into a different instrument.
You probably remember the agony of making an F chord, and later a barre chord, thinking your fingers just could not do it. Eventually you get it, then jump over the next hurdle, be it learning the pentatonic box, etc., until eventually, you notice that what you're playing sounds like music. We make improvements quickly on the journey from beginner to intermediate, and before you know it, you can jam with others and pick up enough licks and tricks where you sound like a guitar player. But eventually we hit a plateau where we quit advancing and that's where most of us stop. I suspect we plateau because humans love patterns, and once you're in a pattern, it's hard to see beyond it.
Humans can't help but look for patterns. Our neocortex (the outermost layer of the brain found only in mammals) gives us our ability to recognize patterns, and we do it well. Although computer algorithms can spot patterns, no algorithm can outperform the human mind. Our body feeds our pattern addiction by giving us a fun hit of dopamine when we recognize one.
How do you break the pattern of patterns? You have to shift from thinking about patterns to melodies. This has made me a lot freer in my note choices on guitar, and it's made me a bit more forgiving with myself.
Neil deGrasse Tyson explains: "Over centuries of evolution, humans' pattern recognition skills determined natural selection. Hunters skilled at spotting prey and predator and telling poisonous plants from healthy ones offered them a better chance of survival than those blind to the patterns. It enabled the survivors to pass on those pattern-friendly genes to future generations."
Learning guitar is learning chord, scale, and riff patterns. For most of us, the guitar neck becomes a series of patterns rather than an opportunity for melodies. The more you play, the more diverse your bag of patterns becomes, so you have more to shoehorn into any situation. Ultimately, they're still patterns. How do you break the pattern of patterns? You have to shift from thinking about patterns to melodies. When you attempt to play an instrument where you know no patterns, all you can do is search for melodies.
I've loved pedal steel since I first noticed it on Elton John's "Tiny Dancer," but it's such a complex, baffling, and expensive instrument that I never considered jumping in. As I aged and watched working guitarists get younger, I noticed that steel players remained mostly old crusty dudes. When I realized steel could extend my career, I was motivated to buy one. I'm glad I did, as this is one of the few times I made a prediction that was dead on. Pedal steel has opened a ton of gig opportunities, but it's also expanded my concept of music and done more to improve my guitar playing than another 10,000 hours of just guitar.
When you dive deep into another instrument, you'll find yourself approaching it more naively, like a kid, not looking for patterns but rather discovering what music will fall out of the instrument. There will be lots of surprises where you don't know what note you're going to get. Look at it like Bob Ross—those weird notes are just happy little trees. Those happy accidents have led me to playing much more interesting parts than if it went as I planned. This has made me a lot freer in my note choices on guitar, and I'm a bit more forgiving with myself.

When you start exploring technique on a new instrument, you can't help but reevaluate how you play guitar. For instance, muting or blocking is wildly important on pedal steel, because if you don't mute, you'll have a constant discord of a b7, major 7 ringing over everything. It's a cacophony. So, when I got back on a 6-string, I noticed where my slop was ringing and how some palm muting, like on pedal steel, makes my notes clearer. I've always muted, but now I'm listening closer, realizing when I need to apply more or less. Similarly, playing pedal steel with my fingers (fingerpicks) has made me less dependent on a flatpick when I play guitar. Although I've always used hybrid picking on guitar, I now use my fingers more and do more blocking with my fingers on guitar. It sounds smoother, cleaner, and seems to flow better.
Life doesn't have to be the same old thing. Try something totally new and see how it makes you see everything in a new light.