The 1965 Gretsch 6117 Double Anniversary makes the most of HiLo'Tron pickups and smooth playability.
When I was a youngster, guitar players were typically associated with one main electric axe that they were seen with on gigs, and that was it. They might have also had an acoustic for unplugged appearances. These days—with the way music has evolved into a mix of genres—musicians need to play multiple guitars in order to stay in the game. Sonic versatility is just as important as being able to rip a scale, so having a knowledge of rock, jazz, country, blues, and each genre's complementary tones gives one a much better shot at getting well-paying gigs.
Today—if you're a hardworking sideman—you own not just a Fender Tele or Strat, but a Gibson Les Paul or SG, and perhaps some other brands to offer a wide palette of tones. Most guitarists I know love to have as many older instruments in their stash as they can afford. For various reasons, many of these vintage made-in-the-U.S. 6-strings are a good investment, and are usually well-built, with great playability and sound.
Construction is similar to most of Gretsch's other hollowbody models, like the Chet Atkins 6120.
But there's a problem implied in the word "investment." A lot of coveted older guitars are out of the typical working musician's price range. When you look at prized classic Fenders and Gibsons, for example, you're likely to see tags of $3,000 and up. But there are American-made alternatives in the vintage market that I think are worth having in the arsenal that are not only cool, but sound great and can be acquired for under $2,000.
In that spirit, the guitar I bring to the table today is a 1965 Gretsch6117 Double Anniversary. Gretsch debuted the Anniversary models in 1958 to celebrate the 75th year of the company, and the 6117 was the number assigned to the sunburst Double model, while the 6118 was two-tone smoke green. These were unlike other special- or limited-release models, because they were priced in a more affordable range, to reach a larger audience. The Double in this guitar's appellation, by the way, comes from its dual-pickup configuration. The Single Anniversary, naturally, has just one pickup.

The headstock displays the guitar's original Waverly tuners and the "Anniversary Model" plate that commemorates the instrument's special release.
Construction is similar to most of Gretsch's other hollowbody models, like the Chet Atkins 6120. The 6117 has two selector switches on the upper bout, which, I think, is an excellent and logical location for these controls. The front switch is a 3-way for the pickups. The next one is a master tone selector. Its front position offers a slight high-frequency roll-off, the middle is neutral, and the rear emphasizes bass. The master volume dial is at the front-bottom bout of the guitar, and to the lower rear are volume dials for the neck and bridge pickups.
The main difference between the first wave of Double Anniversaries and a 6120 is that Chet's model has binding on the neck and f-holes, while the Double Anniversary initially did not. When introduced, the Double Anniversary came with Filter'Tron pickups made by DeArmond. But in 1960, Gretsch decided to replace those with its own pickup: the single-coil HiLo'Tron. These look similar to the Filter'Tron but are wound and configured to Gretsch's own design. Gretsch advertised these new pickups as "Full Hi-Fidelity."

These stylish-looking HiLo'Tron pickups don't have the same girth and growl as Filter'Trons, but instead possess a more high-fidelity character.
Now, about that HiLo'Tron sound. I've owned several hollowbody Gretsches with both types of pickups, and without a doubt the Filter'Trons have more gain and punch, but the HiLo'Tron is still a great-sounding pickup. They're bright with a nice spank. Working with the guitar's maple body, they've got enough growl to really pop with the right overdrive pedal and amp—and they possess that classic Gretsch sound. Check out the video with the online version of this story to hear a '60s Double Anniversary at work.
Overall, this 1965 6117 is a great-playing guitar. Other appointments on this one include a Brazilian rosewood fretboard (replacing the original ebony) and Chet-like neck binding. It's a lightweight guitar, too, at just over 6 pounds, and has a nice C-shaped neck profile. The nut is 1 and 11/16th inches across, and this one still has the original Waverly tuners. Another feature I really like is the Space Control Bridge, which allows players to adjust the spacing of the strings to taste. This is great if you like to go fingerstyle versus flatpicking.

With only a hint of belt rash on its back, this guitar's near-pristine quality makes it a highly collectible example of the Double Anniversary family.
In 1967, the original golden era of these and other Gretsch models ended when Baldwin bought the company. Even after the Gretsch family regained control of operations in 1985, vintage Double and Single Anniversary models never seemed to increase their value as much as other classic Gretsches. Maybe because so many of them were made with the less-coveted HiLo'Tron pickups? But that's a shame, because the playability, core tones, and handsome looks of these guitars make them a great find.
If you need another classic sound in your arsenal and you're on a budget, here's an excellent vintage American-made, brand-name guitar that's still affordable—typically priced between $1,459 and $1,950. It doesn't get much better than that.
Listen to this 1960s Double Anniversary sing, with a little nudging from an Okko Diablo overdrive and an MXR Carbon Copy.
---
Looking for more great gear for the guitar player in your life (yourself included!)? Check out this year's Holiday Gear Finds!
This full-amp-stack-in-a-box pedal brings a new flavor to the Guitar Legend Tone Series of pedals, Missing Link Audio's flagship product line.
Adding to the company's line of premium-quality effects pedals, Missing Link Audio has unleashed the new AC/Overdrive pedal. This full-amp-stack-in-a-box pedal – the only Angus & Malcom all-in-one stompbox on the market – brings a new flavor to the Guitar Legend Tone Series of pedals, Missing Link Audio's flagship product line.
The AC/OD layout has three knobs to control Volume, Gain and Tone. That user-friendly format is perfect for quickly getting your ideal tone, and it also offers a ton of versatility. MLA's new AC/OD absolutely nails the Angus tone from the days of "High Voltage" to "Back in Black". You can also easily dial inMalcom with the turn of a knob. The pedal covers a broad range of sonic terrain, from boost to hot overdrive to complete tube-like saturation. The pedal is designed to leave on all the time and is very touch responsive. You can get everything from fat rhythm tones to a perfect lead tone just by using your guitar's volume knob and your right-hand attack.
Features 
Three knobs to control Volume, Gain and Tone
Die-cast aluminum cases for gig-worthy durability
Limited lifetime warranty
True bypass on/off switch
9-volt DC input
Made in the USA
MLA Pedals AC/OD - Music & Demo by A. Barrero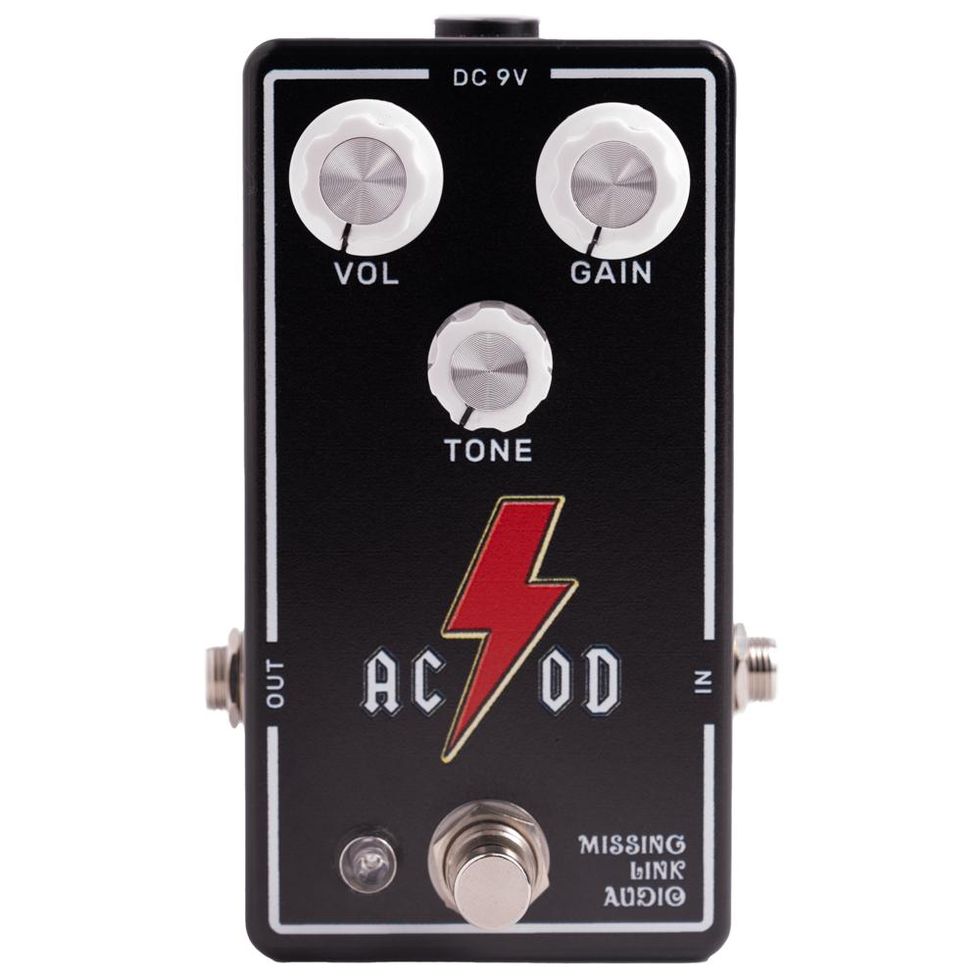 www.mlapedals.com.
Energy is in everything. Something came over me while playing historical instruments in the Martin Guitar Museum.
When I'm filming gear demo videos, I rarely know what I'm going to play. I just pick up whatever instrument I'm handed and try to feel where it wants to go. Sometimes I get no direction, but sometimes, gear is truly inspiring—like music or emotion falls right out. I find this true particularly with old guitars. You might feel some vibe attached to the instrument that affects what and how you play. I realize this sounds like a hippie/pseudo-spiritual platitude, but we're living in amazing times. The Nobel Prize was just awarded to a trio of quantum physicists for their experiments with quantum entanglement, what Albert Einstein called "spooky action at a distance." Mainstream science now sounds like magic, so let's suspend our disbelief for a minute and consider that there's more to our world than what's on the surface.
I recently spent a day filming a factory tour of Martin Guitars in Nazareth, Pennsylvania. After we wrapped, we discovered that Martin has this amazing museum that showcases more than 170 historic instruments. We decided to meet at the museum at 7:45 a.m. the next morning to film a few choice pieces before catching our flight in not-too-near Newark, New Jersey, that afternoon.
These were not ideal conditions for a performance. Neither my brain nor my fingers work well before 10 a.m., plus I hadn't slept well the night before. Even so, we loaded into the museum, met the curators, set up the shoot, and began rolling by 8 a.m.
The first guitar was an 1834 gut string, perhaps the oldest Martin in existence. It was beautiful but had some tuning issues and did not project very well, so playing it felt more like work than music.
Next was a prewar D-45 worth over $500k. The strings were ancient with that rusty feel, like you'll need a tetanus shot after playing it. I'm sure it sounded great, but I was tired and thinking more about making our flight than playing guitar. Wonderful instrument but uninspired performance on my end.
Then, I played a 1953 D-18 coined "Grandpa" by Kurt Cobain. I picked up the deeply sacred D-18, and my hands went to an A minor. This sounds like hype, but honestly, I closed my eyes and connected with a deep, beautiful sadness. The feeling was palpable as soon as you picked it up. This guitar pretty much played itself, leading me to a sad version of "While My Guitar Gently Weeps." I don't know if it was any good, but I know I felt something deeply. That's why I started playing guitar in the first place. I don't have to play well to feel moved.
I later talked to the museum director, who told me the D-18 was given to Cobain by his 1991 girlfriend Mary Lou Lord. Cobain played it on tour before and after Nirvana's Nevermind. It was returned to her after Cobain married. Shortly after that, Mary Lou loaned the guitar to Elliott Smith, who played it until his death.
When I'm sad, I make myself play guitar to feel better, because it usually works. This 70-year-old guitar spent a lot of time literally pressed up against the hearts and chests of two artists who were so tormented by their emotions that they ended their lives. That's heavy. You can't explain those feelings that make the hair stand up on your arm, or when you feel like crying for no reason … but hitting that A minor made me feel it.
We had to split for the airport, so Chris Kies and Perry Bean started packing up. As they did, I saw this cute little 1880 Martin 000 that belonged to Joan Baez. In the photo next to it, Joan looks like my mom in the '60s. I asked the curator if I could play it, and Chris grabbed his phone to do a quick Insta video. I swear there was a happy vibe coming off this tiny guitar. It felt like watching my mom dance—like a warm hug I needed after Cobain's D-18.
In Chinese culture, there is a superstition that antiques may hold evil spirits, and chi (energy) transfer can bring this negativity into your home. Feng shui is all about objects carrying good or bad chi. Here's how I see it: All matter is made of atoms. Atoms contain energy. Ergo, everything contains energy, or, more aptly, everything is energy. Ever walk into a room and feel powerful emotion: joy, sadness, fear, tranquility? That's energy. We all have felt energy coming from people, places, and things. But that's what I love about old guitars: Their atoms spent the first few hundred years as a tree in the forest connected to nature. Then, they're turned into an instrument that makes people happy or consoles them when they are sad. That's the kind of chi I want around me.
The Saddest Martin Ever? A 1953 D-18 Owned by Kurt Cobain & Elliott Smith
Sporting custom artwork etched onto the covers, the Railhammer Billy Corgan Z-One Humcutters are designed to offer a fat midrange and a smooth top end.
Billy Corgan was looking for something for heavier Smashing Pumpkins songs, so Joe Naylor designed the Railhammer Billy Corgan Z-One pickup. Sporting custom artwork etched onto the covers, the Railhammer Billy Corgan Z-One Humcutters have a fat midrange and a smooth top end. This pickup combines the drive and sustain of a humbucker with the percussive attack and string clarity of a P90. Get beefy P90 tone plus amp-pummeling output with the Railhammer Billy Corgan Z-One.
Patented Railhammer Pickups take passive guitar pickups to a new level with rails under the wound strings lead to tighter lows, and poles under the plain strings offer fatter heights. With increased clarity, the passive pickup's tone is never sterile.
Railhammer Billy Corgan Signature Z-One Pickup Demo