Blackpanel Tones in a 3.5-Pound Head?
It's a tall order, to be sure, but Bjorn Juhl's petite, grab-and-go head packs a ferocious punch. The PG One Control BJF-S66 review.
Ratings

Pros:

An impressive range of features and bountiful power in a ridiculously compact package. Solid tones from both rhythm and lead channels. Nice reverb and tremolo effects.

Cons:

Still needs a cabinet, which may offset the advantages of small size.

Street:

$599

One Control BJF-S66one-control.com

Tones:Ease of Use:Build/Design:Value:
---
One Control's collaboration with Swedish electronics designer (and former Mad Professor staffer) Björn Juhl has already yielded cool results in the form of resurrected Juhl/BJF designs like the Honey Bee overdrive. But now you can add a crafty and clever Juhl-designed micro amp to the list of fruits from this partnership: the BJF-S66.
The world of tiny-yet-powerful solid-state amplifiers has grown exponentially in recent years, and the BJF-S66 is a worthy, welcome addition to the party. It measures 10.25"x 3.25"x 3.75" and weighs just 3.5 pounds. Yet it can deliver 100 watts of power into a 4-ohm speaker load, 66 watts into an 8-ohm load, and 30 watts into a 16-ohm load. (This grading of output power according to speaker impedance is common to most solid-state output stages). But potency isn't the only highlight here, as we'll see.
Thirteen Controls
Juhl is the man behind BJF effects pedals, which are now marketed by One Control. His stated intention for the BJF-S66 is to capture the sonic essence of vintage blackpanel Fender amps. And wonders of size, weight, and power aside, the BJF-S66 is, functionally speaking, a fairly traditional amp head. Lead and rhythm channels share a 3-band EQ stage with bass, treble, and mid, plus a bright switch. Both channels use the single gain control, but each channel has its own master volume. The lead channel also has a lead boost control for an extra dose of gain. Each channel has its own pair of reverb controls, governing level and dwell, but they share a tremolo stage that is controlled by depth and speed.
Around back, there are ¼" jacks for individual tremolo, channel, and effects loop footswitches, or you can connect One Control's own three-button FS-P3 footswitch ($119, sold separately or included with $699 amp/footswitch bundle) to do it all. The effects loop send and return, a preamp out, and a speaker out round out the back-panel features. A center-positive jack is used for the dedicated 24-volt DC external power supply (included).
Dialing up the powerful mid control added a lot more muscle in the frequency range where a guitar really lives and breathes—taking the BJF-S66 in more tweed and British directions.
Inside the sturdy brushed-aluminum casing with a fold-up metal handle, the preamp is a discrete, all-analog, solid-state circuit, coupled to an efficient Class D power amp not unlike what you see in many diminutive guitar amps and powered FRFR PA and monitor units these days.
Head Case
I tested the BJF-S66 with a 4-ohm 2x12 cab with Celestion Neo Creambacks and a 16-ohm 1x10 cab with an Eminence Legend, using a Collings City Limits with Throbak humbuckers, a Novo Serus J with Fralin P-90s, a Fender Telecaster, and a range of pedals both in front of the amp and in the loop.
In general, the BJF-S66 delivers robust, punchy, blackpanel-like lead and rhythm tones through either extension cab. Predictably, you get more headroom from the 100-watt and a 2x12 (even at relatively similar volumes in the room) and a little more softness and bounce from operating at 30 watts into the 16-ohm 1x10. Otherwise, though, tone characteristics stay relatively consistent. At middle settings on the tone knobs, rhythm tones are round, predominantly warm, and slightly scooped in a '60s American combo kind of way, although dialing up the powerful mid control added a lot more muscle in the frequency range where a guitar really lives and breathes—taking the BJF-S66 in more tweed and British directions. But in either mode, the clean tones make a great foundation for pedals, and a JHS Angry Charlie, Wampler Tumnus Deluxe, and Tsakalis Six overdrive all shined in tandem with the amp.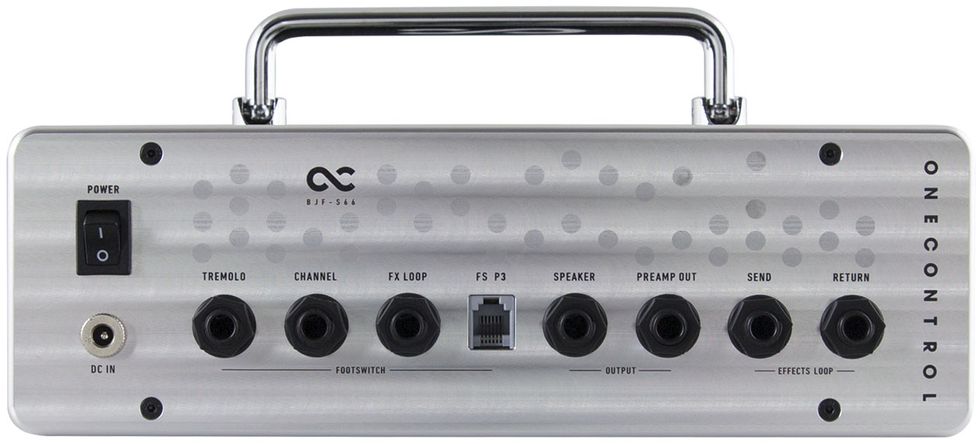 Switching to the amp's lead channel elicits a tone reminiscent of a cranked blackpanel, which works for singing blues and rock 'n' roll leads, but stops short of high-gain sizzle or the modern rock tones that many contemporary guitarists might seek. The independent, dedicated reverb controls are a handy feature, and the basically room-styled variation on the effect works well with both lead and rhythm tones, even if it isn't quite as lush and watery as the sounds you can get from advanced reverb pedals these days. The tremolo also helps to make the BJF-S66 a pretty versatile little sonic generator.
The Verdict
Cute, compact, and powerful—the BJF-S66 is a simple, good-sounding amp. It lacks some of the lively harmonic edge, the pick-attack responsiveness, and the touchy-feely dynamics of a good Deluxe Reverb or Twin Reverb, or a modeler. But there's no denying the BJF-S66's impressive performance-per-pound ratio, and its ability to deliver so many blackpanel characteristics from a solid-state circuit is admirable.
The amp's portability meant I constantly had the urge to grab it and run off somewhere else to play. That said, you still need a cab to play it through. And some guitarists are likely to figure that by the time they've hoisted this and the average 1x12 extension cab to go with it (as well as having paid for the latter), they could have just done the grab 'n' go thing courtesy of several other popular combo options. That said, you can easily fly with the BJF-S66 or throw it in a tote if you know a cab is waiting at your destination—all without sacrificing the familiarity of a head to know and understand well. And if size really does matter—to invert the adage—the BJF-S66 brings a lot to the table in a cheesesteak-dimensioned package.