Chad Weaver gets the show back on the road despite losing nearly everything in the floods
If anyone saw the pictures I sent in place of last month's column, you know why I wasn't able to write. National media didn't talk about the flooding as much as our local news showed it but I've got to (thankfully) say I've never seen anything like that before. On Saturday May 1st, the streets began to fill up with water. As you may have read about in this month's cover story, one of those streets was Cowan Street, the location of Soundcheck rehearsal hall/gear storage and rental. It's located in downtown Nashville and housed storage lockers for more names in the music business than I have space to write in this column. Since the end of Brad Paisley's American Saturday Night Tour, we had placed all of our road gear there but were due to load out of on May 3rd. Unfortunately, it was about 36 hours too late. When I woke up on the morning of May 2nd, Cowan Street was completely flooded and Soundcheck had about 3 1/2 feet of water inside the building.
After breathing a sigh of relief that Brad's Trainwreck and all of his old Voxs were at home, I immediately started thinking of what I had on the floor of the locker, what was stacked high and wondering how I was going to pull off a brand new tour rehearsal that was set to begin the following morning. I called Brad and told him that I was going to assume a total loss until proven otherwise because we didn't have the time frame to wait and see. The first shows of the tour were in three weeks.
It took us several days to find an alternate location for the rehearsals to begin since the original one was also flooded. By the end of the first week we were in a new building and were headed over to Soundcheck to pull our waterlogged gear out. Everyone had to wear rubber boots, rubber gloves and we were all advised to wear surgical masks so as not to breathe in the moldy air inside the building. This water had about anything imaginable in it. Sewage, gasoline, diesel fuel... you name it. The advice was much appreciated. I can honestly say that's a smell I'll never forget.
We loaded our flooded gear up, took it to the new rehearsal hall, and dumped the truck in the parking lot. My guitar vault rolled down the ramp of the truck with water gushing out of the bottom. When the front of the case came off you could see how all of Brad's guitars had floated and eventually sank in the water. The muddy line on the side of the case showed that the water level was just above the neck joints on all of the guitars. They all had strings popped off of them. Some of the finishes were bubbling up and the hardware had already started rusting. The worst loss of that particular case was Brad's '52 tele that was used in the "Alcohol" video. I wound up spraying that guitar down with bleach water and rinsing it with a water hose. I can't begin to describe what an unnatural act it is to have to do that to an instrument, but if I didn't, the bacteria the wood had absorbed would rot it from the inside out. I took it apart to let the drying out phase start, but two days later it had cracked from the rear strap pin up to the neck pickup. All of the Crook Custom guitars were lost, as was the last prototype Gibson had sent for Brad's signature model.
My effects rack looked as though it had been left completely uncovered at the bottom of the Cumberland river. All of my amps and speaker cabinets were soaked and both of my work boxes were destroyed. I lost roughly 30 raw speakers, 12 speaker cabinets, 23 amplifiers, 12 guitars, and the respective road cases. After I had sifted through what could be salvaged, my total "saved" list was this: 3 guitars, 1 amp, 1 tool box, and 1 Pelican case that housed my midi pedals that controlled Brad's effect rack. Every other piece of Brad's personal road gear was gone. At this point I had the large pieces such as the effects rack, cabinets, amps and guitars all on order. Next was the small items, like tubes. 12AX7 and EL84 vacuum tubes can be cleaned by dunking them in bleach water and rising them off. Tubes with large plastic bases on them are much harder to save after water has gotten down in there. After several attempts at cleaning 6V6 tubes, I wound up tossing them all and reordering. It's amazing how many little items in your work boxes that you forget about until you need them. I'll spend another six months replacing all that was lost there.
All of our audio was spared. Sound Image thankfully didn't have any water inside their warehouse. Our lighting was inside the original rehearsal room as the water was coming into the building. The guys fork lifted the truss and lighting cases onto the stage so they were safe. Video and our set carpenters didn't fair as well. They had chest-deep water inside of their warehouses. Most of our video wall and the set were submerged as well.
About six or seven days before we were to play the first show of the tour we started running through the set. I've got Brad using a couple of amps and a few stomp boxes just to get through the rehearsals. The morning before we loaded out of that room the last of my gear came in. Exactly two weeks to the day of pulling flooded gear out of that locker, we played our first full production show of the tour exactly like we wanted to do it. Brad walked toward the microphone at the top of that show and I honestly thought he was going to cry. It meant so much to him that we were able to be show ready and not just able to play a gig.
A huge THANK YOU to Bill Crook, Charlie McVay, Peter Florence, Chris Klein, Brian Nipps, Tony Dudzik, Tommy Rosamond, Mike Zaite, David Friedman, Rick Skillman, Ryan Smith, Tony Bruno, Kelly Vaughn, Tyler Ham, Luke Ziegler, Riley Vasquez, Armi Iglesias, Gregg Hopkins, Matt Ali, Brian Wampler, Robert Keeley, Tim Godwin, Bruno Pirecki, Derek Brooks, Adam Hudson, Mark and Leslie Morell, and Michael Doran. Without the people listed here I'd have never made my deadlines and this tour couldn't have gotten off to such a great start. Thank you all for your time, your efforts and your friendships. I am indebted to you all.
Looking for more great gear for the guitar player in your life (yourself included!)? Check out this year's Holiday Gear Finds!
Flare is a dual-function pedal with a tube-like booster and a 1970s-style ring modulator effect that can be played separately or together.
Flare's ring modulator is based on the iconic tone of the original Dan Armstrong Green Ringer. This vintage classic was made famous by Frank Zappa who loved the unusual modulations created by generating a harmonic octave over notes. Messiah's version offers two control knobs: a "Sparkle" tone attenuator and output Level control. Its taupe-gold body, purple and green knobs and stick-figure rock 'n' roller holding up a flame convey an appropriately rockin'70s vibe.

​In a unique twist, Messiah's Flare pairs the ringer with a warm tube-style boost instead of a fuzz. Flare feeds the booster into the ringer for an extra punch, while preserving the Green Ringerspirit. The ringer side also turns any fuzz into an octafuzz, and it has the ability to quiet signal background noise fed through it.
The booster side features a single Boost knob to control the MOSFET circuit, making it very tube-amp-friendly with a warm, organic boost and gain of up to 32dB.
​The pedal is a distinct improvement over the 1970s pedal that inspired it. "Most ringer pedals don't track well," Tom Hejda, owner of Messiah Guitars. "The player can't rely on repeating the same effect even with the most consistently played notes. We carefully matched the components, so our ringer follows your every move, producing that slightly dirty octave you expect on demand."
Messiah developed this vintage octave pedal with flexible features so that people who love that messy, dirty Zappa-esque sound can get there with ease but there's also something for those who have not fallen in love with fuzz or the Green Ringer alone. Flare offers an array of sonic options while retaining simplicity in the controls.
Each Flair Pedal Includes:
3 control knobs: Boost, Sparkle, and Level
Two effects – Ring Modulator and Boost – can be used together or separately
Space-saving top side jacks
Durable, cast aluminum alloy 125B enclosure with fun artwork
Easy to see, illuminated True-bypass foot switch
Standard 9V pedal power input​
Flare Pedal Demo
Messiah Guitars pedals are designed with an explorative player in mind. Like their custom guitars and amplifiers, Messiah's pedals are hand-crafted in Los Angeles for a long life with guaranteed quality.
Flare retails for $199.00 and can be purchased directly at Messiah Guitars or you can hear it in person at Impulse Music Co. in Canyon Country, CA.
For more information, please visit messiahguitars.com.
This feathery little guy is a joy to play because of its incredibly quick response to your right hand - much faster and more expressive than your typical auto-wah pedal.
​If it looks like a duck, acts like a duck, and QUACKS like a duck, then it must be a duck. That's how we came up with the name for our new envelope filter. This feathery little guy is a joy to play because of its incredibly quick response to your right hand - much faster and more expressive than your typical auto-wah pedal. Trevor explains how this is possible in the launch video, as well as gives a demo on Le Canard's operation.
​The attack control determines how quickly the filter responds to the envelope, and the decay sets how quickly the filter releases afterward. The range controls which frequency spectrum the filter does its magic on. Add to this relay-based full-bypass switching with failsafe, and you've got one crazy little quacky beast. It is so expressive that you'll want to give up on your rocker-wah forever.
The MayFly Le Canard envelope filter features:
Super fast responding envelope follower. Touch it and it jumps!
Range control to dial in the character of the filter
Attack control to control how fast the filter moves on that first touch
Release control to control how slowly the filter slides back to baseline
Full bypass using relays with Fail SafeTM (automatically switches to bypass if the pedal loses power)
Cast aluminum enclosure with groovy artwork
MSRP $149 USD ($199 CAD)​
Introducing the MayFly Le Canard Envelope Filter
All MayFly pedals are hand-made in Canada.
For more information, please visit mayflyaudio.com.
Outlaw Effects introduces their next generation of NOMAD rechargeable battery-powered pedal boards.
Available in two sizes, NOMAD ISO is a compact, versatile tool that offers the convenience of a fully powered board plus the additional freedom of not having to plug into an outlet. NOMAD ISO is ideal for stages with limited outlet availability, quick changeovers, busking outdoors, temporary rehearsal locations, and more.
NOMAD ISO builds upon the legacy of the ultra-convenient and reliable NOMAD rechargeable pedalboard line originally launched in 2018. The brand new NOMAD ISO editions feature eight isolated outputs (1 x 9V DC, and 1 switchable 9V/12V DC) for even more versatility and clean, quiet power. With an integrated lithium-ion battery pack boasting 12800mAh capacity, NOMAD ISO can fuel a wide array of pedals, and will last over 10 hours* on a single charge.
Each NOMAD ISO pedal board includes adhesive hook & loop pedal-mounting tape, eight (8) standard DC connector cables, and one (1) reverse polarity DC cable, giving you everything you need to build your ultimate "off-the-grid" rig. A rugged, road-ready padded gig bag with shoulder strap is also included, to safely protect your gear while you're on the move.
NOMAD ISO S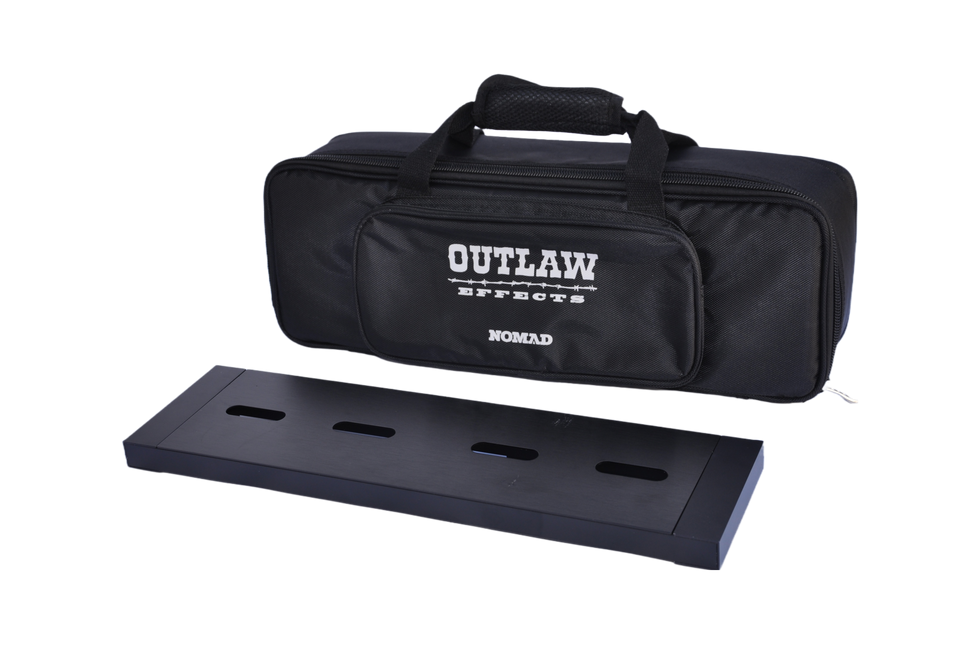 NOMAD ISO S: MSRP $309 / MAP: $249
Dimensions: 19 ¼" x 5 ¼"
NOMAD ISO M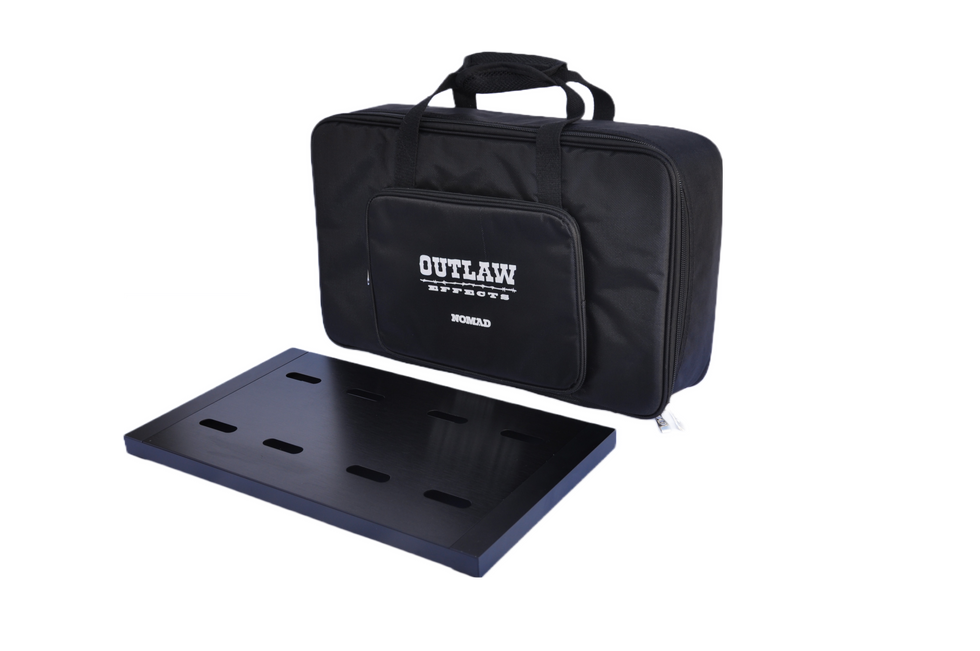 NOMAD ISO M: MSRP $349 / MAP $279
Dimensions: 19 ¼" x 11"
More info: https://www.outlawguitareffects.com.