Carr Amplifiers Sportsman Amp Review
This 6V6-powered, class-A combo is based to some extent on smaller, US-made, reverb-equipped amplifiers from the '60s like the Fender Princeton.
Imagine a musician that has achieved venerable status and sophistication with age, but has lost none of the style and irreverence that made him or her part of a cultural revolution decades ago. Carr amplifiers are, in many ways, a wire-and-tube manifestation of this persona. And through a deep respect for design heritage, a unique spin on vintage styling, and an effort to develop more usable tone-shaping features—they've refined some the most revered amplifier templates into modern classics.
The Sportsman is the latest creation out of Steve Carr's Pittsboro, NC shop. This 6V6-powered, class-A combo is based to some extent on smaller, US-made, reverbequipped amplifiers from the '60s like the Fender Princeton. But it's also built around an expanded array of controls, bound to please guitarists across a greater variety of musical settings.
Sportsmanlike Conduct
At 16-watts clean, 19 watts maxed, the Sportsman sits somewhere between the Fender Princeton Reverb and Fender Deluxe Reverb, in terms of output. Our review specimen came equipped with an Eminence Red White and Blues 12" speaker and rock-solid pine cabinet. The amp weighs in at 42 pounds.
Carr offers a range of custom colors for the cabinet, including a handsome hunter green, but our review unit came in black and looked great with the cool, black and tan grille cloth. The handstitched, leather handle and antique logo make this a refined, luxurious vehicle to take through the woods—more vintage Land Rover than Jeep. Under the hood hide two 12AX7 and two 12AT7 preamp tubes, and a pair of 6V6 power tubes, which, conveniently, do not require biasing upon replacement. The control panel sports Volume, Treble, Mid, Bass, Reverb, and Headroom knobs. The latter functions as an interface between the Sportsman's preamp and power amp sections, offering control of the amplifier's breakup point at differing volume levels. A speaker output jack enables use of an extension cabinet.
Call of the Wild
It's hard not to think blackface Fender when you play the Sportsman. And setting the Headroom knob to 3 o'clock and the EQ knobs to a slightly scooped setting immediately found me in recognizable blackface territory. The tone from my Les Paul's bridge humbucker was full, sweet, and complex. And the signal from the Carr was brimming with detail—from the taught, metallic zing of the wound strings to the sounds of the contours on the edge of the pick. Turning up the Treble knob didn't simply tilt the tone towards bright, but added increasingly airy harmonics to the sound without becoming piercing or fatiguing—perfect for some high-fret, funk action and folk arpeggios. The clean sustain was also particularly impressive, and letting the simplest chords ring out and fill the room was a delight.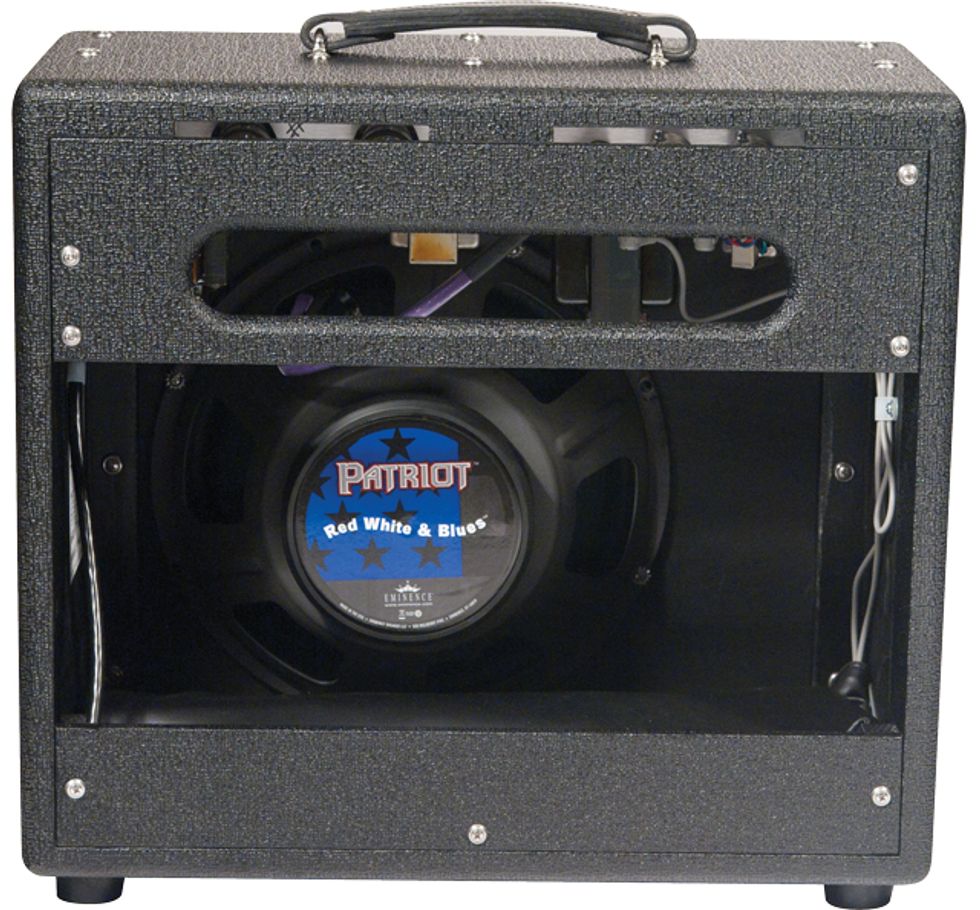 As successful as the Sportsman is at producing these classic, clean tones, it has a sonic signature all its own. First, the bass output was both highly controlled and powerful—remaining tight and solid at high volumes, and free of the occasional squishiness associated with classic Fenders. Second, the lightning-quick dynamic response and transparency between the notes of a chord gave the amp a very high fidelity, making it a great fit for clean jazz applications or jangly chords. And even as it approached natural breakup, the Sportsman exhibited more depth and string-to-string clarity than one would expect from the amplifiers it emulates.
The Mid control is a useful departure from the classic Fender treble/bass configuration, and offers wide adjustment capabilities for some dramatic tone thickening. Slightly turning it up beyond noon gave the amp impact and punch that combined well with high-headroom settings— resulting in a slightly compressed, spanky lead tone similar to Keith Urban's sound on the Dixie Chicks' recording of "Some Days You Gotta Dance."
With the Headroom dropped to around 9 o'clock and Volume cranked, the Sportsman produced a grinding overdrive that reminded me of Robby Krieger's tone on "Roadhouse Blues." The Sportsman's bass depth at these grittier settings is a real asset, and it adds a substantial amount of warmth and impact that further distinguishes it from its esteemed forebears. The Sportsman can't achieve high gain, nor is it meant to. Instead, its overdrive versatility lies in the ease at which you can dial in countless and cool fusion, blues, and classic-rock tones.
Though the Headroom knob does more than any other control to adjust the character of the amp's distortion, it behaves with a little more subtlety than I expected. In certain applications, it acts somewhat like a master volume. But as a blackface Fender fan, I loved that it could isolate my favorite Blackface sweet spots at my desired volume level in ways master volume amps can't. I could be almost anywhere on the Volume knob (except for the lowest extremes), hit a note, and hear the sweet sound of 6V6 tone, fattened by the onset of early breakup. And in many ways, it was like having several amps in one, with almost no discernable loss in tone quality as I lowered the Volume from Deluxe Reverb down to Champ levels.
Wide Open Spaces
The Sportsman's reverb sounds huge when you want it to. But whether you set it to barely perceptible levels or full, lush extremes, the clarity and character of your instrument remains intact. It sounds incredibly three-dimensional and alive in the room, and cranking the Reverb knob adds layer upon layer of lush decay. This full tilt, dripping reverb—combined with plenty of headroom— makes the Sportsman an obvious choice for surfguitar sounds when used with singlecoils, and equally suited to those who love reverb in lighter doses that give an instrument that extra bit of spaciousness.
Turning up the Treble knob didn't simply tilt the tone towards bright, but added increasingly airy harmonics to the sound without becoming piercing or fatiguing.

The Verdict
The Sportsman's ability to nail vintage, clean, and overdrive sounds—and move beyond them in breadth of tone—arguably makes this Carr a contemporary classic. Factor in the fact that a new Sportsman probably won't rattle, vibrate, or require potentially costly repairs many years down the road, and that vintage amp starts to look a little less appealing. The handsome Sportsman is an amplifier of outstanding build-quality and vintage-but- cheeky styling that provides beyond top-shelf tone. If you can swallow the price, it's worth every cent. But given the price of a clean, vintage Princeton or Deluxe these days, there's little reason the Sportsman shouldn't be in your crosshairs.
Buy if...
you're looking for a volume-versatile, flexible American sound with stellar craftsmanship and great style.
Skip if...
you need that onboard tremolo footswitch, or you'll take a silverface Princeton at half the Sportsman's price.
Rating...