Cow-Skull Guitars and a Builder Named Boaz
Slicing a cow skull to make interior braces for a custom guitar. Photo by peckhammer Next to the 1954 Stratocaster (serial number 0168) sitting on my repair bench, I've
Slicing a cow skull to make interior braces for a custom guitar. Photo by peckhammer
Next to the 1954 Stratocaster (serial number 0168) sitting on my repair bench, I've got some materials for a few custom builds I'm working on. Nothing crazy, just some cow skulls, a big chunk of an ebony tree, and a handful of dried scorpions that I'll entomb in the headstock of these guitars. The scorpions will be partially visible under the truss-rod cover. I've also got a bottle of invisible ink. My plan is to tattoo the black ebony with secret messages in Latin that can only be read under a black light. The cases for these instruments will contain an antique Bible, a wooden spike, and a vial of holy water.
I know a cow-skull guitar might sound strange to some players—especially those enamored with vintage instruments. I think it's important to lighten up and have a little fun. Don't be afraid of your imagination— you never know what you can come up with.
So, about these cow-skull guitars: I've got one coming along nicely, with the skull sliced up and ready to be used as interior bracing. It turns out skull bone is a perfect material for the job—it's lightweight and super strong. And conveniently, I can run wires through the brain cavities. But most importantly, skull bone is creepy as hell! I like the idea of someone opening the back to change part and—
yikes
—there's a jawbone and rack of teeth lurking in the shadows.
The reason I mention this guitar is that it makes a point. It illustrates my "don't take yourself too seriously" credo and my "learn to master hand tools first" building philosophy. Digging deeper, it's the result of what I was taught by a traveling gypsy guitar maker named Boaz.
Guitar critic, historian, and builder Rick Turner once wrote this about Boaz and his guitars: "What you see here is not the product of some 18th-century luthier who slaved away to meet the demands of a Spanish or French courtier. Rather it is the product of a virtual living time machine named Boaz."
I remember reading that. I also remember reading stories about Boaz riding his BMW motorcycle through South America, eating monkey brains with the Amazon people, and building a guitar with a Swiss Army knife in Tierra del Fuego on a bet. I thought, "Wow—I want to know more about
this
guy!"
A year later, I found myself hanging out with Boaz—staying up late, drinking wine, and talking about girls and guitars. I listened to his stories about Paracho, a town in Mexico where almost everyone builds guitars. He described how a lot of the guys get bored, so they hide porn inside the guitars. He told me that, in Russia, the builders keep their woodpile outside where they urinate, and that's why Russian-made guitars smell like urine.
He also gave me the best advice I've ever been given. He took out his Mexican knife (which I'm sure he made himself using only the wings of a bumblebee and a small twig), waved it in my face, and said, "This is all you need, man. Learn to make a guitar with a knife, and you will be able to build anything your imagination desires."
And I did. So now when I get approached about making a guitar with a retractable mic or I get an idea for a theme guitar made from animal parts, I think, "Sure, I can do
that
."
Back to the '54 Strat on my workbench that's sharing space with the cow-skull bracing and jawbone. The paint looks old. I'm thinking a nice new red paint job would look . . . Ha—relax, I'm only joking. In fact, I've actually got a question for
PG
readers regarding this guitar. Everything checks out on it, but it's got one thing I've never seen and I'm wondering if someone out there can help me: In the tremolo-spring cavity, where the date should be written "5/54," there is only a handwritten "#2." I've found another equally confused guitarist online who has a '54 Strat with a "#3" in the same spot. I'd like to think there's something dark and mysterious going on here—like maybe somewhere there are two '54 Strats marked #1 and #4, and they're meant for the four horsemen of the apocalypse. But the explanation may very well be incredibly mundane, too. Regardless, if you've got an answer—or another question about the Dark Side of guitardom—please feel free to drop me an email at
randy@parsonsguitars.com
. Meanwhile, stay cool.
---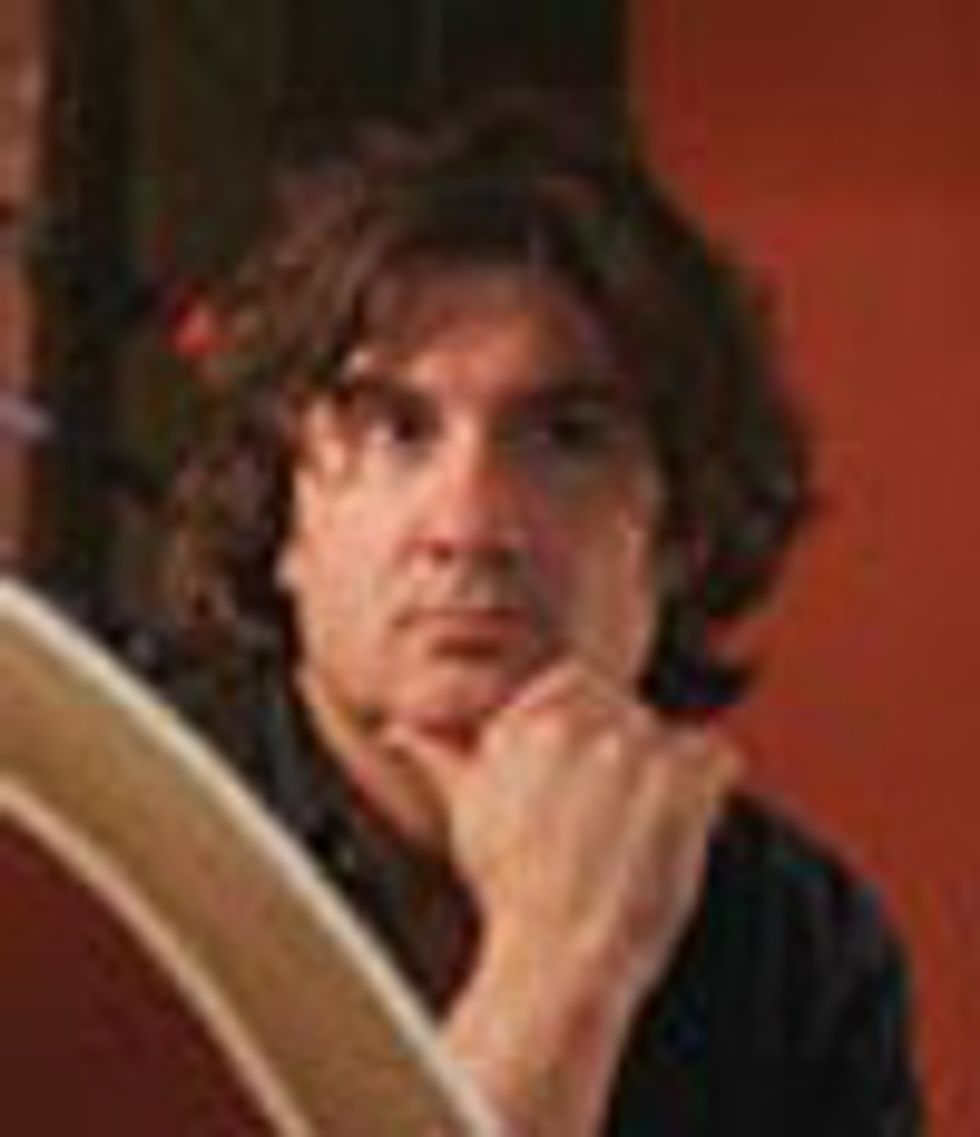 Randy Parsons
builds guitars for Jack White, Jimmy Page, Joe Perry, and other adventurous players using out-of-the-box materials like bone, flowers, copper, and solid ebony.