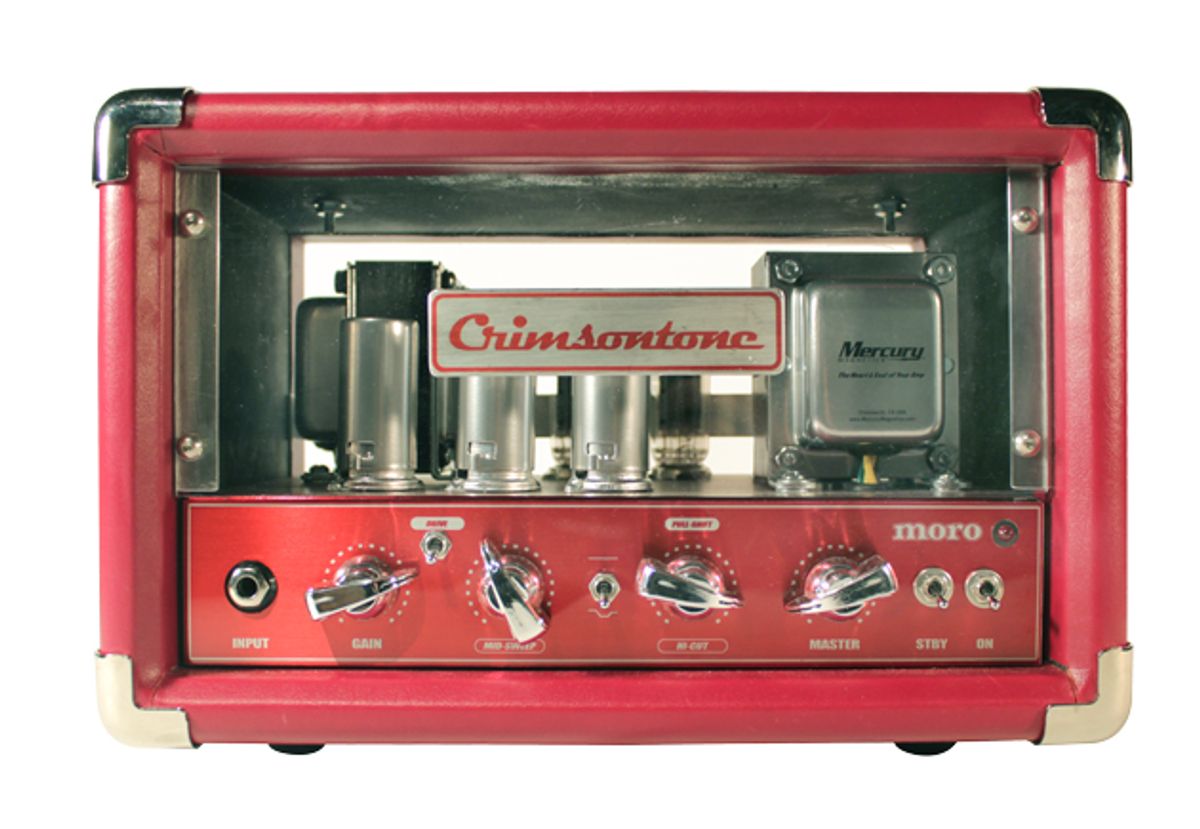 A ferocious 15-watt head inspired by Orange, Marshall, and Sovtek amps.
Crimsontone specializes in low-wattage boutique amps—their largest model is the 20-watt Tarocco. Most of their amplifiers are named after oranges, or colors associated with them: Valencia, Scarlet, Auburn, Vermillion. Their latest effort is the Moro, a 15-watt hellion.
Profondo Rosso
The Moro—a compact, class AB head with three 12AX7s and two EL84s—is a cross between two previous Crimsontone models, the Valencia and the Scarlet. According to Crimsontone's Bryce Bickham, the Valencia started out as a modified Orange Tiny Terror but morphed into a different beast, while the Scarlet began as a Marshall/Sovtek Mig 100H hybrid.
The Moro's sheer volume floored me—it easily carries over the clamor of a full band.

Like all Crimsontone amps, the Moro is entirely handwired. It boasts Mercury Magnetics power and output transformers, and a mix of Sprague and Mallory capacitors. The rear panel includes a speaker out (switchable between 8 and 16 ?) and a jack for the provided footswitch. Succulent red Tolex pays tribute to the amp's namesake, a type of blood orange. The tubes and transformers are visible through the Moro's Plexiglas front panel.
The Moro's EQ controls are rather unconventional: The main tone shaper is mid-sweep, a control that cuts low-mids when turned counterclockwise, and high-mids in the reverse direction. This 400–750 Hz cut is more noticeable when the adjacent EQ curve switch is in the down position, providing both a mid cut and a bass boost. There's also a hi-cut control, a post-master attenuator that can be pulled for a more aggressive top-end shave.
Big Red
I propped the Moro atop a trusted 4x12 cabinet with Celestion Vintage 30s and plugged in a Les Paul. I set the EQ curve flat and the drive to clean.
Ratings
Pros:
Footswitchable boost. Gritty gain with ample volume.
Cons:
Difficult to get clean humbucker tones at high volumes.
Tones:


Ease of Use:


Build/Design:


Value:


Street:
$1,359
Crimsontone Moro
crimsontone.com
Now, I have it on good authority that a band whose name rhymes with "TT Bop" actually doesn't use the giant stacks adorning their stage, opting instead to mic a solitary low-wattage amp positioned offstage. Whether this is true or not, I'll be darned if the Moro doesn't immediately capture that spirit. The honking 'bucker output yielded an authentic vintage drawl, great for classic rock.
The clean output is impressive, considering the low wattage. Maxing out the master and pushing up the gain provides a fairly crunch-free output, although humbuckers don't sound spotlessly clean at louder volumes. I really enjoyed these lower-gain settings—flipping the EQ curve to bass boost accentuated the country-tinged moans of Mick Taylor's "Honky Tonk Women" licks. Switching to a Strat with single-coils, I appreciated how well the mid-sweep and hi-cut controls tamed treble frequencies.
Flipping up the drive switch (or selecting the mode via footswitch) releases a fireball of gain. The Moro's sheer volume floored me—it easily carries over the clamor of a full band. The amp feels more powerful and brilliant than many higher-wattage amps. (Though higher wattage does have some advantages: While fuzz pedals sound great through the Crimsontone, you can't beat the tonal bonuses a fuzz gleans from 100-watt headroom.)
The Verdict
The Moro is a great example of why amp size often doesn't matter: If you assemble quality parts, heavy tone can be yours at low wattages. The Moro sounds great with any pickup configuration and with many types of pedals. It's a perfect companion for the studio and for stages of any size.