Take a trip back in time to see the gear, hair, and clothes that made the '80s most excellent—party on, dudes!
---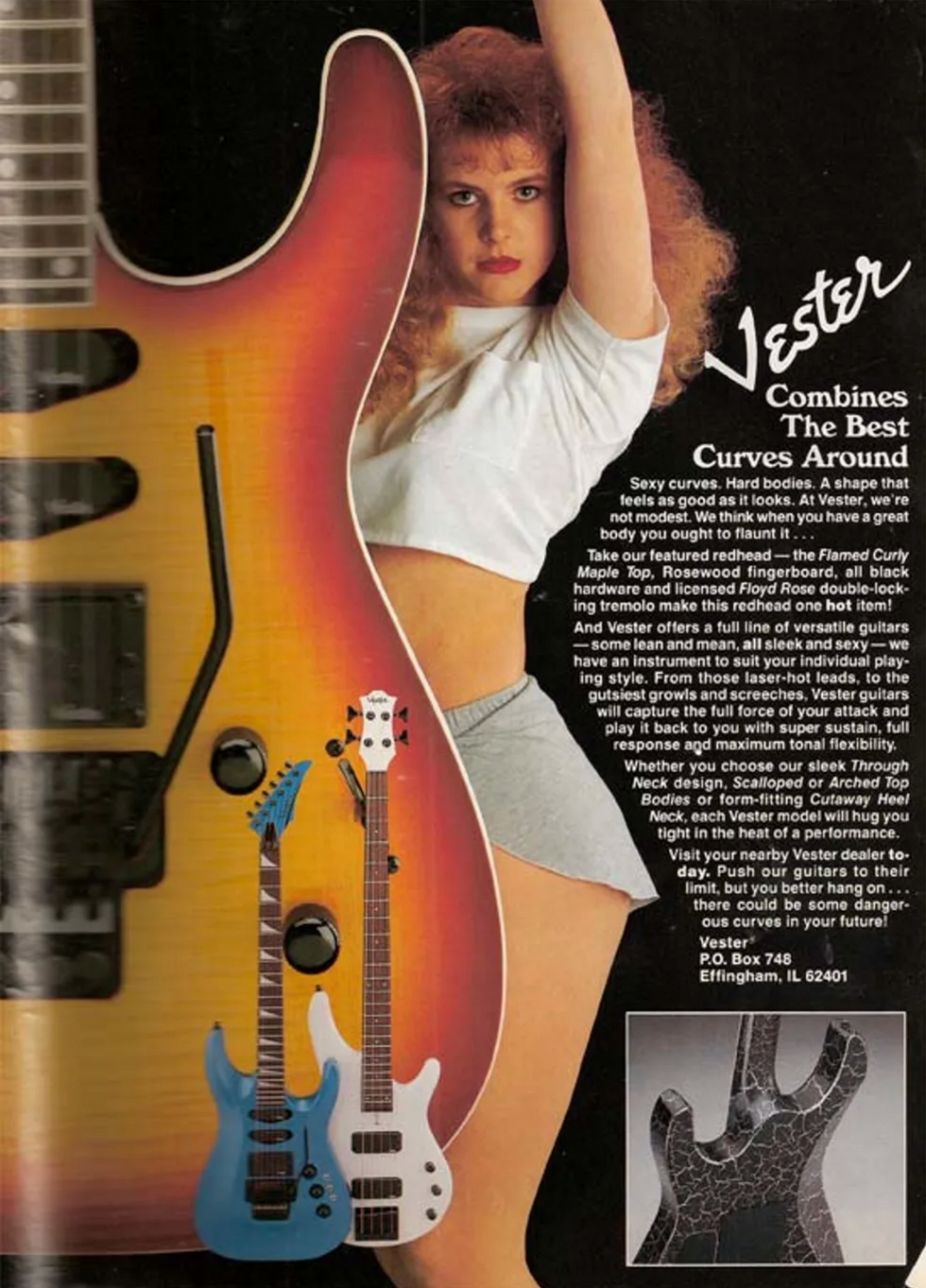 We're pretty sure the barely legal vixen in this Vester ad went on to great fame playing the cheerleader who kisses Mikey in the Broadway production of The Goonies. Vester subsequently went on to great fame...um, in this roast of '80s ads.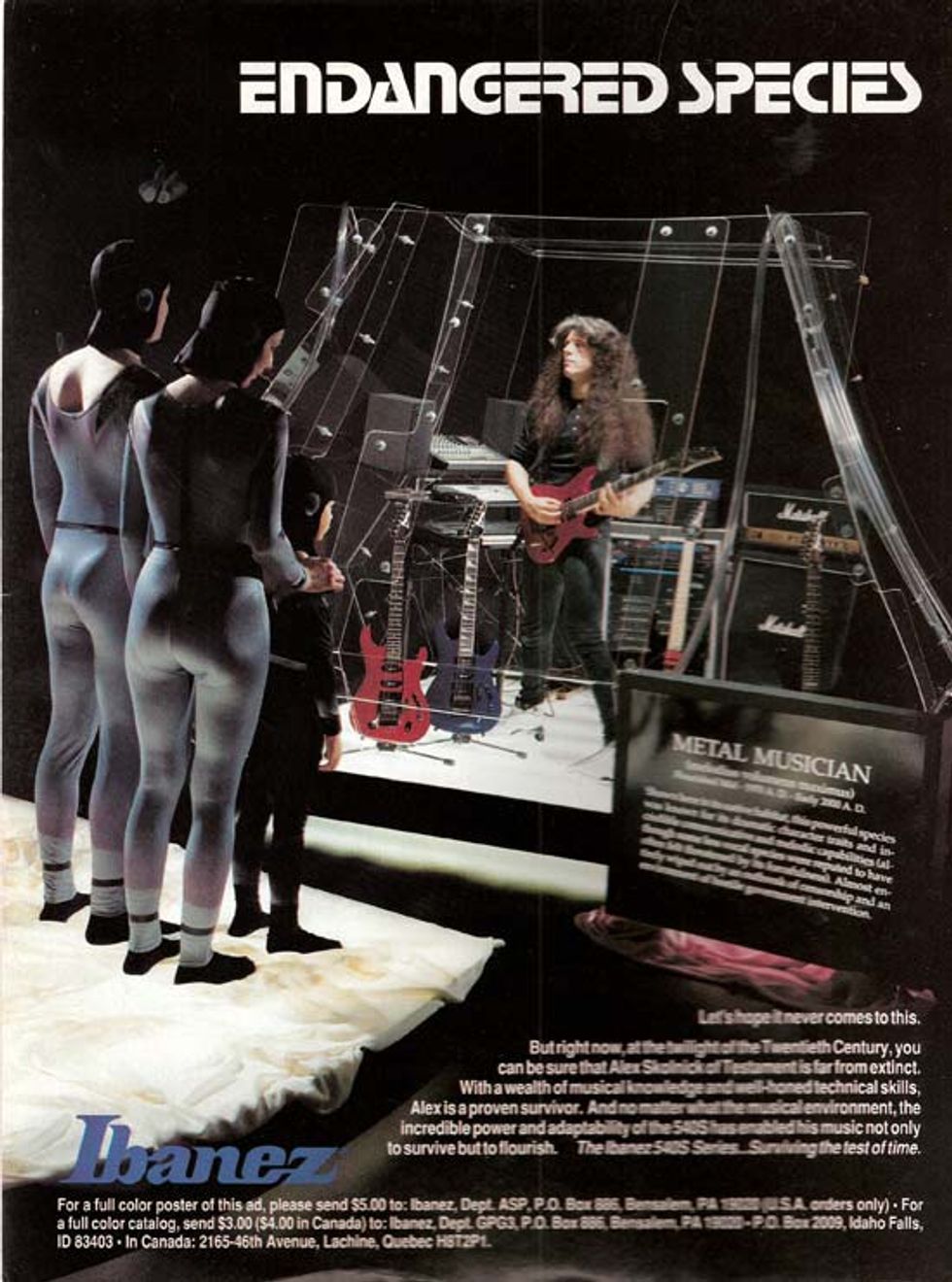 Happily, Alex Skolnick was soon moved to the Evolution exhibit, though his hairstyle was left in the Endangered Species wing. (Note that spandex was in the correct wing, but on the wrong side of the glass.)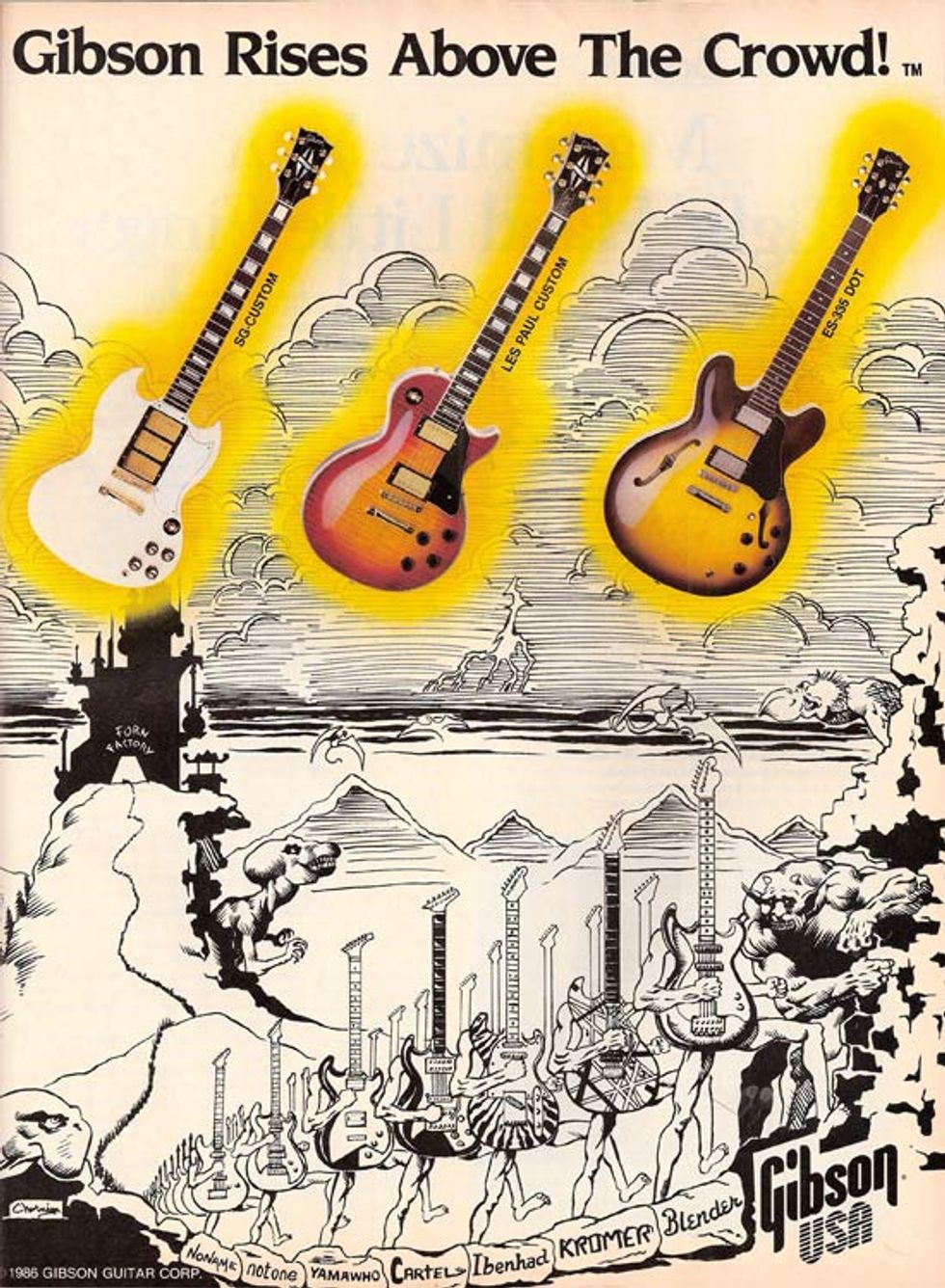 While there's no arguing with the longevity of the Gibson brand, it's hard to look back at this ad and not see some heavy irony. That's all we're going to say...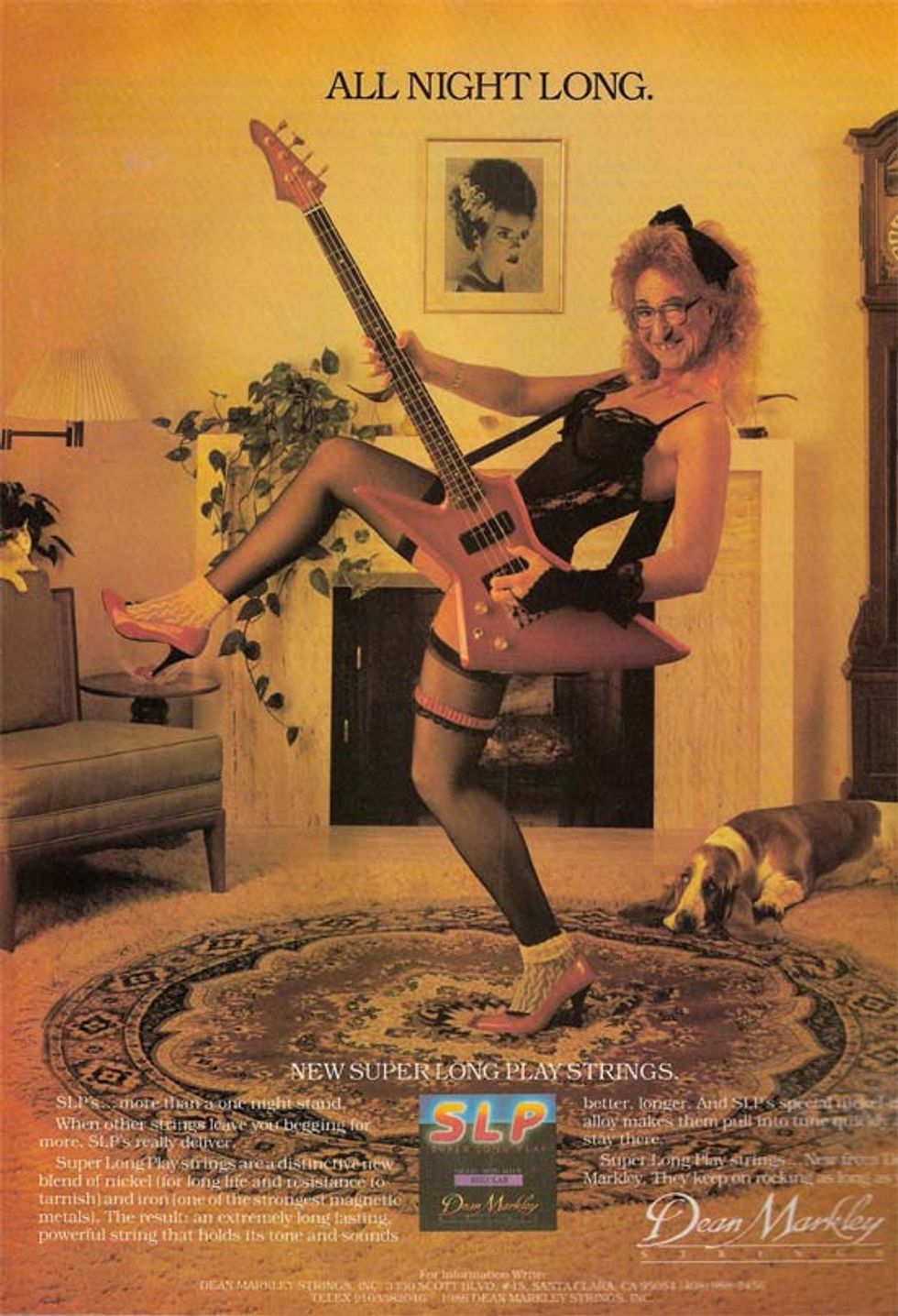 Dean Markley's follow up to the rockin' grandpa ad pushed the needle just a little too close to the disturbing side.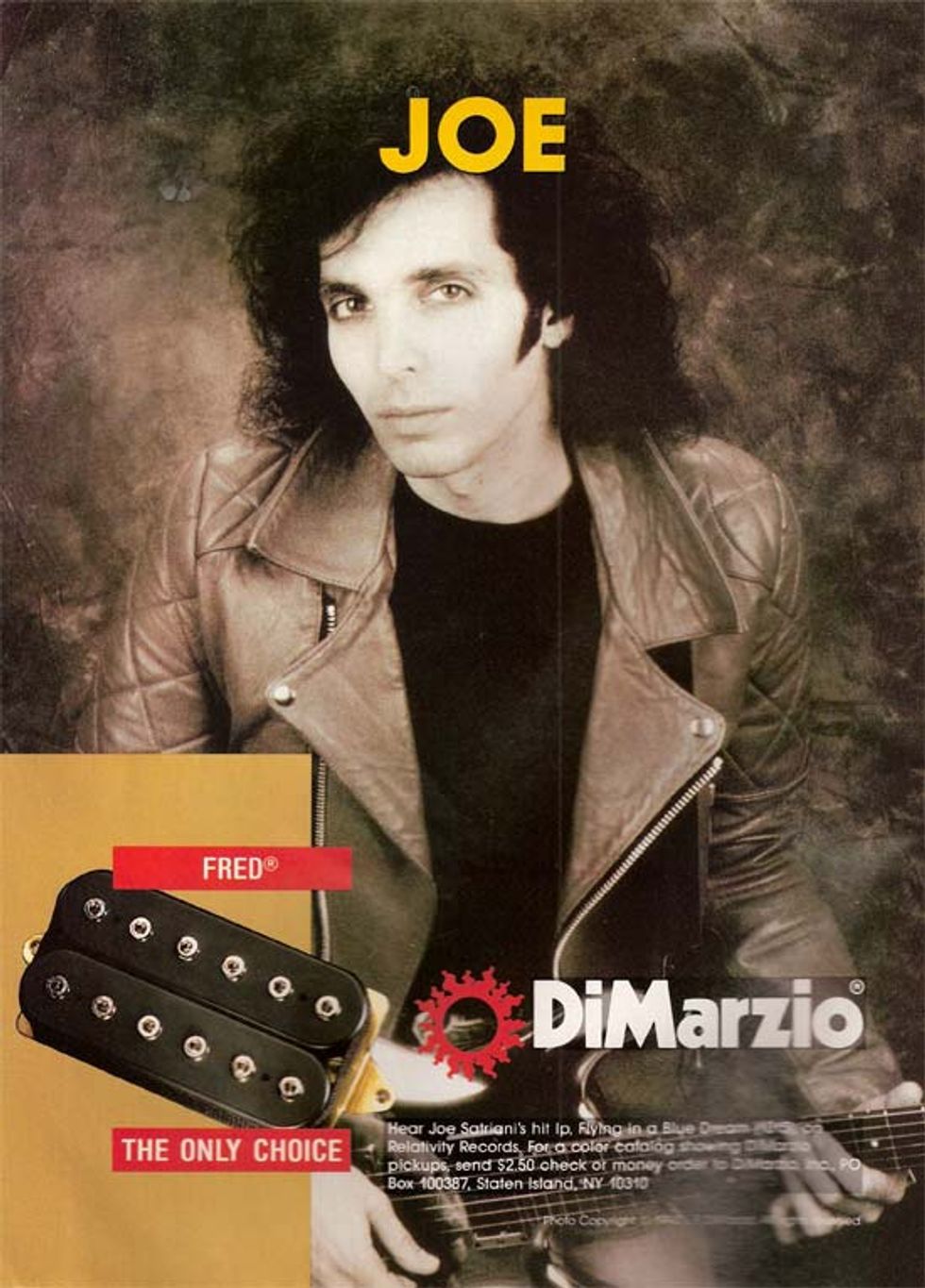 Many people forget that the working title for Surfing With the Alien was Surfing with the Sideburns.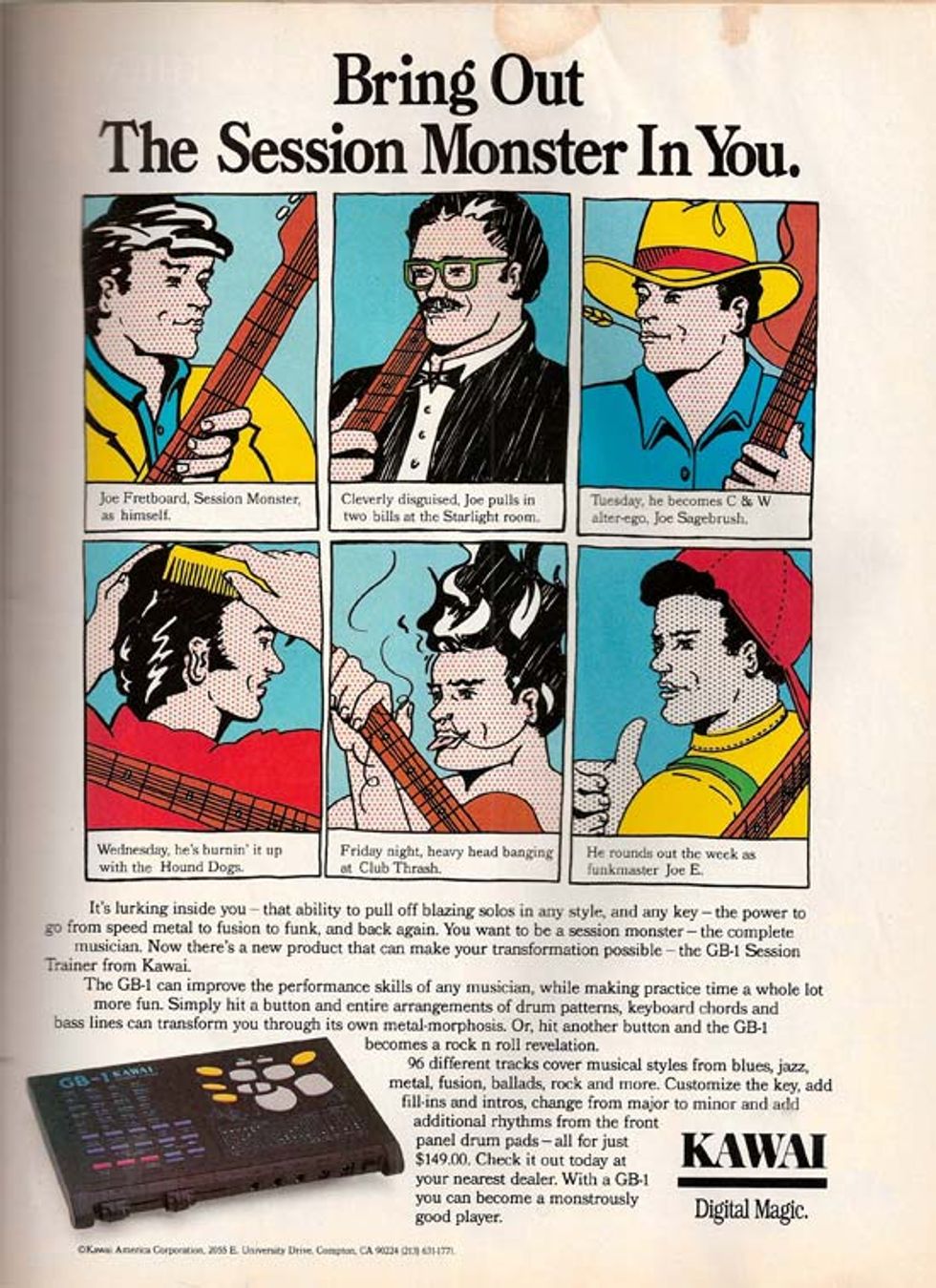 Seriously, Kawai? Wow. Just...wow....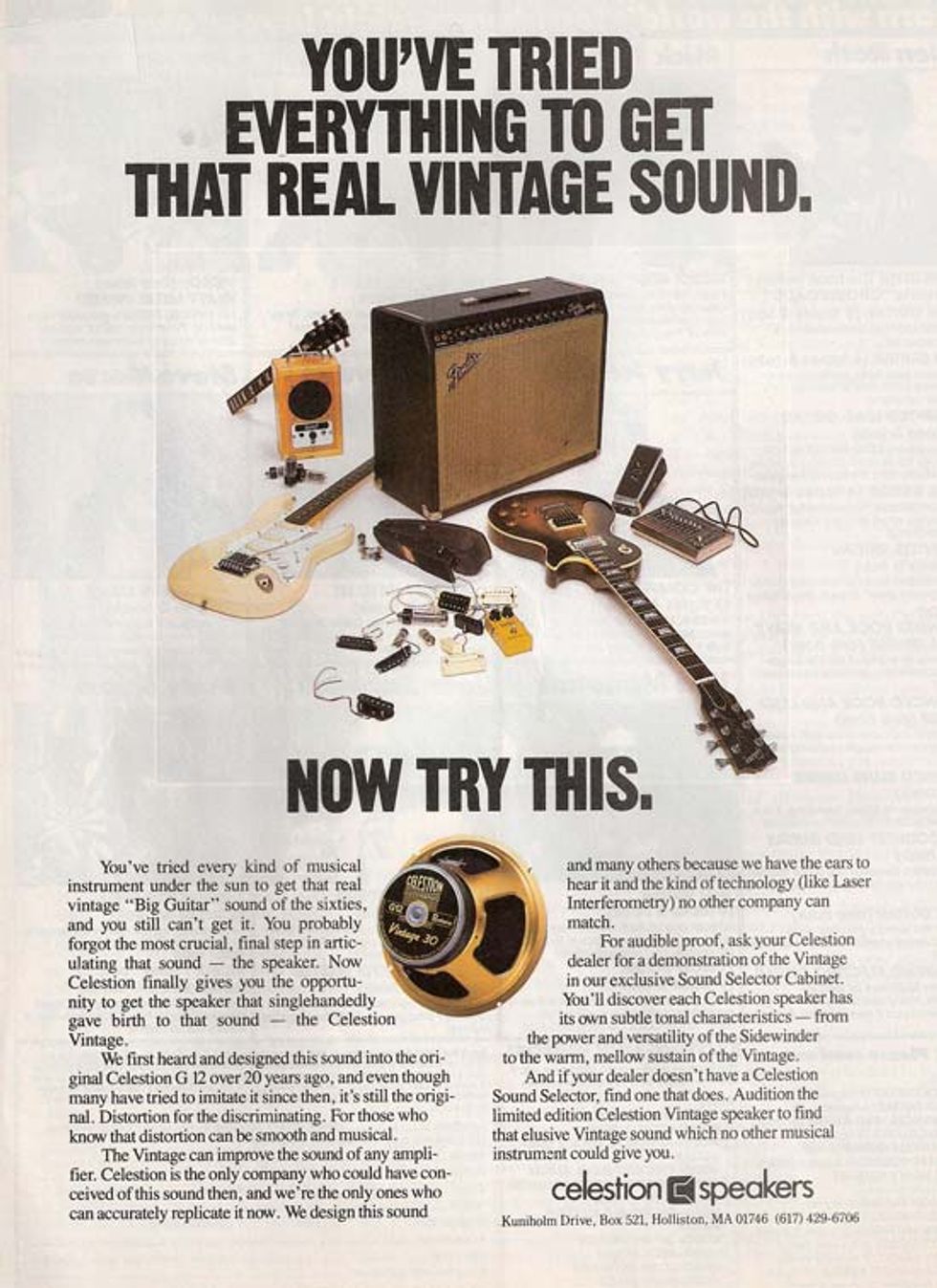 Exhibit 2 in making the case that not everything from the '80s had a short shelf life.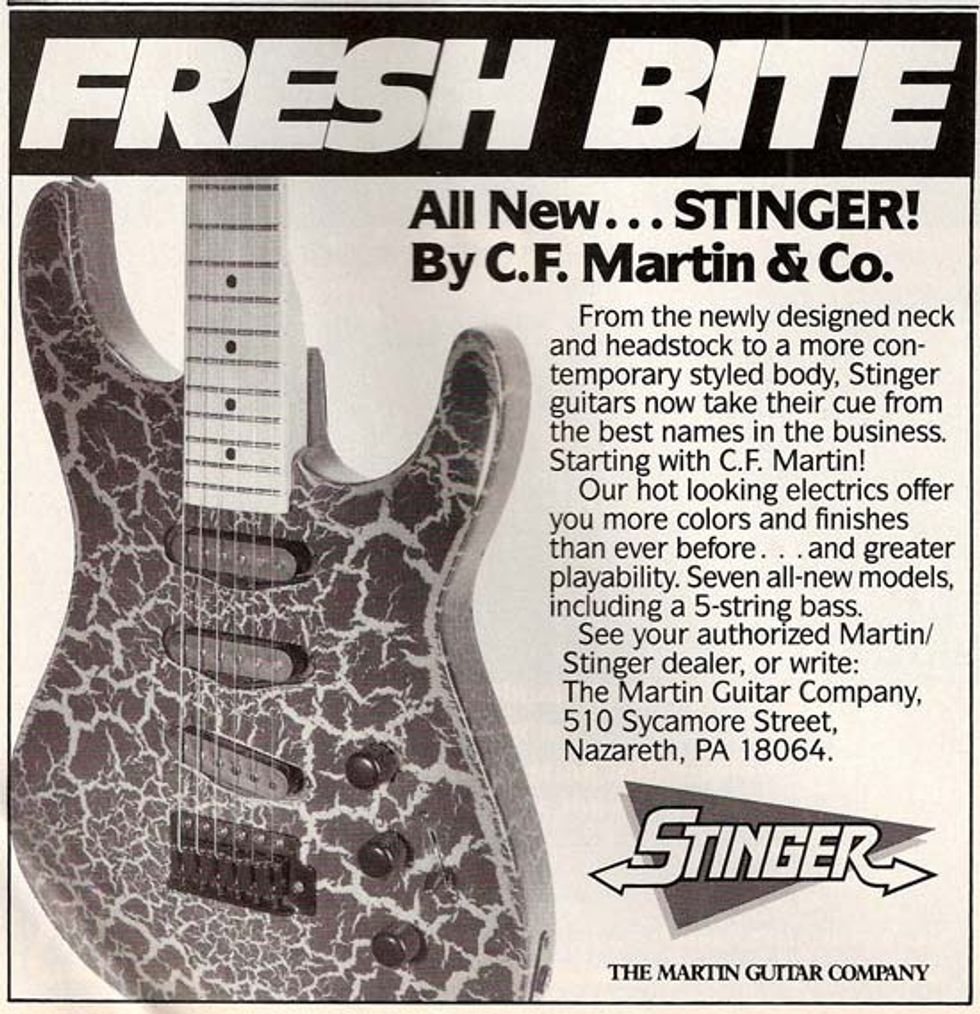 The guitar that solidified Martin's leading role in the über-crowded crackle-finish "super-Strat" market: the Stinger. Judging by its logo, it...er, goes both ways?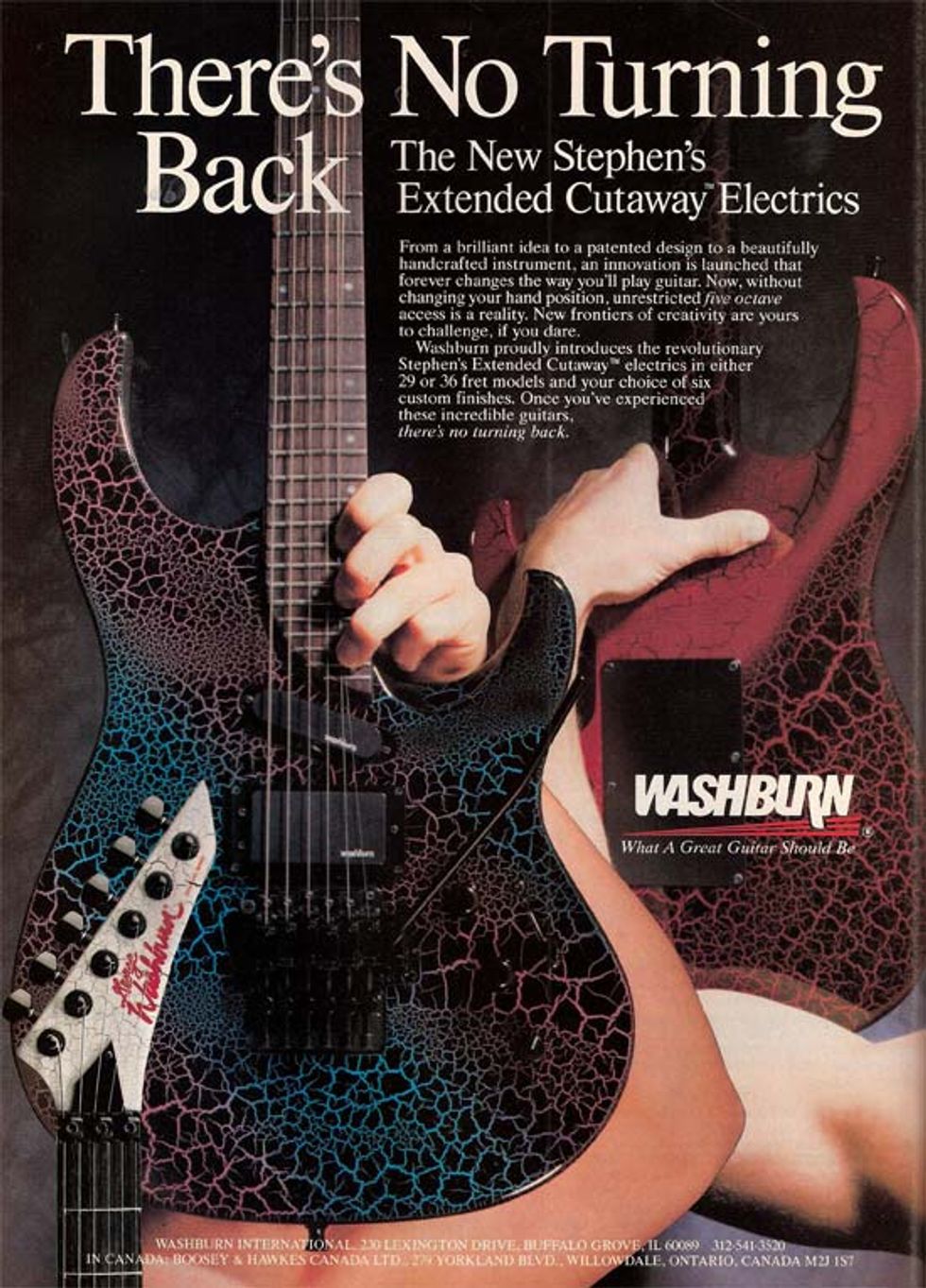 What could've extended the Stephen's Extended Cutaway's lifespan a few years (or at least months)? Maybe a look that was more distinctive than the Martin Stinger's trademark finish we're thinking something like blood spatters or a kamikaze theme.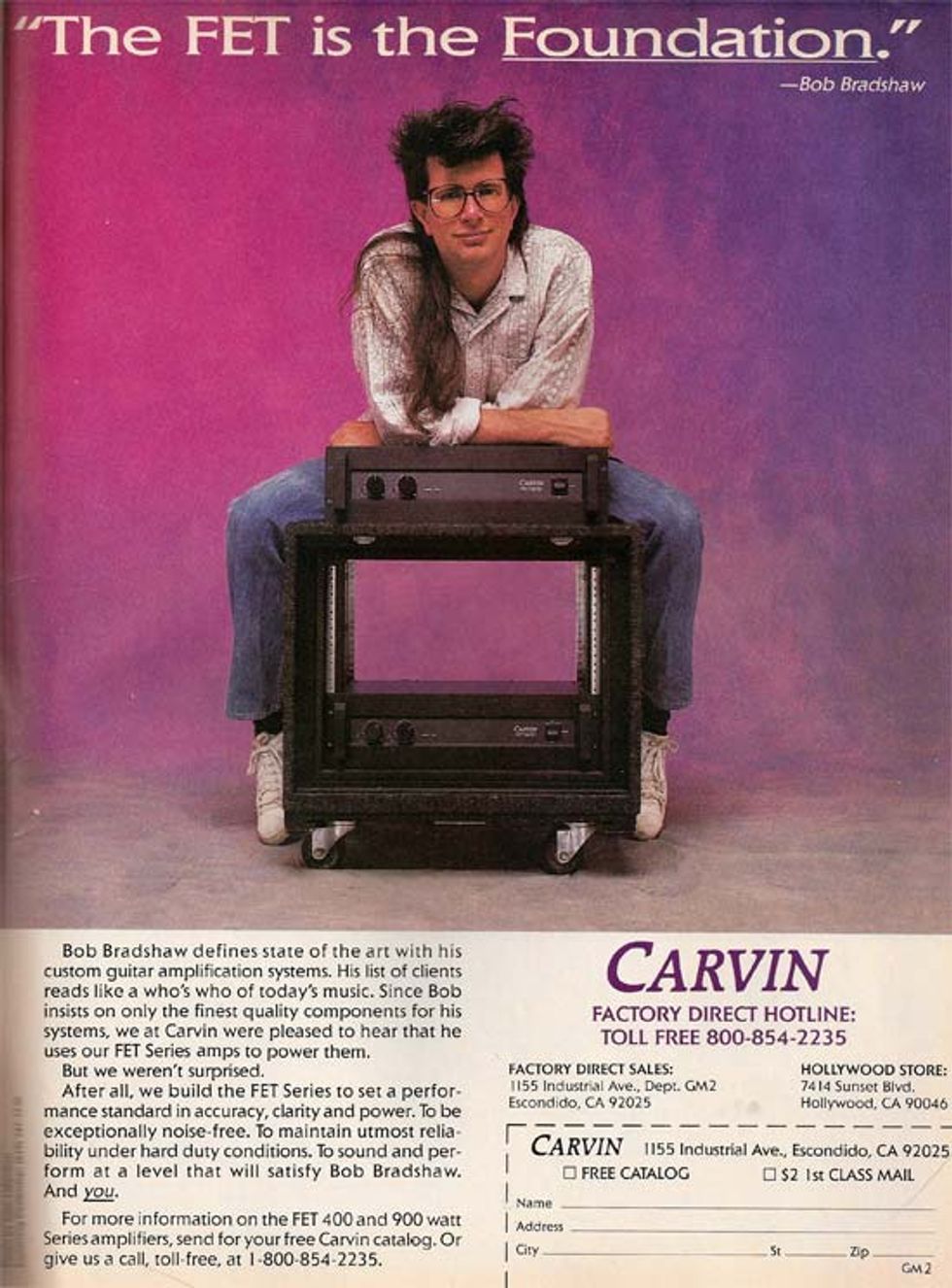 Gratuitous Mullet Joke #1: With all due respect to Carvin and Bob Bradshaw—for both surely deserve tons—but this mullet may be the single biggest reason why the FET has since played second fiddle to the vacuum tube.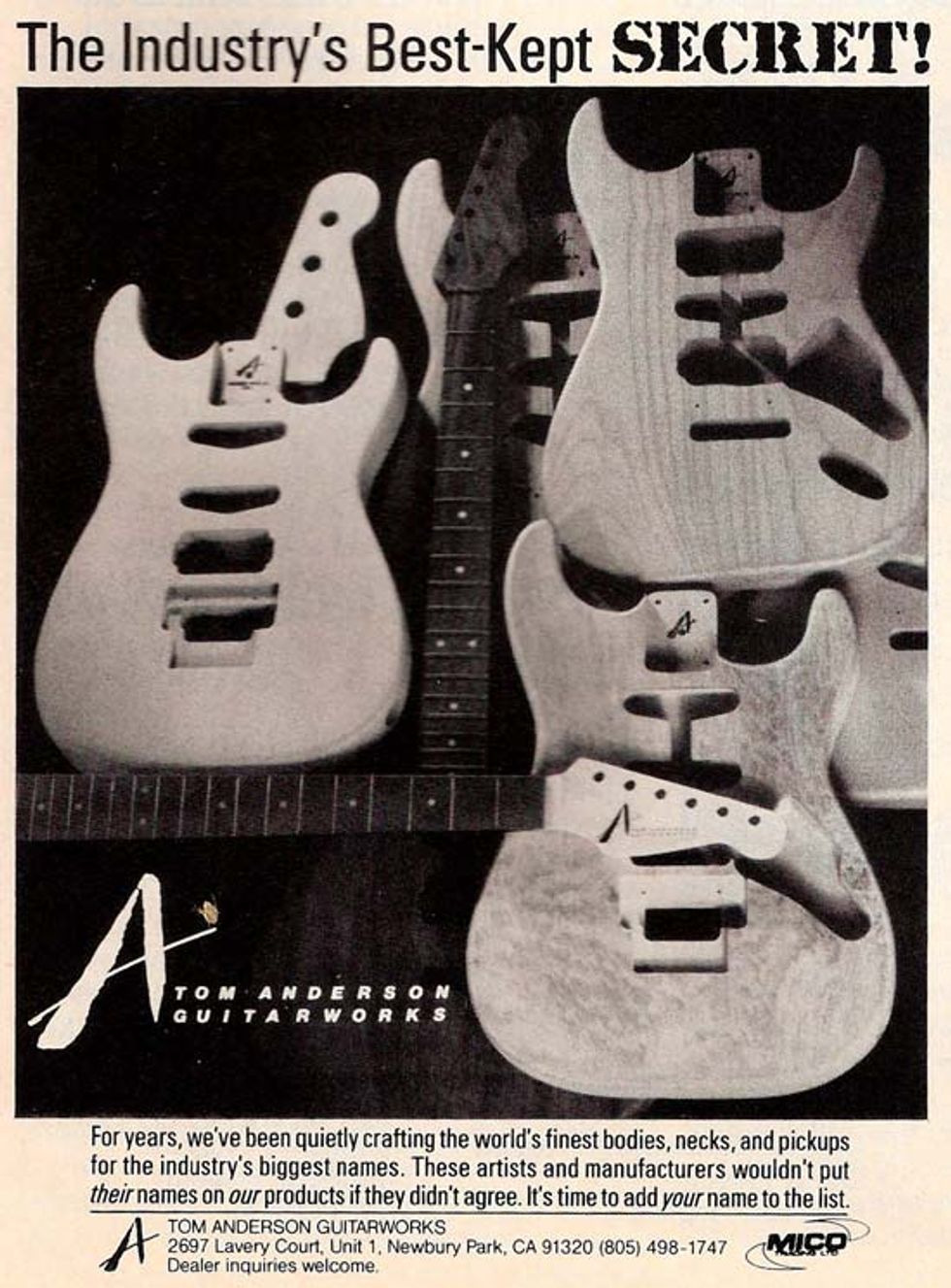 Things would be so much different for Tom Anderson Guitarworks today if only they'd been able to coax Val Kilmer into a coordinated media blitz based on his 1984 breakout comedy hit, Top Secret.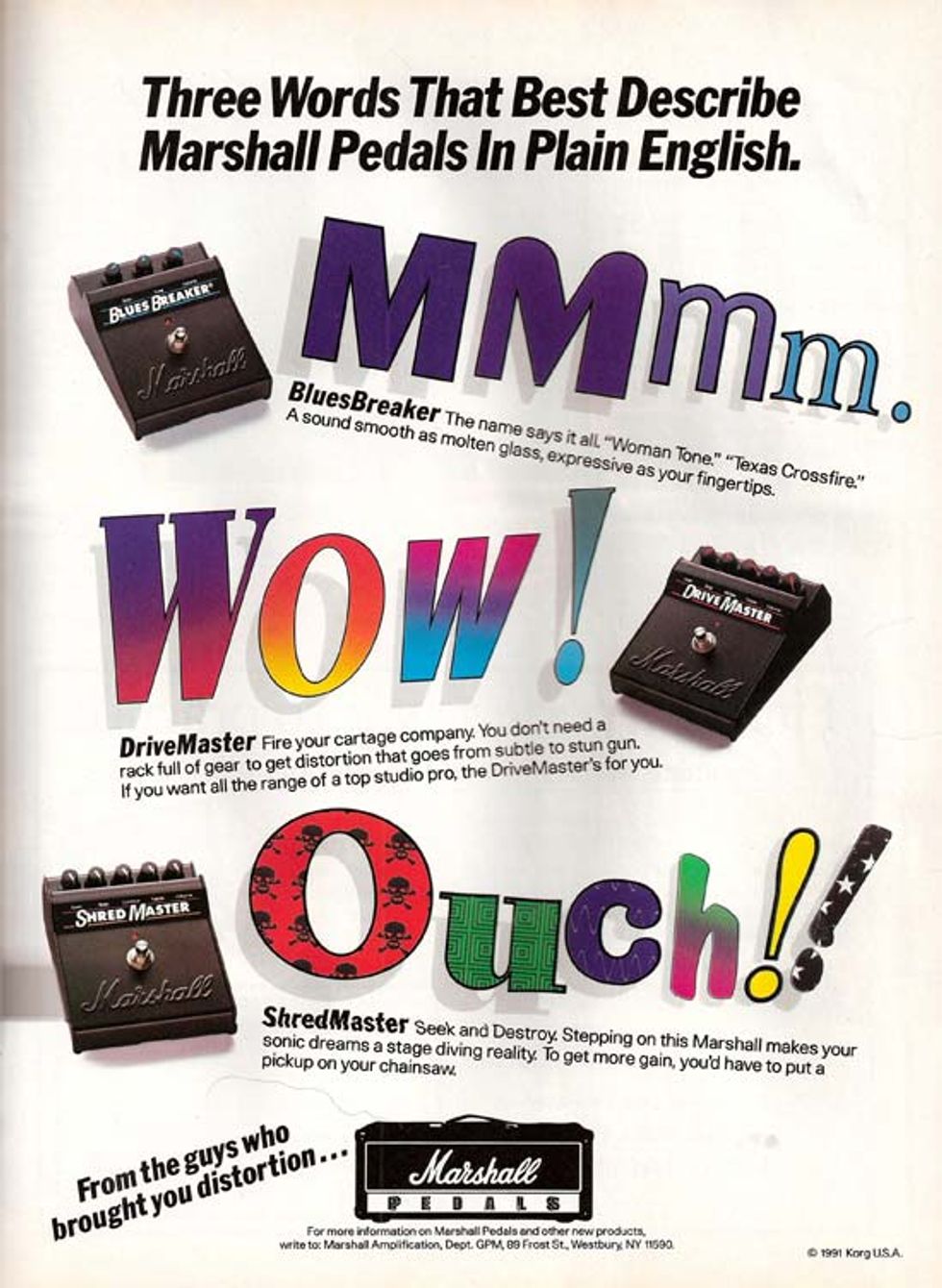 Whadya know? The same three words describe how we feel about this ad a couple decades after the fact.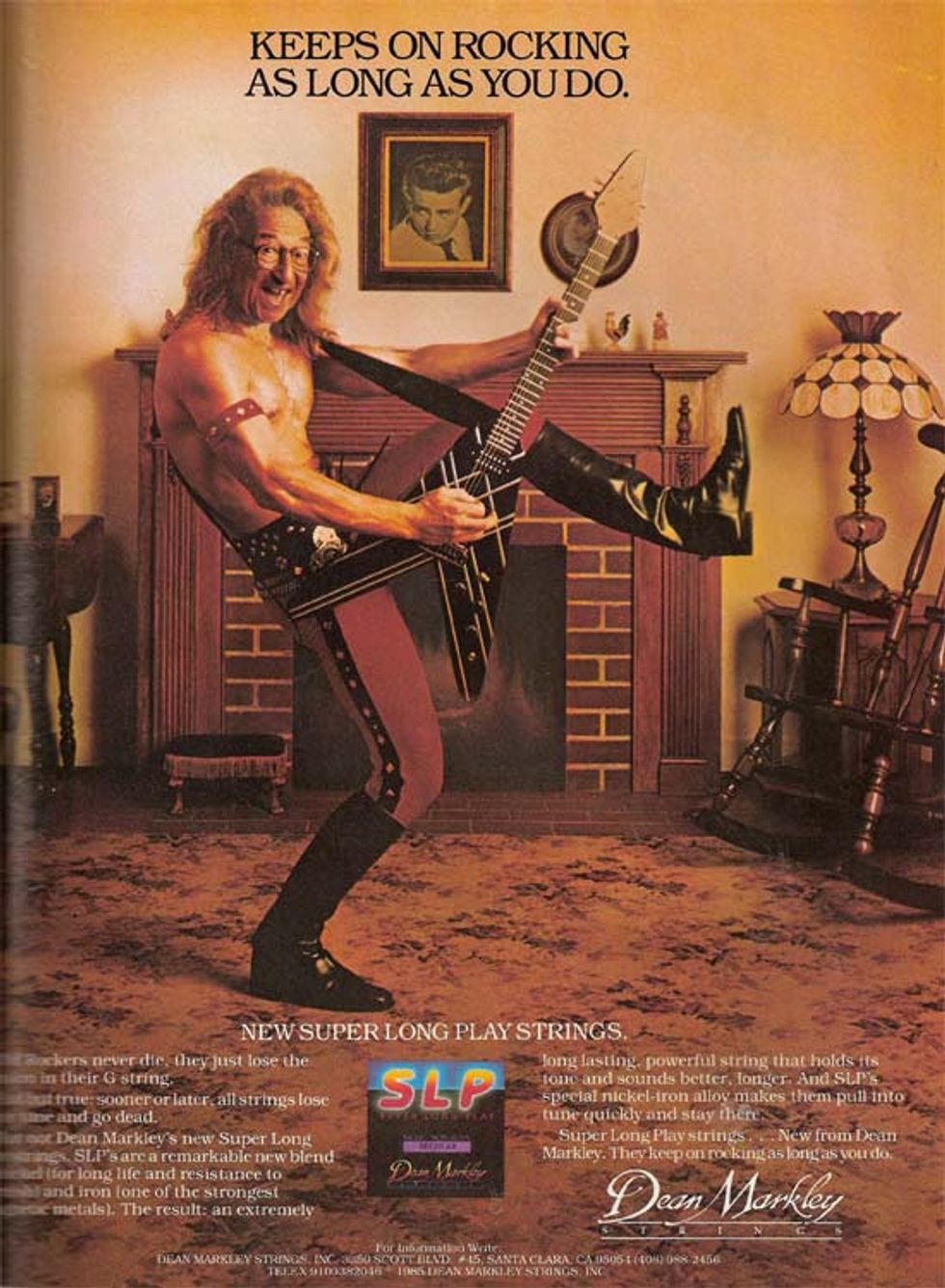 Luckily, this ad from Dean Markley was more funny than disturbing. (As media folks, we're pretty impressed with the analog photoshopping—although we do take umbrage with the subject-verb disagreement.) However, as luck would have it...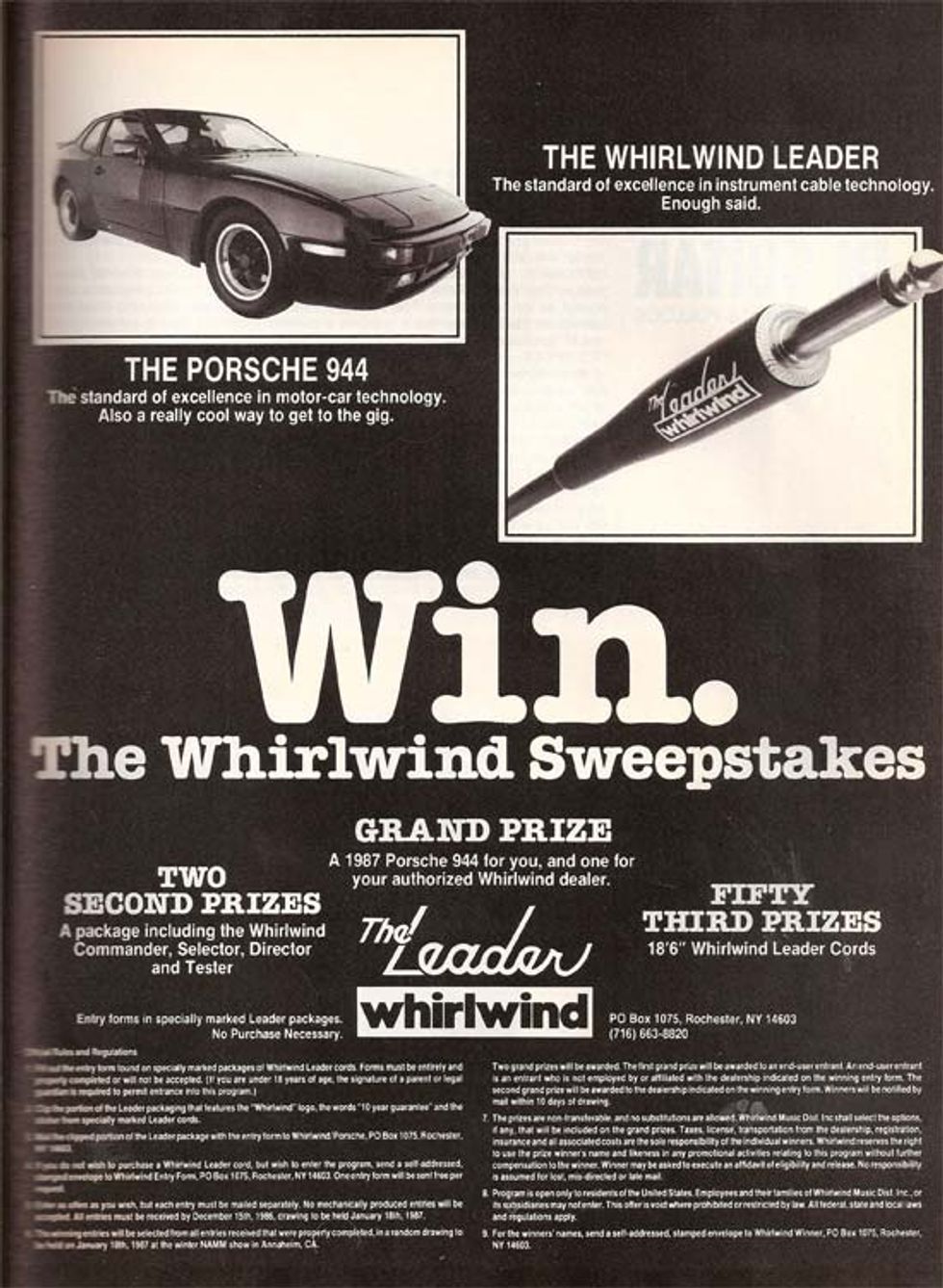 The single trend of the '80s that must be resurrected immediately: cable companies giving away Porsches.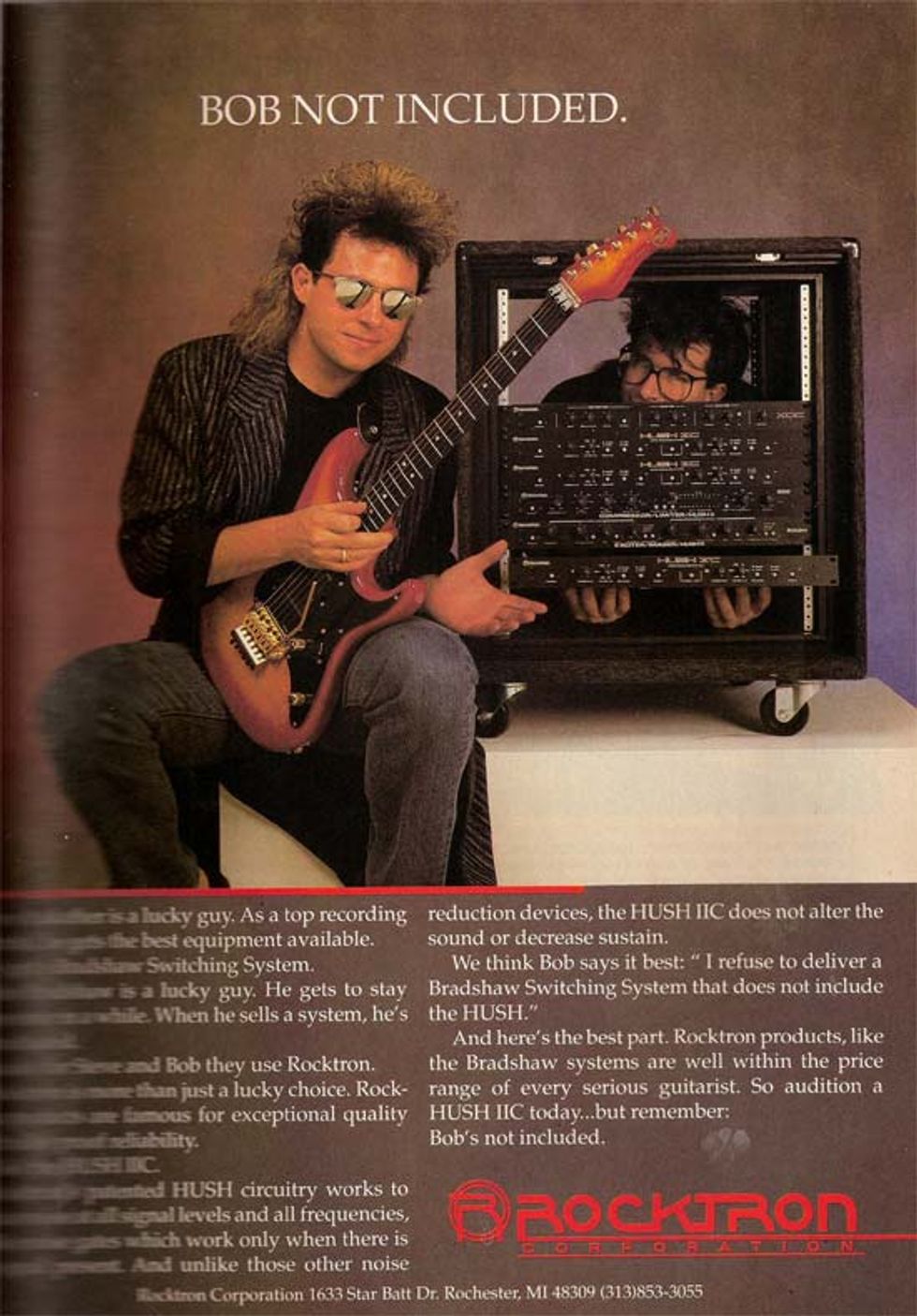 Gratuitous Mullet Joke #2: Rocktron wisely hid Bob Bradshaw's FET-killing mullet behind its HUSH units. On the downside, they upped the ante with Steve Lukather's a Hairnet-teased, Sun In-treated 'do. Apparently the HUSH survived due to confusion over whether Luke's killing shoulder-pad jacket was included.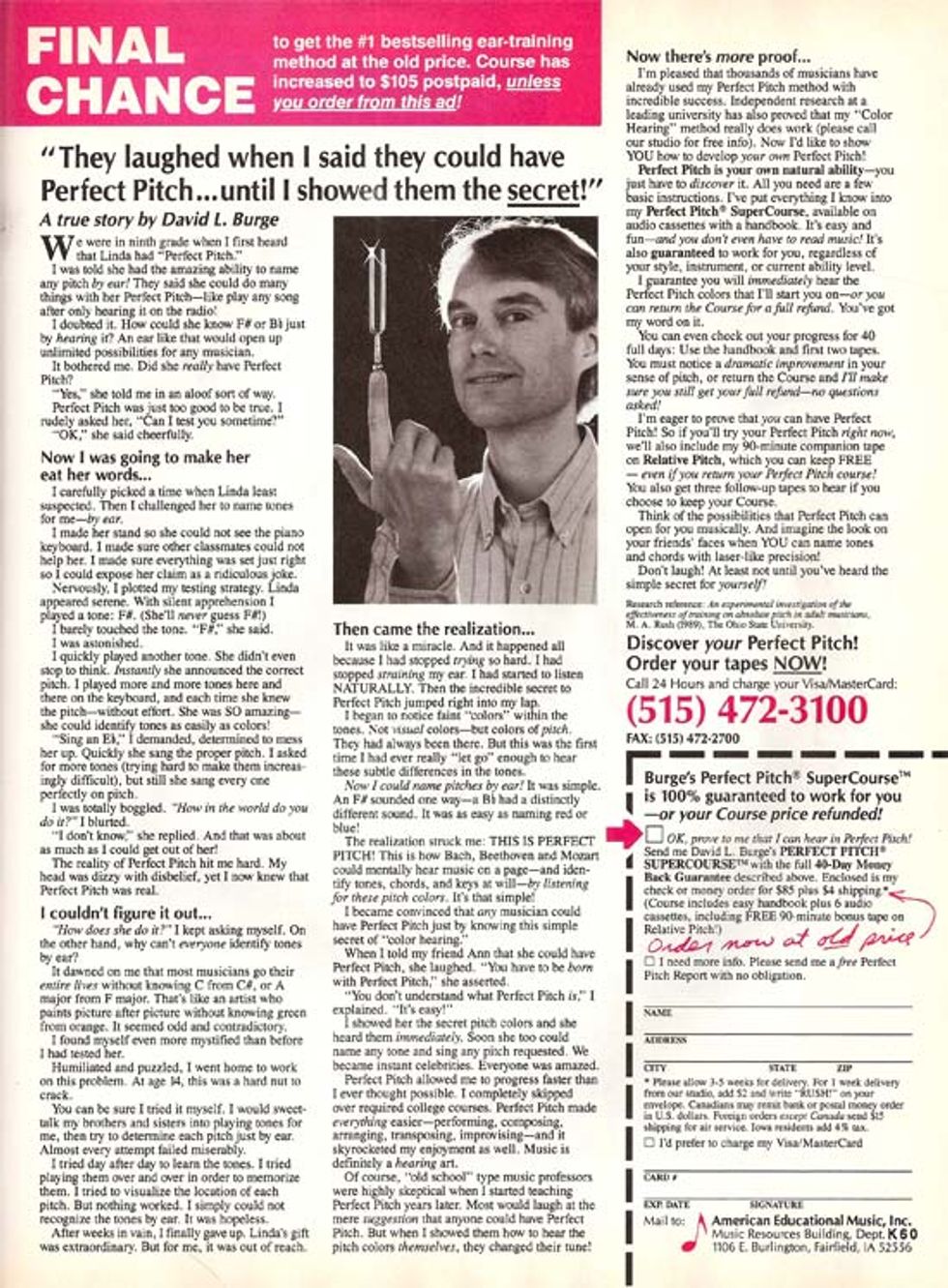 We've witnessed this undead ad campaign shuffle onward, feasting on our collective brains for what seems like an eternity now. And trust us, Mr. Perfect Pitch guy, we've laughed at a LOT more than your secret.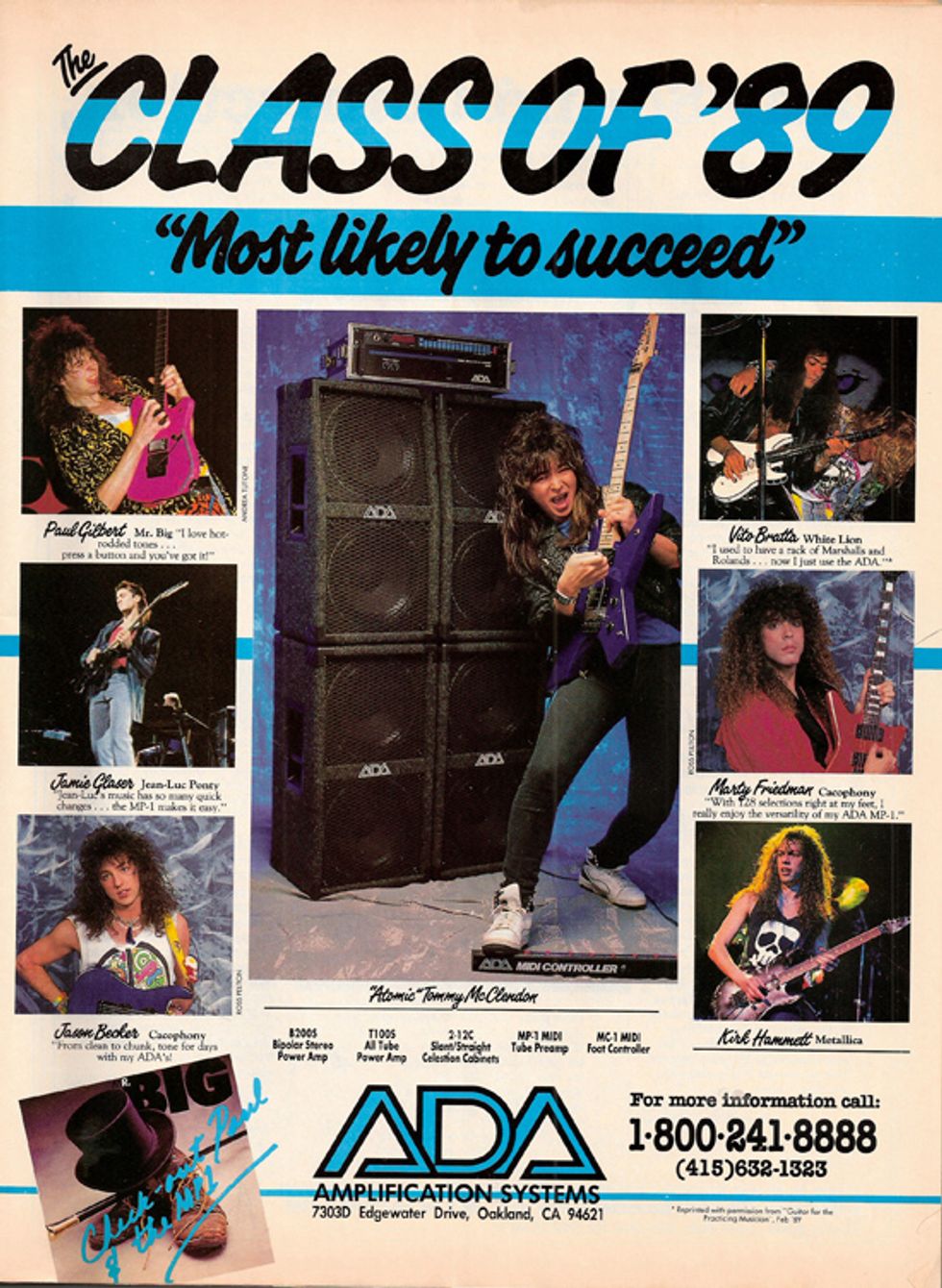 As Michael J. Fox's character found out in the Night Ranger-scored (and tragically Oscar-scorned) The Secret of My Success, 128 patches of preamp-tube distortion are the surest bet when reaching for that golden ring. (What's that? Yeah, yeah, we know Secret is the one '80s movie Fox DIDN'T play guitar in...but it worked here, all right?)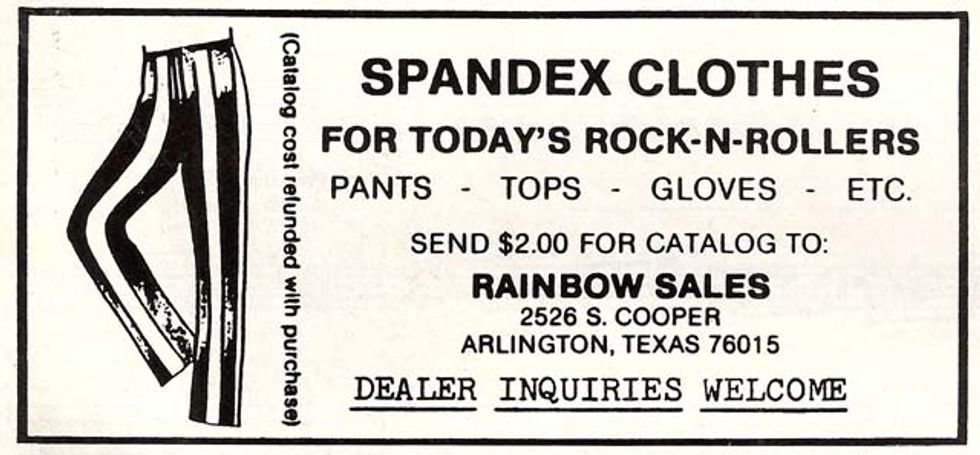 Guitar mags of the '80s offered information on ALL the essential tools for mastering guitar.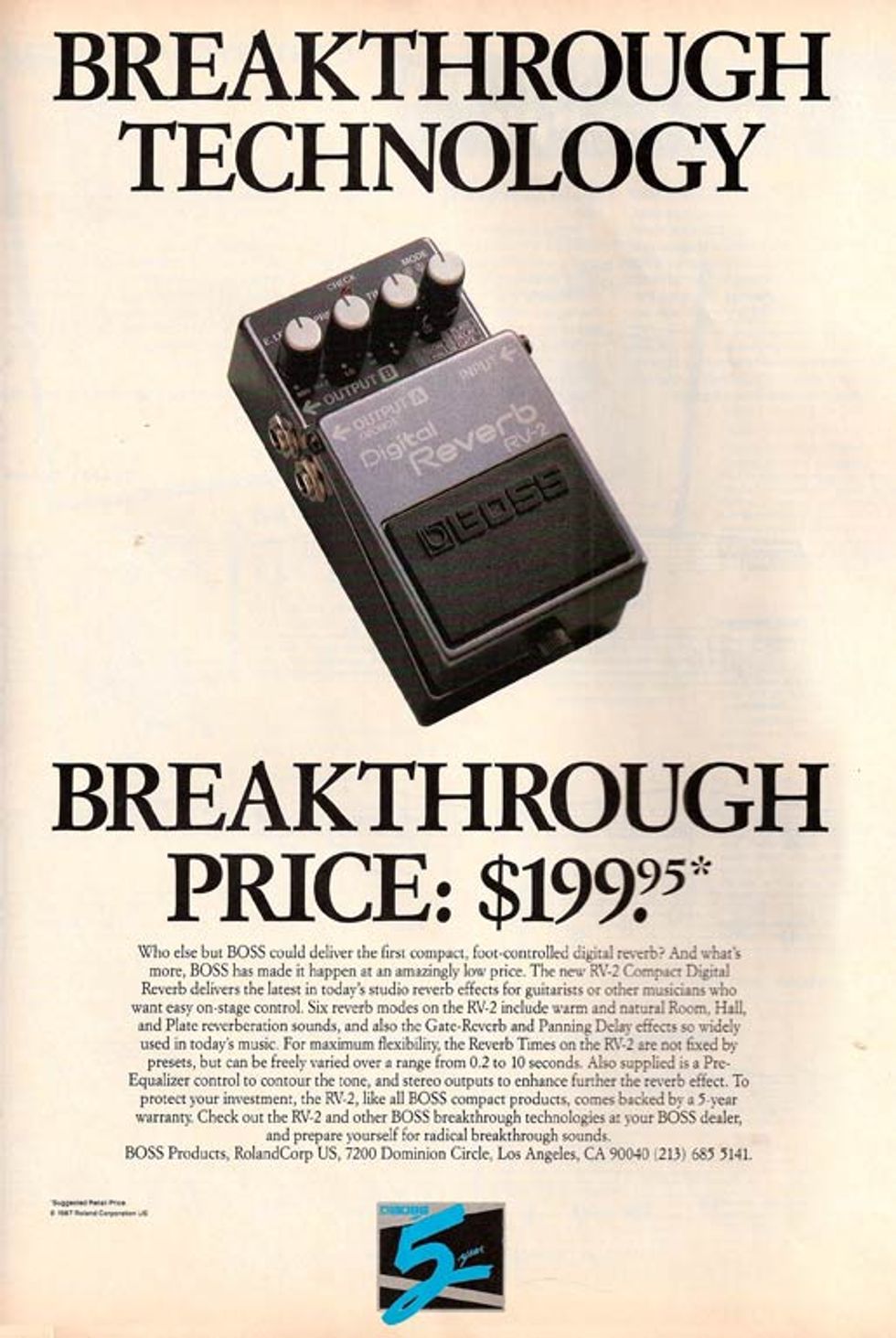 Exhibit 1 in making the case that not everything from the '80s had a short shelf life.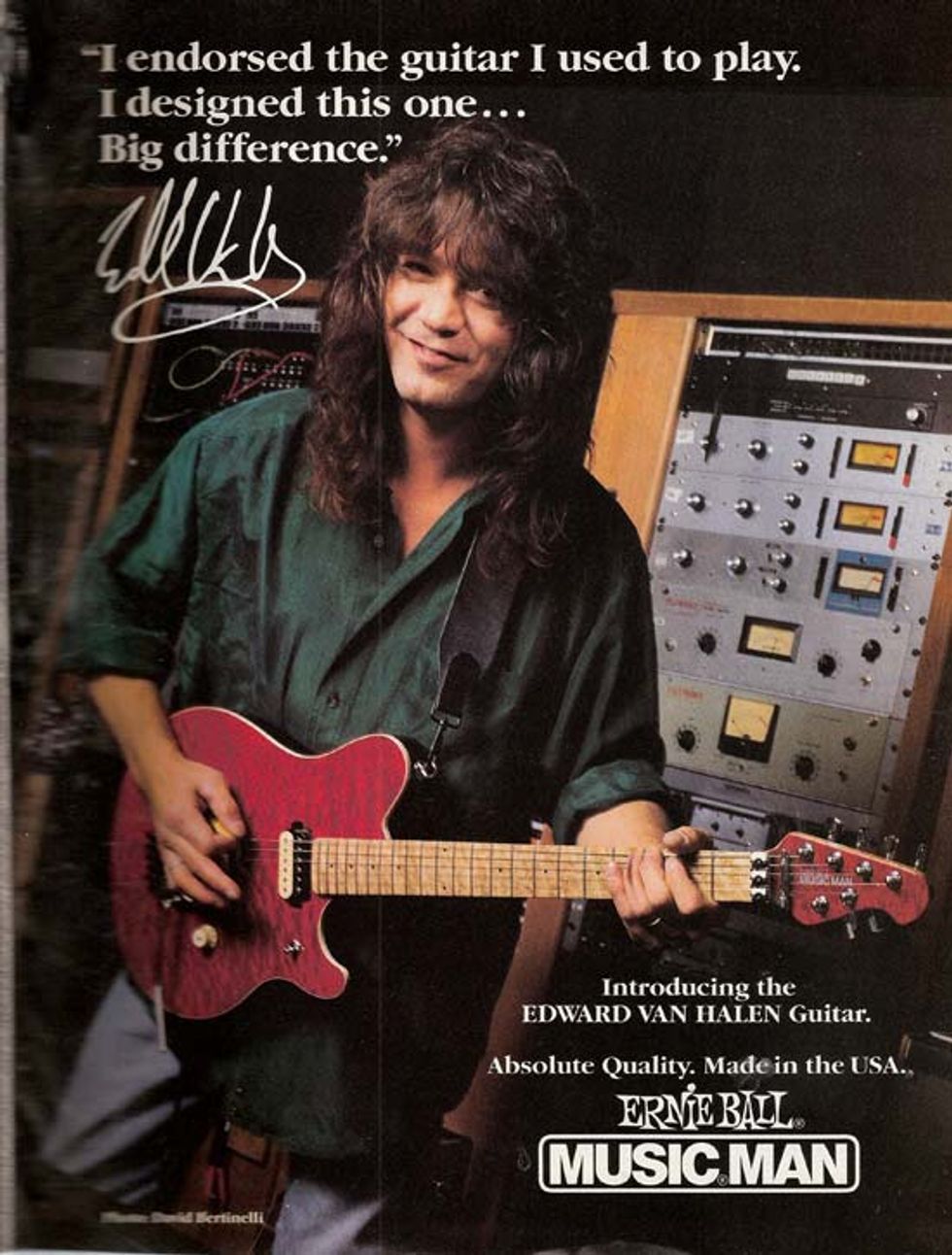 Ok, so Eddie designed the guitar. It's cool, we understand the switch. The only thing better would be having your own brand, but that's crazy talk...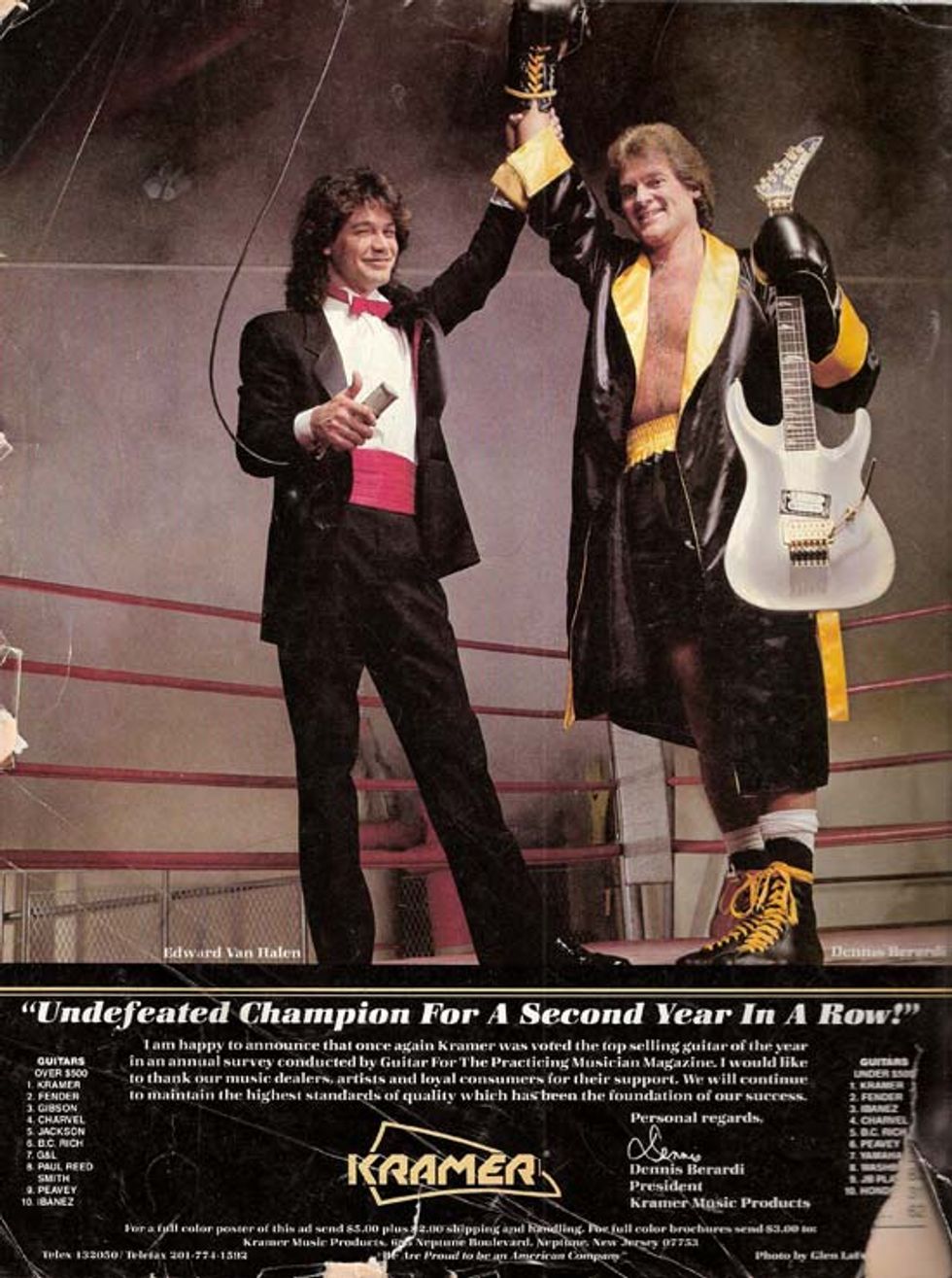 Anyone who thinks Eddie switched endorsements a lot clearly hasn't seen this ad. Look how loyal he looks, raising the Kramer president's hand in triumph. He'd NEVER...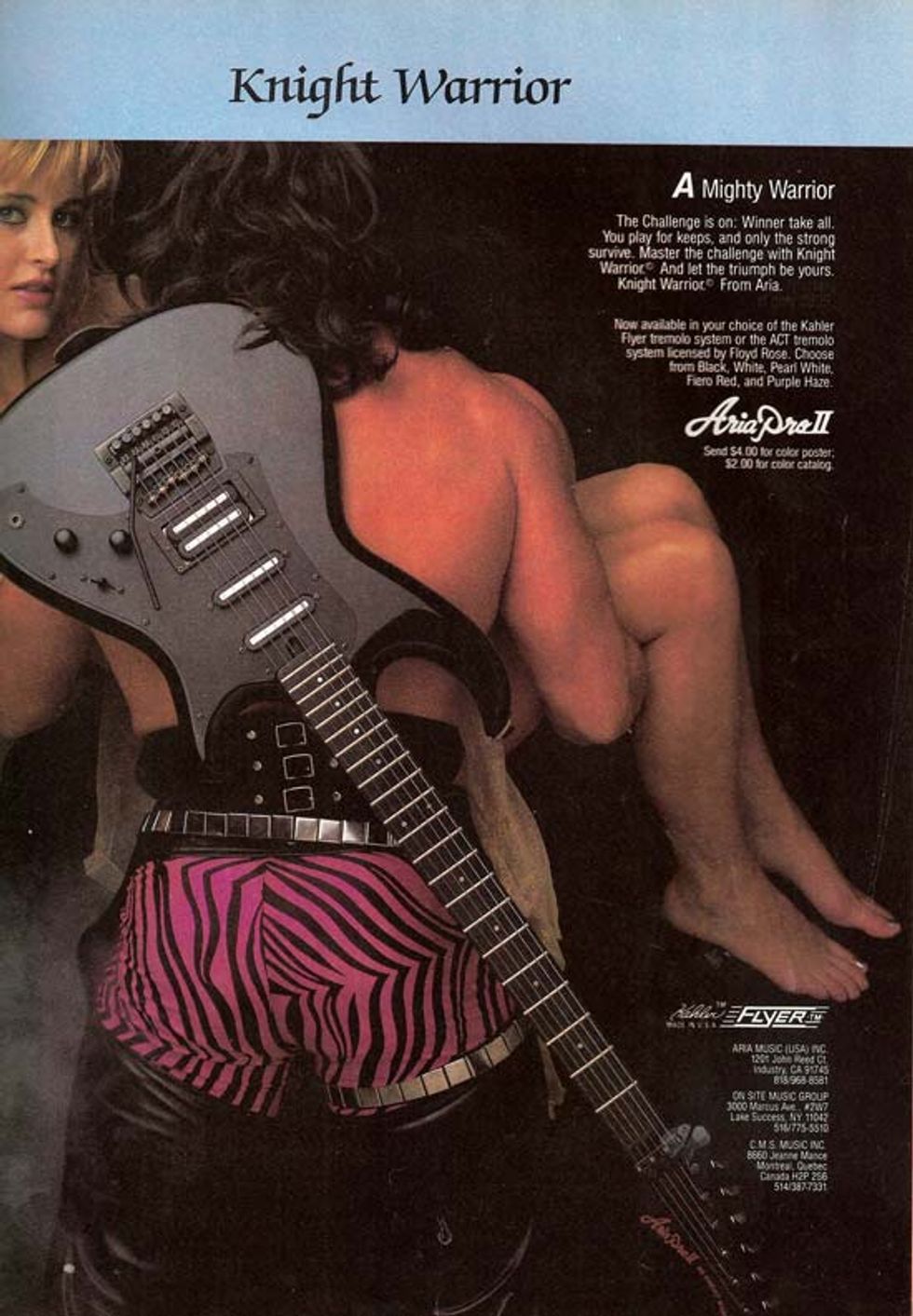 Ahhh...the golden years of Neanderthalic sexual objectification. Once you had the guitar, the only thing standing in the way of claiming your swooning prize was securing some badass spandex. Luckily...
[Updated 10/28/21]
Rhett and Zach unpack the big news for secondhand guitar sellers and buyers: Sweetwater has launched their new Gear Exchange. How does it compare to Reverb, Craigslist, and Marketplace? To find out, Zach takes the site for a spin and buys a pedal. He calls the process both "very easy" and "normal." They discuss the pros and cons of the various used-gear outlets and share tips for not getting got when buying gear. Plus, Zach grew a mustache, Mythos Pedals is moving, and he talks about his forthcoming line of Strat pickups inspired by Hendrix's reverse-stagger setup.
Sweetwater vs. Reverb

The Royale was designed to deliver loud and vivid clean tone with a responsive, tactile low end.
Designed to offer massive headroom, the 50-watt Royale Head lets you indulge in smooth clean tones at even higher volumes on stage without any breakup. Select between class A and class AB modes, with its variable mode switch, so you can choose between gushing Supro tone or a punchier, tight midrange response.⁠

Introducing the Royale Head & Extension Cabinet | Supro
The Royale 1x12 Extension Cabinet features the custom Supro BD12 high-power driver, offering the same mid-range punch and clean articulation as the Royale combo but with additional stage volume. ⁠More info: suprousa.com.
Royale Head | $1,499⁠.99⁠
Royale Cab | $669.99
D'Addario Foundation's education project sets out to help schools throughout the country and kicks off with an online auction.
​The D'Addario Foundation will host a virtual auction from November 9 to November 30, 2022, with the overarching goal of raising $30,000 for the D'Addario Foundation's Immersive Music Challenge.
​Inspired by a new study published in the Journal of Youth Development, the D'Addario Foundation recently launched the Immersive Music Challenge. This ambitious project will help school districts and charter systems throughout the country boost academic achievement by implementing effective, multi-day-per-week music-based mentoring programs that include training, administration, and evaluation. The D'Addario Foundation has invested in an incredible team of consultants that include school superintendents, public health experts, and data analysts to ensure sound results. In addition, D'Addario is actively seeking corporate partners to support the establishment of these programs and champion their success.
Thanks to the generosity of D'Addario artists and industry partners including Gibson, PRS Guitars, D'Angelico, Taylor Guitars, and more, one-of-a-kind items & experiences are up for bidding. Some of the items include:
Evans Drumhead signed by Anderson Paak
ESP Mirage Deluxe '87 Signed by Bruce Kulick of KISS and Grand Funk Railroad
Gibson Les Paul Custom electric guitar
D'Addario bass string set signed by Bryan Beller of the Aristocrats
PRS S2 McCarty 594 Singlecut
Virtual Lesson with Marty Schwartz
To celebrate its 20th anniversary, Xotic Effects unveils an updated version of their classic boost pedal.
Xotic's RC Booster pedal is back to celebrate its 20th anniversary. The RC Booster's original design was a customer favorite due to its versatile clean boost, active treble, bass, gain and volume controls. This classic reissue will join their regular pedal lineup permanently.
Features
• Transparent boost pedal for electric guitar
• Up to 20dB of boost for adding volume or sending your amp into overdrive
• Treble and bass EQ controls with +/-15dB range for fine-tuning your sound
• True bypass switching removes the effect from your signal path when disengaged
• Powered via 9-volt battery or optional AC adapter (sold separately)
• 9-18 volts
The first 1000 pedals will contain a special limited edition packaging with special items and actual guitar picks from Andy Timmons, Paul Jackson Jr, Dean Brown, Kirk Fletcher, Allen Hinds, Chris Duarte, Scott Henderson, Oz Noy, Michael Thompson, Yuya Komoguchi, Toshi Yanagi.
RC Booster with limited edition packaging street price is $172.00. More info: xotic.us.